Advertising Disclosure
Advertising disclosure:
Our partners compensate us. This may influence which products or services we review (also where and how those products appear on the site), this in no way affects our recommendations or the advice we offer. Our reviews are based on years of experience and countless hours of research. Our partners cannot pay us to guarantee favorable reviews of their products or services.
A great landing page can take your marketing campaign to the next level, but how do you find the best free option on the market? Many free landing page builders don't offer the tools you need, or may cost too much money to fit into your budget. Don't waste your time using a landing page builder that doesn't work right for your business.
That's why we have compiled a list of the best (mostly free) landing page builder options that are worth your time - and worth your effort to build your business. Our complete list includes options that you might not consider for a landing page, too, like website builders and Google Sites. One big plus to these options? They're free with better functionality and analytics as well. Unlike some landing page builder options, website builders oftentimes don't have a time limit or other restrictions on free usage.
---
This list of landing page builder options includes both dedicated landing page builder options as well as website builders. In many cases, website builders are much easier to use (and faster!) then dedicated landing page builders. That means you will have a much better experience working with the site, and less of a learning curve.
In addition, website builders oftentimes have free plans that can be used for as long as you want. You can also create as many landing pages as you want with many website builders. For certain dedicated landing page builders, however, there will be limited on the amount of free pages you can build.
Of course, if you want to pay a small amount of money to build an extra customized landing page, there are plenty of options (two of which we have includes below).
Without further ado, here are some of the best free tools to build landing pages.
Top
free landing page builder
2024

Wix is a popular website builder used by millions to make websites – and landing pages, too. Businesses and individuals alike use Wix to help build their website with their easy-to-use interface and templates. Wix is a simple option for professionally designed landing pages, too. The website builder offers more than two dozen options for different templates.
The website builder has a simple drag-and-drop builder for their landing pages with options to customize the colors, fonts, website layout, and pretty much anything else. With Wix, you can easily get the exact look you want for your landing page.
Plus, Wix offers a number of social media friendly and email marketing friendly tools to design your landing page with your accounts (and posts) in mind. You can even build social media videos using the Wix Video Maker (with templates!) to help draw customers to your landing page.
The great part about using Wix, too, is that the popular website builder will integrate with pretty much every major marketing tool, including HubSpot, Google Ads, Facebook, and more. You have so many tools available in the free plan, with plenty of integrations and analytics. The only downside with the free plan is that you will have to stick with a Wix subdomain and Wix branding.
---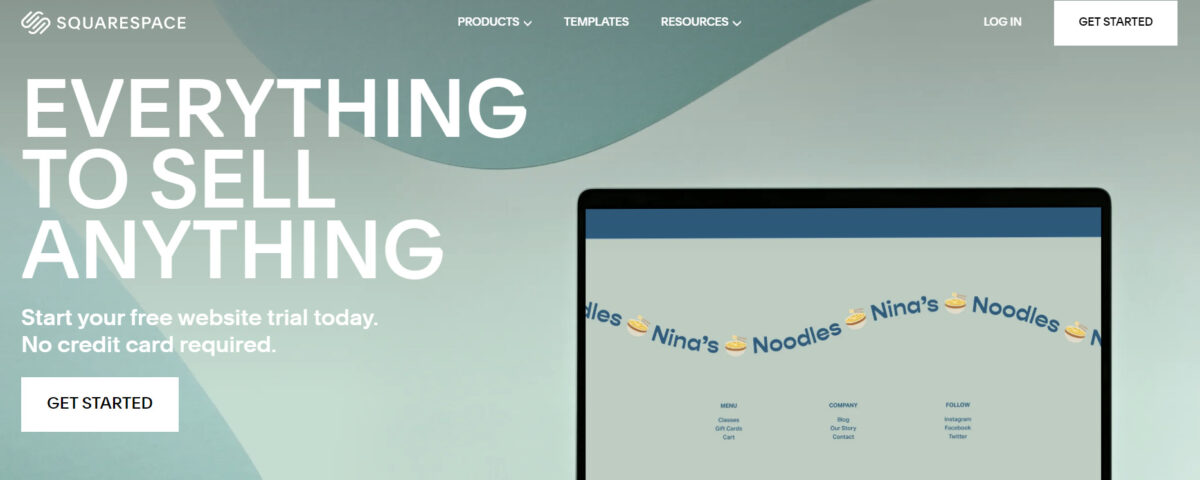 Squarespace is another extremely popular website builder known for their beautiful designs and easy-to-use functionality. You can use some of their popular designs for your landing page, too. Squarespace has a number of options for landing page templates, too. The website calls these landing pages "launch" or "cover" pages in their library. You can integrate with MailChimp, too, as well as a number of other tools. Squarespace offers built-in email marketing tools to send campaigns right from your Squarespace account. It's an especially popular option for those working in the food and retail business. Unlike other options, Squarespace doesn't have a free plan. However, they do offer a free 14-day-trial.
---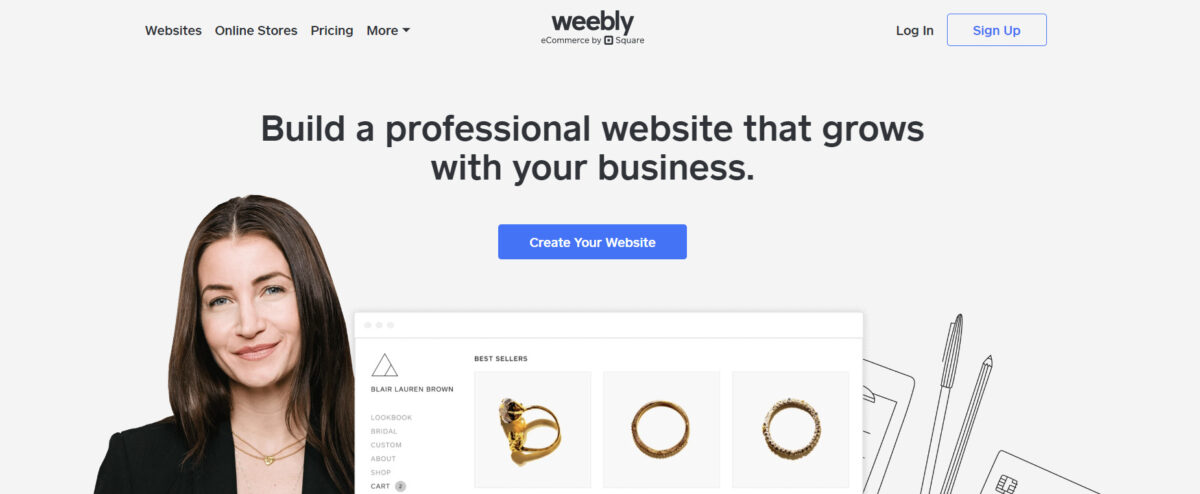 Weebly, a popular website builder, has a handful of landing page options, too. In addition to their website building capabilities and landing page capabilities, Weebly offers email marketing tools and a slick interface – though it's not as easy to use as some other options on the list.
Weebly has plenty of marketing options, too. Their email marketing tool, Weebly Promote, lets you create email campaigns with a similar look to your landing page. You can email up to 500 recipients on their free trial and track your analytics, too.
This website builder can be tricky to use, though. Page elements don't necessarily align together without a good look, and in order to customize the elements on the page, you need to access each individual menu for each element. It can take a lot longer to customize parts of the page.
Weebly's free plan isn't as robust as some of the other options, and lacks advanced analytics and some social media integrations. Some larger businesses trying to use the Weebly functions may run into limits on the email marketing options, too.
---
Leadpages is a landing page tool with simple features and pre-designed features to rearrange in your own order. This editor will give you some pre-designed sections that you can arrange and customize, or you can start from a landing page already optimized for conversion rates to build a landing page even faster.
As a dedicated landing page builder, Leadpages offers plenty of integrations for you, including analytics to email marketing options to scheduling posts and campaigns. Leadpages has plenty of options for pretty much every option.
In addition, Leadpages has several additional options, like A/B testing, plenty of analytics, and lead magnets, where you can attach files or links to specific landing pages to prompt people to take immediate action.
The biggest downside? Leadpages landing pages can be slow to load, which can be a real killer for customer experience. That includes logging in, updating the page, or just waiting for something to save.
---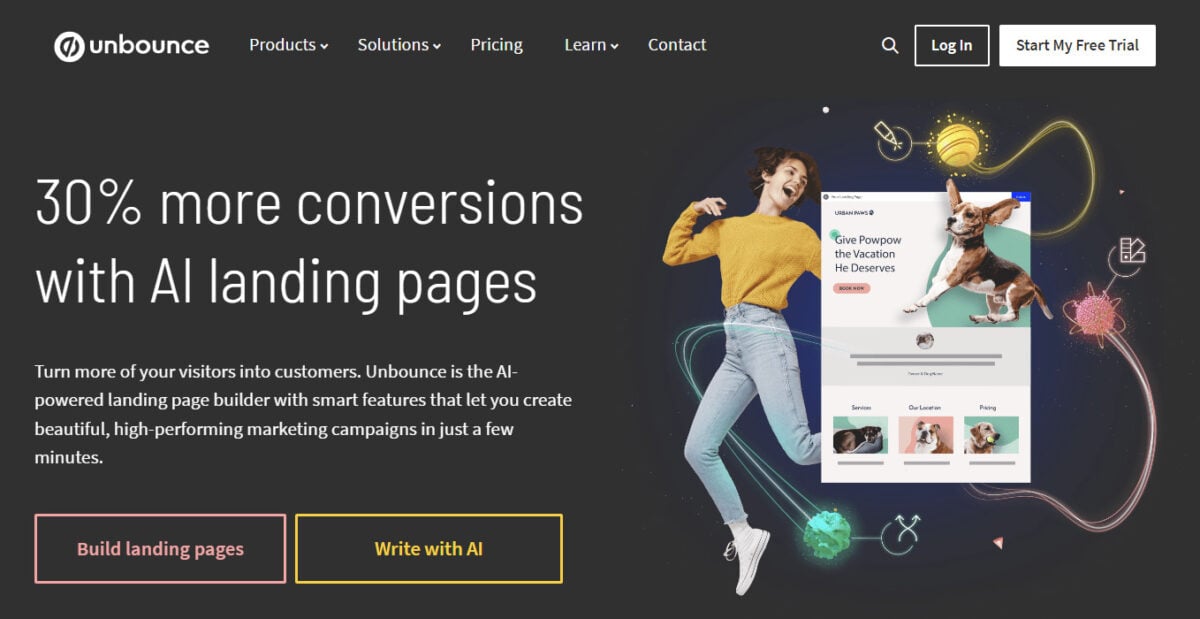 Unbounce can be a bit overwhelming at first, but this complex tool has a lot to offer for landing page templates and landing page options. With their long list of templates and detailed customization options, you can find the best template to match your brand. You can pick out your landing page template options by what exactly you want your landing page to achieve, from lead generation to e-commerce. Plus, Unbounce works with ThemeForest for an even longer list of options.
When you pick a template, your pre-filled text on the template will actually tell you exactly how to use your specific template to ensure maximum benefits. Before picking a template, you can preview how your landing page would look and compare different options. Unbounce also offers plenty of tracking options and integrations, like other options, as well as A/B testing. You can also opt for dynamic text replacement to better target your users, or use AI-based smart traffic tools to show different pages to different visitors.
---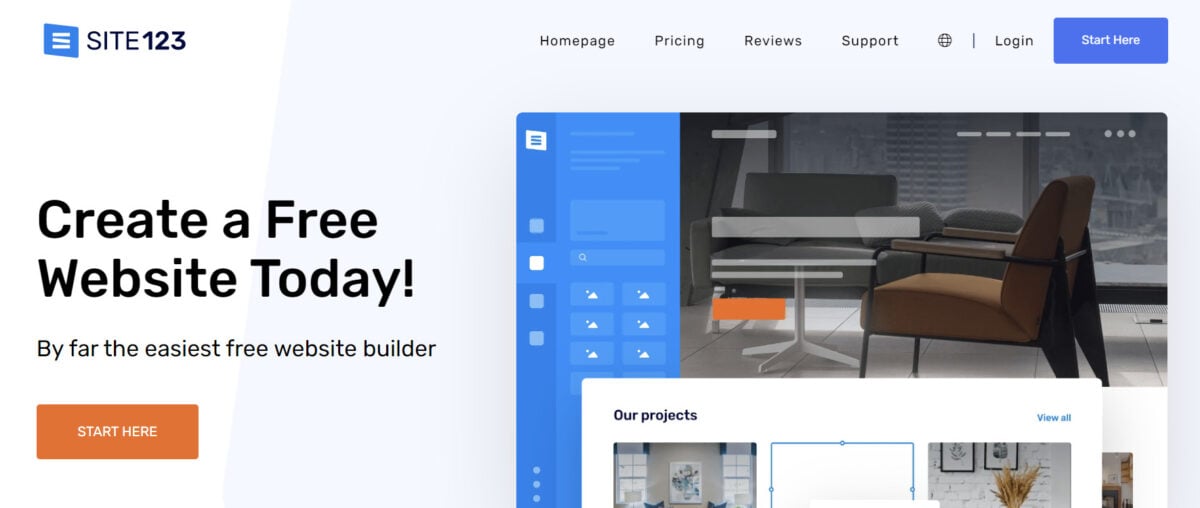 Site123 specializes in single-page websites like landing pages, and it works great as an option to build a nice landing page. With Site123, you can build a landing page with easy jump link options – to avoid scrolling. You can build a landing page with plenty of details, or you can keep your page shorter and more simple.
Site123's editor is quite simple to use, too. You can build a landing page in just a few minutes, even with no prior experience. However, Site123 is not as complex and does not have as many options for customization as other options, like Wix. You do have the freedom to customize your colors and fonts, though there aren't as many options. Use pre-designed custom boxes and blocks to add to your landing page. Site123 also has buttons and forms for your landing page, too.
In addition, the free plan has options to include contact forms to help achieve market goals. However, these forms are limited. The free plan with Site123 also does not have as many analytics and third-party integrations, like Wix or other landing page options on the list. Site123 works great for basic needs and basic marketing campaigns, and it's easy to use for first timers.
---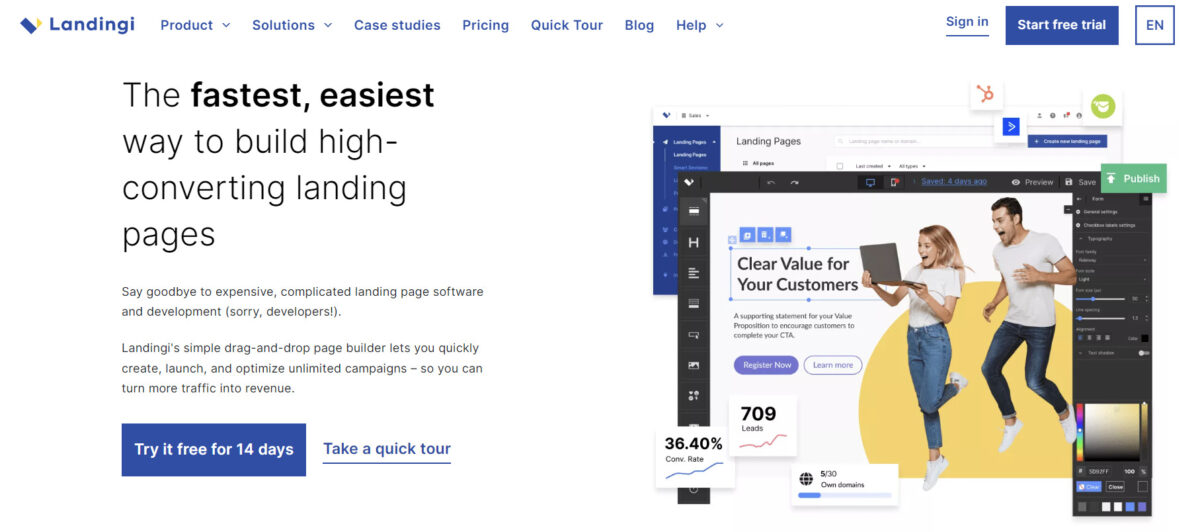 This landing page builder is similar to many on the list, but is still worth a look. Unlike other tools, their index of landing page templates are sorted by both industry and goal so you can work to narrow down your perfect landing page quickly. Once you pick a template, you can customize it to your own necessities. Landingi offers plenty of integration options, plenty of customization options, analytics and tracking tools, A/B testing capabilities, and more. Plus, you can edit in a custom thank you page once the form has been submitted – something that doesn't often exist, especially with your own branding, for free. The landing page tool offers integrations, too, to help extend the capabilities of your landing page.
Landingi also offers analytics, like many other options, although their analytics are easy to understand and much simpler than other options. The free plan does have a limit though: just 200 visits to your page, which isn't much at all. Landingi works well for smaller campaigns and businesses.
---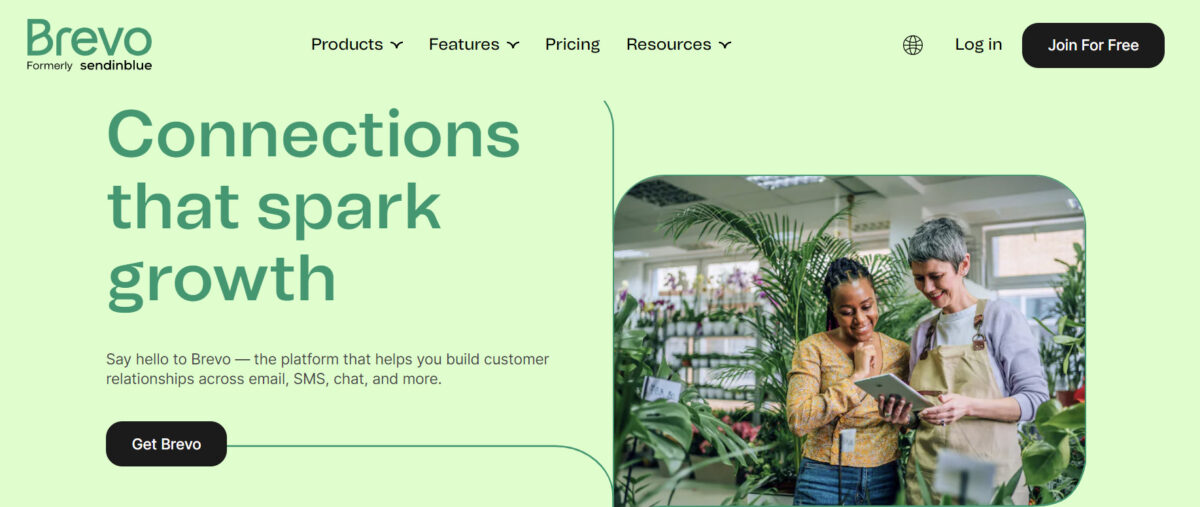 Enjoy a full-service marketing platform optionwith Brevo, a platform that lets you build landing pages. In addition to landing pages, Brevo offers email marketing, text options, chat options, and more. Brevo's email marketing option is free, but their landing page builder is only built using their paid options (after a free trial). Some of their great features include page templates by page goals, personalization tools, marketing automation tools, segmentation tools, and A/B testing tools for design and layout.
---
GetResponse offers a complex marketing platform that offers a variety of services, from email marketing to a landing page builder. With GetResponse, you can choose from a number of mobile-responsive themes and then edit the page with a drag-and-drop editing option. There's a built-in image editor that has photos from a number of stock photo sites like Shutterstock; you can also pick GIFs from Giphy. The platform makes it easy to integrate your landing page with a number of other tools, to offer a multi-faceted option. That includes Etsy, BigCommerce, and other big vendors. Plus, there's a conversion funnel builder to help with a bigger picture marketing strategy.
The big downside to GetResponse is that the platform is only free for 30 days, so it works for short-term use. However, after 30 days, you will need to pick a paid plan.
---

Google Sites isn't technically a landing page builder, but it's free and easy-to-use interface gives you plenty of power to create a simple landing page that focuses on lead generation. Using Google Sites can be a little tricky, of course, but you can do it.
Google Sites is closely tied with other Google products, so the integration is extensive. You can collaborate on your landing page and embed a number of items, including spreadsheets, calendars, maps, and more.
If you want to add a form to Google Sites, you will first need to build the form in Google. Once you have the form built, you can pick it from the list in the Google Sites editor. When you add it to your site, the form will shift to match the style of your landing page. Google Sites let you drag the form and other content blocks around the page to change the layout.
You can publish your landing page right away. You can even link your custom domain to your business using G Suite, if your company uses it. It's an excellent option for many users; the one downside is that Google Sites doesn't have some of the other features that other options have. However, it's a great option for a fast, lead generation-focused page.
---