Advertising Disclosure
Advertising disclosure:
Our partners compensate us. This may influence which products or services we review (also where and how those products appear on the site), this in no way affects our recommendations or the advice we offer. Our reviews are based on years of experience and countless hours of research. Our partners cannot pay us to guarantee favorable reviews of their products or services.
According to WebFX, one of the top eCommerce SEO agencies, creating a landing page can cost you anything between $75 and a whopping $3,000. Though, what if we told you that you do not have to spend a dime (let alone a small fortune) on creating beautiful landing pages that work?
Nowadays, there is a pretty good selection of free landing page creators which are actually pretty decent. While the majority of these landing page tools offer extra features as part of their paid plans, all these creators offer free plans that you can use to whip up a professional-looking landing page design at no extra cost and in virtually no time.
Most of these landing page creators are easy to use with little to no learning curve. While some of these tools also offer email marketing services, others offer you the option to integrate with some of the most popular email automation tools of your choice.
Whatever your goals, landing pages are essential and should be a priority in your marketing funnel. According to HubSpot, businesses with 10 – 15 landing pages manage to increase their leads by as much as 55%. Now that you know that you need to invest time (and not necessarily money) in creating landing pages, here are 11 of the best free landing page creators available on the market.
---
11 Free Landing Page Creators to Try in 2023:
---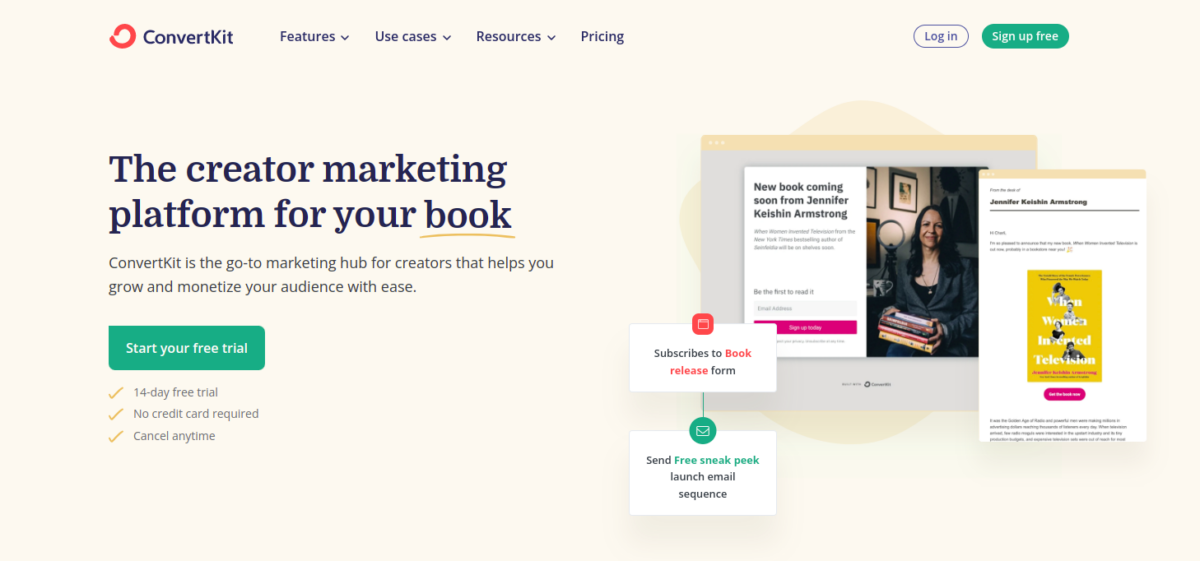 You might already be familiar with ConvertKit as an email marketing automation tool. In addition to offering different email services, you can also use it to create landing pages to market your projects. So, if email marketing forms a big part of your digital marketing strategy, this tool can be a good option.
While you do not need to be familiar with custom CSS coding, ConvertKit has made it available as an option. Alternatively, there are still many fully responsive and fully customizable templates that you can use to create attractive landing pages without any coding.
One of the big advantages of ConvertKit is that it has an integration with Unsplash. So, finding the right image for your landing page (albeit stock photography) will be easy. Also, unlike Carrd, forms are included in its Free plan and you can create an unlimited number of landing pages. All in all, it is a good choice if you want to create a landing page with a sign-up form that you connect to a custom domain.
---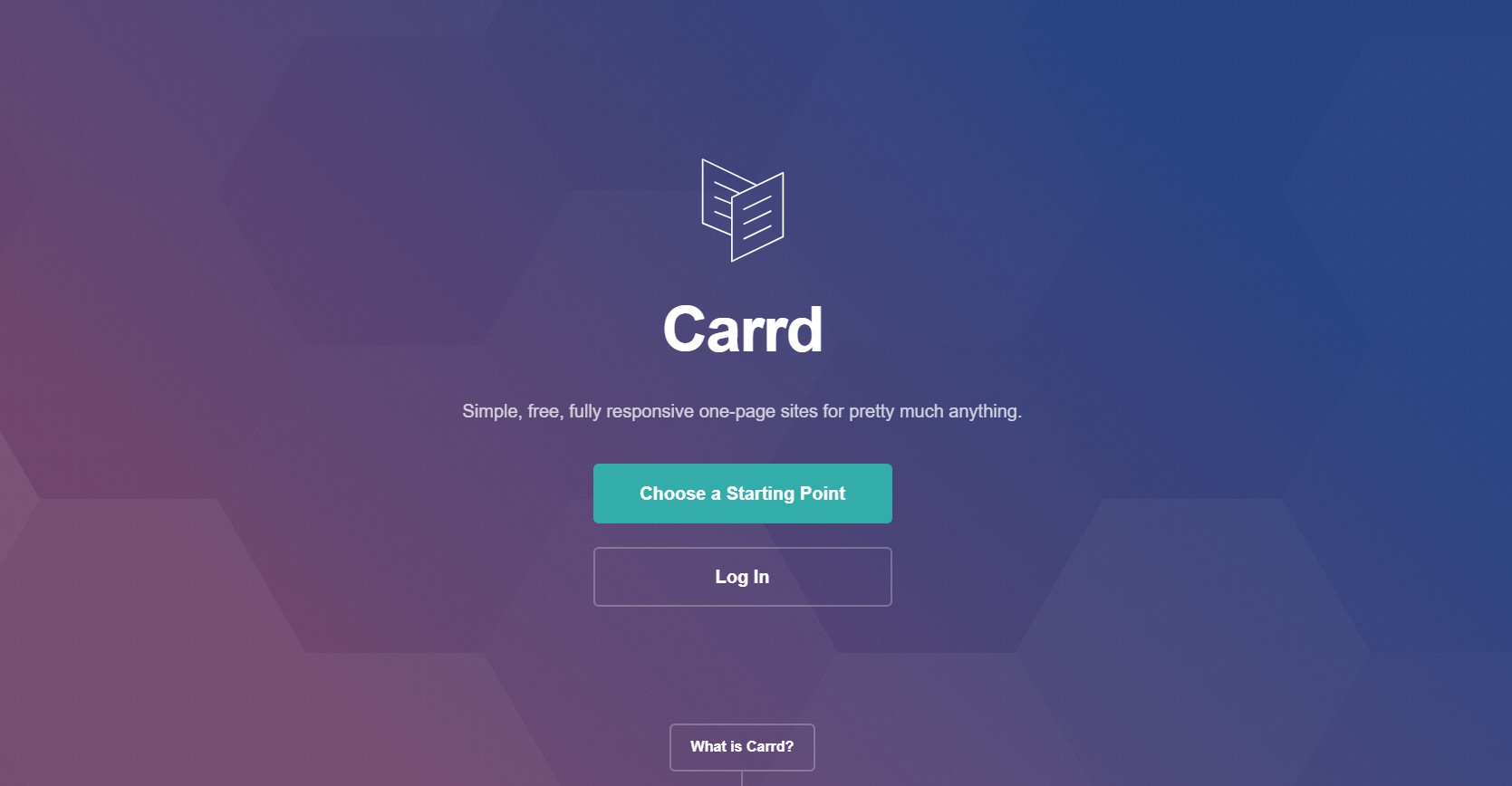 Whether you prefer to start from scratch with a blank canvas or use a template, Carrd has you covered. With its Free plan, you can create up to three responsive sites and get access to all its core features free of charge.
One of its biggest advantages is that you can first create a landing page before signing up. This way, you can actually get a feel for if it will work for you before sharing your details. For us, though, the biggest highlight is probably its sleek interface and stylish templates.
All in all, it is a great choice if you want to create simple one-page sites for products, services, apps or simply a personal profile. However, if you want to add a sign-up or contact form, you will need to sign up for its Pro Standard plan (which is still great value for money considering that it costs only $19 per year).
---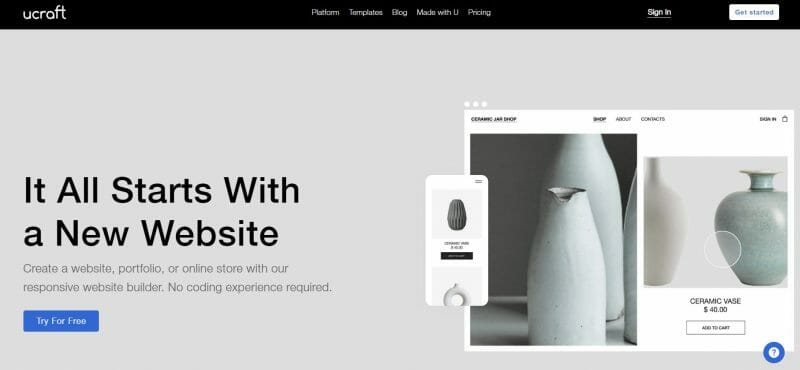 Ucraft is one of the top landing page builder software solutions, even when compared to paid tools. With its Free plan, you get SSL security, round-the-clock support, and Google Analytics. It also gives you the ability to connect a custom domain for free which is quite rare. Unlike Carrd, it organizes its templates according to industry. This can be quite useful especially for content creators and small businesses.
---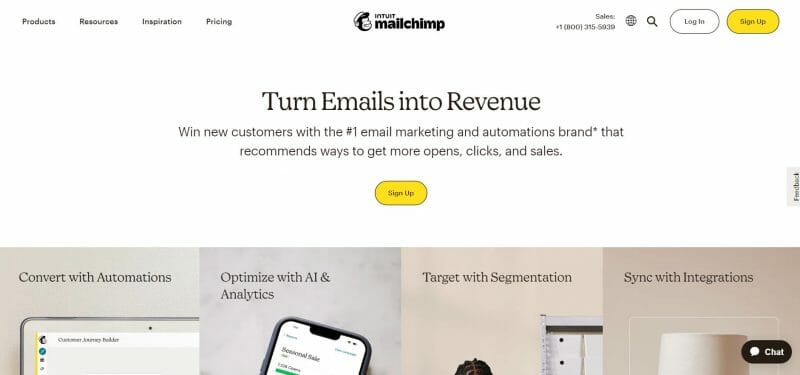 Similarly to ConvertKit, Mailchimp is more synonymous with email marketing than landing pages. Though, with its Free plan, you will also be able to create landing pages and forms.
If you already use Mailchimp's email designer, you will find that its landing page builder pretty much works the same. Using the drop-down menu, you can select an audience which is an added feature that not all the tools have. You are then ready to select a template, upload your content and add a URL. With Mailchimp, you have two options. You can either create a free URL for your landing page using the Mailchimp domain or customize it with one that you have bought or connected via Mailchimp.
One of the key benefits is that you can add tracking for Google Analytics, Facebook Pixel or Mailchimp itself. Moreover, it lets you add a sign-up form to any layout. All things considered, it is a good tool to explore if you are already using Mailchimp for email marketing.
---

With Grapedrop's free Starter plan, you can create up to five landing pages. Other features included in this Free plan are 100 form submissions per page, 100 responsive custom blocks across all pages, Google Fonts and a full-feature editor. Similarly to ConvertKit, you can also use it to access loads of free images via Unsplash.
One of its biggest perks is that you can connect your custom domain to Grapedrop free of charge. Other landing page builders do not always include this feature, let alone in the Free plan.
While its website offers minimal information, make no mistake that this landing page builder is one powerful tool. Considering that every component inside its canvas can be customized, it is better for those who value flexibility and boast some know-how regarding how to use it to its full potential.
---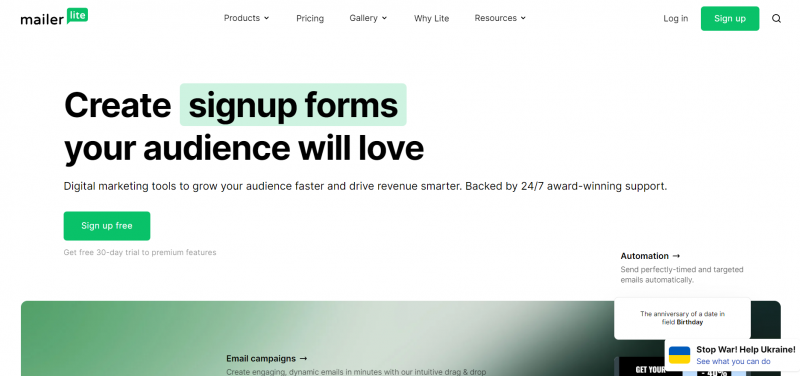 If you are searching for an easy-to-use tool, MailerLite's drag-and-drop landing page builder and pre-built templates can make light work of setting up a landing page. With its Free plan, you can create up to five landing pages as well as a website.
As MailerLite's actual focus is on email marketing campaigns, MailerLite is a great tool to use if you want to get more subscribers by using sign-up forms. In addition to adding sign-up forms, you can add testimonials, image carousels, contact forms, countdown timers, videos and survey blocks to create a more interactive and engaging experience for your target audience. It is especially a great free option for subscription-based businesses as it also enables you to sell subscription and digital products via your landing page to generate money. On top of that, it also includes the ability to set up your landing page for SEO, a feature which not all free landing page builders offer.
Content creators specifically can also check out tools like Beacons that can help them to supercharge their link in bio. It's is a content creator tool that allows users to easily create engaging social media content and manage their link in bio, making it a comprehensive solution for influencers and brands looking to optimize their online presence.
---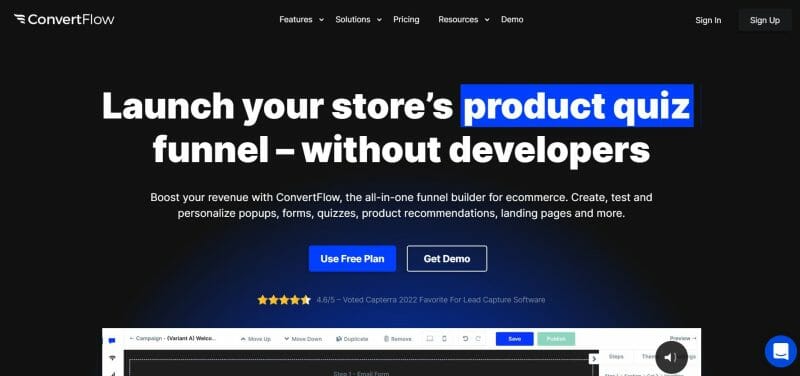 Unlike some of the other landing page builders featured in our list, ConvertFlow is not an email marketing tool, instead, its aim is to be an all-in-one conversion marketing platform. As such, it offers direct integrations with countless other third-party apps like Mailchimp, Infusionsoft, GetResponse, Klaviyo and WordPress. The benefit that this offers is that you are not limited to using a specific email marketing tool.
The feature that sets ConvertFlow apart from many other free landing page builders, though, is its ability to create multi-step forms. This way, you can make the forms shorter by including just one easy question on the first page and leave the other questions for the second page. The logic behind this approach is that you can boost conversion rates by guiding your visitors to the right step in the funnel based on their responses. Then, it takes it even one step further by remembering your visitors to avoid asking for the same information again.
Another feature that definitely deserves a mention is its comprehensive insights into how your landing page performs. From tracking conversions to viewing visitors' responses to your questions, there is a lot of valuable data that you can gather with ConvertFlow.
Though, one con is that with its Free plan you can use it for only 500 monthly visitors. So, considering this, it is best for testing and new e-Commerce stores. Once your new store starts to attract more visitors, you will have to switch to its Pro plan. Its Pro plan costs only $29 per month. So, even if you need to end up paying for this landing page builder feature, it is still a cost-effective solution.
---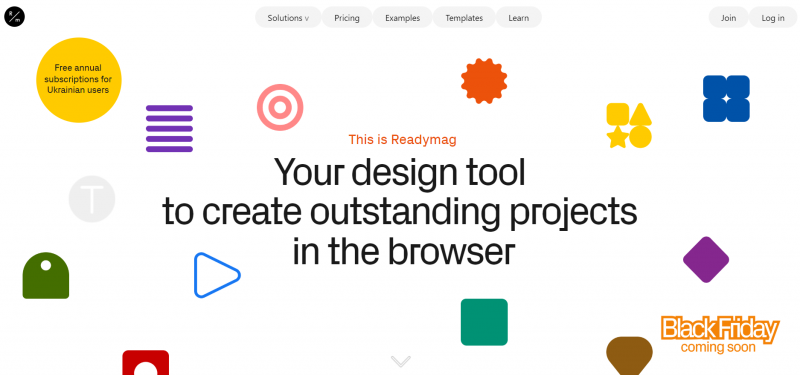 Readymag is a good choice for eCommerce businesses that want to start creating landing pages. With its Free plan, you can create as many as 10 pages using one of the 10+ templates. Though, to remove the Readymag branding and access more advanced features, you will have to sign up for one of its paid plans that start at $20 per month.
---

Unlike many of the other landing page creators in our list, SITE123 does not limit how many landing pages you can create with its Free plan. Yes, you can create unlimited landing pages free of charge! This makes it a good choice if you plan on running multiple campaigns as you can easily organize your landing pages into separate groups and add different contributors for your landing pages.
As the name suggests, it's as easy as 1,2,3 to create a landing page. First, you select which type of site you want to create. From online stores to handyman services, there are 16 categories from which you can choose. The second step is to add your website name and then you simply create your account to get started.
One con is that it does not offer lots of customization as some of the other creators. While you can add contact forms, these are quite limited. Considering this, it is better suited for smaller businesses that can get away with less personalization.
---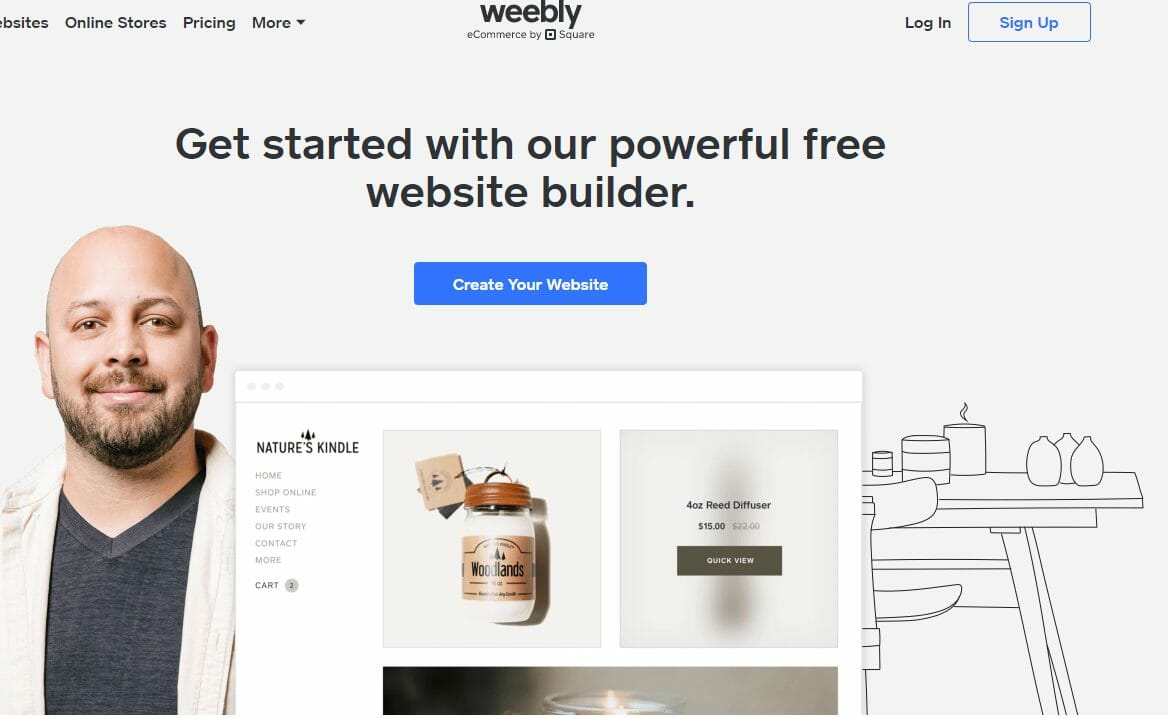 Weebly is one of the top free eCommerce website builders and also offers landing page templates and email marketing tools. Trusted by more than 40 million people across the globe, it is one of the more well-known tools in our list and its Free plan is rather limited, especially compared to some of the other creators mentioned in our list. In short, it only offers SEO, lead capture, SSL security and contact forms as features included in its Free plan.
---
Formerly called Landen, Umso takes a rather unique approach to creating landing pages and websites. When creating a new site, you will be asked about your product and preferences. Then, Umso's unique generator algorithm will design an initial site for you. You are then welcome to continue editing the site until you are completely happy with it.
According to Umso's website, it is best for SaaS companies, mobile apps and other types of digital businesses that need to create a professional-looking landing page, yet their list of happy clients have designed beautiful sites for almost anything.
---
---
Wrapping Things Up
With the help of one of these tools, you can create a well-designed landing page without adding to your workload. As a matter of fact, you do not even have to allocate some of your budget to creating landing pages. Seeing that you will not require an upfront investment, you are even free to try out a few and see which one works the best for you. Whether you want to introduce your latest product or collect leads, you can design a high-quality, professional-looking landing page quickly.
Frequently Asked Questions
What is a landing page?
In a nutshell, a landing page is a dedicated web page that you purely use for advertising or other digital marketing purposes. It is the first web page that new visitors will see after they have clicked on a link that corresponds to the landing page. It could be something like a blog post or product page.
How do you design an effective landing page?
Effective landing pages all share a number of elements that include captivating headlines, social proof and clear call-to-action prompts. It is also important to keep your landing page design simple. Effective landing pages concentrate on a single goal. By including too many different elements, your visitors will probably be confused. So, it is best to opt for just enough copy to communicate your message.
What is the difference between a home page and a landing page?
Unlike your traditional home page, your landing page has been specifically created to receive and convert traffic generated by your online marketing campaign. You can, for example, design a landing page for an online course or to encourage people to buy a product, register for a webinar, contact your business or simply sign up for your monthly newsletter.
What are the advantages of landing pages?
A landing page is a crucial part of any online marketing strategy. When it is designed effectively, it can help you to improve conversion rates by moving your visitors more efficiently down the funnel, while at the same time reducing the cost of getting new leads. In fact, it is one of the most effective tools for lead generation. Just by taking some time to design a powerful landing page, you can basically take a step back and quality leads will find you.
How can you create a landing page for free?
The good news is that there are many good free landing page creators. You can, for example, check out Umso which takes a unique approach or even use the easy-to-use interface of Google Sites. Alternatively, you can sign up for an email marketing automation tool like MailerLite that includes landing pages in its Free plan.