While music is by no means required to practice yoga, the right playlist can create the perfect mood for your online yoga class. That's why many yoga instructors are constantly on the lookout for music they can use to create a welcoming, relaxed, and yoga-ready atmosphere. Of course, finding music can be tricky, especially if you're on a budget. So, what's a yogi to do? Don't worry—we're here for you. Here's how to get yoga music for free for your online classes!
Before we get into our list of sources for free (or not free, but legal) music for your online yoga class, we need to talk about why it's so important to go through the proper channels to get your hands on music. After all, it'd be a shame to get hit with big fines when you were just trying to save some money on music, wouldn't it? So, first thing's first...
---
Yoga Music for Free: Where to Find It and Why It's a Big Deal:
---
What Is Public Domain Music or Royalty-Free Music?
Public domain music is musical tracks and pieces that aren't under copyright. This means they can be used whenever, wherever without worrying about getting permission, purchasing, making a licensing payment, or paying royalties to the creator of the track. Public domain music can be distributed, adapted, copied, performed, and displayed by anyone, anywhere for free.
Royalty-free music is a little different. With this type of music, you still have to pay for use of the tracks, but you don't have to pay performance royalties. So, you pay for the track once and then you have the rights to use the track whenever, wherever, and however you want without paying any additional fees.
---
Why Sourcing the Right Music Matters for Yoga Teachers
Playing music during a yoga class, online or offline, is considered a public performance for music licensing. This means that the music you use is subject to licensing fees and royalty fees due to the copyright owner. There are very few exceptions to this rule—religious services and face-to-face teaching at a non-profit educational institution. So, if you're a yoga teacher streaming yoga classes to your students online or meeting in the park, or nearly anywhere else, you're going to need to pay to license the music you use unless that music is public domain, something you wrote and recorded yourself, or obtained through a Creative Commons (CC) license. We'll talk more about CC later.
---
How to Get Yoga Music for Free for Your Online Classes
By now you're probably wondering how you can get access to free music for your online yoga classes. You're in luck! Here are 12 ways to get your tunes (some of which are completely free).
Moby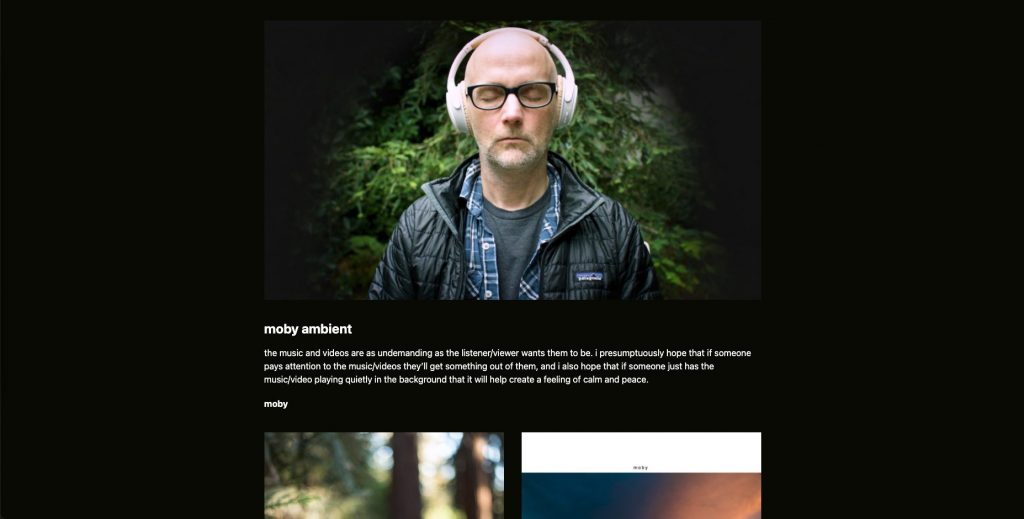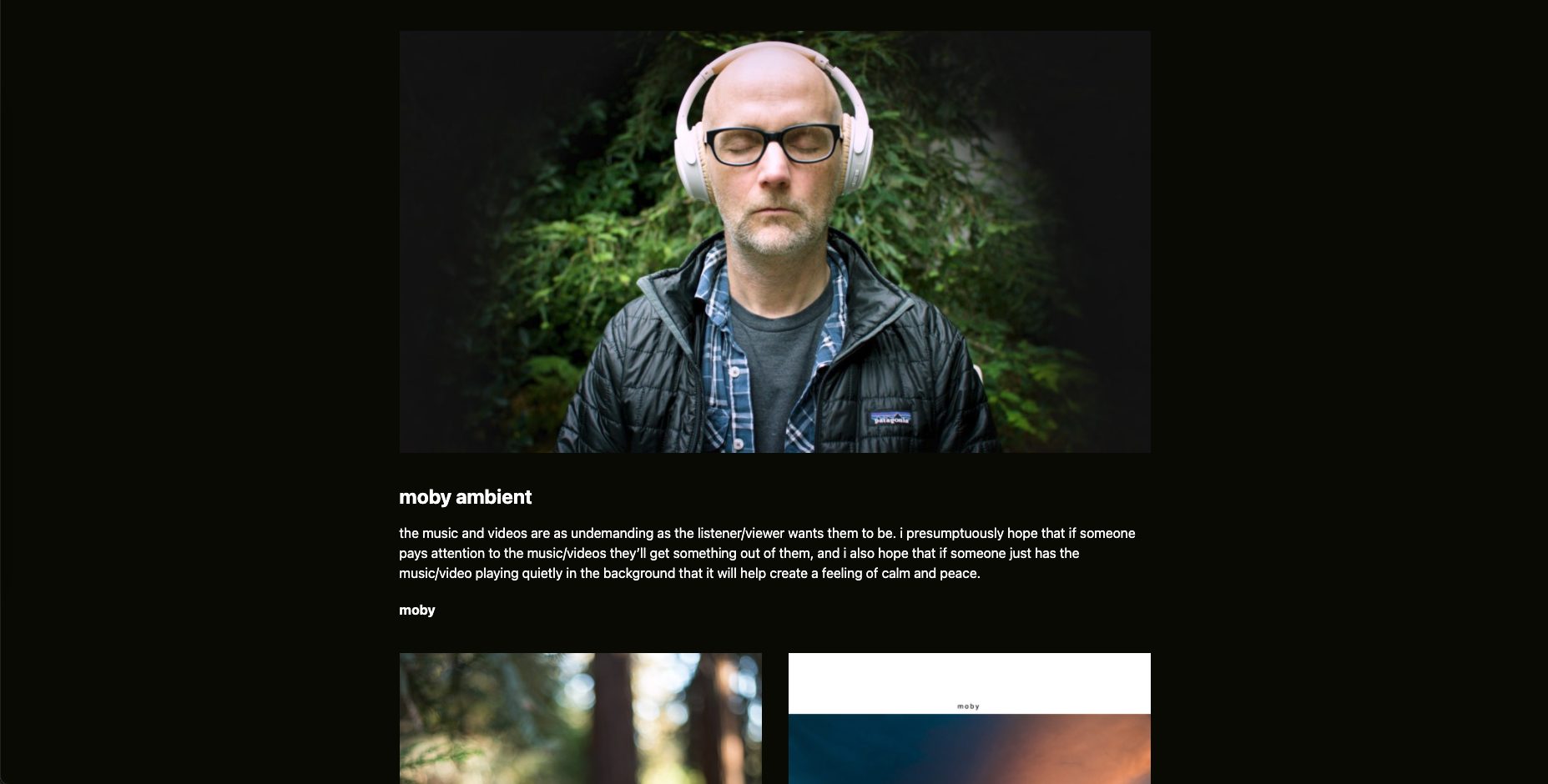 Years ago, musical artist Moby offered up several long ambient tracks free to anyone. According to Moby, he created the music "to listen to when i do yoga or sleep or meditate or panic" and users should "feel free to share it or give it away or whatever, it's not protected or anything, or at least it shouldn't be."
---
Filmmusic (Incompetech)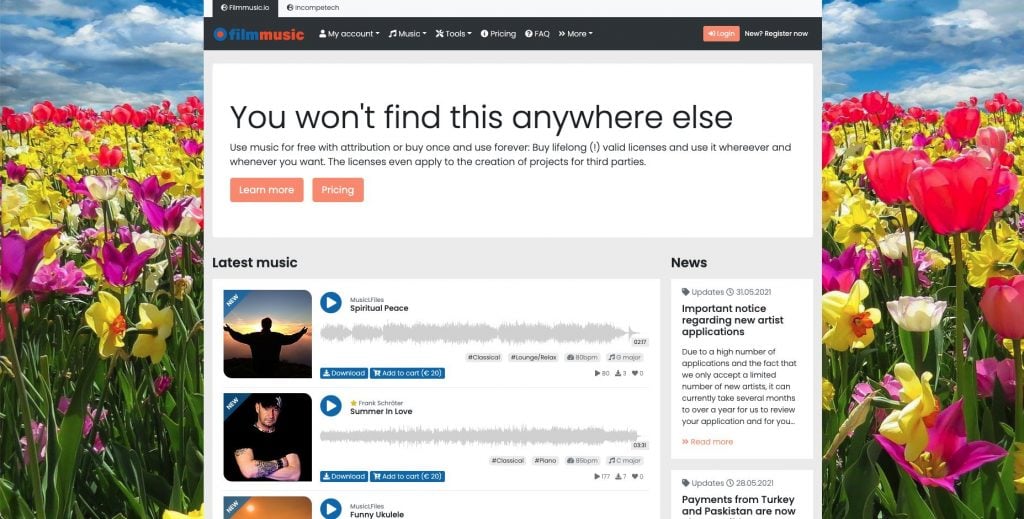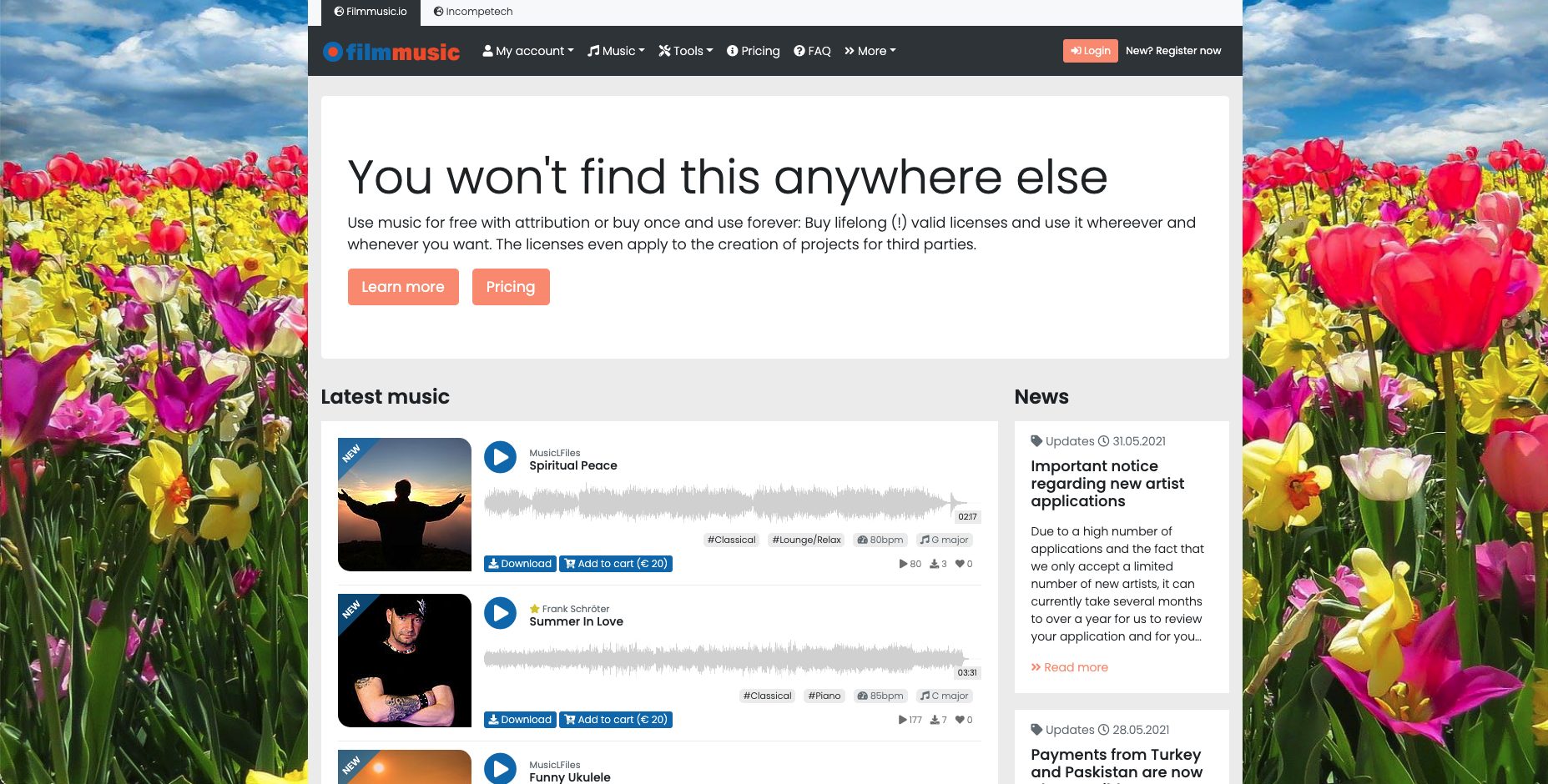 Filmmusic/Incompetech is a popular site that includes tons of royalty-free music across a range of genres (the Lounge/Relax genre would probably be great for your yoga class). There are two licenses available. With the free license, you can download and use an MP3 track with attribution (that means you'll have to show the artist's name somewhere on the screen or in your notes during the class). An extended license is 20 Euro and gives you access to the track in MP3 or WAV format. You can use tracks with an extended license without attribution.
---
Epidemic Sound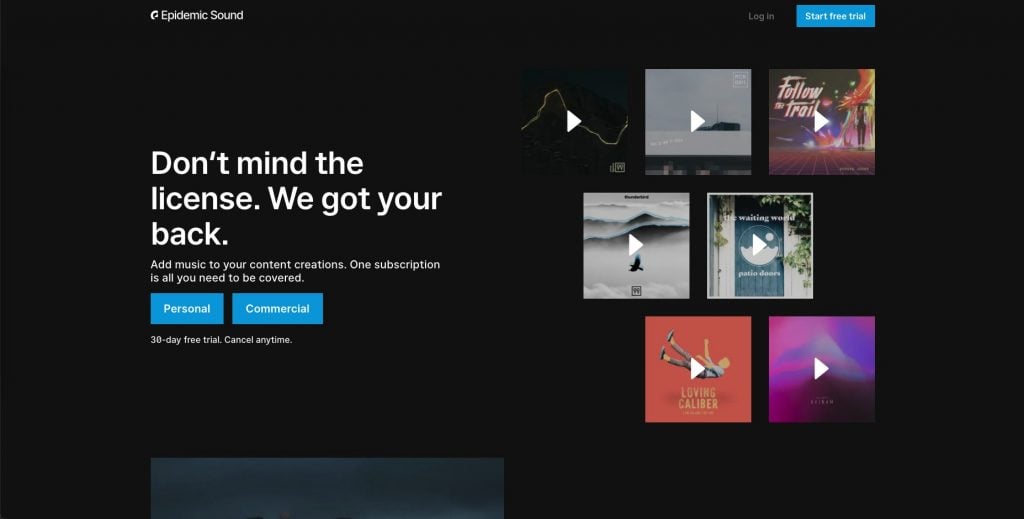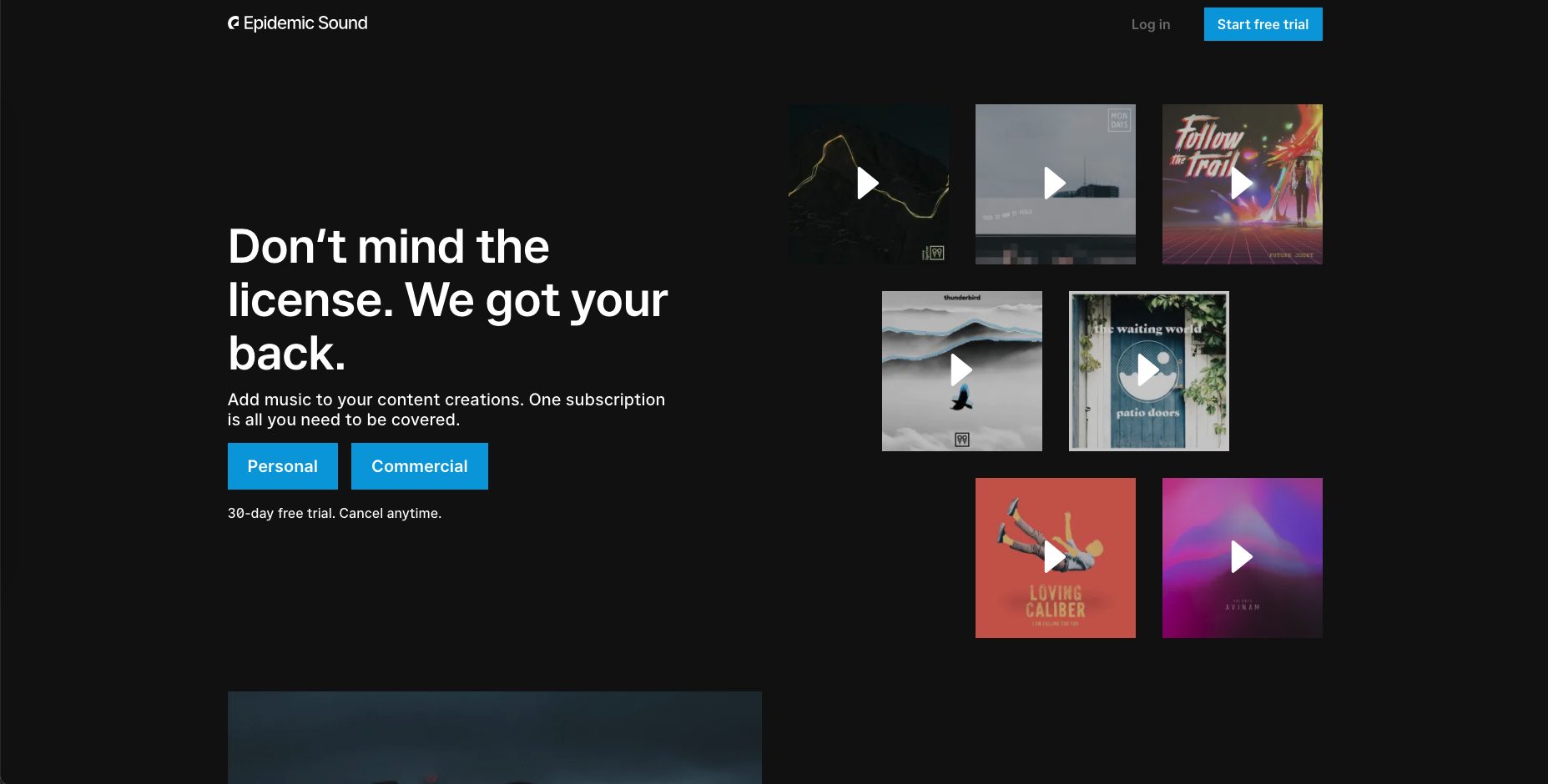 Epidemic Sound is a royalty-free music subscription site that offers a 30-day free trial. After that, a commercial license is $299/year. That gives you access to 35,000 tracks you can use in your online yoga classes. They have a Small Emotions genre that sounds just delightful, but you can also find music by moods like Happy, Epic, Dreamy, and more.
---
YouTube Audio Library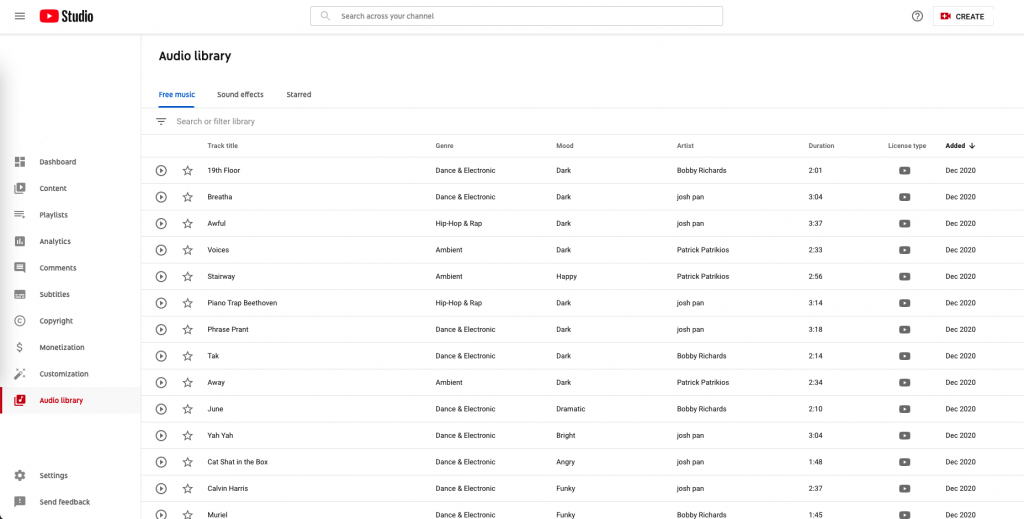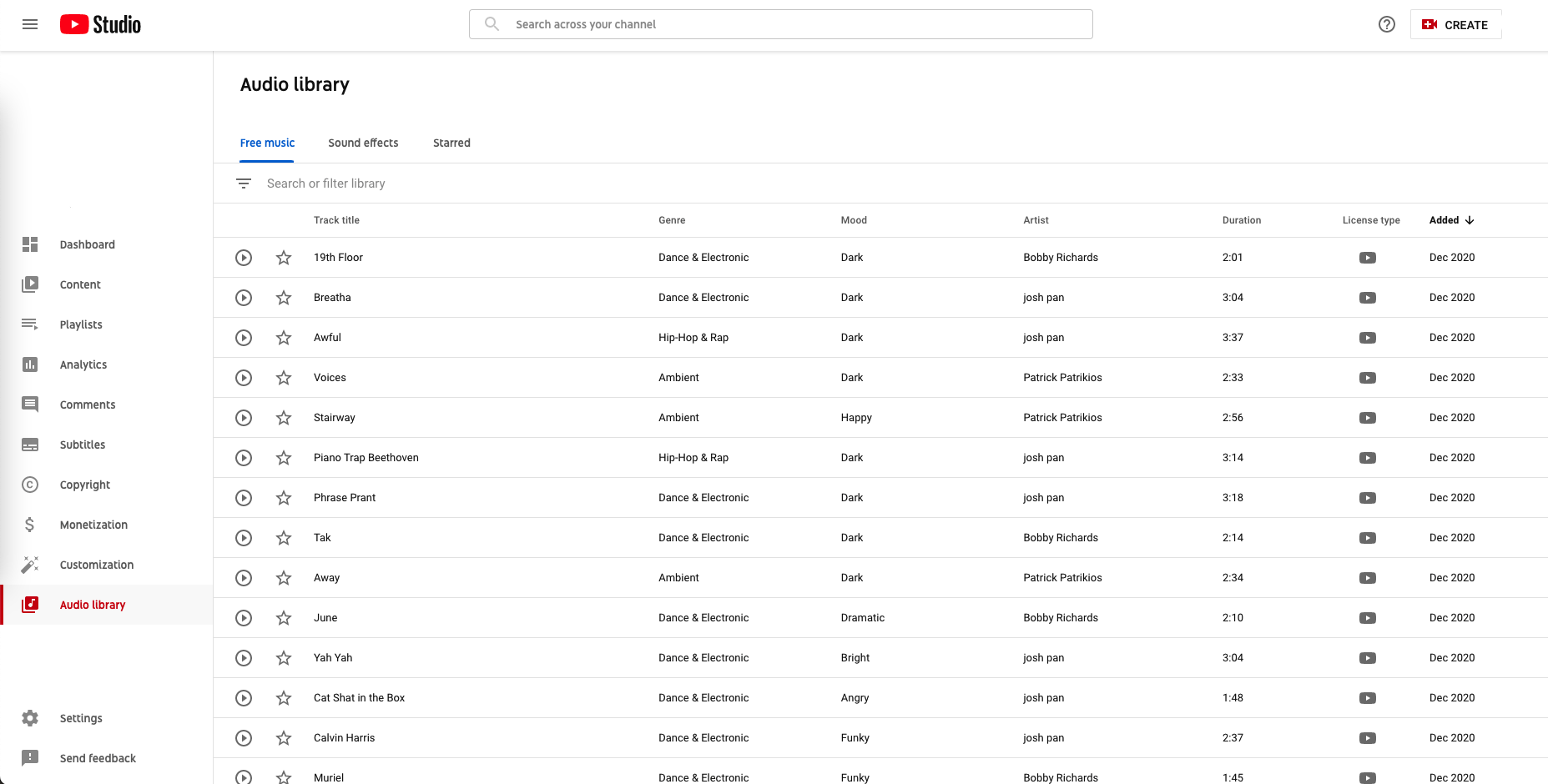 Did you know that YouTube has a free audio library? You don't even have to use the tracks on YouTube—you can download them and use them wherever you want. Tracks can be found based on genre, mood, instrument, length, or required attribution. When you find a song that looks interesting, just check the License type and you'll be able to see the rights and restrictions on the track.
---
Soundcloud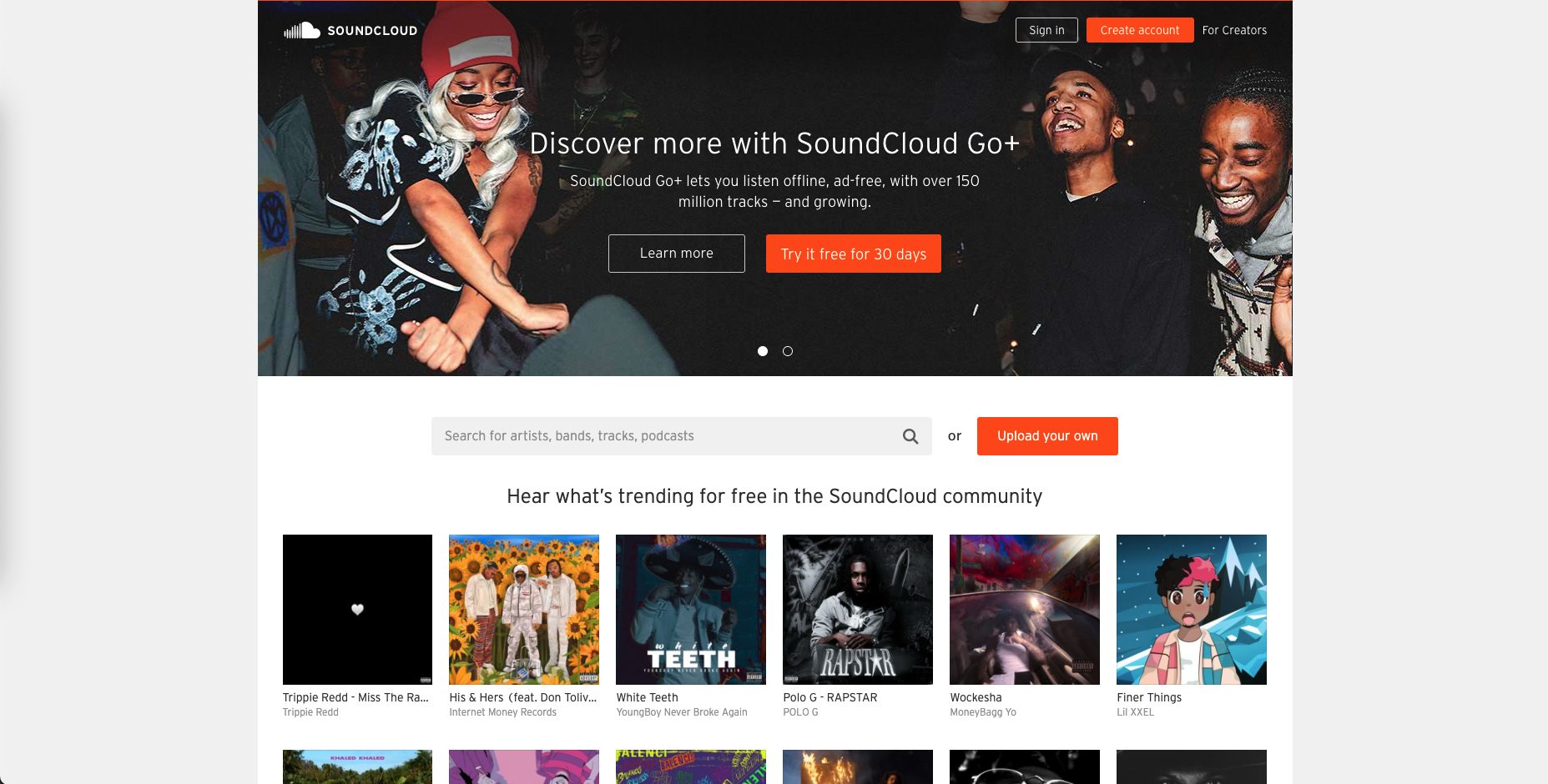 Soundcloud has a variety of royalty-free music that includes ambient music with things like sound spas, singing bowls, and other yoga-friendly sounds. Since it's such a giant library filled with hundreds of music influencers, it can be a bit overwhelming, but you're also likely to find sounds that you like. It's going to take time to work through Soundcloud to find free music, but it's definitely out there. If you find a track you really like and you're not sure, you can always reach out to the creator and ask them for permission to download and use it.
---
AudioMicro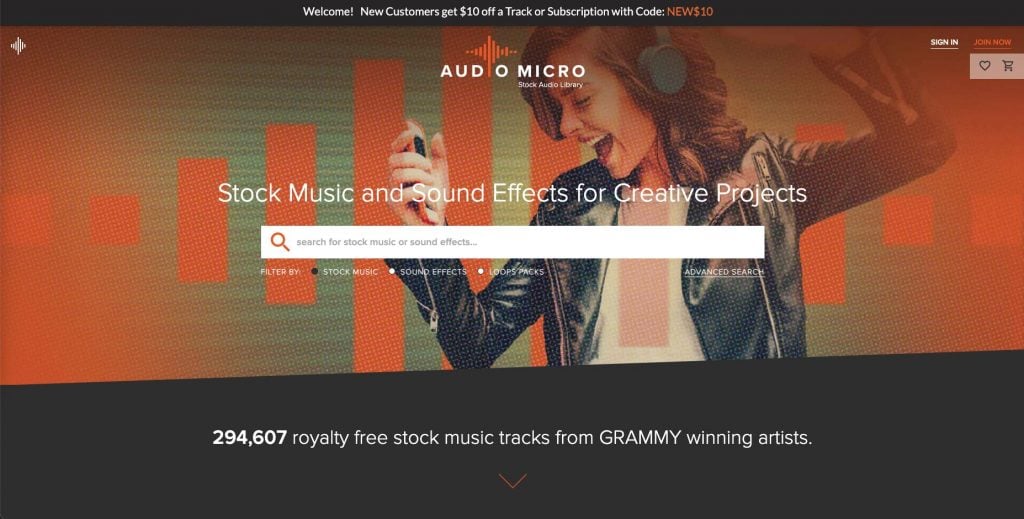 AudioMicro is a bit pricey with subscriptions starting at $119.95/month for five tracks. However, they also have nearly 300,000 tracks available, including ambient sounds that would be perfect for your online yoga class. And the quality is on point.
---
Meditation Music Library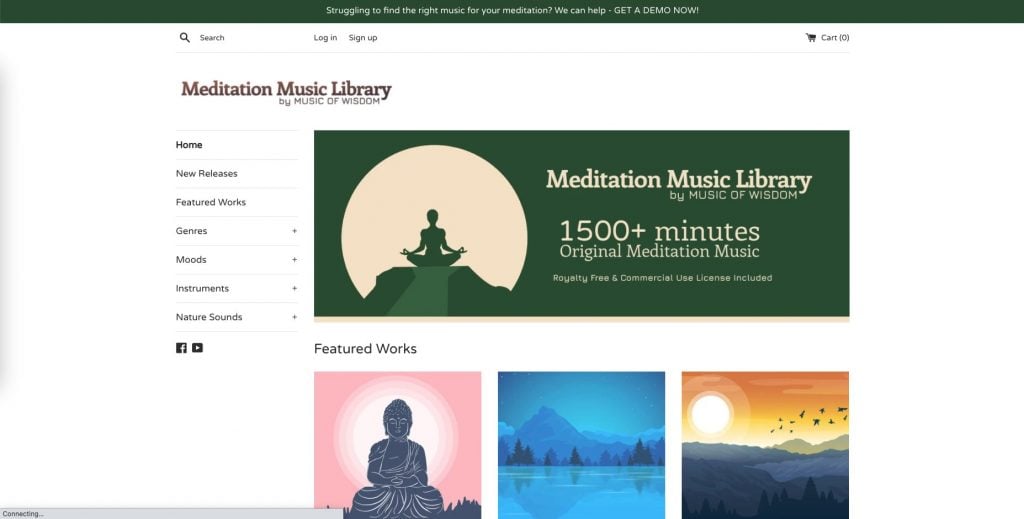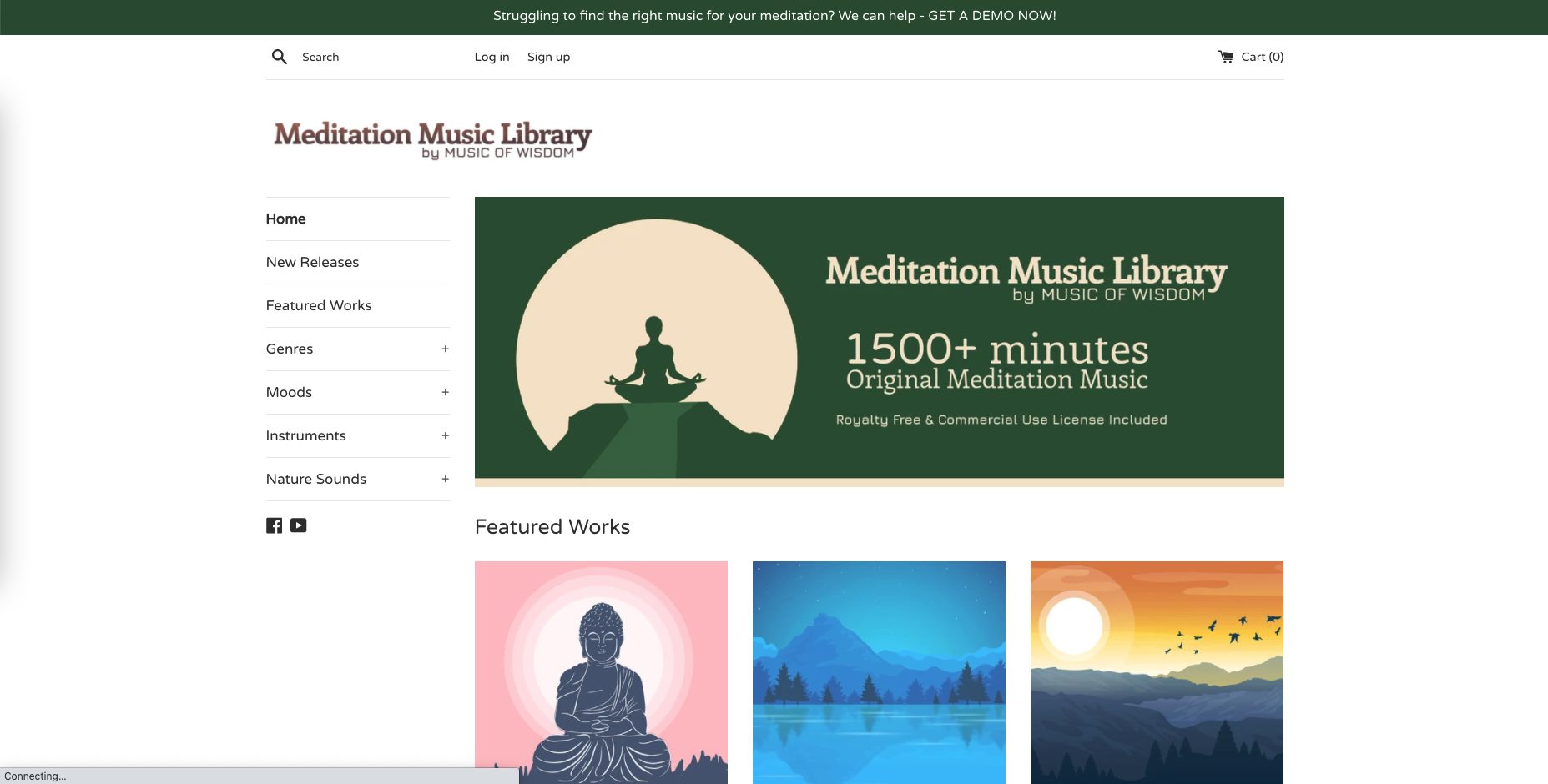 Meditation Music Library, as the name suggests, offers up the kind of music yoga teachers are probably looking for to play in their online classes. The high-quality, royalty-free tracks range from $39–$59 each (with bundles for $139). Each purchase includes a short version (7–10 minutes) and a long version (60+ minutes) and a commercial use license (with attribution).
---
Free Music Archive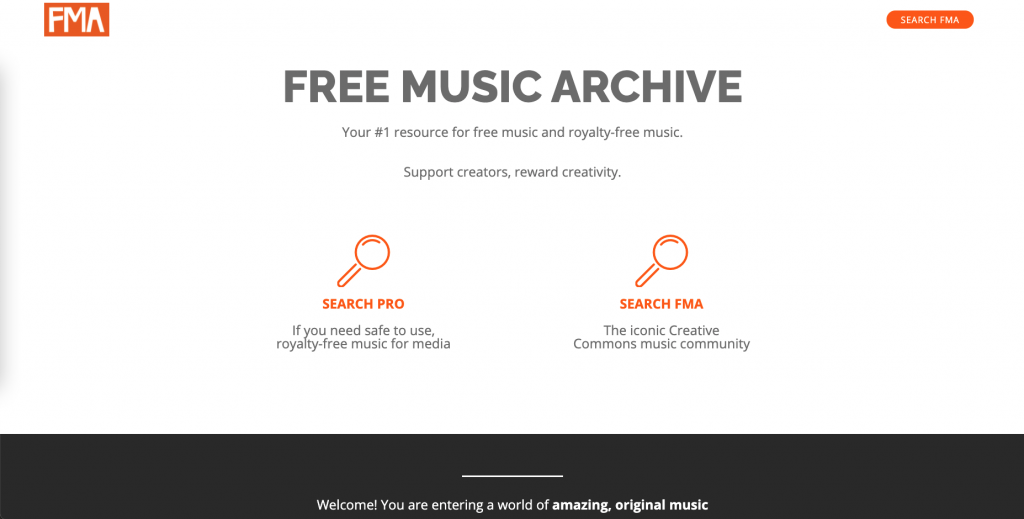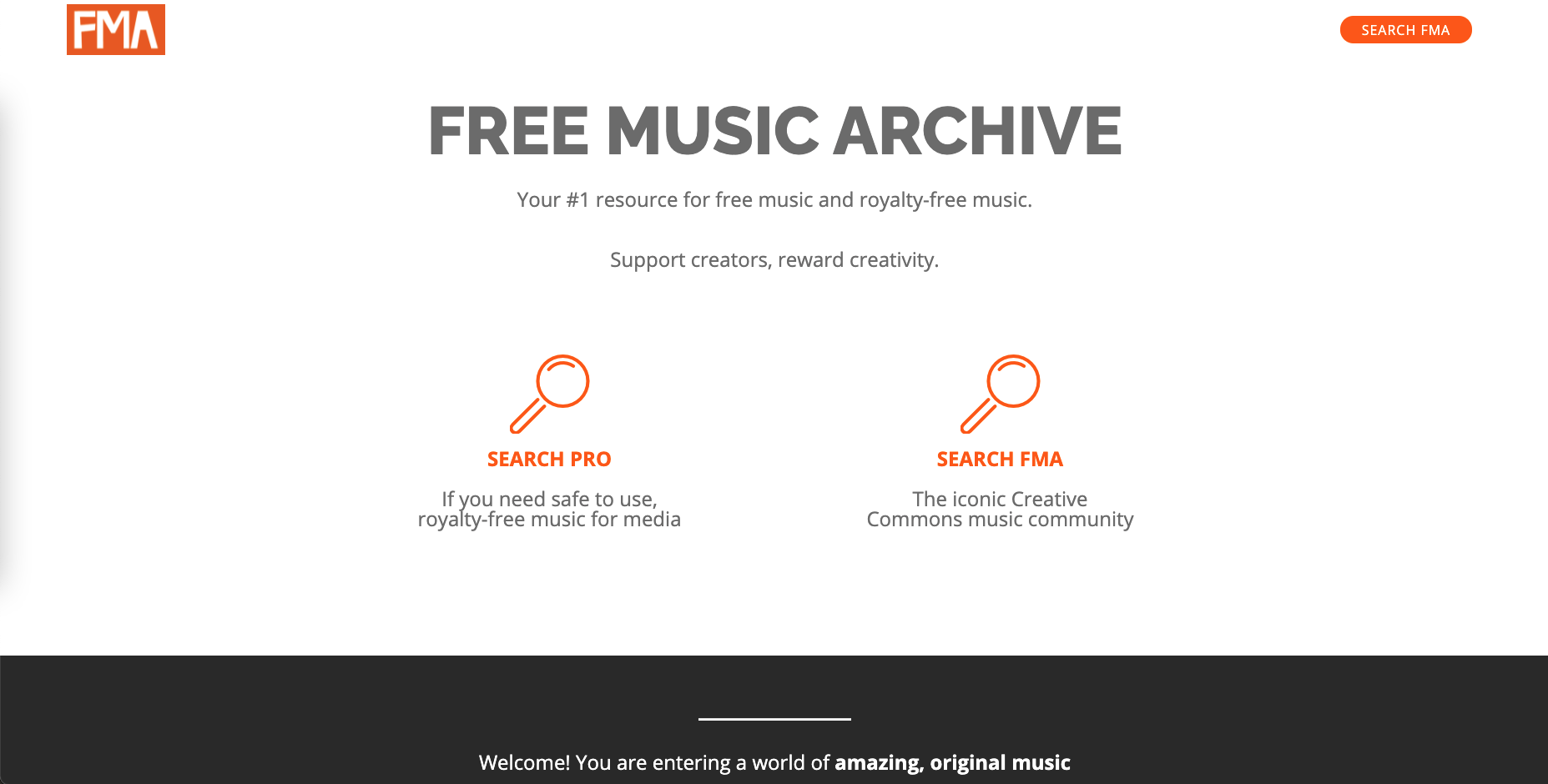 Free Music Archive was founded by WFMU, a freeform public radio station. Music is free using a Creative Commons license. From the homepage, click on one of the genres (maybe start with Instrumental) and you'll be able to see a list of free music in that genre. If there are subgenres, they'll appear at the top of the list. To see the licensing requirements for each song, click on the download button (the down arrow to the right of the track).
---
The Public Domain Project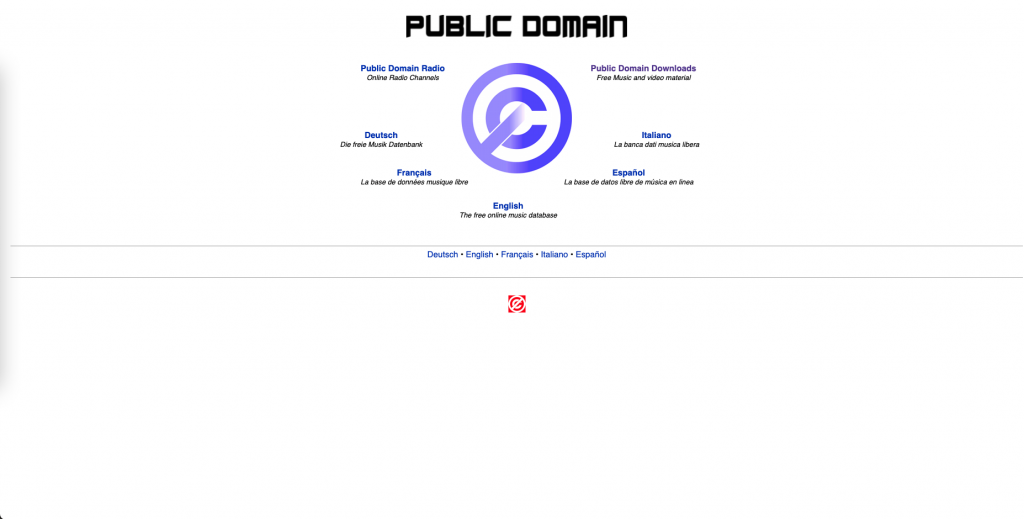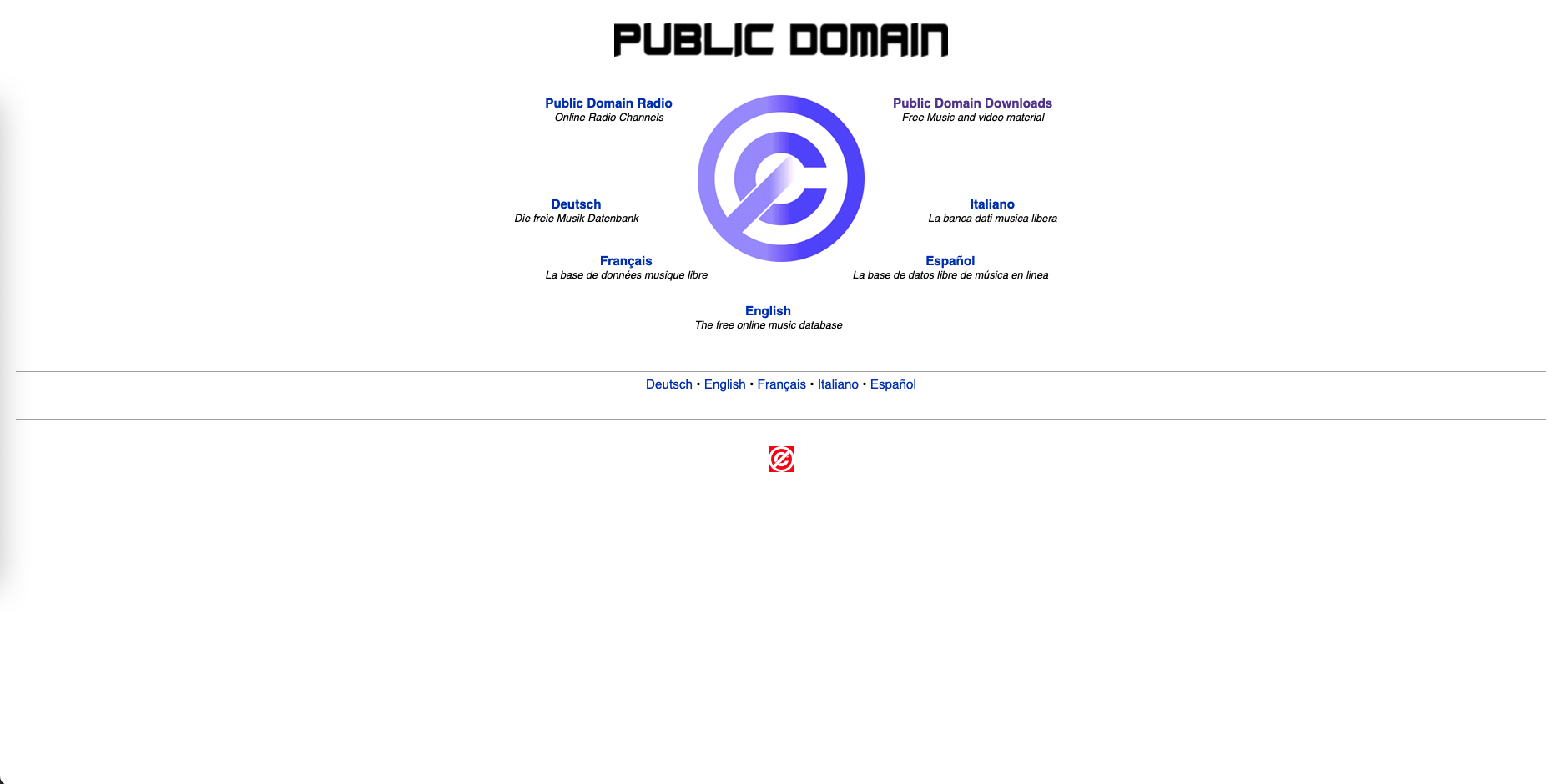 Public Domain Project is a collection of works in the public domain that are now free from copyright and available for free public use. A lot of the work is classical and somewhat dated, but you should still be able to find some great free tracks for your online yoga class.
---
PremiumBeat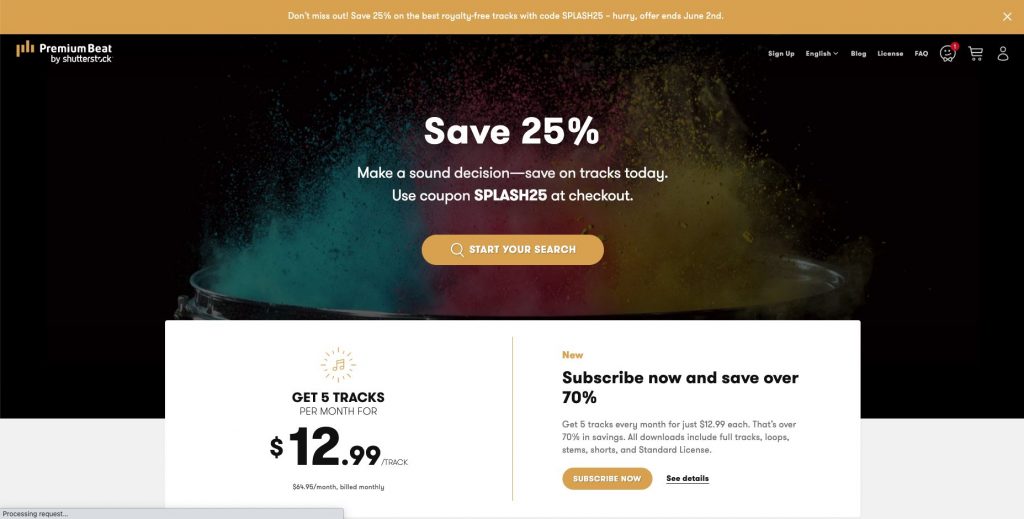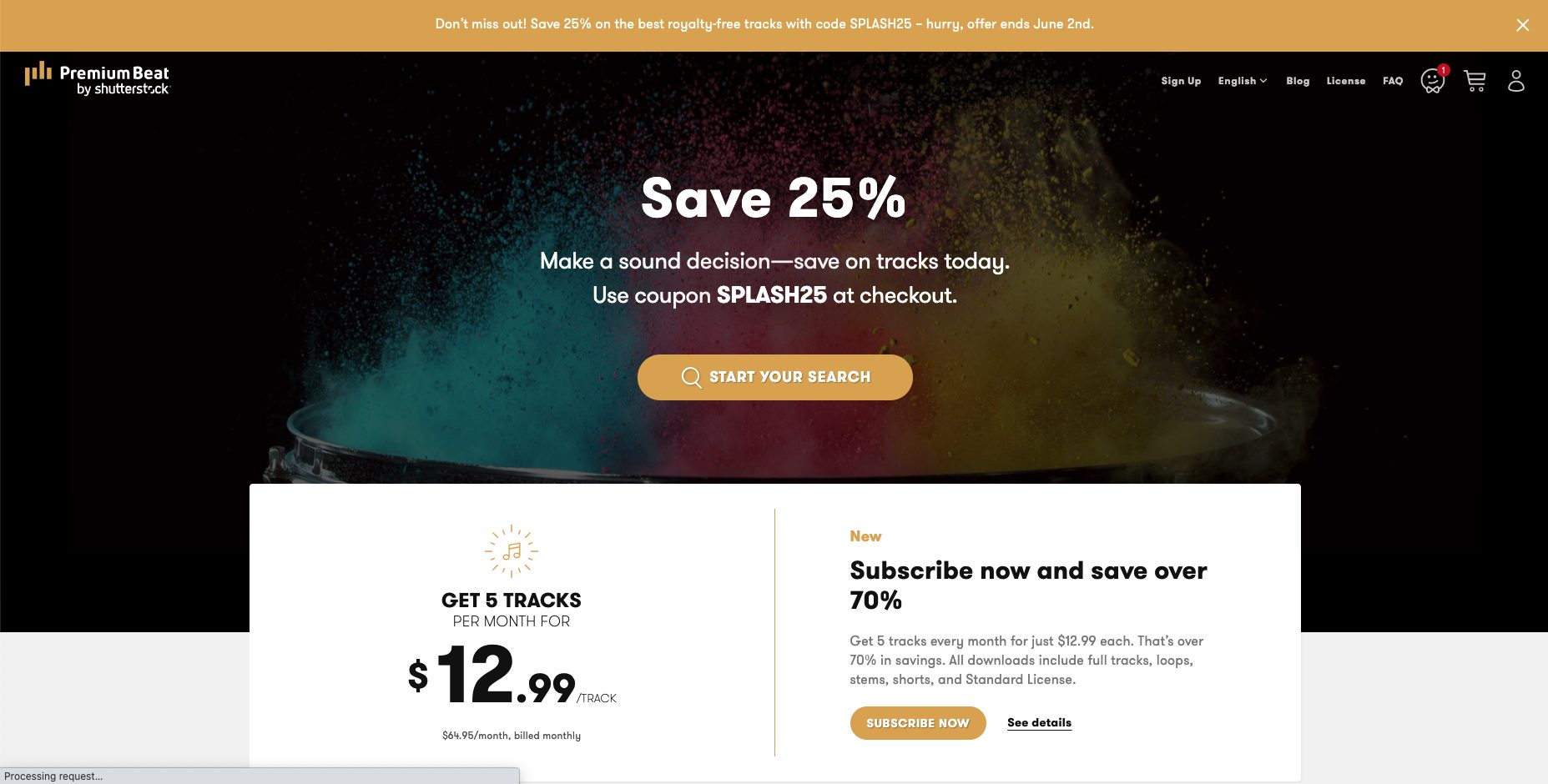 PremiumBeat is another royalty-free music site that provides individual track purchase options as well as monthly subscriptions for access to a certain number of tracks each month. There are tons of yoga tracks available and licenses include access to the full song as well as loops and short clips.
---
YogiTunes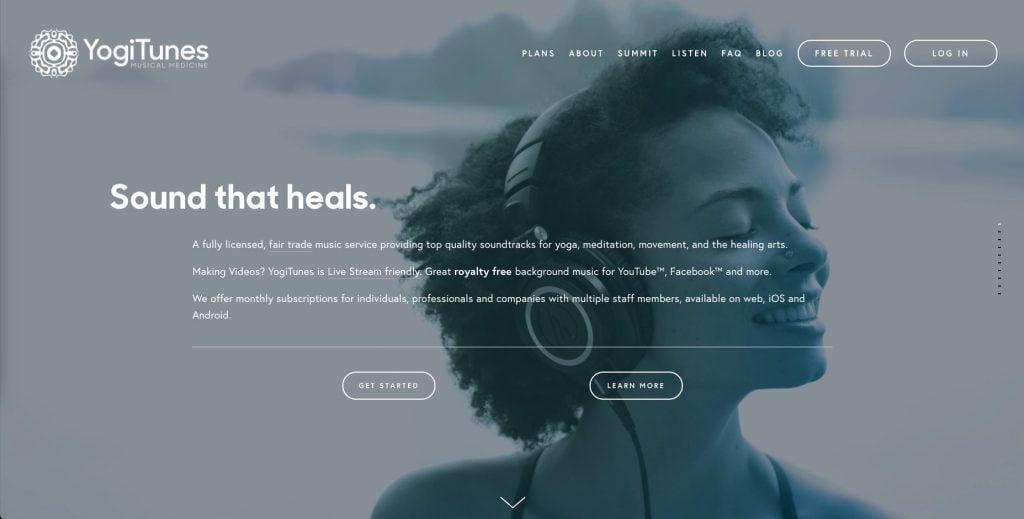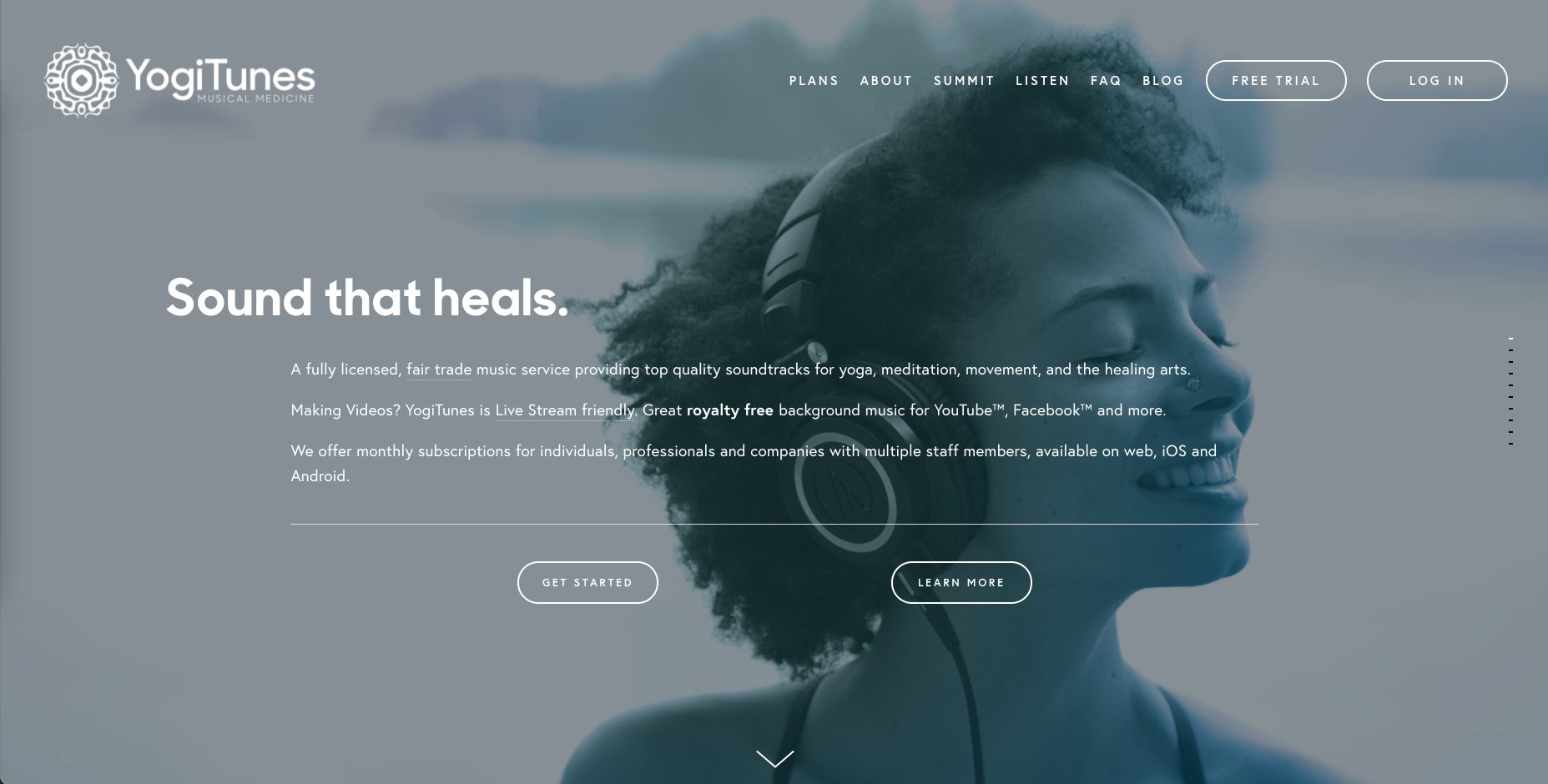 YogiTunes is a fully licensed, fair trade music service and the world's largest catalog of independent wellness music. It has more than 400 artists and 12,000 tracks. The best part is that it includes music licensed for public performances in the United States. For as little as $14/month, individual yoga teachers can get a subscription to YogiTunes and gain access to this vast library of music built with yoga, meditation, and wellness in mind. Plus, if you're a Yoga Alliance member, you get a 30% discount!
---
Performing Rights Organizations
If you want to get real fancy and have access to a pretty much endless library, you can purchase a license from one of all of the three performing rights organizations (PRO) in the United States. The three organizations are ASCAP, BMI, and SESAC and they license an enormous majority of public performance rights in the country.
ASCAP
ASCAP is the American Society of Composers, Authors, and Publishers. They offer licensing for millions of songs. For online yoga classes, you'd likely want to get a license for websites and/or mobile apps. The pricing is a bit complicated, but most online yoga teachers would probably fall into the $269–$1,079/year range.
BMI
Broadcast Music, Inc. (BMI) doesn't post their rates publicly, but estimates start them at least $400/year.
SESAC
Like BMI, SESAC doesn't post their rates publicly but it's a good guess that the rates fall within the range of ASCAP.
---
Wrapping Up
Having a blissed-out background of soothing music for your online yoga classes is great, but remember that it's not required. There are many yoga teachers that opt to skip music altogether and they do just fine. Vastly popular YouTube influencer and yoga teacher Adriene Mishler doesn't use music in her online videos and she's practically a household name. You could also try creating class playlists on Spotify and sharing the playlist with your students so they can listen to it on their own.
You can even incorporate the playlist into the beginning of your class, bringing your students together for a moment of mindful intention-setting before saying something like, "We'll push play on the playlist in 3, 2, 1."
Hey, if you're just starting out, subscriptions and music licensing can be an expense you just don't have the budget for. When you're able to, though, we recommend choosing one of the sources for royalty-free music we've shared above. Because music creators need a break, too.
Frequently Asked Questions
What happens if I don't pay for the music I use during my online class?
Copyright infringement can cost thousands if not hundreds of thousands of dollars and would depend on how many classes you teach as well as the number of songs you play per class. Each instance of copyright infringement carries a potential liability of up to $150,000.
What if I don't accept money for my online yoga classes?
Even if you volunteer as a yoga teacher and offer online classes for free, you're still subject to music licensing laws.
What if I use a streaming site or CDs, records, tapes, radio, or television?
The licenses that come with streaming sites or the recordings you purchase only extend to music used for private use or use in an establishment without admission, membership, or other charges.
Do I still need a music license if I already have a commercial use service agreement?
Commercial music licenses only allow you to play background music (think lobbies or dressing rooms) and doesn't extend to music played in classes or performances.
Where can I find free yoga music for my online classes?
Completely free music is hard to come by, but you can check out:
- Moby's Ambient tracks
- Filmmusic
- YouTube Audio Library
- Free Music Archive
- Public Domain Project
What is a PRO?
PROs or Performing Rights Organizations are agencies that ensure songwriters and publishers are paid for the use of their music by collecting royalties on behalf of the rights owner. In the United States, there are three top PROs: ASCAP, BMI, and SESAC. In Canada, there's SOCAN.
Who is Moby?
Moby is a DJ, singer, songwriter, musician, photographer, and animal rights activist.