315 million. That's how many search results come up on Google when you search "how to make money as a content creator." When you change the search just a bit and look for "how to develop a recurring income stream as a creator," you still get millions of results but nowhere near 315 million. And therein lies the problem.
Sure, bringing in one-time payments as a content creator is better than bringing in zero, but when you develop a recurring income stream you're essentially earning money for work you've already done. Work you don't have to do again. And, just like that, you have time to do the things you want to do instead of spending all day, every day grinding. Recurring revenue is what leads to financial freedom.
In this in-depth guide, we'll teach you all about recurring income streams—what they are and why they matter. But we won't just leave you there. We're also going to show you how to develop a recurring income stream as a creator and share three tools you can use to get started. Let's jump right in.
---
How to Develop a Recurring Income Stream as a Creator:
---
What Is a Recurring Income Stream?
A recurring income stream is income that comes in regularly, on a predictable basis, in exchange for an ongoing service. Recurring income, or recurring revenue, typically comes in weekly, monthly, or annually. Some recurring revenue models you're most familiar with are things like Netflix, subscription boxes, or SaaS subscriptions, among others. The recurring revenue model makes it easier for businesses to calculate ROI, reduces the amount of time they spend courting new customers, it's easier to scale, and it's more stable.
Non-recurring income streams, then, involve one-off sales. Grocery stores, hotels and vacation rentals, and event sales are common examples of non-recurring income streams that offer no guarantee that customers will come back. Recurring vs. non-recurring income is the difference between buying season 1 of Schitt's Creek on Amazon (non-recurring) or streaming the season on Netflix (recurring).
To be clear, a recurring income stream doesn't mean that you won't be doing any work ever again to earn your money. Recurring income is different from passive income. The draw of recurring income is that you will eliminate the need to constantly create and sell.
Benefits of a Recurring Income Stream
Recurring income streams are incredibly beneficial for both you as a content creator and your customers. Let's take a closer look at some of the benefits.
💰 Predictable Income
When you use a recurring revenue model, your income will be more predictable. While there's no guarantee that your customers will stay with you month after month, it's likely. Plus, as time goes on and your recurring revenue model is running, you'll have a better idea of your churn rate (the rate at which customers stop subscribing) so you can predict your income over time and determine how much time and money you should spend on acquiring new customers.
📈 Business Growth
Recurring income products are a scalable way to grow your business. What's great about the recurring revenue model is that you can start small, creating a valuable membership or subscription option for your most dedicated and motivated customers. From there, you can add additional products that meet the needs of more segments of your target audience.
🏦 Customer Lifetime Value
Recurring income streams can increase your customer lifetime value (the total amount of money a customer is expected to spend with your business during their lifetime). With recurring products and services, you won't have to constantly focus on creating new content, products, and services. This frees up time you can use to connect with your customers, increasing customer retention and providing additional value that will keep your customers happy with you for a long time.
🛍️ Value to Customers
With a recurring revenue model, you can also offer customers higher-quality products and more value for their money. Since you won't be spending your time constantly creating new content and products, you'll be able to focus on improving the products you do have on offer to make them more valuable to your customers.
😍 Feedback
Another way you and your customers benefit from recurring revenue models is that you'll actually have time to listen to and incorporate their feedback to improve your offer.
---
Ways to Make Recurring Income as a Creator
Now that you're familiar with the recurring revenue model and how it benefits you and your customers, let's turn our attention to how you can develop recurring revenue streams as a creator and easily monetize your work. There are generally four types of products that you can sell using a recurring revenue model: productized services, physical products, content, and software. Within those types, there are several profitable options for setting up your own recurring income stream.
1. Mastermind Groups
A mastermind group is described by Napoleon Hill as "the coordination of knowledge and effort of two or more people, who work toward a definite purpose, in the spirit of harmony." In less poetic terms, it's a group of people who meet regularly to offer guidance, support, and advice to one another. People join mastermind groups for various reasons including accountability, access to resources, mutual support, mentoring, workshopping ideas, and in order to gain an understanding of different perspectives. Mastermind group topics cover everything from professional growth to personal development and typically run for six months to a year.
✔️ How to Start a Mastermind Group
Choose a Topic.

This can be just about anything, narrow or broad. We recommend choosing one specific topic to start with. You can always create other mastermind groups if you want to branch out.

Pick Your Members.

The key to successful mastermind groups is its members. The people you invite should be able to give value as well as be willing to receive it. Reach out to your network to start. After your first mastermind group, you can let your network do the work for you to bring in other valuable members.

Establish Group Rules.

Your rules don't need to read like a contract with an attorney. Keep them flexible. You might want to focus on group norms instead to ensure an environment of respect and openness.

Set a Schedule and Meet.

You can meet as often as you'd like, wherever you want (even online), just keep it consistent.
---
2. Online Courses
Online courses are another awesome way to set up a recurring stream of income. While many creators charge a one-time fee for online courses, you have options. Copyhackers, for instance, has changed to a subscription-based plan for its iconic Copy School. Students pay for a year of access at a time. You could also sell your course for a one-time fee and then set up a membership community for an ongoing fee. This is a model that has worked very well for The Novelry (a course and membership site for writers).
✔️ How to Create and Sell an Online Course
Choose a Topic.

Your topic should be something that you have expertise or experience in.

Define Your MVC.

Minimum viable content (MVC) is the minimum amount of material you need to create in order to provide a valuable course that your target audience is willing to pay for.

Choose an LMS.

The right online learning platform is important to the success of your course. Find one that's easy to use while still offering the features you need.

Write Your Course.

This is the really fun part! Outline and draft your course. If you're including video, be sure to script them out.

Create a Landing Page.

Your

course landing page

is where you'll convince people to sign up, so be sure to hit on your target audience's pain points and how your course solves them.

Launch Your Course!
Check out our guide about how to create an online course for more detailed guidance.
---
3. Membership and Subscription Sites
Membership sites are probably the easiest way to start earning recurring income as a creator. A membership or subscription site is an online community that includes exclusive content that's only available to paid members. The content could be anything—coaching, emails, courses, videos, and any other content you want.
✔️ How to Create a Membership or Subscription Site
Pick a Niche.

Don't choose a broad niche. Instead, drill down into your chosen niche to find something that doesn't have a ton of competitors but that is still a viable and profitable niche.

Validate Your Offer.

Take a

look at your competitors

to find out what they're offering, who's signing up, how they're targeting potential customers, how successful they are, and more.

Create Your MVP.

Create just one high-quality piece that you can sell. Then, expand your offering as you get feedback from your subscribers.

Build a Monetization Strategy.

Take another look at your competitors. What's their pricing like? What does membership include? How do they present their product or service offering? How is their pricing structured (single price or multiple price points)?

Find the Right Platform.

There are several membership platforms to choose from. Find one that will meet your needs without a huge learning curve.

Grow!
Need more help? We have a guide that will show you how to start a subscription-based business.
---
4. Affiliate Marketing
Affiliate marketing programs are a fantastic way to bring in recurring income as a creator. You can use affiliate marketing as an additional income stream no matter what other time of business you're doing (courses, membership sites, coaching, etc). Plus, no matter what your niche is, it's likely you'll find an affiliate marketing program (or five) that have opportunities for you to earn. Some people even make the bulk of their income from affiliate marketing (we're looking at you, Adam Enfroy), bringing in hundreds of thousands of dollars every year.
✔️ How to Get Started With Affiliate Marketing
Pick a platform.

Your blog or YouTube channel are one of the easiest and most common ways to build an audience for affiliate sales.

Choose a niche.

Focus on a specific category. Instead of being an affiliate for "fitness," you might choose a more narrow topic like "at-home fitness" or "running."

Find and join the right affiliate programs.

One of the quickest ways to find an affiliate program to join is doing a simple Google search. Just Google "niche + affiliate programs" (or "product + affiliate programs" if you want to promote a specific project).

Create great content.

You'll have to create content to promote the products you want people to buy. Fortunately, this doesn't mean creating content continuously. Much like the other ideas on our list, you'll need to create some amount of content and refresh it.

Bring in traffic.

Use a combination of paid and organic content (ads and SEO) to bring in traffic to wherever you're running your affiliate marketing business. And, don't forget to

grow your email list

so you can use

email marketing

to promote your affiliate marketing business, too.

Find and use influencers.

Influencers can be a powerful tool

for promotion of your affiliate marketing efforts.
Check out our guide to affiliate marketing for more information about this awesome revenue stream.
---
5. Merchandise
If you're an influencer or have a decent following, why not sell merch? Influencer merch is a fun and easy way to monetize your audience and keep them engaged with your brand. And, in most cases, merch is something you won't have to have a hand in. There are several businesses that will handle the production, shipping, and customer service for you.
✔️ How to Get Started Selling Merchandise
Identify your audience.

Who's going to buy your stuff and what would they be interested in buying?

Design.

Have fun with styles and colors to create a unique offering that your followers will be excited about.

Find a partner.

Here's a list of

online merch stores

that can help you get your merchandise produced and into the hands of your fans.

Promote your merch.

You can promote your merch on whatever platforms you use normally for your business.
---
Develop a Recurring Income Stream: 3 Tools for Creators
Now that you have a few products to create a recurring income stream around, you need to choose a platform to build your business. Here are three of our favorites and how to get started with them.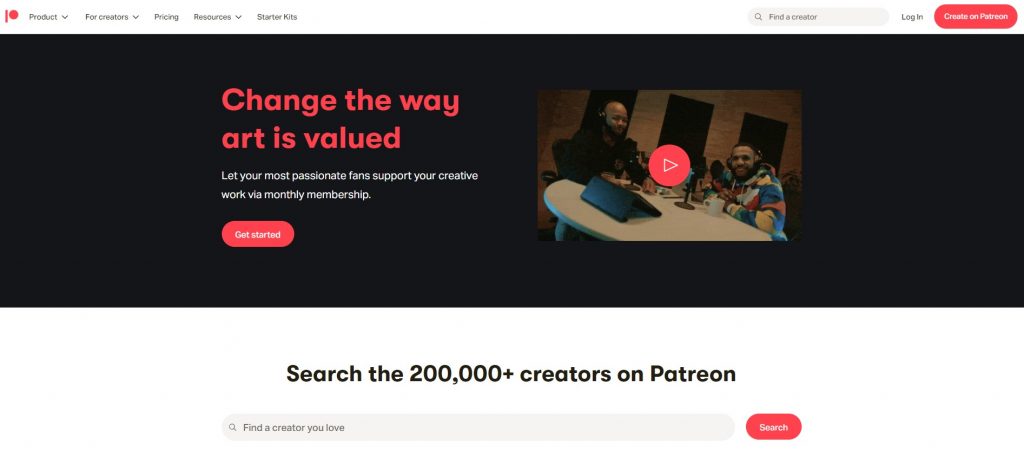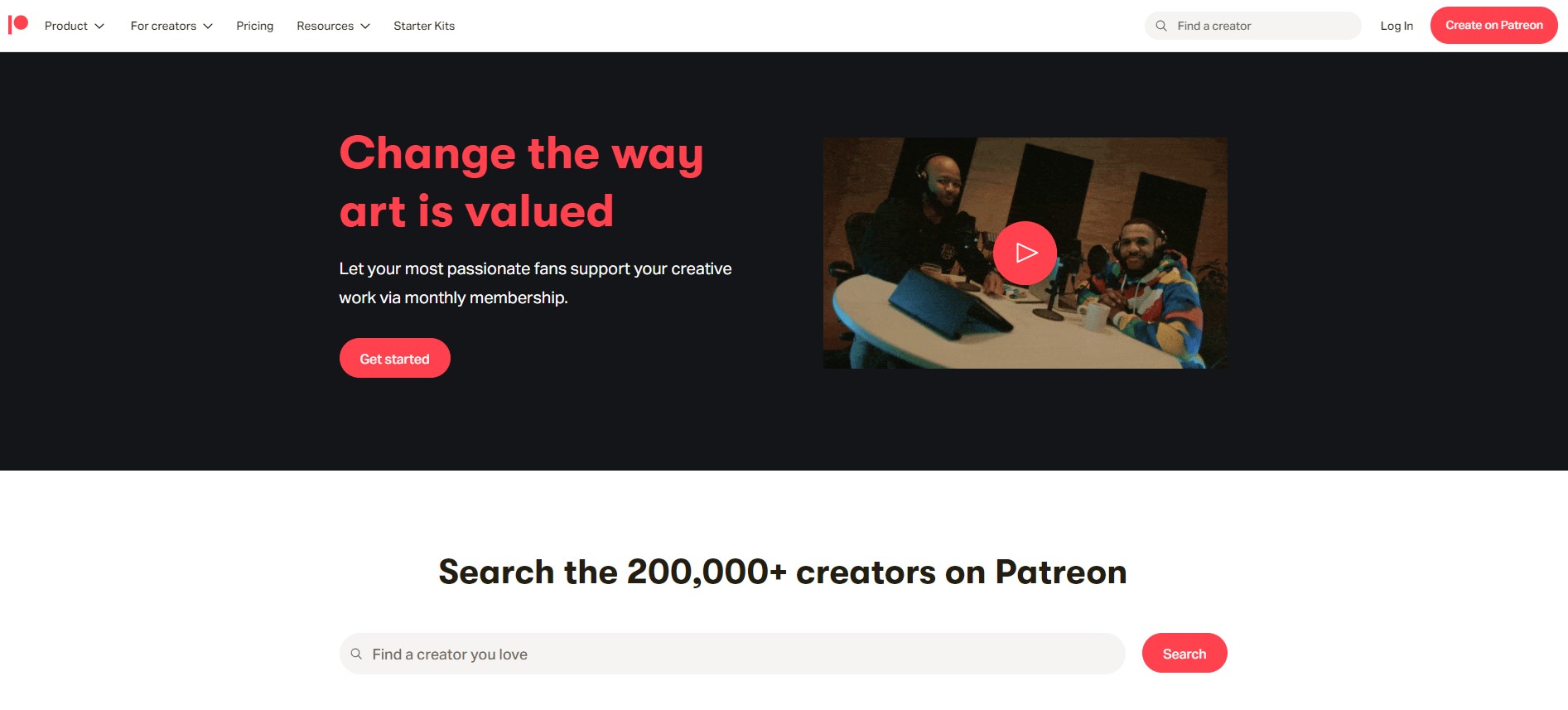 Patreon is a membership platform that started all the way back in 2013 and is an incredibly popular platform, particularly with podcasters and YouTube influencers. On Patreon, your fans can sign up to support you for a monthly fee or per piece of content. You can set up different pricing options that offer different levels of access to your content and community. The platform is fairly customizable and you can build it into an extension of your brand.
💡 Patreon Features (all plans)
Patron-only posts, messages, and emails

Track payments, lifetime value, and notes to manage relationships

Flexible payouts so you can pay yourself automatically or on-demand directly to your bank account, via PayPal, or via Payoneer

Patreon handles payments as well as questions and concerns from your patrons

Workshops, a world-class knowledge base, and creator resources

Mobile apps for iOS and Android
💲 Pricing
Patreon offers three plans:
Lite:

5% of your monthly income on the platform plus transaction fees

Pro:

12% of your monthly income on the platform plus transaction fees

Premium:

12% of your monthly income on the platform plus transaction fees
✔️ How to Get Started on Patreon
Start by creating a Patreon account. You can either click Get Started directly on the homepage or choose one of the Starter Kits: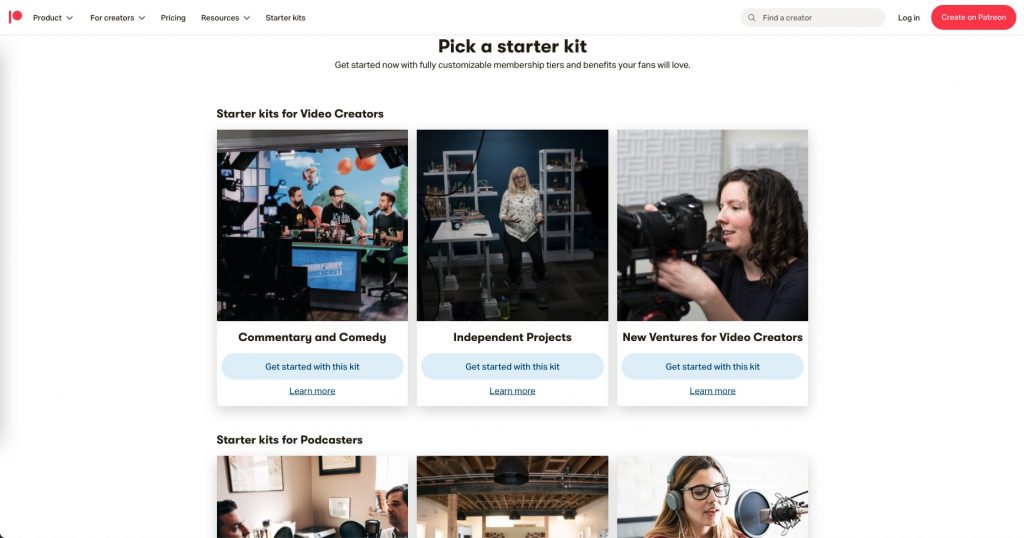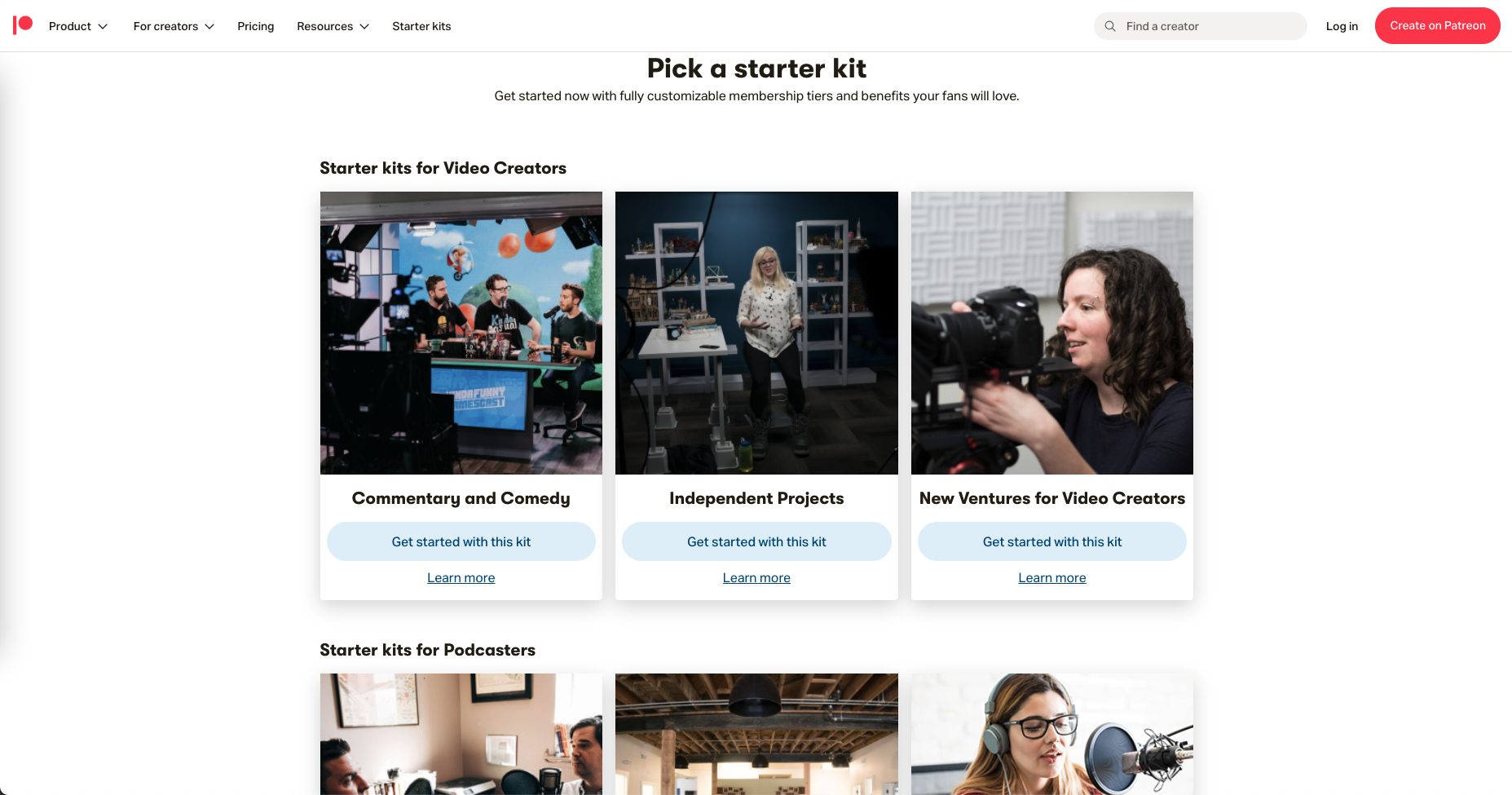 After you sign up, you'll walk through a series of questions designed to learn more about you and how you're planning to use Patreon. These questions include the type of content you'll be creating, whether or not your content contains real or illustrated nudity, the currency you want to use, whether or not you want to offer exclusive merch (for a 3% additional fee), and whether or not you want a custom URL (you'll need to connect a social media account for this).
Once that's done, you'll be able to start customizing your Patreon profile.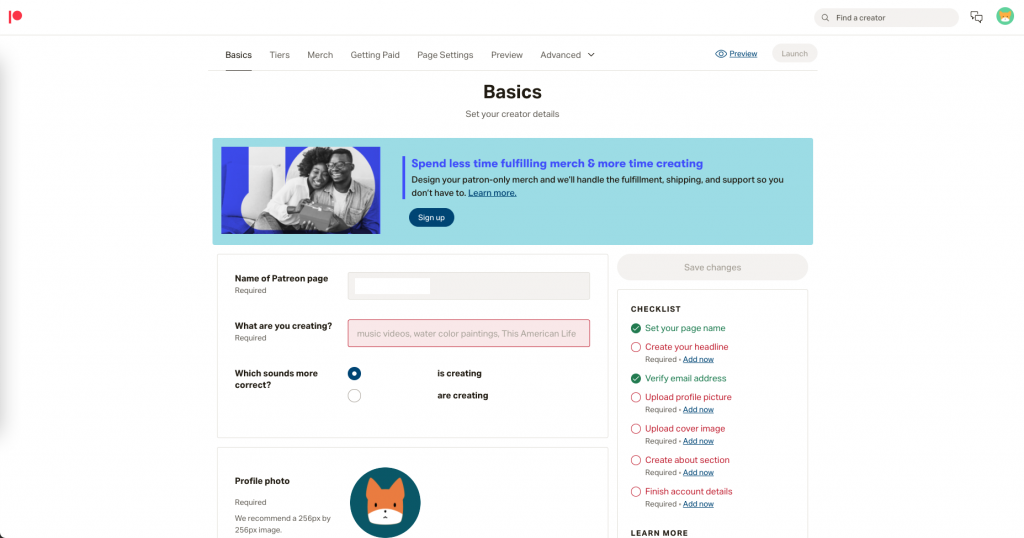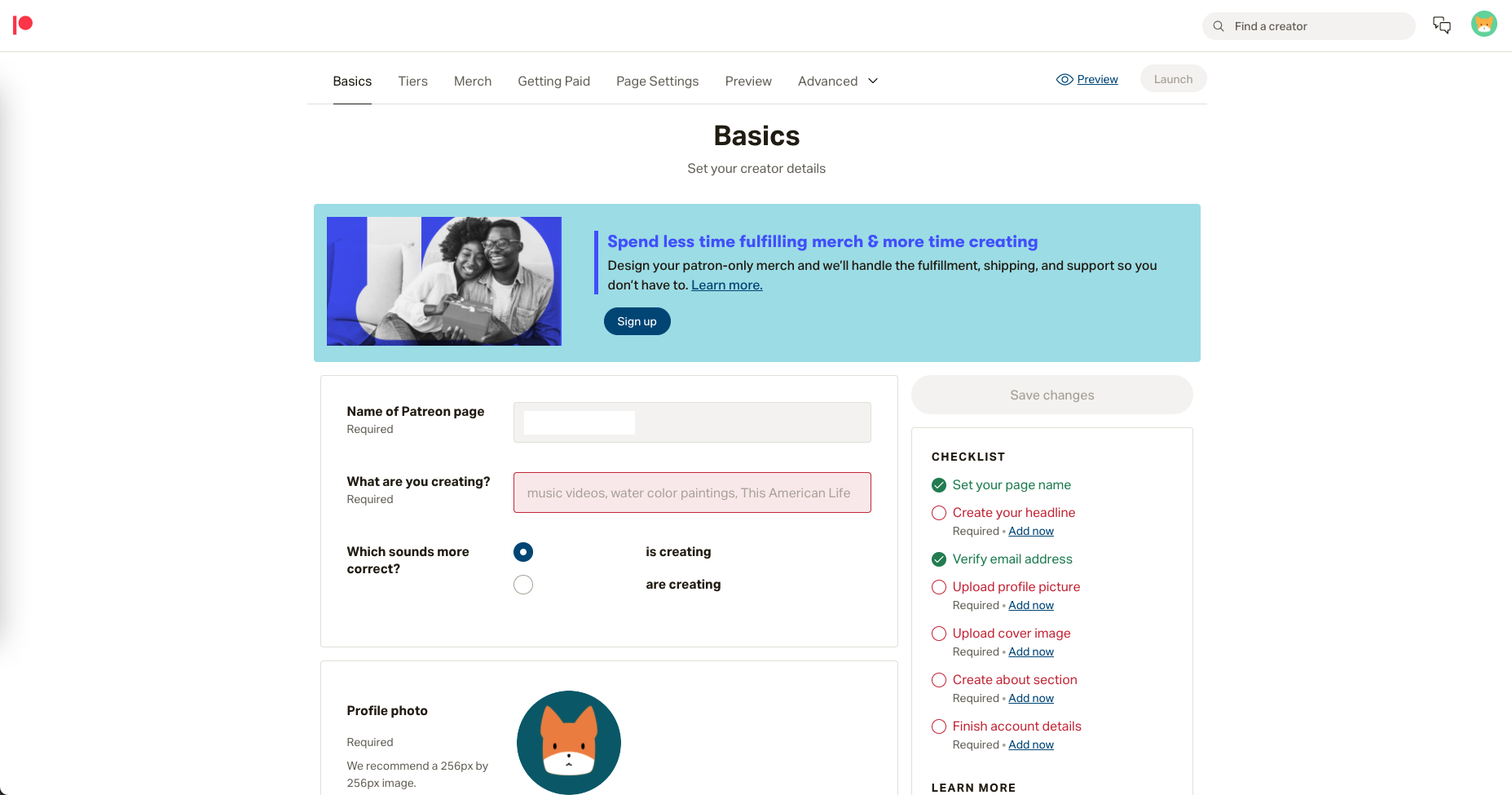 Now that you have your Patreon page created, it's time to create membership tiers. Here's a chance to really dig into your brand and be creative. As an example, take a look at this Patreon page for the Crime Junkie podcast: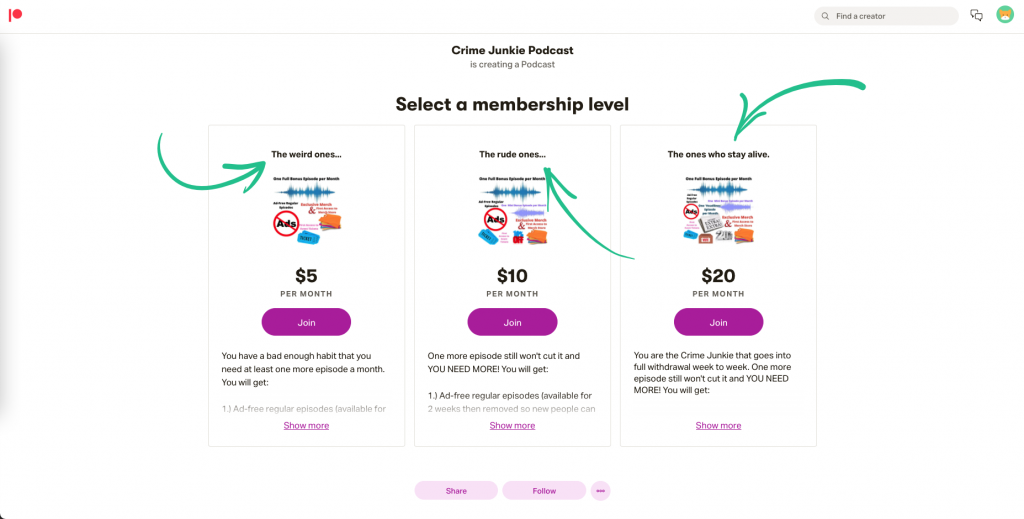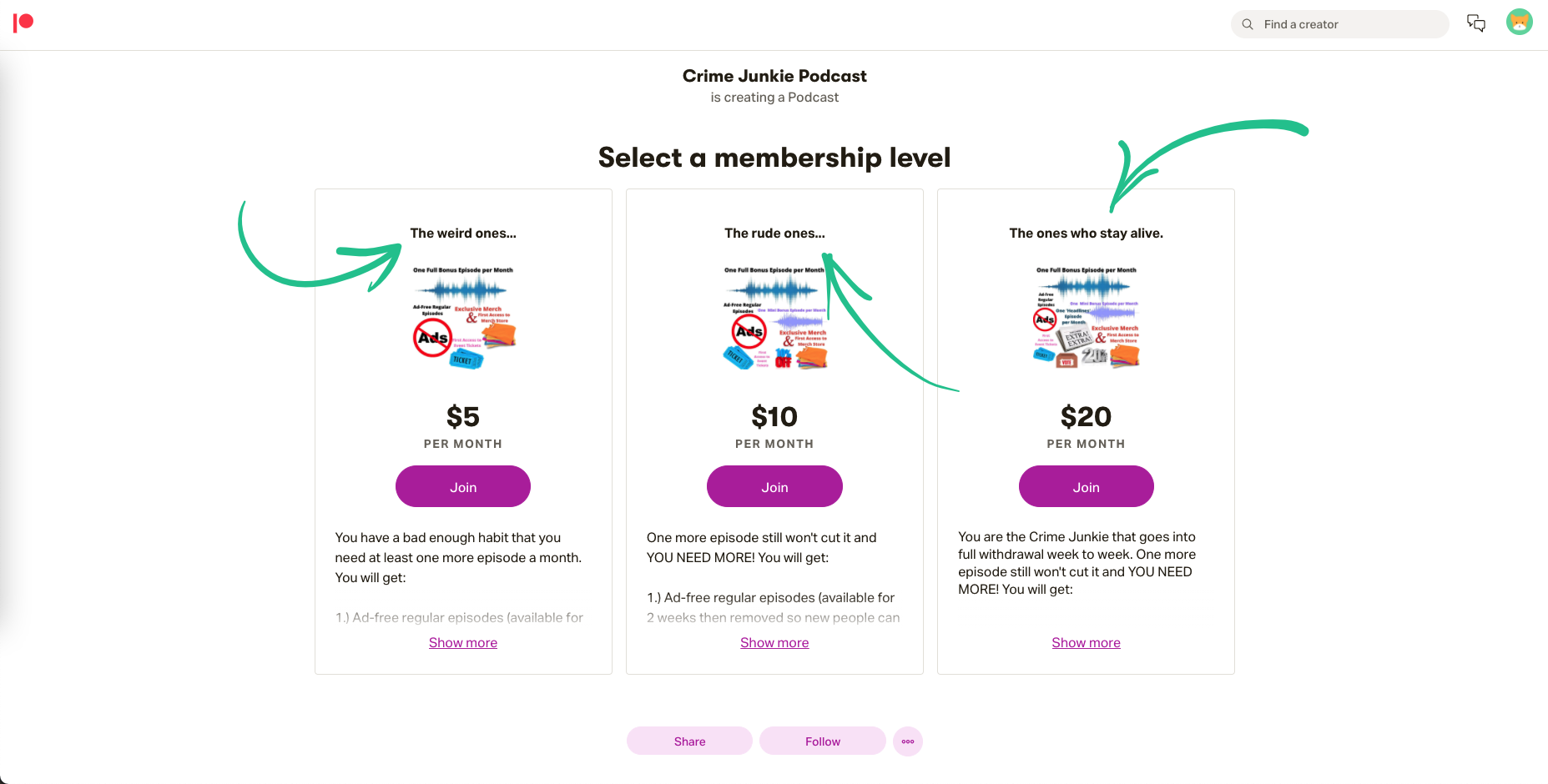 Notice the names of their membership tiers. Listeners of the podcast will see this as a nod to them and be more likely to offer their support. In terms of pricing, Crime Junkie's is pretty straightforward with each tier at double the previous one.
After you've set up your tiers and have your Patreon page looking the way you want, click the Launch button to take it live.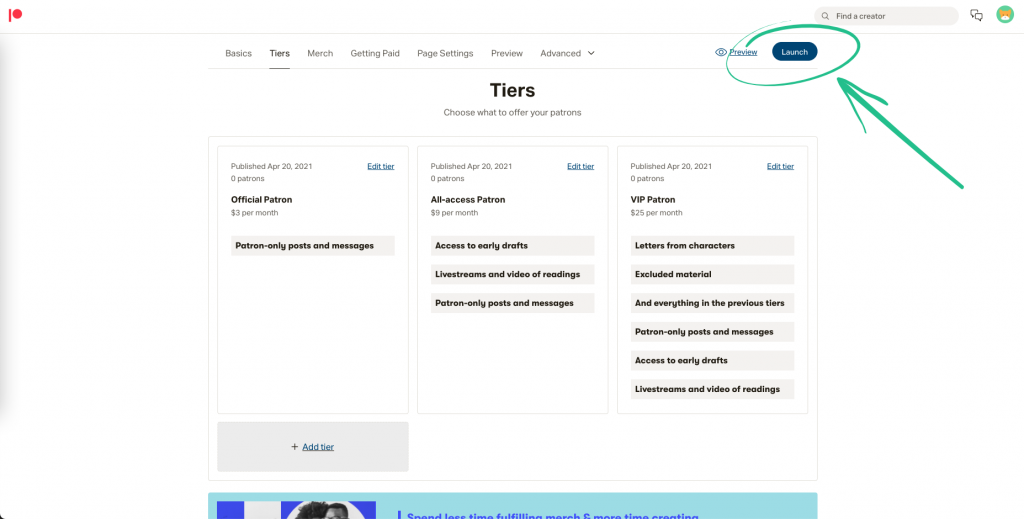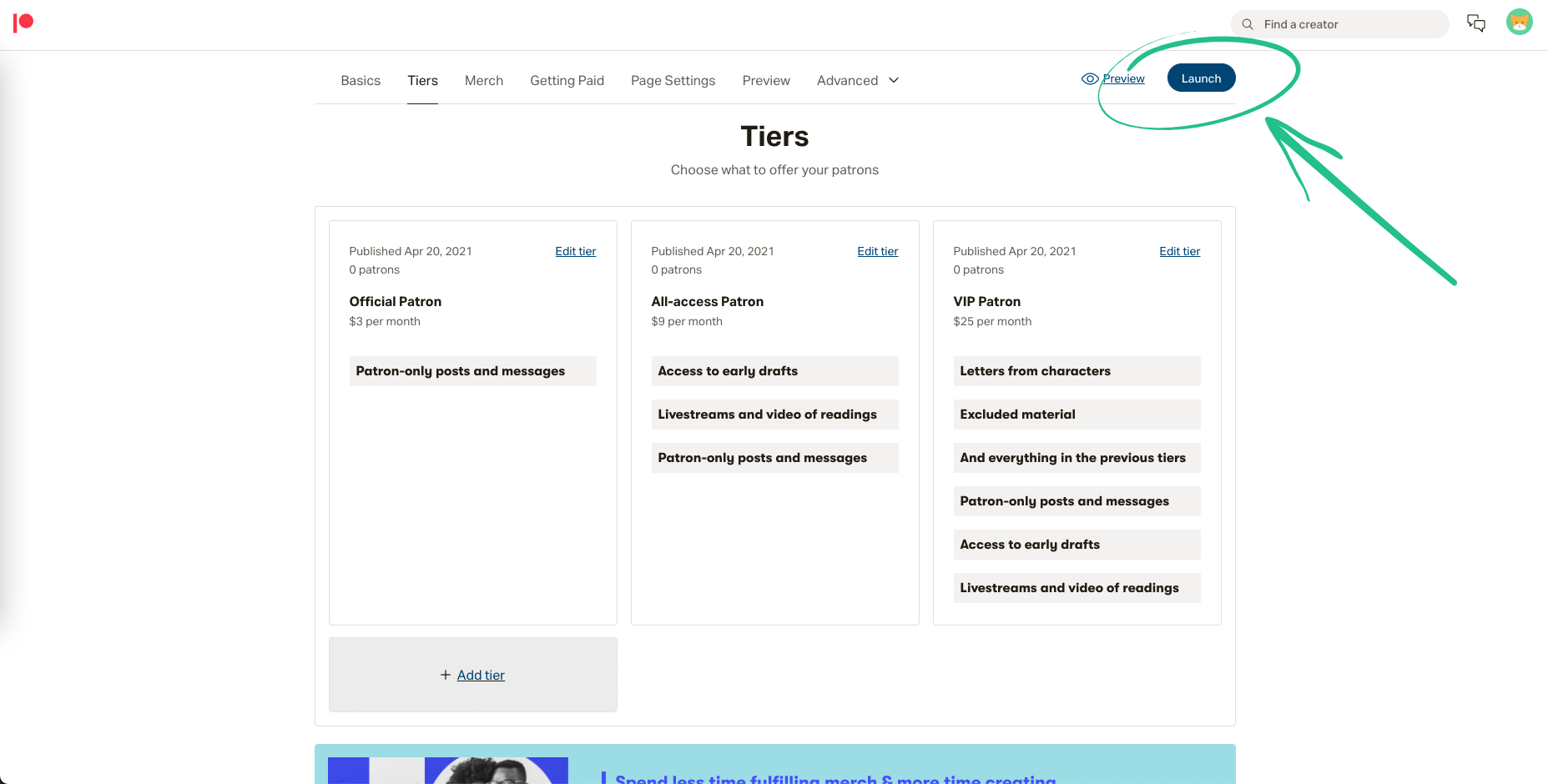 ---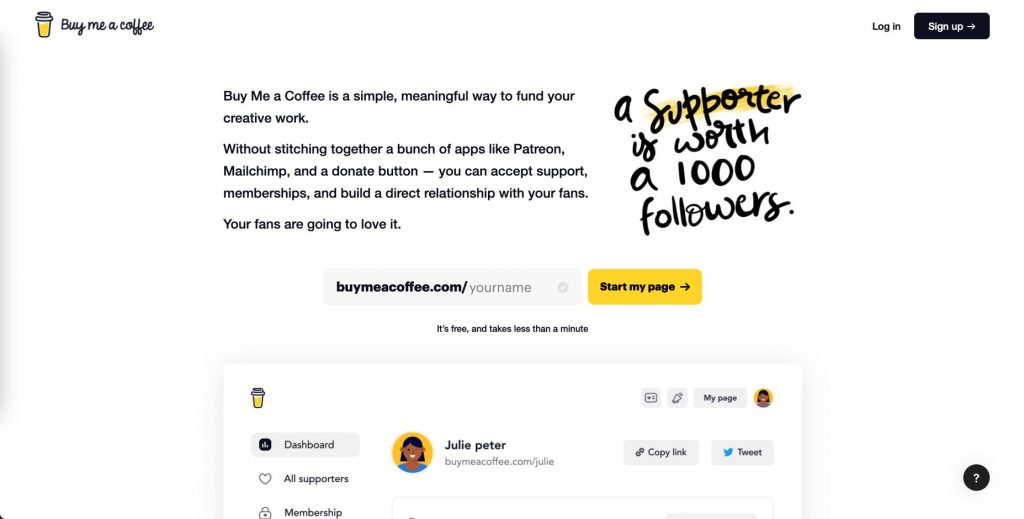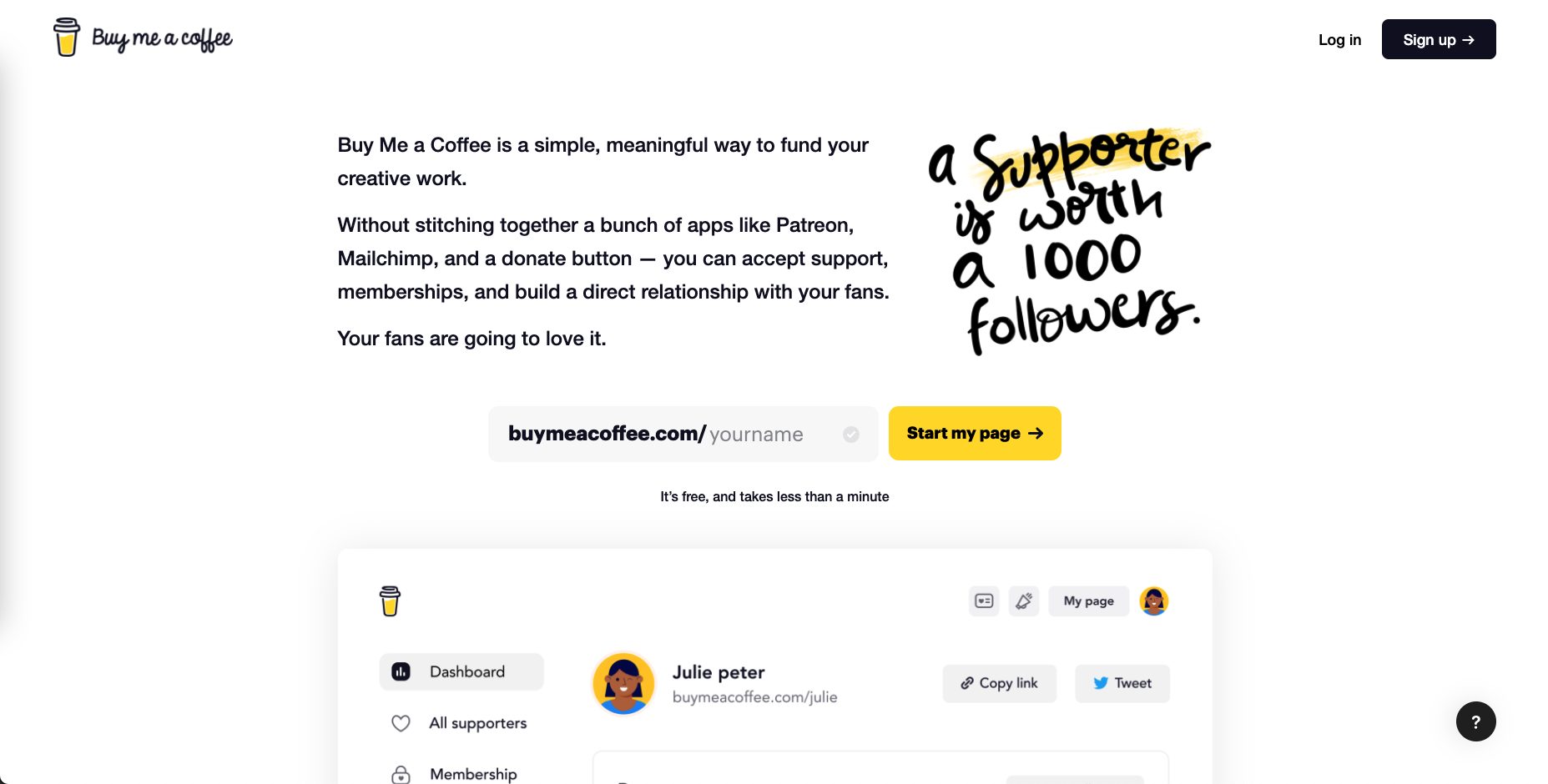 Buy Me a Coffee is an online platform that makes it easy for your supporters to pay you for your work. You can use the platform to accept tips and donations as well as sell Extras like 1-on-1 Zoom calls, art commissions, eBooks, courses, or whatever else you want to sell. You can even use Buy Me a Coffee for memberships.
💡 Buy Me a Coffee Features (all plans)
Accept donations and tips

Supporters can pay monthly or yearly

Sell Extras for additional income

Accept credit cards, Paypal, Apple Pay, and Google Pay

Instant payout

Analytics

Public posts and exclusives

24/7 live chat

Mobile apps for iOS and Android
💲 Pricing
Buy Me a Coffee provides all features for a 5% transaction fee plus credit card fees if you choose to cover those for your supporters.
✔️ How to Get Started on Buy Me a Coffee
Getting started on Buy Me a Coffee is super easy. Right from the homepage, just enter what you want as your page name and click the Start my page button: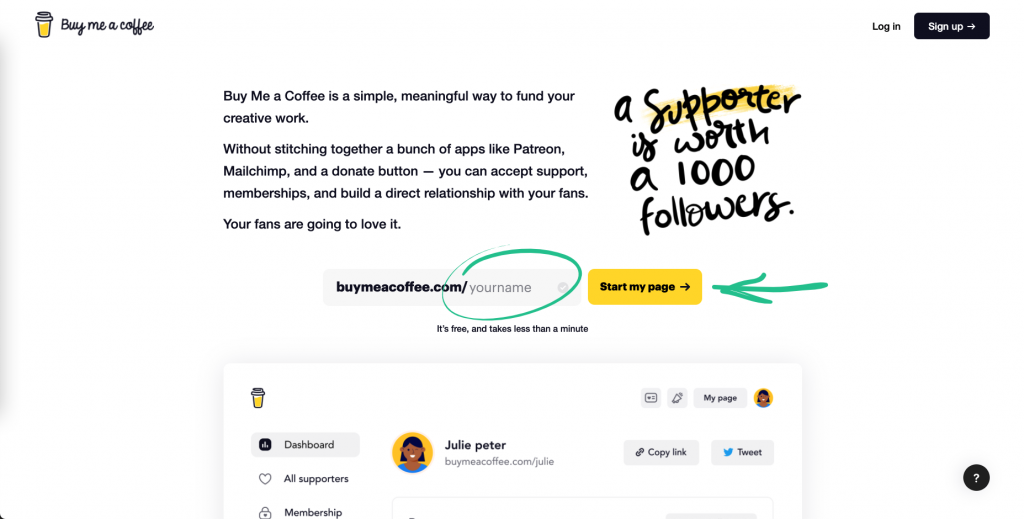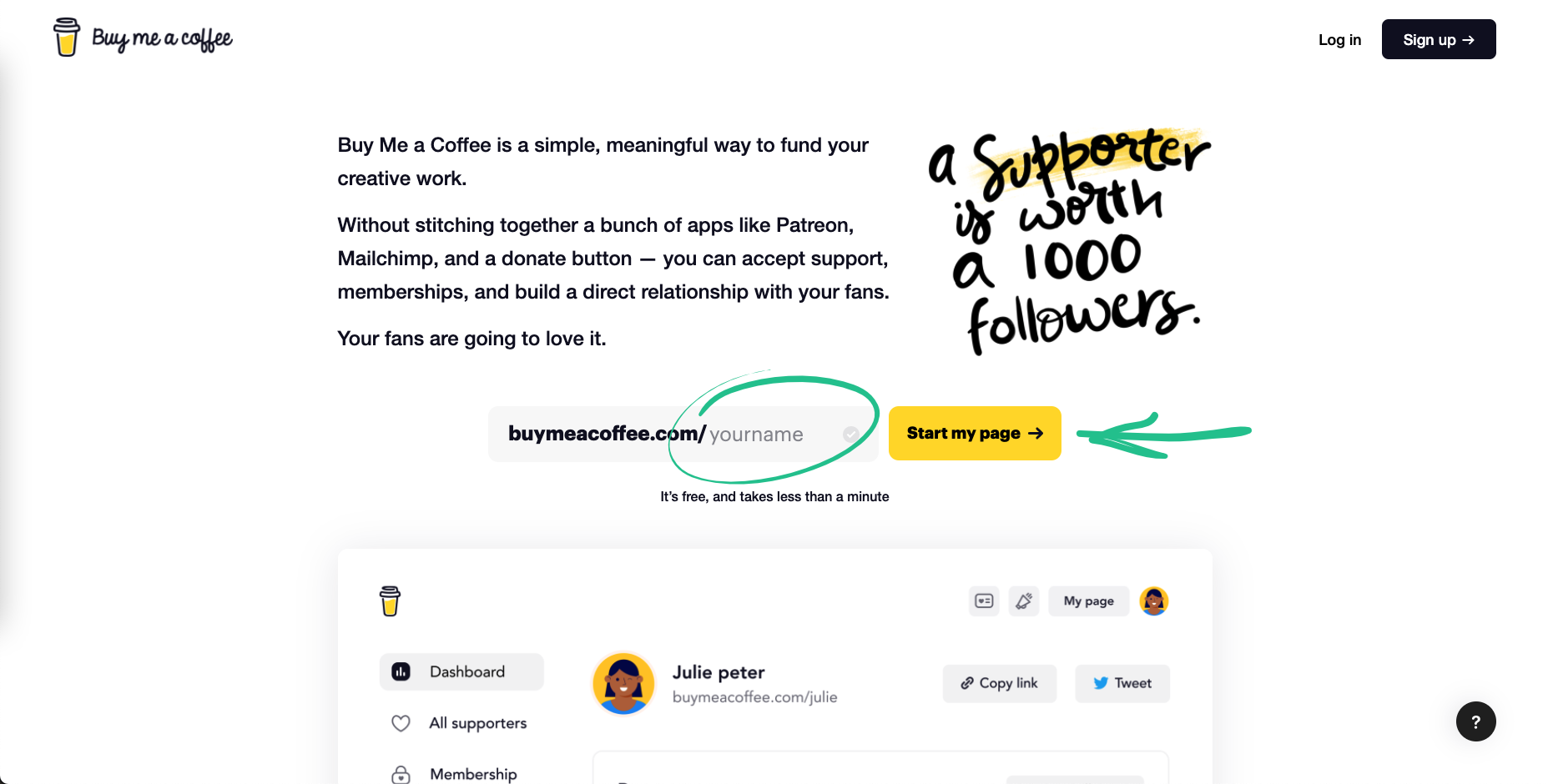 You'll be able to create your account using Google, Facebook, or Twitter, or by adding your email address and choosing a password. You'll be asked if you're a creator or there to support creators and will be able to confirm the URL that you want. After that, you'll need to enter your payment method. You can get paid via PayPal or Stripe. You can even choose to personalize the "Buy me a coffee" CTA to something that makes more sense to you like "Buy me a pizza," "Buy me a book," or "Buy me a water buffalo."
Buy Me a Coffee requires roughly the same information you'll provide to Patreon, but it doesn't offer nearly the same level of customization. You can add a profile image, featured image, and cover image, as well as choose from a handful of theme colors. If you want to add membership features, you'll need to enable membership. You can do that from your dashboard.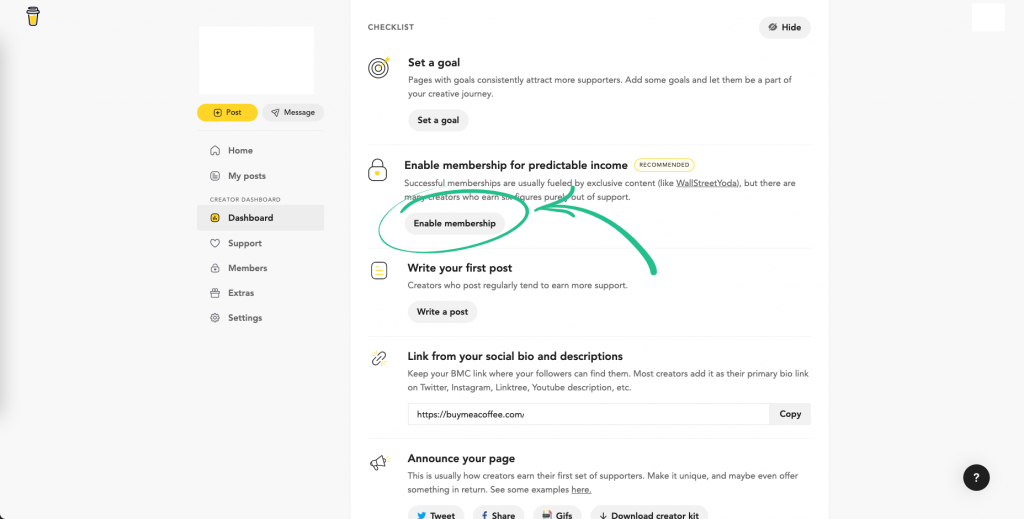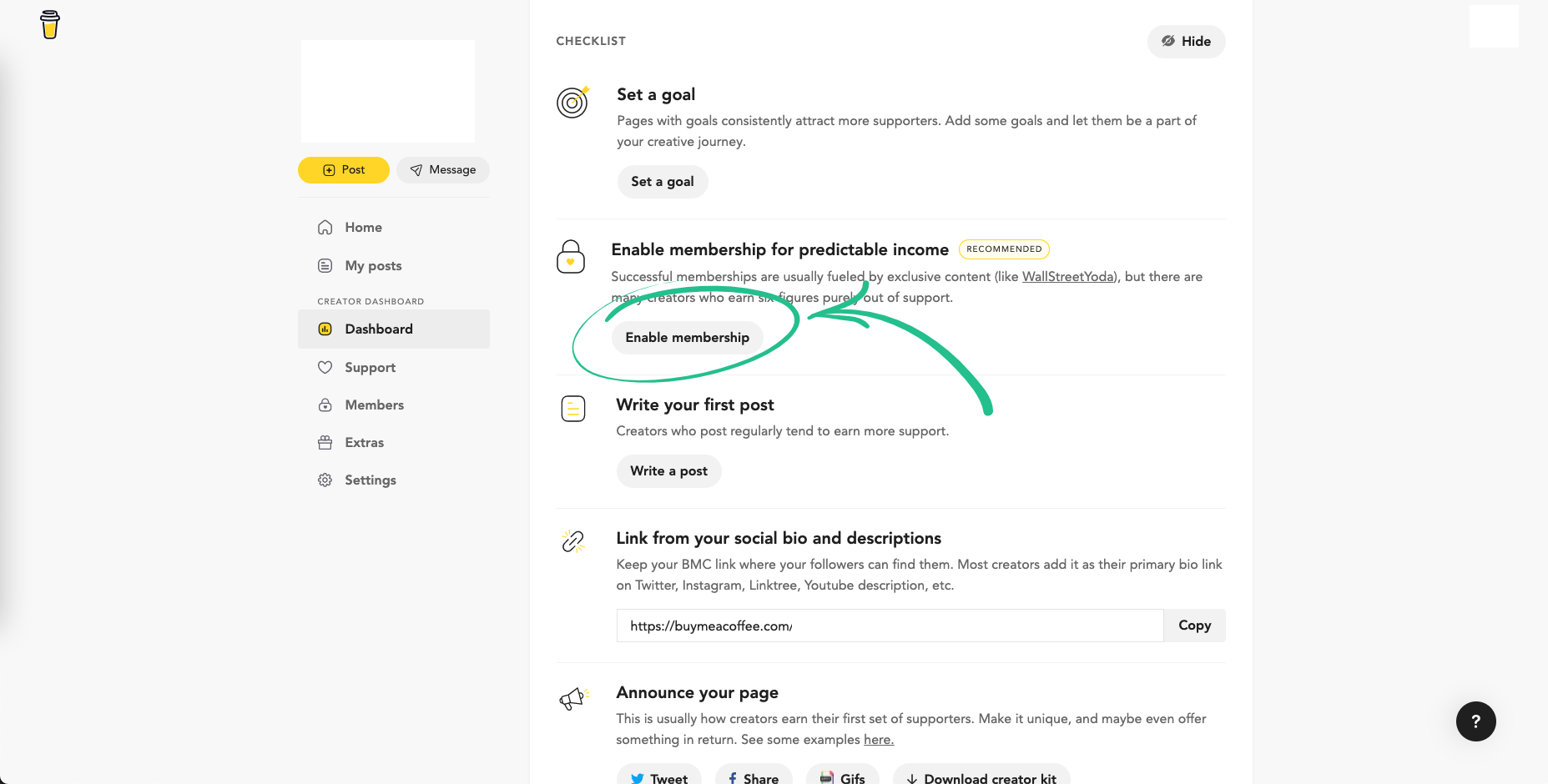 From there, you'll need to add membership tiers. They show up to the side of your page: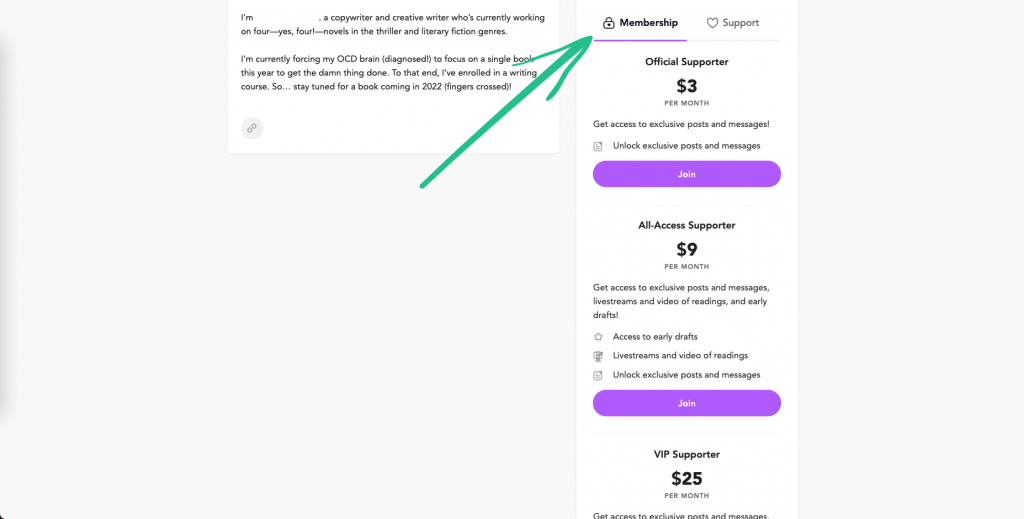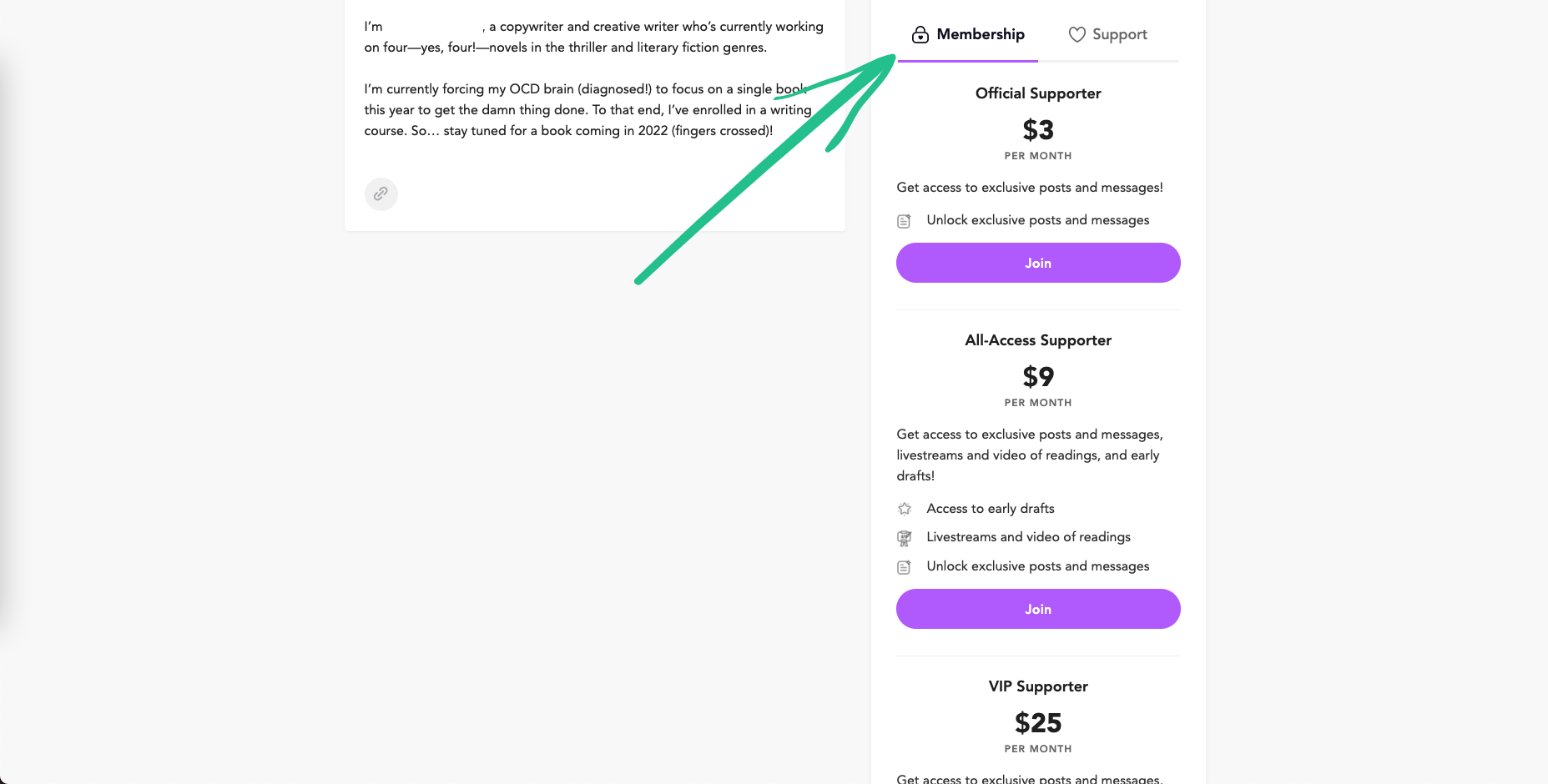 On Buy Me a Coffee, you also have the option of selling Extras. This could be a Zoom call, digital download, ticket to a live event, art commission, the option to join your Instagram Close Friends list, or anything else you can think of: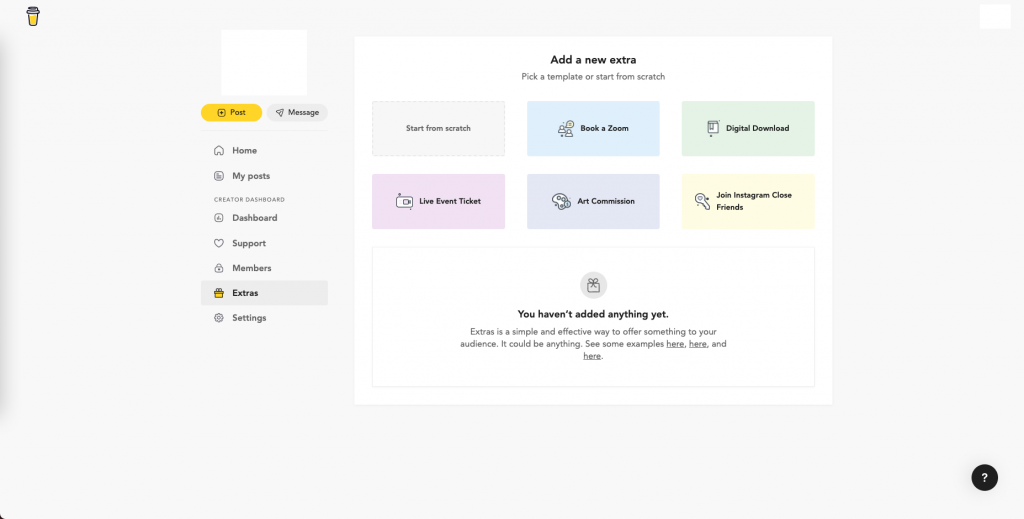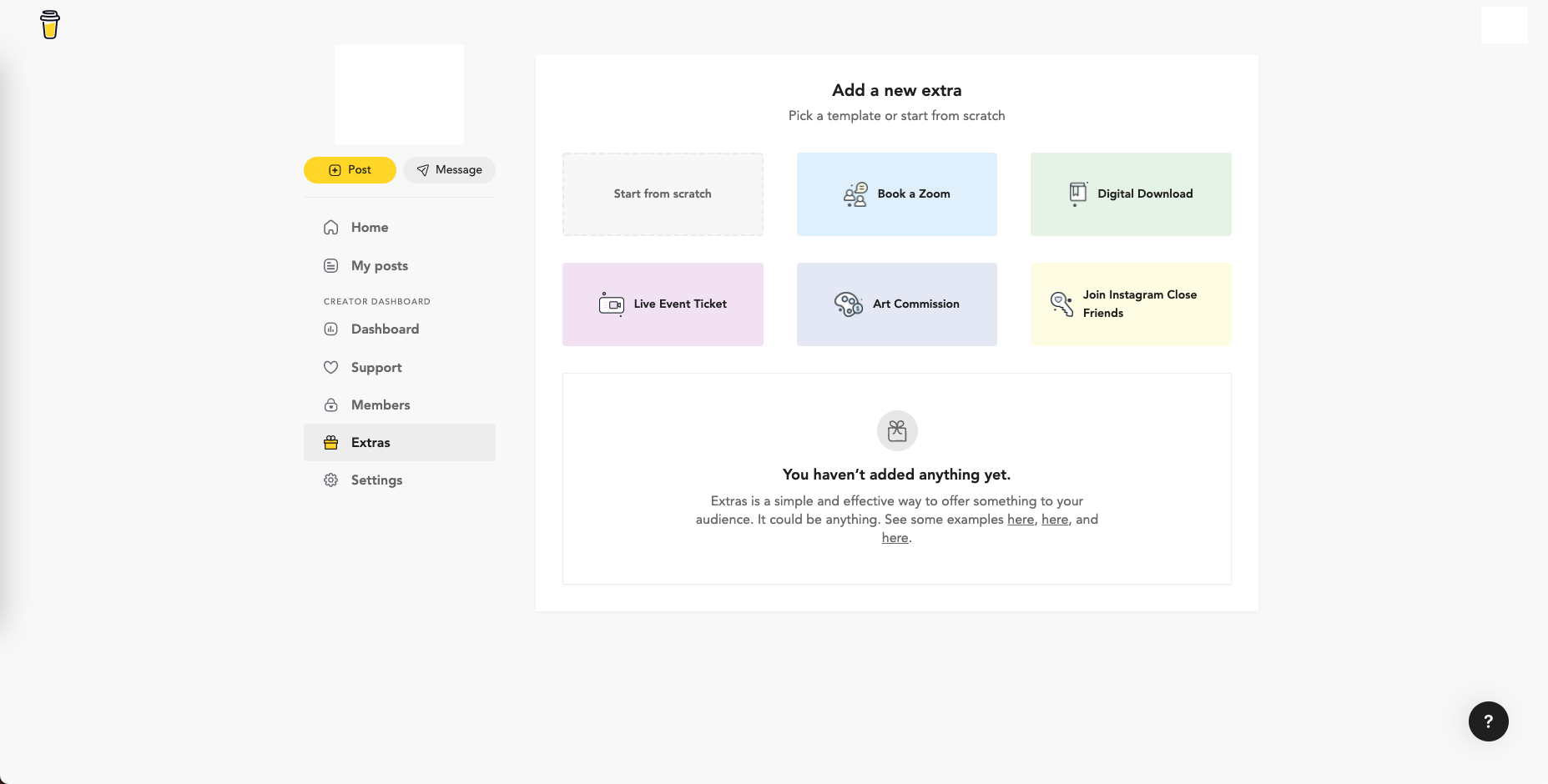 The ability to sell Extras makes Buy Me a Coffee a viable option if you want to sell classes, webinars, tutorials, videos, and other membership content.
---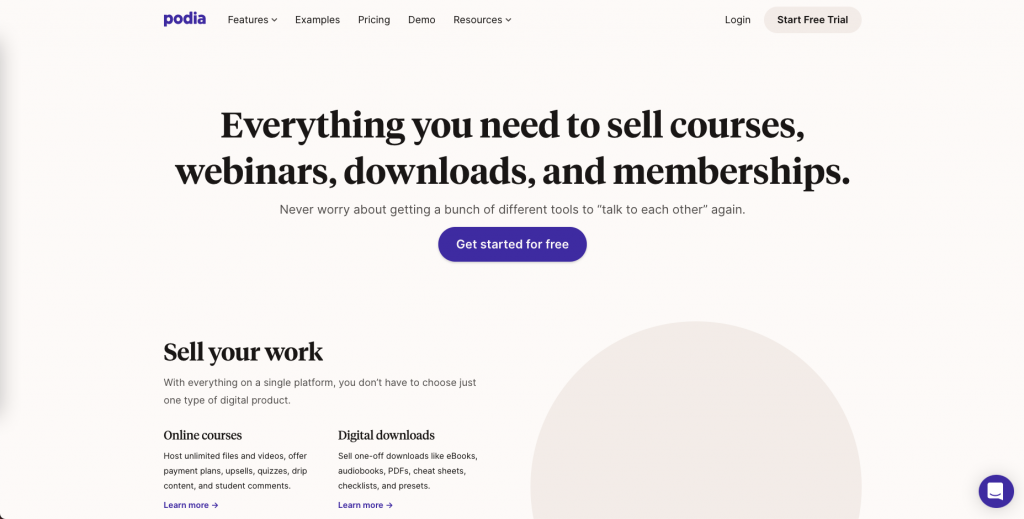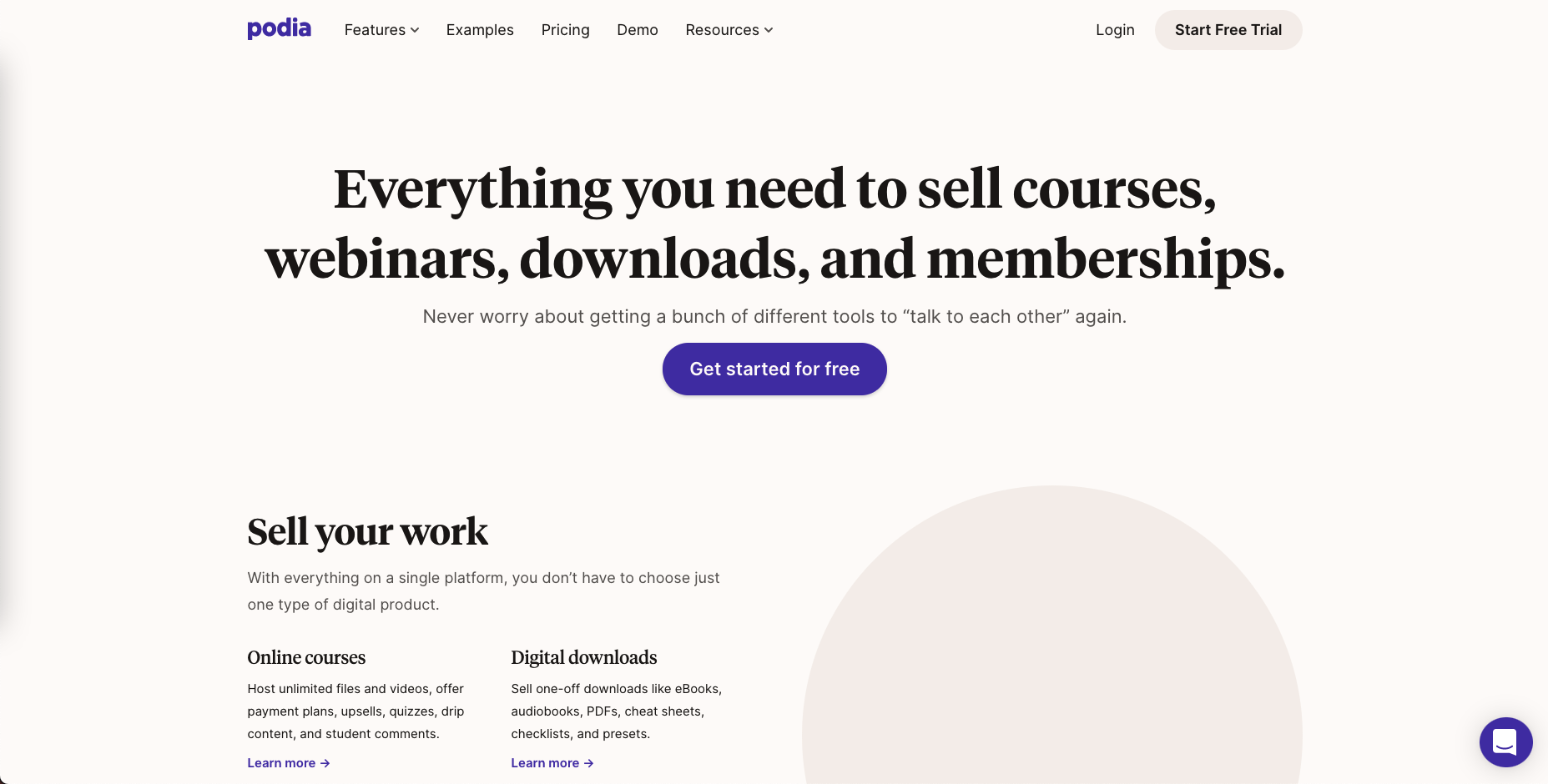 Podia is an online course delivery platform that includes course creation tools that make it easy to create, market, and sell your courses. The platform supports course creation, memberships, downloads, email marketing, eCommerce functionality, live chat, and more. Plus, it includes a website builder.
💡 Podia Features (Mover)
Unlimited products, customers, messages, sales, and files hosted

Zero transaction fees (you'll pay the transaction fees charged by your payment processor (Stripe or PayPal)

Free migrations

7-days-a-week support

Sell online courses and digital downloads

Custom website

Unlimited email subscribers

5,000 monthly email sends
💡 Podia Features (Shaker plan)
Unlimited products, customers, messages, sales, and files hosted

Zero transaction fees (you'll pay the transaction fees charged by your payment processor (Stripe or PayPal)

Free migrations

7-days-a-week support

Sell online courses, digital downloads, and memberships

Custom website

Affiliate marketing

Unlimited email subscribers

15,000 monthly email sends
💡 Podia Features (Earthquaker plan)
Unlimited products, customers, messages, sales, and files hosted

5 teammates included

Zero transaction fees (you'll pay the transaction fees charged by your payment processor (Stripe or PayPal)

Free migrations

7-days-a-week support

Sell online courses, digital downloads, and memberships

Custom website

Affiliate marketing

Unlimited email subscribers

50,000 monthly email sends

Dedicated account manager

Personalized onboarding call

Monthly group creator call

White-labeled website
💲 Pricing
Podia offers three plans, all with a 14-day free trial:
Mover:

$39/month

Shaker:

$79/month

Earthquaker:

$179/month
✔️ How to Get Started on Podia
Signing up for Podia is really easy. You just enter your name, email address, and a password. No credit card is needed for the free trial period. Once you sign up, you'll be sent a confirmation email and taken to your Podia dashboard: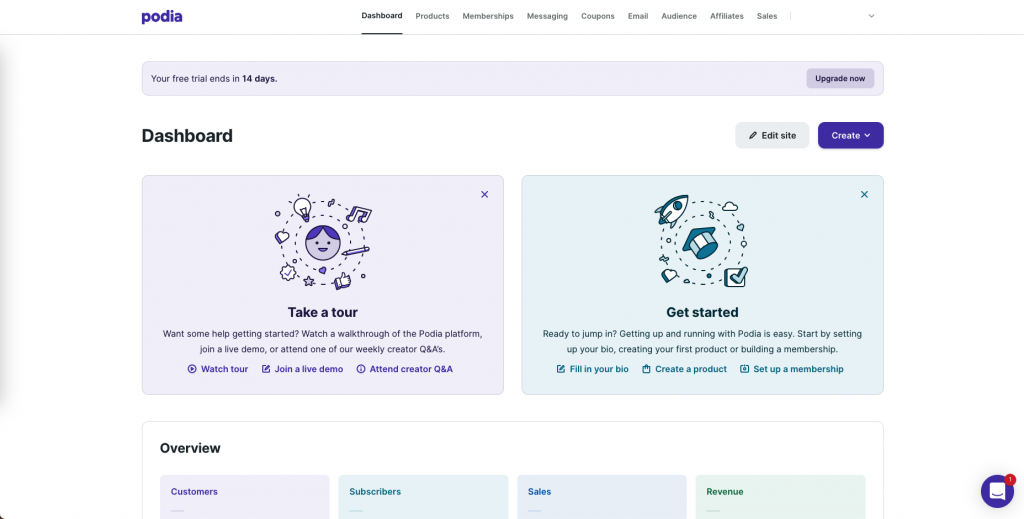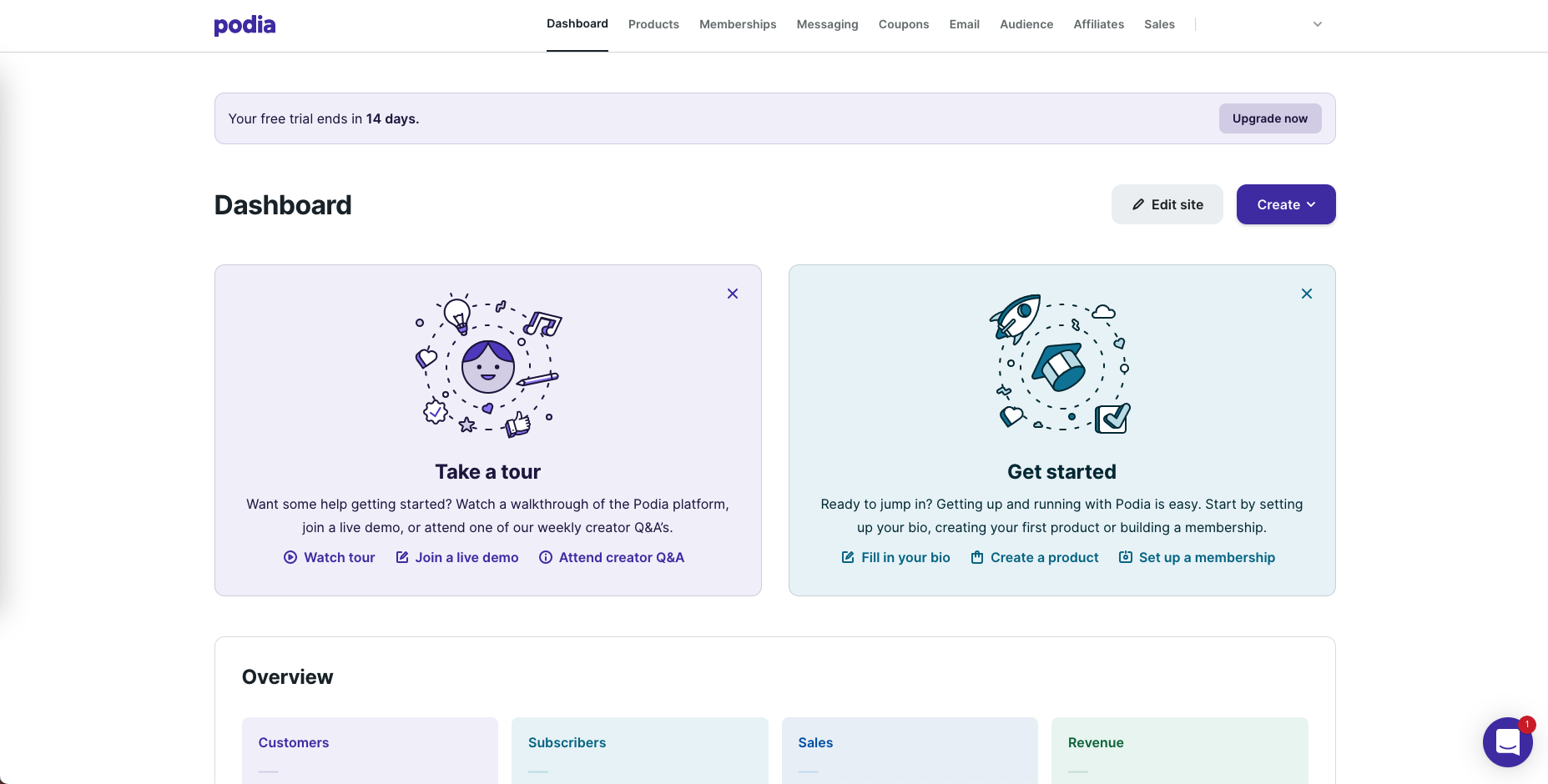 Across the top of the dashboard, you'll see links where you can add products and membership options. That's also where you'll find your messages, coupons, email marketing options, and stats about your audience, affiliates, and sales.
To add a product, click on Products. On the next screen, click Create product. Here, you can name your product and choose what type it is. Then, click Create product.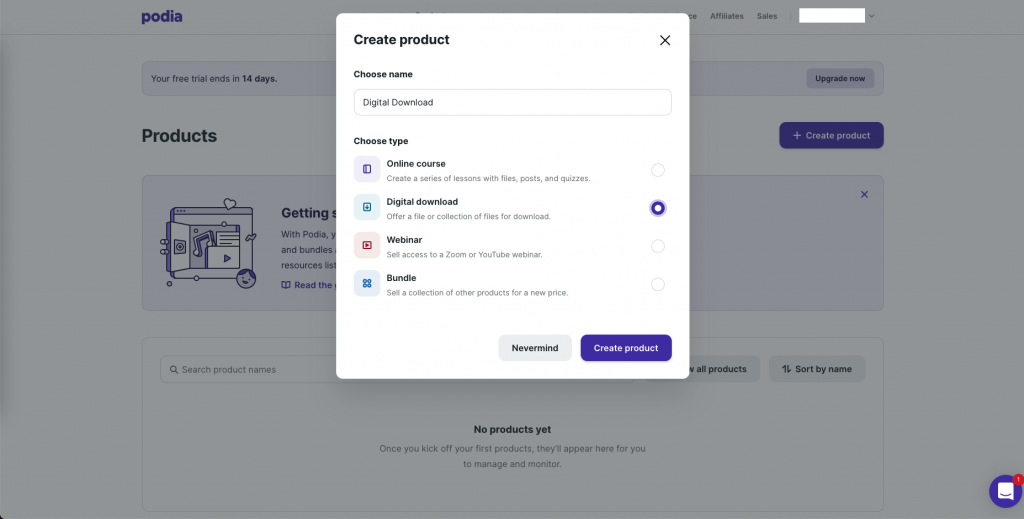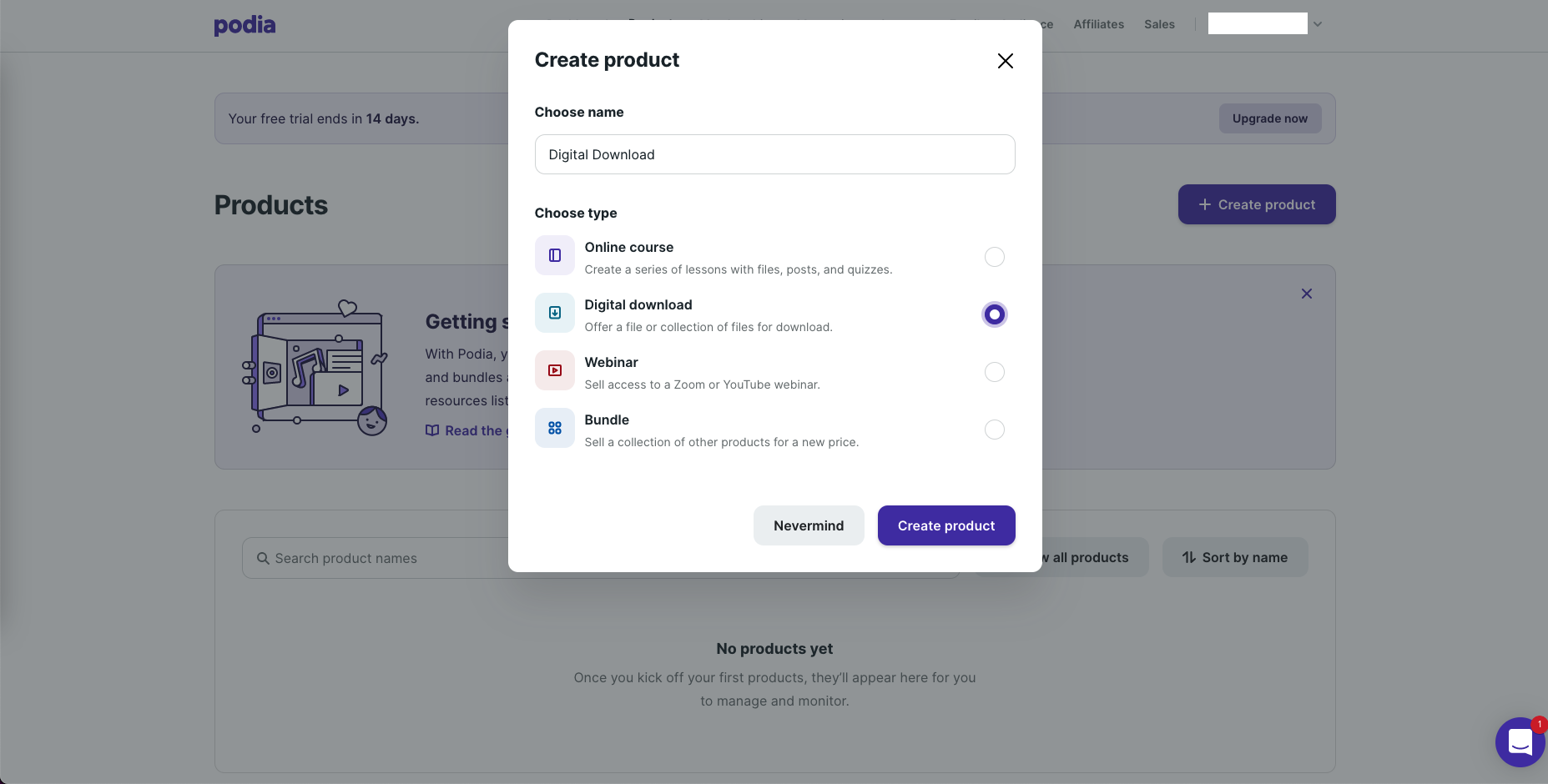 Now you can add files and details, set pricing, and set the product's availability. Once you're done, click Publish.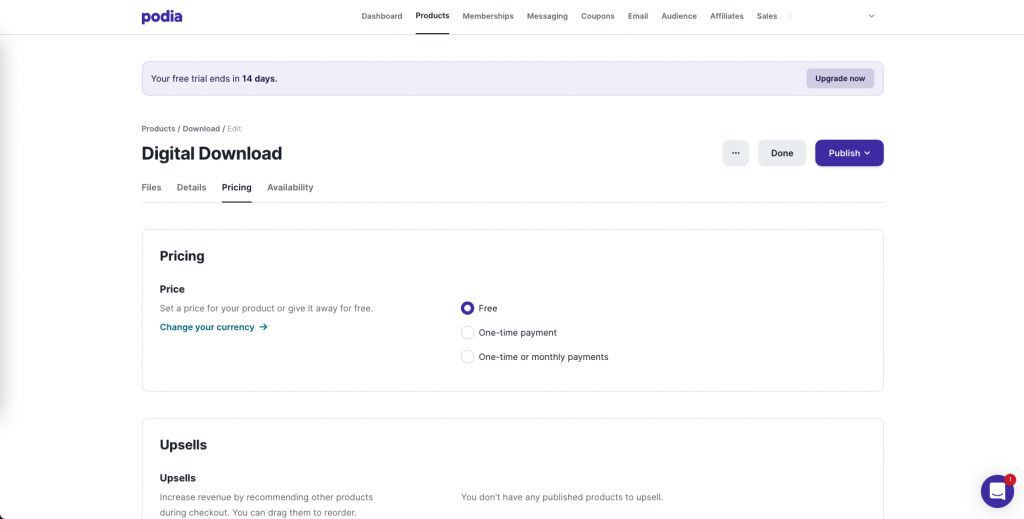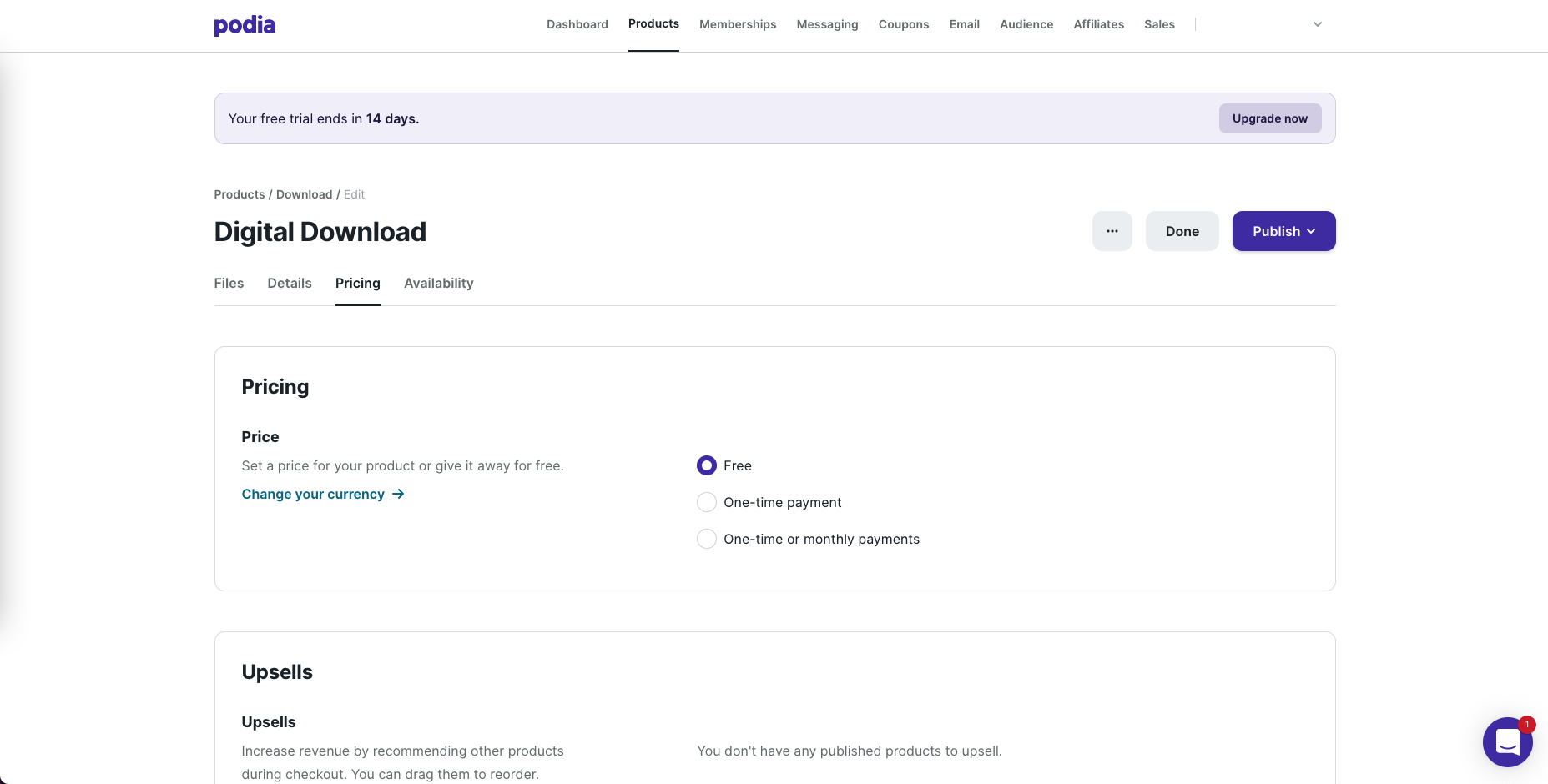 To add a membership option, click on Memberships. In the middle of the screen, you'll see a field to enter a membership name. Go ahead and name your membership and click Create your Membership.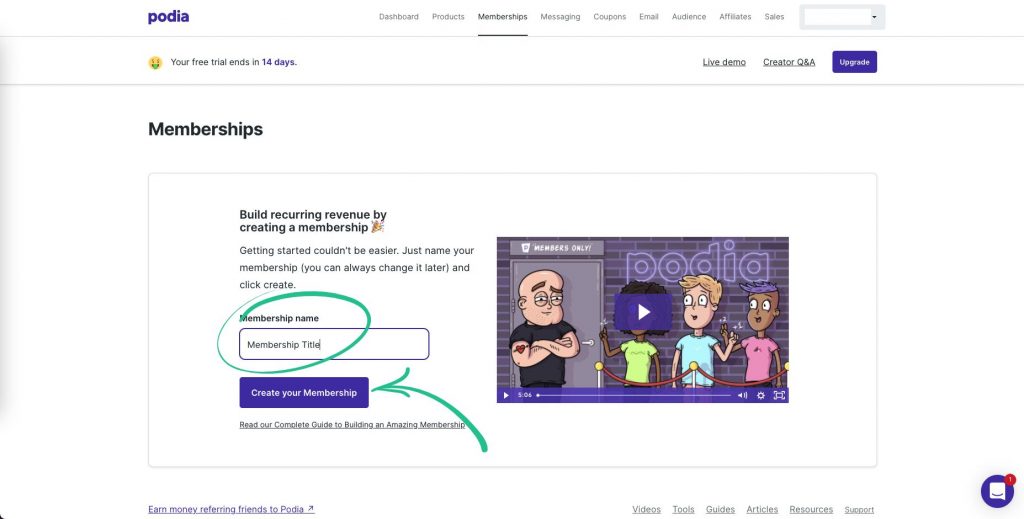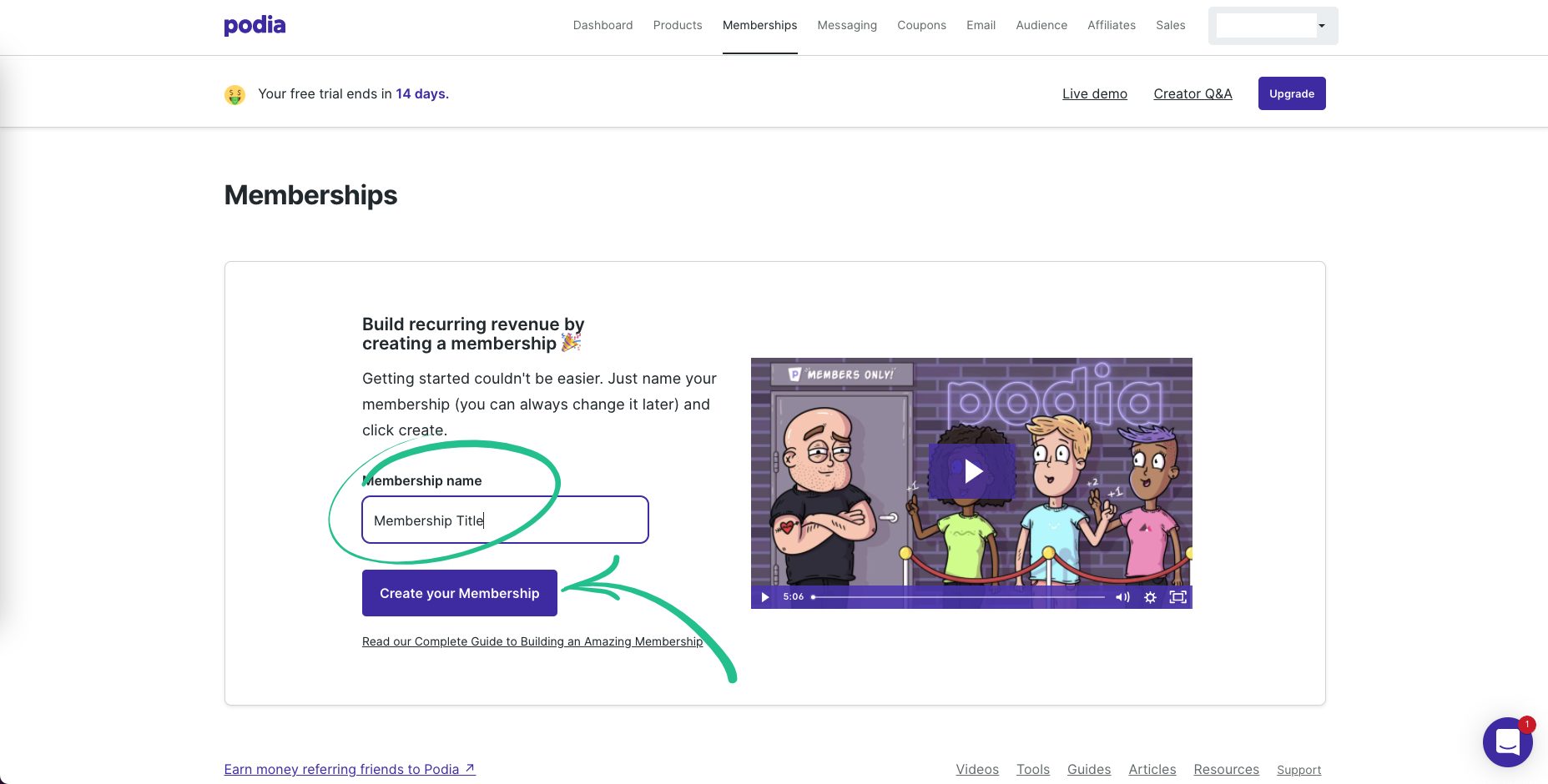 On the next screen, click Create a Plan to add a membership tier. FYI, you'll need to connect your payment processing platform (Stripe or PayPal) in order to change the pricing of your membership tier, so if you haven't done that already, you'll need to click on the Memberships tab again once you have.
Now you can name your tier, set a price, add products and courses, and then publish your plan.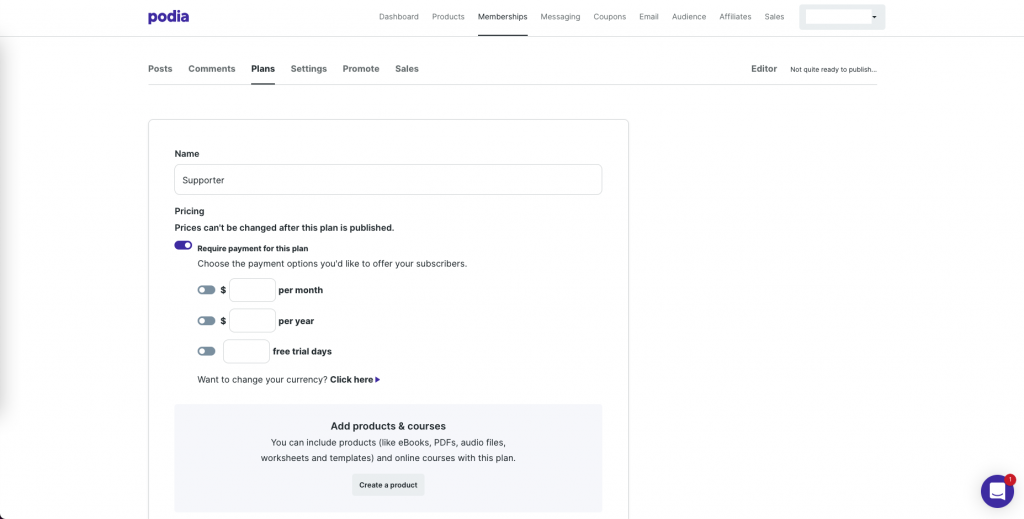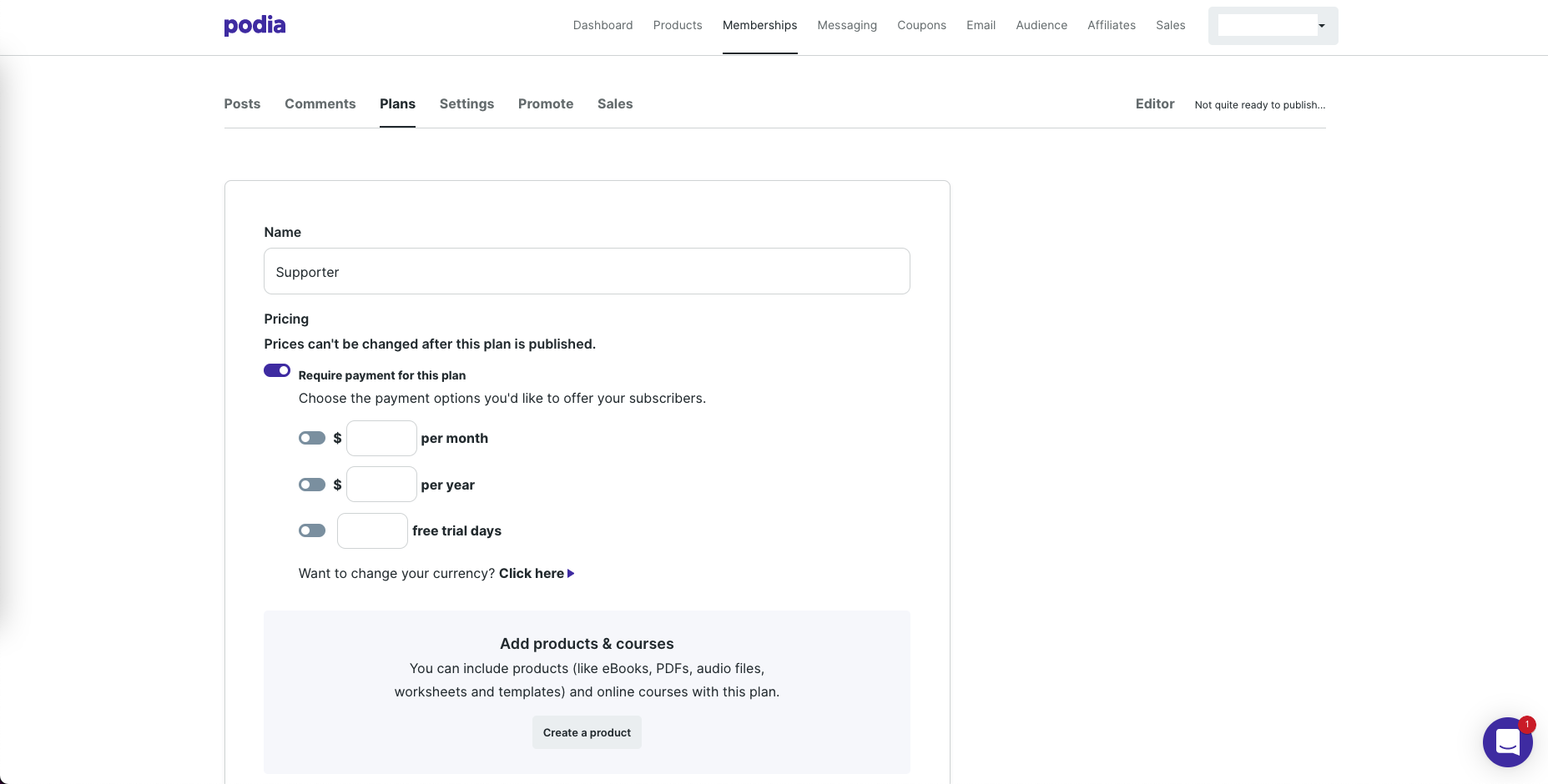 To really make your site your own, you'll want to edit the site itself. Click on the Edit site button to edit your site's colors and fonts as well as adding sections like product lists, membership promos, your bio, and more. When you have your site set up the way you want, you can click Done or Publish.
There's a lot that Podia can do, so don't worry if you find it overwhelming. Podia has support available to help you out as well as videos, tools, guides, articles, and resources along the bottom right of the page.
---
Wrapping Up
Now you know how to develop a recurring income stream as a creator and have some awesome ideas about the types of products you can create and offer. Your next steps are to choose one of the recurring revenue options from our list, choose one of the platforms, and get started!