Amazon has undeniably become one of the world's biggest names in the e-commerce industry. Founded in 1994 by Jeff Bezos, it originally started as a website that only sold books, but over the years, it has continuously evolved and has had an explosive global growth, with no signs of stopping.
In 2021 alone, Amazon increased net sales by 22%, reaching $439 billion. In that year, as many as 79.8% of internet users in the US shopped on Amazon primarily because of its fast and free shipping. Many US consumers also cited its broad product categories (68.9%), competitive pricing (49.2%), and easy returns process (43.7%) as some of the reasons why they opted to shop on the platform.
Net sales increased 15% to $127.1 billion in the third quarter, compared with $110.8 billion in third quarter 2021.
In 2022, Amazon has increased its net sales by 15% reaching $127.1 billion in the third quarter, compared with $110.8 billion in 2021. As of May this year, Amazon has had over 2.4 billion visits from mobile and desktop devices, making it the most visited e-commerce property in the US..
With approximately 230 million unique monthly visitors and 200 million paying Amazon Prime members worldwide, there's no denying that it's now one of the leading global e-commerce giants.
---
A Comprehensive Beginner Guide to Amazon Selling in 2023:
---
A Thriving Global Marketplace for Sellers
Amazon's continued growth offers numerous opportunities for those looking to get into the e-commerce industry and start a business of their own. It is a flourishing marketplace, now operating across 20 marketplaces globally, including the USA, Canada, Mexico, UK, Germany, France, Italy, Spain, Japan, Singapore, Turkey, Brazil, Australia, India, UAE, Saudi Arabia, Netherlands, Sweden, Poland, and China..
In fact, in 2021, Amazon's Global Selling program, which enables small- and medium-sized businesses (SMBs) to sell products on a more open and global scale, grew by over 50%. That year, Amazon also saw a flood of new sellers—more than 1 million worldwide, half of which are from its US and India markets.
In 2021, there have been 1,029,528 new Amazon sellers globally, which means that there were 2,975 new Amazon sellers per day. The same year, the e-commerce giant generated revenue of approximately $103.4 billion in third-party seller services, an increase of about 23 billion dollars from the previous year.
---
Why Should You Sell on Amazon?
Selling on Amazon can be a profitable business endeavor, even for beginners. Here are some of the reasons why you should consider selling on Amazon:
😲It's one of the biggest names in e-commerce
Amazon is a popular e-commerce platform with an expansive international customer base. Based on 2022 reports, it has over 200 million Prime members and 2.4 billion website visits. Its annual revenue from retail subscription fees alone totaled $25 billion. With around 1.9 million active sellers, it continues to be one of the largest e-commerce platforms in the world.
😲It gives you a viable income stream
If you're looking to grow your income stream, Amazon can be a profitable venue for you, particularly if your target customers shop on the platform. This will give you the opportunity to tap new potential customers, given Amazon's immense user base.
😲It's trusted by hundreds of millions of people worldwide
Amazon is a trusted global brand. Selling your products through Amazon can help boost your reputation and brand image. If your store is new, customers may have some apprehensions about transacting with your business. But if you're working with Amazon, it may help make them feel at ease with buying products from you.
😲Amazon charges a minimal fee
Amazon only charges minimal fees, which makes selling affordable and accessible. If you have a merchant account, you'll only be charged a flat monthly fee of $39.99 and a small portion of your sales. You won't be charged listing fees, so you'd be free to add as many items as you want. T
Amazon also offers an Individual selling plan, which is a pay-as-you-go plan that won't necessitate fees unless you sell an item. If you do make a sale, you'll be charged a fee of $0.99 per item.
---
Chapter 1. Before You Start Selling on Amazon
How to Register
Amazon offers two selling plans: Individual and Professional. The former is ideal for entrepreneurs who only have a few items to sell, while the latter is geared toward larger-scale operations.
Before you can begin selling on Amazon, you need to select the right plan for you. From there, you can start creating your Amazon seller account. Make sure that you have the following details:
✔️Business email address or your existing Amazon customer account
✔️Valid credit card to cover any fees
✔️Government-issued national ID
✔️Tax information
✔️Phone number
✔️A bank account where Amazon can deposit the proceeds from your sales
If you're worried about making the wrong choice, it's possible to change your plan any time. However, note that additional selling fees apply when you switch plans.
Costs
There are certain fees that you may be subjected to when you become an Amazon seller. These fees depend on different factors, such as your selling plan and the type of products you're selling.
❗️Subscription Fees
Subscription fees are the Amazon selling plan fees. If you have the Individual selling plan, you'll be charged a $0.99 fee for each item sold. If you're on a Professional selling plan, you'll be charged a flat monthly fee of $39.99, with no charges for each item sold.
❗️Selling Fees
Selling fees are charged for each item that's sold. These fees cover referral and variable closing fees. The former refers to the percentage of the product's selling price and may vary according to its category. Meanwhile, the latter is only applied to media categories.
❗️Shipping Fees
Should you choose to fulfill orders yourself, Amazon shipping rates will apply. The fees are determined based on factors, such as the product category and the shipping service you choose.
❗️FBA Fees
If you avail of Amazon's Fulfillment by Amazon (FBA) program, you may be charged with fees for services, such as order fulfillment and storage.
---
Chapter 2. Getting to Know the Amazon Marketplace
Amazon Seller Central
Once you've successfully registered as an Amazon seller, you'll be able to access your Amazon Seller Central Account. Think of it as a portal where you can monitor your sales activity and perform other tasks, like manage your inventory, update pricing, add product information, add new items, and more.
Below are some of the other things you can do from your Amazon Central page:
💯 Manage payments
💯 Access custom business reports
💯 Monitor your seller performance
💯 Communicate with your customers
Amazon Seller App
Manage your business even when you're on the go with the Amazon Seller App. It lets you track and fulfill orders, edit product photos, and create listings from your mobile device. It's available on the App Store and on Google Play.
What Is Amazon FBA and How Can You Make the Most of It?
Amazon FBA can be an advantageous option, as it gives you access to Amazon's more than 175 fulfillment centers located worldwide. If you opt for Amazon FBA, you'd be able to store your products in any of Amazon's fulfillment centers. You can also enjoy other benefits, such as customer service, easy returns, automatic Prime eligibility, and Free Super Saver Shipping. All of these benefits are designed to help your business grow at a faster rate.
Perhaps one of Amazon FBA's top benefits is it doesn't require you to have a minimum number of products to send to their fulfillment centers. Furthermore, you'd be able to evaluate your sales using Amazon's FBA Revenue Calculator. With it, you can see real-time cost comparisons between merchant-fulfilled orders and Amazon FBA. It would also give you a good idea of how much you can potentially earn depending on the fulfillment method you choose.
Note that there are two types of FBA fees: fulfillment fees and inventory storage fees. Fulfillment fees are charged per unit sold and cover the entire fulfillment process, from picking and packing orders to providing customer service and product returns. Inventory fees are charged monthly based on the volume of the inventory you've stored in an Amazon fulfillment center.
How Does Amazon FBA Work?
With Amazon FBA, your inventory will be shipped to Amazon, where it will be scanned and listed for sale. If a customer orders your products, Amazon is responsible for packaging and shipping them directly to the customer. Amazon then collects payment and sends you available funds every fortnight. If there are any questions or requests for returns or refunds, Amazon's customer service team is responsible for handling them.
---
Chapter 3. Sales Strategies You Can Employ
Prior to creating your Amazon seller account, you need to come up with a sales strategy. There are five business models you can choose from:
👉Private label
Private label products are basically goods or services manufactured by one company that's branded and marketed by another entity. It's a common practice that encompasses a number of industries, including food and beverage, clothing, and personal care. You can find private label products anywhere, be it online or in-store. Popular examples include Amazon's Amazon Essentials and Walmart's Great Value.
Private labeling has become a popular and common practice because of the benefits it affords companies. It gives you adaptability and control in many aspects of the marketing process, from production and pricing to branding.
It's also a viable strategy that you can adopt if you're thinking of selling on Amazon using its Fulfillment by Amazon (FBA) program.
👉Drop shipping
Another feasible and hugely popular sales strategy is drop shipping, which is a relatively low-risk order fulfillment method. If you opt for drop shipping, you'd be partnering with a third-party supplier that fulfills your customers' orders on your behalf. It eliminates the need for entrepreneurs to have warehouses and do inventory. Plus, you won't need to put in a big investment for you to start drop shipping.
Drop shipping isn't new. It's been around even before the advent of the internet, in the form of mail order catalogs. However, with technological advancements and the emergence of sites, such as Amazon, eBay, AliExpress, and Shopify, drop shipping now has a more common and easily accessible market for anyone around the world.
While the process of placing products on your online store with marked up prices and having another company fulfill them for you may seem easy, it can still have its fair share of drawbacks. These include it being a very competitive marketplace and lack of control in your supply chain.
With drop shipping, it can also be difficult to establish your own brand, given that you have no control over the products' branding. However, if you already have a solid e-commerce business, drop shipping may work to your advantage. An established e-commerce business gives you regular traffic and a slew of regular customers, giving drop shipping the potential to succeed.
👉Wholesale trade
Alternatively, you can go into wholesale trade when selling on Amazon. With wholesale trading, you can purchase a large volume of products at a relatively lower cost, which you can then market in retail. One of the keys to successful wholesale trading is finding affordable products that you can put a reasonable markup on for a good profit margin.
👉Online arbitrage
If you find a product you'd like to sell but it's already listed on AliExpress, don't worry. You can still sell that same product on a different platform, such as Amazon, using a sales strategy called online arbitrage. Online arbitrage is sourcing your inventory from one marketplace, making sure that you get products that are relatively cheap, and reselling it for a profit via a different marketplace.
Similar to drop shipping, online arbitrage isn't a get-rich-quick scheme. However, it does offer an expansive range of products that you can incorporate into your inventory. It's also easily scalable. Moreover, when done properly, online arbitrage can save you time and effort, since it eliminates the need to go to retail.
👉Handmade products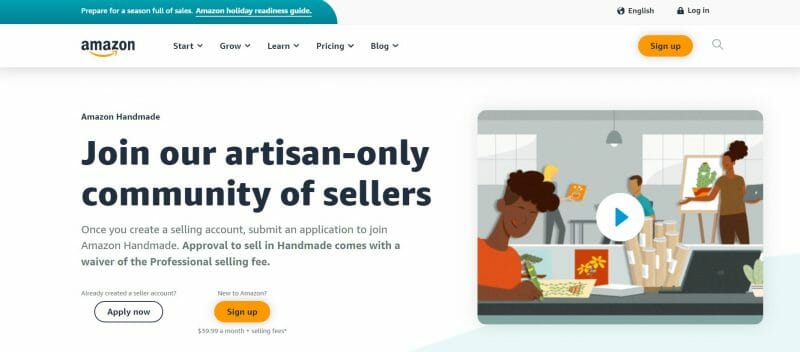 Another sales strategy that's worth looking into is marketing handmade products. Amazon has a platform that's dedicated to artisans called Amazon Handmade. It brings together artisans from over 80 countries and gives them an avenue where they can sell their handcrafted goods to Amazon's expansive customer base.
---
Chapter 4. How to Sell on Amazon for Beginners
Ready to sell on Amazon? Follow these steps to get started:
🧐 Craft a solid business plan
Before you start selling on Amazon, you should already have a solid business plan. You need to determine your long-term goals, your branding, the products you want to sell, and your budget.
You also need to do your homework. This means conducting research, identifying your target market, finding the right suppliers, and planning how to promote your products. By having a well-thought-out business plan, you'd be able to operate your business more efficiently, mitigate risks, and address challenges better.
---
🧐 Know your niche
People visit Amazon because they want to find something of value or something that they need at relatively affordable prices. With this in mind, you can determine the niche that you want to target. Conduct thorough market research and find products that aren't just trendy but also fall within your interests. It can be difficult to sell electronics, for example, if you're not well-versed in the subject.
If you find a niche that works for you, you can sell online and stay competitive. However, you need to have an objective analysis of your niche and ensure that your buyer persona is clear. You should also use Google Shopping to get a better perspective of how many sellers are marketing the same product and make comparisons of the minimum advertised price (MAP).
---
🧐 Start looking for products
Now that you've identified your niche, you can begin searching for products to sell and suppliers to tap. Keep in mind that your products have the potential to help build your brand or ruin it. Moreover, the first few products you put out are crucial, as they can drive sales and encourage your early customers to buy again from your Amazon store.
When choosing a product, consider these factors:
✔️It should be able to generate sales.
✔️It should make an impact on your customers.
✔️Your product should be easy to sell and ship.
✔️Products shouldn't fall under Amazon's restricted category.
✔️Items should be affordable to source from your supplier.
When researching potential products to sell, check out all the other e-commerce platforms, like Alibaba and eBay, and retail outlets that carry your prospective products.
You can also use a keyword research tool. Keyword reports can give you an idea of what products people often look up. You can also use them to assess how in-demand your prospective product is.
If you're thinking of opting with Amazon FBA for order fulfillment, you may want to factor in your products' corresponding FBA fees. To check for FBA fees, you can use Amazon's free FBA fee tools, which include a revenue calculator, a fee preview report, and a referral fee preview report.
Here's a rundown of the leading product categories on Amazon in 2019:
🔎Electronics
🔎Clothing, shoes, and jewelry
🔎Home and kitchen
🔎Beauty and personal care
🔎Books
🔎Cellphones and accessories
🔎Movies and TV
🔎Pet supplies
The bottom line is, you want to sell high-quality products that are exclusive to your Amazon store. These products should ideally have high profit margins and are compact enough to minimize additional fees.
---
🧐Finding a supplier
Finding the right products to market is only half the battle. You also need to find a reliable supplier or manufacturer for your stocks. This can be an arduous process, especially if you want to find a supplier that best fits your needs.
When looking for a supplier, you have three options: overseas vendors, local manufacturers, or local trade shows. Now, one of the easiest ways to find suppliers is to go online, keeping in mind that you want access to high-quality products that won't negatively affect your brand's reputation. Many FBA sellers source their products from overseas suppliers that they found on online marketplaces, like Alibaba or AliExpress.
You can also support local business by sourcing your products from local manufacturers. Meanwhile, local trade shows provide you with the opportunity to communicate with suppliers and learn more about their products.
To find the right supplier, you need to get in touch with them. Order sample products and see if they're up to your standards. Ask questions about the minimum order quantity, order limit, shipping charges, and product quality. Remember that you want to offer products that are worth your customers' time and money. It follows that you should thoroughly check the quality of the products before selling them.
---
🧐 Come up with a brand
One of the most challenging aspects of selling on Amazon is coming up with your own distinctive brand. Start by creating a brand name that resonates with your goals and objectives. Google is a useful tool that can help you check whether or not your brand name is already in use. Furthermore, it can help you find out if a domain name already exists for your chosen brand name. This comes in handy when you create your own website.
The next step is to come up with a brand logo. For this, you can look into hiring a graphic designer or going the DIY route. Make sure that your logo would reflect your brand identity and would be easy for your customers to identify. You also need to consider what your brand's theme and tagline should be, making sure that they're both unique and true to your brand's image and messaging.
---
🧐 Open an Amazon seller account
Once you've done all of the above, you're ready to open an Amazon Seller account, which we've covered in Chapter 1.
---
🧐 Listing Your Products
Now that you've set up your Amazon Seller account, you can start creating an optimized product listing. You have two options: matching an existing listing (if a listing already exists for your product), or creating a new one (if you're the first or only seller of the product).
To create an effective listing, consider adding relevant keywords and exercising your creativity. These make your listings relevant and appealing to potential customers and they're able to convey a lot of information.
When creating product listings, you need to come up with the following elements:
📝Product titles
📝Product description
📝Professional-quality product photos
Moreover, product listings should have the following:
📝Global Trade Item Number (GTIN), such as a UPC, ISBN, or an EAN
📝SKU
📝Search terms and relevant keywords
To ensure that your product listings are successful, add descriptive titles and concise but accurate and informative descriptions to your items. Moreover, follow best practices, such as:
✔️Considering product variation and whether or not each product warrants a separate listing
✔️Ensuring that images comply with size requirements (at least 500 x 500 pixels or 1000 x 1000 pixels) for high-quality listings and be set against a plain white background
✔️Making sure that your product UPCs and GTINs are consistent
Once you've listed your products, they'll be available to both B2B and B2C customers, thus allowing you to extend your customer reach using a single account.
---
🧐 Delivering Your Products
You first need to consider how you're going to get the items to your customers before you start taking orders and fulfilling them.
With Amazon, you have two options. You can fulfill your own orders, also known as "merchant-fulfilled", or you can opt to have Amazon take full responsibility for the whole fulfillment process, from packaging to shipping, with its Fulfilled by Amazon (FBA) program.
With merchant-fulfilled orders, you do the storing and the shipping of your products. Amazon will charge you for shipping rates based on factors, such as product category and the shipping service your customer selects.
---
🧐 What to Do After Your First Sale
Making your first sale heralds a number of growth opportunities for your online business. Once you've covered the basics, established your store, and observed best practices, here are some important things to consider:
📝Managing your inventory
As with any business, it's crucial to monitor and manage your inventory. You don't want to be saddled with spoiled products or unfulfilled orders due to poor inventory management. You should track and maintain ideal inventory levels, which allow you to keep up with customer demand while minimizing the risk of overstocking or having depleted stocks.
📝Keeping an eye on your performance metrics
You can monitor your performance through the Amazon Seller Central. Key metrics to take note of include:
✔️Less than 1% order defect rate
✔️Less than 2.5% pre-fulfillment cancel rate
✔️Late shipment rate that should ideally fall under 4%
📝Monitoring and responding to customer reviews
Customer reviews can make or break a business. With Amazon, they're a central part of a customer's shopping experience. 52% of Amazon customers read and trust online product reviews, making them an important factor in decision-making.
You can ask your customers for reviews as social proof of transaction experience, especially when they're satisfied with your product. Having a significant amount of positive feedback can help drive sales and conversions. If you receive a negative review, you can use it to your advantage as well. How you respond to reviews, whether positive or negative, can impact the way customers perceive your brand.
Do your research on what not to do when it comes to customer reviews to avoid policy violations.
---
Chapter 5. Opportunities for Growth
Amazon offers several advertising solutions that can help you take your business to the next level. These solutions enable you to expand your store's reach and engage with more shoppers in different levels of their buyer's journey.
The platform currently offers three types of advertising solutions that you can access via the Amazon Seller Central:
🔎Sponsored Products
🔎Sponsored Brands
🔎Amazon Stores
You're also eligible to offer your promotions and coupons to your customers. You can choose from three types:
🔎Money off
🔎Free shipping
🔎Buy one, get one free
For expanding sales to a global scale, Amazon is one of the best platforms available. With Amazon Global Selling, you can utilize Amazon's extensive global infrastructure, which would allow you to reach Amazon's hundreds of millions of customers worldwide.
---
Chapter 6. How You Can Become a Better Amazon Seller
Amazon itself holds plenty of growth opportunities for entrepreneurs. If you want to expand your growth opportunities within your first 90 days of being an Amazon seller, you can follow these tips:
✔️Monitor your account health in the Amazon Seller Central
✔️Utilize Amazon's FBA program
✔️List more products for a better, expanded product selection
✔️Familiarize yourself with the Amazon Seller Central
Frequently Asked Questions
How much does it cost to sell on Amazon?
Depending on the selling plan you choose, you can either pay $0.99 per item sold or a flat monthly fee of $39.99. You also have to take into account miscellaneous fees that'll be charged to your account, especially if you're opting to go with Amazon FBA for order fulfillment.
I already have a Shopify store. Can I integrate it with my Amazon seller account?
Yes, you can. Once you've created a professional seller account on Amazon, you can connect your Amazon account to your Shopify account.
What products are restricted on Amazon?
Check Amazon's guidelines on restricted products to ensure that your items don't violate any laws or regulations. Restricted products include:
Alcohol
Animals and animal-related products
Export controls
Lock picking and theft devices
Recycling electronics
Warranties