To ensure that we don't get accused of clickbait reporting, we should begin this post by making one thing abundantly clear. You won't currently find any official HubSpot Referral Program. There isn't any HubSpot referral app, nor do they have a dedicated section of their website dedicated to the practice. However, if you are a HubSpot customer who stores your customer, sales, and marketing data in their CRM, it is relatively straightforward to track referrals, and even store your referral data within HubSpot itself. Also, quite a few of the tools we examine in Top Referral Marketing Software Tools to Look At include HubSpot integration which makes the process of collecting referrals even easier if you are a HubSpot CRM customer.
---
HubSpot Referrals: How to Track Referrals if You Use HubSpot's CRM:
---
Why Have a Customer Referral Program?
Before we look at how to set up some form of HubSpot referral program, we should first look at why you might want to collect customer referrals. Think about a few of these referral marketing statistics:
69% of customers who had a positive experience with a company would recommend the brand to other people.
Leads from referrals have a 30% higher conversion rate than the leads generated from other marketing channels.
Referred customers have a 37% higher retention rate compared to other customers gained through other marketing channels.
82% of B2B sales leaders believe that referrals generate the best leads. An average of 20,000 new email addresses per month can be generated from customer referral programs.
As can be seen from the above statistics, operating a referral program is a no-brainer for most companies, particularly those that operate in the B2B sector. So, if you use HubSpot software, it makes sense to create some kind of HubSpot referrals recording and tracking system.
---
What is Referral Marketing?
We've seen the value of referral marketing to most businesses, particularly those using the B2B operating model. So, what do we mean by the term referral marketing? We examined this in detail in our Go-To Guide for Referral Marketing, where we defined referral marketing as being strategies that can facilitate and boost customer referrals, i.e. deliberately asking your customers to spread the word about your business.
You might question the difference between referrals and leads – both have the potential to generate sales for your business. If you're a HubSpot customer, you probably already have leads sitting in your HubSpot CRM. One of the biggest differences is that customers create referrals where they endorse your business. Leads, on the other hand, are probably still only potential customers and are in no position yet to endorse your business. They probably don't even know you have them in a database.
Although you can prompt referrals from satisfied customers as part of your referral program, ultimately referrals are customer-led by happy customers who are prepared to advocate for your brand.
Referrals and leads go together, however. One of the main purposes of referral marketing is to attract new leads to your business, by showing referrers' contacts the benefits they too can receive by becoming one of your customers.
---
Steps in Setting up a Referral Program
There are multiple ways that you can set up a referral program, whether you're a HubSpot customer or not. However, you will most likely go through a series of common steps no matter what software you choose to use to assist you.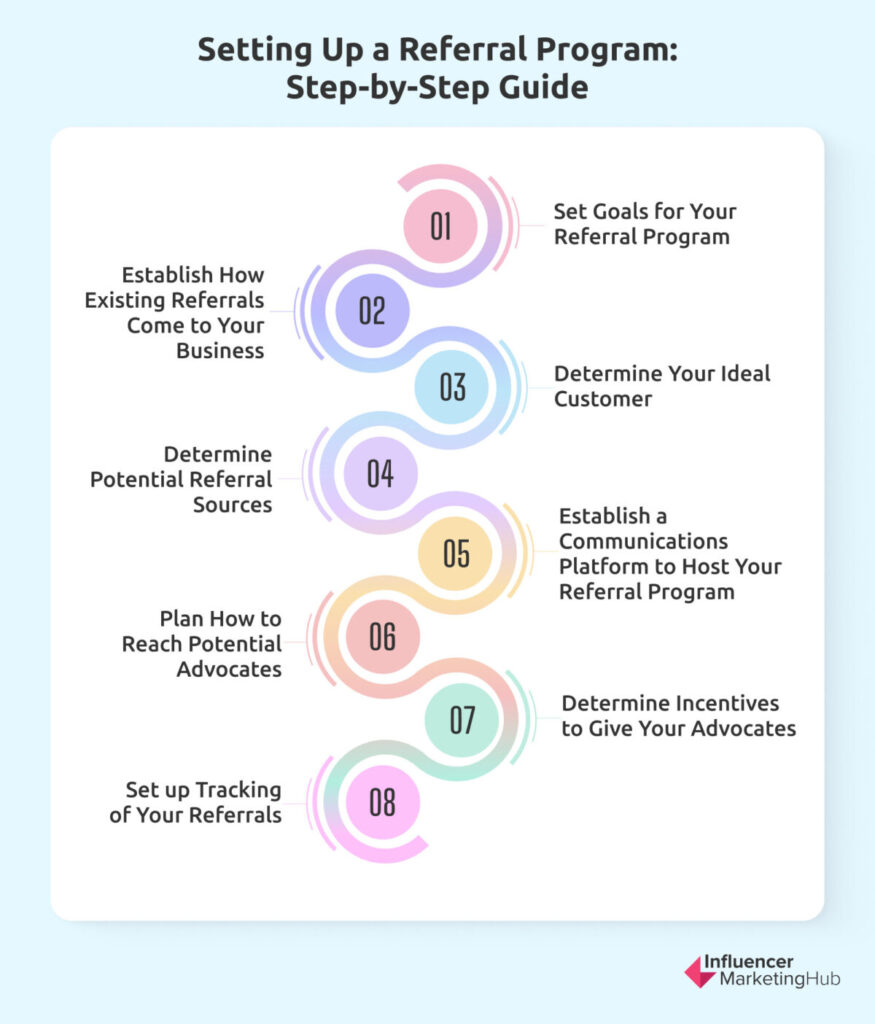 1. Set Goals for Your Referral Program
Like all marketing campaigns, you need to start your referral marketing by deciding what you are hoping to achieve. Why are you spending time and resources on referral marketing? Try and establish SMART goals, ensuring they are clear and measurable.
2. Establish How Existing Referrals Come to Your Business
Hopefully, you will have already received some referrals for your business. You may need to check with your Sales and Marketing teams to find these. Where have they come from – what types of people have willingly made referrals about your business without any prompting?
3. Determine Your Ideal Customer
Not all customers are equal. The views of some customers will be valued much more than those of others. This is also the hub of influencer marketing, and why influencers can make good referral customers too.
You will be looking for referrers who have a clear need for your product, not just somebody doing it for free product, or to help out a friend.
4. Determine Potential Referral Sources
Now you know the types of people who would make good referrers, you need to consider where you could find them. Possibilities could include your current customers, past customers, industry leaders, influencers, and even vendors.
This is where HubSpot CRM could become particularly useful for finding and recording potential referrers, and then later, HubSpot referral tracking.
5. Establish a Communications Platform to Host Your Referral Program
Later on, we will look at some specialist software you can use to operate your referral program. You may not be able to have an all-in-one HubSpot Referral app, but many referral apps have integrations with HubSpot allowing data to flow freely between the platforms.
6. Plan How to Reach Potential Advocates
You will want to begin by narrowing your list of potential advocates to a small group – those that would provide you with the most benefit from giving referrals. You are likely to need to give them some form of incentive to join your referral program.
How this works will differ from industry to industry. In some industries, for example, B2B, you will probably need to wait until somebody is an established customer, with many purchase transactions, before they are willing to make a recommendation on your behalf. In other cases, particularly for high-value, non-repeating items, people are happy to make a referral after just one transaction. You will even find some apps that give people a discount if they make a referral during the purchase process.
Initially, you will want to focus on advocates most like the ideal customer you established previously. They are effectively marketing your product for you, so you want to work with people who you believe will do a good job.
7. Determine Incentives to Give Your Advocates
Not all referral programs offer incentives to advocates – some people will willingly give referrals regardless because they love your products and customer service. These will typically be your most profitable customers or the ones who spend the most money with your organization.
It could be a good idea to add a custom field in your HubSpot CRM and create a variety of incentive tiers for different types of customers. That way, you can set different levels of referrals, allocating each customer to a tier, with everything visible in HubSpot. Referrals and any other incentives can then easily be allocated to the correct people in your CRM.
8. Set up Tracking of Your Referrals
This is where your HubSpot CRM can be of real use to your referral program. You will need to keep good records of your referrals, including:
Who makes a referral
Who the new referral is
Whether the referral resulted in a conversion, and if so, what was sold
Any nurturing or following-up occurrences
---
How You Can Use HubSpot with Your Referral Program
As we have mentioned, although there is no official HubSpot referral program, you can make good use of your HubSpot CRM for recording all the relevant details from your program.
One way you can do this is to create custom fields in your HubSpot CRM. HubSpot calls these properties. You can create custom properties to store unique data for your business.
You do this by clicking the Settings icon in the main navigation bar. Navigate to Properties in the left sidebar. Click the Select an Object dropdown menu, then select [Object] properties. To create a property, in the upper right, click Create property.
In the right panel, set the property's basic information:
Object type - select the object that will store the property. By default, this is the object you selected earlier
Group - select the property group that the property will belong to, i.e., a property group is a label used to group similar properties within an object.
Label/Name - the name of the property as it will appear in your HubSpot CRM, e.g., People Referred, Referrer, or Converted
Internal name – an unchangeable name for the property that people will use in integrations and APIs rather than the property label.
Description – enter text to describe the property
Click Next to set the property's field type, i.e., Single checkbox, Multiple checkboxes, Date picker, Number, File, Radio select, Dropdown select, Single-line text, Multi-line text, Calculation, Score, HubSpot user, or Rich text.
Once you've selected your field type, you click on Next and then set validation rules for your property.
---
Building Your Referral Program with HubSpot
New Zealander, Kai Crow, specializes in building a highly scalable, automated approach to marketing. He's written in more detail about using HubSpot to build your referral program.
Crow acknowledges that his plan creates a bare-bones referral program, but you can add additional features once you have the core elements running smoothly.
His HubSpot referrals system involves three main steps:
1. A customer will hit a landing page where they enter details for someone who they think might have an interest in your product.
2. Once they submit the form, it checks whether that person is already a customer or prospect. If not, the system creates a new lead in HubSpot, linked to the person who referred them.
3. If the friend signs up, it triggers an alert and adds a gift voucher code (or another incentive of your choice) to the contact record of the person who made the referral in HubSpot and then sends them a thank you email with the voucher code or other incentive.
---
Specific Steps to Take to Create Kai Crow's HubSpot Referral Tracking System
Crow explains the necessary steps you should take to build your referral program, using your HubSpot CRM: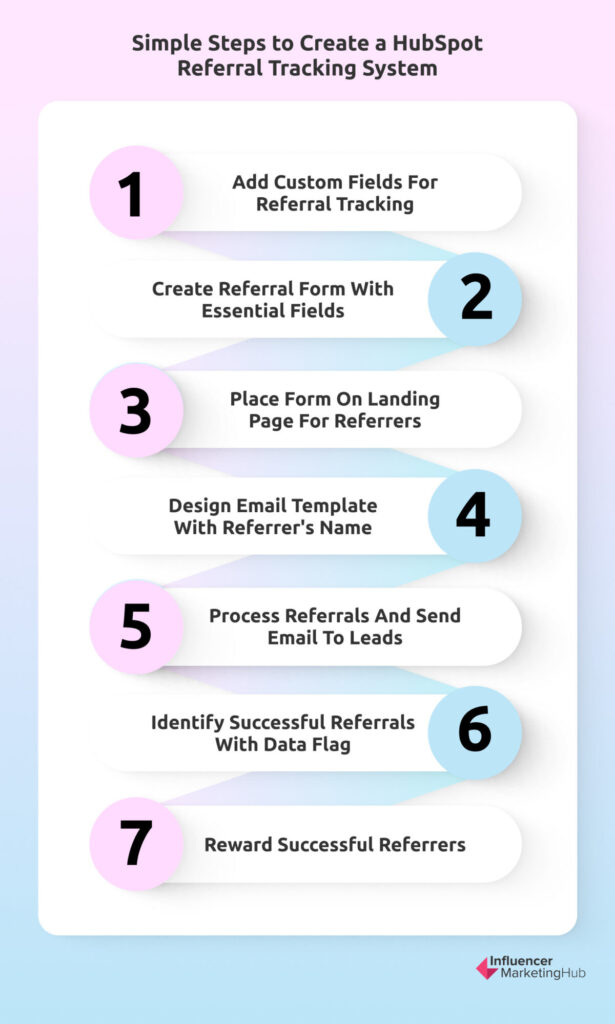 1. Add some custom fields for tracking the referral, e.g., Referral – Referred by – Email, and Referral – Referred by – Name. Crow suggests you create a new Group for both fields called Referral and give each field the field type of Single-line text.
2. Create a referral form – Crow suggests you use the following fields: Email (of referred lead), First Name and Last Name (of referred lead), and the new Referral – Referred by – Email and Referral – Referred by – Name fields (for details of the referrer).
3. Once you've created the above form, place it on a landing page so referrers can fill it in.
4. Create an email template in HubSpot that you can send out to any new leads suggested by your referrers. Include the Referral – Referred by – Name field near the top of your email, to show the lead where you got their name and email address, and that you aren't just spamming them.
5. Process each referral and send the email out to the lead (checking first that they aren't already in your system).
6. Identify a successful referral – this will depend on your data structure. You need to set up some form of flag to indicate when a referred lead becomes a paying customer.
7. At this point, you can action paying whatever your agreed incentive is to the successful referrer.
HubSpot offers the ability for you to A/B test your landing pages. Experiment with a few different form layouts to see if these lead to improvement in your conversion rates.
---
Integrating HubSpot with Specialist Referral Apps
As we mentioned above, several specialist referral program apps and platforms include HubSpot integration.
For example, Referral Factory is specialist referral marketing software designed to make managing referral programs simple. It incorporates plug-and-play software to build, promote and track your referral program using HubSpot and other CRMs. It's fully customizable, offering a robust no-code solution, and offers 100+ referral program templates, designed by experts.
With Referral Factory, you can sync your HubSpot contacts to generate their referral links. You can then send your new referred contacts (or deals) into the HubSpot workflows you already use.
With all Referral Factory plans you get access to promotional tools like pop-ups, website widgets, join links, and more. You can sync your contacts and then use HubSpot mail to send them their referral links.
---
Wrapping Things Up
HubSpot may not offer a specialist HubSpot referral program or HubSpot referral app, but it is relatively easy to record and manage referrals in your HubSpot CRM. You can set up a program with a small amount of technical expertise or combine HubSpot with a specialist referral app if you would rather leave planning and designing your referral program to the experts.
There is another reason why you might prefer to integrate HubSpot with a specialist referral app, such as Referral Factory. The specialists understand how the relevant global privacy acts could affect you and ensure that their templates meet all legal requirements and that you don't accidentally fall foul of any legislators.