Many brands prefer to work with an influencer agency to help them find influencers and run their influencer marketing campaigns. We have written many articles previously about influencer marketing agencies, and have an entire section of the Influencer Marketing Hub devoted to them.
Influencer marketing is now a truly global phenomenon. Therefore it should be no surprise to find influencer marketing agencies operating in most countries.
In this article, we are taking a look at some of the influencer marketing agencies that operate in France. Some of these agencies are located in France, with local offices. Others consider themselves more global but specifically mention their French operations in their marketing.
---
8 Influencer Marketing Agencies in France Who are Making a Name for Themselves:
---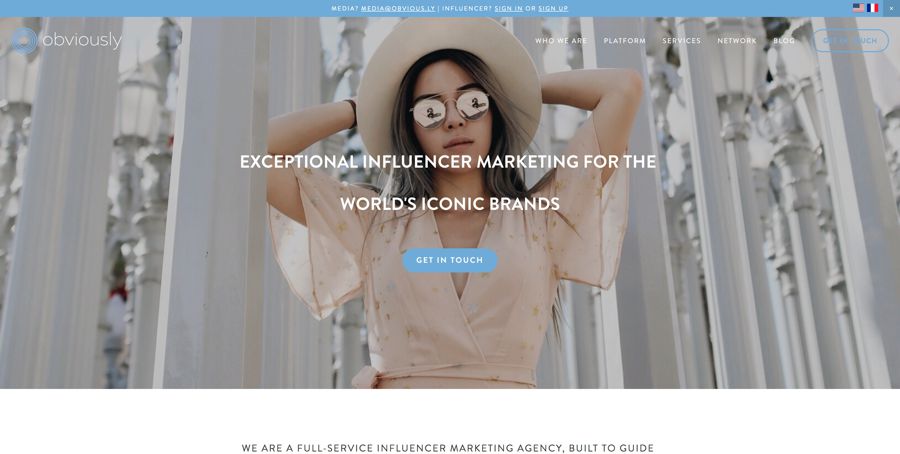 Obviously is a full-service influencer marketing agency with offices in New York, San Francisco, Sydney, and vitally for this article, Paris.
They offer a white-glove service, where they handle all aspects of their clients' influencer marketing campaigns, from identifying influencers, all communication, shipping products, and analyzing the results of each campaign.
They also have a proprietary platform that helps streamline the network management process. Obviously manages their clients' network through every step of a campaign, from identifying influencers, to managing relationships, to re-engagement. They search their network of over 40,000 influencers for creatives who are a perfect match for a client's brand.
Obviously also makes a point of managing communications between brands and influencers. They understand that when brands attempt to keep dozens of individual influencers happy at all times, influencers sometimes fall through the cracks, which can lead to frustrations. When an influencer has concerns during a campaign, Obviously manages them quickly and positively, keeping them happy and the brand free from stress.
Obviously guides influencers through every step of the campaign, offering advice on content, and screening posts for quality.
Obviously also offers expert advice on social strategy, using powerful, data-driven technology to analyze a firm's social presence and articulate strategies for growth. Their data-driven technology can analyze the social profiles of competitors, determining their strategy, and analyzing how their client compare in the marketplace.
---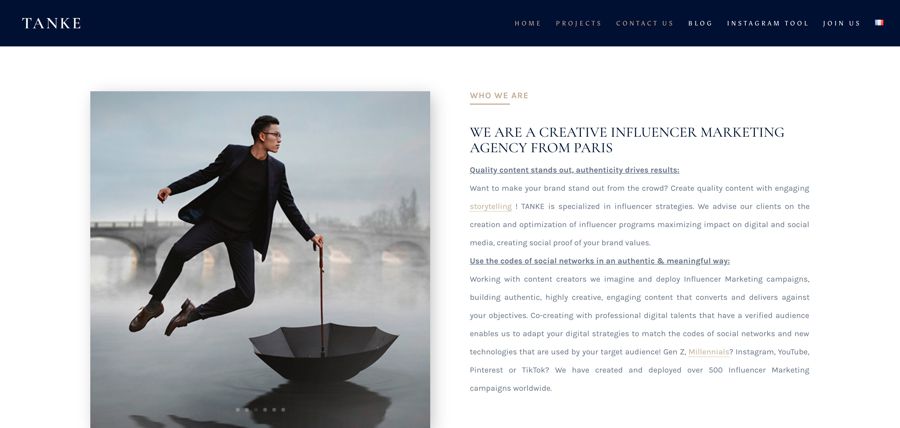 Tanke is a creative influencer marketing agency from Paris. It specializes in influencer strategies. They advise their clients on the creation and optimization of influencer programs, maximizing impact on digital and social media, creating social proof of a brand's values.
They work with content creators to imagine and deploy influencer marketing campaigns, building authentic, highly creative, engaging content that converts and delivers against their client's objectives.
They only work with professional digital talents who have a verified audience. This enables Tanke to adapt digital strategies to match the conventions of social networks and new technologies used by their clients' target audience.
Tanke creates efficient influencer marketing and communication concepts for their clients, incorporating media and multi-channel consultancy. These often include user-generated content (UGC) and/or influencer generated content (IGC). They do influencer marketing audits to analyze clients' current efforts, pinpoint challenges in terms of editorial, strategic, or organizational aspects to increase efficiencies, enable synergies between teams, brands, and geographic regions.
They run managed campaigns providing a one-stop-shop solution, building upon data and insights while emphasizing creativity, authenticity, and leveraging technology.
Tanke has created and deployed over 500 influencer marketing campaigns worldwide.
---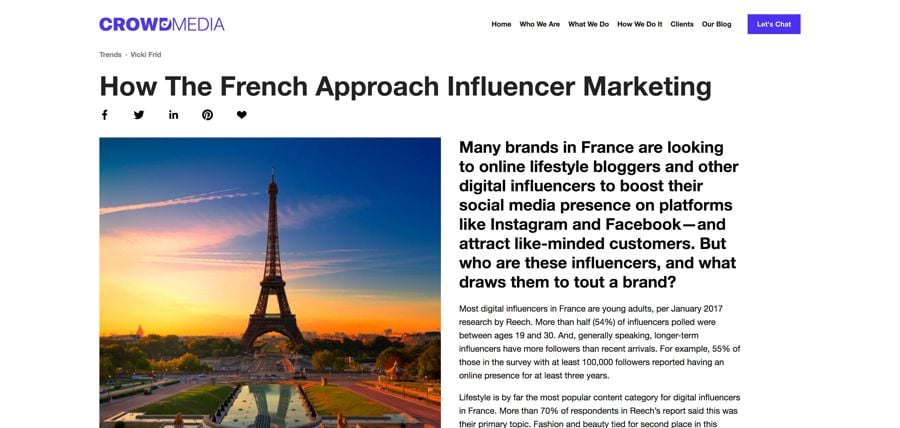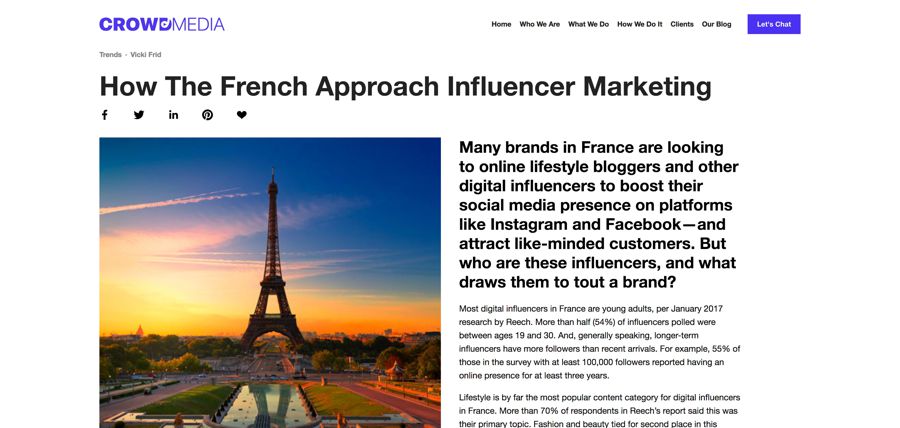 Although Crowd's headquarters are in The Netherlands, they are a genuinely global influencer marketing agency, working in more than 30 languages across five continents. They believe their team can offer a global mindset with local insight.
They observe that many brands in France look to online lifestyle bloggers and other digital influencers to boost their social media presence on platforms like Instagram and Facebook—and attract like-minded customers. They note that most digital influencers in France are young adults. More than half (54%) of influencers polled were between ages 19 and 30. Moreover, generally speaking, longer-term influencers have more followers than recent arrivals.
Lifestyle is by far the most popular content category for digital influencers in France. More than 70% of respondents in a report said this was their primary topic. Fashion and beauty tied for second place in this ranking, cited by 48.4%. Also, at least a third of influencers posted items about travel or food.
Crowd works hand in hand with their clients to design tailor-fit, digital strategies to reach their business and marketing goals. They have a strategic, consultative service that provides brands and agencies with an interactive overview of the influencer and social media marketing ecosystem as well as critical business analysis of marketing goals, challenges, and solutions.
They use industry knowledge and internal data-driven insight to uplift a brand's name, generate product awareness, set up experiential moments, and tell an authentic story through credible content creators.
---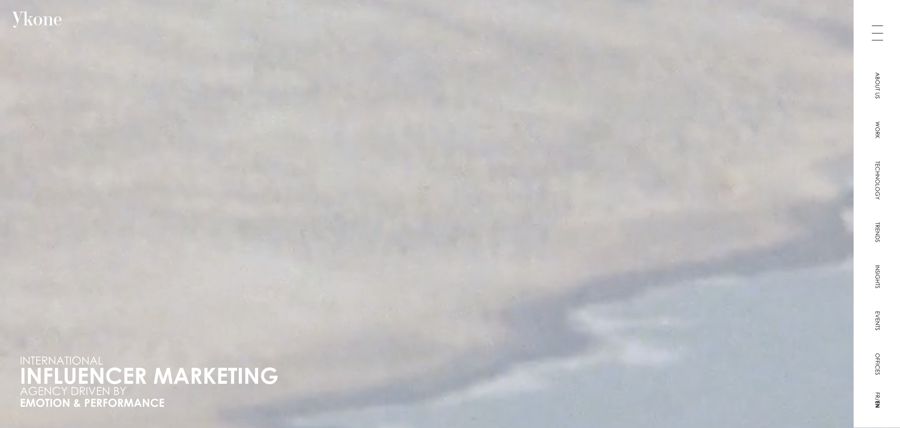 YKOne is a French-based influencer marketing agency that also has a proprietory influencer marketing platform called Campaygn. They can use their platform to search for the most relevant influencers, successfully manage projects through social media and market insights, and analyze brand activity to improve performance further.
They believe they are experts in consulting and strategy. They have the expertise to spot, find, and study trends, and understand the new social features that help brands get ahead in the social media race. Their expertise extends to the organization of conferences and training.
YKOne manages creative projects from inception to final implementation, bringing content creators (or influencers) and brands together as a perfect match. They allocate each of their clients a dedicated client partner and a project manager who handles all the operational requirements, coordination with influencers, client management, content creation, approval, and execution.
YKOne creates original concepts that make a difference and stand out in the digital world. They collaborate with professional renowned and rising talents and accompany both content creators/influencers and brands in the content creation process to make sure that it is cohesive, innovative, and of top-notch quality.
---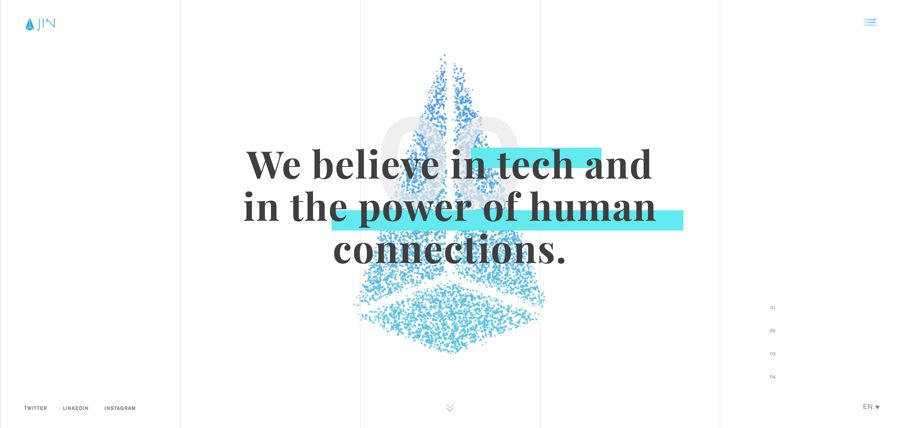 JIN is a European communications agency specializing in digital influence and public relations. They are based in France, the UK, Germany, and the US, with a global reach across 40 countries.
All their creative work is grounded in research on the brand, environment, and market trends. They have a Strategy Team to carry out their research, using their insights technology (Plugr) along with data partners.
They strongly recognize the importance of clear KPIs. They also use a project management approach with all their clients.
They recognize that analysis and content are the essence of influence. This includes listening to conversations and understanding trends.
JIN begins by analyzing a brand's image and understanding their communities. They call the next stage Mapping – identifying the key influencers – their essential partners. They then create a trend report – understanding and following trends, emerging issues, and potential crises. They undertake a performance analysis – identifying performance indicators and improving their clients' visibility on social media.
JIN uses both its own tool, Plugr, as well as Zien and Julius to determine the best influencers for their clients.
---
SCOOR, a subsidiary of MV Group, is an influencer marketing agency with offices in Bordeaux, Lille, Lyon, Marseilles, Nantes, Paris, Rennes, Strasbourg, Toulouse, and Tours. They believe they can find and implement the best solutions whatever your problem and your targets.
They analyze their clients' market, positioning, and customers as well as the actions the businesses have already implemented, and define the objectives the firms want to achieve. SCOOR uses cross-platform technology solutions to identify the most relevant influencers, selecting the most appropriate networks for each influencer marketing campaign. They then contact influencers in affinity with each "brand universe." SCOOR then develops a tactical plan and writes strategic recommendations (storyboard) that they communicate to the influencers for the collaboration to be a success. Finally, they measure the impact of a campaign in real-time and provide accurate reporting.
SCOOR places most of its campaign emphasis on YouTube, Facebook, Twitter, and Instagram.
---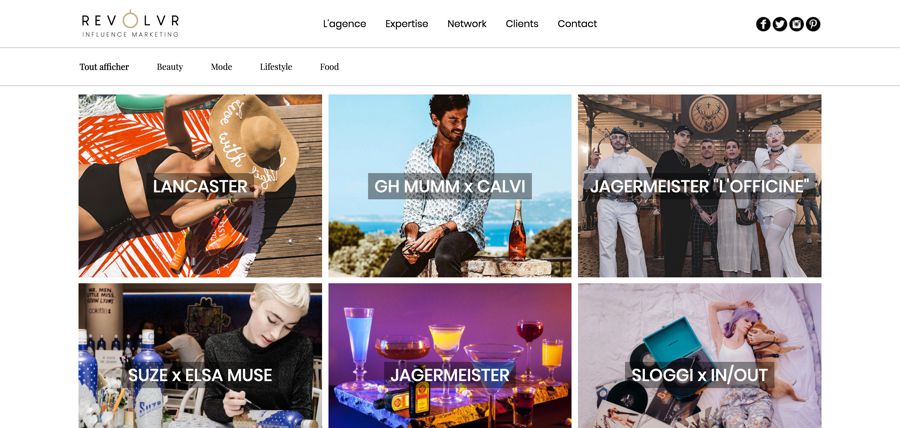 Paris-based Revolvr highlights the image of brands through the design of creative operations in collaboration with influencers engaging their community. They have operated for more than ten years.
Every day they find new digital artists, whom they believe will be of value to their clients. Their selection goes beyond the statistical framework and is based on the relationship they develop and maintain with each influential talent. They are convinced the success of an influencer depends as much on the creative concept as on the personality.
Revolvr has a six-stage approach to its influencer marketing operations:
Brief – understanding the customer problem and the objective of a campaign

Strategy – defining the specific strategy to put in place

Identification – identifying key digital partners with whom to partner for the campaign

Creative planning – studying trends and proposing concepts for an innovative influencer campaign

Production – selection of partners, places, photographers, videographers, and artists; followed up with the relationship with influencers

Monitoring – detailed reporting
---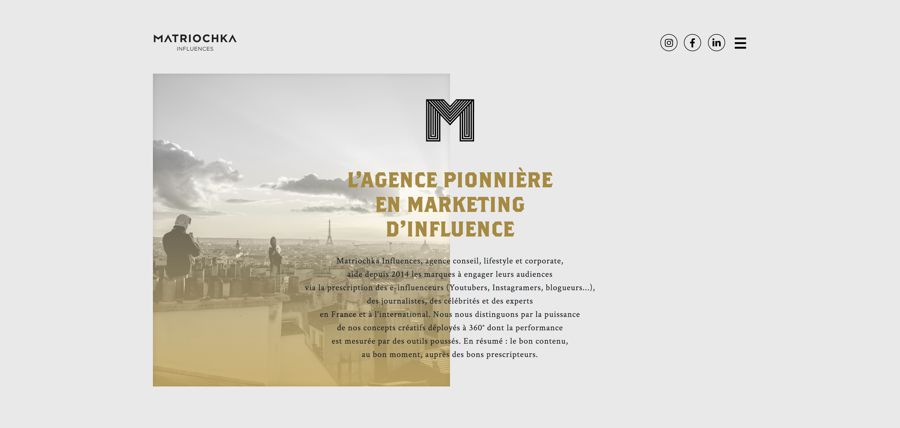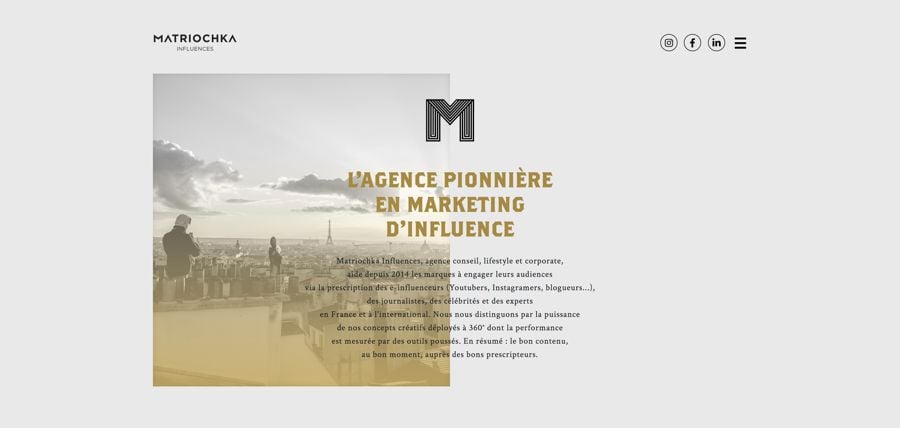 Matriochka Influences has been an influencer agency since 2014, helping brands to engage their audiences with the assistance of influencers on YouTube, Instagram, and blogs. They have worked with journalists, celebrities, and experts in France and abroad.
Their philosophy is clear: Traditional advertising is dead! Long live the influencer!
They believe that creation is at the heart of influencer marketing. The recipe for success is the design of creative content with high emotional added value, associated with a good relationship.
Matriochka Influences considers it has four areas of expertise:
Content Creation – their creative teams offer their customers editorial content (articles, studies, etc.) and/or events (travel, conferences, parties, etc.) and/or audio-visuals (photos, videos, etc.)

E-Influence Management – they identify communities of digital influencers (celebrities, micro-influencers, YouTubers, Instagrammers, artists, digital mums and dads, geeks ) that are the most relevant for their customers and deploy ambassador programs or co-creation of content

Media Relations – they put in place impactful lifestyle and corporate PR strategies for products, brands, and groups with print and online press journalists and TV and radio media, in France and abroad.

Social Media Management – they define editorial and relational strategy of brands on social networks (Instagram, Facebook, LinkedIn, etc.), create content, animate communities and deploy media buying campaigns that maximize reach.
They work with more than 15,000 influencers in France and abroad.