Instacart is a grocery delivery app that soared in popularity during the early Covid-19 lockdown. With so many people being confined to their homes amid uncertainty about the looming pandemic, grocery delivery was an appealing option for many families.
However, once lockdowns eased and people started doing their own grocery shopping again, Instacart had to change its marketing strategy to stay relevant. The platform had an estimated 9.6 million users in 2020, paving the way for its first profitable year. And it wanted to keep the momentum going.
This is why, going into 2023, Instacart has made it easy for influencers and affiliates to work with the platform, creating and promoting their own shopping carts and recipes.
Throughout this article, we'll introduce you to the top 20 Instacart influencers for 2023 and talk about what they're doing with their partnership.
---
Top 20 Instacart Influencers for 2023:
---
Does Instacart Have an Influencer Marketing Program?
Instacart proudly works with a number of influencers. From their Super Bowl campaign in 2022 to curating shopping carts from popular influencers, Instacart has been enjoying several types of influencer marketing campaigns.
However, their approach to influencer marketing going into 2023 is genius. As you'll see, recipe creators and food influencers can now publish their own recipes on the app, gaining the ability to make affiliate income when Instacart shoppers add ingredients for those recipes to their carts.
We'll talk more about the influencers who are using this tactic. Another great integration that has improved Instacart's influencer relationships is their TikTok link, allowing TikTok creators to link videos directly to an Instacart recipe.
You can see what this looks like in the screenshot below. Viewers can easily tap the See recipe button to immediately open the Instacart recipe, add ingredients to their carts, and have them delivered within an hour or so.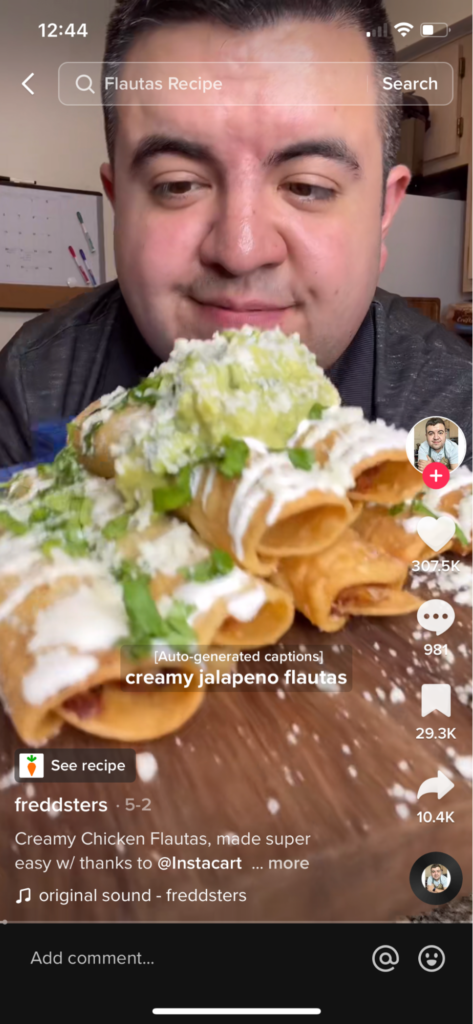 There are even Instacart advertising software and agencies that can help brands position themselves better on the app. For example, Pacvue helps brands—typically grocery-related brands—manage their Instacart ads, with rule-based automation, keyword recommendations, customized reporting, and more.
---
Top 20 Instacart Influencers for 2023
Who are some of the top influencers working with Instacart in 2023? They might have set up their own curated cart, create their own Instacart recipes, or promote other popular Instacart recipes on their social media channels.
Let's go through several general influencers and food influencers you won't want to miss.
Lizzo is a famous pop singer who also has a hilarious and engaging presence on TikTok. Because she's so universally loved—and very candid about her favorite recipes and foods online—Instacart started its new curated carts with none other than Lizzo.
Lizzo's cart can be publicly viewed so that Instacart users can order some of the singer's favorite foods from their local grocery stores. It will also appear at the top of Instacart's app periodically so that users browsing the app can gather inspiration on what to order next.
We predict that we'll be seeing a lot more of these curated carts from popular influencers like celebrities who often talk about their favorite snacks as well as food and recipe influencers.
---
Freddsters is a food and cooking influencer with a presence on TikTok, Instagram, and YouTube. Above, we can see that he partnered with Instacart to create and link to one of their recipes.
He's using the TikTok/Instacart integration so that viewers can easily hop over to the Instacart app and add the ingredients to their cart. But we also see that he's hashtagged #instacartpartner to let us know that this is an influencer partnership.
---
Liz Moody is another food influencer with a podcast called Healthier Together where she interviews people about how they're living their best lives. She created the above video where she promoted Instacart alongside her own farro salad recipe.
The best part? When you click on the Instacart recipe, you have to click over to Liz's website for the full list of instructions. Not only does this allow Liz to generate affiliate income from those who purchase her recipe ingredients, it also has the potential to increase her website traffic.
---
Sarah Chetrit is a general influencer who shares in her bio that she's recently rediscovered her Korean roots. It makes sense, then, that Instacart would partner with her on a video where she's creating a Korean dish from the Instacart recipes library.
Throughout this video, she touts Instacart's services as well as links directly to the recipe, and shares how viewers can purchase the ingredients right through the recipe interface.
---
Steph Grasso is a dietitian who has gained popularity on TikTok by sharing her tips and recommended meals. She partnered with TikTok to create a healthy keto meal and promoted how easy it is to shop for ingredients in just a couple of clicks, going as far as to showcase the Instacart groceries on her own doorstep.
---

Sara from Nutrient Matters has a 1.7 million-person following on her TikTok and has added some of her best recipes to Instacart's recipes tab for hungry shoppers to find. Users can add the ingredients to their cart, and Sara is able to receive a percentage of the revenue.
---
Omnivorous Adam is yet another recipe creator who has placed his recipes alongside a video on the Instacart app for shoppers to find. This one is a ginger-scallion ramen noodle recipe, and interested cooks can easily watch the video as well as read the recipe to see if they're interested in creating it.
---
Justine Snacks is a popular recipe creator on TikTok as well. And though on her TikTok, she usually uses an app called Whisk to link out her recipes, we will still occasionally see her link to one on Instacart.
However, she also has placed some of her recipes right on Instacart's recipes tab for browsers to discover on their own. This way, she gets the best of both worlds and is able to reach as many people as possible with her recipes.
---
Feel Good Foodie is another influencer who has placed her recipes right on the Instacart app. And while many influencers accompany their recipes with videos, she's included a high-quality photo that just makes your mouth water in order to draw potential shoppers in.
---
Let's get back to a few influencers that did one-off videos promoting Instacart without necessarily promoting their own recipes. Mike Martin here made an avocado pesto recipe that was added by EatingWell—but in his video, he makes sure to share how helpful Instacart is.
---
Here, we don't have a paid video that's part of an influencer campaign. Instead, we see Meals and Munchies use her platform to promote her recipes on Instacart as a way to ramp up her potential affiliate income. This is just one of the ways that we're seeing influencers work with and promote Instacart as a tool.
---
Salty Cocina promoted Instacart in the above video where she made these chicken fajita nachos. By linking the recipe and sharing how easy it is to buy ingredients, she created a great promo for the company.
---
Here's another paid promotion that talks much more about Instacart's features and ease of use than the actual recipe. Instacart influencers like Kylie do a great job of balancing the content between video of the cooking process and video/audio that shares information about Instacart.
---
Primal Gourmet is another popular food influencer and recipe creator that shares his recipes right on the Instacart app. While the ratio between publication and influencer recipes is pretty large (you'll find upwards of 10-20 recipes from publications like Delish, AllRecipes, etc. for every 1 influencer recipe), the ones that include a video showcasing how to cook the meal right inside the app help them to stand out a bit more, increasing potential affiliate revenue.
---
The Palatable Life shared her Mochi Donuts recipe plus a video to the Instacart app's recipe's tab. To browse available recipes, Instacart users will tap the middle icon in the navigation bar at the bottom of their screen. They can scroll through recipes to find something that looks good or search for a specific recipe or ingredient.
---
Chef Chris Cho is another Korean food influencer that works with Instacart. He's got a number of recipes on his website, a select few of which he has added to Instacart's app. Users can easily find ingredients, order them, then follow along with the instructions to make the meal.
---
The Defined Dish has also placed some of their recipes on Instacart. Underneath the introduction, the app lets users know how many local stores the full ingredient list is available at so they can make sure they're only ordering from a store that should have everything in stock.
---
PlantYou is another Instacart influencer that adds their recipes directly to the app. As they don't have a TikTok, preferring a presence on other social media platforms. Since this limits their use of the "See recipe" integration, they've put their recipes right on Instacart to reach more users.
---
Not Another Cooking Show is a video-based food influencer with a major presence on YouTube, although he also shares shorter versions of his recipe videos on TikTok. However, he doesn't link all of them to Instacart, so he's instead put some of his best ones for discovery right inside of the app.
---
The last Instacart influencer on our list is Cup of TJ, who also adds some of her recipes right to Instacart. Users can watch her video right before scrolling down to see what ingredients they need, adding the ones they don't already have to their cart, and exploring the recipe tutorial.
---
Conclusion
As Instacart works to target Millennials and Gen Z, we're likely going to see even more Instacart influencers pop up. Instacart is creating a great way for influencers to work with them and generate passive income, which is something we may see more and more brands work towards.
Frequently Asked Questions
How can influencers partner with Instacart?
There are a couple of different ways that we see influencers partner with Instacart.
First, we see Lizzo's curated cart, and we predict that we will likely see more of those carts.
Second, we'll see influencers create TikToks or other social media videos around an Instacart recipe, shouting out Instacart and its grocery delivery service in the video. Finally, we see recipe creators adding their recipes onto Instacart's app to make affiliate money.
How can recipe creators make money with Instacart?
Some influencers may reach out to or receive outreach from Instacart about a partnership or campaign. They would then be paid via the terms of that partnership. Others can earn affiliate revenue by sharing their own recipes with the Instacart app.
Does Instacart pay influencers?
Yes! Either through a campaign or through affiliate funds, Instacart does pay influencers it works with.
What does an Instacart partnership look like?
Instacart partnerships can take on several different appearances. However, due to its integration with TikTok, we'll often see Instacart influencers sharing recipes that link back to the Instacart app via TikTok.
How can you tell if someone is partnered with Instacart?
Disclaimer laws are essential when it comes to influencer partnerships. If someone is partnered with Instacart, there will either be a "Paid Partnership" tag or a hashtag that says something like #ad or #instacartpartner to let viewers know that this is a part of a paid influencer collaboration.