Instagram is constantly evolving to enhance the user experience while simultaneously ensuring that businesses can sell more effectively on the platform. In came features such as product tagging, which allowed businesses to tag products featured in their posts. Users can then click on these tags to instantly learn more about the product and buy directly on the platform, thus shortening the buyer journey.
Now Instagram has introduced a new feature that lets you accept payments through your Direct Messages. This significantly simplifies things for users while allowing your brand to close more sales through Instagram. Read on to learn more about the Payments on Instagram feature and why it matters for your business.
---
Selling Made Easier with Instagram Payments on Chat:
---
What Is the Payments in Chat Feature?
As the name suggests, Payments in Chat is a new Instagram feature that allows businesses to request and accept payments right within the platform. Introduced in September 2022, the feature is currently only available to eligible sellers who are using a Professional Account.
Using this feature, sellers will be able to send a payment request to customers through Direct Messages, making it easier to accept payments and close sales. For customers, this means they'll be able to make a payment for their purchases without having to switch between different apps, thus simplifying their buying journey.
How Does Payments in Chat Work?
The Payments in Chat feature works by sending a customer a payment link, which they can click on to complete their purchase–all within your Direct Messages. Payments can be made using debit cards, credit cards, and PayPal. Customers can also use Meta Pay to complete their payments. Once the customer makes the payment, you'll get notified so you can start processing their order.
You can also view the details of your transaction such as when the request was made and when the customer sent the payment. Plus, Instagram will let you keep track of other details such as the shipping address, the payment ID, and the date when you sent out the product. This makes for a seamless buying and selling experience, streamlining the process for both businesses and their customers.
Purchases made using this feature are protected, which adds an extra layer of security for customers. However, payment protection is only available through purchases made using Meta Pay. Additionally, you won't have to pay anything to access and use this feature. Once you send the product to the customer, Instagram will send you the payment without charging a single fee.
---
How to Use the Payments in Chat Feature
At the time of writing this post, the Payments in Chat feature is only available to eligible sellers in select locations who are using a Professional Account. You must also be using the Instagram mobile app to access this feature. If you're eligible to use this feature, go to your professional dashboard and tap on the "Get paid in chat" button. Then tap on "Get started" to set up payments for your Instagram chat.
Tap on "Next" and start adding details about your business. You'd need to choose your country, business type, and merchant category. Then tap on "Next" to enable Payments in Chat for your Instagram business account. Now you'll be able to start sending payment requests and receiving payments through your Direct Messages.
Alternatively, you can also go to any customer message and tap on the "$" sign at the bottom of the chat window. In both cases, you'll be asked to enter your bank account details if it's your first time enabling this feature. This is the bank account you'll be using to receive the payments.
So, when someone sends you a message about buying a product, you can send them a payment request directly within the chat. When sending a payment request, you'll need to enter the product value and add a description. Once the customer receives the payment link, they can tap on it to complete their payment using Meta Pay. You can also give them an option to pay using a debit or credit card or even using PayPal.
Having payments and customer communications all in one place makes it easy to manage your customer interactions. Customers can easily ask follow-up questions or get more info about a product before they decide to buy it.
For businesses, this lets you easily keep track of what information you've shared with each customer and what concerns the customer might have had. So, even if they reach out to you later on, you can quickly reference previous chats to provide them with a satisfactory and relevant response.
---
What the Payments in Chat Feature Means for Businesses
Now the question is–why is the Payments in Chat feature such a big deal? What makes it something that businesses should care about? Let's give you a detailed breakdown of the key benefits of being able to accept payments in your Direct Messages.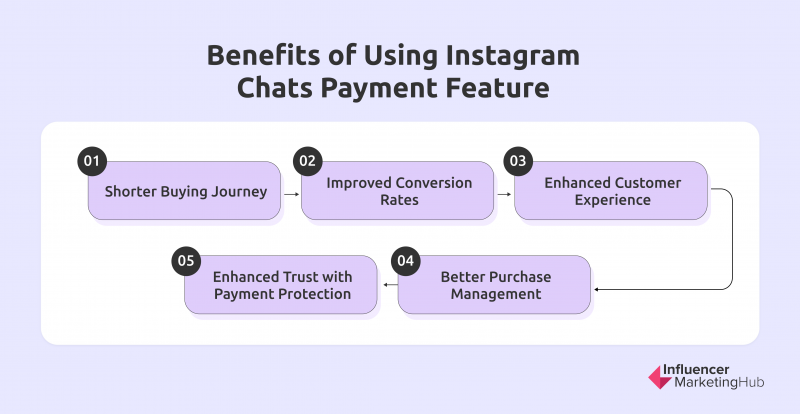 Shorter Buying Journey
The Payments in Chat feature significantly cuts down the buyer's purchase journey. When they find something they want to buy on Instagram, they no longer have to go through multiple steps to complete their purchase. They won't have to visit your website, look for the product they like, and then make a payment. Instead, everything's done right on the platform.
---
Improved Conversion Rates
A shorter buying journey improves the chances that more customers will go through with their purchases. This is because there's a lower risk of customers dropping off while they switch to a different app or website to complete a purchase. As such, the Payments in Chat feature could help you to improve your conversion rates as more and more customers complete their purchases within the app.
---
Enhanced Customer Experience
Not having to switch to different apps simplifies things for your customers while allowing them to enjoy a shortened customer journey. It streamlines the process of buying something, which can enhance their experience interacting with your business.
Moreover, you get an instant view of your conversation history, which can add context to any support-related questions or post-purchase enquiries your customers might have. That way, you can quickly check if any mistakes were made on your end so you can come up with a relevant and satisfactory resolution.
---
Enhanced Trust with Payment Protection
Purchases made using Meta Pay in the Payments in Chat feature are protected. This means they can file a claim in case of issues relating to scams, undelivered products, damages, and listing discrepancies. With this extra layer of security, customers will have peace of mind buying from your business using this feature. This can improve trust and give more customers the confidence to buy from you, resulting in increased conversions.
---
Better Purchase Management
Instagram lets you view the complete details of payments made through Direct Messages. You can view details like the payment amount, payment ID, request date, payment date, and more. You can also keep track of details like when the order was sent to the customer, making it easier to manage purchases made through the platform. That means you won't have to switch between multiple platforms just to manage your Instagram sales.
---
How to Buy and Sell on IG Direct
The Payments in Chat feature will make it possible (and easier) for business to sell products and receive payments all within their Direct Messages. Similarly, buyers will be able to ask about the products they like, get more information, and complete their purchases with this feature. Ready to start selling on IG Direct or want to find out how to buy stuff on IG Direct? Keep reading to find out.
Buying on IG Direct
While Instagram gives you the option to buy eligible products directly using the "Buy Now" button, you may not always want to do this. Perhaps you want to learn more about the product or find out more about shipping speeds before you decide to go through with your purchase. Alternatively, some sellers might not have the option to checkout directly on Instagram.
Either way, being able to buy on IG Direct helps address these pain points. Here's what you can do to buy on IG Direct.
Step One: When you see an item you want on the seller's Instagram page, just tap "Message" to begin chatting with the business. Make sure to include information about the product you're interested in buying.
Step Two: Ask any questions that you might have about the product or even about the sellers shipping and return policies. Once you're ready to buy, the seller will send you a payment request after confirming your order details.
Step Three: Upon receiving the request, tap on the "Pay" button and enter your payment information. You can have multiple ways to pay for your purchases on IG Direct. You can use Meta Pay or a third-party payment method such as a credit or debit card or PayPal.
Step Four: Once the seller receives your payment, they'll process the order and send the item to you. Reach out to the seller through the same message thread if you have any further questions about the order.
---
Selling on IG Direct
The ability to sell on Instagram Direct isn't available to everyone at the time of writing this post. Instagram is rolling out the feature over time, so you might be unable to use it at the moment. Currently, only eligible sellers who are using a Business or Creator account can sell items on IG Direct, provided that those items are in an eligible category.
If you are eligible to sell on IG Direct, follow the steps we shared above in the "How to Use the Payments in Chat" section. Additionally, be ready to provide the following details to start selling on IG Direct:
Legal name

Email address

Address

Date of birth

Phone number

Social security number

Bank account information
After you've started receiving payments in IG Direct, you can also access your payment history. This can come in handy to keep track of your transactions and make sure that the payments are aligned with the payments in your bank account. Here's what you need to do:
Go to your Instagram profile and tap the options button on the top right-hand corner. This is the icon with three dashes on top of each other.

Tap on the "Orders and Payments" button.

Select "Payments in Chat." This will reveal your entire chat payments history.
You can also filter the results by the payments you requested, the payments that have been canceled, and the payments that have already been made. Tap on any individual payment and you'll be able to view details of the payment such as the status, total amount, and pay period.
---
Make the Most of Payments in Chat
Selling on Instagram just got easier with the ability to request and receive payments right within your Direct Messages. Customers will now be able to instantly buy something after they've made their inquiries. Use this guide to learn how to start using this feature and how to make the most of it for your business.
Frequently Asked Questions
How do customers pay me on Instagram?
You can set up Payments in Chat so customers can pay you on Instagram Direct.
Why can't I sell on Instagram Direct?
If you can't sell on Instagram Direct, it may be due to a number of reasons. Instagram is currently only making this feature accessible to participating sellers who have a Professional Account and are selling items in an eligible category. However, it's also possible that Instagram hasn't rolled out the feature in your region.
When will I get the payments I received through Instagram Direct?
In most cases, the money you've received through Instagram Direct will reflect in your bank account 3-5 days after you've marked an item as sent. However, the actual timeline may vary depending on your bank's transfer timeline.
Is Meta Pay the only way to buy in Instagram Direct?
While Meta Pay is the easiest way to make purchases in Instagram Direct, some sellers may also accept payments via credit cards, debit cards, and PayPal.
Can I cancel a payment request on Instagram Direct?
Yes, you can cancel a payment request by tapping on the "See details" button of the request and then selecting "Cancel payment request."