Over the last couple of years, social commerce has grown significantly and it's showing no signs of slowing down any time soon. According to social commerce stats shared by eMarketer, retail social commerce sales in the United States are expected to top nearly $80 billion by 2025. To put this into better perspective, in 2020 it added up to just over $46 billion.
If you're not selling on social media yet, an easy way to get started is to set up shop on Instagram. Pair social commerce's growing popularity with Instagram's strong focus on visuals and you have a great avenue that you can explore for selling your products online. As a matter of fact, a survey completed by Instagram revealed that as much as 60% of people say that they discover new products via its platform.
The platform makes it really straightforward for emerging brands to increase their exposure and reach a bigger target audience. To help you get started, we've created this quick step-by-step guide to getting started. We've also included a few practical tips for making the most of this feature. So, be sure to read all the way till the end (or if your Instagram Shop is already open for customers just jump to the last section).
---
How to Set Up an Instagram Shop in 5 Easy Steps
---
How Does Instagram Shop Work?
With Instagram Shop, a business can share their curated product catalog and sell to customers via the platform. Instagram users will be able to click on the View Shop button that will appear on the profile page of your Instagram business account and you'll be able to accept transactions via the app.
What's more, you might also be featured on the Instagram Shop tab that can be viewed via the platform's main navigation menu. So, even if users don't click on your View Shop button, they might still be able to find your products. Plus, as the platform considers users' previous engagement (like the brands that they follow and the posts that they interact with), you stand a better chance to reach your ideal target audience.
---
Who's Eligible?
The first step to setting up an Instagram Shop is to check if you're indeed eligible. There are a number of boxes you'll need to tick in order to qualify. These are:
Your business (or creator account) must be located in one of the platform's supported markets. To see if you fall within one of these markets, you can refer to

Instagram's Help Center

. If your account doesn't fall within a suitable market, you may not be able to tag products.

You must have an eligible product to sell.

Your eCommerce business has a website domain from where you plan to sell.

You adhere to the

commerce policies

and

merchant agreement

of Instagram.
---
Steps for Setting Up Instagram Shop
If you're eligible, you can proceed to create an Instagram Shop. It's really straightforward. Here's what you need to do:
Step 1: Switch to a creator/business account
If you don't have a business account yet, you'll first need to convert your current Instagram account to one. Here's how:
Open your Instagram profile and click on the icon with the three lines in the top right-hand corner

Select "Settings"

If you don't see an option to "Switch to a professional account", select "Account" under which you'll be able to see this option

Select "Continue"

Pick a business category and click on "Done"

To confirm your choice, select "OK"

Tap on "Business" and then "Next"

You can now add your contact info
---
Step 2: Link your Facebook page
To create an Instagram Shop, you'll need to link your Facebook page to your Instagram business account (if you don't have a Facebook page yet, you can follow the same steps below as it will give you the option to create a new page too).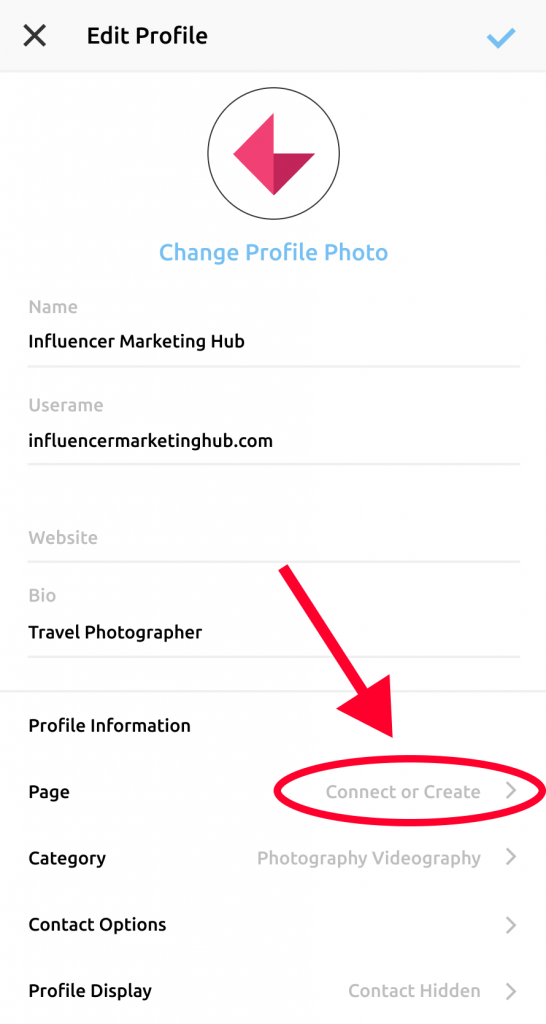 Here's how:
Open your Instagram profile

Click on "Edit profile"

Select "Page" (you'll find this under "Public business information")

From your "Pages", select the page that you wish to link. Alternatively, if you don't have a Facebook page yet, you simply select "Create a new Facebook Page".
One thing to keep in mind when linking these accounts is that you must be listed as the admin of the Facebook page that you want to connect to. If you're not the admin, the page won't show up in the drop-down menu.
Not only is this step necessary, but you'll also be able to unlock more business tools on top of creating an Instagram Shop. You'll, for example, be able to:
Promote stories and posts

Via your Facebook page, you'll be able to create ads that will show up on Instagram and Facebook (this will help you to reach more people)

Pay for promotions more conveniently

Manage your messages via Instagram and Facebook Messenger via a single, unified inbox

Sync business contact details

Access cross-app tools like camera effects, appointment booking buttons, and donation stickers
---
Step 3: Add your product catalog
To be able to start an Instagram Shop, you must have a product catalog that includes all the products that you wish to sell (along with descriptions) and lists of your inventory.
If you use a third-party eCommerce platform like BigCommerce, WooCommerce, Magento, or Shopify, you can integrate it via your platform. This way, you can continue to manage your products via your eCommerce platform and any updates will regularly sync to Facebook/Instagram. If you'll also be selling via your own eCommerce site, this is the best way as it will make managing inventory much easier.
If you don't use an eCommerce platform, you'll have to use the Catalogue Manager via Facebook Business Manager.
---
Step 4: Review your account
Before you can start selling via Instagram Shop, the platform still needs to approve your account first. After you've added your product catalog, here's what you need to do:
Click on "Settings" (found below the menu icon)

Sign up for shopping

Complete the steps
To follow up on the status of your review, you can go to "Settings" and click on "Shopping". The review process usually takes only a couple of days, but in some instances, it can take longer. Also, keep an eye out for any notifications. Sometimes a business can be requested to share extra info regarding the ownership of their website domain.
---
Step 5: Switch on the shopping features
If your account has been given the green light, all that's left to do is to switch on the shopping features. Here's how:
Click on "Settings" (found under the menu icon)

Click on "Business"

Select "Shopping"

Pick the product catalog that you wish to link to your account and click on "Done"
---
Tips for Marketing Your Instagram Shop
Setting up your Instagram Shop is only half the work. Just like any other eCommerce store or a brick-and-mortar location, you still need to promote it. From Instagram Stories to tags, there are various ways that you can attract the attention of your target audience. Here are some practical tips that you can experiment with:
Use stickers
The Instagram app has a number of different "Product" stickers that you can use to tag products in an Instagram Story. You can, for example, use translucent text or add a shopping bag icon. While you can't add these stickers to an Instagram Story that you've already published, you can go back and tag a product with a sticker in existing posts.
Include hashtags and calls to action
Using relevant hashtags, like #shoplocal, in your shopping posts can make it easier for your target market to discover your Instagram shop. When done correctly, hashtags can also help you to pop up in the Search and Explore tab where users can click on a Shop tab. In fact, an Instagram for Business survey has revealed that more than 40% of users use the platform once a week to shop. So, there's a huge market that you can tap into.
However, a hashtag is no replacement for an attention-grabbing call to action that will spur users into action. Examples of effective calls to action that you can try out are:
Share with a friend

Get it now

Buy before it's gone

Tap the shopping bag icon to buy
Run an ad campaign
With Instagram Shopping ads, a business can tag a product that's featured in the ad. If users click on any of these tags, they'll be redirected to a page where they'll get more details about the specific products. As users won't have to leave Instagram and can buy directly from your mobile shop, it makes it easier to take advantage of in-the-moment purchases. To make the most of this valuable retail space, remember to include high-quality product photos as well as relevant tags and hashtags.
Partner with an influencer
In addition to your own Instagram Shopping ads, it's also a good idea to collaborate with an influencer. You can, for example, ask the influencer to create a special collection of products from your product catalog that they then share with their followers.
Before partnering with an Instagram influencer, there are a few factors that you need to pay attention to, though. Basically, you want to make sure that they're the real deal. Then, you also want to check that they're relevant to your brand and its target audience, and that they consistently produce and share high-quality content. You can use tools like Iconosquare to get a detailed report of an influencer's account, their likes and comments history etc. For influencer marketing to work, authenticity is key.
Leverage user-generated content
As mentioned earlier, when it comes to marketing products on Instagram, your goal should be to create authentic content. If you're not keen on working with an influencer, another way that you can share authentic content is by reposting another user's Instagram Story or post that features one of your products (referred to as user-generated content, or UGC, in marketing speak). It's a great example of social proof that can help to communicate to your target audience that your brand is credible and trustworthy.
Another benefit of using UGC is that it's a great way to ensure that your brand is inclusive. So, to make it even more effective, make it a priority to share photos that are truly representative of your potential customers. In other words, feature customers of all genders, races, sizes, and abilities.
Apply your branding consistently
The style that you use for your Instagram posts should align with the visuals that your brand shares on its website and other social media platforms. You can even try to pull it through to your packaging. In short, it will help you to create an easily recognizable brand identity that will make it easy for your target audience to spot your content among all the other posts and ads vying for their attention.
That being said, don't let it stop you from experimenting with color. Using a vibrant color for a background can really help to make your products pop.
Incorporate storytelling
Part of your brand identity is your brand voice and personality. When writing your captions and copy, keep it authentic, personal, and informal. For example, sharing a backstory about a product can help you to connect with your customers. Depending on the type of product that you're selling, another way that you can let your voice and personality shine through is by creating how-to videos that show your product in action.
Share a discount code
Last, but not least, if you have an upcoming sale, don't forget to share it on Instagram too. It's as easy as promoting it in the caption of a post or, even better, directly in a shoppable post.
---
Wrapping Things Up
Selling on Instagram might still be a newish concept, but already users are taking advantage of this extra way to shop online. BigCommerce, one of the leading eCommerce platforms, has revealed that almost a third of online shoppers indicated that they would be likely to buy a product via social media networks like Instagram or Facebook. So, the concept is becoming much more acceptable.
Not only will the Instagram Shop feature help you to reach a bigger audience, but it's also easy to get started. In fact, the most labor-intensive part is most likely marketing your products.
Frequently Asked Questions
What's social commerce?
The concept behind social commerce is actually very simple to understand. It typically involves a brand using social media platforms like Instagram, Facebook, Pinterest, etc. to sell their products. In addition to using, for example, Instagram Shop, the brand will also use a stand-alone eCommerce website to sell their products. So, it's similar to eCommerce, but unlike eCommerce which takes place via a website, social commerce sales take place via social media.
What are some tools that can help you to market your Instagram content?
There are a number of tools that you can use for Instagram marketing. A good social media scheduler that has integration with Instagram and Instagram creative tools are essential to your success. With a scheduling tool, you can automate your Instagram posts and you might also get access to a media library and post templates. Then, to help you make the most of the link in your bio, a tool like Milkshake will let you create an Insta website where followers can find more content.
Are there any free Instagram schedulers?
There are a number of social media scheduling tools that have integration with Instagram and a free plan. You can, for example, try Later, Buffer, Hootsuite, or Crowdfire. Thanks to its strong focus on visuals, Later is a very good choice if you'll mainly be posting to Instagram. Recently, they've also added a video scheduling feature to their free plan that lets you schedule a video post to Instagram.
How can I boost engagement on Instagram?
Content that attracts a lot of engagement on Instagram includes interactive posts such as running a competition or a Q&A session. Highlights are also very effective in generating more engagement as they don't disappear after 24 hours which means that your followers will still be able to access your content. All in all, whatever you create for Instagram should be relevant and authentic. So, be sure to share user-generated content too from time to time.
Is influencer marketing effective for selling on Instagram?
Increasingly more brands are working with influencers on Instagram, in particular micro-influencers. Thanks to the personal connection that these influencers have with their followers, they tend to have better engagement with their audiences as it is easier for them to stay in touch with a few thousand followers as opposed to hundreds of thousands. Authentic and unfiltered content is what drives engagement on Instagram and these types of influencers are in a perfect position to create that type of content.