Advertising Disclosure
Advertising disclosure:
Our partners compensate us. This may influence which products or services we review (also where and how those products appear on the site), this in no way affects our recommendations or the advice we offer. Our reviews are based on years of experience and countless hours of research. Our partners cannot pay us to guarantee favorable reviews of their products or services.
Logos are a ubiquitous part of our modern life. Anywhere you go, you're bound to see several of them around you. But for businesses, logos are much more than display images. They serve as visual identification that conveys what the brand offers and what it stands for. They are fundamental elements of every business and play a key role in achieving business success.
As a business owner or marketer, it is crucial for you to know the importance of logos to fully understand why logo design is worth investing in. Here, we go through some of the ways through which logo design impacts businesses and where to find the best logo design agencies today.
---
Top 10 Logo Design Agencies for Dynamic Logos that Build Your Brand:
---
How Logo Design Impacts Your Brand
75% of people are able to identify brands through their respective logos. Logos have more impact on brand recognition than brand color, visual style, unique voice, and other identifiers. Since consumers are more likely to patronize brands with logos they recognize, a memorable logo can help increase conversions and boost sales.
Aside from brand recognition, logos also help promote brand awareness, as people associate visual content with specific businesses or consumer needs. Placed strategically, it can attract attention and spur interest. It can also help consumers gain more knowledge about a brand, strengthen engagement, and build trust. When consumers perceive a brand logo as a positive representation of their own thoughts, needs, or ideas, they form a deeper connection with the brand and become loyal customers.
However, the impact of logos can also be negative. A misplaced graphic feature, a glaring color, a disturbing image, or any inappropriate and ill-designed elements within a logo can spark controversies and repulse potential consumers. And as the Gap rebranding fiasco showed us a decade ago, changes in a logo that consumers already have a deep connection with can lead to a backlash of negative consumer sentiments that inadvertently lead to slumps in sales.
Indeed, logos can impact your brand in more ways than one. To avoid outcomes detrimental to your brand, it is crucial to invest time, money, and effort in creating a well-designed logo that positively reflects what your brand stands for and how you want your consumers to perceive you.
---
Top 10 Logo Design Agencies for Logos that Build Your Brand
---
---
---
---
---
---
---
---
---
---
How to Choose a Logo Design Agency
While we've already narrowed down your choices with the top ten agencies above, these are but a handful of the many logo design agencies out there. With the plethora of logo designers available, the challenge of finding the best one can be quite daunting. In choosing the right one for your business, consider the following factors.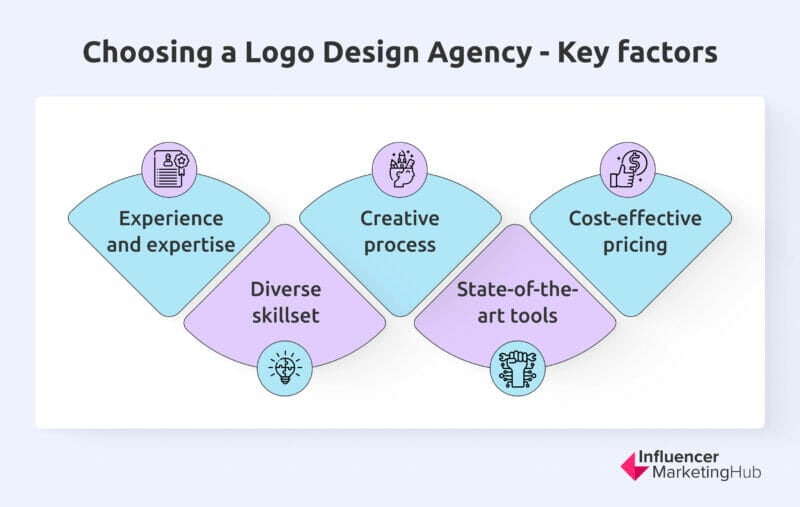 ---
Experience and expertise
The number of years an agency has been in business is not always an indication of expertise, but it can give you an idea on how well the agency has served its clients over the years. An agency with plenty of experience in your industry is also more likely to understand your market and what designs resonate with them.
---
Diverse skillset
To leverage the power of logos, you need more than just a team of designers. You also need strategists, marketers, researchers, and other creatives. A design agency with a team of diverse talents offers a more versatile skill set that is crucial to creating a well-designed logo.
---
Creative process
Every design agency has its own creative process, which can include consultations, strategy planning, mood boards development, and conceptualization. Before signing a contract, ask about their design approach and the process they follow.
---
State-of-the-art tools
Our digital world requires digital solutions. Whatever industry you are in, you'll need logos and other brand visuals in digital formats for use in print, on websites, and in your social media accounts. So, choosing an agency that has the right technology and software is imperative.
---
Cost-effective pricing
While logo design is definitely worth investing on, you'd still want to get value for your money. Check reviews to know if an agency provides great value for the services they render. Some agencies charge by the hour, while others have flexible pricing plans that depend on the scope of the design project. Choose the one that fits your budget and your needs.
---
Dynamic Logo Designs Impact Business Growth
Your logo IS your brand. It will be the foremost identifier of your business and differentiate you from your competitors. With well-designed logos helping build trust and loyalty, consider it an investment that can reap returns beyond monetary value.
To get the most impact from your logo, work with the pros. Finding the right logo design agency is a big step towards building your brand. Look for industry-recognized agencies that offer logo design and branding services. Choose one with a team of experts who can understand your vision and incorporate it into actual logo design. If you have the talent and are confident of your creative skills, you can also opt to design your logo. Use the latest tools and software to design dynamic ones you can use in your social media strategies.
Frequently Asked Questions
What is the difference between logo design and branding?
Logo and branding are often used interchangeably but they are quite distinct from each other. A logo is graphic element that serves as a visual representation of a brand, while branding encompasses all tangible and intangible representations.
What are the most important aspects for logo design?
To propel a brand to success, a logo must be relevant, memorable, and timeless. It must be original and authentic-reflective of the image you want to project. It must simple yet eye-catching so your audience can easily remember and recognize it.
How much does logo design cost?
Online logo makers can generate logos and cost you only a few dollars. But if you want professionally designed ones, expect to shell out anywhere between $99 and $2,500. The actual logo design cost depends on the scope of the design, the number of people working on it, the number of revisions, and other factors.