Advertising Disclosure
Advertising disclosure:
Our partners compensate us. This may influence which products or services we review (also where and how those products appear on the site), this in no way affects our recommendations or the advice we offer. Our reviews are based on years of experience and countless hours of research. Our partners cannot pay us to guarantee favorable reviews of their products or services.
In the digital age, where there are over 6 billion smartphone users and where mobile apps saturate the market, standing out requires more than just a great idea; it demands strategic marketing. Enter the realm of mobile app marketing agencies, your gateway to transforming app obscurity into market dominance.

This article delves into the best 10 agencies that catapult your app's success. Discover how these agencies not only elevate your app's visibility but also ensure sustained user engagement, making your app not just known but preferred.
---
Top
mobile app marketing agencies
2024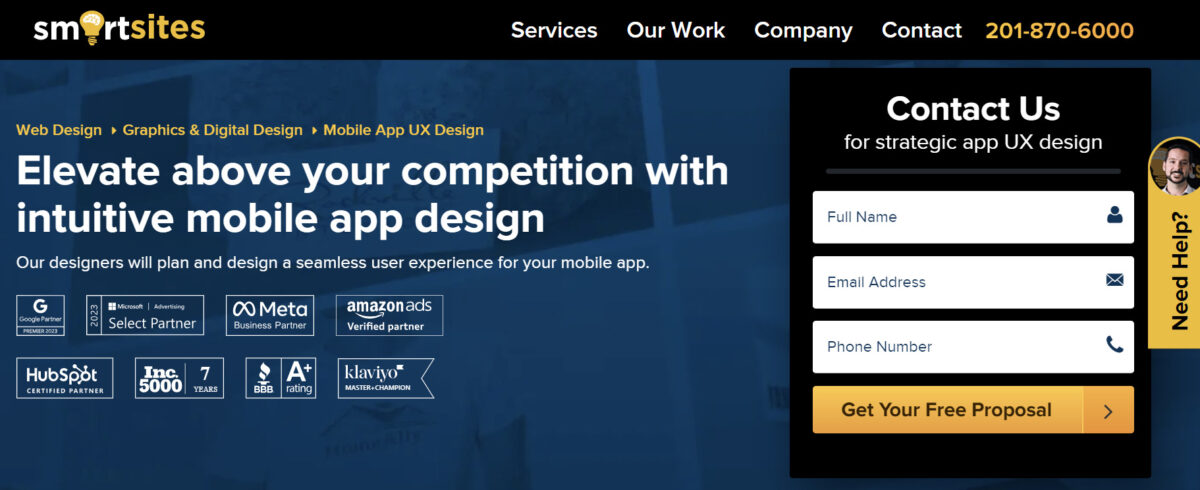 Pricing Info: Hourly Rate: $100 – $149 | Most Common Project Size is < $10,000
Location: Paramus, New Jersey, USA
Team Size: 250 – 999
At SmartSites, your mobile app marketing needs are met with a user-centric approach. Specializing in mobile app UX/UI design, they focus on creating intuitive and engaging user experiences. This approach ensures that your app is not only visually appealing but also easy to navigate, enhancing user engagement. With SmartSites, you can expect a seamless blend of design and strategy tailored to elevate your mobile app's presence in the market.
Their services extend to crafting user engagement strategies that drive action, making them an ideal choice for businesses of all sizes. Furthermore, they offer affordability without compromising on quality. As an award-winning digital marketing agency, SmartSites brings a level of expertise and innovation to your mobile app marketing strategy, ensuring your app stands out in a crowded marketplace.
---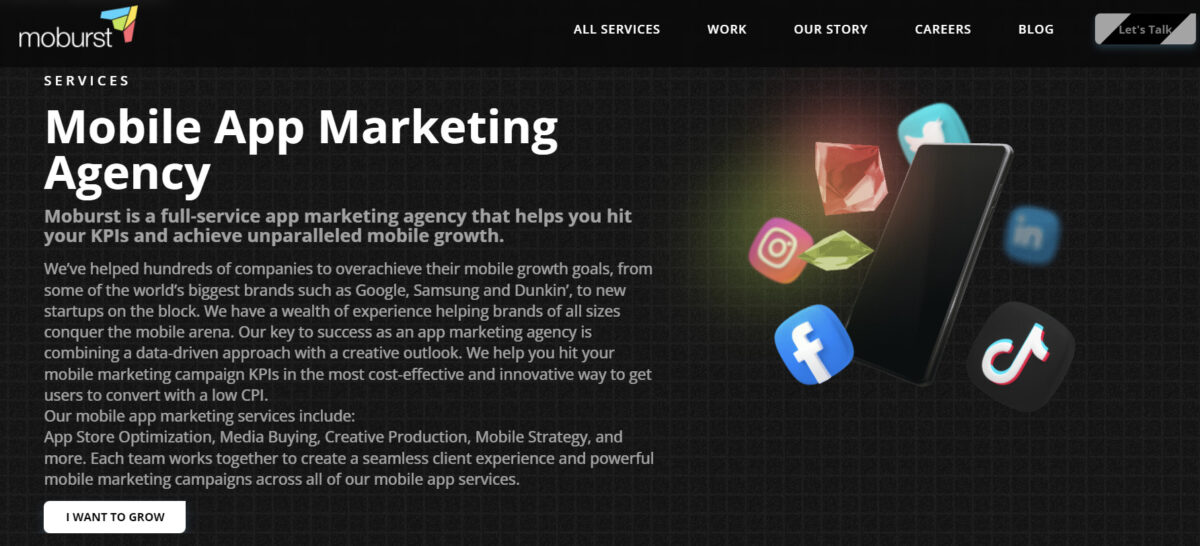 Pricing Info: Hourly Rate: $150 – $199 | Minimum Project Size is $50,000+
Location: New York City, San Francisco, Florida, Tel Aviv, and London
Team Size: 10 – 49
With Moburst, you gain access to a comprehensive suite of mobile app marketing services. Their data-driven approach includes mobile strategy, product strategy, analytics, app store optimization (ASO), and conversion rate optimization (CRO). Tailored to meet your unique needs, Moburst's strategies are crafted to leverage the latest industry trends, ensuring your app achieves and exceeds its marketing goals.
Your project will be in good hands, as Moburst has worked with renowned clients like Google, eBay, and Uber. Their extensive list of mobile app marketing services positions them for impactful mobile marketing campaigns. Their numerous accolades and awards underscore their expertise in the field, making them a top choice for startups and Fortune 500 companies alike. Choose Moburst for innovative, customized strategies that propel your mobile app to new heights.
---

Pricing Info: Most Common Project Size is $10,000+ | Average Hourly Rate is $100 – $149
Location: Dallas, Fort Worth, and Arlington, Texas, with more offices throughout the United States
Team Size: 10 – 49
Thrive Internet Marketing Agency offers you a comprehensive solution for your mobile app marketing needs. They specialize in developing engaging mobile applications, particularly in the gaming and audio/music editor sectors. Their focus on mood-boosting and aesthetically pleasing designs ensures your app captures and retains user interest. With Thrive, your app benefits from enhanced web-to-app deep link acquisition strategies and improved keyword rankings, adhering to the best practices in the industry.
Thrive's services cater to a wide range of business sizes. They offer a blend of mobile app development and digital marketing services, including SEO, Pay-Per-Click, and social media marketing. With numerous awards and accolades to their name, their status as an award-winning agency speaks to their effectiveness and reputation in the market. Choose Thrive for a holistic approach to mobile app marketing, combining development expertise with strategic marketing prowess.
---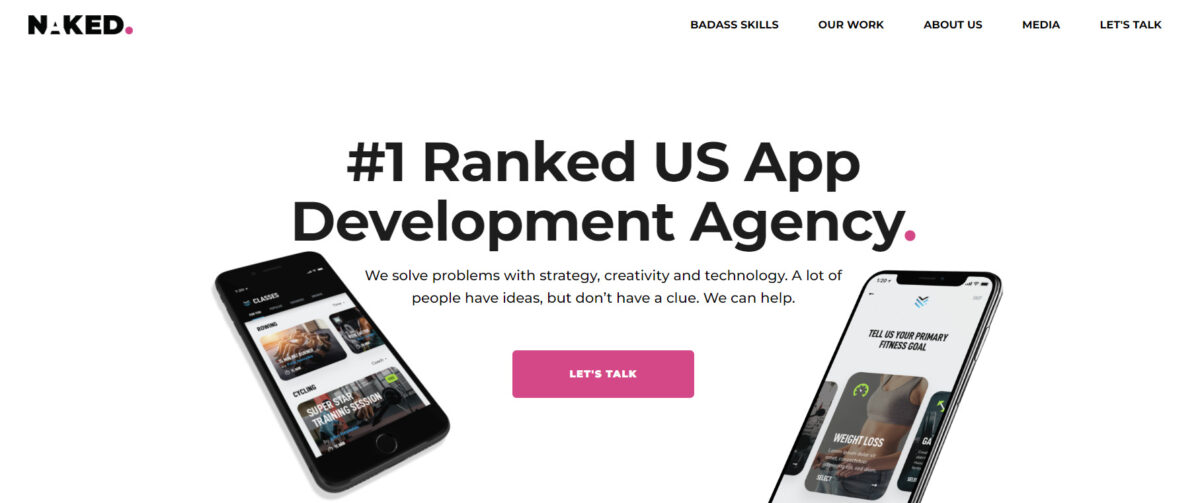 Pricing Info: Average hourly rate is $100 – $149 | Most Common Project Size is $10,000+
Location: Irvine and Austin, Texas
Team Size: 10-49
Naked Development is an agency where innovation in mobile app marketing is not just delivered but co-created. They stand apart in mobile app marketing with a unique ethos of partnership over client-project dynamics. Their strategy-centric approach transcends conventional service delivery, fostering a collaborative environment to drive success in the competitive app market.
Naked Development's pedigree in aiding substantial venture capital accumulation of over $75M for their clients reveals a deeper layer of their marketing expertise, bringing not just users but also investors to the table. Their world-class team of problem solvers is dedicated to crafting compelling narratives around your app, facilitating not just downloads but a robust user engagement and retention strategy.
---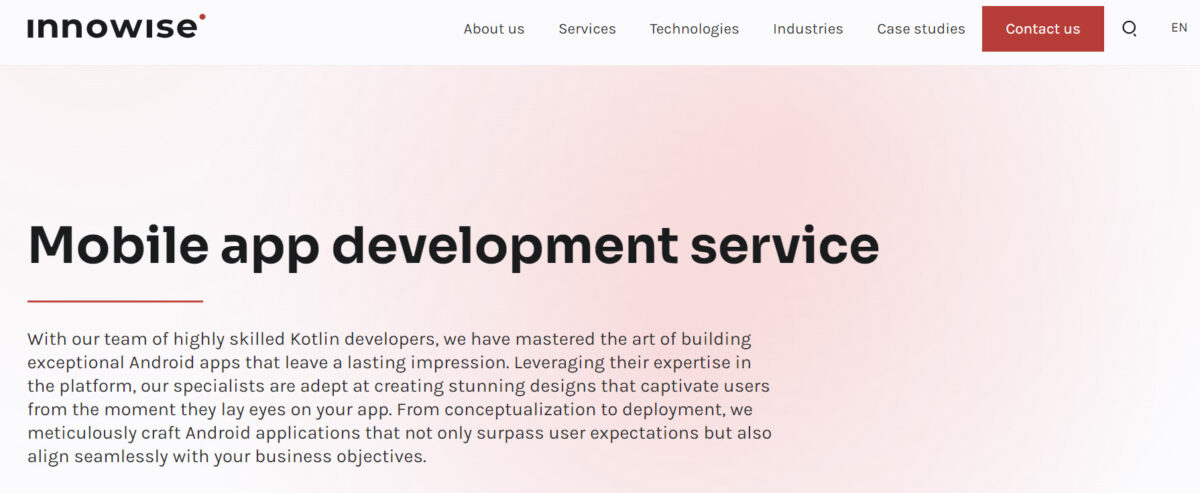 Pricing Info: Average Hourly Rate is $50 – $99 | Average Project Size is $10,000+
Location: Warszawa, Poland |  Bruxelles, Belgium | Francavilla al Mare, Italy | Offices in other major European cities
Team Size: 1,000-9,999
InnoWise Agency propels your mobile app's market presence by harnessing a kaleidoscope of marketing channels to broaden your global user outreach. With over 7 years of honed expertise in mobile app marketing, they delve into untapped demographics, augmenting your brand's visibility and catalyzing a robust expansion of your potential customer base. Their adeptness in crafting interactive content and personalized user journeys cultivates a deeper engagement, keeping users riveted to your brand. Through judicious data analytics, InnoWise furnishes invaluable insights into user behavior, equipping you with the acumen to refine your marketing strategies and tailor your offerings to the pulse of your audience's preferences.
Their forte extends to monetization strategies, adeptly unlocking new revenue vistas by leveraging your broadened audience and heightened user engagement. With a sterling portfolio of 100+ mobile apps across diverse domains, they offer targeted advertising, sponsored content, and other monetization avenues, enhancing your app's profitability landscape.
---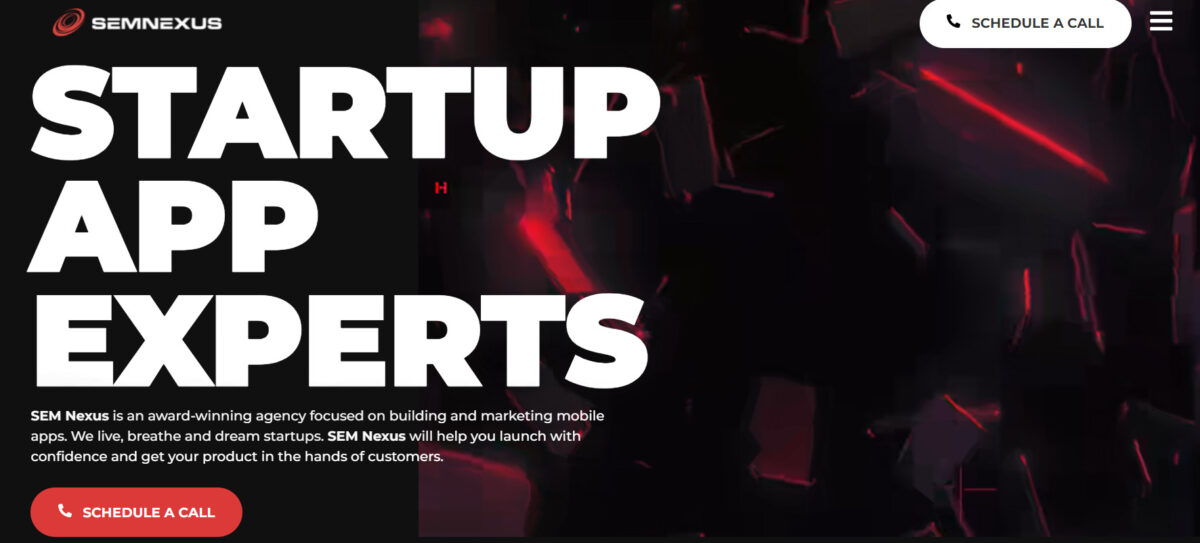 Pricing Info: Minimum Houry Rate is $100-$149 | Average Project Size is $10,000+
Location: New York, New York
Team Size: 10-49
Harnessing a multifaceted approach, SEM Nexus propels your mobile app into the limelight with a meticulously crafted marketing strategy. The journey commences with an in-depth App Store Optimization (ASO), where rigorous keyword research forms the bedrock of captivating app descriptions for both the App Store and Play Store. The agency's prowess extends to adeptly maneuvering App Store & Play Store ads, ensuring your app shines brightly amidst a crowded marketplace. Their ad marketing strategies, employing Google Adwords, Apple Search Ads, and well-placed social media ads, are engineered to secure a low Cost Per Install (CPI), a testament to their adroitness in maximizing your budget while amplifying visibility.
The narrative of your app is further elevated as they prepare for Venture Capital (VC) infusion, crafting compelling pitch decks that resonate with potential investors. With SEM Nexus, your app isn't merely launched; it's orchestrated to resonate in a market where standing out is synonymous with staying alive. Their analytical approach, leveraging in-app analytics, is your cornerstone for not just acquiring but retaining a committed user base, making SEM Nexus a distinguished beacon in the mobile app marketing realm.
---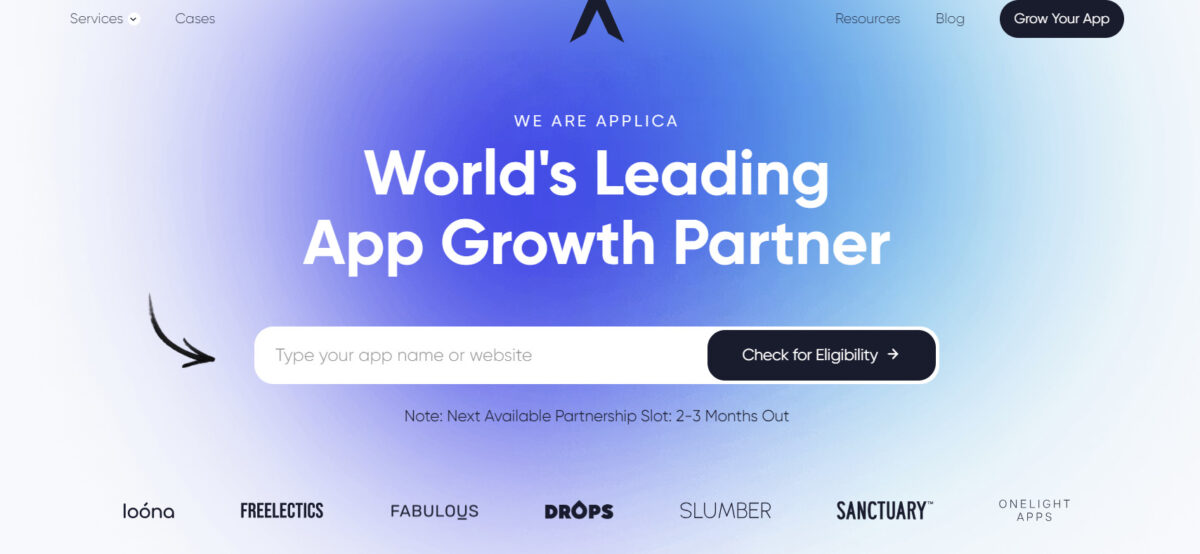 Pricing Info: Minimum Project Size is $10,000 | Average Hourly Rate is $100-$149
Location: London, UK | Lviv, Ukraine
Team Size: 10-49
With a keen emphasis on mobile app marketing, Applica adeptly manages your budget to tap into a prolific user base, boasting a part of 600 million weekly downloads on Apple's platform. The agency's approach is rooted in driving down your Cost Per Install (CPI) while elevating the Return on Ad Spend (ROAS), ensuring a more predictable and quality-centric user acquisition (UA). Through meticulously crafted mobile campaigns and insightful custom reports, they not only bolster your paid app user acquisition but also equip you with a profound understanding of the UA landscape.
Their campaigns resonate across popular social and search advertising platforms like ASA, UAC, Meta, and TikTok. This tailored approach aims to enhance your app's visibility and reach. With Applica, all your mobile marketing efforts are taken care of, heralding a new epoch of measurable growth for your app.
---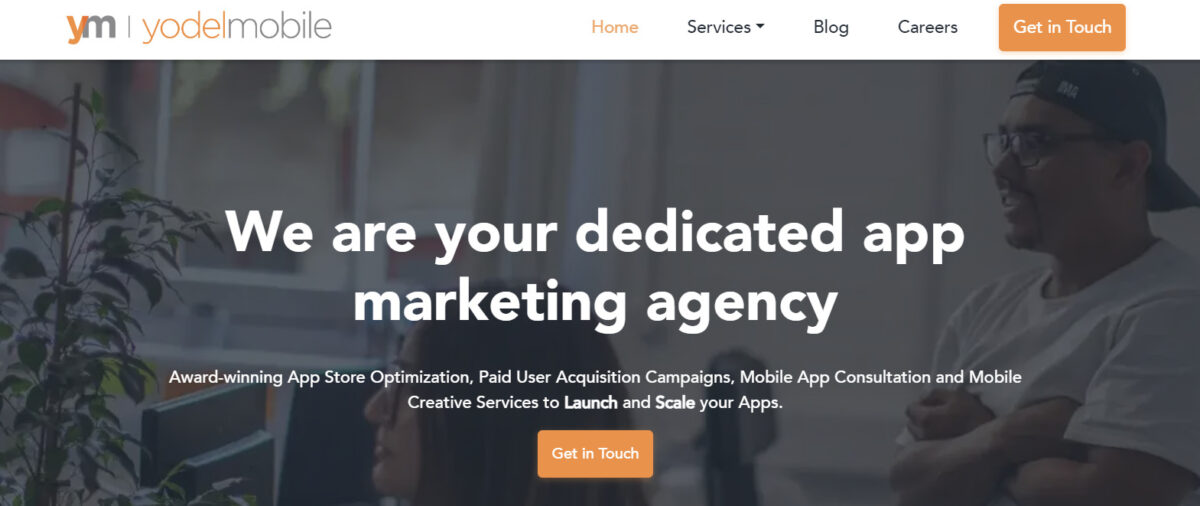 Pricing Info: Minimum Project Size is $25,000+ | Average Hourly Rate is $100-$149
Location: London, UK
Team Size: 10-49
Yodel Mobile specializes in mobile app marketing. Their unique approach hinges on their "Fit to Market" methodology that ensures your app is optimized at every stage of the user lifecycle. Their expertise lies in app store optimization (ASO), mobile SEO, and user acquisition strategies that are data-driven and results-oriented.
Yodel Mobile has extensive experience in mobile app marketing, having worked with notable clients with a proven track record of delivering results. If you're looking for an agency that offers a blend of creativity and analytics, Yodel Mobile is your go-to agency.
---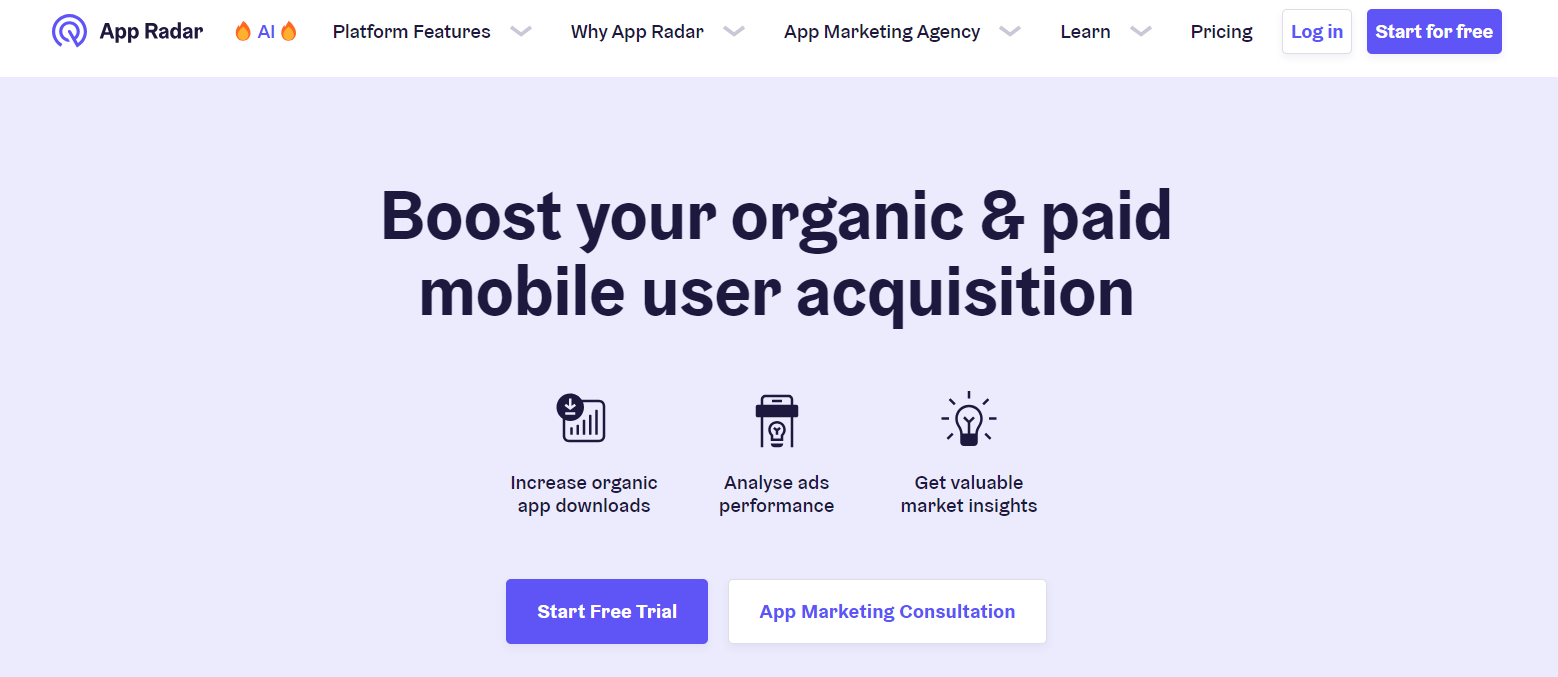 Pricing Info: Minimum Project Size is $1,000+ | Average Hourly Rate is $50-$99
Location: Graz, Austria
Team Size: 10-49
When it comes to mobile app marketing, App Radar is a name you can trust. With a focus on app store optimization and user acquisition, they offer a suite of services designed to maximize your app's visibility and downloads. Their proprietary technology allows for real-time tracking and analytics, giving you actionable insights for data-driven decisions.
Their expertise in mobile app marketing is illustrated by their 500+ successful projects, 30% achieved growth, and over $30 million in client budgets, proving their capability in delivering results. If you're in search of a mobile app marketing agency that combines technology with expertise, look no further than App Radar.
---

Pricing Info: Minimum Project Size is $10,000 | Average Hourly Rate is $25-$49
Location: San Francisco, California
Team Size: 50-249
Intuz takes your mobile app marketing to the next leve. Specializing in end-to-end solutions, they offer services ranging from app store optimization to mobile analytics. Their strategies are not just about getting your app more downloads; they're about ensuring sustained user engagement and retention.
Intuz offers a range of services that are customizable to your specific needs. With a client list that includes big names, including Holliday Inn, Bosch, Kubi, and Mercedes AMG, they've demonstrated their ability to handle complex app marketing challenges. If you're looking for a mobile app marketing agency that offers a 360-degree approach, Intuz is the agency for you.
---
Can Small Businesses Benefit from Mobile App Marketing Agencies, and How?
Mobile app marketing has become a cornerstone for businesses of all sizes, including small enterprises. The question, however, is not just whether small businesses can benefit from mobile app marketing agencies but how they can leverage these benefits effectively.
For small businesses, the primary challenge lies in standing out in a crowded app market. This is where mobile app marketing agencies come into play. These agencies possess the expertise and tools to craft and implement targeted marketing strategies that resonate with the intended audience. By utilizing their services, small businesses can gain a competitive edge in several ways:
Expertise and Experience
Agencies bring a wealth of knowledge and a proven track record. They understand the nuances of app store optimization (ASO), user acquisition, and retention strategies. This expertise can be invaluable for small businesses that may lack in-house marketing resources. Furthermore, their experience across various industries can provide a diversified perspective, potentially unlocking new avenues for user engagement and growth.
---
Cost-Effective Solutions
While it might seem counterintuitive, hiring an agency can be more cost-effective than attempting to do everything in-house. Agencies have the right tools and subscriptions that small businesses might not afford independently, providing economies of scale. This outsourcing model also allows small businesses to focus on their core operations while benefiting from professional marketing expertise.
---
Data-Driven Strategies
These agencies employ analytics and data-driven approaches to understand user behavior and market trends. This insight allows for more precise targeting and customization of marketing campaigns, leading to better ROI. Additionally, the continuous analysis ensures that the strategies evolve with changing user preferences and market dynamics, ensuring sustained engagement and returns.
---
Brand Building
A key benefit is the ability to build and strengthen the brand. Agencies can help craft a unique brand voice and identity, making the app more recognizable and appealing to users. This extends beyond the app itself, creating a coherent brand experience across all customer touchpoints, which is vital for building trust and loyalty.
---
Access to Advanced Tools
Agencies often have access to advanced marketing tools and technologies. These tools can provide insights into user behavior, market trends, and campaign performance, which are crucial for making informed marketing decisions. Having access to such sophisticated tools can significantly enhance the precision and effectiveness of marketing campaigns, ensuring a higher degree of success in user acquisition and retention.
Small businesses can not only benefit from mobile app marketing agencies but can also leverage these partnerships to scale effectively, compete with larger players, and carve out their niche in the app marketplace.
---
What is the Role of User Experience in Mobile App Marketing Strategies?
User Experience (UX) plays a pivotal role in mobile app marketing strategies, acting as a critical determinant of an app's success or failure. Considering that 80% of all internet users own a smartphone, offering an exceptional mobile UX is not just an option but a necessity. Here's how UX impacts mobile app marketing strategies:
First Impressions Matter Even for Mobile App Marketing
The first interaction a user has with an app sets the tone for future engagement. According to a study, 94% of all first impressions are design-related. This shouldn't diminish the importance of other factors like app speed or proper optimization, as a positive UX can lead to higher retention rates. In contrast, a negative one can result in immediate uninstalls.
---
Word-of-Mouth Marketing Is the Most Effective Marketing Channel
Satisfied users are more likely to recommend the app to others. A testament to this statement is that 88% of people trust personal recommendations the most, drastically outperforming other marketing channels. In this digital era, word-of-mouth can spread rapidly, making it a powerful and cost-effective marketing tool.
---
Enhanced Engagement Drives Success
Good UX design keeps users engaged. It ensures the app is easy to navigate, aesthetically pleasing, and fulfills the users' needs effectively. As a result, engaged users are more likely to become loyal customers and brand advocates. On the other hand, 48% of users said bad mobile optimization makes them annoyed. This signifies the importance of optimization for mobile apps.
---
UX Leads to Higher Conversion Rates
An intuitive and user-friendly app design can significantly boost conversion rates. Whether signing up for a service, making a purchase, or subscribing, good UX removes barriers to conversion. On the functionality front, a Google study revealed that 77% of mobile shoppers will purchase from an app that allows them to make purchases quickly.
---
SEO and ASO Are Crucial for App Marketing
Search engines and app stores favor apps with positive user reviews and high engagement rates. But even more so, these engines favor apps that are best optimized to rank on them. For instance, a study revealed that optimized apps see a boost in downloads by as much as 300%. 
UX is not just a design element; it's a fundamental component of a successful mobile app marketing strategy. It influences every stage of the user journey, from discovery and download to engagement and advocacy. Investing in UX is investing in the app's overall success.
---
Conclusion
Navigating the world of mobile app marketing can be a complex yet rewarding endeavor. The right agency not only amplifies your app's visibility but also intricately weaves strategies that resonate with your target audience.
Whether through innovative techniques, data-driven approaches, or creative storytelling, these agencies hold the key to unlocking your app's full potential. In an era where mobile apps are at the forefront of digital interaction, partnering with a specialized marketing agency isn't just an option; it's an imperative step toward success.
Frequently Asked Questions
What makes a mobile app marketing strategy successful in today's competitive environment?
A successful mobile app marketing strategy in today's market hinges on a deep understanding of the target audience, innovative use of technology, data-driven decision-making, and continuous optimization. Personalization and creating a seamless user experience are key, alongside effective use of app store optimization (ASO), social media, and user engagement tactics.
How do mobile app marketing agencies measure the success of their campaigns?
Mobile app marketing agencies measure success through metrics like download rates, user engagement, retention rates, app store rankings, and ROI. They also track user behavior within the app, conversion rates, and feedback via reviews and ratings, ensuring that the campaign is not only reaching but resonating with the intended audience.
What are the emerging trends in mobile app marketing that businesses should be aware of?
Emerging trends in mobile app marketing include the use of AI and machine learning for personalized user experiences, increased focus on app store optimization (ASO), the integration of augmented reality (AR) and virtual reality (VR) for immersive experiences, and the leveraging of influencer marketing and social media platforms for greater reach and engagement.