NFTs have had a massive growth during the third quarter of 2021 – reaching $10.67 billion. This number is a healthy 700% increase from the previous quarter.
While there is a downturn at present, NFTs have captured the attention of speculators and crypto enthusiasts globally. Billions are invested in these virtual assets, which is why it's crucial to get your NFTs ahead of the curve in terms of marketing.
NFTs can be considered a digital representation of ownership of both real-world and virtual assets. These are entirely unique, and cannot be substituted for another asset, unlike how a currency works.
Because NFTs are new to global markets, there are only a few marketplaces that deal with NFTs. And since most crypto marketplaces are rife with new projects, it can be hard to get your NFTs the attention they would need to sell.
---
NFT Email Marketing Guide:
---
How to Sell NFTs
Most NFTs are digital in nature. For artworks, especially, NFTs lend themselves naturally to a trading system, as they offer unique and non-replicated pieces. NFTs transcend physical constraints when it comes to collection and appreciation of art. Some of the most notable NFTs include the artwork by digital artist Beeple, which sold for $69 million at the renowned auction house, Christie's.
Herein lies the question: how can creators sell NFTs?
Not all NFT creators will generate that much profit for a single project, but with the NFT collection gaining popularity among collectors, NFT creators are owning the moment in terms of promoting their content.
Here are a few ways to sell NFTs: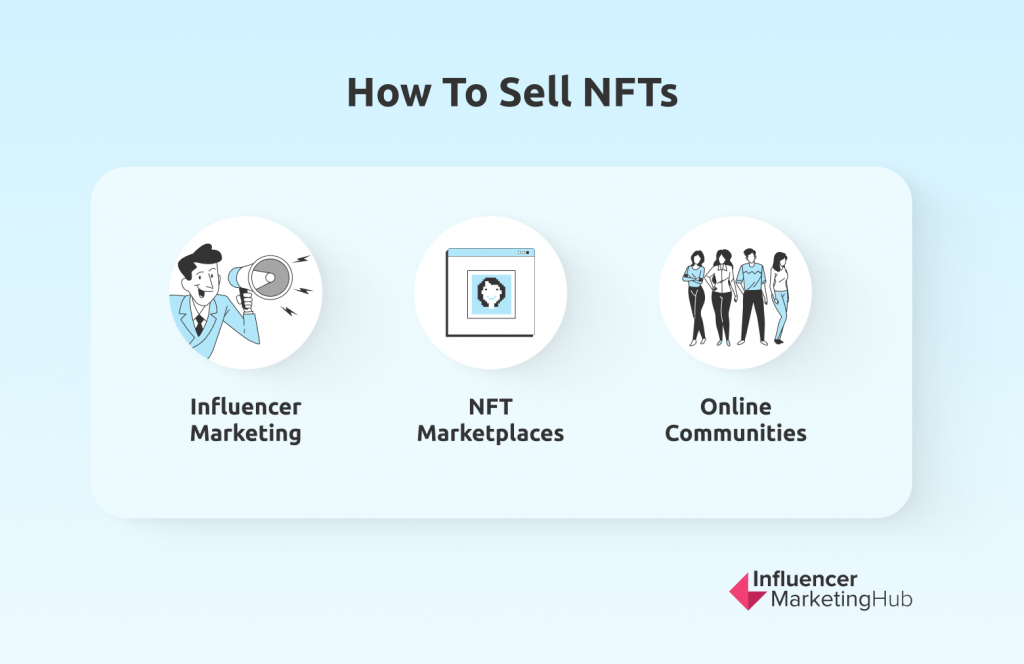 With the right influencers, NFTs can have massive exposure towards the most relevant audiences. Because influencers have built a trustworthy following, they have the power to influence and steer their followers toward a certain purchase decision. This applies to NFTs as well.
Aside from having an expansive niche following, NFT influencers are visible across social media platforms. When they promote an NFT, they can do so on multiple channels. As a creator, you can reach more people online, and your NFT project has the potential to go viral. Check out our latest list of top crypto influencers to give you an idea of whom to approach for your NFT marketing strategy.
The first NFTs were within the Ethereum blockchain, but thanks to their popularity with investors, other blockchain ecosystems now facilitate NFTs. There are NFT platforms created where people can buy and sell digital assets.
A reputable NFT marketplace lets you exchange NFTs like art, virtual real estate, and online games. The marketplace enables creators to connect with prospective buyers in one secure space. Because there is a premium to joining such marketplaces, creators are also able to have a better pool of buyers who can purchase NFTs at higher prices.
Some examples of NFT marketplaces include OpenSea, Atomic Hub, and Rarible, to name a few. Creators can select an NFT marketplace based on their preferred token standard.
Another effective, albeit a more hands-on approach to marketing your NFTs is to build a community for that very niche. Platforms such as Twitter, Reddit, Discord, and Facebook are useful in cultivating like-minded individuals who may appreciate your creations.
Through an NFT community, you can build trust and get up-close with people. Most importantly, you get to position yourself as a thought leader, especially if your NFT project is quite unique.
If you're strapped for time in building an NFT group, there are NFT marketing agencies that can help develop and enhance an NFT campaign. Here are our best picks for NFT marketing agencies to get you started.
---
Email Marketing for NFTs?
Email marketing has been around for decades, ever since the Internet became commonplace. It may then seem unusual for some people to rely on email marketing when promoting non-fungible tokens (NFTs).
After all, NFTs are a brand-new type of asset. NFTs consist of non-transferable (hence, non-fungible) type of data secured on a blockchain. NFTs work within an evolving blockchain technology that enables a permission-less and decentralized way of transacting trades.
Can email marketing be relevant for NFTs? Definitely.
The marketing tactic can help NFT creators reach prospective buyers not only when they are ready to purchase, but at different stages of the buying journey. That's one of the reasons why email marketing is still among the most effective strategies. Forbes reports that for every dollar you spend you gain $42 back in email marketing – the highest ROI in the industry.
---
Why Sell NFT Through Email Marketing
Here are several reasons why NFT creators should consider email marketing to promote their virtual assets: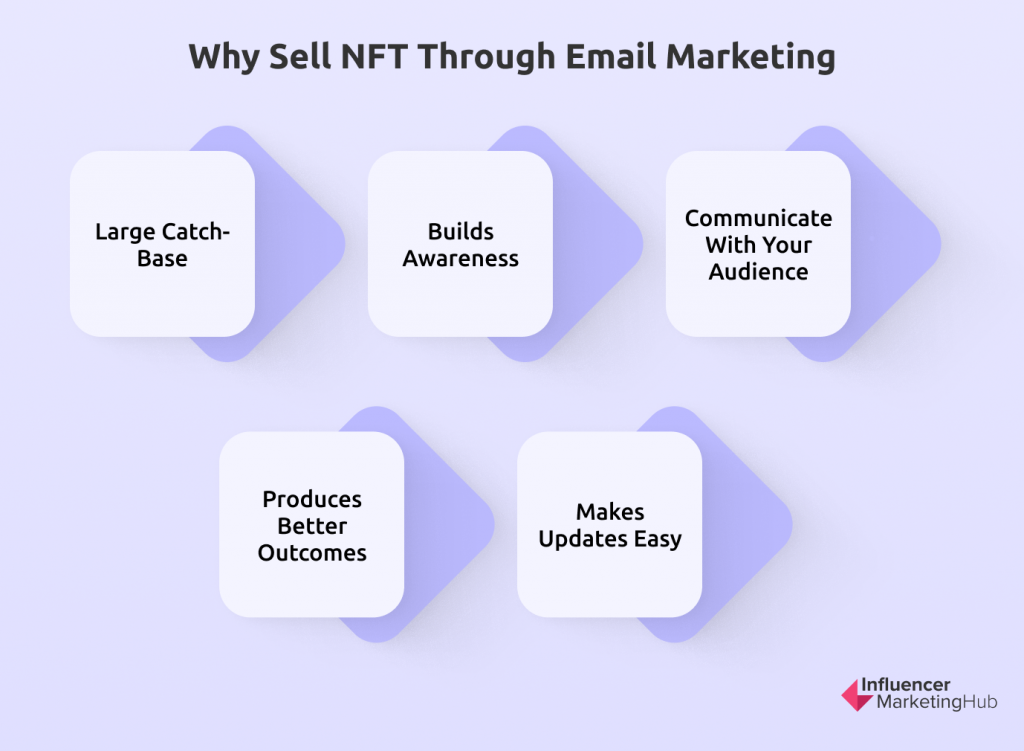 Almost everyone uses an email. And for NFT enthusiasts who are comfortable with online interactions, a simple email can be a secure and convenient way to reach customers. Stats predict that there will be 4.3 billion email users by 2023, and of over 300 billion emails predicted to be sent per day, very few users will unsubscribe to these email marketing campaigns.
Email marketing for NFTs makes cold-calling potential buyers a straightforward process.
Not everyone is familiar with NFTs. It is a new phenomenon, and it can be confusing for potential collectors to figure out how to collect and store them. NFT email marketing closes the gap in terms of awareness. Sending informative pieces about NFTs can clarify most questions about the industry.
Email marketing can start by giving basic information about NFTs, why they are valuable, and what benefits can be gained from investing in them. The more people build knowledge on what NFTs are, the more they could be pushed through the purchase funnel.
What's more, such content can make a difference in your SERPs performance. Because Google detects valuable content, you can rank high on the search engine.
Communicate with your audience
Email marketing is perfect for NFTs, as creators can build a close-knit community through conversing with their targeted audience. Personalized emails are easy to send, require little capital, and can be designed to highlight what aspects of the NFTs separates them from other virtual assets.
Personalized emails are one of the most effective strategies for creating leads. If you're trying to sell NFTs, you can deliver your message directly to the relevant individuals.
As mentioned, email marketing is surprisingly effective. It has the highest ROI compared to other marketing means, and it produces decent conversion rates.
Stats suggest that email marketing generates over 66% conversions. The campaign is easy to track, has ready metrics like click-through rates, bounce rates, and engagements. NFT creators can benefit from such a measurable and efficient mode of marketing.
Through push notifications, email marketing can send the latest updates on your NFT project. Once you automate the process, you can send attractive and exciting news. Discounted works, limited offers, getting feedback about the project, and revealing the artistic process—NFT creators can maximize all types of content and more. The key is to make sure all emails are relevant to what you are promoting and worthwhile enough for receivers to click on the message.
---
How to Sell NFT Through Email Marketing
Email marketing is still a powerful tool to this day, and NFTs can benefit from the strategy. Here are the steps to start your NFT email marketing:
Start building email lists
To execute an efficient NFT marketing campaign, create a signup from your website or blog. This way, only the relevant audience will be visiting your site and leaving their email in exchange for your quality content.
Growing your email list may take a while, so make sure to have discounts, exclusive content, or early access to NFTs to entice people to opt-in. Once they do, you can start sending email messages.
A good rule of thumb for frequency is to send emails at least once a week, but less than daily. This comes from 40% of survey respondents about email marketing.
Regarding quantity, most email campaigns have between 0 to 500 subscribers. Less than 7% of small businesses have over 50,000 subscribers. The numbers indicate that email marketing does not need to start with a huge set of subs. Having at least 500 subscribers can already get you NFT goods shown to the right people.
Rather than focusing on quantity, make sure your NFT email messages are high-quality and captivating enough for your receivers. The only way to check is to test various messages to track which ones get clicks and overall positive reception, and which ones need improvement.
If you are unsure about how to get started, there are tools, like Mailchimp, which allow you to send thousands of emails for your NFT campaign. Here is a guide on the best email marketing software tools which can optimize your work.
Design your email campaigns
NFTs are what's in now. It's vital to keep your audience's interest and sensibilities in mind when crafting emails. You should work along their interests, the language style, and what they'd find interesting enough to click on. Having the right email campaigns prevents your subscribers from losing interest and unsubscribing.
Take note of the most common email types you can run: announcements about new products, features, or just news about the project; lead generating content with a strong headline and relevant content; newsletter to inform your subs about your company, and product launch that showcases NFT images, description, and has a strong Call-to-Action (CTA).
NFT marketers can capitalize these email types, especially the newsletter format. You can continue providing valuable content and updates through a newsletter, and the advantage is that it can be sent several times a week.
There's no set recipe for an effective email campaign. It depends on your NFT asset how you can approach your emails in a way that receivers will pay attention to them. Testing among a small group of people is the best way to check if the email works or not.
Creating email campaigns is only half the journey. To make sure your email marketing campaign is successful, you need to track its performance with analytics tools. This will allow you to measure how many people opened and clicked on links in emails as well as what they are doing after reading them so that we can better understand which strategies work for the NFT asset you are promoting.
Google Analytics provides great insights into where potential customers may be losing interest, and which ones are received well. Testing among a small batch of subscribers can give you a deeper understanding of which campaigns are more effective than others.
As with any other form of marketing, it's a continuous process. Pegging the email campaign into one style will stagnate your strategy and won't drive interest in your NFT project. That is why it's essential to always test and measure your emails. This way, you can find out what resonates with an audience, what type of content they deem valuable, and extra promotions they'll seek. These insights can help you offer them effective email campaigns that will lead to sale of your virtual assets.
Remember, digital artwork and NFT collectibles are entirely new, and many people are yet to be convinced about their value. The best approach is to emphasize the value proposition for your subscribers.
---
Start Your NFT Email Marketing Today
Email marketing is one of the most effective ways to communicate your NFT project to relevant audiences. Because your email lists have already expressed interest in your niche, they are the best people to target as potential customers.
NFTs have sparked the curiosity of investors and blockchain enthusiasts. Email marketing is an approach that can help you create a cohesive sales journey while at the same time building trust with your audience.
These steps will hopefully enable you to launch an email marketing campaign that can compel NFT buyers to support your project.