Advertising Disclosure
Advertising disclosure:
Our partners compensate us. This may influence which products or services we review (also where and how those products appear on the site), this in no way affects our recommendations or the advice we offer. Our reviews are based on years of experience and countless hours of research. Our partners cannot pay us to guarantee favorable reviews of their products or services.
Businesses must constantly fine-tune their online advertising capabilities to see any success in the digital realm. However, one way to harness the immense potential of online ads is to hire a service to take over in-house operations.
That said, choosing the right agency for online advertisement services isn't easy, especially with all the agencies around. This article dives deep into a comprehensive review of the ten best that have been excelling in online advertisement services, helping brands optimize their digital presence, drive engagement, and achieve their marketing goals.
---
Top Online Advertisement Services
Top
online advertisement services
2024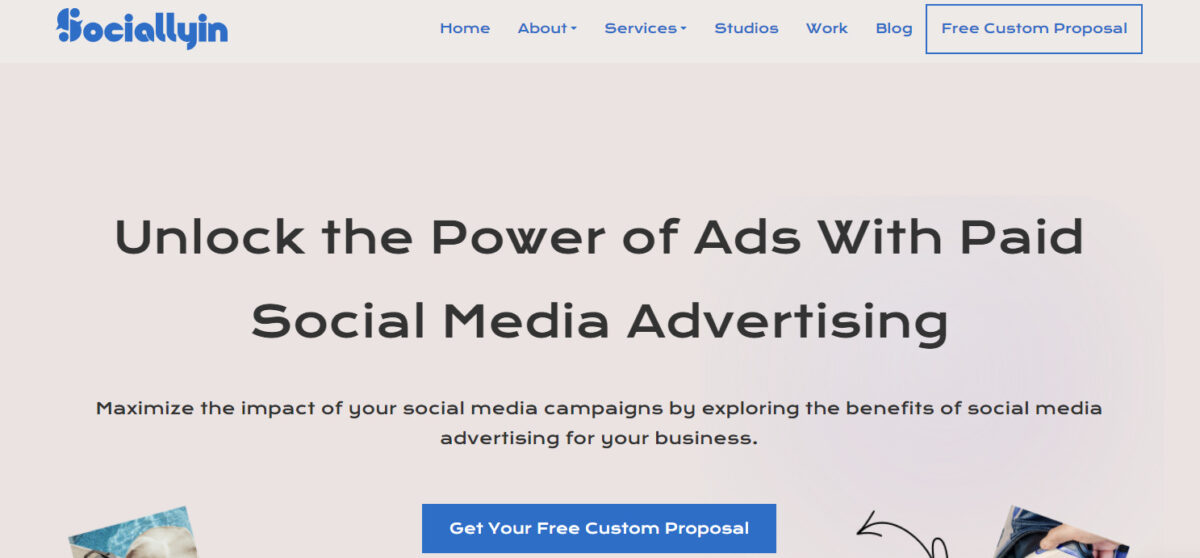 Sociallyin, distinguished through a tailor-made approach to paid social media advertising, offers businesses a pathway to amplify their brand presence without the exorbitant costs associated with traditional advertising methods. The agency's expertise lies in crafting bespoke advertisements that resonate with the brand's essence and objectives. Utilizing a blend of innovative creativity and strategic planning, Sociallyin ensures each ad not only engages the target audience but also delivers an exceptional return on investment.
The agency's prowess extends to precision targeting, a feature enabled by meticulous demographic analysis and the effective use of Social PPC. No resources are squandered on uninterested parties; instead, every campaign is honed to reach specific demographics based on age, gender, location, or industry. Sociallyin's team is adept at leveraging existing email lists and creating new ones to foster engagement, ensuring that every ad reaches individuals most likely to convert. This meticulous approach ensures optimal utilization of marketing resources, maximizing reach and engagement while minimizing expenses.
Sociallyin's commitment to innovation is underscored by its dynamic approach to staying abreast of the ever-evolving social media landscape. The agency's experts are not just conversant with current trends but are anticipatory of emerging shifts, ensuring clients' campaigns are always a step ahead. Sociallyin ensures that every client's social paid advertising is not just a campaign but a meticulously crafted journey to enhanced brand visibility and engagement.
Additional Services Offered:
Social Media Management
Influencer Marketing
Social Media Strategy
Social Selling
Content Production
Community Management
---

Disruptive advances a comprehensive approach to online advertising, delivering a blend of innovative strategy and precision execution tailored to each client's unique needs. Specializing in magnetic marketing, the agency takes on the dual role of ad account manager and full-funnel marketing strategist, promising a holistic solution for businesses prepared to scale. With a rich portfolio of services, including PPC management, Google Ads, and various social media ads, Disruptive pledges not just visibility but effective engagement, ensuring that each campaign is meticulously aligned with the client's core objectives and target demographics.
The agency prides itself on the Disruptive Difference, a commitment to fostering purpose-driven collaborations aimed at not just marketing but building meaningful connections. By identifying and articulating the client's "why," Disruptive crafts marketing campaigns that resonate deeply with the target audience, ensuring a harmony of needs, solutions, and experiences. Their case study with a sporting goods company showcases a triumphant narrative of a +158% increase in monthly revenue, underscoring the agency's ability to translate strategy into tangible, impactful results.
Disruptive's commitment to long-term growth partnerships is further exemplified by their robust process encompassing discovery, solutions proposal, marketing level-set, strategy optimization, and growth strategy. Each step is curated to understand, enhance, and maximize the client's marketing trajectory. Boasting a team of over 160 empowered marketers, the agency's innovative approach, fueled by a passion for people and purpose, ensures that every campaign is not just a transaction but a journey toward meaningful market engagement and sustained growth.
Additional Services Offered:
Content Creation
Email Marketing
SEM
Website Optimization
---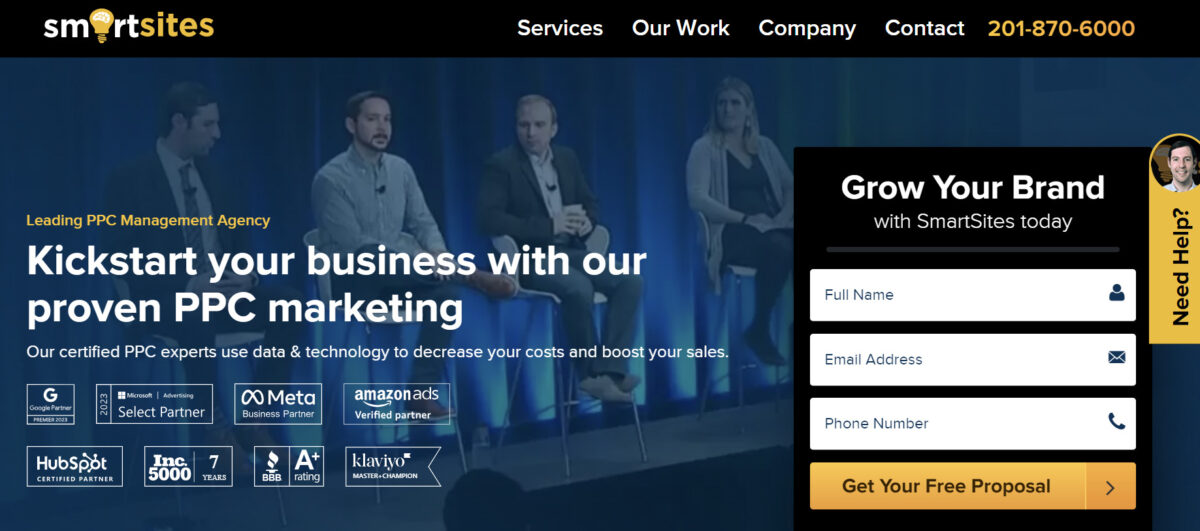 SmartSites presents an arsenal of tailored strategies designed to propel businesses into the limelight. With a formidable reputation backed by prestigious recognitions, including Google Premier Partner 2023 and an Inc. 5000 feature, the agency marries innovation with efficacy. SmartSites' diverse service portfolio, including pay-per-click management and social media marketing, is crafted to elevate visibility, engagement, and conversion. Every strategy is precision-engineered to resonate with the distinct needs and objectives of each client, ensuring customized solutions that transcend generic marketing paradigms.
At the core of SmartSites' operations is a meticulous approach to web design, where aesthetics and functionality converge to create user experiences that are not only captivating but also instrumental in customer conversion. The agency's impressive performance metrics, notably a 99% rating on BESTCOMPANY™, attest to an unwavering commitment to excellence and client satisfaction.
Beyond that, their aptitude in email and SMS marketing underscores a multifaceted approach to digital engagement, ensuring clients enjoy amplified reach across diverse communication channels, maximizing the chances of conversions. A case in point is their success in doubling the traffic for most clients within six months. SmartSites emerges as not just a service provider but a strategic partner, vested in the long-term success and digital prominence of every client.
Additional Services Offered:
Social Media Management
Local SEO
eCommerce SEO
Paid Social and Search
---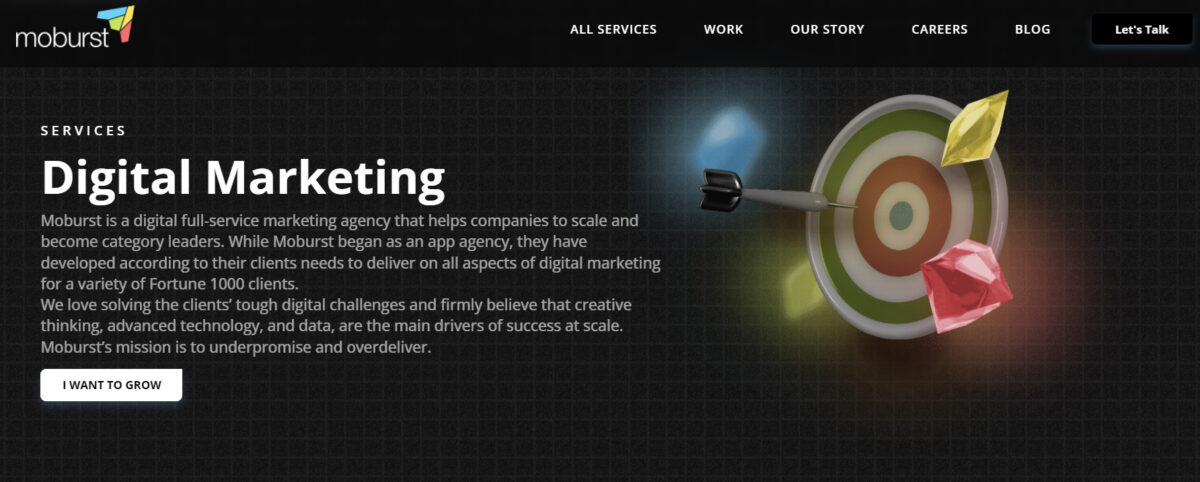 Moburst, renowned for crafting bespoke strategies that catapult brands into the sphere of hypergrowth, provides a comprehensive array of services, including creative content, marketing strategy, media buying, and organic traffic. The agency meticulously aligns each campaign with the client's bespoke needs and market dynamics. Moburst's prowess in innovative content and ad design, underscored by a robust portfolio in social media management, ensures brands not only captivate but resonate deeply with targeted audiences.
Armed with insights gleaned from analytics and BI, the agency formulates and executes strategies that are not just informed but predictive of market trends. Its expertise extends to OTT marketing and influencer marketing, ensuring clients enjoy amplified visibility and engagement across diverse advertising platforms. In the realm of organic awareness, Moburst's offerings, such as SEO, ASO, and CRO, stand as testaments to its commitment to enhancing brand visibility and engagement without excessive ad spend.
In a notable case study, Moburst significantly amplified an app's visibility, driving a surge in downloads and engagement by optimizing app store assets and executing a targeted media buying campaign. The synthesis of innovation, strategy, and execution defines Moburst's ethos, marking it as a beacon in the digital marketing expanse.
Additional Services Offered:
Content Creation
PPC Management
Facebook and Instagram Advertising
Branding
User Acquisition
---

Thrive Internet Marketing Agency underscores its stature as a results-driven entity renowned for transforming digital landscapes and catalyzing business growth. The agency is adept at PPC management for eCommerce brands, a cornerstone service that ensures client's ad spending isn't excessive or mismanaged. Through clever ad placements and functionality, Thrive ensures each website is primed for conversions.
In the realm of social media advertising, Thrive adopts a bespoke approach, fostering robust connections between brands and their audiences. The agency can dissect detailed audience demographics to identify the ideal customer and, therefore, deliver unmatched social advertisement results. A case in point is the Farah Law Firm, where Thrive's adept application of SEO and PPC augmented organic traffic by 664% and online leads by 360%, underscoring the agency's prowess in harmonizing various digital marketing elements to achieve exemplary results.
Amazon marketing, another of Thrive's forte, ensures products ascend to prominence through meticulous listing optimization. The agency's integrity, customer-centric approach, and proven results foster an environment where businesses not only grow but thrive, affirming its position as a quintessential digital marketing partner.
Additional Services Offered:
Email Marketing
SMS Marketing
eCommerce Marketing
---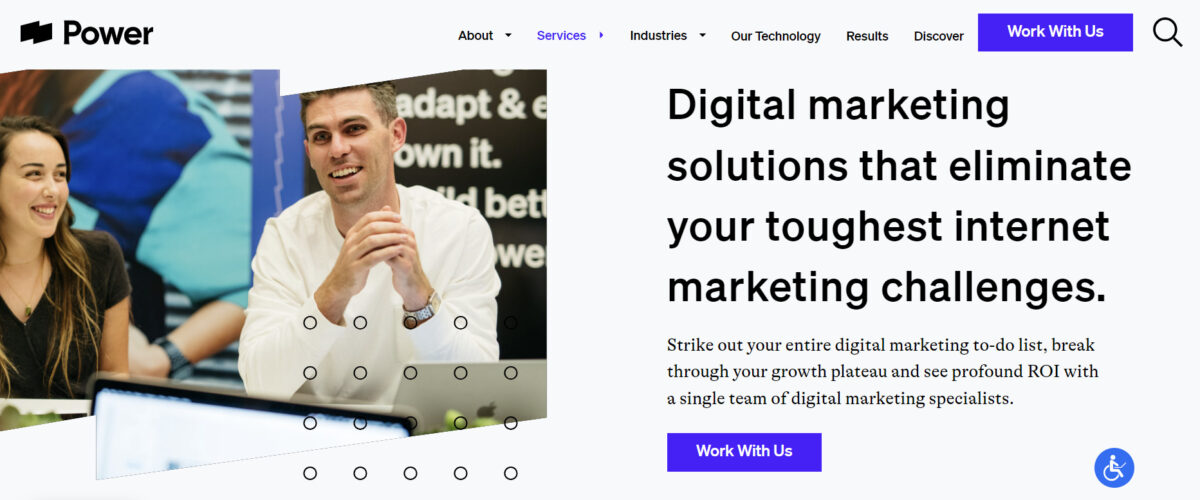 Power Digital Marketing is a confluence of innovation, strategy, and precision. The agency's proficiency in PPC management services is rooted in over a decade of experience, where data-driven approaches meet creative ingenuity, facilitating sustainable growth for over 300 clients across diverse industries. Power Digital designs its PPC campaigns with finesse that captures audiences at every stage of their journey. With services including Paid Search, Performance Max Ads, and YouTube advertising, the agency intricately weaves the elements of reach, engagement, and conversion.
The uniqueness of Power Digital lies in its integration of proprietary technology, Nova, ensuring PPC advertising strategies are not just informed but are scalable and backed by concrete data. The agency's commitment extends beyond traditional practices, venturing into the frontiers of programmatic advertising and connected TV. It's an entity that is continuously evolving, ensuring clients' marketing strategies are not just current but are predictive of future trends.
Power Digital's hallmark lies in its adaptability and strategic optimization. The agency embodies a CRO mindset, ensuring that as audience behaviors shift, so does the marketing approach, ensuring perennial relevance and efficacy. The agency's promise is not just in enhanced visibility but in tangible growth, a commitment echoed by every campaign, strategy, and solution proffered to their esteemed clientele. Every interaction with Power Digital is a step towards transcending conventional boundaries, entering a space where marketing is not just seen but is resonant and transformative.
Additional Services Offered:
Affiliate Marketing
Amazon Marketing
Branding and Creative
Search Engine Optimization
Marketing Operations
---
AUM Core solidifies its stance in the competitive sphere of online advertisement with a bespoke and meticulous approach to PPC (Pay-Per-Click) marketing. Their advanced strategies, underpinned by extensive research and customized execution plans, set the benchmark for result-oriented advertising. AUM Core's adeptness at keyword selection, ad creation, and campaign structuring is not just a service but a crafted experience that aligns with their client's business goals, ensuring each ad click is a step towards heightened visibility and profitability.
This agency distinguishes itself with its masterful synergy of technological innovation and strategic prowess. Their service repertoire, including managing Google Ads, YouTube Advertising, and Remarketing, is complemented by their proprietary approach to campaign monitoring and optimization, landing page creation, and conversion tracking. Their proven track record in reducing CPC and ad spending while escalating engagement underscores their commitment to delivering measurable results.
To illustrate their efficacy, AUM Core's PPC strategies are a harmonious blend of immediacy and precision. They aren't just about instant website traffic and leads; they are about strategic placement, meticulous tracking, and the adaptable nature of their campaigns. The agency's pragmatic approach is further underscored by real, measurable results. Every click, impression, and engagement is not just a statistic but a narrative of a strategy that is as dynamic as the digital landscape, ensuring that their clients are not just participants but are ahead of the curve in the competitive digital advertising space.
Additional Services Offered:
Enterprise SEO
Core Web Vitals Optimization
Mobile SEO
Full Website Audit
---

Fetch Funnel is the epitome of precision and innovation in the realm of online advertising. They exhibit an unbridled commitment to transforming business prospects into measurable financial gains through their bespoke full-funnel advertising approach. With a remarkable amalgamation of ad strategy, conversion rate optimization, and a myriad of ad platforms, including Google Ads, Facebook Ads, and Instagram Ads, the agency meticulously constructs a customer journey that transitions seamlessly from prospecting to purchase and retention.
Their distinctive eCommerce Growth Program is characterized by data-driven scalability, accentuating performance creativity. The agency has demonstrated adeptness in creating thumb-stopping content through continuous testing and iteration, ensuring that the creative aspect of advertising is as dynamic and compelling as the strategic one. A testimonial to their success is highlighted in a case where Fetch Funnel cut down conversion costs by 57% for KISSmetrics, embodying the efficacy of their approach.
Fetch Funnel is not just about clicks but about the experiential journey each click initiates. Every strategy is sculpted to fit the unique goals of each client, ensuring personalized and highly effective campaigns. With an ROI-centric approach, they have mastered the art of converting traffic into customers, augmenting business profitability without inflating advertising expenditures. The synergy of strategic ingenuity, creative excellence, and measurable results defines Fetch Funnel's identity in the competitive online advertising landscape.
Additional Services Offered:
Paid Advertising
Creative Services
---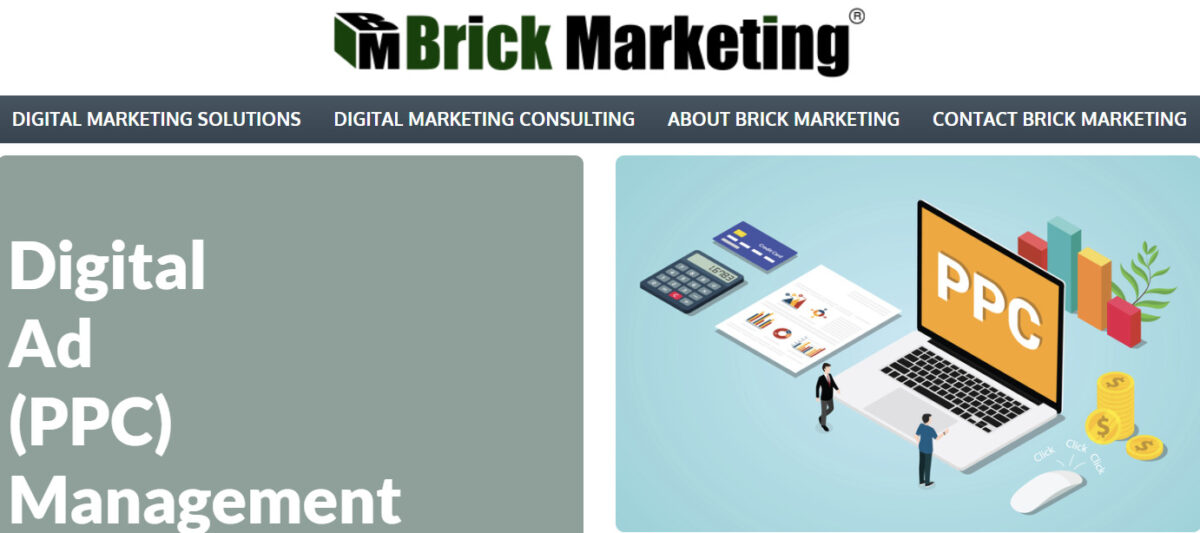 Brick Marketing epitomizes the convergence of innovation, precision, and bespoke strategy in the digital advertising space. With its roots deeply embedded in the intricate art of pay-per-click (PPC) management, the agency is adept at engineering strategies tailored to align with each client's unique needs and aspirations. The agency's journey with a client commences with an exhaustive audit of the existing digital advertising initiatives. The audit, marked by its granular approach, meticulously assesses the interaction dynamics between the audience and ads and identifies potential performance bottlenecks, laying the groundwork for a refined, targeted, and optimized advertising strategy.
At the core of Brick Marketing's operational ethos is a well-choreographed blend of strategic insight and execution excellence. The agency prides itself on its adeptness at sculpting PPC strategies that are informed by an intimate understanding of the client's service or product offerings, enriched by competitive intelligence, and tailored to leverage niche opportunities. With the support of a team of seasoned writers, the agency ensures the delivery of compelling ad copies, complemented by optimized landing pages, to drive conversions and elevate the client's digital footprint effectively.
Measurement and continuous optimization underscore Brick Marketing's commitment to delivering tangible results. Leveraging cutting-edge tools, the agency ensures real-time tracking of conversions, providing clients with insightful data that inform strategic pivots. Transparency and consistent communication are integral to their client engagement model, ensuring clients are always abreast of the performance dynamics of their campaigns.
Additional Services Offered:
Content Marketing
Website Development
Email Marketing
Social Media Marketing
---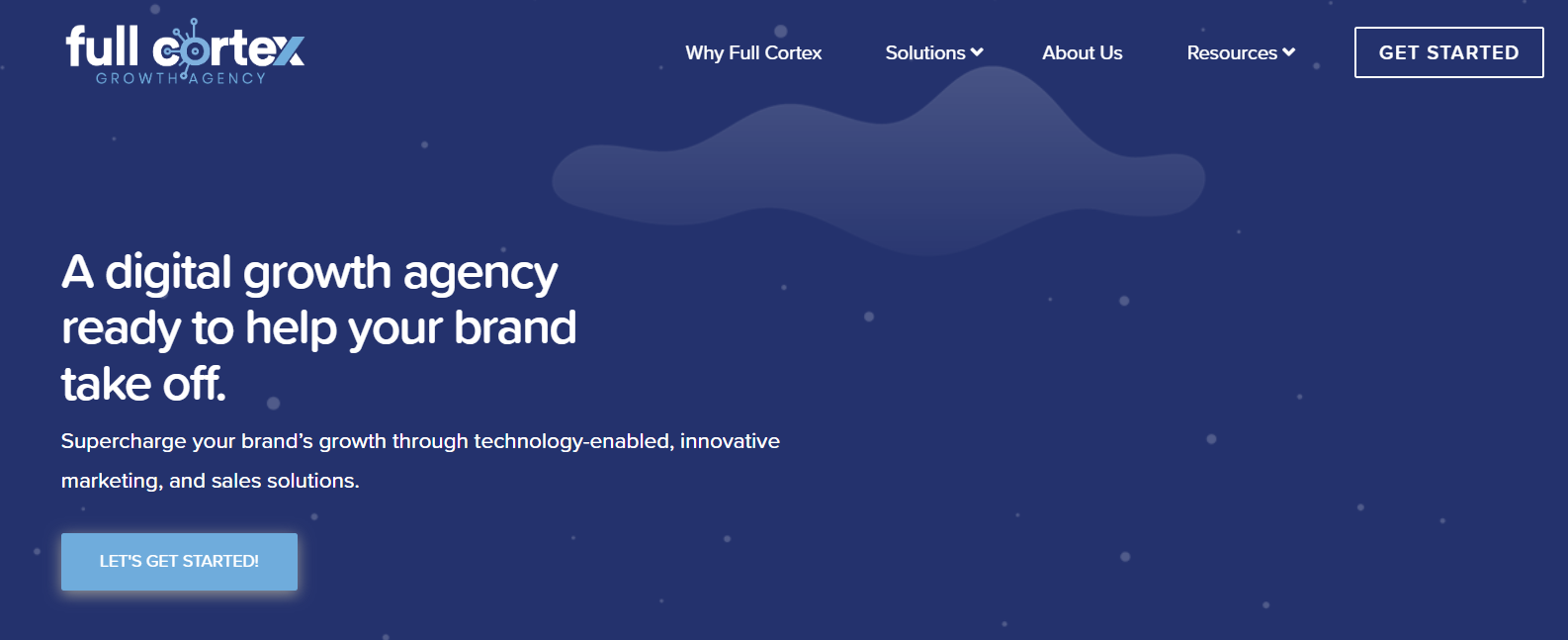 Full Cortex has cemented its position in the online ad landscape as a tour de force in devising and executing bespoke growth marketing funnels. The agency is distinguished by its multi-faceted approach, blending paid and organic strategies to accelerate top-of-the-funnel exposure and cultivate a steady stream of qualified leads. Full Cortex's paid growth marketing funnels are characterized by rigorous campaign testing and optimization, ensuring the audience, channels, and messaging align seamlessly with targeted buyer personas.
The agency's innovative hybrid model underscores its adaptability to unveil novel opportunities for brands seeking sustainable growth. Full Cortex is also renowned for its video expertise, crafting visually arresting and impactful video content that resonates with target audiences, enhancing engagement and ROI. With a keen focus on each stage of the growth marketing funnel, from attraction and conversion to closure and captivation, Full Cortex's strategies are precision-engineered to not only attract high-quality traffic but to transform visitors into loyal brand advocates.
One striking testament to Full Cortex's efficacy is encapsulated in a collaboration with Complete Payroll. The agency's expertise ignited the client's "middle of the funnel" strategy, delivering record performance in Facebook ads offers. Such accolades underscore Full Cortex's capability to transcend conventional boundaries, offering a blend of strategic acumen, creative prowess, and analytical insight, thus enabling brands to realize their lead generation and conversion aspirations with unparalleled precision and impact.
Additional Services Offered:
Inbound Marketing
Content Marketing
Brand Identity
Website Development
---
How are Online Advertising Rates Determined?
Online advertising is a dynamic field with prices varying based on a myriad of factors. One primary factor is the advertising platform chosen, where rates can significantly differ. For instance, advertising on social media platforms like Facebook may have a different cost structure compared to Google AdWords.
The audience targeted also plays a crucial role in determining the advertising rates. A more niche audience may lead to higher costs due to the specificity required to reach them. Moreover, the geographic location targeted also influences the cost, with certain regions being more expensive than others. For example, creating social media ads for the US market is significantly costlier than any other market.
The time of advertising is another key factor. Peak hours or seasons can lead to higher advertising costs due to increased competition. Furthermore, the quality and relevance of the advertisement itself can impact the cost. Platforms like Google reward higher-quality ads with lower costs per click.
The bidding strategy adopted is also central in determining the advertising costs. Advertisers can choose between several bidding strategies, including cost-per-click (CPC), cost-per-mille (CPM), and cost-per-acquisition (CPA). Each of these has its own pricing dynamics. Additionally, the level of competition for the chosen keywords or audience segment will influence the cost.
Lastly, the performance history of the advertiser's account can also affect the rates. A better-performing account may lead to lower costs. By understanding these factors, advertisers can better plan their budgets and optimize their online advertising strategies for better ROI.
---
Conclusion
This review unveils a curated list of top-tier online advertising agencies, each characterized by innovation, precision, and bespoke strategies. Amidst the evolving digital landscape, these agencies stand out for their ability to craft tailored solutions that amplify brand visibility, engagement, and ROI.
Their mastery in blending artistry and analytics transforms the complexity of online advertising into a strategic asset for businesses. The distinct yet equally impactful approaches of each agency promise a future where digital advertising is not just about visibility but strategic, measurable, and transformative engagement.
Frequently Asked Questions
What are the legal considerations for online advertising?
Legal considerations include adhering to advertising laws, obtaining necessary permissions for using copyrighted materials, ensuring privacy compliance especially in data collection, and adhering to platform-specific rules and guidelines.
How does online advertising affect consumer behavior?
Online advertising can influence consumer behavior by raising awareness, shaping perceptions, and driving purchase decisions. Effective ads can also foster brand loyalty and encourage social sharing.
What are the benefits and drawbacks of pay-per-click (PPC) advertising?
PPC provides immediate traffic, precise targeting, and budget control. However, costs can escalate quickly, and there's a steep learning curve to optimize campaigns effectively.
How can small businesses effectively leverage online advertising?
Small businesses can leverage online advertising by starting with a clear goal, choosing the right platforms, targeting a specific audience, monitoring and analyzing results, and optimizing campaigns based on data-driven insights.
What online advertising trends are coming to 2024?
The most popular trends include AI and machine learning for personalization, growing emphasis on privacy-compliant advertising, and the rise of immersive advertising experiences like AR and VR.