There are many different uses for online forms: from lead generation and customer surveys to building out online profiles and creating interactive quizzes. However, to get started, you need to find the best online form builder for your needs.
Some online form builders are ideal for setting up basic, one- to two-field forms while others help you create anything from sign-up forms to long-form surveys and quizzes.
But which one is going to be best for your needs? Throughout this article, we're going to compare 13 top online form builders to help you decide which one works for your business.
---
Top 13 Online Form Builders:
---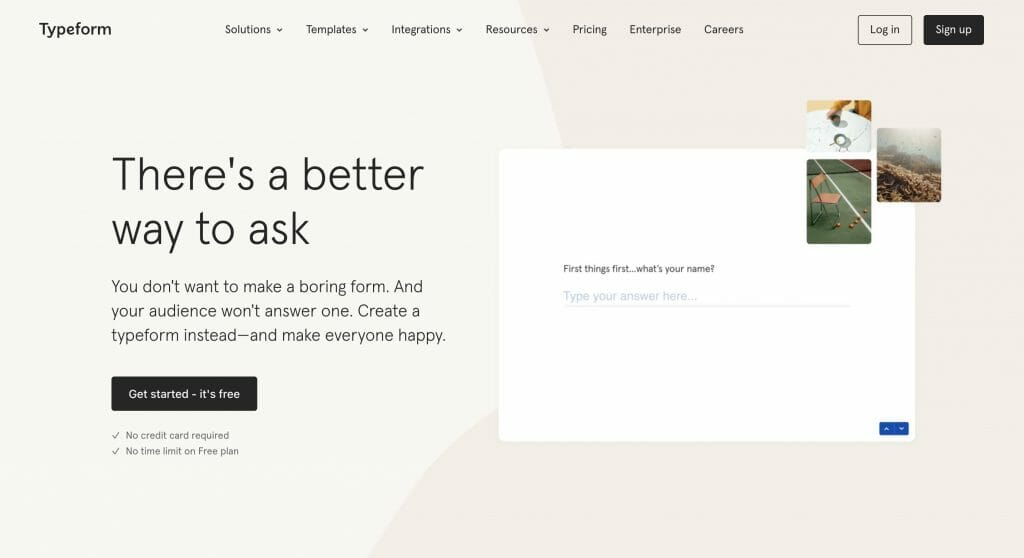 Typeform is one of the more popular form makers because it creates minimalistic and beautiful forms that no other form builder can match. With a number of field types, this drag-and-drop form builder can help users create any type of form. However, Typeform focuses on creating multi-page forms (i.e., one form field to a page), making the platform less ideal for a simple email capture form.
Features:
Several different categories of pre-made form templates, like surveys, quizzes, polls, and useful business forms

Any type of form field you might need—basic questions, payment portal, calendar integration, and more

Integrations with tools like Slack, Zapier, Calendly, Google Analytics, and other popular marketing tools
Pricing: Typeform has a completely free plan with limited features. Paid plans start at $25/month, billed annually.
---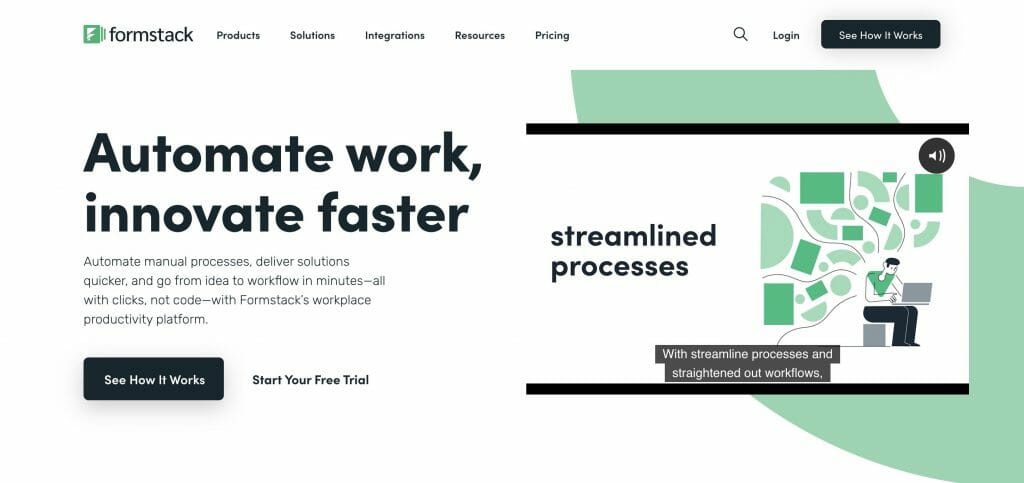 Formstack is a more business-oriented online form builder, allowing teams to build powerful forms for a number of different industries and use cases. With templates for anything from chiropractic intake forms to 30-day employee reviews, you'll be able to find a number of options for your digital forms.
Features:
An all-in-one solution for creating forms and documents, as well as gathering signatures

Integrations with CRMs, payment portals, cloud storage tools, email marketing tools, and more

Smart forms that adapt based on user input, allowing you to gather even more personalized data
Pricing: Forms plans start at $50/month, billed annually, after a 14-day free trial. To get access to the Forms, Documents, and Sign features, the all-in-one option starts at $360/month, billed annually.
---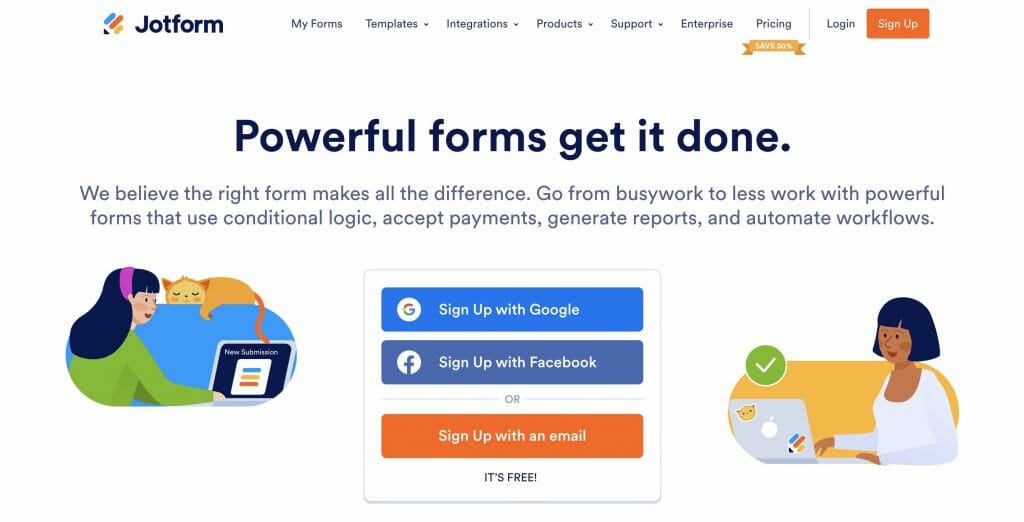 Jotform is one of the older online form creator options in this list, having recently gone through a rebrand in order to maintain relevance and ensure they're offering their customers the best form options they can. Brands can use Jotform for many different types of forms, from contact forms and registration forms to file upload forms and survey forms.
Features:
The ability to accept payments, file submissions, calendar events, and more through your forms

Secure and HIPAA compliant forms that work for many sensitive industries

A no-code app builder to create your own online app and other advanced features
Pricing: Jotform has a completely free plan for up to five forms. Paid plans start at $24/month, billed annually.
---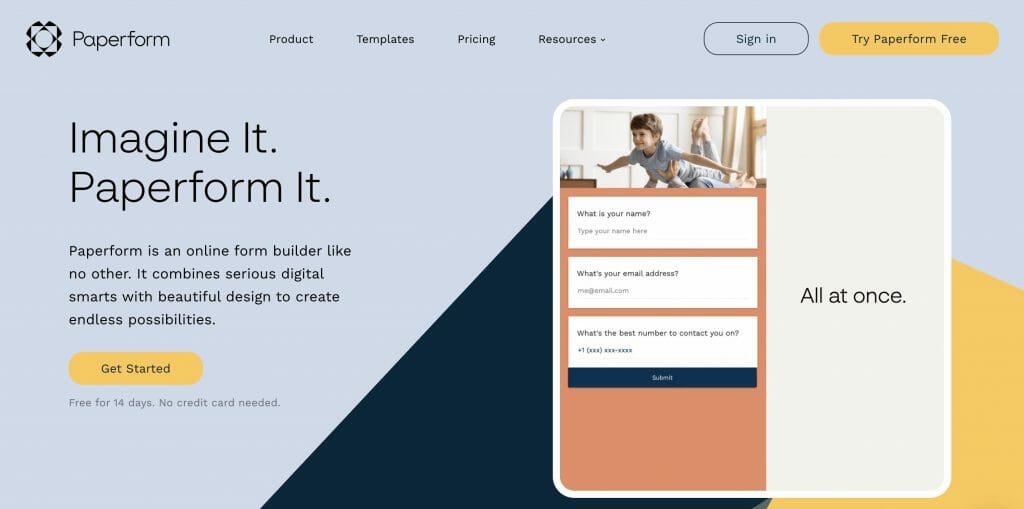 Paperform is another powerful form builder that puts aesthetics first—however, unlike Typeform, you can choose to create a single-page or multi-page form. Start with a template or create a form from scratch.
Features:
Over 2,000 integrations that can make your forms even more powerful

No-code, drag-and-drop builder that allows you to create simple or complex forms in minutes

Customizable form builder tool that lets users design beautiful and branded forms
Pricing: Plans start at $20/month, billed annually.
---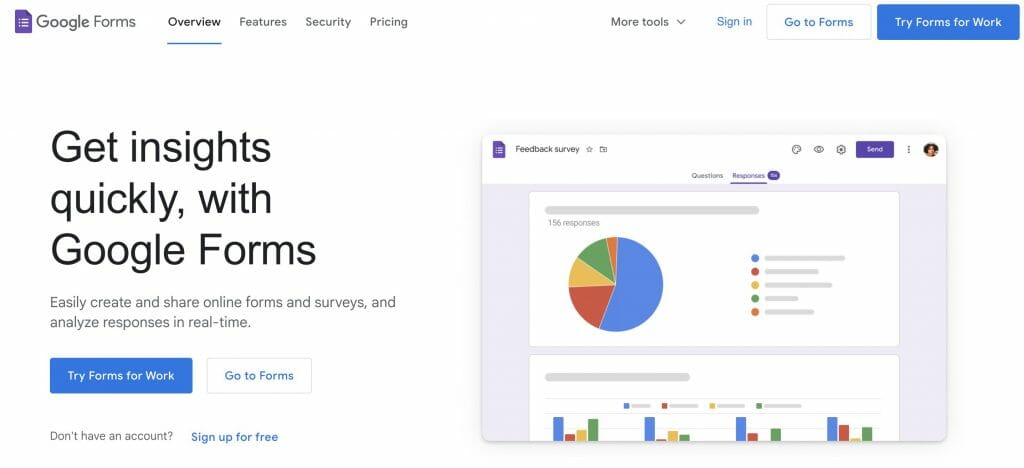 Google Forms is a free option available to any Internet user—but especially useful to brands that already utilize the Google Workspace. With Google Forms, you can easily create simple forms that automatically input form entries into Google Sheets for your perusal.
Features:
Automation dropping all form responses into a brand new Google Sheets so you can read through them, filter them, etc.

The ability to create a single-page form or a multi-page form

Quick analysis of your form submissions that you can easily turn into charts and graphs
Pricing: Google Forms is completely free to use.
---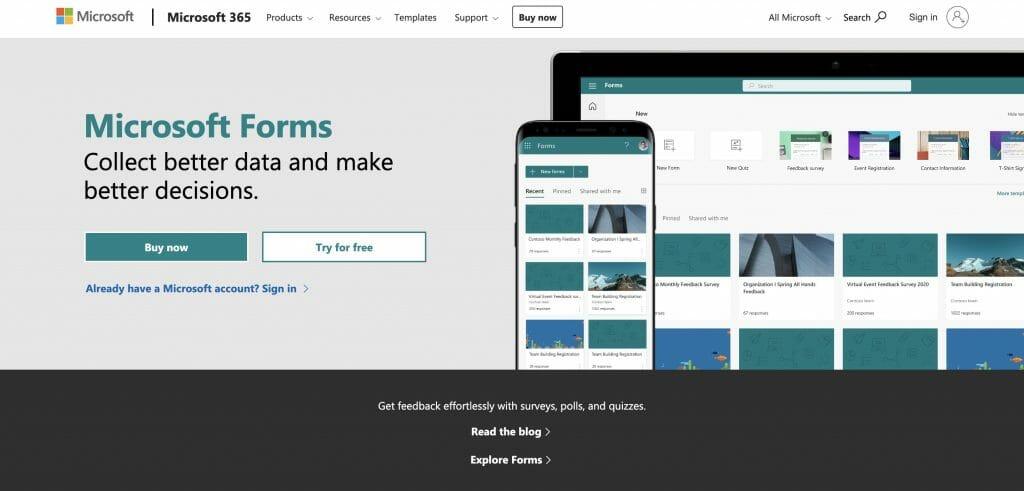 Microsoft Forms is another tool that makes a lot of sense for businesses that already utilize Microsoft Teams and the platform's other business tools. Microsoft Forms is available alongside the purchase of or subscription to all Microsoft products—so if you already utilize Microsoft, you likely already have access to Forms.
Features:
Built-in AI and smart recommendations that help you put together the perfect forms

Create charts and graphs that showcase new form submissions in real-time

A number of integrations that help you expand your online forms and surveys' reach
Pricing: Starting at $69.99/year for personal use or $6/user/month for businesses.
---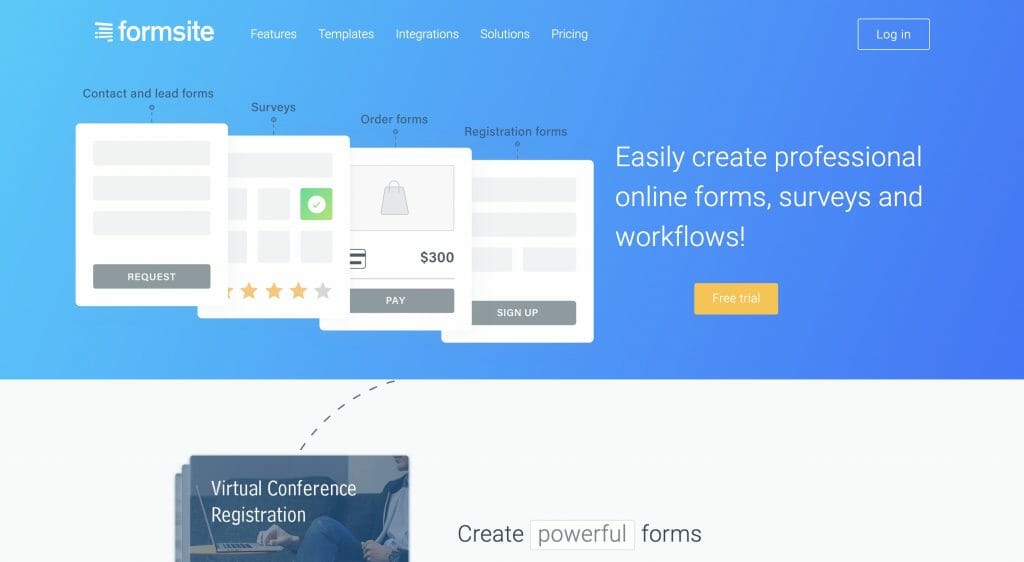 With Formsite, your team can create custom forms that ask all the questions you need and match your branding so it seamlessly fits in with your overall look and feel. Take advantage of payment integrations to take online payments and other powerful tools for building forms that help you run your business.
Features:
Embeddable forms so you can easily collect emails and send out surveys from secure website pages

Workflows that link surveys so certain users are sent to more applicable forms

Real-time email notifications so you're alerted each time your form has been filled out
Pricing: Plans start at $21/month, billed annually.
---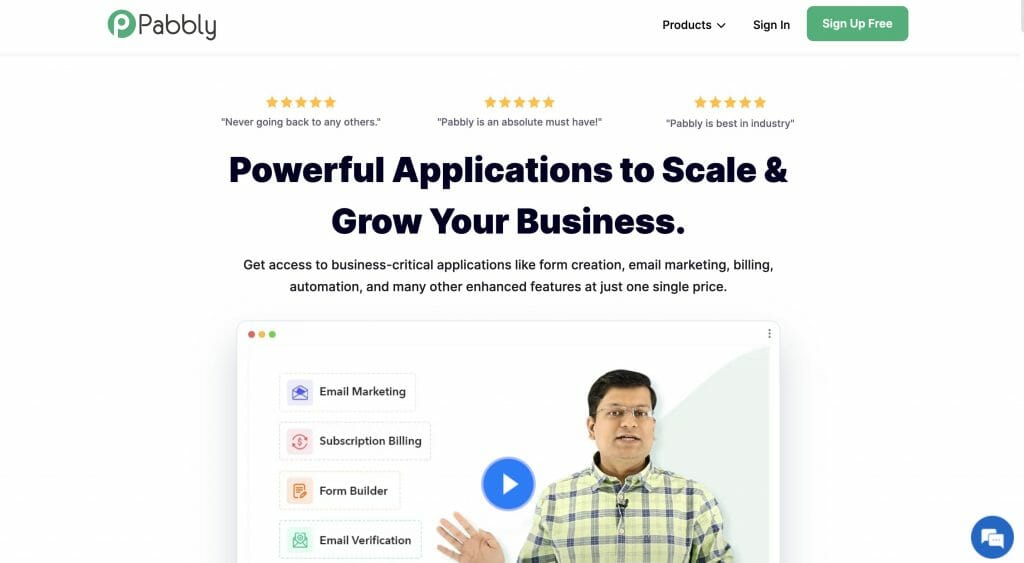 Pabbly is an all-in-one business solution, with tools for email marketing, subscription billing, automations, and form building. However, users can choose to sign up for just one of the tools if you're just looking for a form builder.
Features:
Email autoresponders that allow you to send out automated emails once someone fills out your form

Partial form submission so users can come back to finish filling out your form or survey

The ability to create a thank you page that can lead users to another webpage
Pricing: The form creation tool by itself is $10/month per form. To get access to all tools, plans start at $34/month, billed annually (or get an even bigger discount at $25/month when you pre-pay for 36 months).
---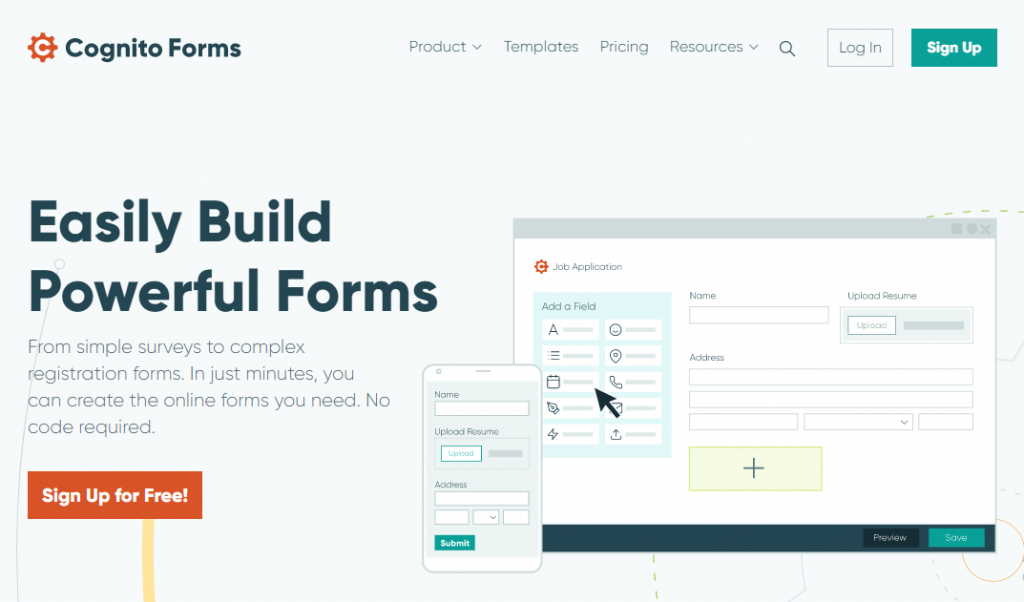 Cognito Forms is another great option for building a variety of forms for your audience. As one of the more popular tools on our list, it comes with a number of popular form builder features that can help your team create unlimited forms for any use case.
Features:
The ability to gather electronic signatures for contracts, proposals, and other forms

Integrations with useful tools like Google Analytics, Zapier, Make, and more

Conditional logic that helps you create a single multi-use form based on your users' answers
Pricing: Cognito Forms has a completely free plan with unlimited forms. Paid plans with additional features (and additional users for bigger teams) start at $15/month.
---

Ninja Forms is a WordPress plugin that allows companies to create a number of form types for their website: contact forms, lead generation forms, online payment forms, and more. These are automatically responsive forms, which can be a big help when embedding forms on your website.
Features:
No-code, drag-and-drop online form builder that is built into your website's backend

Let users upload files or make payments and allow your team to export submissions to a number of sites

Add-ons that help you create advanced forms with specialty features
Pricing: The basic membership starts at $49/year for a single site.
---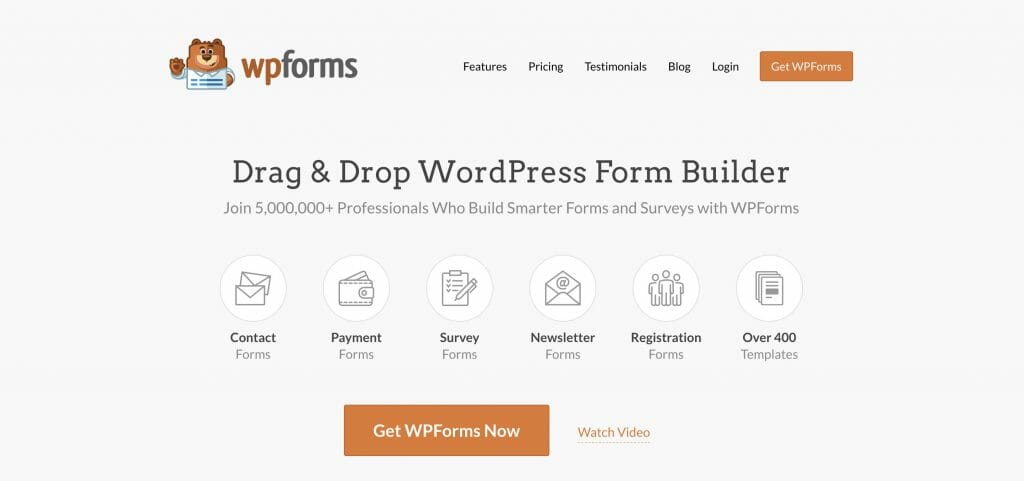 WPForms is another built-in form builder to your WordPress website, allowing you to create a basic form on any webpage you want to. This makes it really easy to build online web forms that you can immediately deploy on your contact page, affiliate application page, or anything else.
Features:
Responsive, mobile-friendly forms that help you create great-looking forms no matter where your user is accessing them

Pre-built form templates that allow you to create digital business forms within minutes

Captcha and spam protection to ensure you only receive legitimate form submissions
Pricing: WPForms plugin plans start at $39.50/year.
---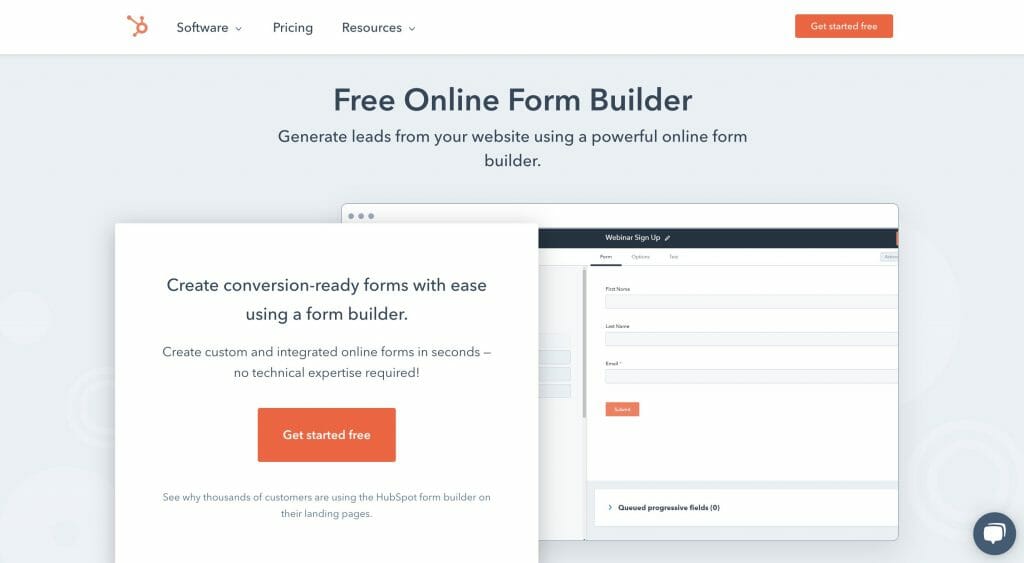 You may have heard of HubSpot before as a big name in marketing and sales technology. However, they also have a completely free online form builder that marketers and businesses can take advantage of to create embeddable forms for a number of different use cases, though they specialize in lead generation forms.
Features:
Smart forms that adapt the form fields based on user profiles and responses

Easily create automations that send your form submissions directly to email nurturing campaigns

The ability to add up to 1,000 form fields to a single form, allowing you to gather as much information as you need
Pricing: HubSpot's form builder is completely free with their marketing hub. The marketing hub also has a completely free plan, though businesses can upgrade based on their needs.
---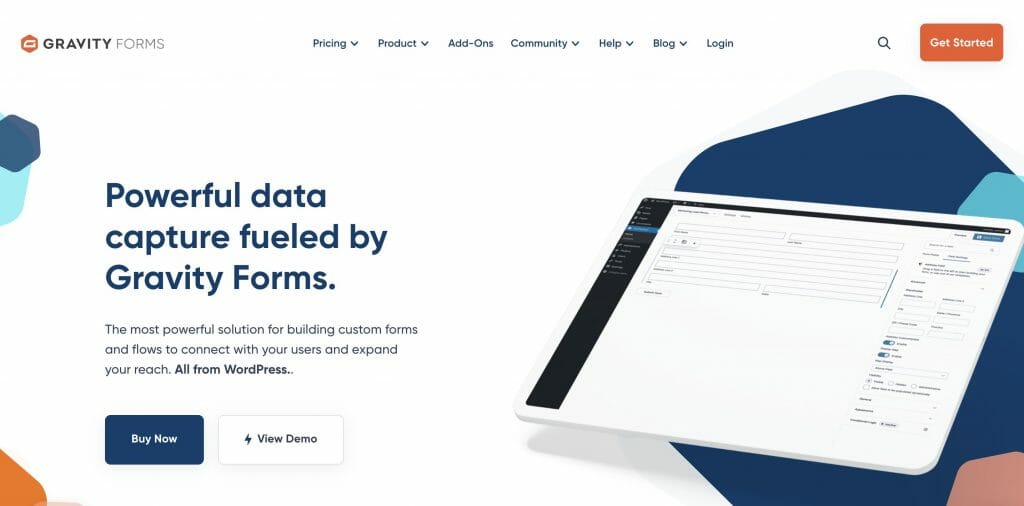 Gravity Forms is another powerful WordPress plugin that allows you to create all sorts of forms that fit seamlessly on your web pages. Add a basic contact form, create lead generation forms that let you build your email list, and even process payments through Gravity Forms' plugin.
Features:
Use a CAPTCHA to fend off spam entries and only add legitimate leads to your CRM

Allow users to auto-fill your forms via dynamic fields

Capture partially filled-in forms from users who abandoned your form halfway through
Pricing: Plans start at $59/year.
---
Conclusion
Once you find the ideal online form builder software for your brand, it's time to get to work creating any kind of form, survey, quiz, etc., that can help you reach your customer, make sales, and provide the kind of service your audience wants.
Learn more about creating forms that users actually want to complete so that you're able to increase the number of form entries your company gets from each different form you create.
Frequently Asked Questions
What is the best online form builder?
There are so many awesome online form builders, but some of the best include Typeform, Paperform, Gravity Forms, and Jotform.
How can I create an online form?
You can easily create an online form by choosing one of our recommended form builders, signing up for an account, and taking advantage of the drag-and-drop builder to create any type of form you might need.
Which online form builders have free plans?
Online form builders like Google Forms are completely free. Many others have free options, though like Typeform and Jotform.
What is the easiest way to create a form?
The easiest way to create a form is to utilize an online form builder and their pre-made templates. Many form builders have thousands of templates to choose from, for nearly any use case, meaning all you'll have to do is make minor changes and then share the form with your audience.
What are some of the most popular uses for forms?
There are several different uses for online forms, including email signup forms for lead generation, surveys to gather customer insights and opinions, employee application forms, payment acceptance forms, and so much more.