Advertising Disclosure
Advertising disclosure:
Our partners compensate us. This may influence which products or services we review (also where and how those products appear on the site), this in no way affects our recommendations or the advice we offer. Our reviews are based on years of experience and countless hours of research. Our partners cannot pay us to guarantee favorable reviews of their products or services.
As businesses seek to excel in the digital marketing landscape, agencies play a pivotal role in achieving this goal. These agencies formulate, execute, and optimize marketing strategies, leveraging data to enhance campaigns.
In the innovation hub of San Francisco, where businesses thrive, selecting the right marketing agency is crucial. Therefore, join us as we discover the top 10 marketing agencies in San Francisco renowned for their outstanding performance and services.
---
10 San Francisco Online Marketing Agency Choices
Top
online marketing agencies san francisco
2024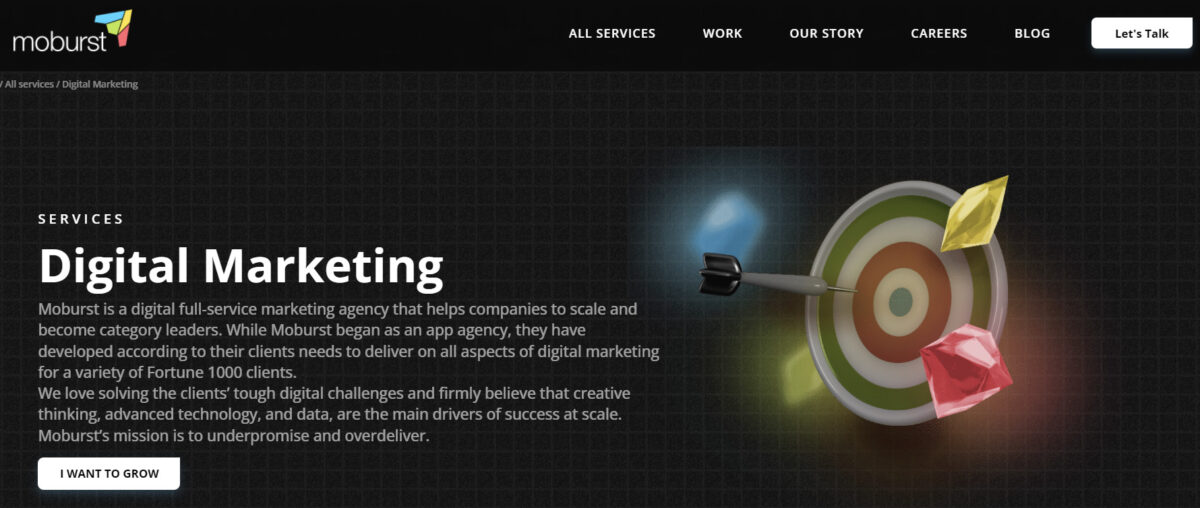 Moburst, a San Francisco-based digital marketing agency, is a beacon of innovation in the digital marketing landscape. Specializing in mobile-first strategies, Moburst helps companies scale and become category leaders. Their core services are results-focused, with no room for fluff or excuses. Every decision they make is grounded in real-time data, offering measurable and transparent outcomes. With a portfolio boasting over 600 products, Moburst's experts understand what it takes to succeed in the competitive digital realm.
What sets Moburst apart is its expertise in app marketing. They have a proven track record of optimizing app store presence, resulting in impressive visibility in category rankings and search results. Case studies show gains of up to 1400%, emphasizing their commitment to results. Moburst excels in localization and App Store Optimization (ASO), enabling global brands like Uber to index higher for competitive keywords across multiple languages. The agency's commitment to user acquisition, conversion optimization, and ROI-driven approaches consistently delivers outstanding outcomes. This excellence is further affirmed by their numerous awards and recognition in the industry, making Moburst a leading force in the digital marketing arena.
Notable Clients:
Pfizer
Samsung
Deezer
Dunkin' Donuts
eBay
---

Thrive is a prominent online marketing agency standing as a testament to the power of results-driven strategies. Since 2005, they have provided a comprehensive service suite that empowers businesses to attract, impress, and convert online leads from their offices in San Francisco.  At the core of Thrive's offerings are services that deliver tangible outcomes. Their expertise spans search engine optimization (SEO), pay-per-click (PPC) advertising, social media marketing, website design and development, video production, content writing, reputation management, conversion optimization, and Amazon marketing. This extensive range ensures clients receive tailored solutions that maximize their online presence and drive growth.
What sets Thrive apart is a commitment to delivering real results. Their track record includes remarkable achievements like a +664% increase in organic traffic and a +360% surge in online leads for clients. Thrive's ethical approach emphasizes integrity and client-centricity, providing each client with tailored solutions to meet unique business needs. They know digital marketing inside out, backed by a team of experts dedicated to client success. Thrive is not just an agency; it's a trusted partner in helping businesses thrive in the digital landscape.
Notable Clients:
Nationwide Construction
Accurate Leak and Line
Unique Safaris
Grow Strong Industries
---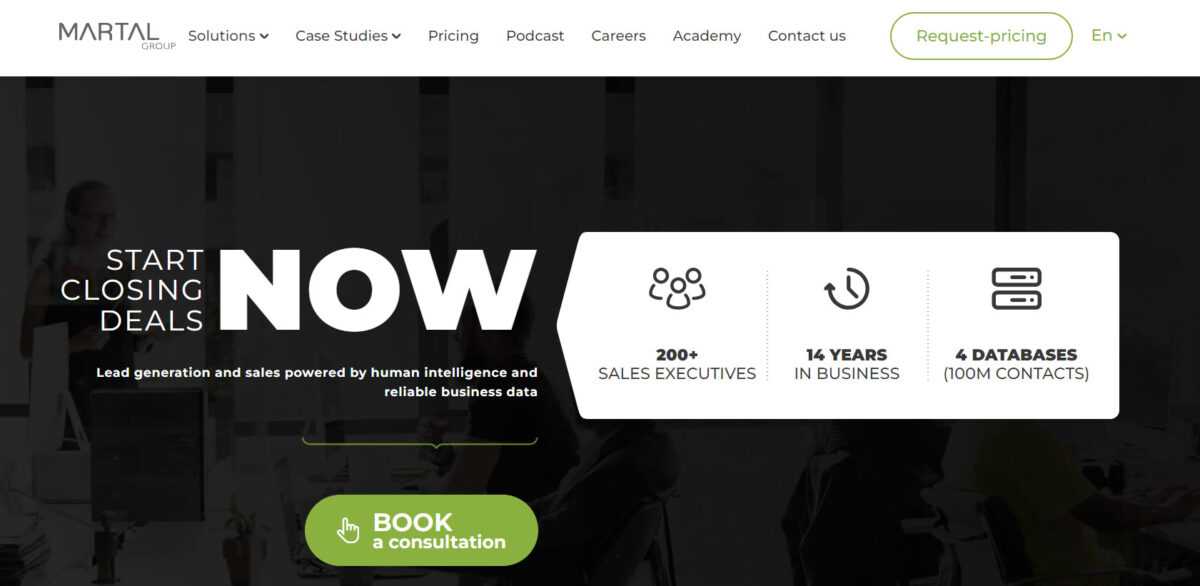 Martal Group has redefined B2B lead generation and sales outsourcing with its unique blend of human intelligence and reliable business data. With a team of over 2,000 seasoned sales executives stationed in San Francisco, Martal is a dominant force in the industry, serving clients across diverse sectors, including technology, healthcare, software development, logistics, and security. What sets Martal apart is its global presence, spanning North America, LATAM, and the EU, enabling them to understand the intricacies of different markets and industries.
Martal's strength lies in its human-centric approach. Their Sales Development Representatives (SDRs) and Sales Executives don't just source leads; they excel at registering new clients, booking appointments, and securing business logos. They're a strategic partner that leverages human intelligence to propel businesses to new heights. They develop tailored go-to-market strategies, craft compelling campaign collateral, and build dynamic sales funnels, all while focusing on achieving unique goals. With a track record of delivering thousands of qualified leads, Martal Group empowers businesses to scale their operations and accelerate their sales pipelines.
Notable Clients:
Bosch
ZOHO
HALO
SoFi
Eurofins
---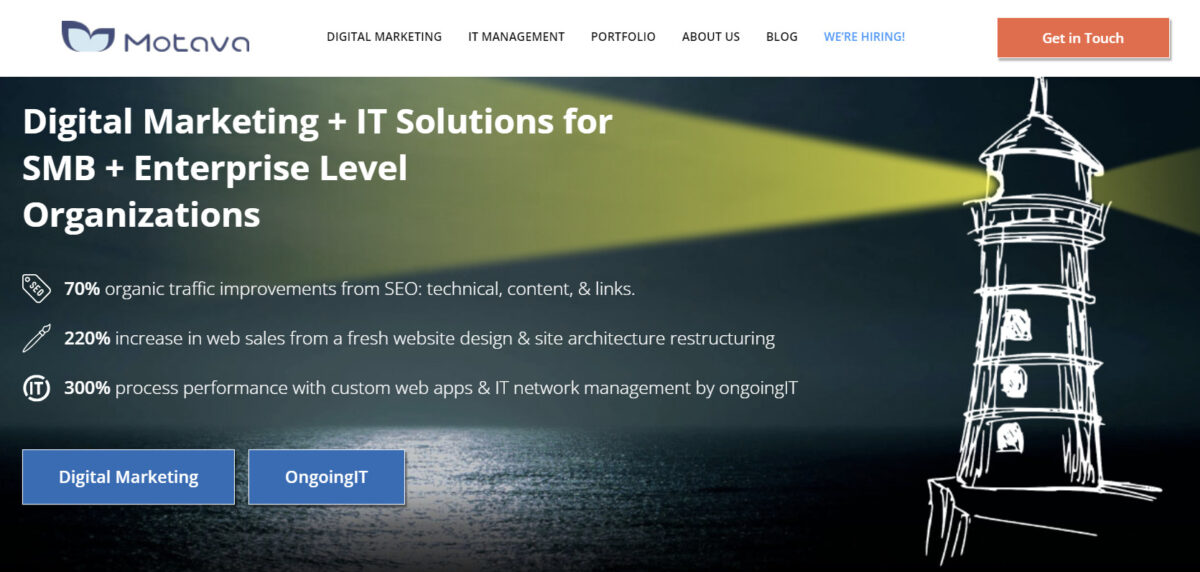 San Francisco's Motava stands out as a game-changer in the realm of digital marketing and IT solutions. This agency offers a comprehensive suite of services tailored to both SMBs and enterprise-level organizations. With a track record of delivering exceptional results, Motava excels in SEO, achieving an impressive 70% improvement in organic traffic through technical, content, and link optimizations. Their website design and development prowess is equally remarkable, evidenced by a remarkable 220% increase in web sales attributed to fresh website designs and site architecture restructuring.
What sets Motava apart is their holistic approach, combining digital marketing and IT services to empower businesses. They offer 24/7 IT support, networking solutions, backup and recovery, and cybersecurity services, ensuring clients' businesses are safeguarded. Motava's dedication to client success and personalized attention is evident in their long-lasting client relationships. Whether a startup or an established enterprise, Motava's expertise in online marketing is poised to elevate digital presences and drive growth.
Notable Clients:
San Francisco Circuits
Arasan Chip Systems
De Anza Properties
European Rolling Shutters
---

Jives Media has consistently proven its mettle as a trailblazer in the San Francisco digital marketing arena. Awarded "Digital Marketing Agency of the Year" for five consecutive years from 2018 to 2022, Jives Media has set an unparalleled standard for excellence. The agency's core services encompass a multifaceted approach to bolstering businesses. They excel in web design, crafting sleek and optimized websites that drive business growth. With Google Ads expertise, Jives Media precisely targets potential clients, enhancing leads and site visits. Their social media prowess builds brand awareness and cultivates a strong online presence, while video marketing production captures audience attention effectively.
What truly distinguishes Jives Media is its commitment to results. They master the art of Search Engine Optimization (SEO) to drive organic website traffic and elevate brand visibility. Moreover, their personalized 1V1 marketing consulting empowers businesses with tailored strategies. Jives Media's track record of global clientele, completed projects, and revenue generation for clients underscores its status as a digital marketing frontrunner.
Notable Clients:
Oracle
Poshmark
AMHI
Gulf Living Group
---

Metric Theory, San Francisco's performance-driven digital marketing agency, stands out as a frontrunner in the industry. With a rich portfolio of services, Metric Theory consistently delivers results across various digital landscapes. They excel in search engine marketing, harnessing the power of paid search, paid social, and shopping campaigns to optimize client ROI. Their expertise extends to feed management, Amazon advertising, programmatic solutions, ad creative, video marketing, affiliate marketing, and mobile strategies.
Metric Theory's client-focused approach caters to diverse sectors, including B2B, retail brands, eCommerce, user acquisition, and startups. Their impressive track record showcases 56% annualized growth, serving over 400 clients and driving more than 7 million client conversions. Client success stories highlight their ability to achieve exceptional results, with first-year clients experiencing an average growth of 68%. Metric Theory's commitment to exceeding client goals and their dedication to the bigger picture makes them a standout choice in the digital marketing landscape.
Notable Clients:
Go Fund Me
Lyft
Winc
Optimizely
---

In the competitive world of online marketing, Secret Sushi emerges as a standout agency in San Francisco. This agency is committed to empowering businesses to achieve sustainable growth, navigate the complexities of marketing, and seize control of their destinies. They offer a holistic, adaptive approach, sparing clients the challenges of hiring multiple agencies or freelancers. Secret Sushi combines the art and science of digital marketing to capitalize on opportunities and tackle challenges effectively.
Secret Sushi's ability to foster connected relationships with customers in the digital realm sets it apart. They understand how digital devices and channels seamlessly connect customers to information, people, and brands they care about. Moreover, their passionate team of marketers builds relationships based on trust and collaboration, providing clients with a true partnership experience. From impressive lead growth to increased conversions and rapid email list expansion, Secret Sushi delivers results. Their secret sauce lies in the heart and science of marketing, making them a top choice for businesses seeking marketing excellence.
Notable Clients:
Celigo
Lucidum
Cordoniq
AvidThink
---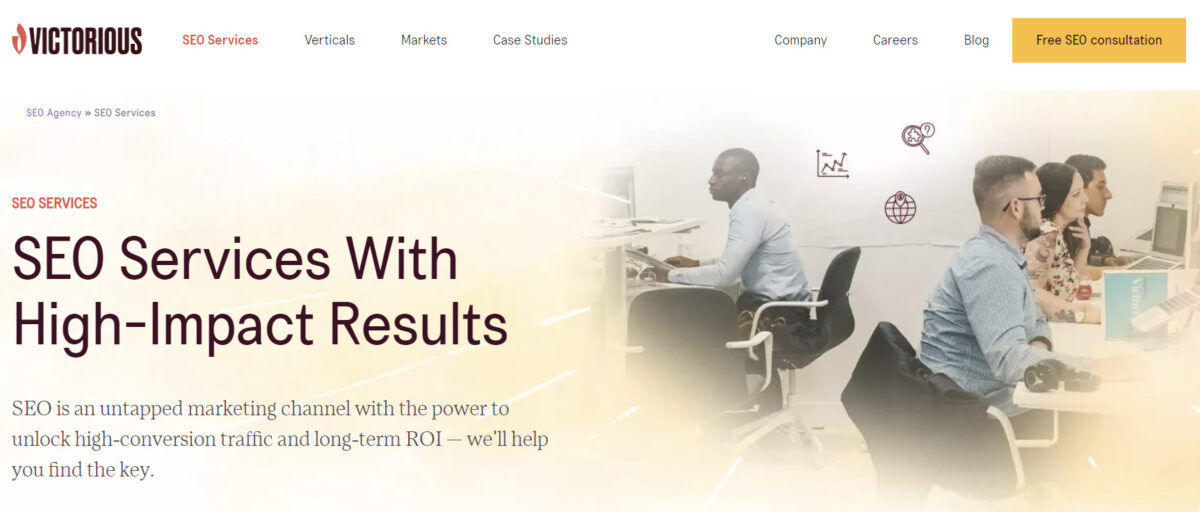 In the bustling landscape of San Francisco's online marketing agencies, Victorious SEO stands out as a prominent agency. With a singular focus on search engine optimization, they have honed their expertise to perfection. What sets Victorious apart is their unwavering commitment to delivering tangible results and outstanding ROI for their clients.
But Victorious is not your run-of-the-mill SEO agency; they live and breathe their core values, emphasizing a people-first approach. This ethos translates into radical integrity, honest feedback, and a genuine passion for their client's success. The agency's tech-enabled process allows their creative strategists to blend data-driven insights with empathetic human understanding, tailoring strategies to each unique business. Unlike other SEO agencies, Victorious doesn't solely measure success by keyword rankings; they focus on customer growth, ensuring their efforts translate into a meaningful impact on the bottom line. Moreover, their total transparency and dedication to educating clients set them apart as a trusted partner in the complex world of SEO.
Notable Clients:
University of Miami
enTouch Wireless
A&G Electric
Tenstreet
---

Espresso B2B's unique strength lies in their ability to craft and execute B2B marketing strategies that stand head and shoulders above the rest. At the core of their services is a commitment to strategy; they understand that without a clear roadmap, marketing efforts are aimless. With 70% of marketers lacking a consistent strategy, Espresso B2B's dedication to creating well-defined strategies sets them apart. Their proficiency extends to B2B lead generation, where they excel in developing strategies that attract and nurture leads through the sales funnel, recognizing the nuances of B2B lead acquisition.
But what truly distinguishes Espresso B2B is their mastery of B2B content marketing. In a landscape where B2B companies vie for dominance through online content, Espresso's expertise in content strategy frameworks ensures clients' content positions them for success. Additionally, their prowess in B2B social media and search marketing further solidifies their status as industry leaders. By transforming clients from mere organizations that engage in social media to full-fledged "social media organizations," Espresso B2B elevates their reach and impact. Their well-designed search engine strategies encompass SERP  and pay-per-click, making sure clients are found for what they excel at.
Notable Clients:
Axure
Cigo Global
Demand Solutions
DirecTech Labs
---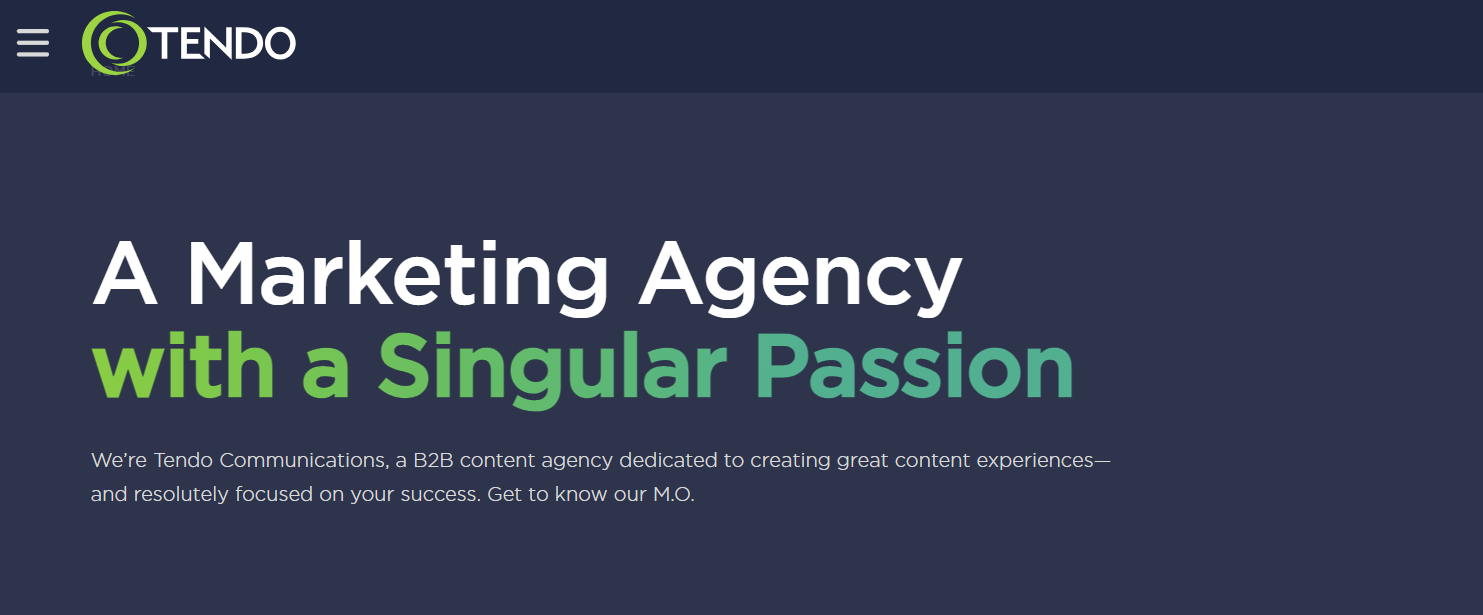 In the bustling landscape of San Francisco's online marketing agencies, Tendo shines as an agency that understands the profound significance of exceptional content. In a digital era where catching the eye of your audience is no easy feat, Tendo stands out by helping world-class B2Bs achieve their most challenging business objectives through content that truly resonates. At the heart of their services is a commitment to content strategy and planning, an essential yet often overlooked aspect.
With the era of easy eyeballs long gone, Tendo recognizes that a well-crafted strategy is the compass that guides content toward its intended audience, setting them apart from agencies that lack this essential foundation. Tendo's excellence extends to content creation, marketing, user experience, operations, and performance services. They create and optimize digital content experiences that engage and drive results. But Tendo is more than a content-centric agency; they're the go-to partner for transforming content into a driving force behind B2B marketing success.
Notable Clients:
Salesforce
Adobe
Cisco
Blackboard
Autodesk
---
How to Pick the Right San Francisco Online Marketing Agency?
Selecting the right online marketing agency can be the pivotal decision that elevates your brand to new heights. Here are some detailed guidelines to ensure you make an informed decision when choosing an agency in the bustling digital hub of San Francisco:
Understand Your Business Needs and Goals
Before approaching an agency, pinpoint your business's specific needs. Do you need search engine optimization, pay-per-click campaigns, content marketing, social media strategies, or perhaps even reputation management, a vastly overlooked aspect of online marketing? Clearly outline your long-term and short-term objectives. A quality agency will tailor their services to meet these targets and often surpass them.
Evaluate Their Local Market Expertise
Given the unique nature of San Francisco's market, it's crucial to opt for an agency with deep local insights. Ask potential agencies about their previous campaigns specifically targeted toward the San Francisco audience. Their understanding of local nuances can make or break your campaign.
Scrutinize Past Performance and Client Testimonials
A good agency should be more than willing to share their past successes and, importantly, their failures too. Analyzing both will give you a holistic view of their capabilities. Client testimonials provide a window into the agency's work ethic, responsiveness, and ability to deliver results. Don't just rely on the testimonials given; reach out to past clients if possible.
Consider Their Communication and Transparency
Open and frequent communication is paramount. Ensure that the agency you choose values transparency and keeps you informed about the strategies implemented, performance metrics, and any challenges they encounter. Check if they provide regular reports, have clear channels for feedback, and are receptive to your queries and concerns.
Assess Their Adaptability to Change
The digital marketing landscape is ever-evolving. The right agency should not only be up-to-date with the latest trends but also be agile enough to pivot their strategies when required. Question them about times when they had to adapt to unforeseen market changes or challenges and how they navigated those situations. Their ability to innovate and adapt is a strong indicator of their reliability in a dynamic environment.
Choosing the right online marketing agency in San Francisco is a significant commitment, both in terms of time and resources. By keeping these pointers in mind, you'll be better equipped to select an agency that not only understands your vision but also possesses the expertise and dedication to make it a reality.
---
Can a Marketing Agency Help with Crisis Management and Reputation Repair?
Unexpected crises or public relations challenges can arise, jeopardizing a brand's image and credibility, considering that a company's reputation accounts for 63% of its market value (GitNux). This is where marketing agencies come into play, offering expertise in crisis management and reputation repair.
The Importance of Crisis Management
Crisis management is the process of identifying, addressing, and mitigating potential reputational risks. According to HubSpot, 95% of surveyed businesses said their crisis management needs improving. Marketing agencies employ skilled professionals who are well-versed in handling crises. They develop strategies to navigate challenging scenarios, ensuring a company's reputation is protected.
Immediate Response and Damage Control
When a crisis occurs, swift and strategic action is crucial. Marketing agencies help businesses craft effective communication plans, including crisis statements, press releases, and social media management. These actions are aimed at containing the situation and mitigating potential damage.
Reputation Repair and Rebuilding
Recovering from a crisis requires a long-term commitment to reputation repair. Marketing agencies can assist in rebuilding trust with the public through consistent messaging, brand rehabilitation, and engagement with stakeholders. They also monitor public sentiment to gauge the effectiveness of these efforts.
Leveraging Digital Channels
In today's digital landscape, crises can escalate quickly online. Marketing agencies have the tools and expertise to manage online narratives and address negative publicity on social media and review platforms.
Marketing agencies play a pivotal role in crisis management and reputation repair for businesses facing public relations challenges. Their expertise, strategic approach, and ability to leverage digital channels make them invaluable partners in safeguarding a company's image and ensuring its long-term success.
---
Conclusion
San Francisco's marketing agencies, including those mentioned in the review, play a pivotal role in helping businesses excel in the online landscape. They are committed to delivering results, whether it's through SEO, lead generation, content marketing, or performance-driven strategies. These agencies understand the nuances of B2B and B2C marketing, providing tailored solutions that meet the distinct challenges and opportunities of each.
Furthermore, these agencies are well-equipped to handle crisis management and reputation repair, offering expertise in navigating challenging scenarios and safeguarding a company's image. They are also deeply involved in supporting sustainability initiatives and staying updated on the latest industry trends and technologies to benefit their clients.
In a digital era where online presence is paramount, San Francisco's top marketing agencies serve as invaluable partners for businesses seeking marketing excellence and tangible results.
Frequently Asked Questions
How do marketing agencies stay updated on the latest industry trends and technologies to benefit their clients?
Marketing agencies stay current by continuous research, attending industry events, webinars, and subscribing to industry publications. They prioritize learning to benefit clients.
Are marketing agencies involved in sustainability and eco-friendly marketing initiatives to support environmentally conscious brands?
Many marketing agencies actively support environmentally conscious brands by developing eco-friendly campaigns, promoting sustainability, and aligning with green values in marketing strategies.
How do marketing agencies address the unique challenges and opportunities of B2B (business-to-business) marketing compared to B2C (business-to-consumer) marketing?
Marketing agencies recognize that B2B marketing involves longer sales cycles, multiple decision-makers, and a focus on ROI, while B2C centers on consumer emotions, impulse buying, and brand loyalty. They tailor strategies accordingly to meet these distinct challenges and opportunities.