The internet changed things, there's no doubt. Every day, more and more people turn online to find ways to supplement the incomes from their day jobs or to replace that pay altogether. Many of them are content creators who have turned to Patreon as a platform to sell access to themselves and their content, giving their most dedicated supporters the opportunity to support them financially. And just a quick look at the Patreon statistics show that it's a huge player in the creator economy.
---
Patreon Statistics: Users, Revenue, Top Categories, and More (July 2023):
---
What Is Patreon?
Patreon is a membership site that gives creators the financial tools they need to accept financial support from their supporters. This type of creator-fan relationship is nothing new. In fact, creators throughout history — writers, painters, musicians, and others — have turned to donors to finance their work through patronages. What the internet and Patreon have done is allow that concept to be more widely available and give creators access to a range of supporters who are willing to provide financial support. That supporter is typically given in exchange for certain perks like a private community, access to exclusive content, or others.
---
Patreon Statistics: Users, Revenue, and More (2023)
Patreon first came onto the scene in 2013 with the mission to help creators monetize their content. Within the first 18 months of going live, Patreon hit 125,000 patrons (supporters) representing total monthly payments at the $1 million mark. These days, Patreon has more than 8 million active patrons supporting a network of 222,000+ creators. Here are some more Patreon statistics you should know to help you understand the importance of the platform.
---
Patreon Facts
Website:

Patreon.com

Year Founded:

2013

Founders:

Jack Conte (CEO) and Sam Yan

Headquarters:

San Francisco, CA
---
Basic Patreon Stats
Systems and methods to generate creator page recommendations for content creators granted June 13, 2023
Systems and methods to recommend price of benefit items offered through a membership platform granted May 23, 2023, and July 12, 2022
Systems and methods to facilitate resolution of work items in a fraud resolution workflow granted March 14, 2023
Generation of subscription recommendations for content creators granted January 24, 2023, March 2, 2021, and March 31, 2020
Generation of engagement and support recommendations for content creators granted January 17, 2023, March 2, 2021, and April 14, 2020
Systems and methods to facilitate quality control of benefit items created for subscribers of a membership platform granted June 21, 2022
Systems and methods to determine tax classification of benefits offered to subscribers of a membership platform granted March 8, 2022
Augmented reality identification of subscribers granted July 16, 2019, December 3, 2019, and December 8, 2020
Patreon has more than 8 million patrons, 6 million of which have joined since 2017.

More than 210,000 of the creators on Patreon are supported by at least one patron.

Patreon has raised $413.3 million in funding over eight rounds since 2013 (Crunchbase).
Nearly 60% of Patreon's total funding has come from Series E and Series F funding rounds within the last two years (Crunchbase).
Creators on Patreon make an estimated $2 billion annually (Backlinko).

Patreon takes between 5% and 12% of creator earnings as well as a payment processing fee (an average of 8.5%).
---
Patreon Creator Statistics
Unless otherwise noted, statistics have been sourced or calculated based on data from Graphtreon.
Patreon has 222,591 creators. This is an increase of 14% from 2021.

227,981 creators have at least one patron.

In the last three years, Patreon's number of creators has increased by 50,940.

More than half (50.97%) of all creators on Patreon produce content within one of four categories: video, "other,"

podcasts

, and music. There are 113,455 Patreon pages dedicated to these topics (not included pages labeled as "Adult").

Video content

is the most popular category, making up 23.6% of all Patreon pages (53,963 creators).

Mastodon is the least popular non-Adult category with only 171 creators.

Just 697 creators on Patreon get support from more than 2,000 patrons (0.33% of all creators on the platform).

The top creator on Patreon is

Matt and Shane's Secret Podcast

, a podcast series devoted

to making people laugh.

The podcast has

68,694

supporters with estimated earnings of

$191K - $479K

per month.

Four of the top 10 creators on Patreon (ranked by the number of patrons) produce podcasts.

Patreon creators collectively bring in an estimated $25.70 million each month.
---
Patreon Supporter Statistics
According to Patreon, the platform hosts more than 6 million monthly active patrons who support creators financially.

The 6 million patrons represent 14.61 million individual pledges of support.

Individual pledges of support have increased by 62.7% since June 2020.
---
Patreon's Top Creators
Who are Patreon's top creators? Let's take a closer look at the creators who are dominating Patreon, winning hearts and making bank!

Patrons as of July 2023: 68,694
Estimated Monthly Earnings: $191K–$479K
Category: Podcast
Matt McCusker and Shane Gillis, the comedic forces behind Matt and Shane's Secret Podcast, have been delivering their unique brand of humor since they launched their Patreon page on August 9, 2017. Over the last seven years, the duo has put out an impressive 100 episodes, offering a consistent schedule of humorous content for their growing audience.
Their podcast provides a deep dive into the individual comedic styles of McCusker and Gillis, creating a rich blend of humor that has resonated well with their listeners. The success of Matt and Shane's Secret Podcast is evident in the strong patronage they've managed to accumulate over the years, reflecting their solid listener base and the popularity of their content.
---

Patrons as of July 2023: 43,262
Monthly Earnings: $182,597
Category: Podcast
Chapo Trap House is a political podcast based on US politics that started in March 2016. It's hosted by Will Menaker, Matt Christman, and Felix Biederman with Amber A'Lee Frost coming on as a recurring co-host. The podcast has been on Patreon since May 2016.
---
Patrons as of July 2023: 43,033
Estimated Monthly Earnings: $120K - $300K
Category: Podcast
True Crime Obsessed is a true-crime podcast hosted by Gillian Pensavalle and Patrick Hinds. The podcast has been on Patreon since January 2018. Their Patreon feed has become a place for supporters to get access to deep dives into longer true crime docu-series like Serial, The Staircase, Making a Murderer, and The Jinx that they don't have time to get into in the regular feed. The Patreon feed is ad-free at even the lowest tier, but you can get additional perks with the higher plans (like ad-free versions of the regular episodes and access to live show meet-and-greets).
---

Patrons as of July 2023: 40,878
Monthly Earnings: $44,888
Category: Videos
Ilja Jusupov, known in the online world as x4fab, is a developer renowned for his years of commitment to creating custom shader patches for the popular racing simulation game, Assetto Corsa. His work significantly enhances the game's graphics and overall immersive experience, cementing Assetto Corsa's standing in the racing game genre.
Despite operating in a relatively niche domain, Jusupov's dedication to quality and his consistent release of improvements have earned him a robust patron base on Patreon. As of July 2023, his Patreon page is the 4th highest ranked overall and holds the 1st rank in the Video category.
---

Patrons as of July 2023: 37,944
Monthly Earnings: $105K–$264K
Category: Podcasts
Dungeons and Daddies, not to be confused with a BDSM podcast, is a comedic adventure set in the realm of Dungeons & Dragons. The show revolves around four dads from our world who are unexpectedly thrown into a high fantasy and magic setting. Their singular goal? To rescue their sons.
The podcast was first launched on May 6, 2019, and it quickly garnered attention for its unique premise, hilarious content, and engaging storytelling. Its popularity earned it the Patreon's title of 'Hot Creator' in December 2019, just seven months after its initial release.
The creators of Dungeons and Daddies have fostered a close-knit community on Patreon, where their ever-growing number of patrons have an opportunity to support the show and gain access to bonus content. This has helped propel the podcast to the 5th overall spot on Patreon and the 4th spot in the podcast category as of July 2023.
---

Patrons as of July 2023: 33,656
Monthly Earnings: $58K–$266K
Category: Games
Worlds Beyond Number, an independent podcast that delights in the shared creativity of playing games and making stories with friends, is a relative newcomer to Patreon. Despite its recent launch on February 1, 2023, the podcast quickly resonated with a large audience, which propelled it to the top of the Games category on Patreon and earned it the title of 'Hot Creator' in March 2023, just one month after its debut.
The podcast offers a vast array of experiences, from immersive, years-long cinematic epics to wild, chaotic one-shots, always emphasizing the limitless potential for shared storytelling and game playing. The strong patron support has driven the podcast to the 6th overall spot on Patreon, an impressive achievement given its recent launch.
---

Patrons as of July 2023: 33,525
Estimated Monthly Earnings: $31,662
Category: Video
DankPods is an Australian YouTuber who does various things to his iPods, showing how they could work if they were awesome, presumably. His YouTube channel is filled with videos of various music, headphone, and tech junk breakdowns. It's a pretty good bet that his Patreon feed is the same.
---

Patrons as of July 2023: 31,536
Monthly Earnings: $205,656
Category: Podcast
the Yard, a podcast hosted by Ludwig, Nick, Slime, and Aiden, joined the Patreon scene in August 2021 and quickly claimed the title of 'Hot Creator' just a month later in September. With a tongue-in-cheek mission to fill what they jokingly refer to as the 'gaping void of white podcasters in LA', the Yard provides its audience with a unique blend of humor and commentary.
the Yard has seen steady growth over the past two years, currently sitting in the 5th rank in the Podcasts category and 8th overall on Patreon. Patrons contribute an average of $6.52 each, bringing the estimated monthly earnings to over $205,000, a figure that has grown in the last month.
---

Patrons as of July 2023: 29,883
Monthly Earnings: $83K–$208K
Category: Podcast
Not Another D&D Podcast, initiated by Brian Murphy, Emily Axford, Jake Hurwitz, and Caldwell Tanner in May 2018, has evolved into a formidable player in the world of actual-play D&D podcasts.
Since its launch, the podcast has quickly established itself as a beloved source of D&D content, claiming the title of 'Hot Creator' just two months after its Patreon debut in July 2018. This endorsement from the Patreon community propelled the podcast up the ranks, currently placing 6th in the Podcasts category and 9th overall on Patreon.
The steadily increasing patron count, which saw an addition of 452 patrons in the last month alone, combined with estimated monthly earnings between $83K and $208K, reflect the podcast's enduring appeal.
---

Patrons as of July 2023: 28,410
Monthly Earnings: $23K–$266K
Category: Video
Kurzgesagt – In a Nutshell has been serving as a distinctive source of learning and enlightenment since 2013, with its foundation laid in Munich. The studio, primarily known for its animated videos, delves into an assortment of topics with a unique philosophy of optimistic nihilism. The premise is simple: no subject is too mundane or complex if it is articulated through an engaging, educational narrative. Hence, the studio covers a wide variety of fields from science, space, and technology to biology, history, and philosophy.
Over the past 30 days, Kurzgesagt has experienced a significant influx of new supporters. They've welcomed 16,102 new patrons, affirming the continuous appeal of their unique content. This swell in patronage has catalyzed their rise on Patreon, elevating them to the 3rd position in the Video category and the 10th place overall.
---
Patreon Infographic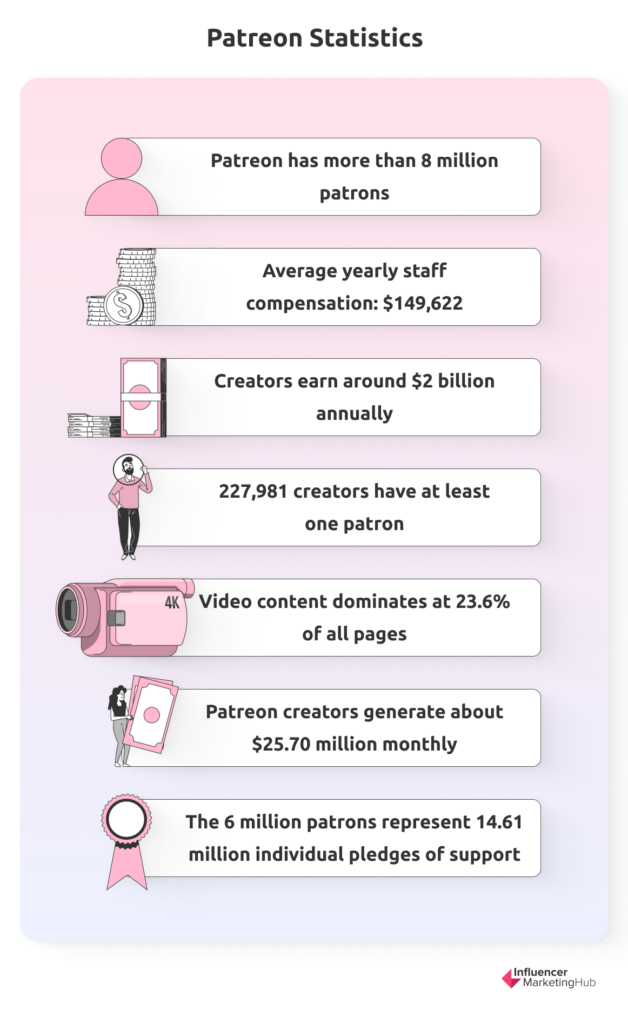 ---
Patreon: Statistics Show Continued Growth
As you can see, Patreon is still experiencing strong user and creator growth with no signs of slowing down. If you're not already using Patreon to generate a recurring revenue stream for your business, there's no time like the present to get started!
Frequently Asked Questions
What is Patreon?
Patreon is a membership site or subscription site where creators can get financial support from the people who enjoy and consume their content.
How many creators are on Patreon?
Patreon hosts nearly 223,000 creators.
As a Patreon creator, what statistics should I track?
You'll want to pay attention to:
Engagement (how many people like, comment, and share your content)
Retention (how many patrons keep their pledge to you over time)
Delete surveys (shown to patrons if they delete a pledge, gives creators insight into why they're leaving)
Click-through rate (percentage of viewers who click a link on a post, video, or other content, shows how engaged your supporters are)
Recent post viewers (see how many viewers you have on your posts)
How much do creators earn?
It varies, of course. Check out our Patreon Money Calculator to get an idea of what you might bring in.