Pinterest isn't typically associated with videos like other platforms such as YouTube, Facebook, and Instagram. However, their Video Pins feature has proven to be popular. Launched already a few years ago, individual creators as well as businesses have found it to be very useful.
If you're targeting mostly older women, Pinterest, in particular, can be a great social media platform to add to the mix. According to Pinterest stats, over 75% of its user base are women.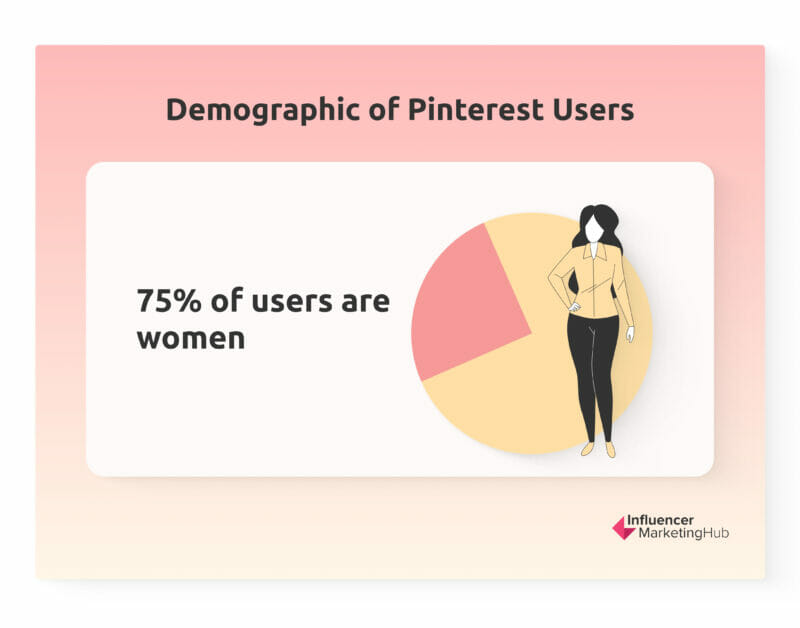 From product demos to decorating hacks, there are various types of videos that you can create. To help you create content that will inspire your target audience to take action, here's a quick look at how you can include Video Pins in your digital marketing strategy.
---
Pinterest Video: Ideas on How You Can Grow Your Brand:
---
The Power of Pinterest Video
Similarly to platforms like Instagram, Pinterest is inherently visual. The platform reported that their community of Pinners watch nearly 1 billion videos per day (and that was in 2021).
To put the popularity of video into better perspective, according to an article published on the Pinterest Newsroom, the number of views increased by more than six times between 2019 and 2020. It doesn't really come as a shock as video is much more engaging than a static image. Considering that we've fallen in love with video further, it would be interesting to know at which rate video views have increased more recently.
What makes video pins even more engaging is that on Pinterest they will start playing automatically on a desktop computer as a user scrolls down. This helps to catch and maintain users' attention even better.
Try it for yourself. Go to your home feed and see how your attention gravitates away from static images as soon as a video pin starts to play. It's actually quite mesmerizing.
Another benefit of opting for video other static images is that you can convey more information. This means they're a great medium for popular formats like how-to tutorials, behind-the-scenes clips, and recipe demonstrations.
---
How to Upload Video Content
To be able to leverage video pins, you'll need to have a Pinterest Business account. To set up a business account is very simple. All you need to do is type in a few basic details like:
Your email address

Password

Age

Name of your business

Location

Language

A short description about your website

A link to your business website
Once you've upgraded your account, here are your next steps:
Click on the plus (+) icon

Select the "Create Pin" option and upload your video (the file may not be bigger than 2 GB)

To select the cover photo, drag the selector to the left or right until you find the right image

Add a title and description (refer to tips 5 and 6 listed below)

Use "Select" under the drop-down menu to add it to a board

Add a link

Your video pin is ready to be published
Keep in mind, though, that all submitted video pins must first be approved by Pinterest before they will be live and ready to be viewed (the review process can take up to 24 hours). This is to double-check that it adheres to their community guidelines.
Also, there are several social media management tools available that can schedule your content in advance. While uploading video content to Pinterest is pretty straightforward, these Pinterest scheduling apps can help to save time and make it easier for you to plan ahead. The right tool will also be able to help with analytics, but more about this in the next section.
---
8 Tips for Optimizing Video Pins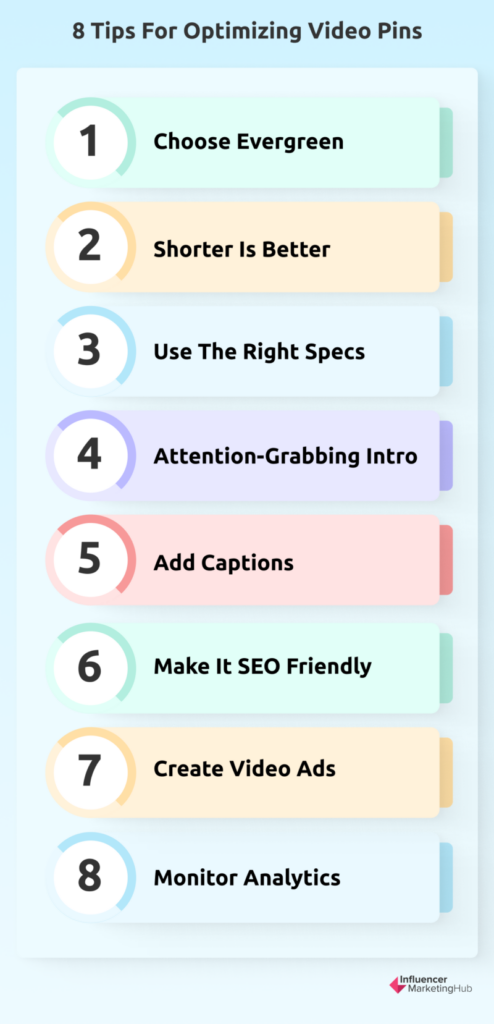 1. Choose evergreen
Compared to other popular platforms, content shared on Pinterest has a much longer lifespan. What's meant by "lifespan" is the time during which you can expect a post to create engagement such as likes, views, saves, and repins. For Pinterest, this average lifespan is anything between six months to a year.
Now, by opting for evergreen content, you can sustain interest even longer. Remember, in addition to being a social media platform, Pinterest is also a search engine, making it the ideal platform for evergreen content that people will always find valuable.
Unlike with a channel like Instagram, your Spiderman-themed birthday cake won't get buried in a feed. Every day it's a kid's birthday somewhere and an anxious mom looking for some baking inspo.
---
2. Shorter is better
Length matters. According to Pinterest, it's best to restrict videos with organic content to between 15 seconds and one minute. If it's a video ad, it should be even shorter — 15 seconds max. In another article published on their Newsroom, though, they suggest that the duration can be longer — between 45 seconds and three minutes.
If you'll be sharing a DIY project or a recipe demo, keep in mind that users want to be able to see the whole process. This means that you might need to speed up the recording. That said, you should still leave the viewers feeling like they want to find out more.
---
3. Use the right specs
Video pins are supported in various dimensions. The aspect ratios that Pinterest recommends are:
1:1 square

9:16 vertical

2:3 vertical
Shooting in vertical, however, is the wiser option. This is because most users watch via a mobile device.
---
4. Make your intro attention-grabbing
It's key that you capture Pinners' attention quickly. While your entire video clip should be high quality, those first few seconds are critical. You can, for example, use a clear hook (like your most popular product), a strong cover image, vibrant colors, or text overlay.
Text overlay, in particular, can be very effective. Not only will it help to grab the attention, but also to maintain it. It's also useful for adding more context. Most Pinners prefer to browse with their volume muted and extra text can help you to get your message across. It's also an example of how you can make your content more inclusive, helping you to reach a wider audience.
---
5. Add captions
An alternative to using text overlay is to use captions. Unlike text overlay, though, captions aren't that great at capturing attention. What they can do is help you to tell your story to a larger audience.
---
6. Keep SEO in mind
Remember that we mentioned that Pinterest is a visual search engine and not just a social media network. This means that you should also keep SEO best practices in mind.
While you can't write a long-form blog post "stuffed" with keywords, there are a few other things that you can do to make your content more discoverable in its search results. These include:
Adding clear titles (you can use up to 100 characters)

Including a description (you can use up to 500 characters)

Incorporating relevant hashtags
When writing your title, it's important to keep in mind that depending on the type of device being used, only the first 40 characters might appear in the home or search feed. So, make sure that the most important details are mentioned first.
Unlike the title, though, the description doesn't appear in the search or home feed. Instead, Pinterest's algorithm uses it when figuring out the video's relevancy. This means that by taking the extra time to write a description you'll be helping the platform to ensure the right audience sees it.
To help you, you can try the auto-suggest tagging feature. All you need to do is type in a keyword and select one of the auto-suggested tags.
---
7. Create video ads
Sometimes you need a more concerted effort than waiting for your title, description, and hashtags to do their thing. To help you generate more views and possibly sales, it can be a good idea to create ads for your videos, if it's available in your country.
In short, it involves paying to get your content placed in a spot, like the home feed or relevant search results, where members of your target audience are most likely to see it. Using the Pinterest Ad Manager, you can set spend limits for your ad campaign.
---
8. Monitor analytics
Just like with any other type of content that you create for social media, you need to keep track of performance metrics like impressions, saves, video views, average watch time, etc. Armed with this knowledge, you'll be able to improve future video pins and campaigns. You can, for example, check out a tool like Later that includes robust analytics in addition to other useful automation features.
---
Repurposing Video Content
When creating videos for Pinterest, you don't necessarily need to start from scratch. Another option is to repurpose videos originally recorded for other channels like Instagram that can be used successfully on Pinterest. Instagram Stories, in particular, can easily be tweaked.
For instance, call-to-actions and stickers, will have to be removed as they won't be functional on their "new home". To do this, there are a number of video editing apps that you can try out.
Sharing previously posted YouTube videos is even easier. All you need to do is to click on the "Share" option and select Pinterest.
The reverse — sharing your video pins — to other social media channels can be just as effective. For example, when you share it on Instagram, you can add a call-to-action cue to encourage your Instagram followers to check out your content on Pinterest too.
---
Wrapping Things Up
Video pins are especially popular for content featuring food, beverages, or home decor. Not only does it help to encourage interaction with your brand, but the platform also prioritizes videos over static images in their internal search.
That said, when it comes to creating content, you should never focus solely on how it can help your business. After all, you're posting the videos for your target audience and not your brand, right?
Nowadays, video content is what social media users crave. So, give them what they want. Trust us, it will be totally worth it.
Frequently Asked Questions
What's Pinterest for Business?
Pinterest for Business (aka a Pinterest business account) has been created with business users in mind specifically. It offers a number of benefits like access to detailed analytics reports, special formats to promote your business via their platform, and the ability to add product tags to posts. Not only does signing up for a business account have several perks in store, but it also won't cost you a thing.
How can you optimize your pins for SEO?
Branded searches on Pinterest are rare. Instead, people typically search for non-branded keywords. In addition to using keywords strategically in your title and description, you can also add relevant hashtags. This will also boost the chances of your content showing up in searches.
What apps can you use to schedule Pinterest content?
There are a number of Pinterest scheduling tools that you can use to make sure that your pins get published at the best time. You can, for example, check out:
Tailwind

SocialPilot

Buffer

Later

RecurPost

Sprout Social

Social Champ

Hootsuite
Not only will it help you to schedule your posts for the optimal times, but it can also help you to stay more organized and save valuable time.
What are some of the best marketing agencies that can help you with Pinterest?
There are a number of reputable marketing agencies that have a good track record with Pinterest marketing and advertising. You can, for example, reach out to:
Moburst

Thrive Internet Marketing Agency

Lyfe Marketing

Ignite Social Media

Dos Mundos Creative

Pintastic Advertising
What are some tips for using influencer marketing for Pinterest?
If you want to work with a Pinterest influencer, you need to keep in mind that the content needs to be high quality. In short, the content needs to be able to attract enough attention on its own instead of solely relying on the reputation of the influencer. Pinterest is a visual platform and works best with high-quality, captivating images. It can also be a good idea to focus more on lifestyle images and video pins.