It's common knowledge that you have to keep publishing fresh content if you want visibility and engagement on Instagram. This can be a huge challenge, especially if you don't have the resources or enough ideas to continuously come up with new content day in and day out. That's where user-generated content enters the picture.
This involves reposting content created by other Instagram users relevant to your industry or niche. It gives you the opportunity to keep engaging your followers with fresh and high-quality content with minimal effort. Plus, content coming from other users adds authenticity and relatability, which is great for winning the trust of your audience.
However, although reposting may sound easy, there are a few rules and best practices to keep in mind. This post is going to help you learn all of that so you can seamlessly share engaging user-generated content with your followers.
---
How to Repost on Instagram:
---
1: Get Permission to Repost
The Instagram guidelines clearly state that posting content that you've created yourself is the best way to ensure you are not violating copyright law. So does that mean you shouldn't post content from other users? Not necessarily.
The guidelines also state that you can use someone else's content if you have explicit permission. The company recommends getting permission in writing so you can back your claim later on in case of any issues.
What this means is that for every piece of content you want to repost, make sure you reach out to the content creator to get permission. Once you have explicit permission, take a screenshot of it and save it for later.
In case of ongoing influencer partnerships where you intend to repost their content, make sure your contract explicitly states that you have permission. This will come in handy in case there's any dispute later on about content usage rights.
---
2: Get Repost for Instagram
While you can absolutely take screenshots of the original post and repost it to your account, this can be time-consuming and complicated. Plus, screenshots only allow you to repost images so they aren't a viable option if you want to repost videos.
Instead, you can simplify the reposting process by downloading the Repost for Instagram app from the App Store or the Google Play Store.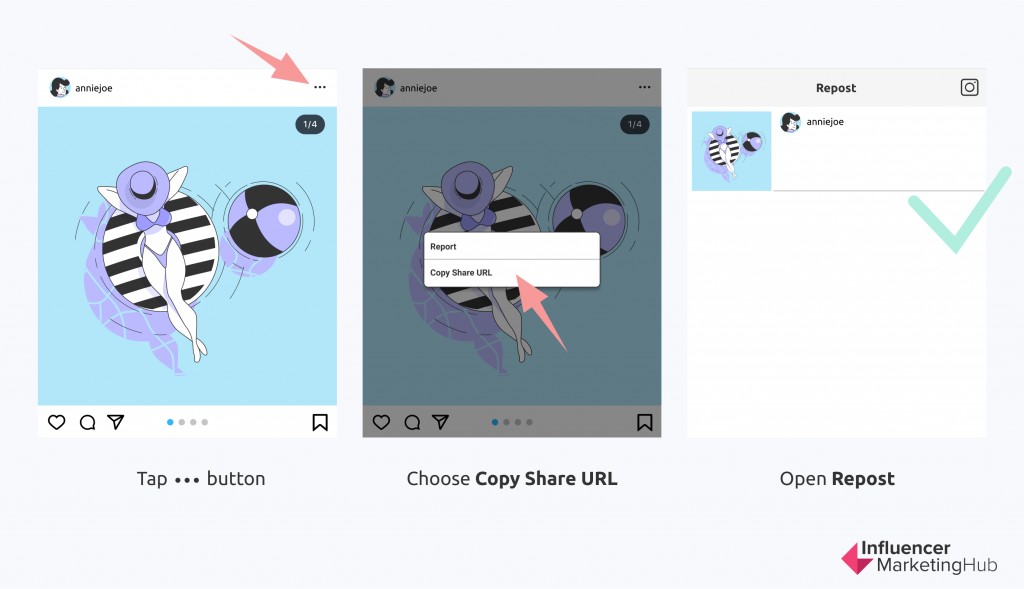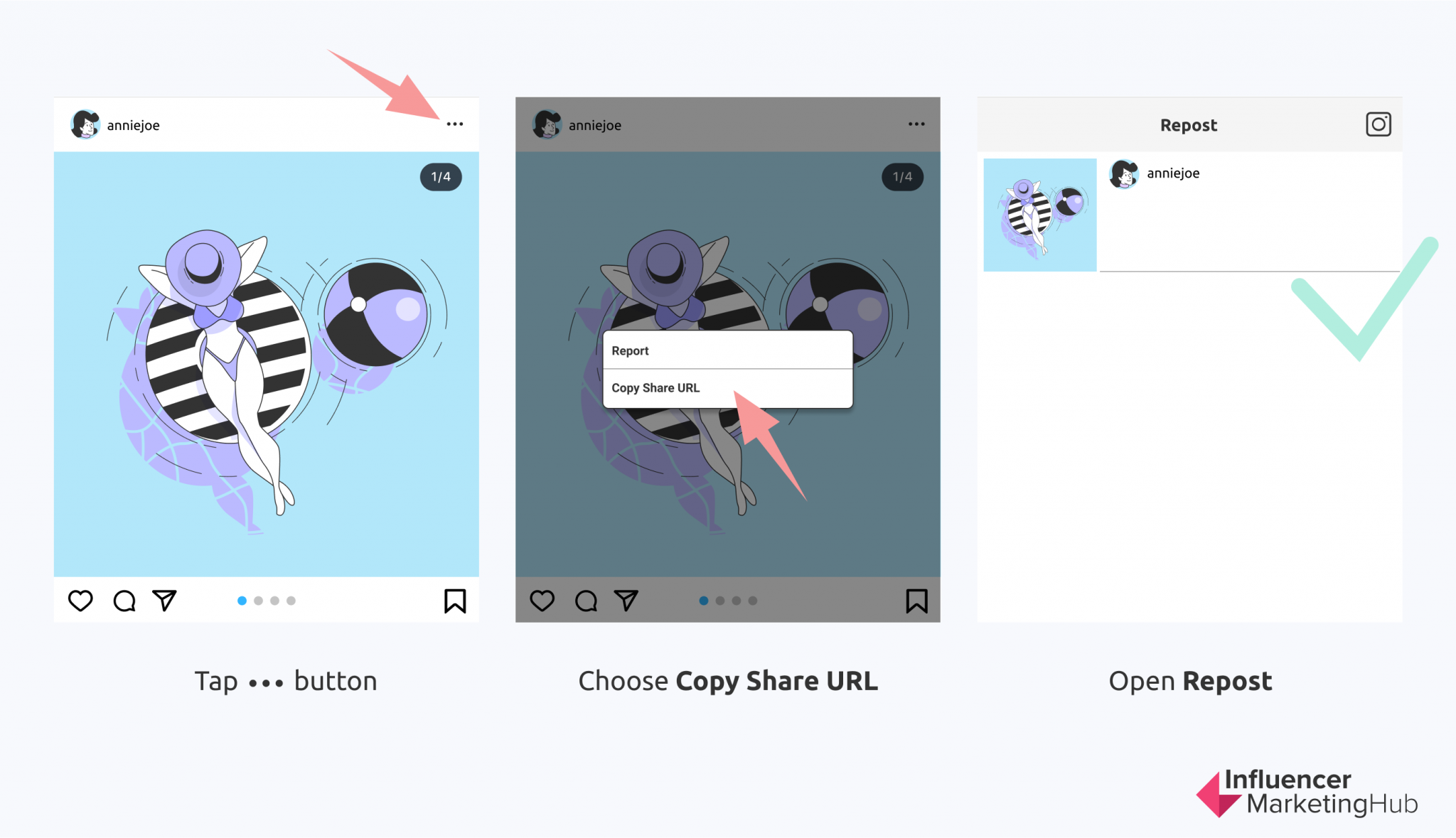 This app directly integrates with Instagram so it's extremely easy to instantly reshare content from other users in just a few steps.
---
3: Find Content to Repost
Next, go to Instagram and pick out the content that you want to repost. You can repost both images and videos from other users.
Typically, you can find the best content to repost if you conduct relevant hashtag searches using branded or industry hashtags. Branded hashtags can help you discover content from your customers, while industry hashtags can help you discover content that's relevant to your brand.
You could also have campaign-specific hashtags if you're running a campaign to collect user-generated content. Some users might even tag your brand in their posts so you can find relevant content that way.
For instance, Chewy ran a costume contest and requested their followers to tag the brand and use the hashtag #HairyNotSoScary in their post.
---
4: Get the Post's Share URL
The next step is to get the post's share URL. To do this, tap on the "..." icon on the top right hand corner of the post.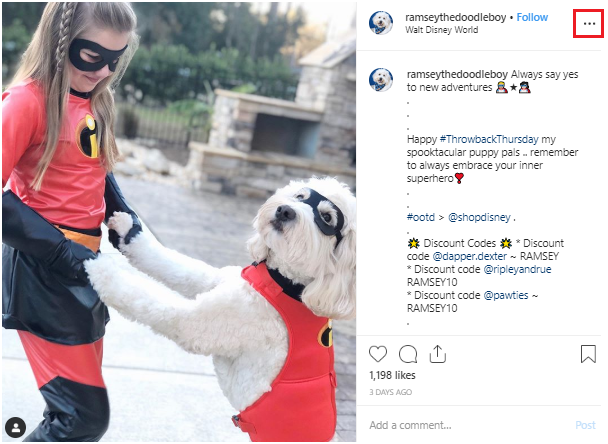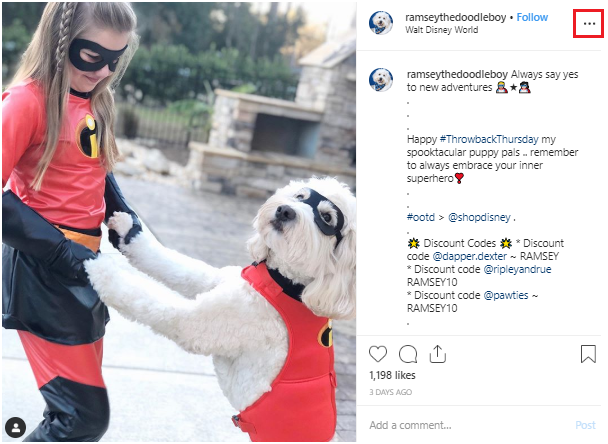 Then click on "Copy Link" to save the link to your clipboard.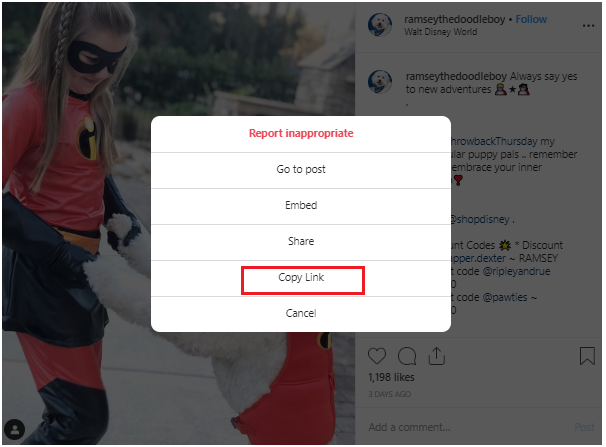 ---
5: Open the Repost for Instagram App
When you open the Repost for Instagram app after copying a post link, the post will automatically appear on the app's homepage. Tap on the arrow button on the right hand corner of the post.
There, you can make changes to how the repost icon will appear on Instagram once the post is published.
---
6: Make Necessary Edits
Next, tap "Repost" followed by "Copy to Instagram." This will allow you to add filters and make edits to the post.
When you tap on "Next" after that, you'll get an option to write your caption. If you're going to include the original post caption, just tap on the caption field and hit "Paste."
Then the caption from the original post will appear along with proper credits to the original content creator. This saves you the trouble of trying to give credits manually for each and every repost.
Once that's done and you have everything in place, tap on "Share" and the post will automatically appear on your profile.
Here's an example of how the reposted content will appear.
You also have the option to repost it to your Instagram Stories. But for that, you won't have the option to copy the caption.
---
Alternative Reposting Options
Besides the Repost for Instagram app, there are several other options to repost on Instagram. Here are some of them:
1: Using DownloadGram
You also have the option to download high-quality images and videos from other users to repost on Instagram. For this, you'll need to use DownloadGram. This isn't an app that you need to download but an online tool that's very easy to use.
Start by copying the link for the post you want to share as shown in the previous steps. Then paste the link in the empty field and click on "Download."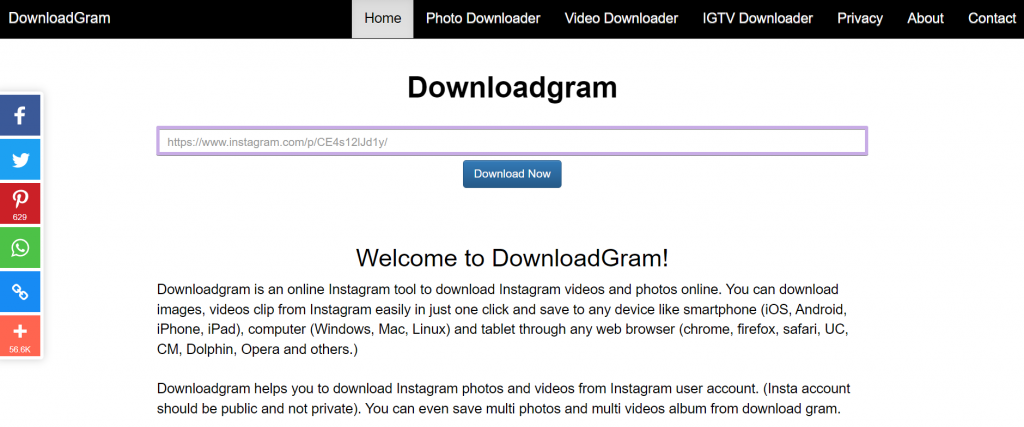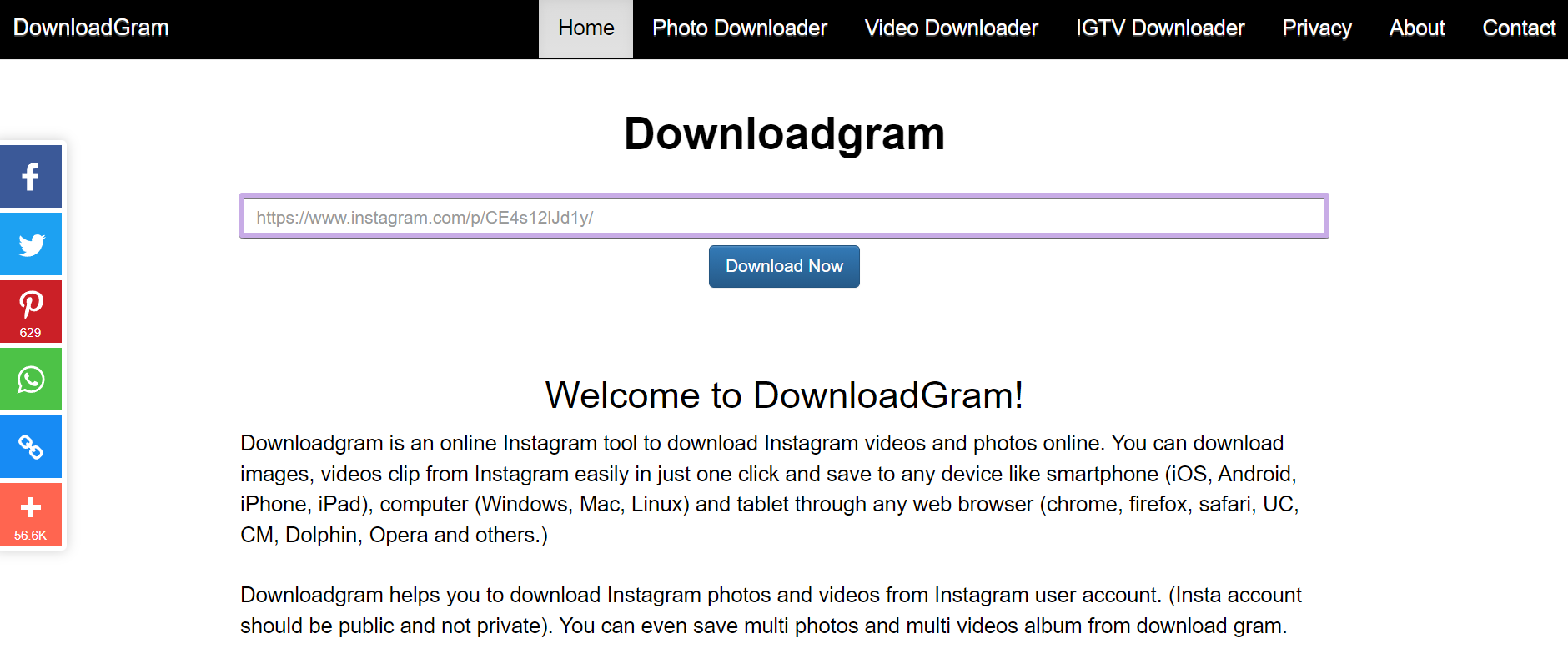 Next, click on "Download Image" or "Download Video" and the tool will automatically download the content to your device.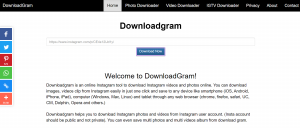 If it's not automatically downloaded, right click on the image or video when it opens up in a new tab and click on "Save Image" or "Save Video."
After you've successfully downloaded the content you want to repost, open your Instagram app. Then find the image or video in your camera roll like you would when creating a new post.
Next, add a relevant caption to include in the post. Remember that this reposting option wouldn't automatically include a citation like the previous one does. So make sure you give proper credit by tagging the original content creator. Then hit "Share" and the post will appear in your profile.
2: Reposting a Screenshot
As mentioned earlier, you also have the option to repost by taking a screenshot of the post. Keep in mind that this only works for image posts so you'll have to use the other reposting options for video content.
Once you find a photo that you want to repost, just take a screenshot of it with your phone. For iOS devices, this means pressing the home and lock buttons simultaneously. For Android devices, press the volume down and sleep/wake buttons simultaneously.
After that, find the photo in your camera roll to create a new post on Instagram. You can crop it and make adjustments so only the image shows without any other elements on your screen. Once that's done, you'll have the option to add a caption for the post. Be sure to include proper credit in your caption as this reposting option will not automatically include a citation.
---
Best Practices for Instagram Reposting
You now have a clear idea of all the options available for reposting on Instagram and the steps for each of those options.
Let's take a look at some of the best practices that you should follow for Instagram reposting. This will help you ensure that you repost the best content and drive engagement on it.
1: Keep Your Feed Aesthetics in Mind
One of the biggest issues with reposting content from other users is that it may not necessarily fit in with your feed aesthetics. You want to maintain quality and consistency in your Instagram feed to draw in and engage your audience.
So make it a point to carefully select the content you'll be reposting to your feed and always choose high-quality content.
For user-generated campaigns and campaigns where you plan to feature every single user submission, you can always use Instagram Stories and Highlights. That way, you can ensure that the user-submitted content doesn't clash with the theme on your feed.
2: Add Context to Your Reposted Content
While you can copy-paste the captions from the original post, don't just stop at that. Make sure your reposted content has relevant captions to give your followers some context about the post. For example, you can just add a line showing your appreciation for the content like, "We love this sunset view from the beaches of Thailand" followed by the necessary credit.
Although the Airbnb Instagram feed is full of user-generated content, the company takes time to create relevant captions to give context to their posts.
---
Final Thoughts
As you can see, there are several ways you can repost content on Instagram. Try them out and see what works best for you and helps you get the kind of quality you're looking for without taking up too much time.
At the same time, it's not enough to simply know how to repost content on Instagram. You should also learn some of the best practices that will help you ensure quality and engagement for your reposts. Make the most of the tips provided above and up your content game on Instagram.