Advertising Disclosure
Advertising disclosure:
Our partners compensate us. This may influence which products or services we review (also where and how those products appear on the site), this in no way affects our recommendations or the advice we offer. Our reviews are based on years of experience and countless hours of research. Our partners cannot pay us to guarantee favorable reviews of their products or services.
As SaaS (Software as a Service) businesses navigate the ever-changing digital landscape, they face heightened competition that renders traditional marketing strategies less effective. A more nuanced, targeted, and content-centric approach to marketing is now critical to achieve their growth objectives.
SaaS content marketing agencies, a specific breed of marketing firms specializing in the SaaS industry, have emerged as crucial players in this context. They offer tailored marketing solutions, leveraging their deep understanding of the SaaS business model, its unique sales cycle, and its audience needs. These agencies excel in creating and distributing valuable, relevant, and consistent content designed to attract and retain a clearly defined audience – ultimately driving profitable customer action.
However, choosing the right SaaS content marketing agency can be a daunting task. The sheer number of agencies, each with its unique approach and promises, can overwhelm even the most discerning business owners. It's crucial to select an agency that not only understands the SaaS industry but can also align with your business objectives, budget, and brand philosophy.
When evaluating agencies, consider their portfolio, client testimonials, and industry reputation. Look for a team that demonstrates a balance of creativity and analytical prowess, capable of crafting compelling narratives around your product while measuring and optimizing the impact of their content strategies. Remember, the effectiveness of your content marketing efforts can be gauged by key performance indicators such as website traffic, lead generation, customer engagement, and, ultimately, conversion rates.
---
Top SaaS Content Marketing Agencies
A well-executed content marketing strategy can catalyze growth for SaaS businesses. As such, finding the right SaaS content marketing agency is a vital decision that requires careful consideration.
The upcoming listicle aims to simplify this process by providing a detailed review of the leading SaaS content marketing agencies. We hope it will serve as a valuable resource in your search for the perfect marketing partner.
NinjaPromo stands as an exceptional SaaS content marketing agency committed to unveiling the full potential of your brand. By leveraging a potent combination of strategic marketing roadmaps, market research, competitor analysis, and data-driven insights, this agency ensures your software business not only takes off but soars to unprecedented heights.
A cornerstone of NinjaPromo's offerings is the formulation of a robust content marketing strategy. This includes creating engaging, valuable content that effectively drives traffic, enhances brand awareness, and positions you as a thought leader in the software industry. They also streamline marketing efforts, concentrating on attracting qualified leads through inbound marketing tactics like SEO and content creation.
Notably, NinjaPromo goes beyond just creating and publishing content. Their holistic approach covers every facet of your strategy, from initial consultation to content distribution and optimization. The agency is particularly adept at handling distribution, ensuring your content reaches the right audience at the right time, thus amplifying its impact.
---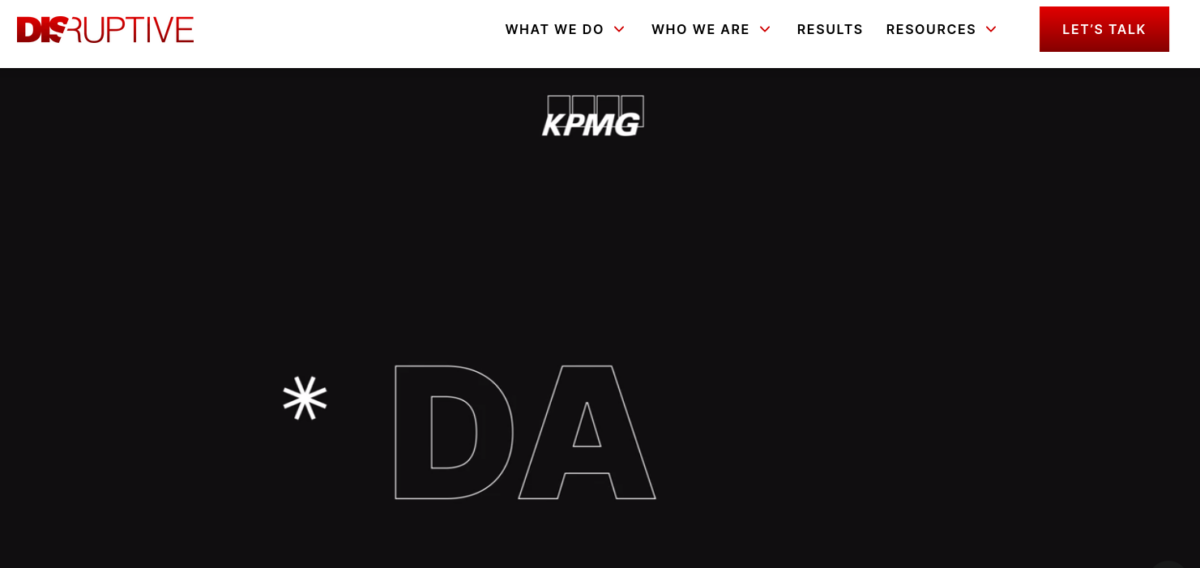 With a client retention record that speaks for itself, Disruptive Advertising stands out for its proficiency in improving customer experience via digital content marketing. The agency leverages a wide array of digital media, including written content, images, videos, and more to amplify brand awareness, attract new customers, and foster customer loyalty.
Disruptive Advertising's strategy is underpinned by the effective use of search engine optimization (SEO) and site analytics. This enables them to target audiences precisely, ensuring the right message reaches the right audience at the right time. The result is a maximized impact of your ad campaigns, propelling your SaaS business growth.
One of the distinguishing features of Disruptive Advertising is their commitment to driving real sales engagement. They optimize content to convert clicks into customers, setting aside vanity metrics in favor of tangible results that contribute to your bottom line. With a strategic focus on real sales engagement, this agency ensures your content marketing efforts directly contribute to your business growth.
---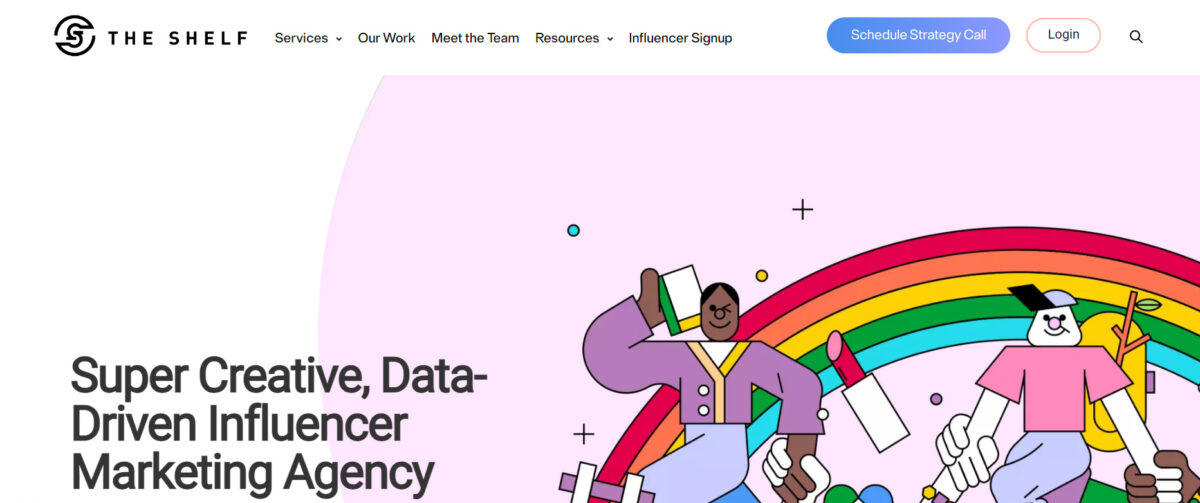 The Shelf is a full-service influencer marketing agency boasting its own proprietary SaaS platform. Using a blend of data, strategic planning, and ingenious concepts, The Shelf executes, manages, and optimizes impressively creative, ROI-driven mobile app marketing campaigns.
The agency employs a unique creative strategy that avoids generic content. Their network of creators ensures that campaigns are targeted and visually compelling. Moreover, their robust dashboard allows clients to monitor their campaigns in real-time. The Shelf also has a strong stance against influencer fraud, ensuring only genuine influencers represent your brand.
Above all, The Shelf stands out for its commitment to quality, creativity, and originality. Their team is dedicated to providing influencers with feedback, ensuring your content delivers the highest ROI for your app's marketing campaign.
For Influencers: If you are looking for agencies to represent you click here.
---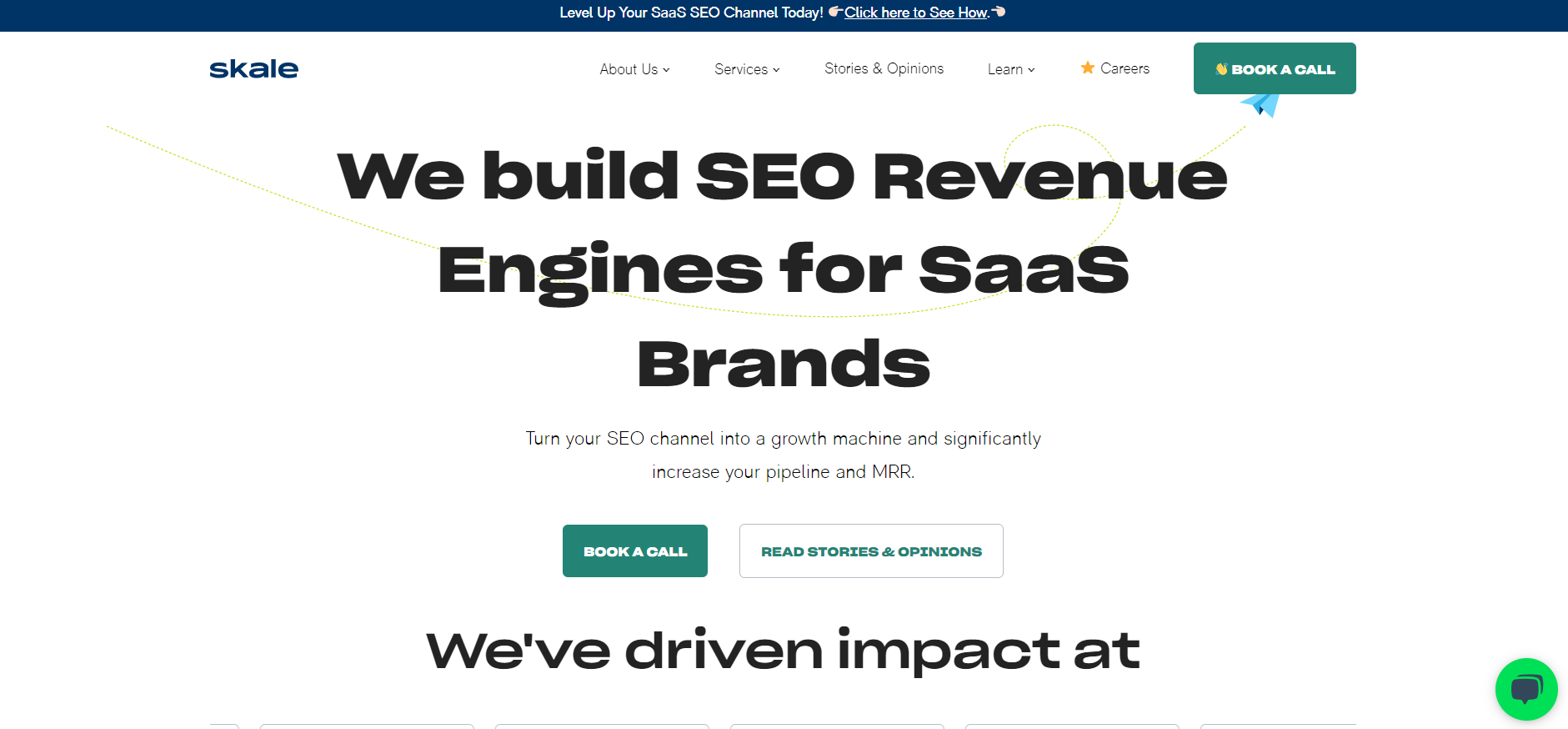 Skale positions itself as a leading SaaS content marketing agency that drives Monthly Recurring Revenue (MRR). Leveraging their expertise in SEO and SaaS, they create content that powers real business metrics.
Skale differentiates itself through its emphasis on scaling content marketing strategies with their experienced team. They optimize the SEO channel to benefit essential SaaS metrics such as MRR and Customer Acquisition Cost (CAC). They aim to reach a wider target audience without the need for expensive paid advertising techniques.
Skale's services range from providing full SEO content briefs tailored for your key personas to consistent on-page optimizations and content development for your platform. Their comprehensive keyword research maximizes organic traffic to your site. They also offer content marketing plans to create sustainable growth for your business, along with link building strategies to drive leads where they need to go. Importantly, Skale focuses on conversion rate optimization for maximum revenue growth.
---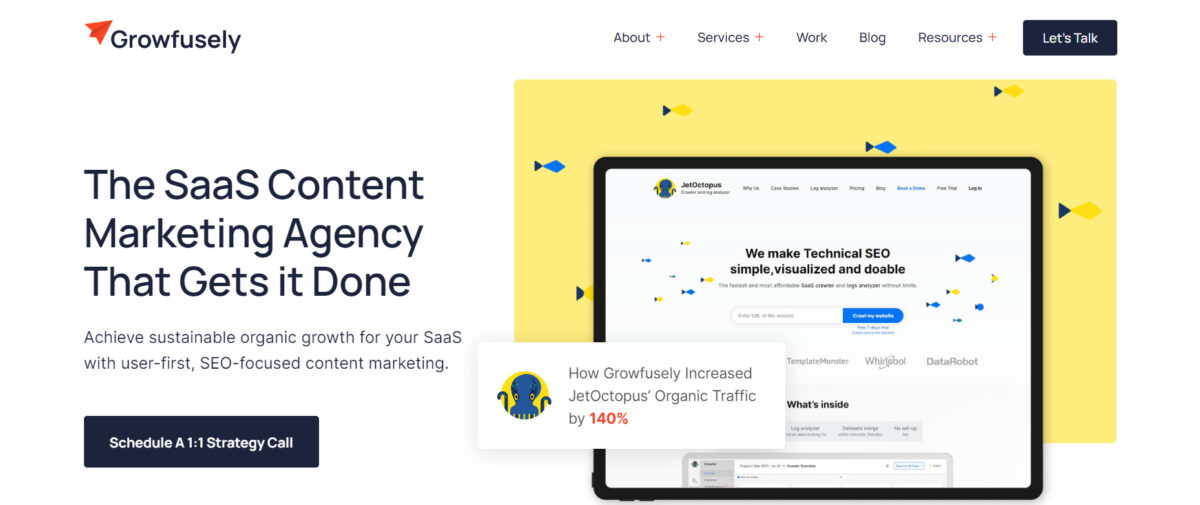 As a specialized B2B content marketing agency, Growfusely stands out for its user-first, SEO-focused content marketing approach. The agency lives and breathes SaaS, with the entire team dedicated to driving organic growth and visibility for SaaS clients. Their services range from content marketing to digital PR, each strategically designed to propel SaaS businesses to the forefront of their target audiences.
Growfusely excels in crafting link-worthy, actionable content that ranks. Their content writing service emphasizes clarity over cleverness, optimizing for both human readers and search engines. Their SEO services combine captivating content with technical adjustments to elevate client pages to the top of Google for desired keywords. Furthermore, the agency uses its extensive relationships with publishers to secure relevant backlinks from established websites, prioritizing quality over quantity.
The creative arm of Growfusely enhances content with powerful visual elements like infographics and custom designs for lead magnets. Their digital PR strategies further increase online presence through strong brand mentions and product placements on high-authority platforms.
---
Contenthorse is a content marketing agency that prioritizes ROI, focusing on creating and distributing research-based content that converts. The agency is trusted by B2B SaaS companies, generating over 150 high-quality leads from their content each month.
Contenthorse's unique selling point is its commitment to ROI-led content marketing. The agency focuses on the revenue and ROI generated from their content rather than merely increasing organic traffic. They specialize in writing content that inspires people to take action, giving their clients high-quality leads.
The agency excels in writing various types of content like comparison, alternative, and review articles; case studies and success stories; recommendation articles; and product-led growth content. For SaaS companies targeting enterprise clients with long sales cycles, Contenthorse supports their SDRs with content that warms cold leads and makes them fall in love with the brand and solution.
The agency follows a five-step process: ICP Research, Content Strategy, Content Creation, Content Distribution, and Content CRO. This holistic approach ensures the creation of content that ranks high on Google and consistently generates high-quality leads.
---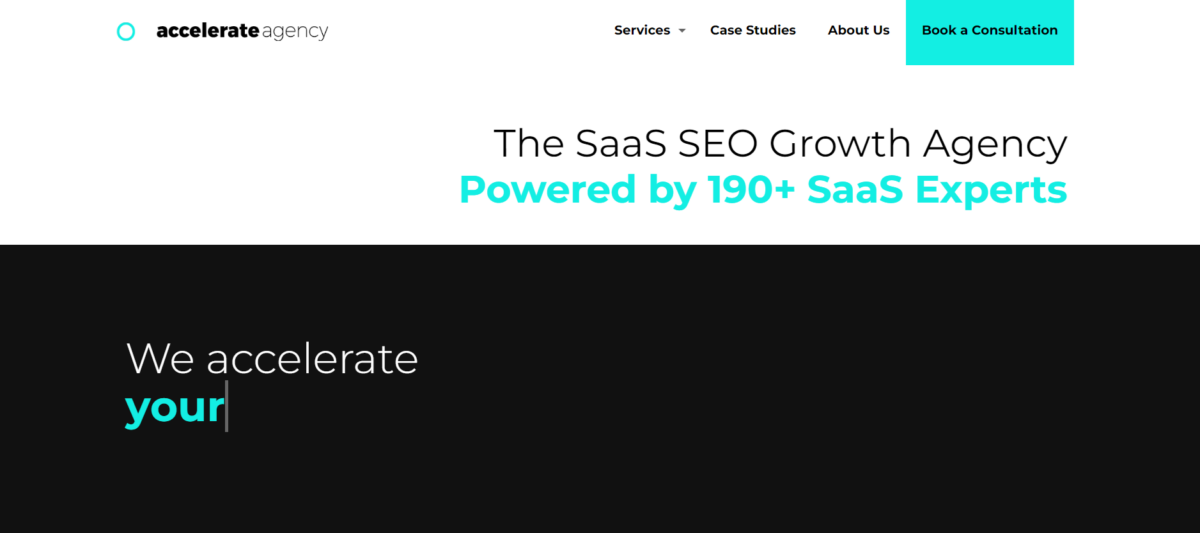 Accelerate Agency is a SaaS content marketing agency that embodies the philosophy of "Content is King". They believe that effective content marketing is a vital tool for SaaS companies to engage, inform, convert, and retain audiences throughout each stage of the marketing funnel. Being SEO specialists, they comprehend what audiences are seeking and deliver content that resonates with them, thus transforming casual browsers into loyal customers.
Accelerate Agency provides a comprehensive array of services from content strategy and consultation to content outreach and distribution. They specialize in optimizing site structure and creating a diverse range of content types like features, articles, blogs, interviews, e-books, reports, and infographics, to name a few. Their team consists of over 40 researchers, writers, designers, editors, and strategists, ensuring a deep understanding of what needs to be created to deliver maximum business impact.
---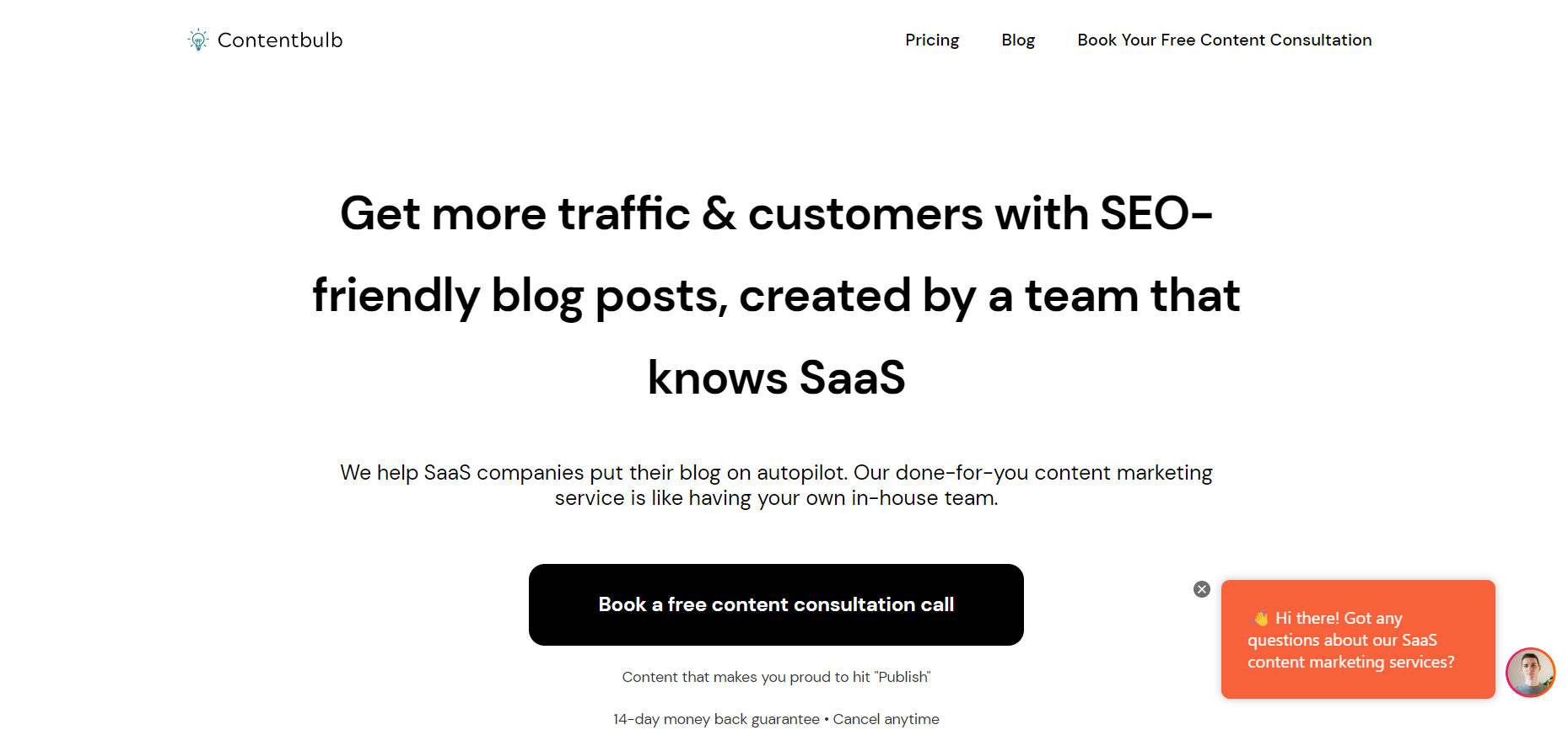 Contentbulb provides an all-inclusive content marketing service that helps SaaS companies streamline their blog operations. They specialize in creating SEO-friendly blog posts that drive traffic and attract customers. Their distinct approach is to create content that makes their clients feel proud to hit the "Publish" button.
Contentbulb has a comprehensive process in place that covers everything from research to writing. They understand that the content they produce is a reflection of the client's brand, and thus they ensure the delivery of high-quality, relevant content. Their offering also includes a dedicated topic research process that uncovers highly relevant content ideas that resonate with the client's target audience.
They pride themselves in having a team that actively works to understand and organically include the client's product in the content. This includes the incorporation of screenshots, how-to sections, and genuinely useful information, which helps the audience solve their problems and understand how the client's product can assist them.
---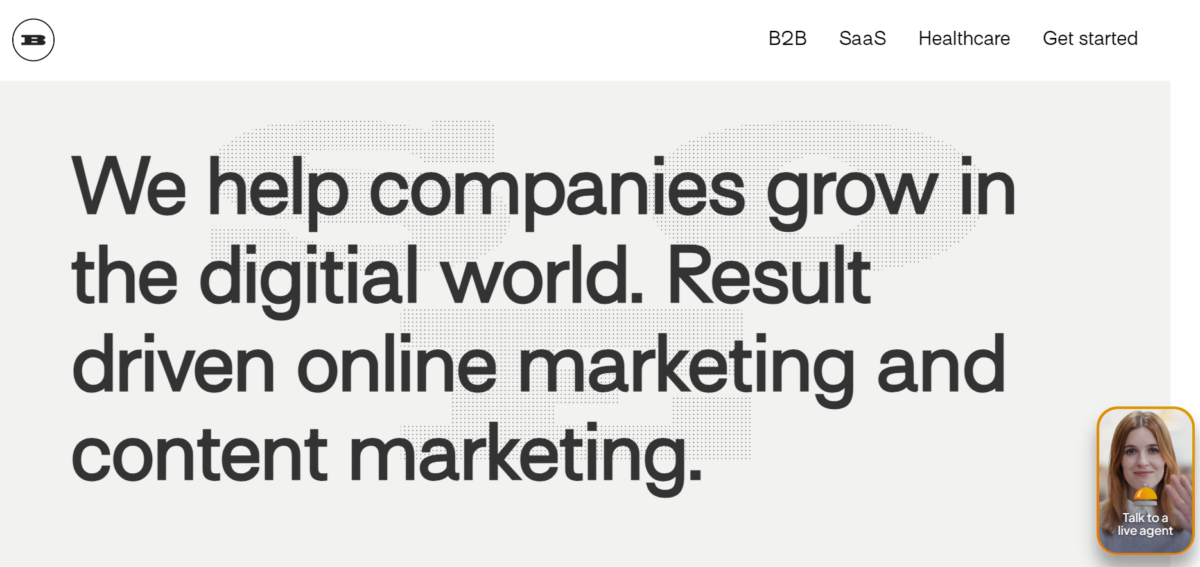 Before, a result-driven SaaS content marketing agency based in the US, is distinguished by its holistic and strategic approach to content marketing. They initiate their process by establishing your core business objectives and identifying areas where your business could best represent itself in the market. After examining your business thoroughly, they present you with opportunities and content ideas that align with your business goals.
Their content creation process is comprehensive and quality-driven, focusing not just on writing but developing content that is informative and unique, catering to the algorithms of Google and other search engines. They leverage years of combined experience to guarantee results, making your content the most comprehensive on the internet.
Before's marketing automation involves working closely with clients, ensuring that their systems produce repeatable results. This involves providing regular reports and a content health check to review how their services are assisting in your overall growth and business strategy. Their measurable results approach is ROI-focused, typically generating a 2X multiple in terms of your initial investment, and commonly 12X returns over time.
---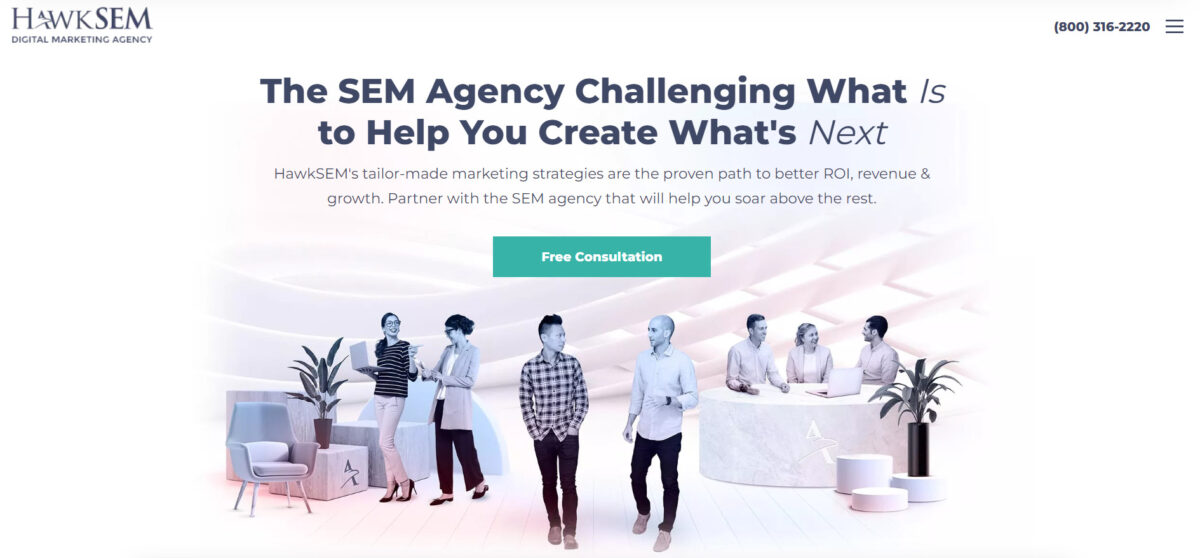 HawkSEM is a SaaS Content Marketing Agency that focuses on scaling MRR (Monthly Recurring Revenue) for your business. Their approach to content marketing is designed to improve your SaaS company's marketing results, improve customer retention, and scale your business. They understand that SaaS businesses require high-quality content to impress potential clients and win their confidence, hence their focus on creating valuable, relevant, and consistent content.
They recognize the unique needs of B2B SaaS companies that typically have a higher lifetime value, take longer to make a decision, and have established knowledge of the topic. Consequently, they produce expert quality content with deep insights and high value.
The results they have delivered for past clients speak volumes about their effectiveness. They have doubled targeted traffic, increased sales demos by 75%, cut CPA by 80% and doubled lead volume, and increased users by 409%, among other achievements.
In terms of content types, HawkSEM excels in producing white papers, LinkedIn articles, case studies, webinars, lead magnets, landing pages, and demos, all tailored towards the needs of busy managers and executives.
---
Frequently Asked Questions
How do I choose the right SaaS content marketing agency for my business?
When choosing a SaaS content marketing agency, consider their experience, content generation skills, industry expertise, analysis and reporting skills, and their knowledge of keywords. Reviews, testimonials, and success stories can also provide insights into what you can expect from their services.
What type of content does a SaaS content marketing agency create?
A SaaS content marketing agency can create a variety of content including blogs, email marketing content, social media campaigns, whitepapers, videos, ad copies, web copies, messaging content, sales content, and content for account-based and inbound marketing.
What results can I expect from hiring a SaaS content marketing agency?
A SaaS content marketing agency can help improve lead generation, nurturing, and sales for your business. They can also help your brand stay ahead of the curve and ensure your content aligns with your marketing strategy.
What is the importance of a SaaS content strategy?
A SaaS content strategy is crucial as it covers everything related to your brand's content. It outlines the content type, topics, how the content aligns with your marketing strategy, and content performance tracking, ensuring an effective and successful content marketing campaign.
Who creates the content in a SaaS content marketing agency?
The content is created by a team of skilled SaaS content writers. They understand the customers' challenges and goals, enabling them to craft informative and engaging stories that connect you to your audience.