Advertising Disclosure
Advertising disclosure:
Our partners compensate us. This may influence which products or services we review (also where and how those products appear on the site), this in no way affects our recommendations or the advice we offer. Our reviews are based on years of experience and countless hours of research. Our partners cannot pay us to guarantee favorable reviews of their products or services.
Even as shoppers return to brick-and-mortar stores, their online shopping habits have been set in stone, and the eCommerce industry continues to experience growth, albeit at a slower pace. It's projected that the eCommerce share of retail sales will continue to experience double-digit growth until it reaches 24% by 2026. This is despite the massive dip in the global eCommerce growth rate from 17% in 2021 to 9.7% in 2022.
It is clear that eCommerce is here to stay, and businesses need to adopt omnichannel retail strategies to remain competitive. That's why we've compiled the ten top SaaS eCommerce platforms that can help boost your online sales this 2024.
---
Top 14 SaaS eCommerce Platforms to Boost Your eCommerce Sales in 2024:
---
14 SaaS eCommerce Platforms You Need in 2024
Managing an online store involves intricate components and processes such as fulfillment services, payment gateways, CRM, CMS, email marketing, and many others. Thanks to eCommerce software, running a store online is an easy feat even beginners with zero experience can manage.
This list consists of platforms that will help every aspect of your eCommerce business run smoothly so you don't have to deal with the headaches of overseeing multiple moving parts.
Top
saas ecommerce platforms
2024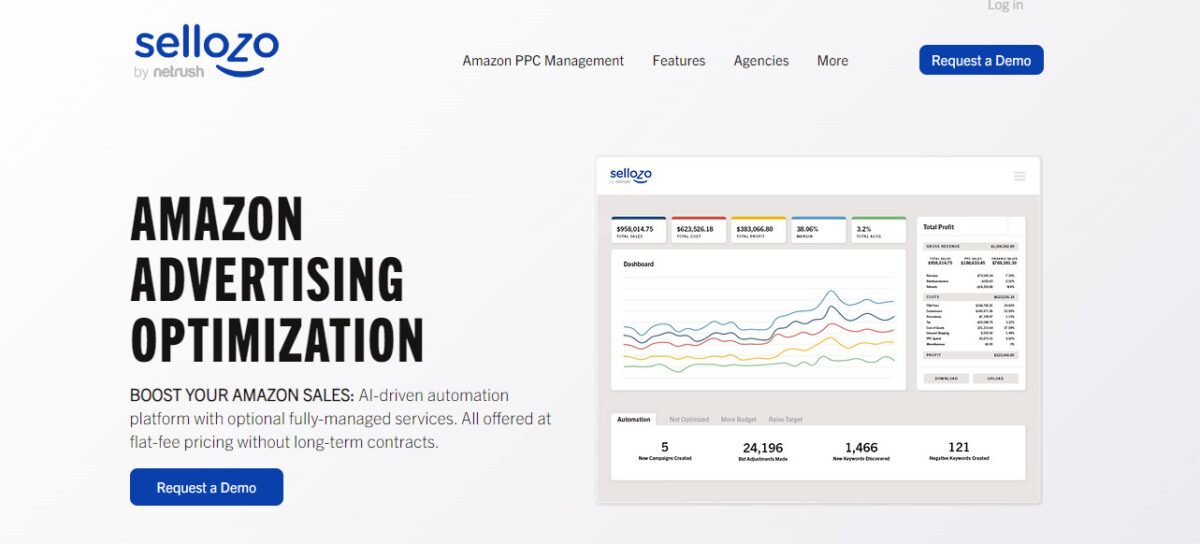 Sellozo, a standout in the world of SaaS eCommerce, offers an AI-driven automation platform and fully managed services with transparent flat-fee pricing, liberating businesses from long-term contracts. Notably, it delivers an impressive 70% average increase in ad profit, backed by solid data.
Sellozo's strength lies in unrivalled automation capabilities, empowering users to supercharge their Amazon sales. Campaign Studio, an all-in-one PPC tool, streamlines strategy implementation with a user-friendly interface and automated keyword harvesting. For those seeking a hands-off approach, Sellozo provides full PPC management by US-based Amazon experts and in-house AI tools. Data-driven insights and SmartTags simplify campaign management. Meanwhile, complete financial reporting and dedicated support complete the package.
Commerce Canal's experience speaks volumes. Sellozo's advanced ad automation boosted PPC sales by 56%, total sales by 61%, and profits by up to 74% in a few months, with 4 million bid adjustments and 22,000 new keywords discovered.
Pricing: Sellozo operates as both a SaaS product and a fully managed service, with subscription-based pricing; self-service access begins at $149 per month, while Managed Service plans are individually priced on a monthly basis.
---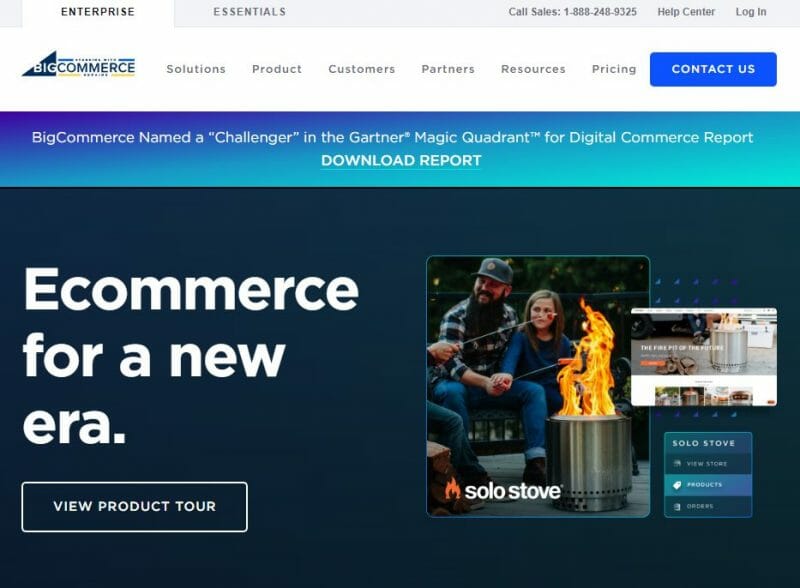 BigCommerce is an enterprise-level eCommerce solution built for mid-to-large businesses that need the flexibility to manage a huge online store across multiple regions. It began as a CMS with a drag-and-drop page builder and multiple templates, then eventually grew to a robust eCommerce platform with powerful functionalities.
They are an open SaaS eCommerce platform allowing store owners to create robust and differentiated online experiences that maintain the same security, scalability, and reliability as the traditional BigCommerce stores. You can start with their Standard Plan, which allows for up to $50,000 in annual sales, then gradually move to higher tiers as your sales grow. BigCommerce powers over 140,000 websites, including sites from big brands like Johnny Walker, Fitbit, Ben & Jerry, and Nikon.
Pricing: Starts at $29.95 for the Standard Plan
---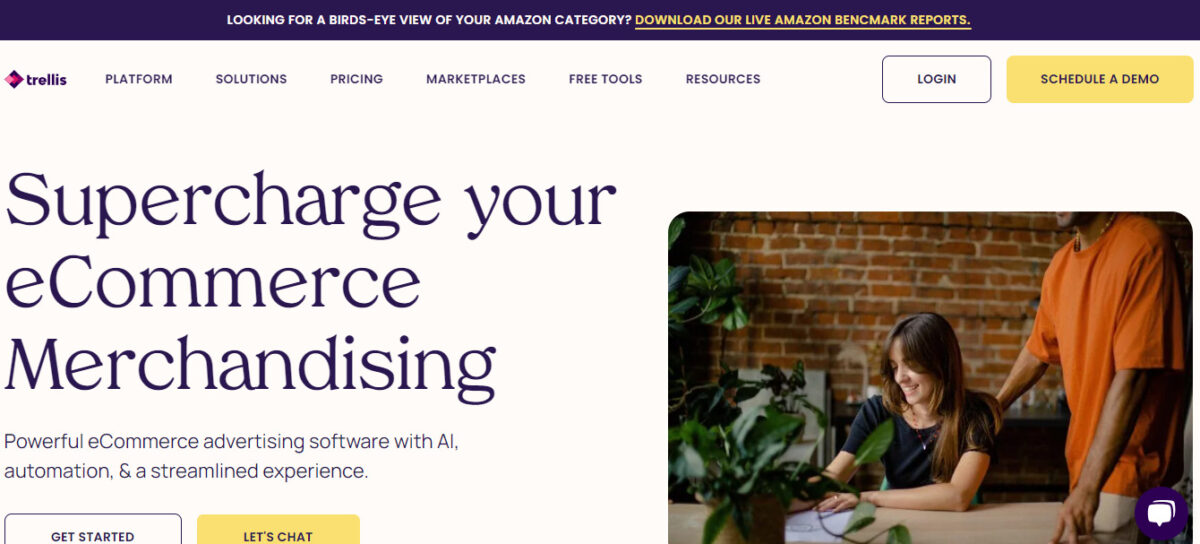 Trellis offers robust SaaS eCommerce merchandising tools with a focus on data-driven marketing choices through 4P automation: Placement of Advertising, Product Content, Promotion and Pricing. Their results-driven approach includes on average 10% improvement in Return on Merchandising Spend (ROMS), a 4% increase in Conversion Rate, and a 20% boost in Return on Advertising Spend.
Trellis Corporation caters to a diverse clientele that includes growing brands, established brands, agencies, and brand aggregators across various stages of development. Luxe Weavers' journey with Trellis exemplifies its impact, achieving an impressive 1100% increase in ad sales through calculated targeting. Trellis adapts to market dynamics, maintaining a 12x increase in daily ad sales while keeping ACoS below 30%.
Trellis is primed for the future, exploring innovations like the Walmart Connect API for sponsored brand ads, ensuring ongoing growth. It's not just a platform; it's a growth partner ready to elevate SaaS eCommerce businesses.
Pricing: Trellis offers SaaS subscriptions tailored to revenue, starting at $299/month for Entrepreneur plans (up to $2m annually) and going up to Custom plans for those with over $10m in revenue.
---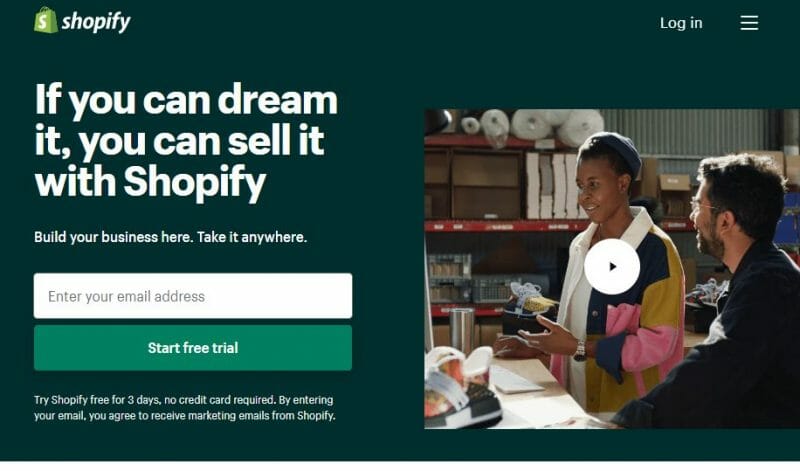 Shopify is currently the most popular eCommerce platform in the English-speaking world, generating more than $175 billion in sales for its merchants in 2021. This makes it the 3rd most widely used eCommerce software behind WooCommerce and Squarespace, according to data from Statista.
Large and small business owners flock to Shopify because of its wide array of features and functions that makes building and operating an online store a breeze. There's also an option to integrate an offline retail location, making it the ideal platform for brands with both an online and offline presence.
You can set up a responsive online store within minutes using professionally designed themes and import large product catalogs in bulk. There are options to use Shopify's payment gateway (Shopify Payment) or integrate thousands of third-party providers like PayPal, Stripe, Apple Pay, and others. Shopify has powerful marketing tools and analytics reporting tools that help business owners streamline their online shop and ensure they can maximize their sales.
Pricing: Starts at $29 per month for Basic Plan
---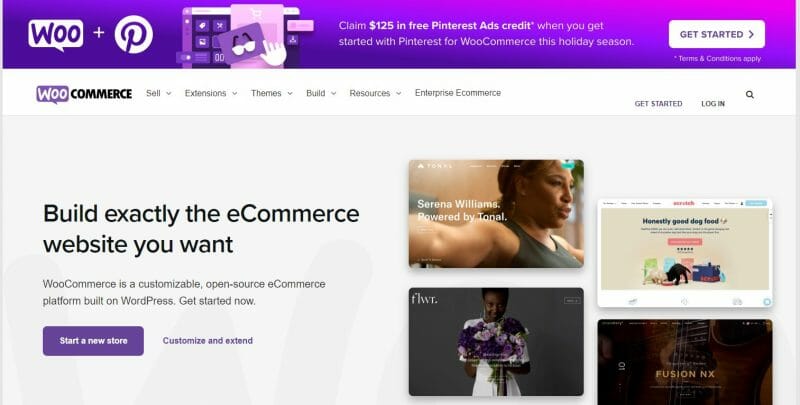 If you're already using WordPress as your CMS, then WooCommerce is the automatic choice to support your online store. WooCommerce is a free plugin for WordPress and is very customizable, making it a popular choice among web developers. You can create the perfect online store with all the features you'd actually use.
WooCommerce may not be as synonymous with e-Commerce as Shopify, but it enjoys the biggest market share at 29%—more than double Shopify's. It is no surprise since WordPress powers almost 50% of the world's websites.
However, WooCommerce is hard to set up for inexperienced WordPress users and relies on other extensions that may be clunky and incompatible if not regularly updated and maintained. Still, it's a great contender, as attested by its over 4 million users.
Pricing: Free plugin with paid WordPress plans
---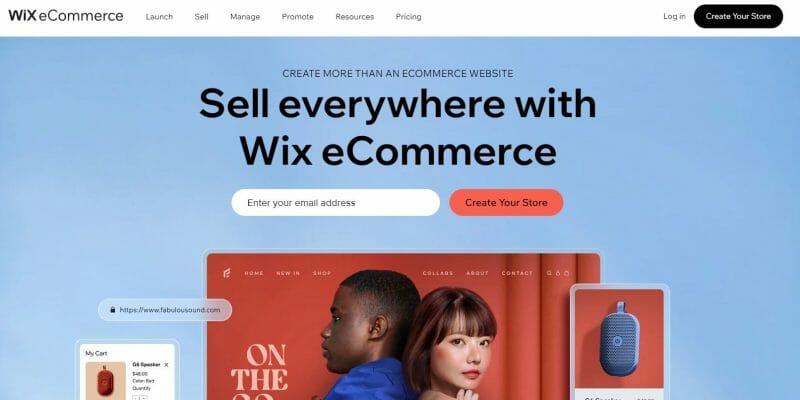 Wix is widely known as a website builder rather than an eCommerce platform, but the company has Business Plans that incorporate eCommerce functionalities into its intuitive drag-and-drop website builder. With four plans to choose from depending on the storage space and functionalities you need, business owners can easily integrate an online store into their beautiful Wix websites.
Wix also has Wix Payments, allowing you to accept credit and debit cards without the usual high processing fees associated with other payment gateways. While the company didn't start as an eCommerce software solution, those who value the simplicity of setting up a Wix website and the aesthetically pleasing templates will be overjoyed to discover they can use the same platform to sell online.
With 6 million premium subscribers, Wix enjoys a lead compared to Squarespace in the hosted website builder market. With its expansion as an eCommerce platform, it is poised to become a serious competitor in the eCommerce space.
Pricing: Starts at $23 per month for the Business Basic Plan
---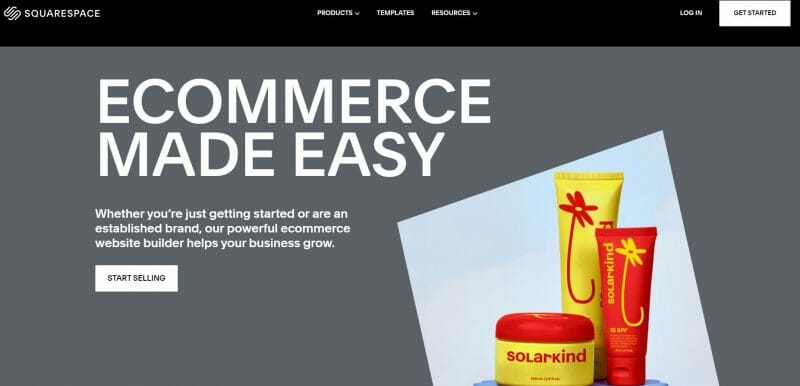 Squarespace is a website builder that allows you to create stunning sites for your portfolio, blog, local business, and others. It also has an online store functionality that goes beyond templates and lets you access marketing automation tools, inventory management, SEO, and reporting analytics. It has one of the lowest Business packages at $23 per month but has high transaction rates at 3%.
According to Statista, Squarespace has the second largest market share next to WooCommerce and is slightly larger than Shopify. However, this lead is dwindling as a fierce competitor – Wix – starts to catch up. Both platforms are in the drag-and-drop website builder market, which allows users to create visually stunning websites without any lines of code and using an intuitive interface.
Pricing: Starts at $23 per month for the Business Plan
---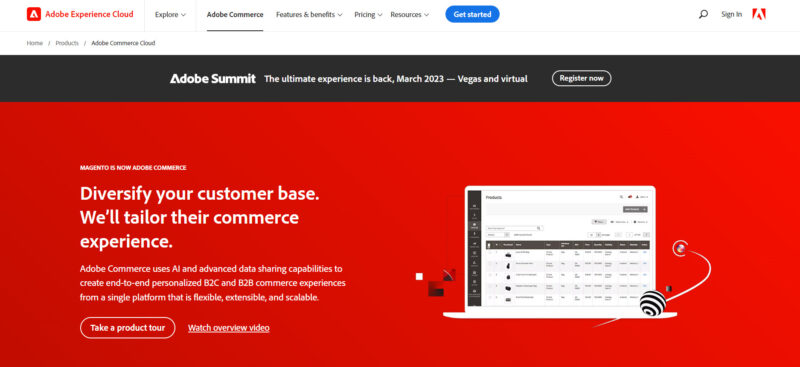 According to BuiltWith, Magento powers over 700,000 websites and is the 3rd most popular platform in the Top 10K sites in the eCommerce category. Magento is an open-source eCommerce platform used by big brands like Samsung, Nike, North Face, Ford, and more. It's one of the oldest platforms, developed in 2007 and becoming a closely popular solution next to WooCommerce in 2017.
Magento is now on its 3rd version (Magento 2.3) and is currently owned by Adobe. There's the Open Source option with limited features and the Enterprise Solution (Adobe Commerce) with more robust functionalities. Magento has also been renamed Adobe Commerce. Despite these changes, it still remains one of the most formidable and widely used eCommerce solutions, and the recent acquisition holds a lot of promise for this popular platform.
Pricing: Available upon request
---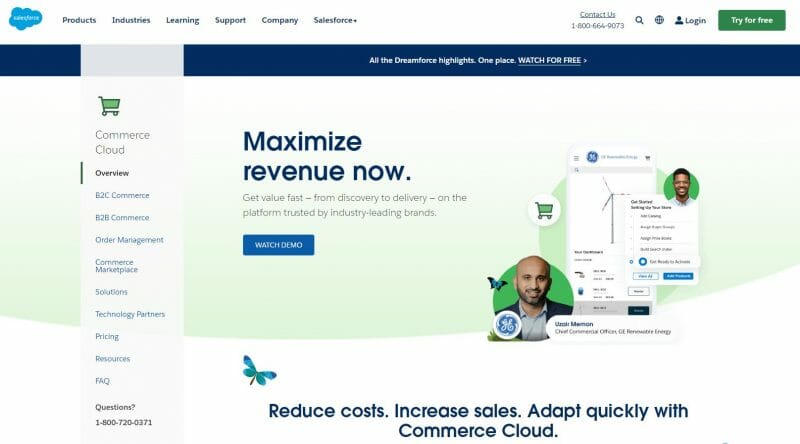 Salesforce Commerce Cloud unifies your online and offline channels to an AI-powered platform that helps you deliver a consistent customer journey across various touchpoints. The solution, available to B2C and B2B retailers, promises to generate better conversions to help grow your business.
It's the 5th most popular solution in the Top 10k sites in the Multi-Channel category according to BuiltWith and powers over 10,000 websites. Companies like GE Renewable Energy attest to the platform's ability to triple their growth compared to other platforms.
As an All-in-One eCommerce platform, the Salesforce Commerce Cloud integrates with other solutions that make CRM, order fulfillment, payment, and other processes seamless.
Pricing: Free trial available, Pricing upon request
---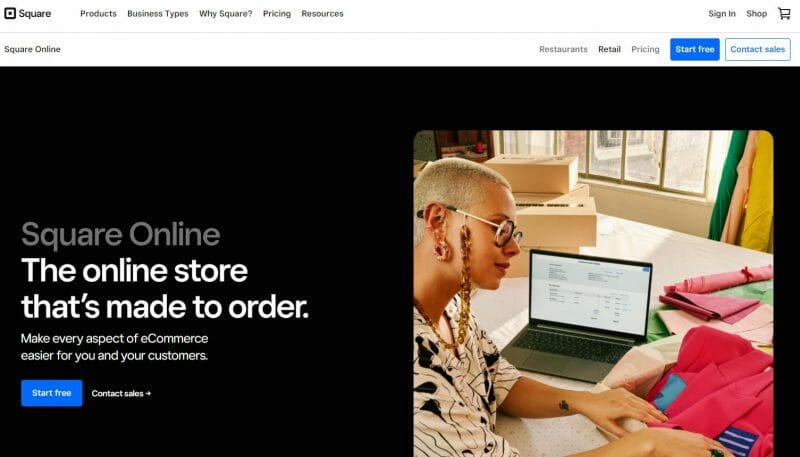 If you're using Square to accept payments at your brick-and-mortar store, it should be a logical move to build your eCommerce store using Square Online. It can be a quick and seamless process for your team since you're already familiar with the company and their eCommerce software is intuitive and straightforward.
There are in-built SEO and marketing tools and integrations to various Square products and services. It efficiently merges the familiarity of onsite operations with the innovations of an online store. It's an ideal solution for retail stores and restaurants that enable curbside pickups as another way to serve their customers.
However, design options are limited, and it's no match to the more robust functionalities available in other eCommerce platforms like Shopify and Wix. You'd only consider Square Online if you're already a Square user and only need an online store to complement your thriving offline one.
Pricing: Starts at $0 with restrictions, Paid plan starts at $29 per month
---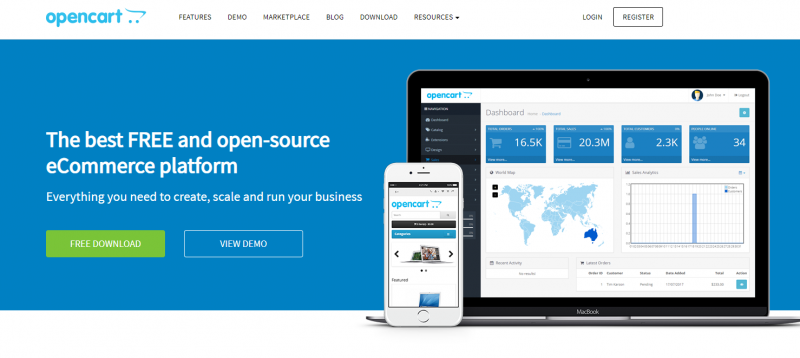 OpenCart is an open-sourced eCommerce platform that's free to download and easy to run. It has powerful built-in features like store management, SEO, product management, order management, and more. There are also built-in themes and modules to choose from. It's built using PHP and MVC architecture, and as an open-source solution, its source code can be manipulated by anyone.
This becomes one of its greatest limitations because you need a dedicated web developer to make the platform work. It's not easy to set up the platform for companies without a dedicated developer who can tinker with it. However, it has the potential to turn into the exact online store you dreamed of with its highly customizable features.
Pricing: Free to download
---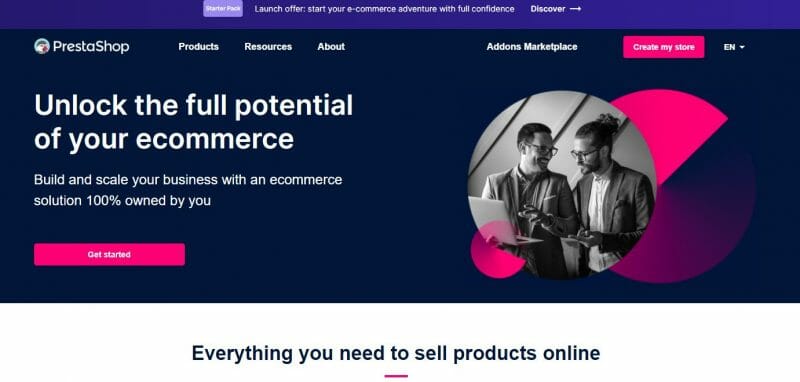 PrestaShop is another open-source eCommerce platform built on PHP that powers over 700,000 websites, according to BuiltWith. It's ranked the 7th most popular platform in the open source category across the entire internet. Like any other open-source platform, it's free to download and install the main software.
There are hundreds of developers working within the PrestaShop ecosystem to deliver complimentary modules. However, to fully maximize the platform, you need technical expertise to transform it into the eCommerce solution your business needs.
You are also in charge of managing the hosting provider and ensuring it's something that can support your store.
Pricing: Free to download, but additional modules can be costly. Starter pack costs 169.99 EUR
---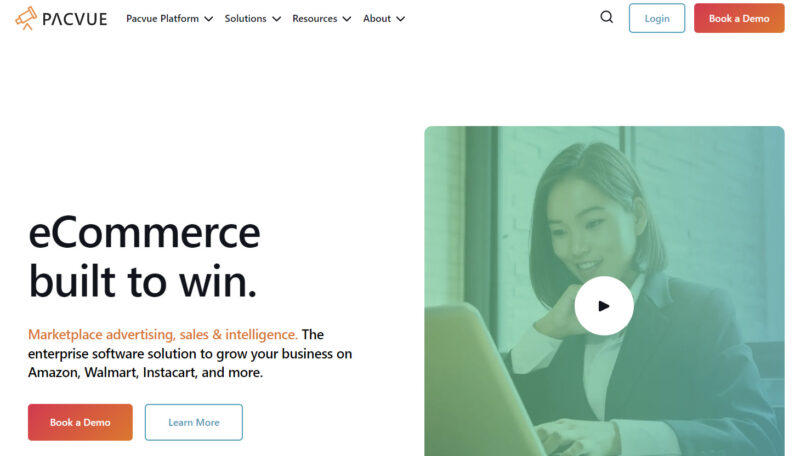 Pacvue is an enterprise solution for brands who need a holistic eCommerce solution that combines end-to-end retail data with tools to help them take the recommended actions based on these insights. They offer campaign management, digital shelf optimization, and reporting & intelligence for brands on Amazon, Walmart, Instacart, and other platforms.
Their goal is to help brands be present in the various online marketplaces where customers shop, but just without the headaches of managing multiple advertising and fulfillment channels. By using this omnichannel approach, you can manage your product performance across channels from a single dashboard, providing unified eCommerce management. Their insights and reporting features also give you actionable retail data so you can make decisions faster and respond to the rapidly changing landscape of the eCommerce industry.
Pricing: Available per request
---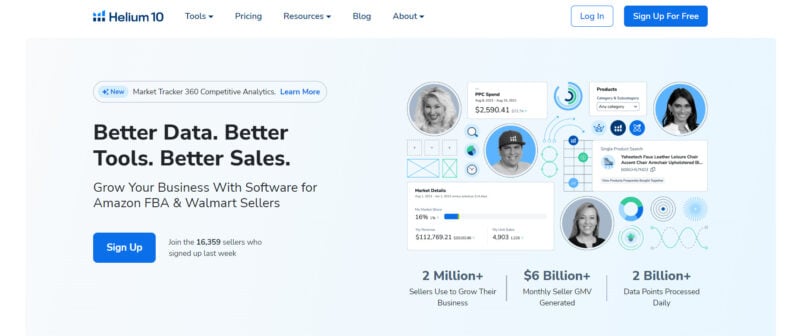 Helium 10 is created for Amazon FBA and Walmart sellers so they can take their eCommerce business to the next level. It is owned by Assembly, a leading eCommerce growth platform that helps merchants with every stage of their business journey, from creating content to upskilling to being part of a thriving community.
The platform has several tools geared towards Amazon FBA and Walmart sellers to help them with product research, keyword research, listing optimization, analytics, marketing, and more. Since 2015, Helium 10 has helped over 2 million users become successful entrepreneurs.
Pricing: Starts at $29 per month
---
Wrapping Up
Online shopping is here to stay, and with the rise of social commerce, you can't afford to miss out on another profitable sales channel. The eCommerce platforms listed here will help you finally gain the confidence to open an online store. Or, if you already have one but it's not performing, you may want to explore other marketing strategies and website optimization techniques to boost your online sales.
Ultimately, eCommerce is a trend you can't ignore, and the sooner you set up an online store, the better for your business.
Frequently Asked Questions
What's the largest eCommerce platform?
In terms of market share, WooCommerce is the largest eCommerce platform currently used by over 3 million websites worldwide. However, in terms of popularity, Shopify beats WooCommerce by a wide margin. According to Google Trends, Shopify has more searches than any other eCommerce platform combined.
This trend is despite Shopify only having a 19% share vs. the 25% WooCommerce share in the top 1 million eCommerce sites. If the valuation indicates popularity, Shopify is currently valued at $40.3 billion – a far cry from the $3 billion valuation of Automattic, the parent company of WooCommerce, which is also responsible for WordPress, WooThemes, and dozens of other products.
WooCommerce may be the top right now, but with the aggressive growth campaigns of Shopify, it won't be a surprise if this Canadian company overtakes the famous giant.
What's the best eCommerce platform for small businesses?
There is no straight answer to the best eCommerce platform for startups and small businesses. With so many options, the correct answer is to determine your goals and current skill sets for launching an online store.
If you have a dedicated web team with knowledge about web development, an open-source platform like WooCommerce or OpenCart will be an ideal solution. Your team can take care of the setup and maintenance, plus there's a huge chance your existing site is already running on WordPress.
However, a hosted solution like Shopify, Wix, or Squarespace may be the better option if you're starting from scratch and have a small team wearing many hats. These sites are quick to set up and won't require any technical maintenance. It's like a plug-and-play solution where you sell hundreds of products automatically online.
Choosing an eCommerce platform will also depend on what you're selling. If you're only selling a few items or digital services, you'd need fewer functionalities than selling thousands of fast-moving consumer goods.
Before settling down with any eCommerce software, conduct your research by reading reviews and asking other businesses who've leaped to sell online. Their honest opinion and experiences using their current solutions will help you determine the best platform for your needs.
Which eCommerce platform works with TikTok shopping?
Social commerce is rising with the success of TikTok shopping and the hashtag #TikTokMadeMeBuyIt. In a recent press release, TikTok announced that the company would offer a full-service eCommerce solution where merchants can upload products on the platform. TikTok will handle points of purchase, shipping, and fulfillment within the app.
The same press release announced that TikTok has partnered with Shopify, Square, PrestaShop, and Ecwid. Merchants on these platforms can connect their accounts so users can explore their product catalogs without leaving the app. This enables merchants to harness the organic power of TikTok and promote their products to its billions of users.
Other upcoming eCommerce platforms partnering with the app are Wix, OpenCart, BASE, and SHOPLINE. TikTok will also release a TikTok Shopping API to let businesses integrate product catalogs directly into TikTok.
Which eCommerce platform supports Instagram Shopping?
Instagram was one of the first social media platforms to cash in on the social commerce trend by allowing qualified users to tag their products on their posts. You can create a storefront on Instagram and tag products in your photos that link to a product and checkout page. This process is integrated with Facebook Catalog, which you'd use to manage your product listings and availability.
If you're running a full-fledged online business, selling on multiple channels, having a separate Instagram store can be painful. Luckily, popular eCommerce platforms like Shopify and Big Commerce support Instagram shopping. You can connect your online store to Instagram for a seamless and automated selling process.
Other platforms like WooCommerce, Magento, and OpenCart are not directly integrated with Instagram, but they are integrated with the Facebook Catalog, which is how products end up on Instagram in the first place.