The number of active email users is expected to reach 4.6 billion by 2025, proving that email marketing is a powerful method of reaching a vast audience. The trouble is building an engaged email list full of your target audience.
However, if you use proper lead generation tactics and implement growing email marketing trends, you're sure to increase your email list at a great rate while also sharing email content that each person will love.
Throughout this article, we're going to showcase the top eight email marketing trends you should be utilizing. Look through examples and get ideas for how you can incorporate these trends into your email marketing.
---
The 8 Most Notable Email Marketing Trends:
---

1. Personalization and Hyper-Segmentation
Personalization and hyper-segmentation are two big trends this year, especially as segmentation gets more and more in-depth. These are very similar trends, though they differ slightly, so we wanted to mention both of them under the same section.
When we say personalization, we mean much more than using the customer's first name in the email or subject line (though you should be doing this as well).
Instead, we want you to pay attention to some of the customer data you have access to and consider how you can utilize that to help your customers make the most of your product or service.
For example, here's a weekly email that Duolingo sends out to all of its users, sharing their progress and other stats from the week:

Users are able to see how many days they did a lesson, how much time they spent on the language, and other fun stats about their own usage.
Other ways to incorporate this data could be:
A graphic design tool sharing a weekly or monthly synopsis of the visuals their users created

A driving/map app that updates users on their driving habits

An exercise app providing a weekly motivational email with their users' workouts

An annual email letting users know about their most popular usage (i.e., Spotify Wrapped)
This type of personalization works especially well for software-as-a-service (SaaS) companies that have access to their customer usage information.
However, hyper-segmentation can work for all types of businesses, from B2B companies all the way to ecommerce brands.
Email segmentation is when you break your email list up into different categories based on customer behavior. For example, if you have several different store locations, you might segment your email list based on location. This way, you're able to share deals and events at each customer's local store, rather than sending unrelated content to your entire email list.
Other segmentation ideas include segmenting by:
Past purchases

Website activity

Funnel stage

Type of device

Abandoned cart

Life events (birthdays, anniversaries, etc.)
---
2. Mobile Optimization
81% of all emails are opened on mobile devices, so ensuring your email content is mobile responsive is key in 2022.
To ensure your emails are optimized for viewing on mobile, follow these essential guidelines: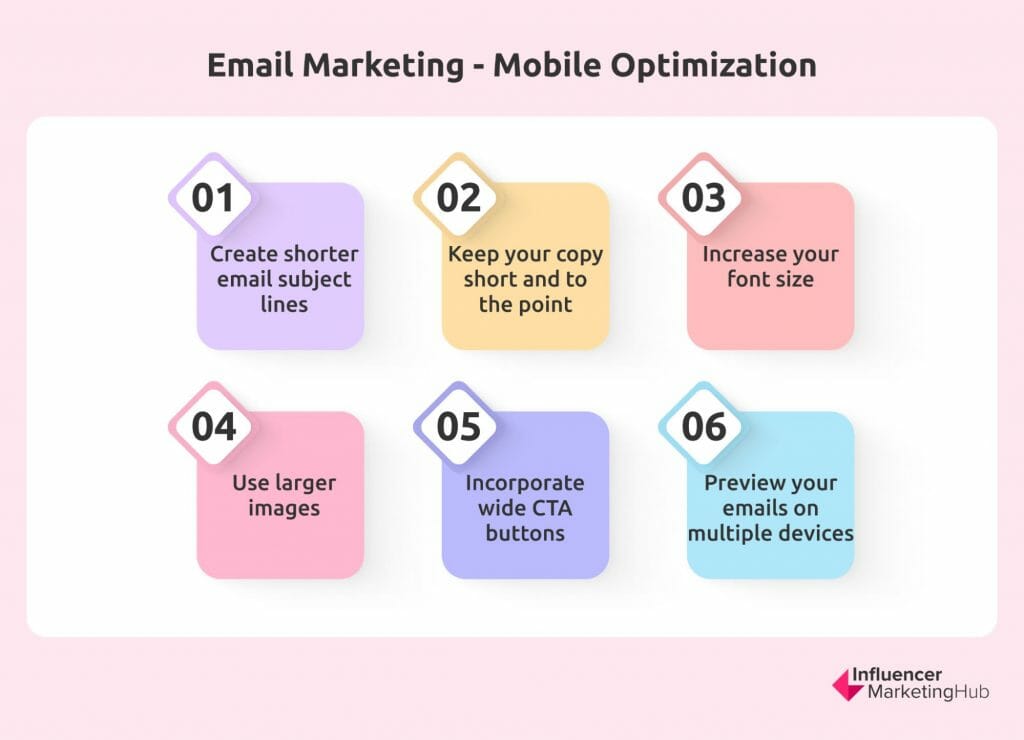 Create shorter email subject lines:

Mobile devices tend to only show half the characters a desktop email client does, so test out shorter subject lines.
Keep your copy short and to the point:

Mobile users prefer to skim emails and online content, so make sure any bits of copy are digestible.
Increase your font size:

Big headings and medium sized body copy are key for mobile optimization in your emails. Don't make people strain their eyes to read your email.
Use larger images:

Horizontal images can be harder to get the full picture of on mobile, so include square or vertical images instead.
Incorporate wide CTA buttons:

Make it easy for mobile users to click. Rather than links or small buttons, use a button that takes up the entire column.
Preview your emails on multiple devices:

If you're not sure if your email will translate well on mobile, test it out first. Most

email marketing software

allow you to preview or send a test email—make sure to open it on your mobile device to check formatting.
---
3. Creativity
Get creative with your email content. With the number of graphic design tools and email platform customization options out there, it's easy to come up with more creative email designs.
Here's a great example of a creative email with a pop quiz to help subscribers discover the best product for them:
Other ways to incorporate creativity are:
Animated elements

Gamification

Illustrations

Interactivity

Large typography
---
4. Accessibility
Accessibility is so important in marketing so that you're able to reach everyone in your target audience. Incorporating accessibility into your emails means you ensure they're readable to everyone on your list.
There are a few ways to make your emails accessible. First, make sure your subject line is relevant to your email. If someone is using a screen reader, you need to make sure everything ties together and makes sense, even if they're unable to see the full email.
Next, utilize colors that make it easy to read—or, take a page out of the example below and use a contrast switcher so that people can adjust the email based on what makes it more readable for their needs:
Also, try to stay away from image-only emails. These are popular with ecommerce brands to show off products, but they're not very accessible. For every image, make sure you have some kind of copy to go along with it—or at the very least, be sure to add alt tags if your email marketing platform has that feature.
Make sure your font size is large enough and that it's easy to read. Try to stay away from script fonts or any font that is difficult to read. Don't use all-caps or overuse italics, bold, or underlines either.
Ensuring your emails, social media content, website, and more are accessible helps you reach a wider audience and should be a major component of your entire marketing strategy.
---
5. Email Automation
Incorporating automation into your email marketing strategy is a great way to nurture your leads and close more sales. The way email automation fits into your overall strategy will vary greatly based on your industry.
For example, some companies may rely on automated email sequences to help close sales. Others might rely on automation to send out abandoned shopping cart emails that remind customers that they almost made a purchase but didn't quite finish.
Most email marketing software allow their users to create drag-and-drop workflows that automate when emails should be sent.
For example, if you've created an ebook as a lead magnet, you might have an email automation sequence that (a) sends the subscriber their requested ebook, (b) starts them on a sequence that shares more information related to the ebook, then (c) moves them into a sales pipeline in hopes that they make a purchase or sign up for your service.
Email automation is a great way to help your sales team as well as consistently engage your audience.
---
6. User-Generated Content
User-generated content is a great strategy on many marketing channels, and email is no different. Showcasing photos, videos, stories that existing customers are taking proves that your business has happy customers, making others more likely to buy. It's a form of social proof that's really easy to incorporate.
By incorporating photos that visitors to their island have taken, they're enticing the rest of their email subscribers to take a trip and take their own photos.
Try gathering your own UGC by holding a photo contest that surrounds a branded hashtag. You can use this on your social media, in your emails, on your website, and more.
---
7. Dark Mode
Dark mode is all the rage on many sites, from social media to working documents to email clients. Offering dark mode—or dark emails—is a great way to jump on the bandwagon.
The reason that dark mode has grown so much in popularity is due to the number of benefits that it offers, from reducing eye strain to increasing your phone battery life. So offering this option for your emails can make customers happy.
However, it's also important because many mobile devices are automatically inverting email colors if their users have dark mode turned on. So you need to make sure that your email designs can easily be inverted, turning your white backgrounds to black and black text to white.
To help with this, consider (a) sending your own dark mode email designs every so often, or (b) make sure you're not utilizing colorful backgrounds or text too often.
---
8. Omnichannel Marketing
Omnichannel marketing uses a variety of marketing channels in order to reach a customer. It also helps to create a cohesive feel around your marketing strategy, rather than each channel using a completely different voice and talking about completely different product or service lines.
Omnichannel marketing is also going to be a major trend with email marketing, especially as SMS marketing continues to grow in popularity. Using these two channels (and others) in conjunction with each other helps you reach a broader audience and create a cohesive messaging strategy that generates more sales.
Start building out your marketing strategy by incorporating even more marketing channels. Consider where your customer touchpoints will lie.
For example, if a customer finds you on Twitter, makes it to your website, then signs up for your email newsletter, you've reached them in three different places. It's good to have variety so that you're able to reach a wider audience.
Another non-email related example is this: Some people watch videos on TikTok, others prefer Instagram Reels, and some revert to YouTube Shorts. Repurposing your video content to each different platform helps you reach your audience where they are.
And offering both email and SMS communication options helps you reach people who might prefer to hear from your business over email while also connecting with those who prefer a text. Just be sure to keep your communication consistent so that someone who might be subscribed to both can make a connection that these messages are obviously from the same brand.
---
Start Incorporating These Email Marketing Trends
Ramp up your email marketing strategy by incorporating popular trends. Get even more ideas for using these email marketing trends by taking a look at some of these great brand examples.
Frequently Asked Questions
Does email marketing still work in 2022?
Absolutely! Email marketing is still such a powerful marketing strategy. This is because your email list is one of your only owned audiences. Social media platforms aren't guaranteed, but your email list is filled with people who have chosen to interact with your business and sign up for your communication.
Which industries use email marketing the most?
The top five industries taking advantage of email marketing are:
Retail

Financial services

Travel

Hospitality

Consumer goods
What is a good-sized email list?
While everyone has to start somewhere, you should start to feel comfortable with the size of your email list once you hit that first 1,000 subscriber milestone. Larger businesses will want to increase theirs to 10,000-50,000+.
How can you grow your email list in 2022?
There are many different ways to grow your email list. A few include:
Placing opt-in forms strategically throughout your website and blog

Creating

lead magnets

that your target audience is interested in

Utilize pop-ups to grab attention and incite signups

Offer incentives like discounts or freebies for new subscribers
What percentage of emails get read?
The average open rate in 2020 was 21.3%. 81% of those are opened on mobile and 19% are opened on desktop.