Advertising Disclosure
Advertising disclosure:
Our partners compensate us. This may influence which products or services we review (also where and how those products appear on the site), this in no way affects our recommendations or the advice we offer. Our reviews are based on years of experience and countless hours of research. Our partners cannot pay us to guarantee favorable reviews of their products or services.
In today's highly competitive business landscape, marketing is strenuous. The challenge increases when marketing an intangible product without any physical presence. SaaS or Software-as-a-Service is a growing segment with numerous applications in various industries like retail, real estate, healthcare, etc. As the playing field becomes increasingly crowded, the need to stand out and reach your target audience becomes even more critical. Working with the best B2B SaaS marketing agencies will ensure you remain on top. 
---
The Best B2B SaaS Marketing Agencies for 2024
B2B SaaS marketing agencies are not the same. There are different agencies with different specializations and expertise. Some agencies have been around for a while, while others have recently started but have already demonstrated extraordinary promise. Our compilation of the best B2B SaaS marketing agencies will help you find the right marketing agency for your needs.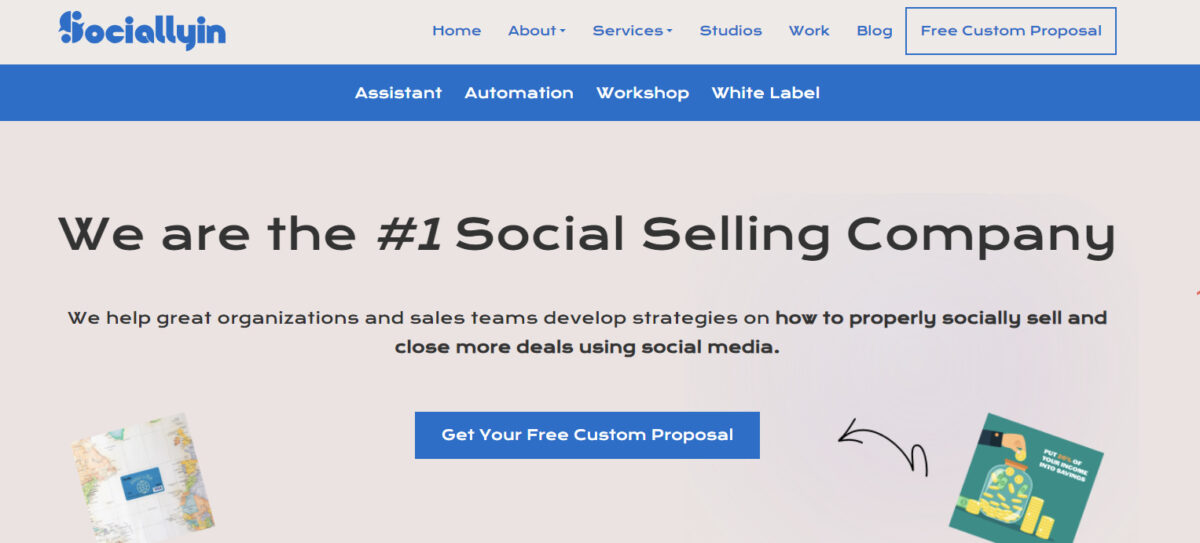 Location: Atlanta, GA, United States | Founded: 2011 | Specialty: Social Media Marketing
Sociallyin stands distinguished in the realm of B2B SaaS marketing agencies, meticulously crafted to bridge the connection between businesses and their prospective clients, particularly through the influential platforms of LinkedIn. The agency emphasizes a robust, AI-driven LinkedIn lead generation that scales efficiently, ensuring businesses reach out and resonate with highly qualified leads within their specific niches. Every outreach is engineered with precision, utilizing high-performing data accumulated from thousands of successful LinkedIn campaigns across various industries.
One of the eminent features of Sociallyin is its ability to streamline the art of connection. Through the Social Selling Automation service, the agency utilizes AI to target and engage decision-makers, drawing them directly into the client's sales funnel. The comprehensive process includes creating a custom A/B messaging sequence, real-time reporting, and data-driven campaign strategy enhancements. This ensures that businesses can focus on what matters most – selling, while Sociallyin takes the helm of connecting and engaging potential leads.
With a LinkedIn Certified Support Team at the core, Sociallyin amplifies its offering, ensuring every campaign is delivered and optimized for maximum impact. The agency offers various plans tailored to cater to diverse business needs and scales. Each plan features prospect outreach, active campaigns, auto follow-ups, AI-driven message organizing, and a dedicated client success team. Premium clients enjoy the VIP treatment, ensuring that their campaigns are not just executed but are the pinnacle of personalization and efficiency.
Sociallyin isn't just about automating connections; it's about automating meaningful engagements that convert. It's more than an agency; it's a partner that understands the intricate nuances of social media, transforming every outreach into a potential business opportunity. With a portfolio showcasing significant brands and positive client testimonials, you can expect Sociallyin to be your preferred partner for aiming to unveil social media's true potential and capacity.
---
---
---
---
---
---
---
---
---
---
---
---
---
---
---
---
---
---
---
---
---
---
Why Hire a B2B SaaS Marketing Agency?
B2B SaaS marketing agencies are experts in the skills needed to market SaaS products successfully. They have in-depth industry knowledge and know the right strategies to convert your customers. One of the biggest challenges of every SaaS is high churn rates. Customers try out the products but never convert into paying customers. Another big challenge is discovery. With the crowded space, customers must be able to discover your solution and determine it's the perfect fit. 
Reaching the right customers, converting them, and retaining their business are the primary marketing goals of any SaaS business. A great B2B SaaS marketing agency must know lead generation, SaaS CRO, SEO, SEM, pricing strategies, social media marketing, and other related skills. You shouldn't hire an inexperienced SaaS marketing agency, or you risk having your SaaS fading into oblivion. 
---
How to Choose the Best B2B SaaS Marketing Agency?
Finding the right B2B SaaS marketing agency may feel challenging, given the number of well-qualified players in the field. While it can be tough to choose, it's possible when you consider the following factors:
B2B SaaS marketing agencies have different specializations. While some offer full-service marketing, if you only need a specific requirement, i.e., lead generation or performance marketing, you are better off going to specialists whose expertise can give you the desired results.
Budget is a primary consideration when deciding to work with an agency. It depends on the scope of work and the timeframe. Understanding your goals will help you stick to your budget when selecting an agency. Consider also the payment terms. Some agencies agree on a pay-per-performance model, which assures that they will exhaust all means to deliver results. 
If you already have an existing marketing team, assess if the agency you're getting will compliment them or replace some of their functions. It's also best to engage a marketing agency if you already have an internal marketing team who can constantly collaborate with the agency. 
Working with an agency will involve several techs you must be willing to adopt and pay for. If you have existing ones, consider if they will use them. If they won't, determine if it's a deal breaker for you or not. 
Before choosing a B2B SaaS marketing agency, research their past works and ask around. Verify that what they post is accurate and look for a display of expertise. You don't want to work with the wrong agency that can harm your SaaS growth.
---
Final Thoughts
Hiring a B2B SaaS marketing agency is your best course of action when you're experiencing low-quality leads, poor conversions, lackluster revenues, and a virtually unknown brand. With tons of experience and expertise developed by helping numerous SaaS companies, these agencies can produce the results you've been dreaming of. They can help catapult your SaaS to a broader audience and pave the way for massive growth. 
Don't hesitate to reach out to them and let them run your marketing campaigns. This could be your chance to succeed. 
Frequently Asked Questions
What is SaaS B2B Marketing?
B2B SaaS means business-to-business software-as-a-service. They refer to cloud-based software used by businesses to run various tasks like CRM (customer relationship marketing), bookkeeping & accounting, office productivity, and other work-related functions. 
What is a SaaS Marketing Agency?
A SaaS Marketing Agency is a group of marketing experts specializing in specific marketing activities designed to grow your SaaS company. SaaS, particularly B2B SaaS, rely on targeted marketing activities such as growth marketing, lead generation, and conversion rate optimization (CRO) to reach the right audience and grow their subscribers. 
What are the most effective SaaS marketing techniques?
Some of the best SaaS marketing strategies include:
PPC Campaigns

Content Marketing

SEO Marketing

Free trials and discounts

Referral incentives

Feature on SaaS review sites

Social Media Advertising