Advertising Disclosure
Advertising disclosure:
Our partners compensate us. This may influence which products or services we review (also where and how those products appear on the site), this in no way affects our recommendations or the advice we offer. Our reviews are based on years of experience and countless hours of research. Our partners cannot pay us to guarantee favorable reviews of their products or services.
As a small business owner, you might have ventured online only to find e-commerce giants dominating Google rankings. While pay-per-click promises quick, albeit temporary, results, the sustainable solution lies in strategic Search Engine Optimization. In an economy where every penny counts, finding an SEO agency that delivers results without breaking the bank is pivotal. No instant gratifications here - SEO is a marathon, not a sprint, and a sudden halt can be detrimental.
The complexity of Google's ever-evolving algorithms means there are no shortcuts. The key is finding an affordable SEO agency attuned to your business goals, offering customized, cost-effective strategies. With a myriad of SEO agencies around, we're here to guide you to our top 9, ensuring you get premium, budget-friendly SEO services to elevate your online presence and compete with industry giants.
---
SEO Agency for Small Business - Outlining the 9 Best:
---
Top
seo agencies small businesses
2024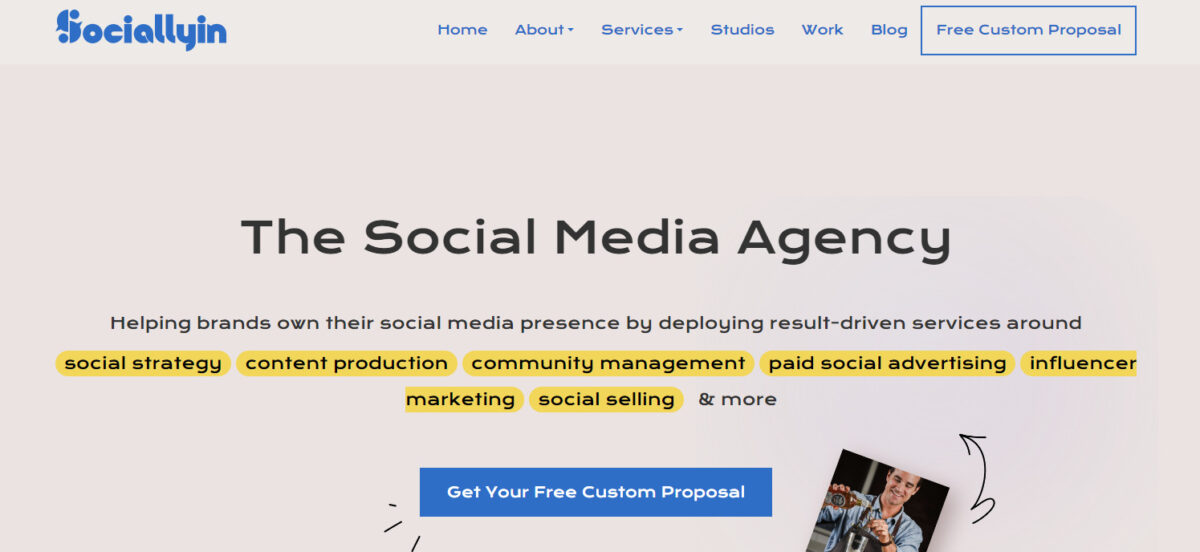 Best for: Expertise-driven SEO for Small Businesses
SociallyIn is an SEO-focused industry stalwart responsible for successfully orchestrating hundreds of campaigns across varied niches. This agency is synonymous with evidence-backed strategies and consistent results by offering bespoke SEO campaigns, gaining the trust of small brands wanting to dominate their industry's search terms. Their methodology is rooted in years of research and evidence-based testing, ensuring that brands receive not just promises but tangible results.
The agency's comprehensive suite of services encompasses every facet of SEO. Beginning with a meticulous audit, the foundation for driving organic traffic and revenue is set. Their content optimization prioritizes reader engagement, ensuring it transcends mere keyword stuffing. On-page optimization expertise promises quick rankings without relying on link-building alone. Using data science and AI SEO tools, SociallyIn provides a unique offering of competitor analysis, reverse-engineering the optimal, niche-specific SEO strategy. Furthermore, their commitment to client transparency is evident with custom analytics that keep businesses updated on all their key performance indicators.
A testament to their industry reputation is their impressive clientele, which includes giants like Toyota and DSG. Moreover, their adaptability is showcased by their proficiency in video SEO on platforms like YouTube.
---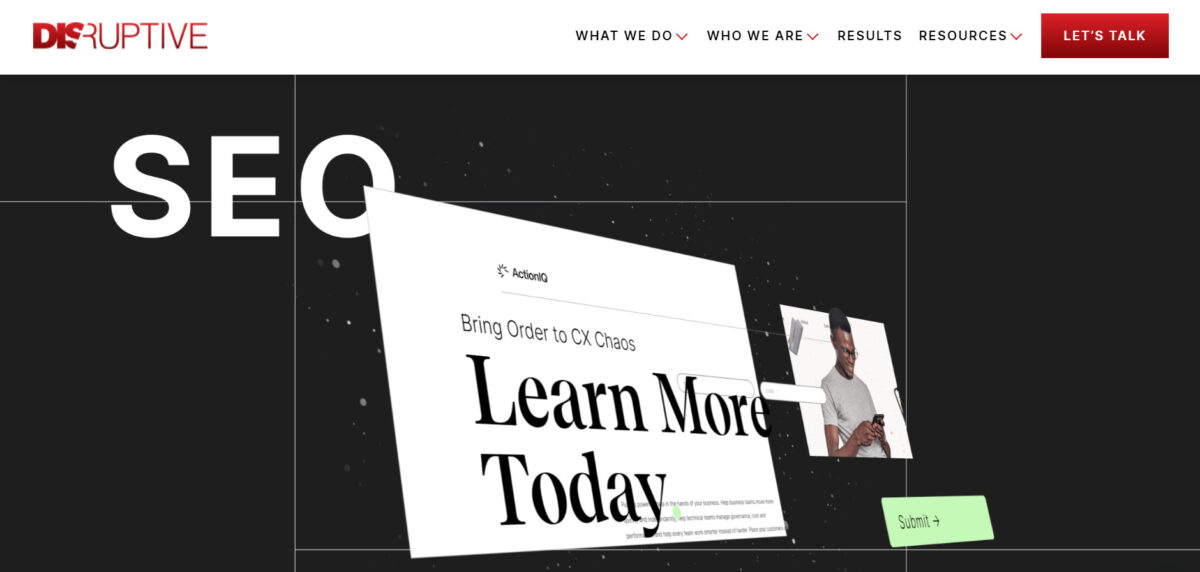 Best for: Tailored SEO for Tangible Business Growth
At the core of Disruptive Advertising's ethos is the belief that SEO growth thrives on data, not mere conjectures. A seasoned leader in the digital realm, this agency promises small businesses an authoritative presence in organic SERPs, enabling them to effortlessly eclipse their competitors. Backing this claim, they underscore that the top position on Google accounts for a staggering 43.32% click-through rate, making it an invaluable real estate for brands to capture.
Disruptive Advertising goes beyond just delivering organic traffic. Their all-encompassing SEO service suite begins with an exhaustive audit, offering businesses insights into their current standing and potential keyword opportunities. Following this, the agency addresses technical issues and recommends enhancements to elevate the user experience. Optimization then ensues, focusing on aspects like metadata improvements, structured data edits, internal linking, and more. In a distinguishing feature, Disruptive couples its SEO strategies with conversion rate optimization (CRO) testing, ensuring that the traffic influx translates to actual sales.
The agency's commitment to results is evident in its track record. Their clientele boasts sectors ranging from healthcare to B2C businesses and dental professionals, with testimonials praising their deep understanding, dedicated expertise, and impressive ROI delivery. Disruptive Advertising prides itself on its bespoke approach; no two clients receive a templated solution. Every strategy is tailored, ensuring a fresh, effective, and goal-aligned campaign.
---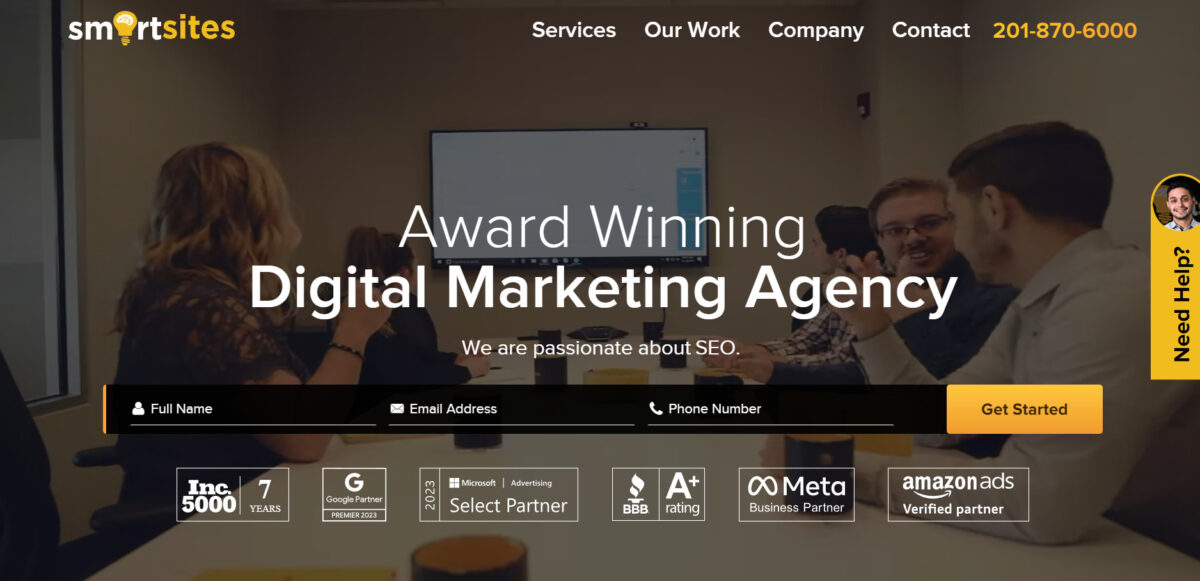 Best for: Pioneering SEO Solutions for Sustainable Business Growth
SmartSites, a distinguished digital marketing agency, consistently stands out in the realm of SEO with its commitment to ensuring small businesses achieve superior organic visibility. With prestigious recognitions such as "Google Premier Partner 2023", "Ranked #3 SEO Services by G2", and being hailed for "Best SEO Services for Small Business by Forbes," the agency's accolades underscore its industry prowess and its focus on delivering tangible outcomes for its clients.
Central to SmartSites' approach is its comprehensive understanding of the myriad variables that influence SERPs, ranging from domain authority to site speed. Their data-driven methodologies are designed to ensure businesses don't just attract traffic but also achieve measurable returns. Testament to their expertise is their track record: their SEO campaigns have witnessed a staggering 200% increase in traffic within just six months. Their holistic approach extends beyond just SEO, offering a gamut of services from content management and outreach to web development and design, all tailored to individual business goals.
One of the agency's standout features is their transparency in service delivery, which empowers clients with insights, allowing for informed decision-making. Case studies further illustrate their impact. For instance, the 'Air Duct Brothers experienced a 375% increase in leads and a 244% surge in organic search traffic. Another client, 'Anexio,' saw its organic search traffic skyrocket by 912% and a 247% growth in total site traffic.
---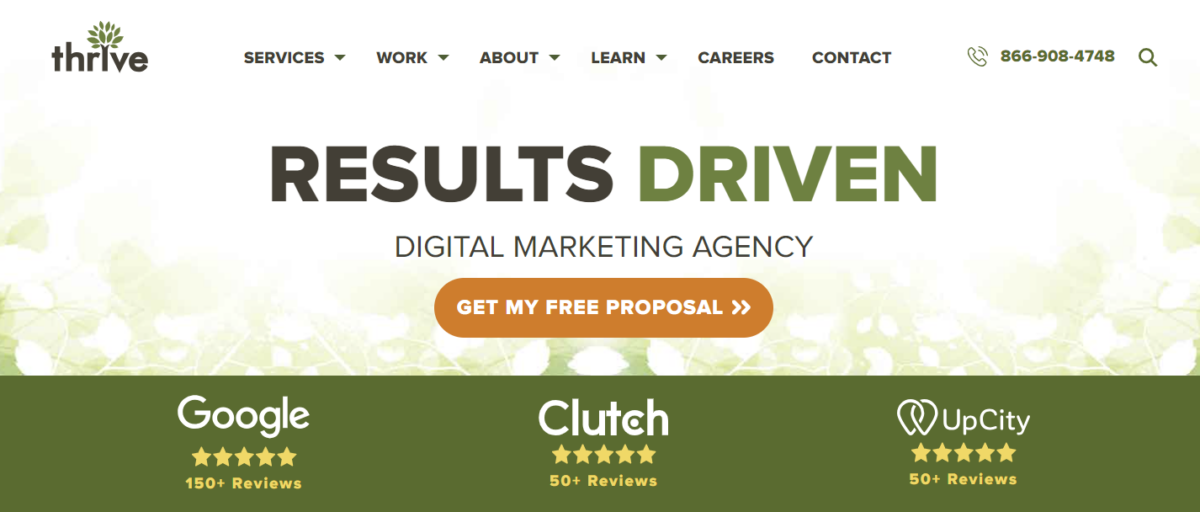 Best for: Strategically Navigating the SEO Landscape for Tangible Business Growth
Navigating the intricate landscape of search engine optimization (SEO) can be daunting. Thrive, a distinguished SEO agency, recognizes this challenge and has seamlessly bridged the gap between small businesses' online aspirations and their actual digital presence. Thrive doesn't merely respond to the ever-changing algorithms of search engines but proactively tailors strategies, ensuring sustainable organic visibility for its clients.
At the heart of Thrive's approach is a combination of technical expertise and an innate understanding of their clients' unique needs. They have effectively addressed common pain points: declining website traffic, diminished lead volume, and the overarching challenge of not being found online. Beyond addressing these issues, Thrive also lays emphasis on growing businesses through a myriad of services, ranging from keyword research, link building, local SEO, and on-page SEO to comprehensive solutions like franchise SEO and eCommerce SEO. Their technical proficiency ensures enhanced page speed, optimized back-end processes, and a refined user experience.
Thrive's commitment to transparency is evident in its track record of tangible results. For instance, a construction company partnering with Thrive saw an impressive 800% increase in online leads and a 126.5% rise in organic search traffic. An eCommerce business benefited with a 130% surge in organic revenue and a 70% uptick in website traffic.
---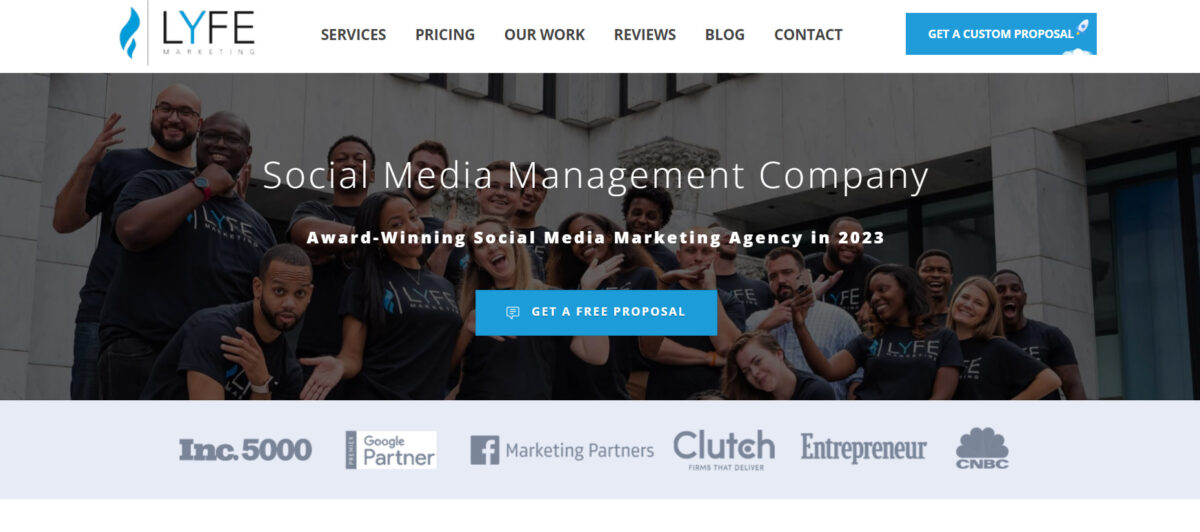 Best for: Digital Optimization of Social Profiles for Increased Visibility
Lyfe Marketing is a small business organic SEO marketing agency that prides itself on delivering substantial results for its clients. With an impressive track record of generating over $108 million in client revenue and managing over 200 client SEO campaigns, they have rightfully earned their recognition as a certified Google partner.
Their services are structured into three main packages, ensuring tailored solutions for various business needs. Each package comprises a set of core services, including keyword optimization, website audit, analytics setup, and more, aimed at improving online visibility. The agency is not just about immediate results; they understand the long-term benefits of SEO. With their assertion that SEO has 20 times more traffic opportunities compared to pay-per-click (PPC) advertising, they guide businesses to effectively harness the power of organic search. Beyond the basic offerings, Lyfe Marketing emphasizes customization. They provide add-on features such as link building, monthly blogging, and video production, allowing businesses to augment their SEO strategies as per specific requirements.
A testament to Lyfe Marketing's efficacy is their work with ROYCE', a renowned chocolate manufacturing company from Japan. ROYCE' approached Lyfe Marketing to enhance their search engine rankings. Through strategic keyword research, implementation, and effective blog creation, the results were exceptional. ROYCE' achieved 136 first-page rankings, recognition for 2,000 new Google keywords, and a remarkable revenue of over $302,000 from organic traffic alone.
---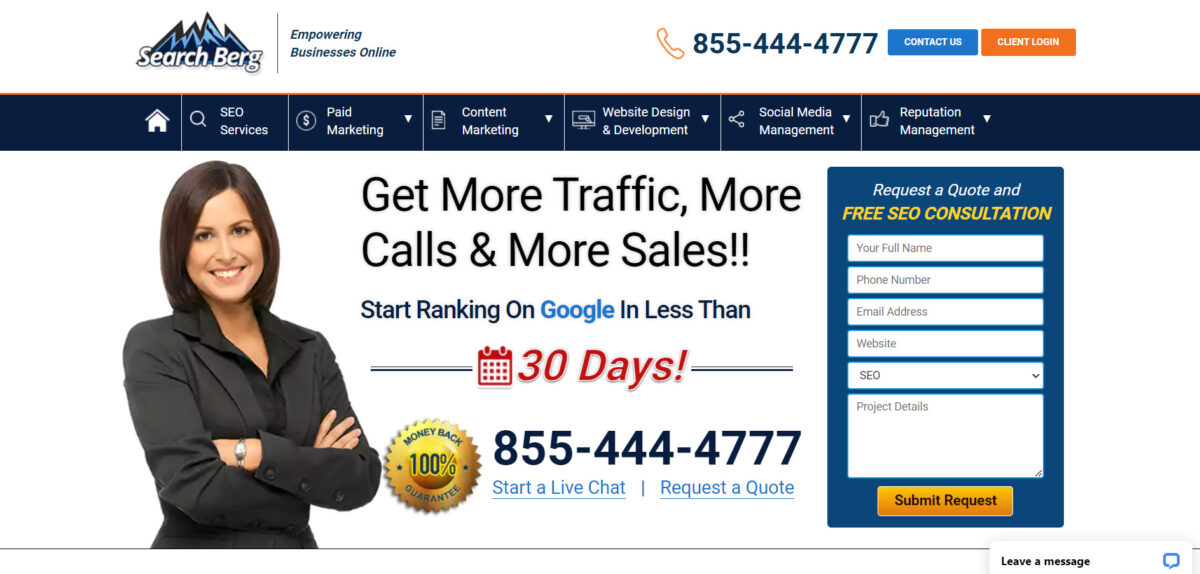 Best for: Small Businesses Looking for Localized SEO Solutions
In the vast landscape of SEO agencies, Searchberg stands tall with a laser focus on driving tangible results, especially for small businesses. Emphasizing the importance of visibility in the digital era, the agency advocates for SEO as the bedrock of online success. Their credentials are substantial: more than 20,000 websites audited, over a million pages optimized, 2.5 million keywords ranked, and thousands of satisfied clients echoing their efficiency.
Searchberg takes a multi-faceted approach to SEO. Their services encompass a holistic range, from local SEO, market insights, and link building to specialized SEO audits. Their commitment to delivering industry-specific solutions on a localized market is evident as they offer tailored strategies, whether for startups, established companies, or other agencies. But a standout feature is their attention to small businesses. They not only empathize with the challenges small businesses face but also devise impactful campaigns to transition them from obscurity to being a recognizable name.
One healthcare client, through a partnership with Searchberg, saw a significant uptick in their online metrics. Specifically, they experienced a 70% increase in online leads and a 130% surge in organic traffic.
---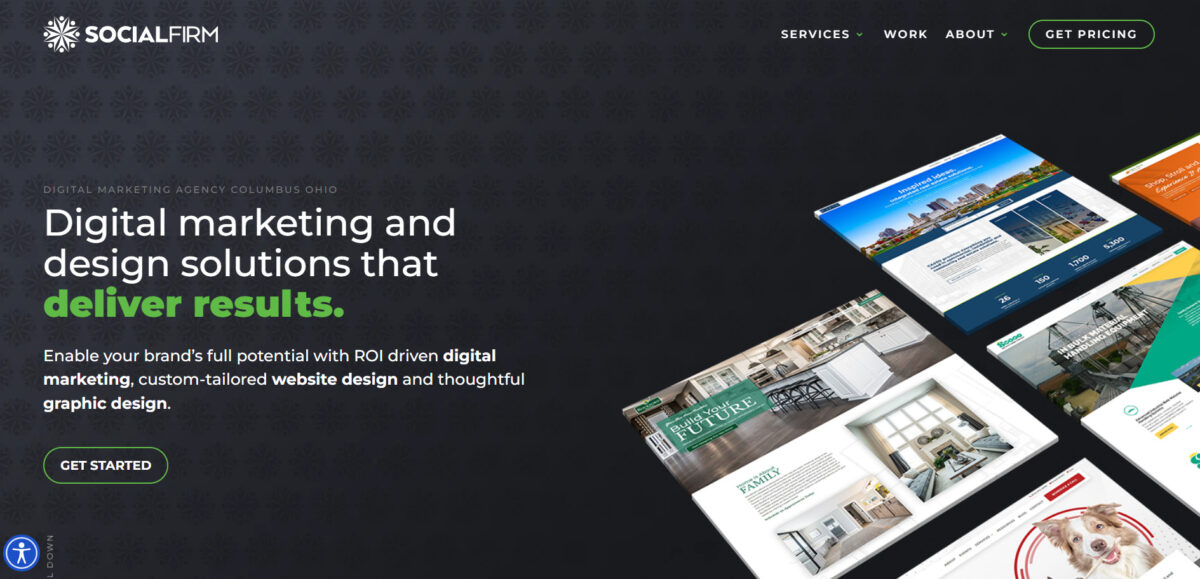 Best for: Small Businesses Seeking to Solidify Their Online Presence
Navigating the competitive terrain of SEO demands expertise, innovation, and results-oriented strategies, traits embodied by Social Firm. Recognized as a leading Columbus SEO agency, Social Firm emphasizes the importance of a comprehensive Search Engine Optimization package to ensure digital prominence.
Central to Social Firm's approach is a meticulous audit process. They commence with a technical audit, assessing metrics, content, site structure, and backlink profile to craft a tailored action plan. Followed by keyword research, they delve into user search behaviors, ensuring content aligns with target audience demands. Their SEO Strategy adopts both integrated digital marketing and channel-specific goals, setting benchmarks to evaluate success. Completing the cycle, measurement and reporting ensures continuous assessment, focusing on metrics that genuinely impact business growth.
Social Firm, with its array of services, from website design to content marketing, stands out as a comprehensive solution for small businesses aiming to dominate their competitors. Their tailored approach, combined with a results-driven mindset, positions them as a top contender in the realm of SEO agencies.
---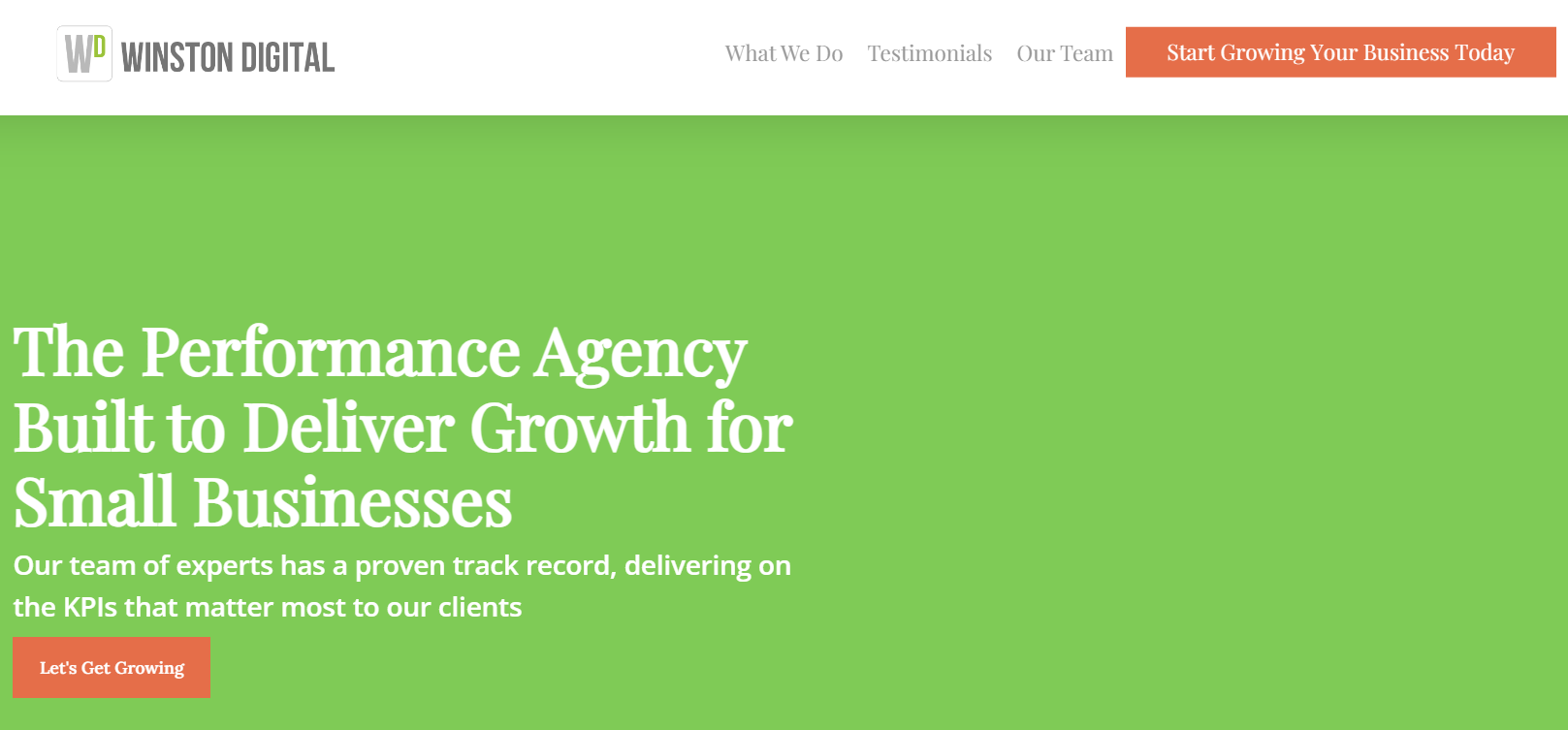 Winston Digital Marketing distinguishes itself by offering enterprise-level SEO services tailored to fit the budget constraints and specific needs of small and growing businesses. The agency prides itself on a return on investment driven approach, rooted in a profound understanding of each client's business, objectives, and target audience. The agency's team of professionals, each boasting an average of over eight years of experience, have honed their skills in prestigious agencies, ensuring clients receive award-winning strategies tailored for optimal results.
The core of Winston Digital Marketing's SEO offerings lies in their meticulous approach to the basics, often overlooked by others. They offer a comprehensive suite of services, including keyword research, on-page optimizations, technical SEO audits, and competitive analyses aimed at substantial organic growth. The agency promises rapid response times and fosters a partnership ethos, positioning itself as a vendor and a trusted ally in the business growth journey.
Success stories, including a 250% YoY growth in SEO traffic for New York Harbor Tours and a 347% increase in ranked keywords for Inside Music Schools, underscore the agency's capability to deliver tangible results.
---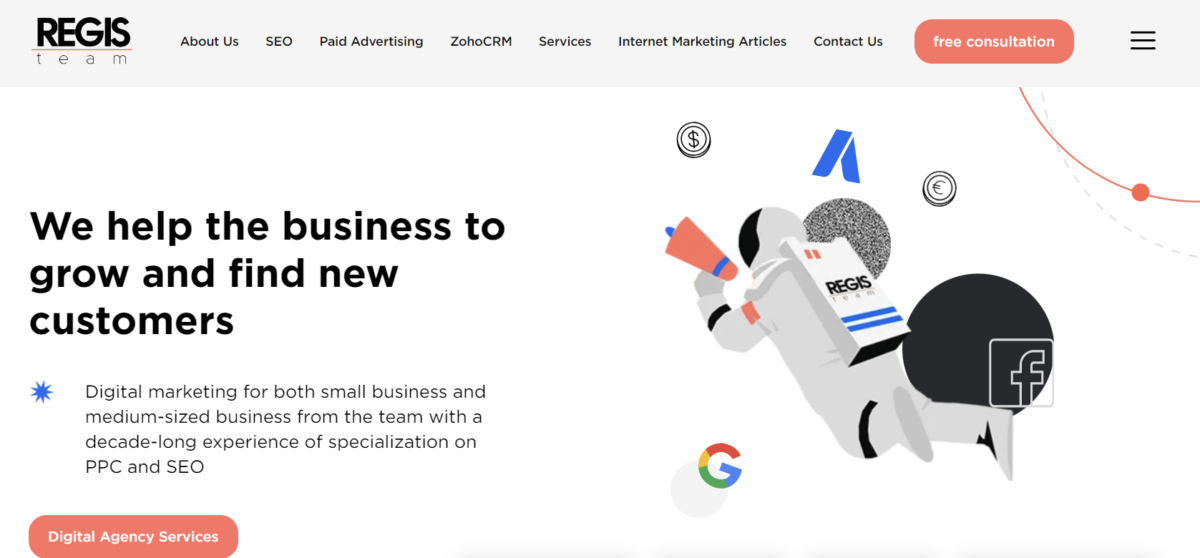 RegisTeam is comprehended as a robust SEO agency with a proven record of enhancing online visibility and sales for small businesses across various sectors. Their modus operandi is rooted in an empirical approach, offering SEO Pay-Per-Result services that are substantiated by tangible outcomes. Through an extensive analysis of over 1.5 million keywords, RegisTeam has adeptly navigated 450+ websites to the pinnacle of Google search results across 25+ countries, embodying their expertise in delivering global SEO solutions that are both efficient and effective.
The agency's prowess is exhibited in their holistic SEO strategy, which commences with an intricate market study. Every client's unique digital landscape is carefully assessed, encompassing a detailed competitive analysis and an exhaustive examination of the website's position on Google. Subsequently, RegisTeam undertakes meticulous website optimization, amalgamating technical rectifications with high-quality content creation fostering an impeccable external optimization.
Their mastery in SEO is further amplified by the tailored promotion strategies for each project, a testament to their dedication to offering personalized solutions to meet diverse business needs.
---
---
How to Hire the Best Affordable SEO Agency for Small Business?
Identify specific SEO needs, whether enhancing web traffic, improving search rankings, or increasing online visibility. For instance, small businesses might see more success by dominating local as opposed to nation-wide searches. Being clear about your objectives facilitates informed decision-making.
Conduct in-depth research on potential SEO service providers. Utilize referrals, read reviews, and consider the agency's track record in delivering results. Check their expertise in your industry, as that often provides immense insight into the agency's level of professionalism and expertise.
Transparency and Communication
Opt for agencies that are transparent about their strategies and communicate progress regularly. Clarity in the process and consistent updates are hallmarks of a reliable partner.
Evaluate the cost against the offered services. Affordable doesn't mean cheap - it signifies value. Ensure that the agency offers quality services and that their services align with your budget.
Evaluate their SEO Strategies
Understand the agency's proposed SEO strategies. Customized plans that cater to your business specifics are generally more effective.
---
How to Choose an SEO Budget for Your Website?
Allocating a budget for SEO is integral to maximizing your website's online presence. However, for many small business owners, determining the appropriate spend can be perplexing. Here's a concise guide to setting an SEO budget that aligns with your business goals and financial capacity.

Evaluate Current Website Status
Analyze your website's current SEO status. Small businesses can use free tools like Google's PageSpeed Insights to determine their website speed and performance on desktop and mobile devices. Other tools small businesses can use include Google's Keyword Planner, which can provide you with keyword research to deliver ads to the right customers.
Examine the competitive landscape. Your competitors' investment in SEO can provide insights into the necessary budget to rank effectively. Bear in mind that SEO is a long-term investment. While SEO services do cost, on average, $500 - $1,500 a month, they generate returns between 550% - 1,220% (Source: Neil Patel).
Seek Professional Consultation
Consult with SEO professionals to get a full breakdown of their costs and for you to determine your SEO budget. This is often the best way to uncover the right answer, and small businesses shouldn't shy away from hiring specialized agencies to outsource their SEO tasks.
---
Local SEO Tactics for Small Enterprises
With the primary objective to optimize the online presence for 'local' searches, businesses are capitalizing on localized strategies to ensure that they appear prominently in search results when potential customers are seeking services or products in specific geographical locales. For small enterprises, mastering local SEO tactics is not a luxury but a necessity.
The incorporation of Google My Business is often the inaugural step. It serves as the cornerstone, allowing businesses to appear in local search results and Google Maps, offering crucial information like business hours, addresses, and customer reviews at a glance. Ensuring that the information is accurate and updated is paramount. Customer reviews on this platform have a direct impact, influencing potential customers' decision-making processes.
Keyword optimization is another integral element. Implementing locally focused keywords, including the city or neighborhood name, helps in tailoring the content, meta tags, and URLs to resonate with the local audience. The tailored content strategy, underpinned by local keywords, ensures relevance, connecting businesses with local audiences effectively.
Moreover, the prominence in local directories and citations can't be overlooked. Businesses are listed on platforms like Yelp, Yellow Pages, and Bing Places to enhance visibility. The consistency in business information across these platforms is pivotal, offering credibility and boosting local search rankings.
Finally, local backlinks play a vital role. Acquiring links from locally relevant sites, like local sponsors or partners, signals prominence to search engines, bolstering local SEO efforts.
---
Conclusion
Being visible is not merely about having an online presence but being strategically positioned at the forefront. As the e-commerce landscape becomes increasingly saturated, small businesses face the arduous challenge of contending against industry giants.
When that's the case, leveraging SEO emerges as a crucial differentiator. The right SEO agency, as illustrated by our top 9 picks for 2024, can craft tailored, cost-effective strategies that offer not just online prominence but tangible business growth. With meticulous research, clarity in goals, and the insights provided in this article, small businesses are equipped to navigate the SEO maze, ensuring they don't just participate in the digital race but lead it.
Frequently Asked Questions
What exactly does an SEO agency do for small businesses?
An SEO agency helps small businesses improve their online visibility by optimizing their website, enhancing search engine rankings, and increasing organic web traffic. They achieve this through various strategies such as keyword optimization, content creation, and technical website improvements.
How can I determine if my small business needs SEO services?
If your business has an online presence or a website, SEO services can benefit you. If you aim to reach a wider audience, compete with competitors in search rankings, or boost online sales, SEO is essential.
What should I look for in an SEO agency for my small business?
Look for agencies with experience in your industry, a track record of delivering results, transparent pricing, and a clear communication process. Ensure they offer customized strategies that align with your budget and goals.
Are affordable SEO services effective for small businesses?
Yes, affordable SEO services can be highly effective for small businesses. What matters is the value you receive for your investment. A good agency can tailor its services to suit your budget while still achieving significant improvements in your online presence.