Advertising Disclosure
Advertising disclosure:
Our partners compensate us. This may influence which products or services we review (also where and how those products appear on the site), this in no way affects our recommendations or the advice we offer. Our reviews are based on years of experience and countless hours of research. Our partners cannot pay us to guarantee favorable reviews of their products or services.
In today's digital age, it's critical that your brand has a solid online presence. This, though, calls for continuous effort. Just maintaining your business website is difficult and time-consuming. Add to that the technical expertise needed to optimize your business website fully for the search engines and the task at hand all of sudden has become a whole lot more challenging.
As such, signing up for an SEO package is a popular course of action. Not only will this investment help ensure your website follows all the latest website design best practices, but it will also help you to compete and stand out.
Whether you're a new business or you're experiencing a sudden drop in rankings, here's a quick look at why it's worth considering getting an SEO package. If you're sold on the idea, continue reading to discover tips for choosing the right package for your brand. In addition to sharing a few practical guidelines, we've also made sure to include five of the most popular SEO packages available that you can check out.
---
SEO Packages: What You Need to Know Before Signing Up [+ 5 Packages to Try]:
---
What Are SEO Packages?
An SEO package (short for search engine optimization) is basically a bundle of services, tools, and/or features offered by a marketing agency (usually one that specializes in SEO). It can be used to help boost the overall performance of the website and its visibility on the search engine results page (SERP) to help attract more organic traffic.
These types of packages typically include the following:
A technical website audit to evaluate the website and identify problems that are impacting its performance negatively
Keyword research to help optimize content
On-site website optimization
Website speed optimization
A review of backlinks and help with link building
Help with website content creation
Regular reporting to ensure you stay informed about the progress that's being made
These packages are usually offered as a monthly subscription, but some agencies give you the option to pay a fixed rate or opt for yearly billing.
---
How Much Can You Expect to Pay?
When it comes to pricing, it can range quite a lot. You can expect to pay anything from $2,000 per month to just over triple that amount. The prices don't just differ between different service providers, but you might also find that there's a significant cost difference among the different packages offered by the same supplier.
Most agencies' business model uses three tiers and it's not uncommon for the entry-level plan to be as much as three times cheaper. However, keep in mind that your SEO cost will likely be higher if you have a new website or have been neglecting this department. As you'll need more work, the more expensive packages will probably include what you need in this case.
---
Pros of SEO packages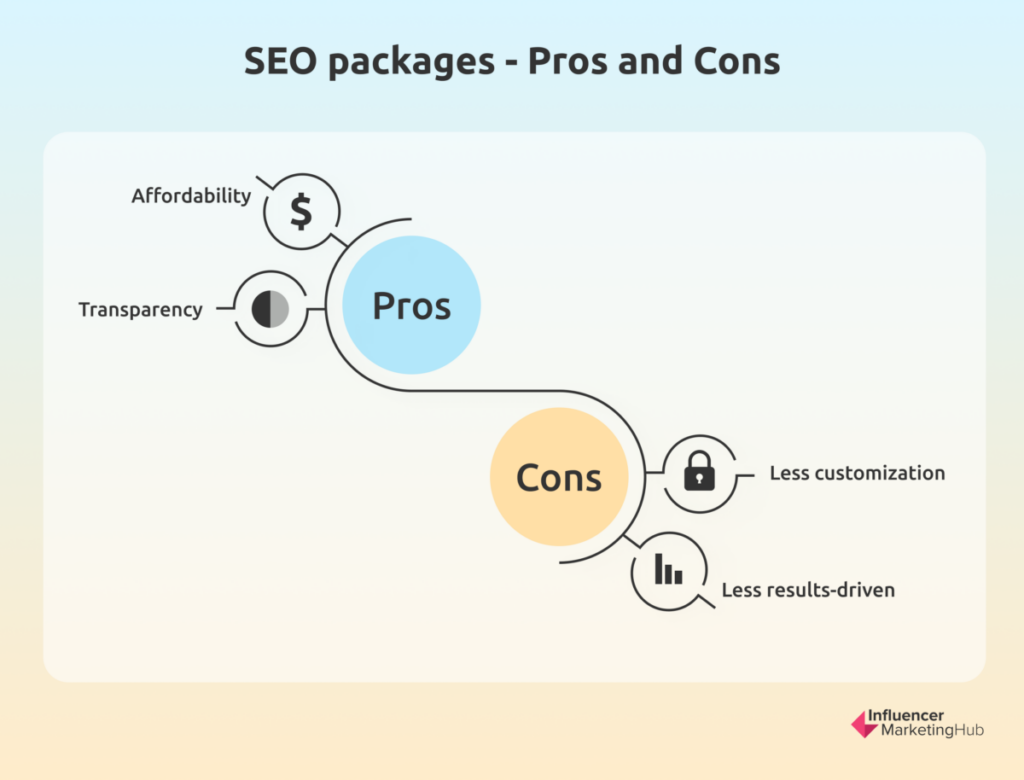 Affordability
While the monthly pricing of SEO packages can differ tremendously, its affordability remains one of the biggest appeals. You can save a pretty penny by opting for a bundle instead of having to pay for specific SEO services separately.
There's another "savings" to keep in mind. By entrusting this delicate job to professionals, you can avoid paying costly penalties.
If Google suspects that you've used techniques that violate their guidelines or are generally disapproved of, like keyword stuffing, you're stuffing your chances of climbing those search engine ranks. When this happens, not only will your site drop, but you can expect a drop in sales too. You might even get banned. Sure, there's no "SEO cop" policing the internet that will fine you, but there's still a price to pay for messing up your SEO.
Transparency
Another main reason why monthly SEO packages are popular is because of the transparency that they offer. They're written in such a way that it's easy to understand. This is quite valuable if you're about to pay thousands for a service that's not as straightforward to understand.
---
Cons of SEO packages
Less customization
There's a chance that a package won't meet all your needs. As there are several variables to consider, a tailored approach works best when it comes to this type of digital marketing.
For example, your results might indicate that you need to focus more on content development. However, if your package includes only two content pieces per month, you'll either need to buy another service or package or make your peace with your current results.
Less results-driven
One of the major cons of signing up for a package is that they can make it more difficult to achieve exceptional results. As mentioned earlier, it's easier to achieve better results by opting for a more flexible approach. There's a risk that the SEO company can get so focused on sticking to the list of strategies included (after all, they need to make a profit too) that they lose sight of getting real results.
---
5 Tips for Choosing the Best SEO Package for Your Brand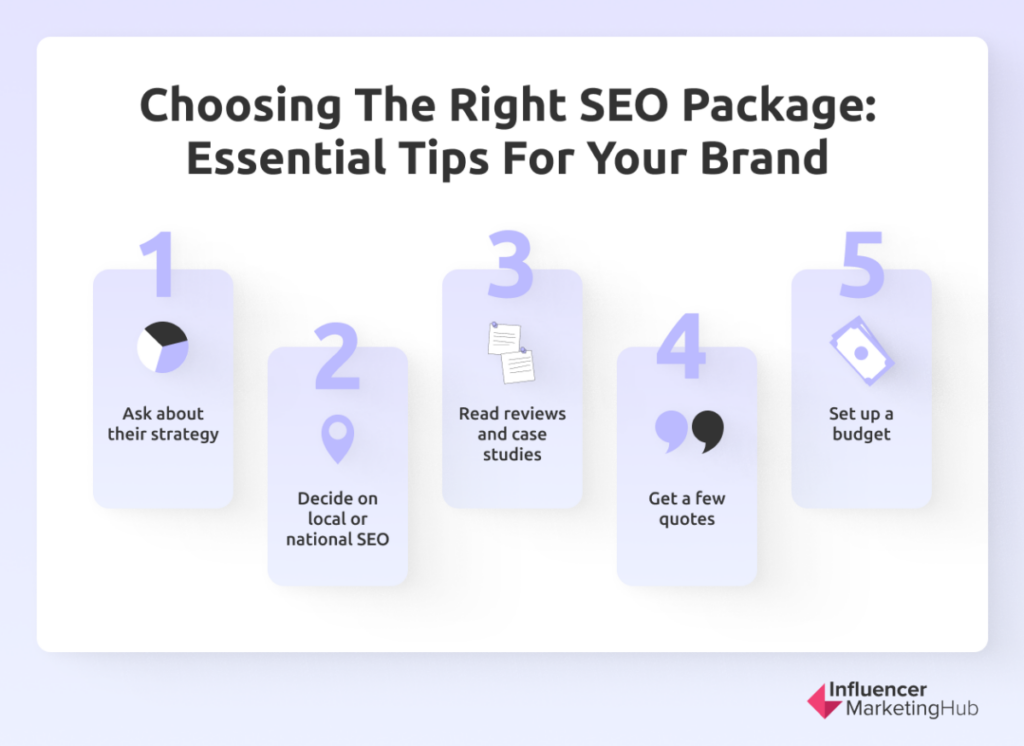 1. Ask about their strategy
The company should be able to tell you beforehand how they plan on achieving your business goals. This explanation should include a clear strategy that uses wording that's specific. If they're vague or broad, move on to the next agency on your shortlist.
Also, double-check that their plan of action doesn't include dubious methods like buying backlinks. Another thing to be on the lookout for is if they still use outdated best practices. Though, these will be more difficult to spot, especially if you're a novice.
In addition to getting clarification on what exactly they'll be doing, also ask about who will be implementing the different strategies. Ideally, they should assign dedicated experts to your project.
---
2. Decide on local or national SEO
If your target audience is mostly locals, focusing on local SEO will make much more sense. Basically, this means that the focus will be on improving your online visibility among local consumers and communities instead of potential customers from all across the country or globe. For example, there's no real use for a small, family-run coffee shop to try and attract the attention of diners 2,000 miles away.
However, if you're operating a franchise business and your coffee shop has locations in most major cities, national SEO will be the better route.
Adding to this point, it's also key that the SEO agency has worked with your specific industry before. For example, if you operate in the eCommerce space, marketing agencies that specialize in healthcare won't be of much use and vice versa.
---
3. Read reviews and case studies
Just like you would read customer reviews when signing up for a different software subscription, do the same when choosing an SEO package.
Many digital marketing agencies also like to post case studies on their website. These can also be valuable sources. It might not be an unbiased account directly from a client about their first-hand experience dealing with the said company, but it can help to quantify their results. SEO firms typically include numbers in their case studies. For example, by how much they managed to increase organic traffic.
Keep in mind, though, that unlike with performance marketing, you're not paying for guaranteed results. You're paying for their skills and the potential of, for instance, improving your organic traffic by 20% too. Also, if they guarantee immediate results, steer clear. That's not how SEO works.
---
4. Get a few quotes
As the pricing can differ significantly, it's key that you get a number of quotes instead of simply deciding on the first price that looks nice. Also, if you find an SEO package that's a lot cheaper, rather avoid.
A package that costs much less than the average going rate could mean that the company lacks experience and/or plans to focus on short-term results, instead of creating a long-term strategy for lasting gains.
---
5. Set up a budget
You have your marketing budget, right? While SEO is critical, it's not the only digital marketing strategy that you'll need to leverage.
So, don't blow your entire marketing budget on an SEO package.
---
5 SEO Packages to Check Out in 2023
---
---
---
---
---
Wrapping Things Up
Technically, your SEO efforts don't have to cost you thousands each month. It's true. However, to do that on your own, even if you have a team to help you, is hard.
The actual work alone eats up valuable time. Then, there's also the extra hurdle of keeping up with the latest best practices, trends, and algorithm changes. This can be frustrating, especially if you've just reached level ground after a steep learning curve.
That said, although there are several quality SEO packages available, going this route might not get you the best results. Sure, it's cost-effective. However, asking for a custom quote can yield better results.
SEO might take time, but if you spot that a strategy doesn't work or achieve the desired results, you need to be able to change course of direction fast. You need to allow for flexibility.
So, while you're at it, just ask about their hourly rate or available custom plan. There is definitely more than one way to go about SEO.