Compared to other social media platforms, Snapchat is still relatively new on the scene. If you could never understand the attraction behind going through all the effort to send messages (aka snaps) that would only end up vanishing, it could just be that you're too old.
Teenagers get it. Whether it is because it gives them an outlet to express themselves without being scrutinized afterwards by their parents or simply because it offers something different, that's up for debate. Whichever the case might be, this idea of creating and sharing content only for it to disappear later caught on and other platforms made it part of their (Instagram) story too.
While other platforms might have moved towards the idea of creating self-destructing content, Snapchat decided to move away from that feature that arguably made it so unique. Whether it's through Snapchat Stories or Snapchat Memories, users can also create content that will continue to grace our screens (and not in the form of a screenshot). To help you make the most of Snapchat and its marketing potential, here's a quick guide to Snapchat Memories.
---
Step-by-step Guide to Creating Snapchat Memories in a Snap:
---
What's Snapchat Memories?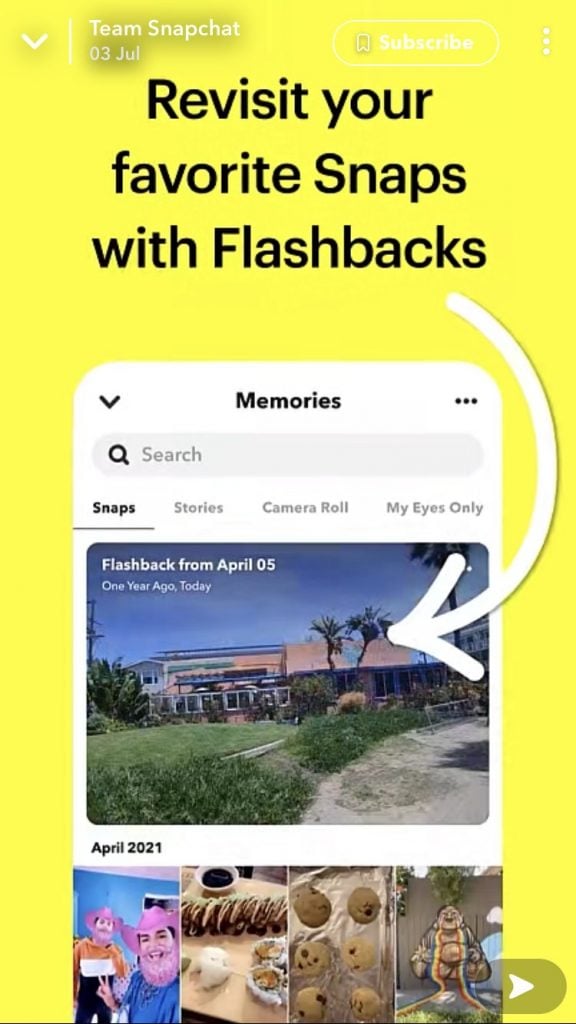 Snapchat Memories is a feature that the platform introduced a couple of years ago. In short, it lets their users save videos and photos within the platform under the Memories tab. This way, they can view, edit, send, and repost them again at a later stage.
---
What Are the Pros of Snapchat Memories?
Arguably the main advantage of Snapchat Memories is that it also lets users search their memories using specific words. The platform will then use relevant saved memories to create a new Snapchat story. Seasoned content creators and leading Snapchat influencers know only too well that creating high-quality content is a time-consuming process. So, Snapchat Memories are great for repurposing content.
For example, with Flashback Memories, you can turn it into a #tbt moment or celebrate special milestones and anniversaries. It's basically like an anniversary for your Snapchat Memories. Brands like Apple and Facebook use the same feature.
For example, if you added a snap to one of your memories on let's say December 31, 2021, it will pop up every year on the same date as a Featured Story which you can then share as a Flashback. The only thing that you need to do is check your Memories for any Flashbacks.
---
Creating Snapchat Memories
Snapchat Memories are really easy to create. After all, one of its biggest benefits is that it can save you time in the content creation department. To (re)create your own memory, here's what you need to do:
Step 1: Open the Snapchat app on your phone
Step 2: Open Snapchat's camera and record a video or photo
Step 3: Add an element like a geofilter, caption, filter, or doodle
Step 4: Save it to your memories by clicking on the Save icon located in the bottom, right-hand corner. A notification, "Saved to Memories", will pop up if the clip was stored successfully to your Memories photo album.
Accessing Snapchat Memories
Accessing a Snapchat Memory is just as easy. Just follow these steps:
Step 1: Open your Snapchat app
Step 2: Open the camera
Step 3: Click on the button that's right below the recording button. It looks like two cards. All your Snapchat Memories will be displayed. The ones that you've saved most recently will display at the top. You can now sort through these videos, photos, and stories. Individual videos and pictures will be labeled with a rectangle, while entire stories will be labeled with a circle.
Sharing Snapchat Memories
Snapchat Memories won't get shared automatically. If you want to share a specific one with your followers, here's how:
Step 1: Open your Snapchat Memories
Step 2: Select a story, video, or picture that you would like to send. To open it, simply tap on the clip.
Step 3: If you don't want to make any changes to the memory, click on the blue arrow in the bottom right-hand corner and pick the recipients.
Step 4: If you would like to edit the memory before sending it to your recipients, click on the menu button (it's three dots in the top right-hand corner).
Step 5: Tap the "Edit Snap" option.
Step 6: Using the editing tools, you can now change elements like the caption or add funny stickers or doodles. Once you're done editing, follow the instructions in step 3.
Here's the thing, no one can see your Snapchat Memories, unless you share them. It's not like your photos in which you're tagged on Facebook that others can laugh at too. That being said, if you would like to add an additional layer of security, you can store selected Snapchat Memories in a secret album, meant for only your eyes, that's also safeguarded with a password.
---
How to Include Snapchat in Your Marketing Strategy
Now that you know how you can create content on Snapchat that won't disappear, you're probably wondering how to integrate it into your digital marketing strategy. To help you make the most of your Snapchat Memories and follow in the footsteps of leading brands like Samsung and Universal Pictures that include the platform in their marketing campaigns, here are some things to consider and a few practical tips.
Keep in mind the target audience
Before we continue to share suggestions for how to make it part of your marketing, it's important to keep in mind that Snapchat's target audience is rather unique. It resonates with a much younger audience than Facebook and even Instagram (yes, we've mentioned it before and only mention it again because it can significantly impact your results). As a matter of fact, according to Snapchat statistics shared by Statista, about half of Snapchat's users are younger than 25. So, if you're marketing to an audience of teenagers, Snapchat is definitely a social media platform to explore. If not, you'll probably have better success with Facebook, YouTube, or Pinterest.
Use influencer marketing
The users of Snapchat (which you now know are mostly teenagers) tend to follow two groups of people on the platform. Those that they know on a personal level and social media influencers.
So, if you're a business that wants to get the word out about your product or service via Snapchat, you can potentially partner with an influencer. You can, for instance, get influencers to share photos of themselves using your products which they then share as a Snapchat Memory. Plus, considering that younger audiences resonate better with a simple, raw message, influencer marketing on Snapchat has even more potential.
Play around with Snapchat stickers
For better engagement, you have to embrace features that will help you to connect with your target audience in a more personalized way. On Snapchat, one way that you can do that is by customizing your content with Snapchat stickers.
In short, a Snapchat sticker is an image that you can add to your videos or snaps. You have the option to choose from stickers created by the platform or other Snapchat users. From Bitmojis to GIFs to Snapchat emojis, there is a wide range of fun elements that you can add.
Not only are stickers fun, but they can also help you to communicate the personality of your brand better and express your thoughts to spark conversation.
As mentioned earlier, users can also create their own stickers. So, why not launch your very own sticker campaign? It's a cost-effective way that you can indulge in some self-promotion. You can, for example, simply take a photo of your product and use that as a sticker. Alternatively, you can use it to create awareness for a social issue instead.
At the very least, you should try to create a Bitmoji. If the term is new to you, it basically is a digital avatar of a virtual image of yourself and can be static, animated, or 3D. What makes it a great marketing tool is that you can personalize it by, for example, choosing an outfit that matches your brand's colors. As a matter of fact, according to data shared by Glossy, over 70% of Snapchat users have and use Bitmoji. If you're searching for examples of how other brands have used Bitmoji to create a more personalized experience, you can take a look at what Levi's has done.
Use Snapchat Memories to Mark Milestones
To help grow your brand's presence, sometimes it means that you need to look to the past. What have you achieved in the past year? Did you perhaps introduce a new product? Maybe you started supporting a new social cause?
You can use Snapchat Memories to remind your target audience of special milestones along the way. After all, storytelling remains one of the most effective marketing strategies and sharing these moments with your followers will help to humanize your brand.
Run the same special again
Snapchat Memories are all about saving time, but it can also be put to use to help save your target audience money. You can, for instance, also use Snapchat Memories to share a promotion that ran last season again. By keeping the prices the same, you can promote it as an opportunity to get a new product at last year's prices. Sure, it's less work for you as you don't have to create a promotional post again, but the cred that you'll score with your target audience is a far more valuable benefit.
Cross-promote it on other channels
If you have a Snapchat Memory that has received a lot of engagement, why not share it on another social media platform? The chances are pretty good that you'll get the same (if not better) reaction. Plus, it can also possibly help you to grow your Snapchat following.
---
Is Snapchat Still Relevant in 2022?
There are only so many hours in a day and even with the best social media management tool, the reality is that you can't be everywhere, not even online. So, the question that begs to be asked is if Snapchat is still deserving of your time. Has the time come for it to become a memory?
A quick look at the latest Snapchat data shows that it gets almost just as much attention as Instagram (and if you're a regular reader of our blog you would know just how much marketing potential Instagram has to offer). According to figures shared by Snapchat, users open the app over 20 times per day on average.
To translate that into marketing potential, Hootsuite and We Are Social's Digital 2021 report revealed that the potential audience that can be reached through ads on the platform added up to nearly 500 million. This works out to just over 8% of the total population aged 13 and older. As you would expect the country with the best Snapchat reach is the United States, but what might come as a surprise is that India has the second-highest reach with just over 74 million.
So, to answer that question about relevancy… It's still one of the major social media networks, especially among younger audiences. Over the years, it has enjoyed significant growth. Sure, it might not be as popular as Facebook and Instagram, but if you want to reach Generation Z and millennials, it should be included in your marketing strategy.
That said, it will be interesting to see what the next few years have in store with TikTok's rapid growth, particularly among the youth. In the meantime, though, don't write off Snapchat. Unlike some of its content, it's not going to vanish any time soon.
---
Wrapping Things Up
Creating content that your target audience finds relevant takes a lot of time, effort, and skill. It's not just about snapping a quick photo and posting it to all the different social networks. So, if there's a feature that can repurpose the content that you've created into a brand new post, why not use it?
With Snapchat Memories, you can use what has worked in the past and repurpose it into a new piece of content. It also gives you the opportunity to celebrate your biggest milestones, which, from a marketing perspective, can do wonders for creating and boosting brand awareness and recognition.
Frequently Asked Questions
How does Snapchat Memories work?
The Snapchat Memories feature was introduced a few years ago. In a nutshell, it lets Snapchat users save videos and pics within the platform under the Memories tab. This way, they can view, edit, send, and repost them again at a later stage. No one else can see your Snapchat Memories. Only after you've shared it will it become visible. If you want to add an extra safety measure, you can also store selected Snapchat Memories in a secret, password-protected album that's meant for your eyes only.
What's Snapchat sticker memes and how do you use it?
Snapchat sticker memes are static images or GIFs that are used to communicate feelings and make your reactions more fun and interesting. What's more, they can help to boost brand recognition and drive even more engagement, compared to emoticons and Bitmojis. You can create your own Snapstick memes by using your own personalized snaps or you can download them from meme websites. While Snapchat sticker memes aren't easy to edit, it's simple to add them to a private message that you forward to followers.
What types of Snapchat stickers do you get?
There are a number of different Snapchat stickers available. These include Bitmoji stickers, cameo, customized stickers, and emojis or standard icons. To make these stickers more accessible, Snapchat stickers can also include recent searches or stickers that you used recently and suggested stickers. The latter are stickers that the platform recommends based on when and where you captured your snap and can include 3D stickers, 2D stickers, GIFs, Bitmojis, or animated images.
Is Snapchat popular?
While Snapchat isn't as popular as Facebook or Instagram, it's still one of the most popular social media platforms, especially among Generation Z and millennial users in the United States. Since 2018, there's been a gradual increase in the number of daily active users. According to statistics shared by Snapchat, their users open their app more than 20 times per day on average. What's more, according to data shared by Hootsuite and We Are Social, the potential audience that can be reached by means of ads on Snapchat add up to almost 500 million.
How can you advertise on Snapchat?
Advertising on Snapchat can be more challenging compared to other social media platforms like Facebook, and YouTube. Though, if you mainly target younger audiences (Generation Z and millennials specifically), it can be a great avenue to explore. Ways that brands can advertise on Snapchat include:
Snapchat Memories

Long-form video content

Top Snap Only ads

Web View ads

Deep link ads

Sponsored lenses

Sponsored geofilters

On-demand geofilters
Then, to create your ads and keep track of how your ads are performing, you can use the Snapchat Ads Manager.