Advertising Disclosure
Advertising disclosure:
Our partners compensate us. This may influence which products or services we review (also where and how those products appear on the site), this in no way affects our recommendations or the advice we offer. Our reviews are based on years of experience and countless hours of research. Our partners cannot pay us to guarantee favorable reviews of their products or services.
Marketers are always on the lookout for new ways to improve their inbound marketing strategy. Gaining traction with your inbound marketing efforts can be a challenge for even the most experienced of marketers.
One powerful tactic that has gained increasing popularity in recent years is social selling. Consumers are literally spending hours per day on multiple platforms. This gives brands more "places" and time to meet new potential customers and start relationship-building interactions.
With social selling, though, the emphasis is on the first word — social. The "selling part" should never be your main agenda. To help you get this balance between being social and selling your brand and its offering right, here's a closer look at the basics of social selling and how you can make it work for your brand.
---
The Power of Social Selling in Your Inbound Marketing Strategy:
---
What's Inbound Marketing?
Inbound marketing refers to the strategy of attracting potential customers to your business through various online channels, such as social media, and search engines. Unlike traditional marketing techniques that shout to the masses and bombard potential customers with unwanted ads, inbound marketing aims to provide value to those specifically interested in what your business has to offer.
It's all about creating valuable content that draws people towards your brand. Think blog posts, podcasts, webinars, social media posts, and email newsletters... By providing content that answers their questions and solves their problems, inbound marketing helps build brand awareness, trust, and long-term relationships with consumers.
And, with the right approach, social selling can also fit into your inbound marketing strategy. It might sound counterintuitive as inbound marketing is all about sharing valuable content and less about selling, but the two can be merged.
---
Understanding Social Selling
Social selling is the process of using social media platforms to build relationships with potential customers and ultimately close sales. It allows businesses to leverage their existing online networks and personal networks, like LinkedIn and Twitter, interact with prospects on social media, and position themselves as a trusted authority in their industry.
It's also important to differentiate between B2C and B2B social selling. It can be applied effectively to both retail models, but there are slight differences.
For B2C brands, direct communication and personalization should be prioritized. On the other hand, with B2B social selling, you'll need more patience. The focus in this case shifts to building long-term relationships and providing value to companies.
That being said, both take time. It calls for a fair amount of networking and communication, but the more you do it, the more people will become familiar with your brand. Then, when they find themselves at the bottom of the funnel, there's a good chance that your brand will be the first that they consider and reach out to.
To sum up, your social efforts grow into relationships which have the potential to lead to new sales and customers. That's the core of the aim.
---
The Benefits of Social Selling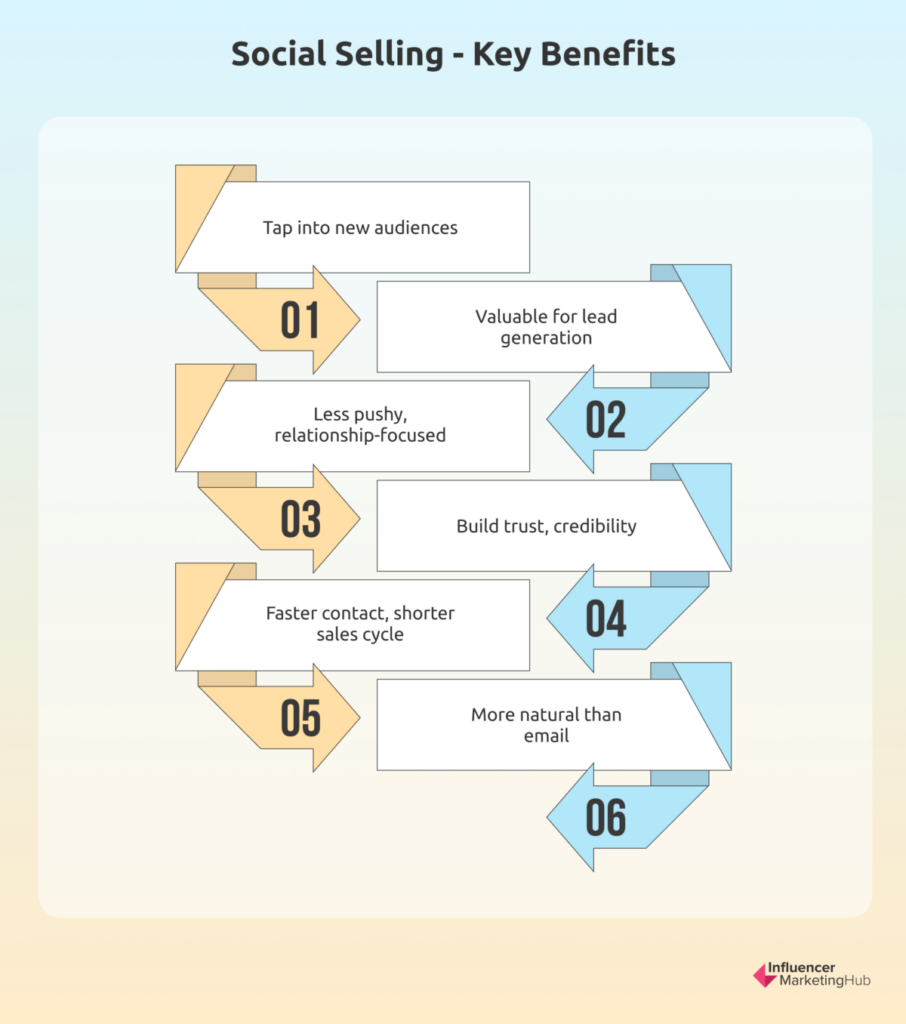 The benefits of social selling are numerous. For one, social selling allows you to tap into new audiences that may not have been aware of your brand before.
This makes it a valuable tactic for lead generation in particular. By using social media to identify and nurture potential leads, you can create a pipeline of interested prospects who may be more likely to convert into customers down the line.
What makes it such a great strategy for lead generation is that it's less pushy and more relationship-focused than traditional sales techniques. By providing value to your audience and nurturing connections over time, you can eventually build a loyal customer base.
It also helps you build trust and credibility with your followers. Over time, this will very likely translate to increased sales and customer loyalty.
Lastly - and this is a big one - you can make contact faster. This makes it easier to shorten the sales cycle, which can be particularly useful for B2B businesses.
It's also more natural than a channel like email. With the right tone and strategy, potential leads will forget that they're actually interacting with a business that has a product or service to sell.
---
5 Steps and Tips for Success with Social Selling
For social selling to work, you'll need to be strategic. You'll need more than a random reply on your favorite social media platform every now and again to build strong relationships.
Let these steps and tips guide the way as you embark on your new social mission.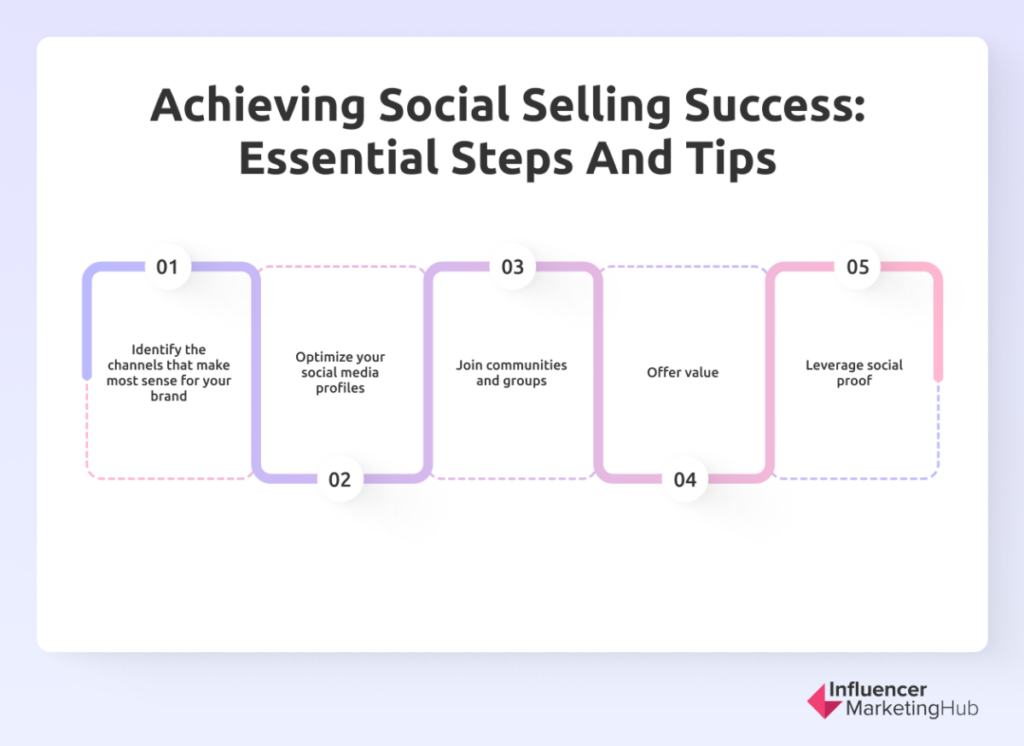 Identify the channels that make most sense for your brand
If you're a B2B business, LinkedIn, Twitter, and Facebook are probably the best social media networks. Here, you'll be able to reach other businesses on top of individual users too. LinkedIn in particular is a great channel for social selling as it also includes a Social Selling Index score based on four components.
If your goal is to reach consumers directly, Facebook is still a good network to leverage. However, you'll have better luck with TikTok and Instagram than Twitter and LinkedIn.
While these are the best channels for B2B and B2C, you don't necessarily need to start using all three of them at the same time. Just like with your social media marketing strategy, let your target audience guide you.
Who are you targeting and where do they spend more time? Instagram or TikTok or Facebook?
Optimize your social media profiles
After you've identified which networks you'll focus on, make sure that your profiles are optimized for business. This means having a clear and consistent brand voice, using keywords to boost your visibility, and regularly sharing content that's relevant to your audience.
Next, engage with your followers by responding to comments, sharing relevant news and information, and starting conversations around your products or services. For this part of the process, you'll need to learn how to use social listening.
In short, this means that you'll need to monitor social media for brand mentions and any relevant conversations. Not only will social listening help you to build your social presence by joining the conversation, but it will also give you better insight into the immediate needs of your target audience.
It's not something to be tackled manually, though. There are several affordable social media listening tools that have been designed exactly for this purpose.
Join communities and groups
In addition to optimizing your profiles, also take the time to join relevant Facebook groups and LinkedIn groups. These online communities can be an incredibly valuable source of qualified leads that are ready and eager to engage.
Though, refrain from spamming the group and sending private messages. For example, in the case of Facebook groups, there might be specific rules prohibiting any promotional posts. If your promotion doesn't get deleted by the group's admin, it can draw the wrong type of attention to your brand. Respect the rules.
Also, whenever you interact, be authentic and transparent in your interactions with followers. Avoid using canned responses and generic messaging, and instead take the time to personalize your outreach.
Offer value
This ties in with the previous point. Instead of looking for opportunities to share links to your website, focus on how you can provide value to your audience by sharing helpful information and answering questions. This will position you as a trusted authority and thought leader in your industry.
Remember that users come here to be social. You don't want to be that person who finds every opportunity at a social event to talk about work.
While you should refrain from making it all about your business and its products, you can offer your own unique perspective. Different perspectives are great for starting up new conversations.
Another way that you can offer value is by sharing educational content. Find out what your target market needs and how your product can fill that gap and turn that into your next content idea.
Leverage social proof
You're not the only one who has something valuable to offer. By being more active on social media, you might discover that a previous customer shared a positive experience they had with your brand or its product online. Not only is this social proof that you can repurpose, but it also presents an opportunity to insert your brand more directly into the conversation. Be on the lookout for positive brand mentions and make the most of them.
---
4 Tools and Agencies to Help with Social Selling
As with any marketing strategy, there are a variety of tools and resources available to help you succeed with social selling. If you feel that you need help in this department, you can check out the following agencies and tools.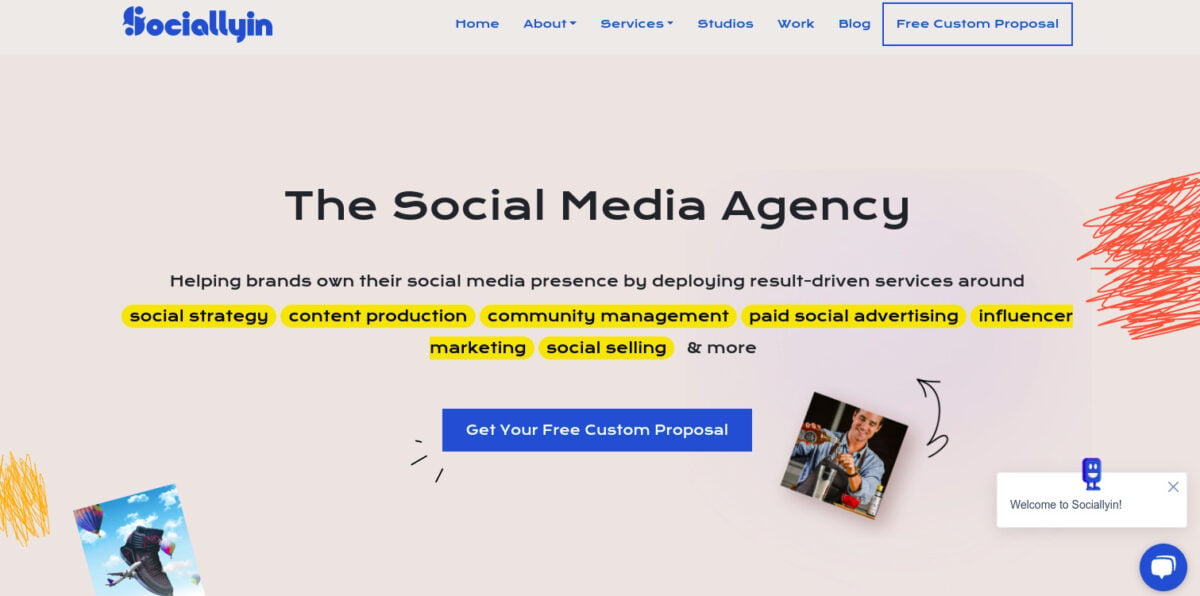 Sociallyin is a social media management agency that can help with basically everything related to growing your presence through social media. Included in their list of services is social selling.
What makes them such a great agency for help with social selling is that they have an entire department dedicated to this strategy. Their team will work with your sales team to create an effective strategy and identify tools to help you along the way.
Their work doesn't end after they've set you up with the necessary tools. They can also take care of profile optimization and even manage your profile or business page.
For example when NetApp needed help to utilize LinkedIn Premium better, Sociallyin created a "Social Selling Assistant". The result — their posts were shared nearly 200 times and received over 6,000 likes.
Other key services include:
Social media community management
Content production
Social media strategy
Social paid advertising
---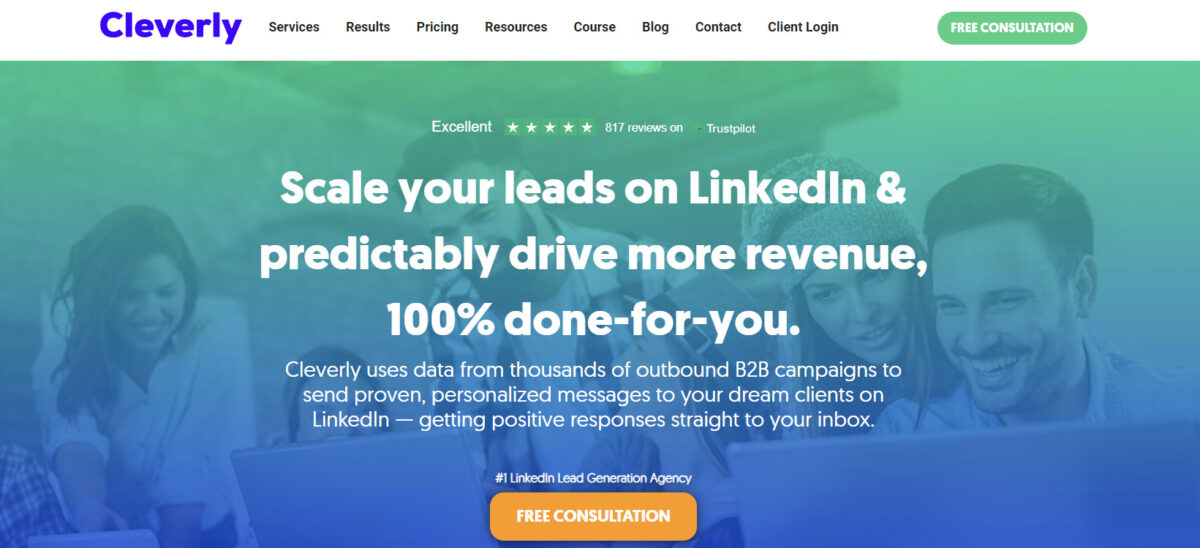 If you've decided that LinkedIn will be your go-to channel for social selling, be sure to check out Cleverly's list of services. They're a lead generation agency that offers powerful LinkedIn automation tools and have helped global brands like Uber, LEGO, and Sony to win thousands of new clients.
After finding prospects, they'll write a personal cold outreach message and follow up with a custom message. In addition to automating the lead generation process for you, their account managers can also teach you which systems to measure and how to reply to all qualified leads.
With the help of their prospecting campaigns, clients like LeaseLock and Bambee managed to get hundreds of new leads. In the case of LeaseLock, it led to $1 million in new revenue being generated in just 12 months.
Other key services include:
LinkedIn profile optimization
Content writing
LinkedIn paid advertising
---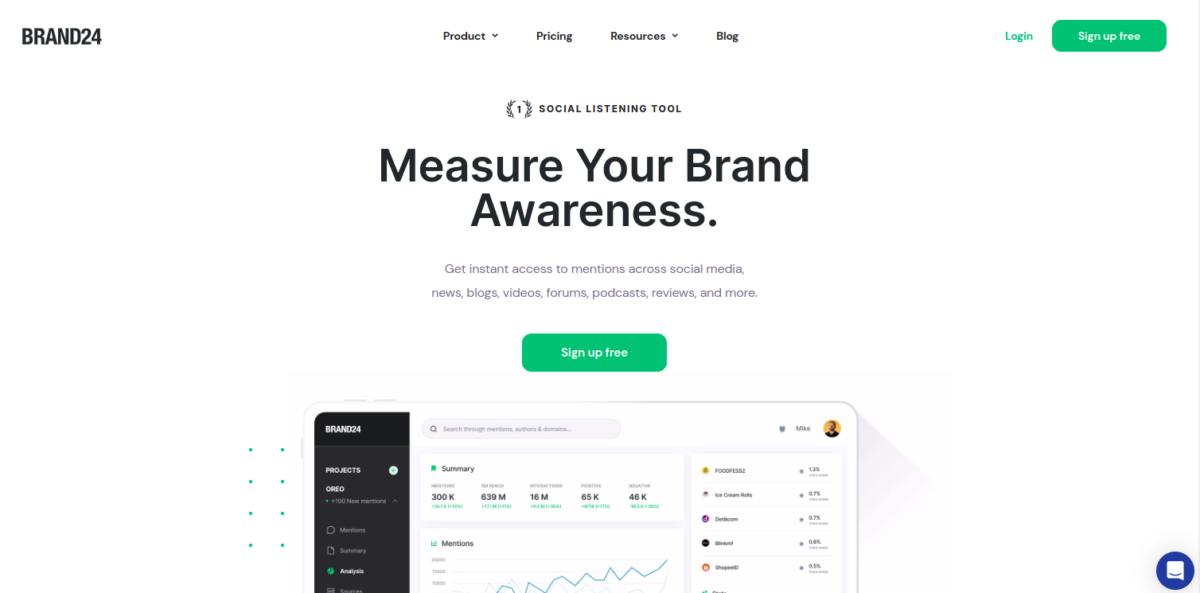 As mentioned earlier, social listening will play a critical role. To help you in this department, you can check out a tool like Brand24. Rated as one of the best social listening tools, they've been around before the social media explosion.
What makes it such a great tool for social selling in particular is that it can track various platforms. Included in the list of sources it can track are Facebook, Twitter, LinkedIn, Instagram, and TikTok — all the main channels that you'll most likely use. Not only can you use it to track mentions of your own brand, but you can also use it to monitor queries about service/product recommendations.
It also includes powerful analytics, helping you to get to the bottom of mentions volume, engagement, reach, most shared links, and most active sites. Then, to make it easy to digest all this info, it includes daily and weekly reports as well as alerting.
---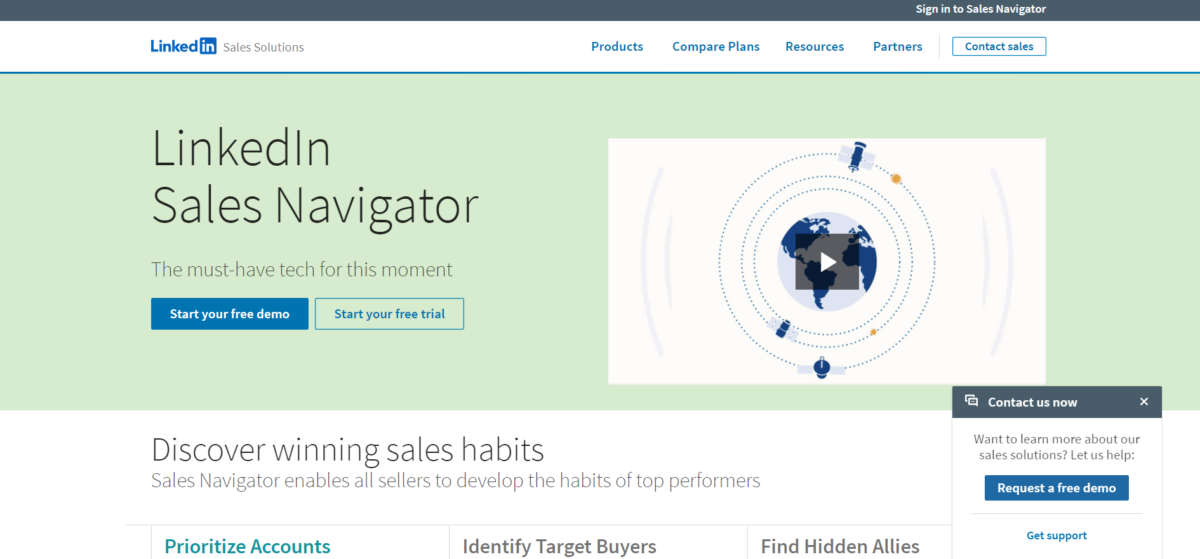 LinkedIn Sales Navigator is another useful tool if you want to limit your social selling to this channel. It shares lead suggestions that are based on your unique needs and target audience.
What makes it such a great tool for social selling is that it will use data to identify when buyers are ready to engage. In addition to helping you make the most of buyer windows, it's also a useful resource for customer insights. Using this data, you can learn who was hired recently and start building rapport.
---
---
Wrapping Things Up
Virtually all consumers hate cold calling. It's annoying and ineffective. It will leave your marketing team uninspired and your sales will suffer.
If you're still using outbound marketing strategies like cold calling, it's time to divert those resources to inbound marketing. Social selling can be a powerful addition to your inbound marketing strategy.
To put it differently, if you're not going to explore ways that you can reach your target market on social media, your company is going to get left behind. The way consumers research and buy products has changed drastically and so too should our marketing strategies.
In today's digital landscape, social selling has become an increasingly important part of the marketer's toolkit. By incorporating social selling into your inbound marketing strategy, you can build stronger relationships with prospects, generate more leads, and ultimately drive more sales. Keep these tips and best practices in mind as you navigate the social selling landscape, and don't be afraid to experiment with new tactics to find what works best for your brand.