Advertising Disclosure
Advertising disclosure:
Our partners compensate us. This may influence which products or services we review (also where and how those products appear on the site), this in no way affects our recommendations or the advice we offer. Our reviews are based on years of experience and countless hours of research. Our partners cannot pay us to guarantee favorable reviews of their products or services.
Search engine optimization (SEO) is integral to digital marketing strategies due to its proven effectiveness. Implementing SEO techniques proficiently can help attain a higher rank on Google and other search engines. The elevated visibility achieved through SEO-centric content helps your brand easily reach its intended target audience, resulting in increased recognition and exposure. By optimizing your website, you enhance the likelihood of prospective clients discovering and accessing your business, enabling seamless interaction and more potential conversions.
Approximately 81% of consumers now rely on online channels for doing product research. Most internet users rely heavily on the first page of search engine results to access information about a product or a business. Therefore, securing a prominent position on the first page has become crucial for businesses aiming to capitalize on user behavior. Failing to achieve this can result in a substantial loss of website traffic. As a result, SEO has evolved into a fiercely competitive battleground, with significant financial investments dedicated to securing a coveted place on the first page.
But merely incorporating keywords is insufficient. To gain an advantage over your competition, it's necessary to implement effective technical SEO strategies. As such, enlisting the services of a specialized technical SEO agency is a worthy investment.
---
What is Technical SEO?
Technical SEO involves optimizing your website to assist search engines in discovering, crawling, comprehending, and indexing your pages. The primary objective is to enhance visibility and rankings. It provides your website with a well-organized framework and aids search engines, particularly Google, in understanding the content of each page. Technical SEO encompasses various aspects that impact SEO, including hosting, site speed, XML sitemaps, and meta robot tags.
The synergy between technical SEO, content strategy, and link-building strategies is crucial for achieving high search rankings. Even if your content is detailed, valuable, and well-written, it remains invisible to search engines without proper crawling. Without a solid technical SEO foundation, your content will go unnoticed.
---
Top 9 Technical SEO Agencies
Here is a list of the top technical SEO agencies and companies in 2023, which will provide you with reliable options to consider.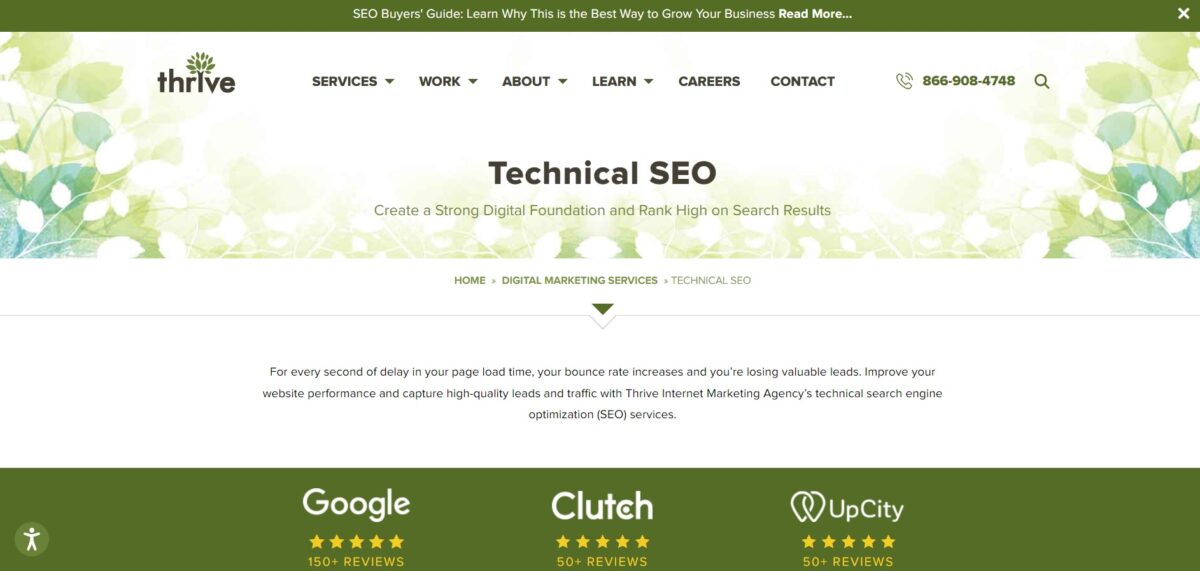 Thrive Internet Marketing Agency has been a trusted full-service digital marketing agency serving clients across various industries since 2005. Among its key services is technical SEO, in which its team establishes a solid digital infrastructure to boost your search engine rankings. Working with Thrive offers a range of benefits, including comprehensive website audits, expertise from technical SEO specialists, complete SEO solutions, detailed analytics and reports, and effective web strategies tailored to your goals.
Thrive's technical SEO services include:
Technical SEO Audit

Meta Data Analysis

Speed Optimization

Keyword Research

Penalty Recovery

Competitor Analysis

Image Optimization

Structured Data Markup

Backlink Analysis

Website Migration
Other services: digital marketing, web design, social media marketing, eCommerce marketing, Amazon marketing
Notable clients: Geoforce, Seismic Audio, Nationwide Construction, The Farah Law Firm
---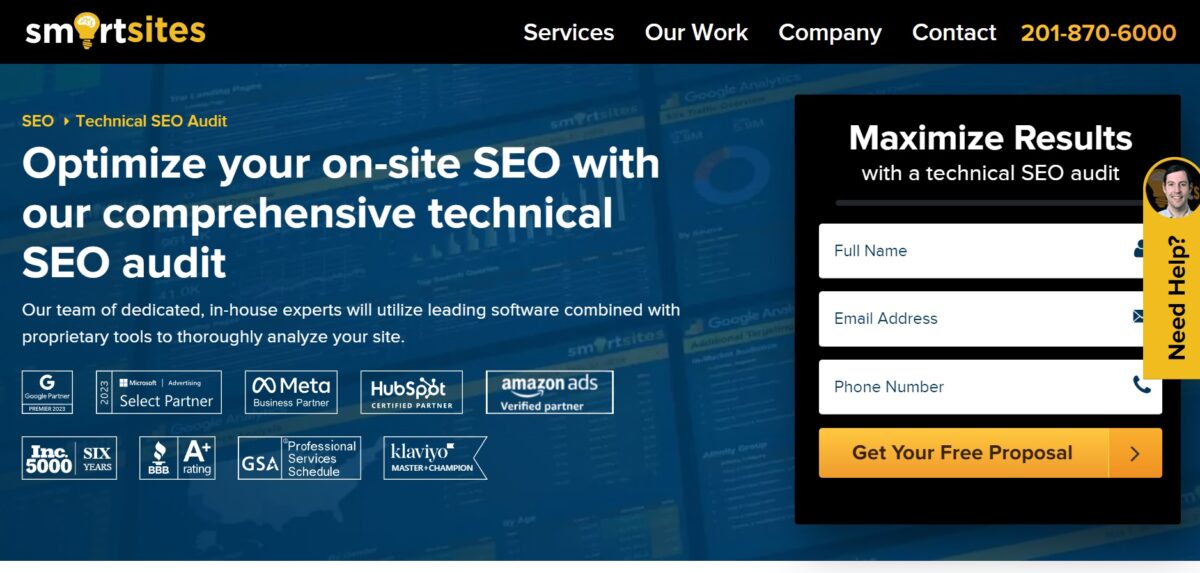 Smartsites, an award-winning digital marketing agency located in New Jersey and serving clients globally, offers a comprehensive technical SEO audit to enhance your on-site SEO. With a dedicated team of in-house experts equipped with advanced software and proprietary tools, Smartsites thoroughly analyzes your website. Their full-service team comprises marketing specialists, technical SEO analysts, and website developers who can provide guidance on fixing issues or assistance in resolving them.
The team's technical SEO audit leaves no stone unturned, measuring your site against industry best practices and improving all aspects. They will detect and fix problems affecting your website's rankings. The team will also further assess the effectiveness of your company's continuing SEO efforts and adapt external variables to boost the impact of your SEO strategy.
During Smartsite's technical SEO audits, they examine various aspects, including:
Google My Business Verification

Meta Tags Analysis

URL Structure Evaluation

Sitemap Analysis

Content Assessment

Image ALT Tags Optimization

HTTP Status Code Check

Structured Data Markup

Compatibility Tests

Page Speed Assessment
Other services: web design, SEO, PPC, email and SMS marketing, social media marketing
Notable clients: Anexio, Sharemoney, Print Crazee, Gertsman Cosmetic & Laser Spa
---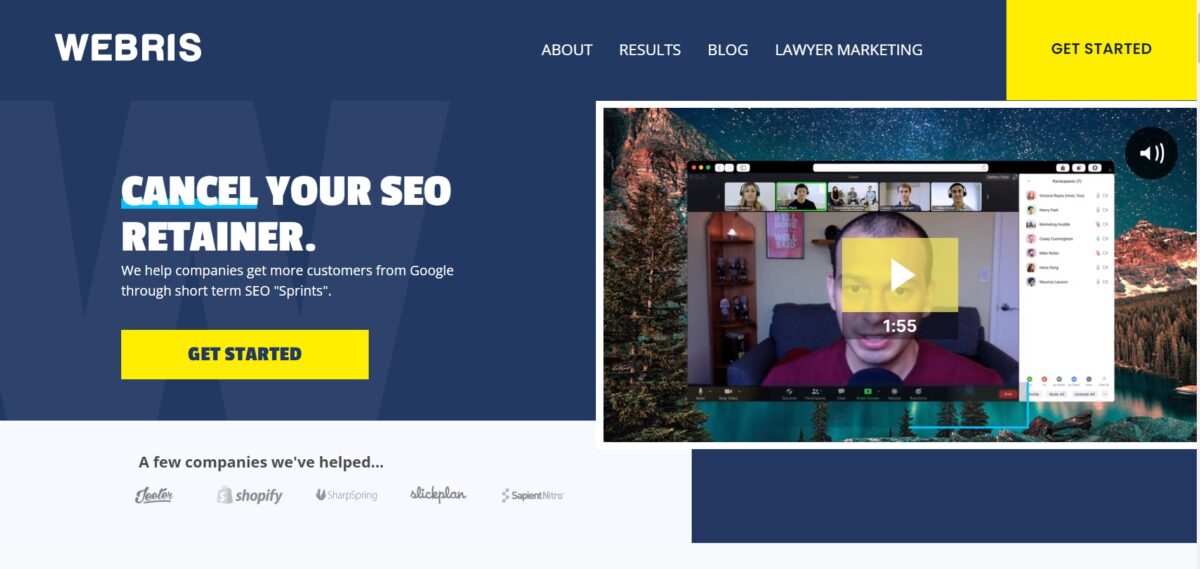 Webris is a Miami-based agency specializing in helping clients increase their customer base through Google searches. Its unique operational model, known as the "Sprint" approach, allows the agency to efficiently strategize and execute work in a short timeframe. By combining its proprietary technology with the expertise of its SEO team, Webris can deliver 12 months' worth of SEO work in just six weeks.
Webris is known for its expertise in conducting full technical SEO audits and optimizing conversion-focused user experiences. With a highly skilled team of advanced technical SEO consultants, their services encompass a wide range of offerings, including:
Technical Review and Improvements

Analytics Scrubbing and Corrections

Comprehensive Content Audit 

Development of a Comprehensive SEO Strategy

Implementation Session for Effective Execution

Full Link Scrubbing and Audit

Identification of Target Link Types
Webris' comprehensive approach ensures that all aspects of your website's technical SEO are carefully evaluated and optimized to drive optimal results.
Other services: lawyer marketing
Notable clients: Shopify, Accenture, Teeter
---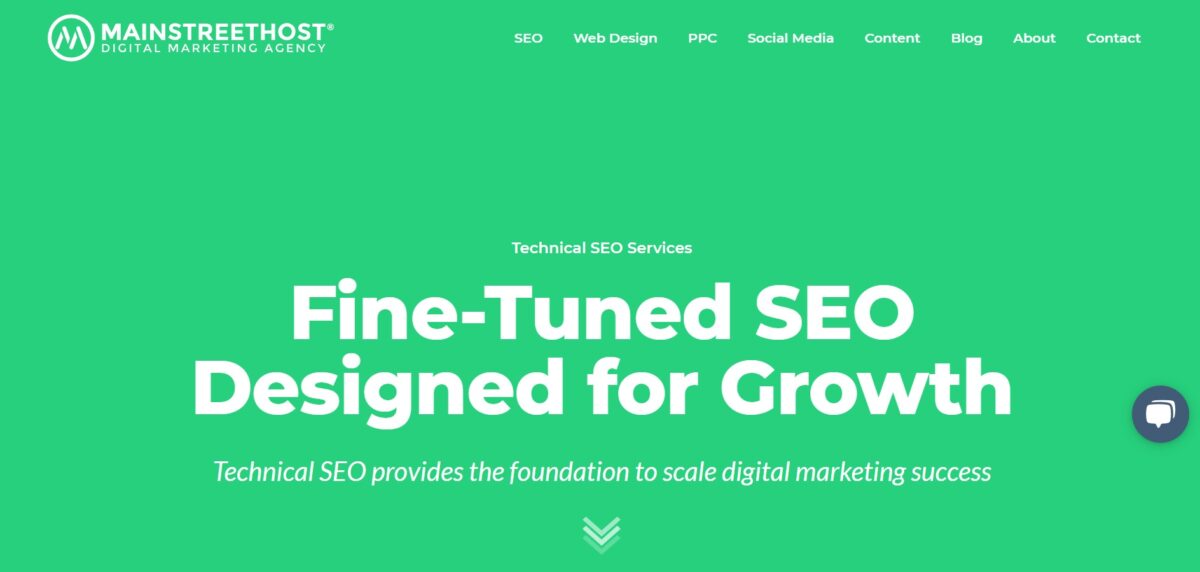 Mainstreethost is a New York City-based digital marketing agency with over two decades of industry experience. Its track record is bolstered by a team of skilled and highly trained SEO experts who strive to provide outstanding services. With a focus on technical SEO, Mainstreethost offers a comprehensive range of optimization strategies tailored to your unique needs with excellent results at a reasonable cost.
Mainstreethost offers comprehensive technical SEO services that systematically assess and audit your website's technical aspects. These audits include crucial checkpoints like crawl analysis, duplicate content, internal links, indexation, redirects, image optimization, an XML sitemap, and more. In addition to this, Mainstreethost provides a range of other technical services, including:
Penalty Recovery

Schema Markup

Backlink Analysis

Speed Optimization

Website Migration
Other services: web design, PPC, social media advertising, content creation
Notable clients: Granite Countertops Superstore, First Class Detailing, The Chodos Group
---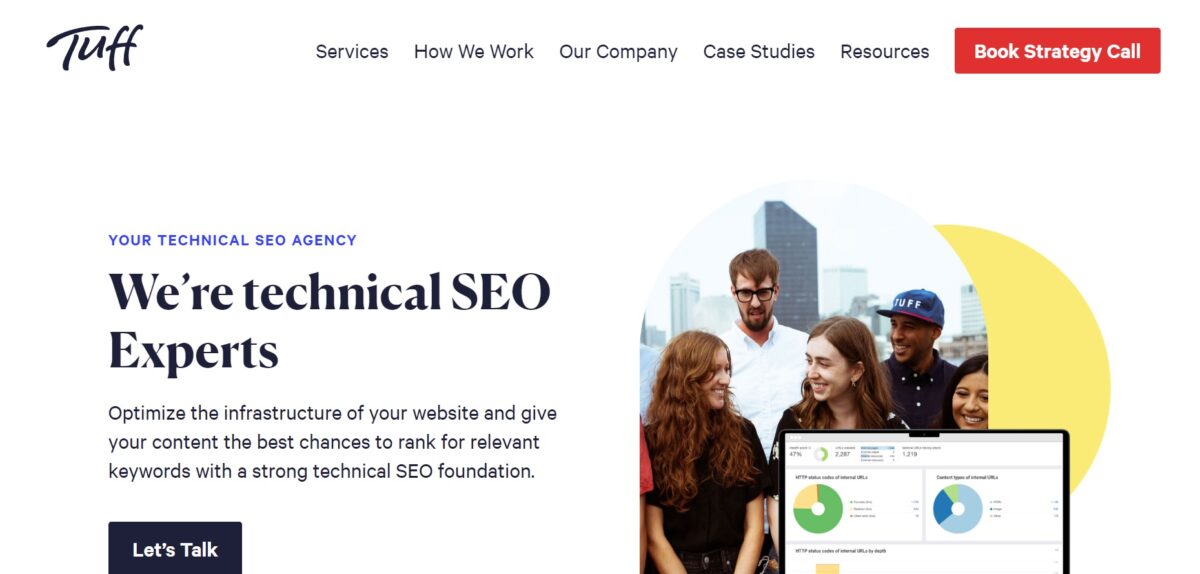 Based in Colorado and serving clients worldwide, Tuff is a growth marketing agency that specializes in providing strategy and execution for both startups and established brands. With its team of technical SEO experts, the agency can assist you with ensuring your website's infrastructure is optimized, and your content has the best chance of ranking for relevant keywords. By focusing on technical SEO tactics that genuinely matter, Tuff helps search engines access, crawl, interpret, and index your website effectively. With a clear focus on improving crawl ability and rankings, they prioritize technical SEO execution, maintain daily communication, deliver results, and establish a strong sense of trust.
Tuff offers a comprehensive technical SEO checkup that covers various aspects, such as schema markup, heat map testing, robots.txt files, image compression, link analysis, redirect implementation, mobile optimization, site speed audits, and Google Search Console reports. Additionally, Tuff can provide you with a detailed plan at no cost, which includes a high-level technical audit, site speed recommendations, and more.
Other services: data, creative, paid media, owned media
Notable clients: AKKO, Salams, Renogy
---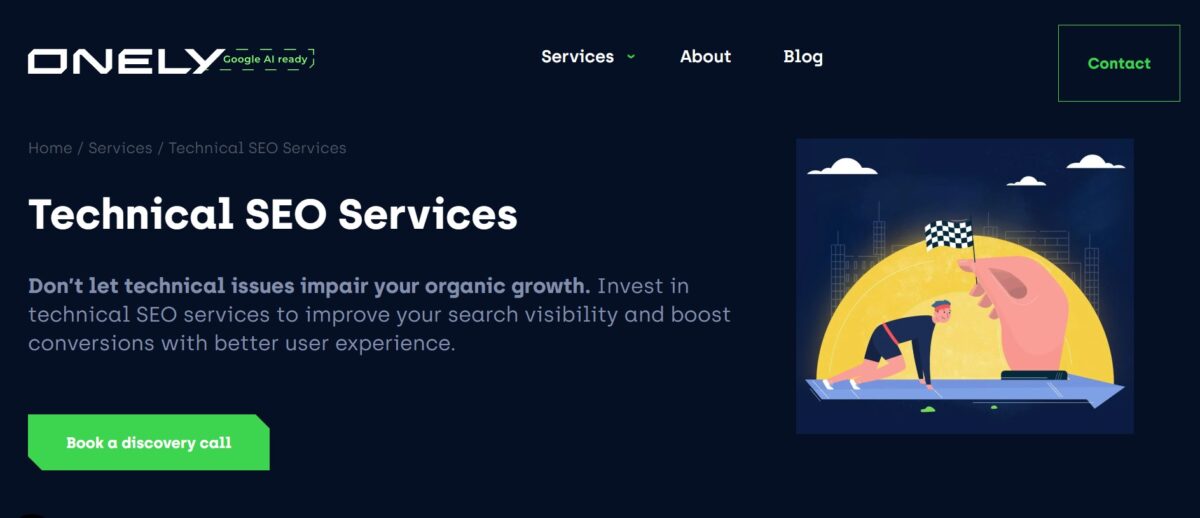 Onely is a team of 30 technical experts dedicated to improving the internet by building successful and user-friendly websites. The team conducts comprehensive audits to develop a winning strategy for technical optimization and works together with your team to implement it, resulting in increased revenue. Onely's technical SEO experts methodically analyze your website's tech stack and its implementation, assessing the structure and content of both mobile and desktop versions. They also evaluate how Google crawls, renders, indexes, and ranks your pages.
Onely's technical SEO services cover a range of areas, including:
Mobile Optimization

Website Migration

Server Log Analysis

International SEO

Structured Data Optimization

Sitemap Optimization

Duplicate Content Optimization

Image Optimization

Crawl Budget Optimization
Regardless of the technology your website is built on, Onely is equipped to provide technical SEO services. They can work with various content management systems such as WordPress, Shopify, Magento, and even custom-based websites. In general, their technical SEO services are CMS-agnostic.
Other services: Javascript SEO, rendering SEO, traffic loss recovery, web performance optimization
Notable clients: realtor.com, IKEA, Yotpo
---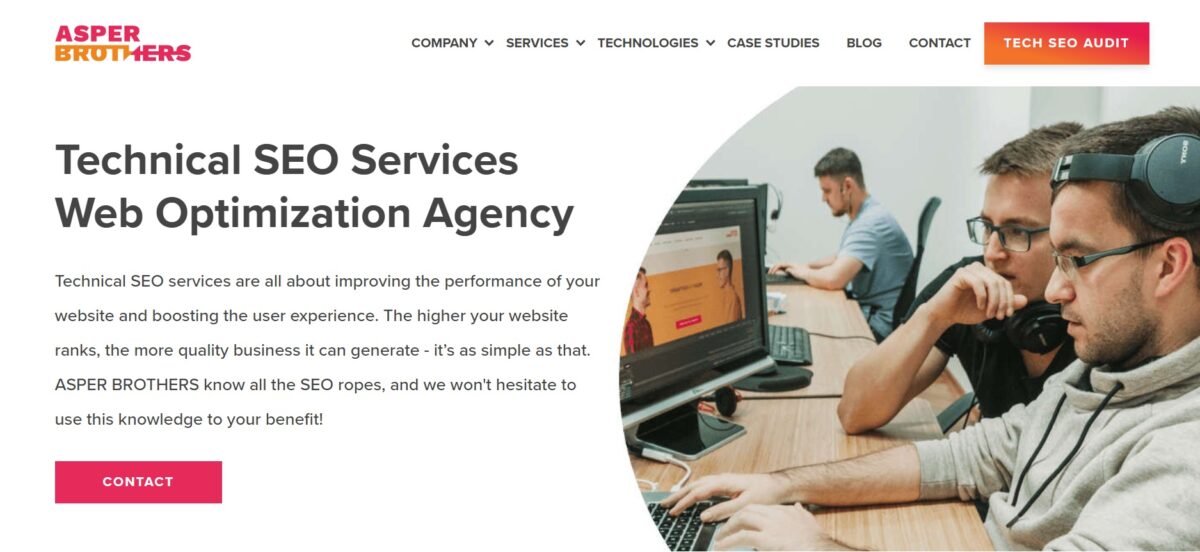 Established in 2014, Asper Brothers is a marketing agency specializing in SEO for local and global businesses. With a team of over 35 tech experts, they can assist you in achieving higher search engine rankings when your target audience conducts searches. The agency mainly focuses on technical SEO, where its team improves your website's speed and overall user experience.
Asper Brothers' SEO consulting team offers a comprehensive range of services, including technical SEO audits, optimization, and delivering tangible outcomes such as increased organic traffic and improved website rankings. Their expertise lies in site development, utilizing crucial SEO techniques and technologies to optimize website components and accelerate loading times, resulting in enhanced keyword rankings.
The agency's technical SEO services include:
On-site Optimization

JavaScript Optimization

Performance Optimization

Core Web Vitals Optimization
Asper Brothers also provides a free consultation where they go through your targets and goals and offer personalized advice on the best solutions.
Other services: strategy and consulting, product design and development, growth and scale
Notable clients: RapidID, CaseMGR, Cambridge Literary Festival
---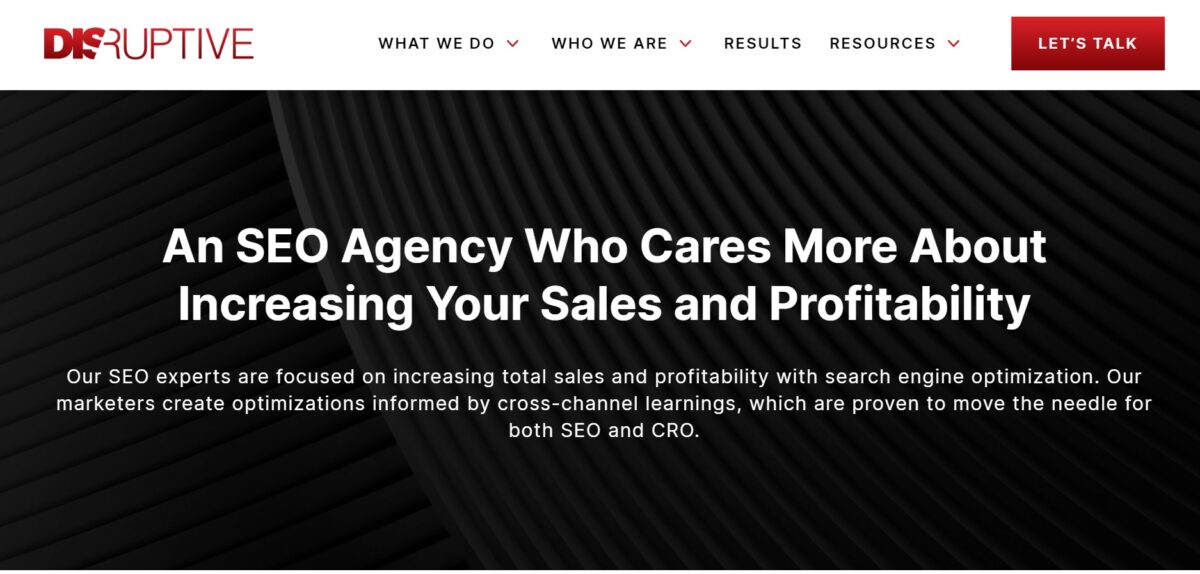 Disruptive Advertising, a Utah-based agency, offers a complete marketing strategy using the best platforms and services to help you overcome challenges and reach your goals. The agency's senior SEO experts will assess every aspect of your SEO campaign to improve your search rankings. They focus on three key pillars of SEO—technical, on-page, and off-page—to boost the performance of your website and videos.
Disruptive Advertising's technical SEO services:
Analysis and Audit

Optimization

CRO Testing
Other services: lead generation, eCommerce, paid search, paid social, Amazon, lifecycle marketing, creative
Notable clients: Crossover Symmetry, Nani Swimwear, Standartpark
---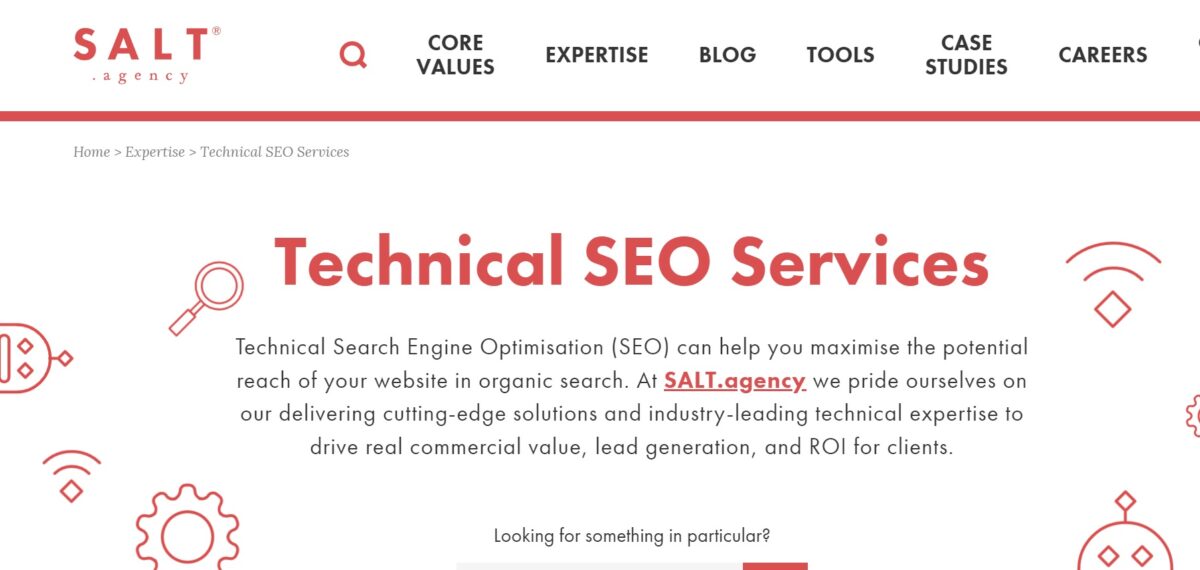 SALT.agency is a unique global SEO company that combines advanced technical knowledge with effective organic growth methods. Their SEO consultants analyze and enhance various websites, including e-commerce, lead generation, news publications, and brochure websites. Regardless of the technology you employ, their team of specialists ensures they are the best choice to optimize your website for search engines. This will enhance your organic search results, increase leads, and improve conversions.
SALT.agency's technical SEO services provide various options to improve your website's visibility in organic search results, including:
Technical SEO Consultancy

Website SOE Auditing and Analysis

Website Migration

Server Log File Analysis

Website Architecture and Structure Review

Google Penalty Removal

International SEO

Mobile SEO

Edge SEO
Other services: SEO strategy, GA4 configuration, enterprise local SEO, specialist eCommerce SEO, organic traffic drop audit
Notable clients: Coralogix, Yorkshire Care Equipment, The Pen Company
---
---
Why is it Important to Hire a Technical SEO Agency?
While the basics are relatively easy to learn, technical SEO can become complex and challenging. On your own, you need to master using different software, platforms, and AI SEO tools to automate your organic performance. However, working with a reputable technical SEO agency saves you from all that. The services provided by a technical SEO agency include, but are not limited to:
Submitting your website's sitemap to Google

Conducting a crawl error analysis

Creating an SEO-friendly site structure

Improving your website's speed

Ensuring a mobile-friendly site

Generating an XML sitemap

Validating HTTPS status codes

Enhancing metadata

Verifying and resolving broken links

Identifying and resolving duplicate content issues

Configuring analytics

Tracking SEO goals and conversions

Conducting comprehensive SEO audits
---
Final Thoughts
Improving your search engine optimization strategies requires the implementation of technical SEO to boost your website's visibility and ranking on SERPs. Technical SEO optimizes the technical aspects of your site, including speed, mobile friendliness, and crawlability. These technical aspects ensure that Google and other search engines can easily access and understand your web pages and content.
A technical SEO application can be a complex endeavor and often requires the skills and expertise of a technical SEO agency. Working with a reputable technical SEO service provider will ensure that the issues with your site's performance are identified and resolved. This list features highly regarded technical SEO agencies with the necessary knowledge and skills to enhance your organic marketing efforts.
Frequently Asked Questions
What is technical SEO?
Technical SEO is the process of optimizing the technical aspects of a website, such as crawl ability, speed, indexation, and meta robot tags, to improve its visibility and ranking on search engines.
Why is technical SEO important in marketing?
Technical SEO is crucial as it enables search engines to understand and index a website quicker and more accurately, resulting in increased website visibility, organic traffic, and higher search engine rankings.
What are the top technical SEO agencies in the market?
The top technical SEO agencies offering specialized services are:
Thrive

Smartsites

Webris

Mainstreethost

Tuff

Onely

Asper Brothers

Disruptive Advertising

SALT.agency