Managing a growing social media presence is no simple feat. You have to juggle content creation with research and constantly track and measure the effectiveness of your social media output.
This is where social media management tools come to the rescue. They are especially designed to help busy marketing teams quickly plan, create, publish and track their social media content.
When it comes to tools, there's no shortage of options today. In this blog post, we're going to focus on tools to schedule posts on Facebook. We're unpacking 8 of the best tools we've come across to help you find one that will streamline your social media management.
---
Top 8 Tools to Schedule Posts on Facebook:
---
Sendible is one of the older social media management tools on the market. In fact, when they started out in 2008, you could integrate and manage content for your blog, email marketing and SMS campaigns.
When using Sendible, you'll immediately be intrigued by their approach to managing content on Facebook. Unlike other social media management tools, Sendible offers services. Services act as channels for publishing and retrieving content from your social profiles, and you'll need one channel to publish content and another to retrieve it.
While it seems a little complex, the idea quickly grows on you.
Sendible comes with a host of helpful features. Scheduling posts, for example, is not only easy to do but can also be used for Evergreen content. Using their Smart Queues feature, you can recycle some of your most popular content to keep generating traffic and results.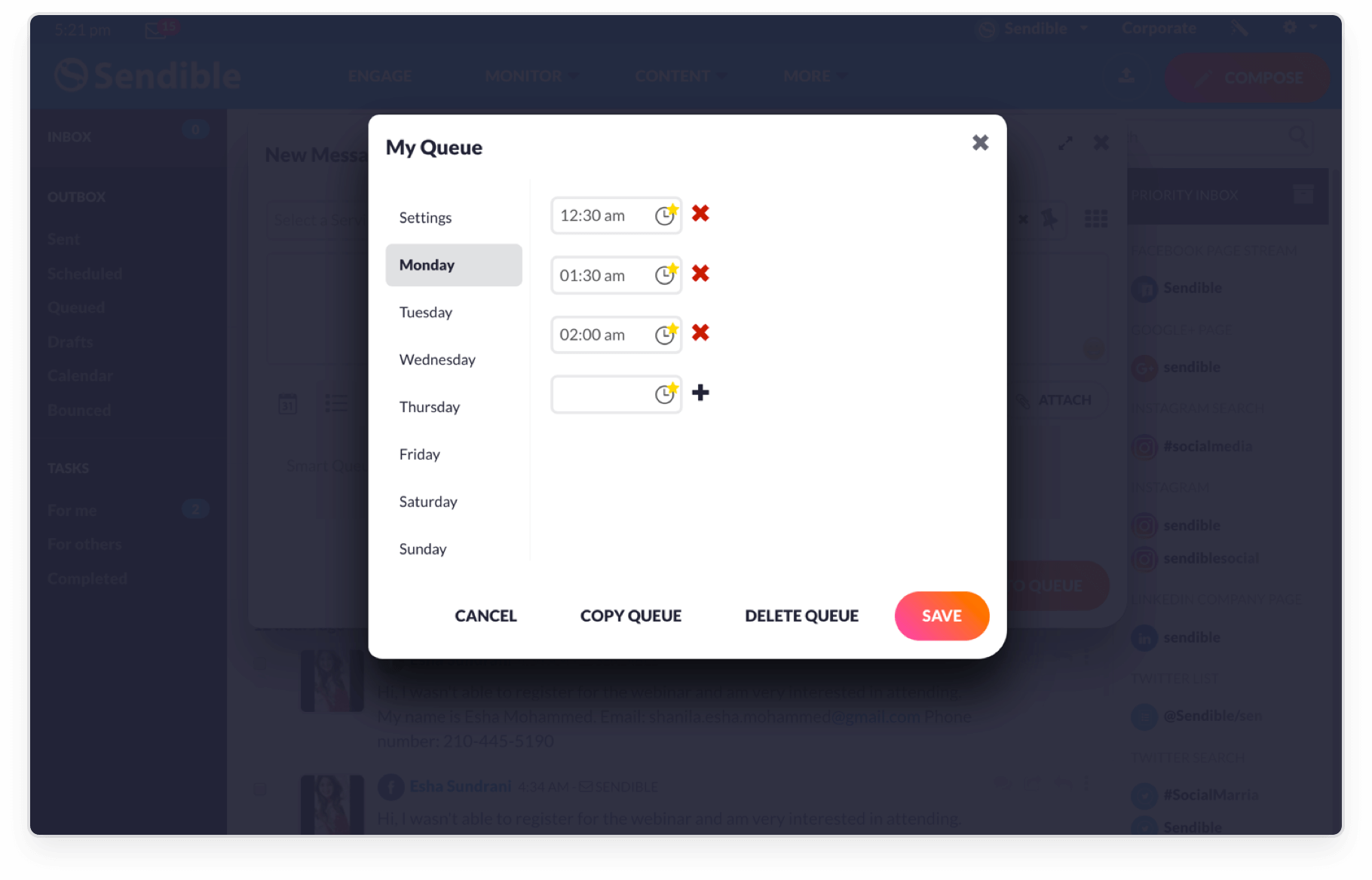 Sendible also comes with a priority inbox with a long list of features. Some include the ability to messages, gauge the sentiment of messages (positive, neutral and negative), and also export your message in a CSV file.
It also comes with analytics and reporting. You can generate up to 60 custom reports on the Large plan and did API access for up to 250 calls per day.
Features list:
Content publishing & workflows and engagement & monitoring.
Plans:
Micro, $24/mo
Small, $84/mo
Medium, $169/mo
Large, $254/mo
---
Sprout Social is one of the more popular tools used to schedule posts on Facebook. Like are the social media management tools, it offers users the ability to upload video and attach images. These assets can restore directly in the library, and you also are able to apply tags for easy asset retrieval.
Sprout Social also offers insights on your paid and organic content. You can measure how many followers you attract on Facebook, analyze their engagement levels and track how effective your content is.
A feature we've seen show up frequently is the ability to create workflows in social media management tools. In Sprout Social, you're also able to create tasks that require approval for various stages before any content is published. This makes collaboration on social media campaigns easy, especially in large businesses with big teams.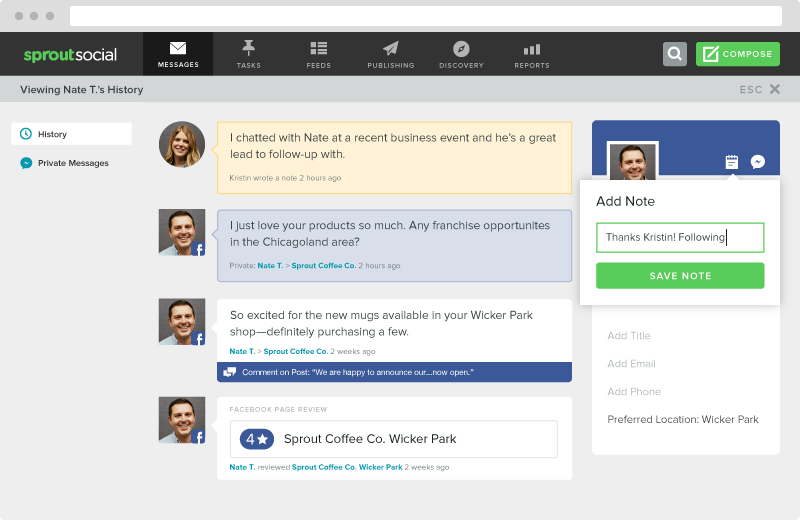 Features list:
Post scheduling tools, tasking and CRM tools, competitive reports for Facebook, incoming outgoing message content tagging, scheduling for optimal content send times, Spike Alerts for specific mentions or keywords, digital asset and content library, and chatbots with automation tools.
Plans:
Standard, $99/user/mo
Professional, $149/user/mo
Advanced, $249/user/mo
---
Later was founded in 2014, and back then it was known as Latergramme. What makes Later a unique tool to should you post on Facebook, is its visual content calendar. Using Later is different from other social media management. When you began creating a Facebook post, you start with choosing your image and then adding your text.
Later also allows you to plan your feed using drag-and-drop functionality, making it easy to plan a week's worth of content in just a few minutes. While most of Later's features seem to be in favour of Instagram, it is still useful as a tool for posting content on Facebook.
In addition to content performance analysis and helping you find the best time to post, you can also use Later's mobile app to manage your social media on the go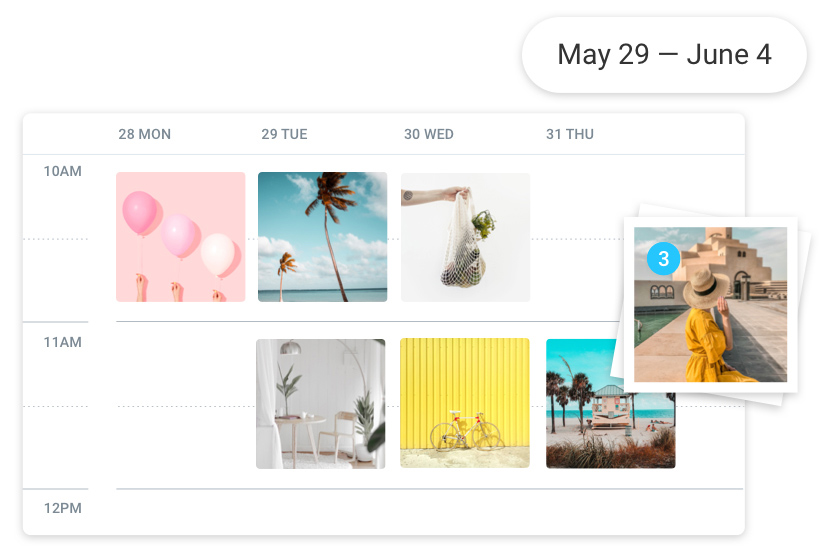 Features list:
Analyse content performance, engage with Facebook fans, plan and schedule content, work with team contributors, collect and share content from any URL on the web.
Plans:
Free, $0/mo
Plus, $9/mo
Premium Business, $19/mo
Starter Business, $29/mo
Brand Business, $49/mo
---
Buffer ticks all the boxes when it comes to managing social media. As a tool to schedule posts on Facebook, Buffer not only gives you the opportunity to draft posts and collaborate with your team, you can also roll-in a quality checking process in the form of workflows.
While Buffer makes for a very effective tool, some may find the way the product is structured to be a little confusing. You don't get one product, you get three. These are:
Publish

: allows you to plan, collaborate and publish content on your Facebook account.

Reply

: lets you respond to social media conversations from within a shared team inbox

Analyze

: offers social media performance data to help you track how effective your content is
Confusion aside, you still get to do what you need to in Buffer. In addition to scheduling posts, you can tailor them for each social media network and also get a glance of the content you got lined up on your calendar.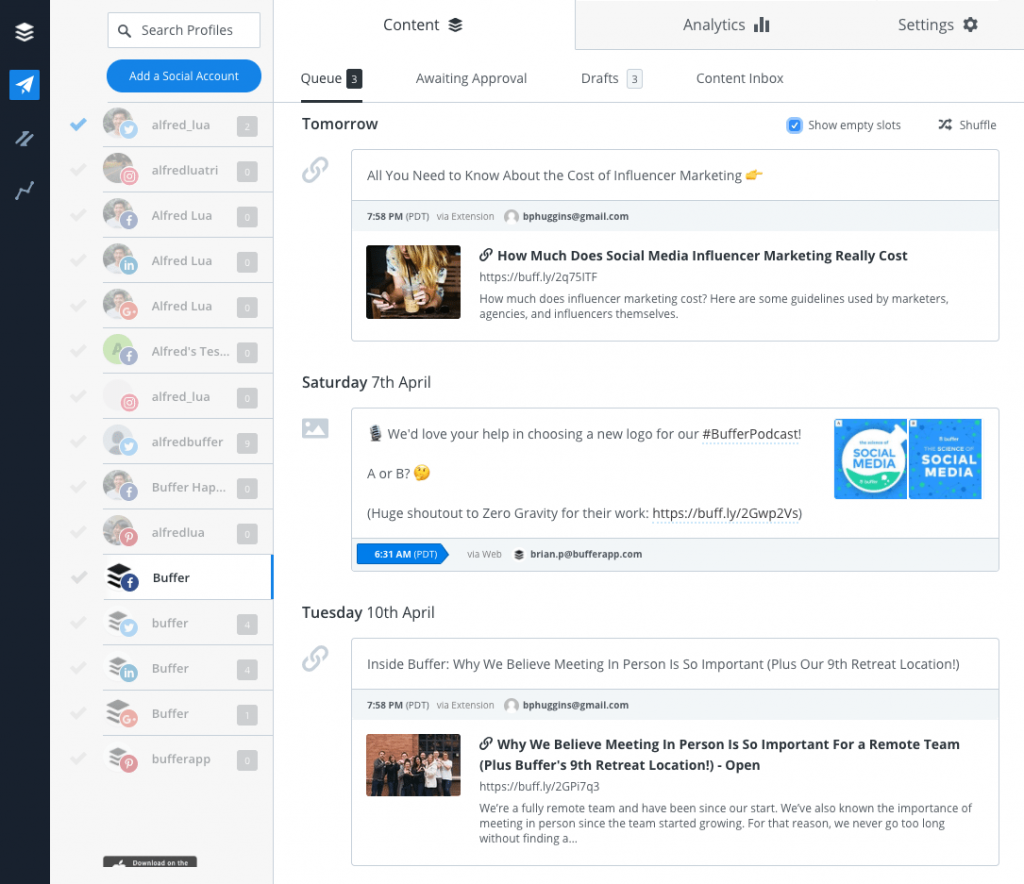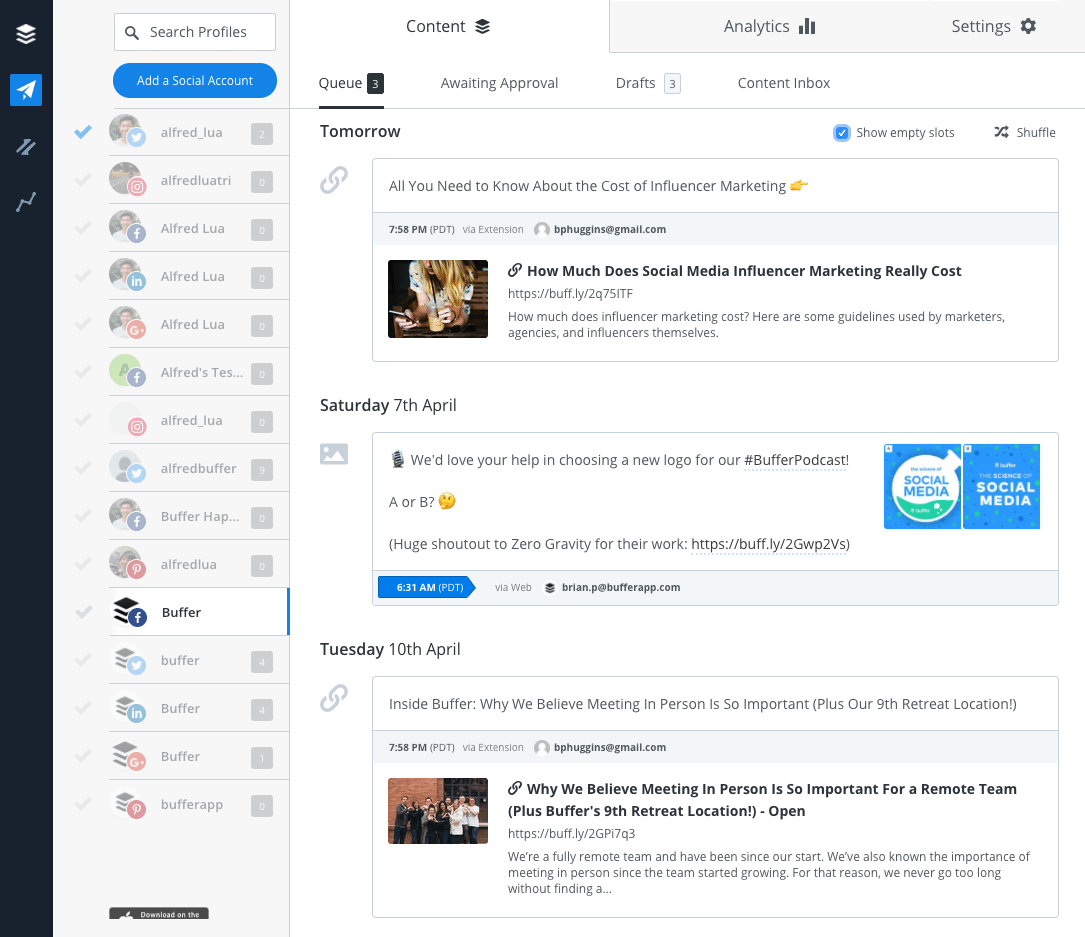 Features list:
Directly Schedule Posts, create a posting schedule, calendar view, custom video thumbnails and create, manage draft posts and invite additional users.
Plans:
Free, $0/mo
Pro, $15/mo
Small Business, $99/mo
Medium Business, $199/mo
Large Business, $399/mo
Enterprise, $Custom/mo
---
Loomly was founded in 2015 by Thibaud Clement and Noemie Clement. As social media managers, they were frustrated with the limitations of applications they used. These included workflow bottlenecks that severely hampered efficiency.
But that's not all that Loomy solves. They've also included a unique feature called fine-tuning. We think this feature makes Loomly one of the most impressive tools to use to schedule posts on Facebook.
Fine-tuning allows you to optimize your image, post copy, and pick a date and time for when to publish your post.
Loomly also comes with the opportunity to target audiences and promote content on Facebook. You're also able to identify your preferred audience and set restrictions (think specific locations and minimum age requirements for paid media).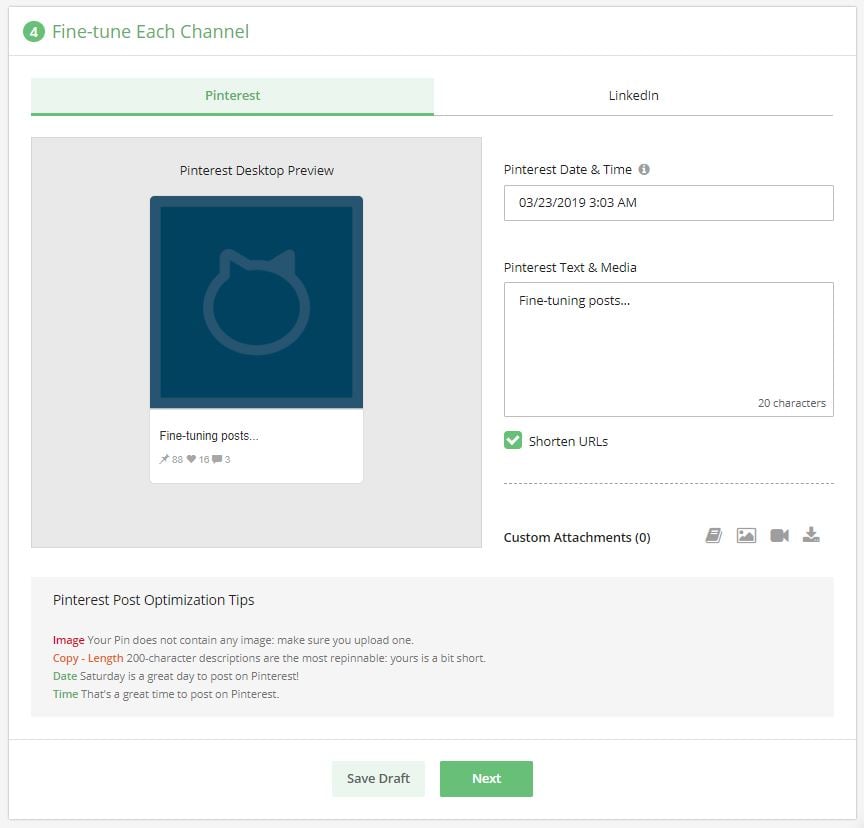 Features list:
Unlimited calendars, content exports, live analysis, automated publishing, advanced analytics, post preview, post ideas and unlimited file uploads.
Plans:
Base, $25/mo
Standard, $57/mo
Advanced, $119/mo
Premium, $249/mo
Enterprise, Contact for pricing
---
Social Pilot is fast becoming the go-to social media management solution. According to their website, over 115,000 businesses use the platform to schedule media posts to improve engagement analyze performance. Among some of the clients are large brands Amazon, Vodafone, Samsung and Gartner.
Social Pilot's value proposition is that it's packed with more of the functionality you need at a friendlier price point.
So what makes Social Pilot one of the ideal tools to schedule posted Facebook? Well, it offers much of the same functionality you get with most social media management tools. These include team collaboration, a social inbox, analytics, and the ability to bulk upload social posts.
Social Pilot begins to show its uniqueness when it comes to discovering and publishing content. It allows you to find popular content and schedule it directly to your account using RSS feeds and content curation. It also offers content suggestions to make sure you're never without ideas of what to post next. You also get access to their platform via the web, mobile, and browser extension.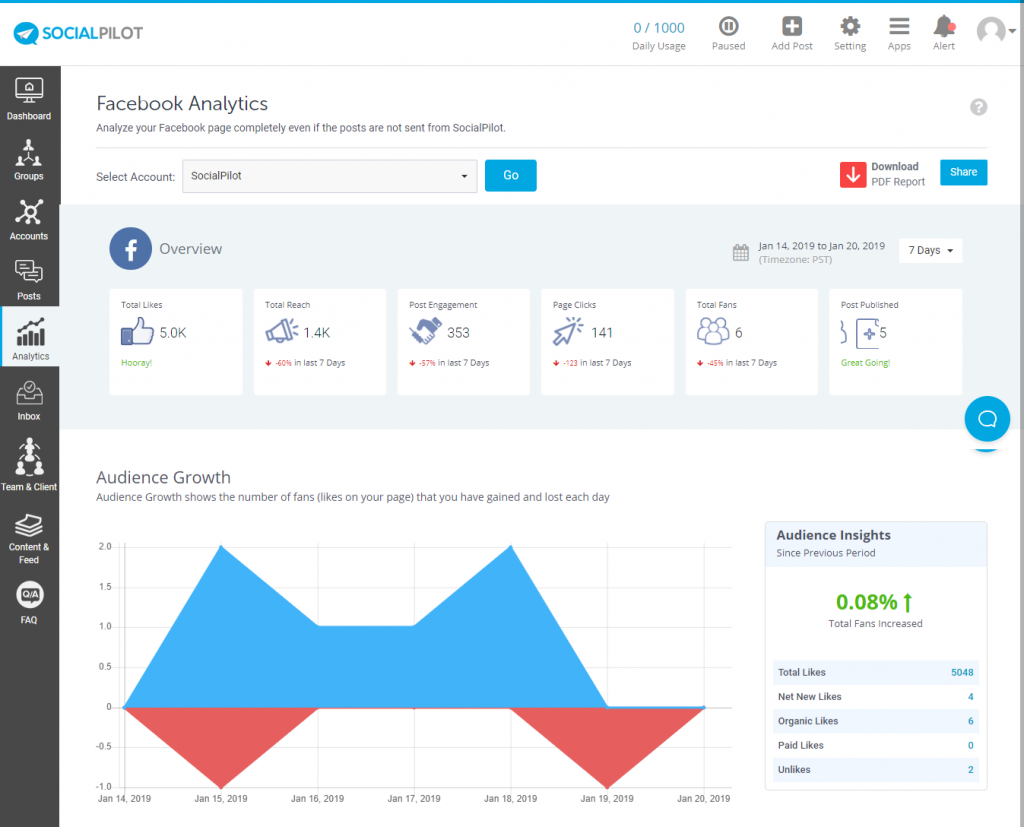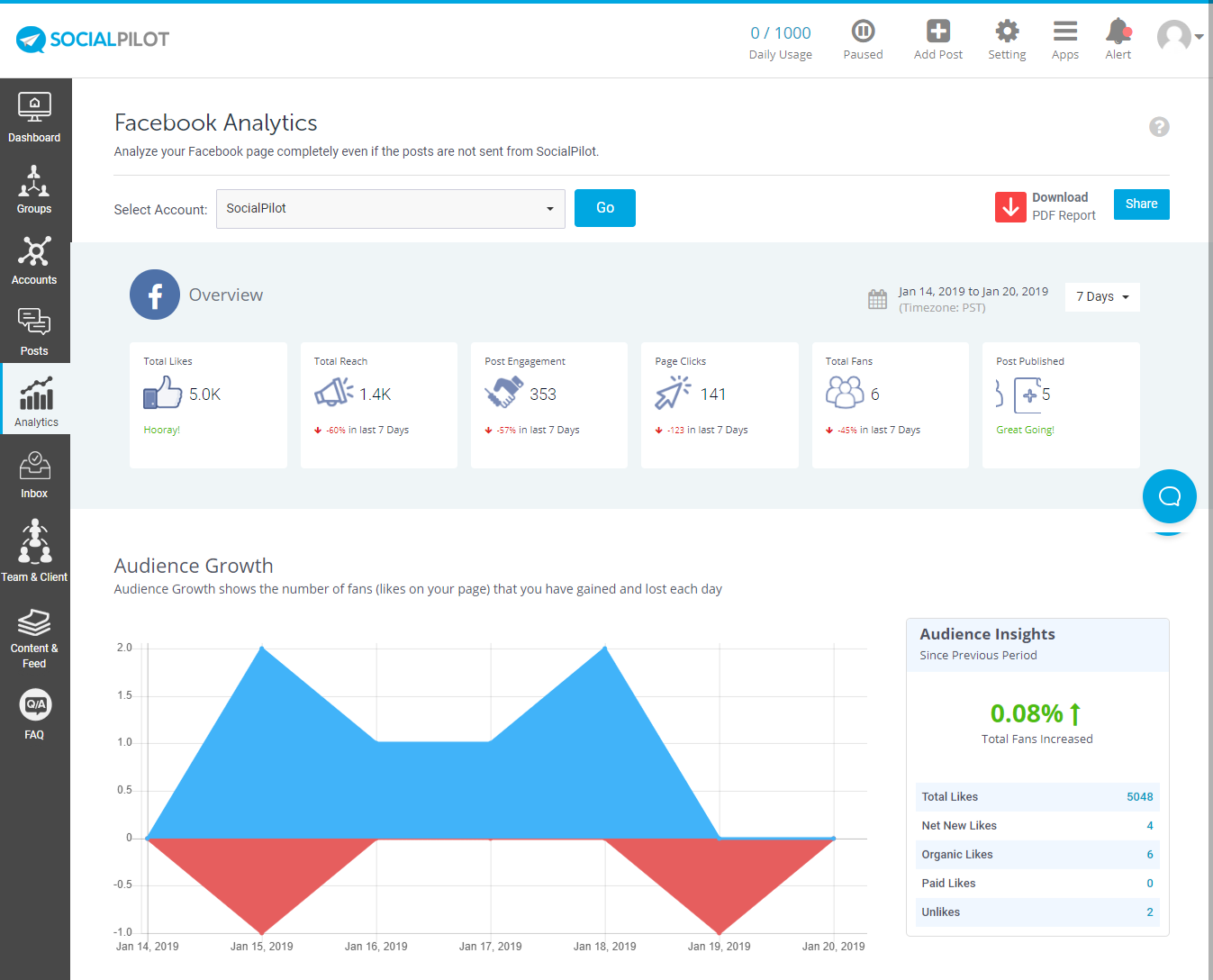 Features list:
Social media analytics, social media calendar, bulk scheduling, client management and Facebook ads.
Plans:
Professional $30/mo, or $25/mo billed annually
Small Team $50/mo, $41.33/mo billed annually
Agency $100/mo, $83.33/mo billed annually
Enterprise, Custom Pricing
---
HootSuite is undeniably one of the most well-known social media management platforms. Over the years they elevated their solution, adding smart integrations to include other social media platforms (Instagram, YouTube, LinkedIn, Twitter and Interest).
But they've also done a lot to help businesses embrace their product to the creation of courses and certifications covering subjects like their platform, social marketing, advertising and strategy.
HootSuite is also very easy to use. In addition to publishing organic content, you can use paid ads and leverage their automated add solution to generate as much coverage as possible.
You're able to use this tool to schedule posts on Facebook, monitor your brand, curate content, and use analytics to make better decisions about the content you create and share.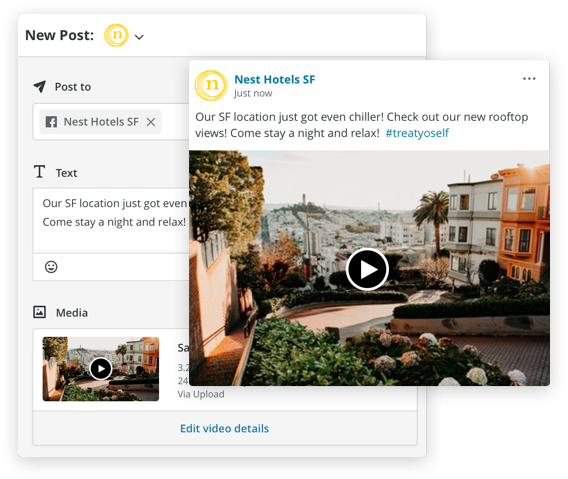 Features list:
Automated post scheduling, key performance metrics, team message assignments, analytics, exportable reports, flexible approval workflows, onboarding and ad spend to boost posts.
Plans:
Free, $0/mo
Professional, $29/mo
Team, $129/mo
Business, $599/mo
Enterprise, $custom/mo
Hootsuite Insights, $custom/mo
---
Like Loomly, Meet Edgar was created by someone on the front lines of social media management. Laura Roeder, CEO of MeetEdgar struggled to recycle her social posts. Her workaround was sitting them into one large Excel spreadsheet and manually uploading them into scheduling tools. Back in 2014, publishing of the green content was the thing. So, Rhoda created MeetEdgar.
But MeetEdgar is much more than just a changeling tool. It does something that we haven't seen done before in a social media management tool: auto-variations.
Auto-variations are social media posts that Edgar automatically creates by locating quote-worthy content from articles and blogs. Sure, some social media management tools use RSS feeds to discover content, but none actually tailor content that you can later approve and post.
Other features that make MeetEdgar one of the most valuable tools to schedule posts on Facebook include category-based scheduling, continuous posting, the ability to automatically upload unlimited content, and helpful features like A/B testing of social messaging, as well as the ability to shorten and track links.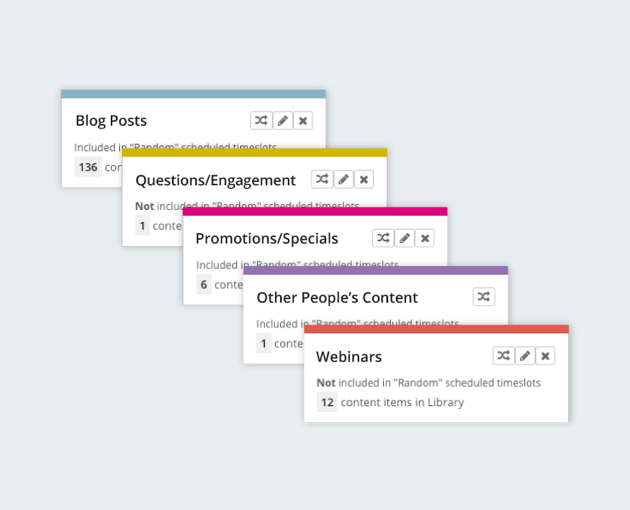 Features list:
Social media automation, social media content library and management.
Plan:
Meet Edgar Plan, $49/mo (monthly), $539/yr (annually)
---
Conclusion
There are many social media management tools available today. If you're in the market for a replacement or looking for your first, be sure to check out our complete reviews and test the platforms that seem most aligned with your social media management requirements.