While the COVID-19 pandemic meant that you had a legitimate excuse why you could not visit the gym, it did not let you entirely off the hook. One of the constructive impacts of the pandemic was that it helped to normalize the idea of online teaching, making it easier for the fitness and wellness industry to grow an online presence. Whether you are an experienced yoga instructor with a solid client base, or want to start offering classes, the following tools will help you offer you the freedom and convenience to start teaching yoga online.
---
9 Top Yoga Studio Software for Yogis to Teach Yoga Online:
---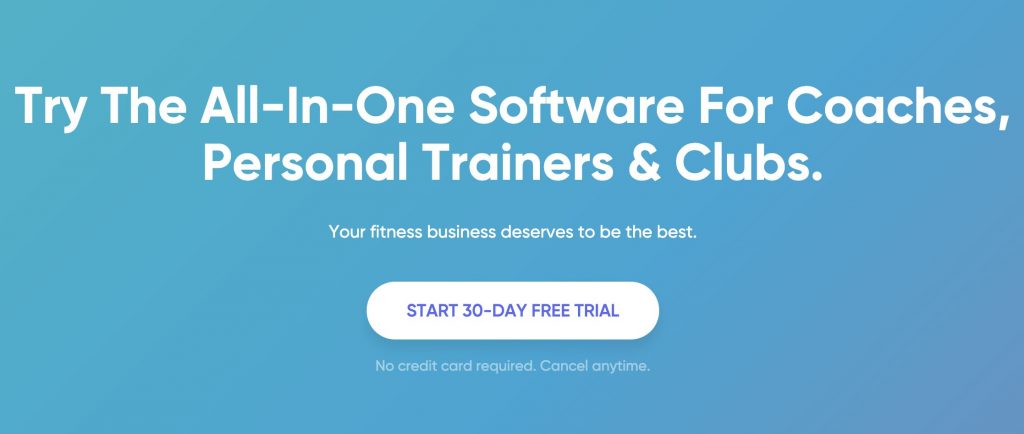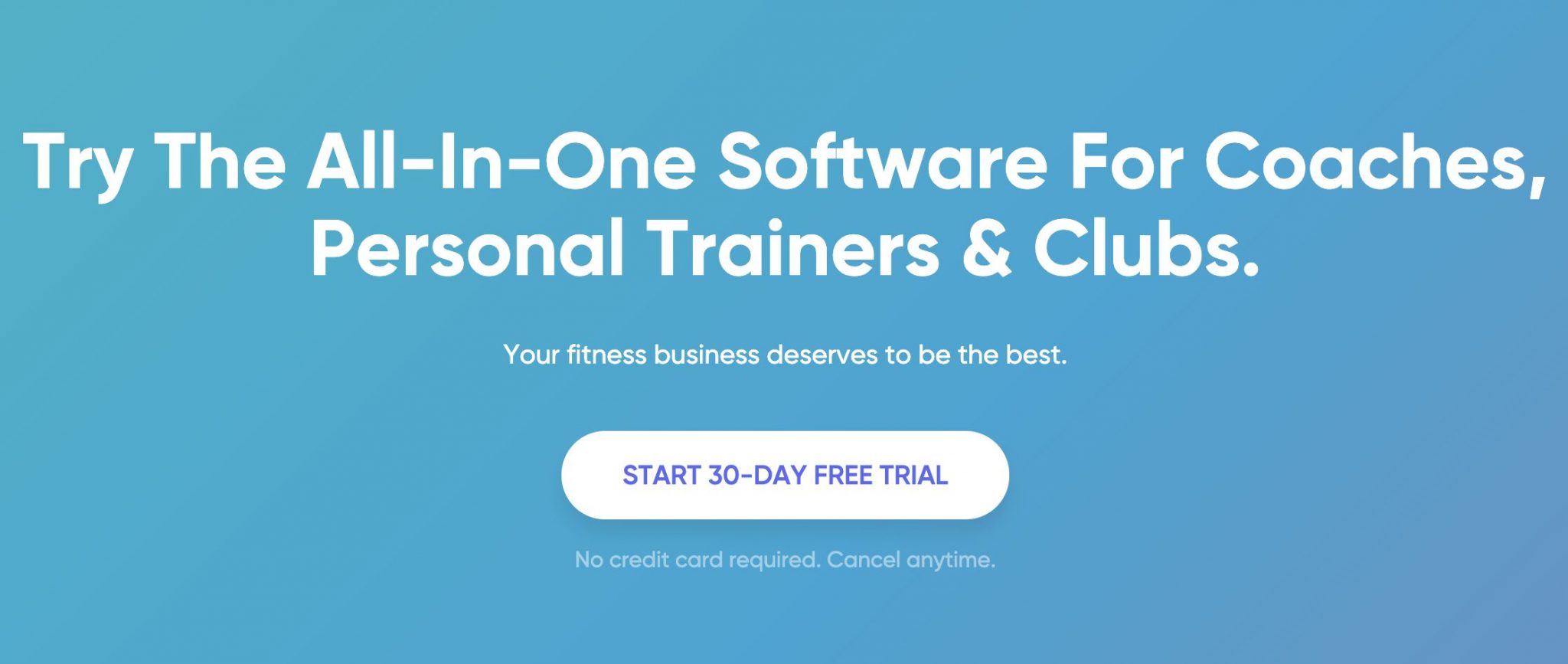 My PT Hub is trusted by more than 80,000 fitness pros. On Capterra, it has received more than 2,500 reviews, making it the third most reviewed yoga studio software solution at the time of writing this article.
Whether you want to offer face-to-face training or online training, it is one of the more cost-effective all-in-one software solutions. In addition to using it to offer live sessions that your clients can join via all the main live-streaming software providers, you can also use it to create workouts and customer exercises. Like many of the tools included this list, it is not only for teaching yoga per se. Instead, it offers features like the ability to create nutrition plans that you could offer as an add-on.
For the ambitious yoga influencers or instructors, it also offers custom branding. Thanks to this feature, you can modify its app by uploading your logo and changing the theme so that it fits in with your brand identity.
Its pricing is pretty straightforward (something which is sadly not always the case). You have only two options. You can either sign up for the Standard plan at $20 per month or the Premium plan at $49 per month. Though, we would recommend that you rather opt for the annual plan which will save you 25%. Not only do they offer a generous discount, but their free trial is also longer than most. Instead of restricting the free trial to only 14 days, My PT Hub offers a 30-day trial free of charge.
Some of the other key features:
A habit tracker

1,000+ templates

Integrations with several third-party apps including Strava, Nike+ Run Club and Withings

Card payments
---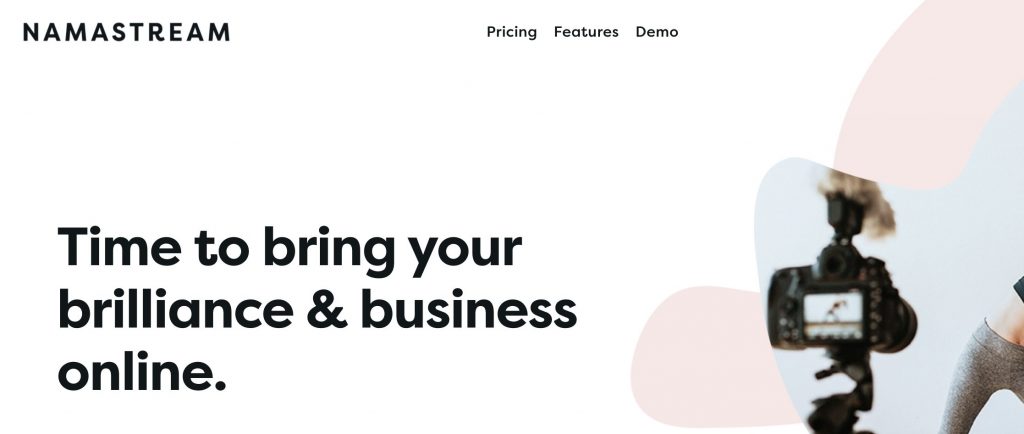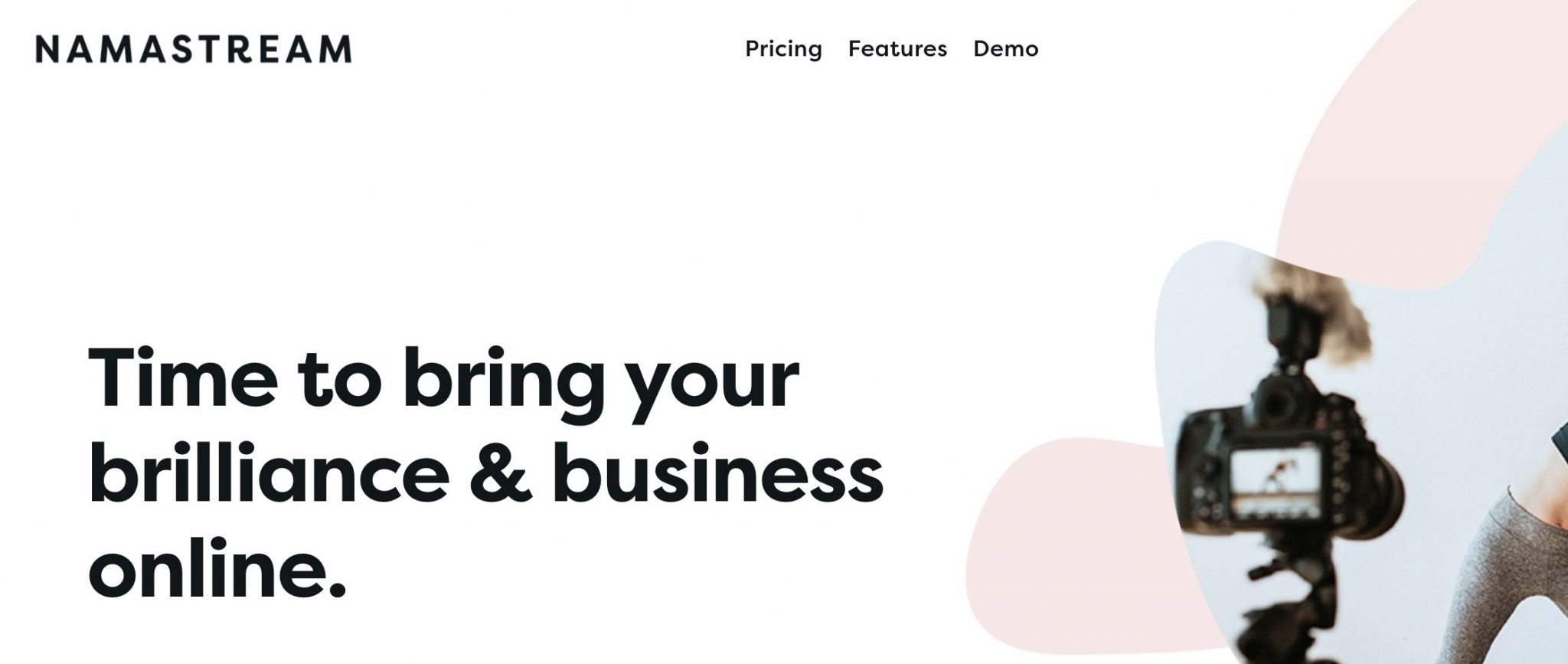 One of the attractive features that Namastream includes in its package is a liability waiver that was written specifically for businesses operating in the wellness industry. Apart from this unique feature, it is very similar to the other software solutions in this list.
All in all, it really is geared towards helping yogis to create the ultimate online yoga studio, although that does come with a price tag. Its cheapest pricing plan will set you back $125 per month. If you are looking to turn your one-yogi-show into an online studio where multiple instructors flex their muscles, you will have to sign up either for its Studio plan ($179 per month) or Studio Plus plan ($250 per month).
Some of the main features:
Integration with Stripe or Paypal

Customizable templates

The ability to create discount codes or set up recurring billing for memberships

Detailed reports to track client activity and sales
---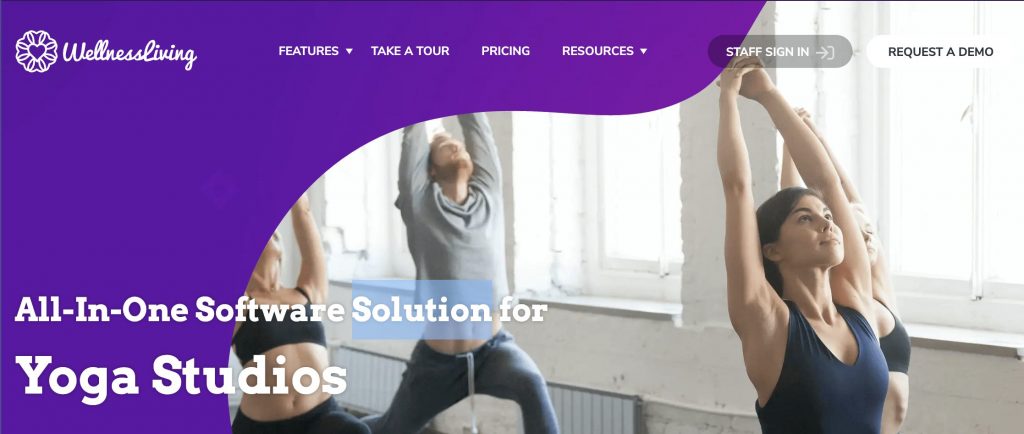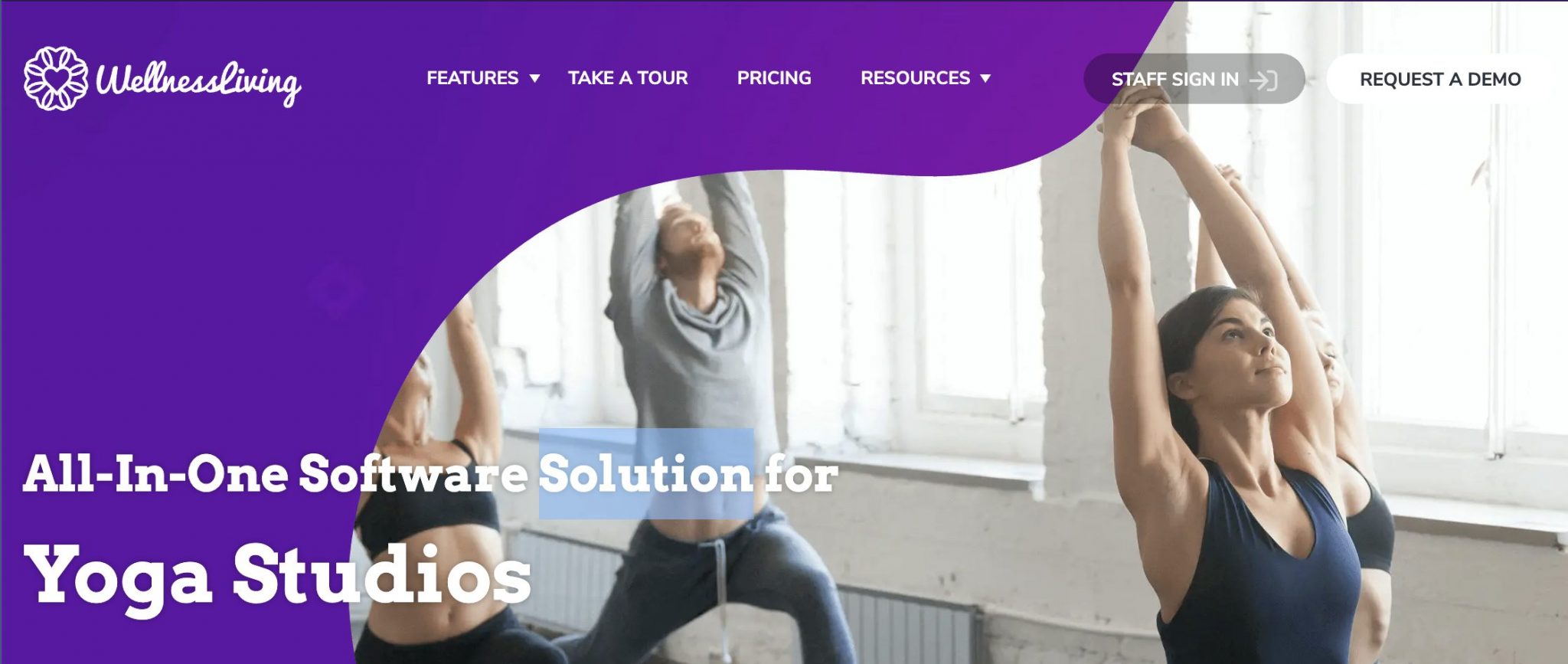 WellnessLiving is another yoga studio software solution that has raked in a lot of reviews. While not thousands of reviews like My PT Hub, WellnessLiving has received its fair share of reviews and ranks well with only 10% giving it less than three stars.
Compared to similar tools, it is reasonably priced. Though, it is important to take note that they offer some features as an add-on. So, depending on what you would like to offer, it can become quite expensive quickly. For $59 per month, you get access to its entry Basic plan. If, for example, you would like to add a rewards and loyalty program, you will have to pay an additional $24 per month.
Some of the main features:
The ability to rent yoga gear

Dynamic marketing tools like automated messaging and customizable emails

Personalized postcards

An SMS feature

Mobile apps for clients and staff

Electronic forms
---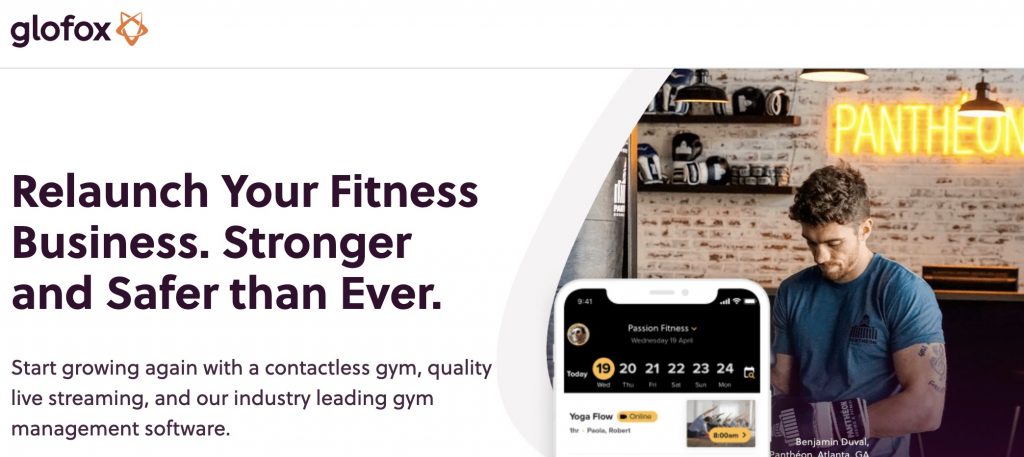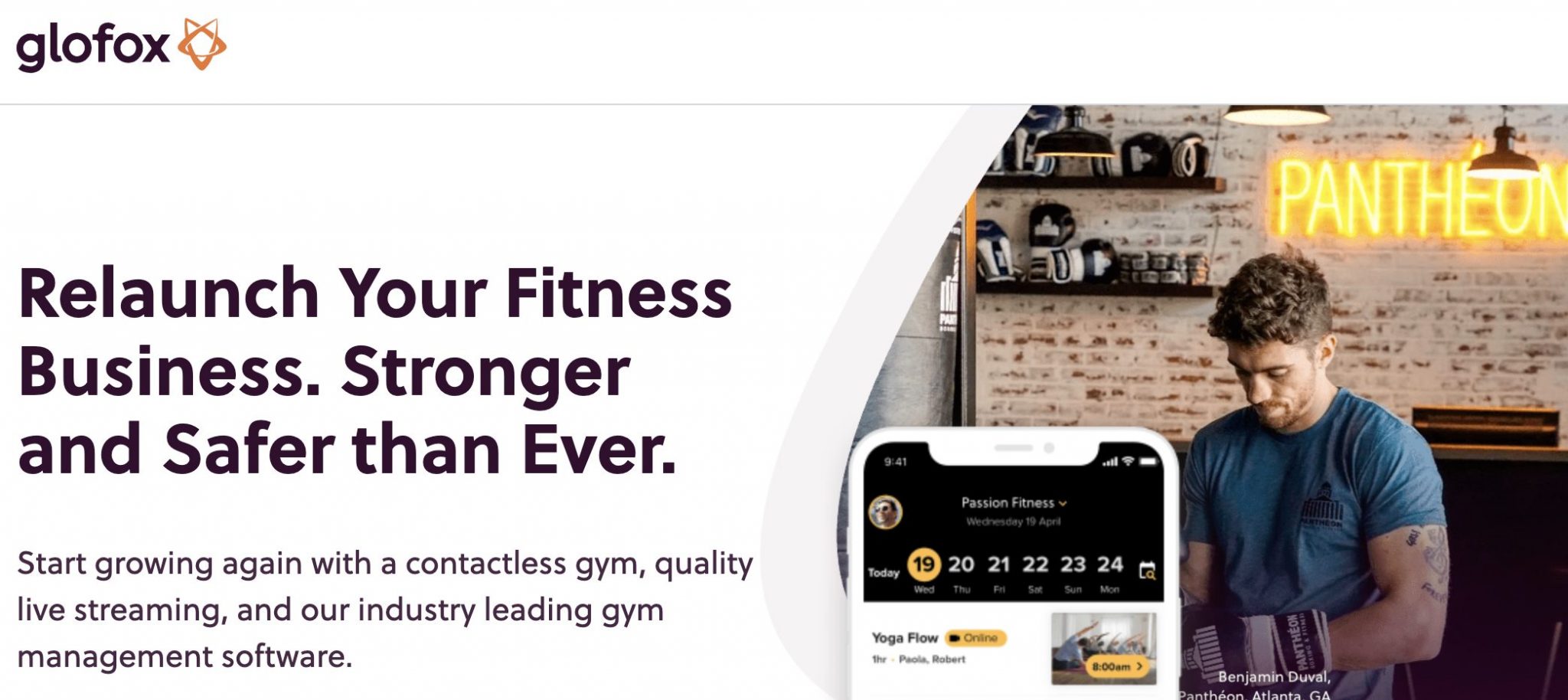 Glofox does not focus just on yoga. So, if you have ambitious plans for your yoga studio, this comprehensive management system offers you the ability to scale. One thing that sets them apart from other similar tools is that they really tried to help instructors stay afloat during the pandemic. They have helped fitness franchises to keep 85% of their member revenue during COVID-19, according to their website.
With Glofox, you can manage your studio as well as memberships. It also offers payment processing via your website or the mobile app. If you prefer not to teach yoga strictly online, it also includes a point-of-sale feature that enables you to take cash or direct debit at your brick-and-mortar studio.
While they offer three paid plans and a 20% discount on annual billing, you will need to contact them to get the actual numbers. Also, similar to WellnessLiving, some of their features are sold separately as add-ons. For example, the ability to create a branded app is only available as an add-on, something which other tools include in their plan.
Depending on your plan, here are some of the key features:
Livestream classes

Pre-recorded workout videos

Targeted push, email and SMS notifications

Social booking links

Mailchimp integration

Attendance reporting
---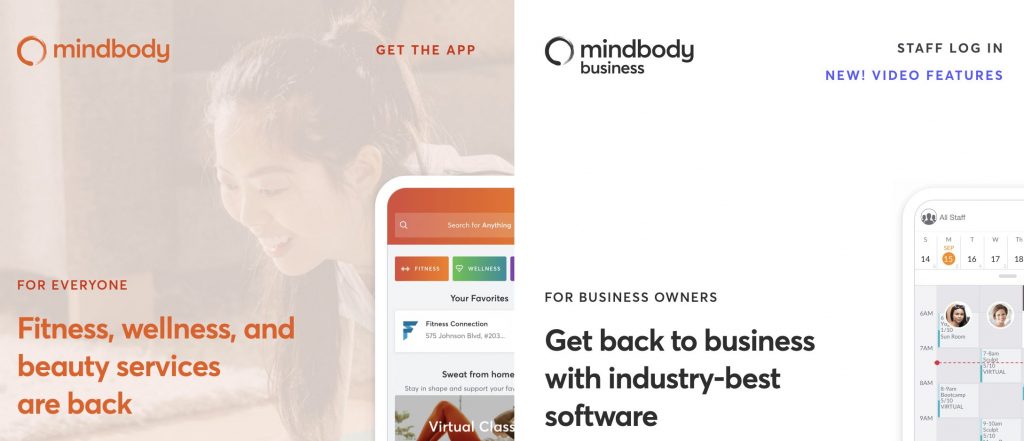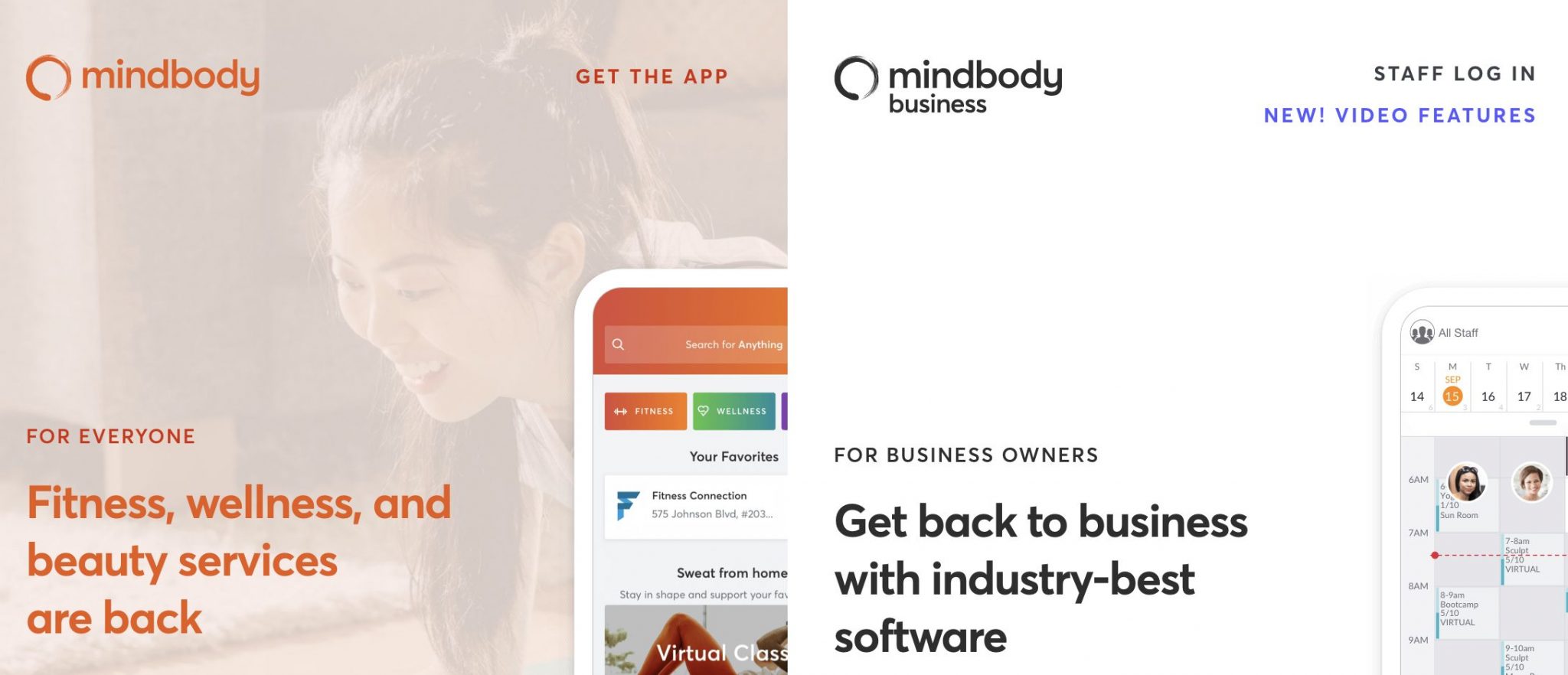 As the name suggests, Mindbody takes an even more holistic approach than some of the other software solutions by also catering to spas, salons and integrative health. While it offers quite a number of products, it still manages to ensure that its product is created with yoga instructors in mind.
By means of the intuitive on-demand video and live-streaming features, yogis will be able to present their classes online in style. If you would like to scale (without branching out to another related industry), it also offers a marketing suite to automate your yoga marketing. It, for example, offers last-minute deals, intro offers, and the ability to turn your most loyal clients into brand ambassadors.
Speaking of branding, it also lets you design your own branded mobile app which helps with boosting brand exposure, client engagement and retention. Their team will add your logos and color schemes after which you will have the chance to offer feedback. Once you are happy, they will add your app to the app stores. However, this feature is only available if you sign up for their Ultimate Plus plan that costs a whopping $699 per month. Alternatively, you can sign up for their Accelerate plan ($329 per month) or the Ultimate plan ($419 per month) and add this feature as an add-on.
While it does offer a cheaper plan, its Starter plan ($159 per month) offers only the bare bones. Our guess is that you'll find this plan to be too expensive for what it offers.
Some of the other key features included in the more expensive plans:
Comprehensive reports

Digital forms to streamline your intake process

Customizable templates

The ability to incentivize referrals
---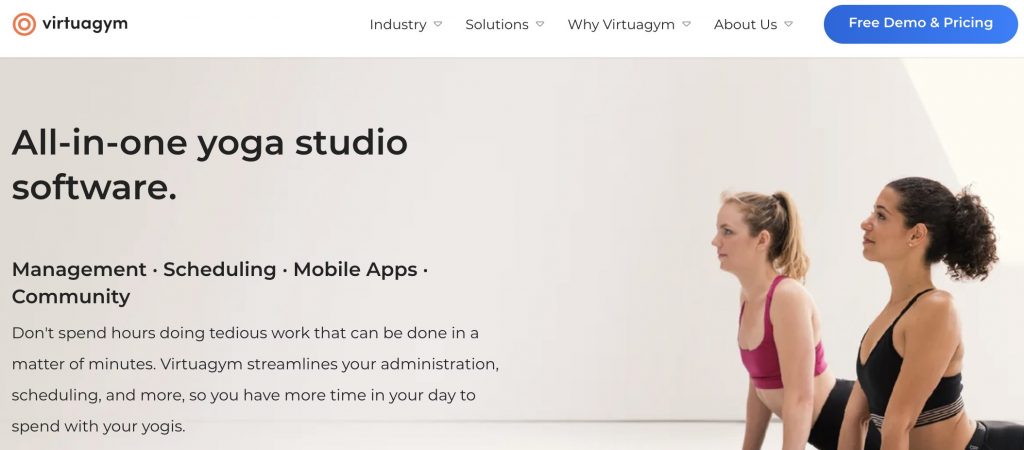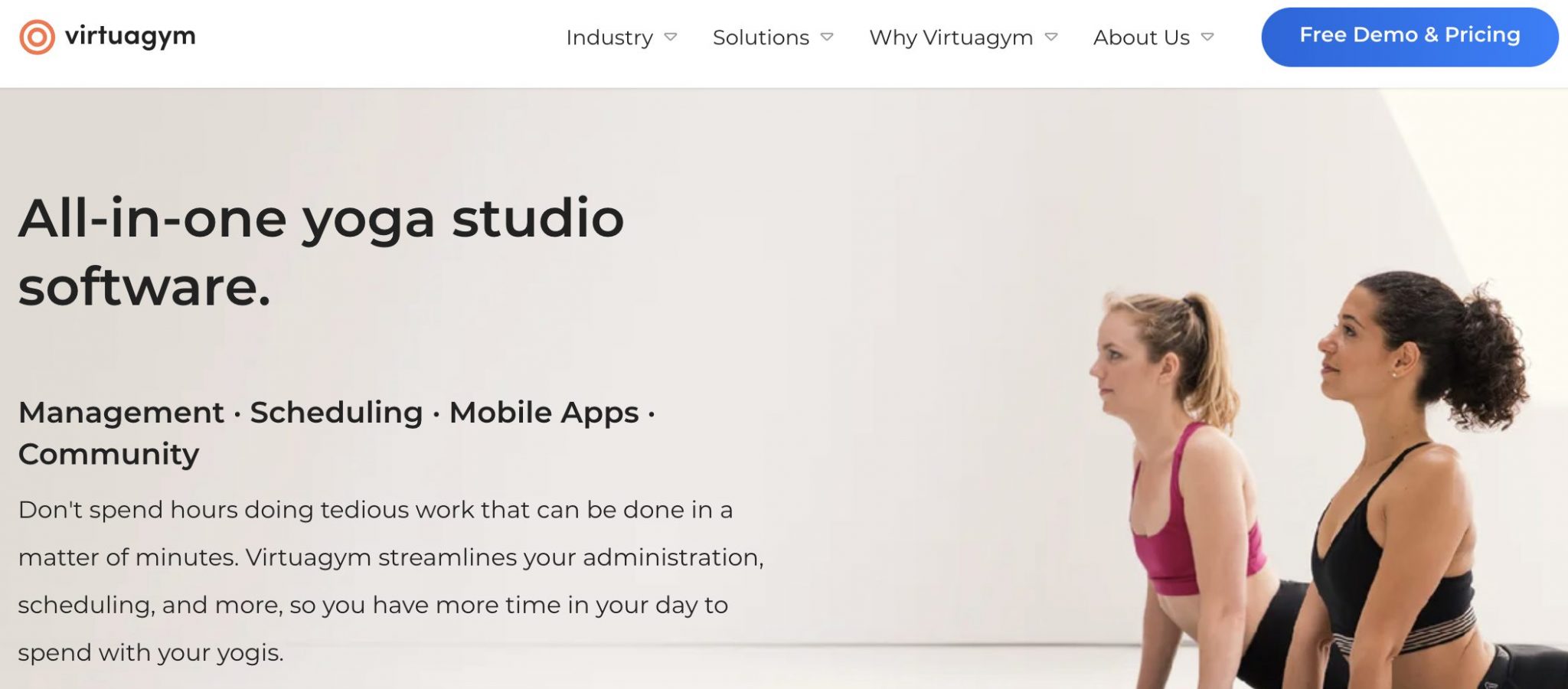 If the admin of running a yoga studio is taking up too much time, Virtuagym is a comprehensive yoga studio software that you can use to streamline daily tasks like scheduling and payment processing. You can also use it to give your clients access to their own mobile apps where they can book a class, pay and simply connect with you. While it does not offer all the tools that you need to go completely online, it will free up enough time that you won't mind searching for live-streaming solutions.
Some of its key features:
Flexible class scheduling

Contract renewal

Payment processing

Trial memberships

A webshop

Your own yoga app

Discussion groups
---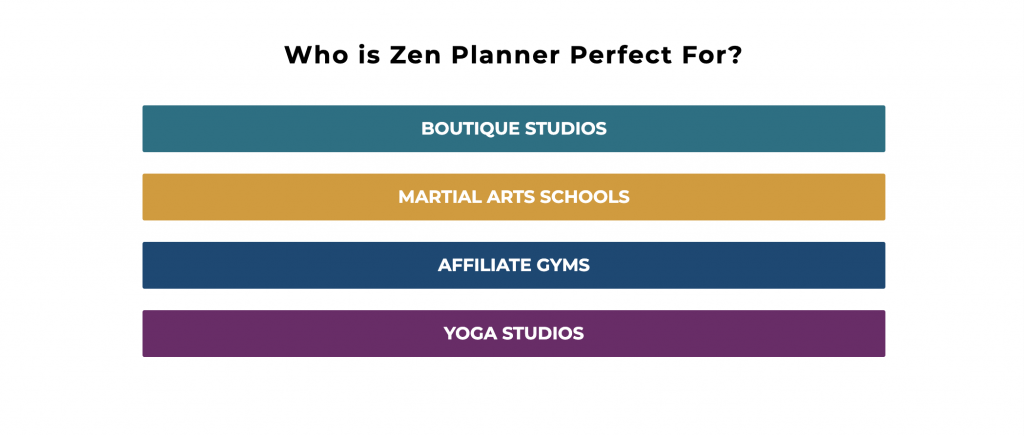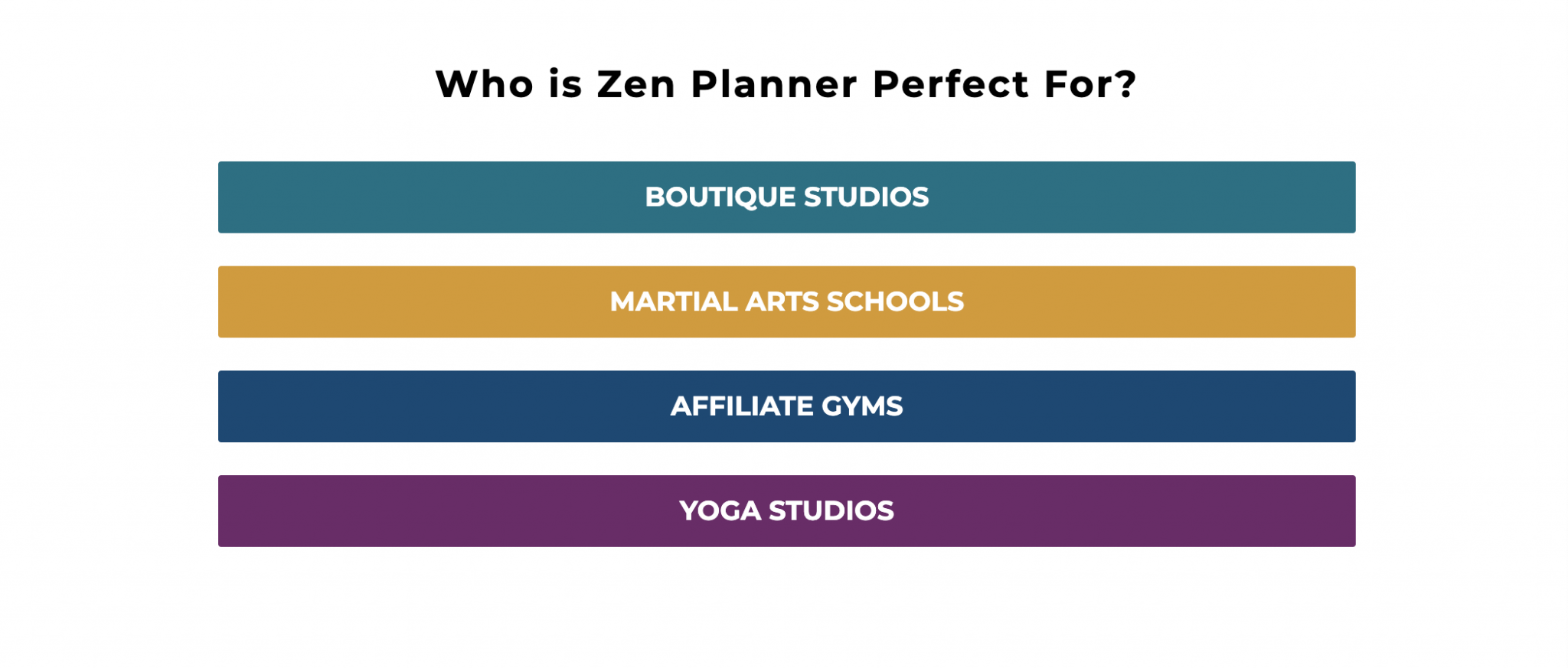 According to the Zen Planner's website, the majority of yoga studio owners have managed to increase their annual revenue growth by as much as 20% after they have started using their software. Similar to Virtuagym, the focus of Zen Planner is to redirect your energy to teaching yoga instead of admin. One of its attractive features is that it makes it easy to sell merch like yoga pants or simply gift cards.
Its pricing works slightly differently than the other yoga tools in our list. Instead of offering different paid plans, it adapts its pricing based on how many active members your studio has. For example, if you have only 1-50 active members, you are looking to pay $117 per month for the Zen Planner software only. If you would like to pair your membership software with a premium website and digital marketing tools, it offers a Business Suite for just over $400 per month.
Some of its key features include:
A separate app for members and staff

Attendance tracking

Online scheduling

Reporting

Simplified billing
---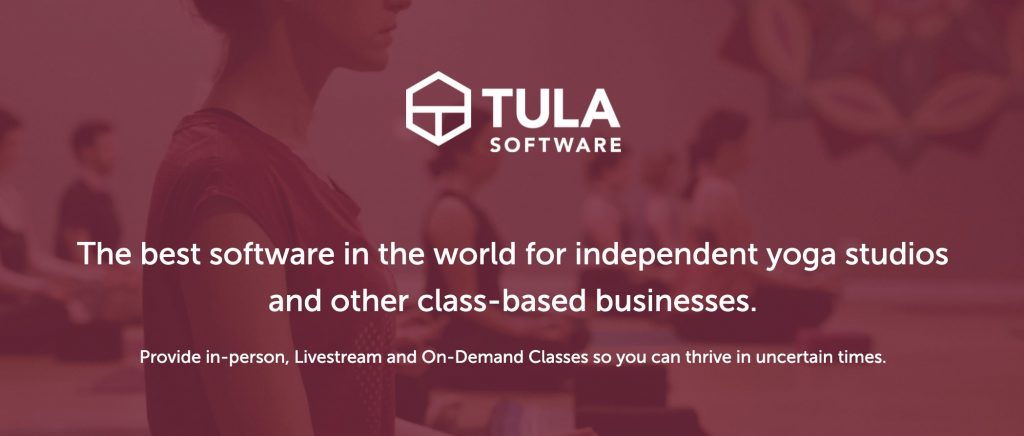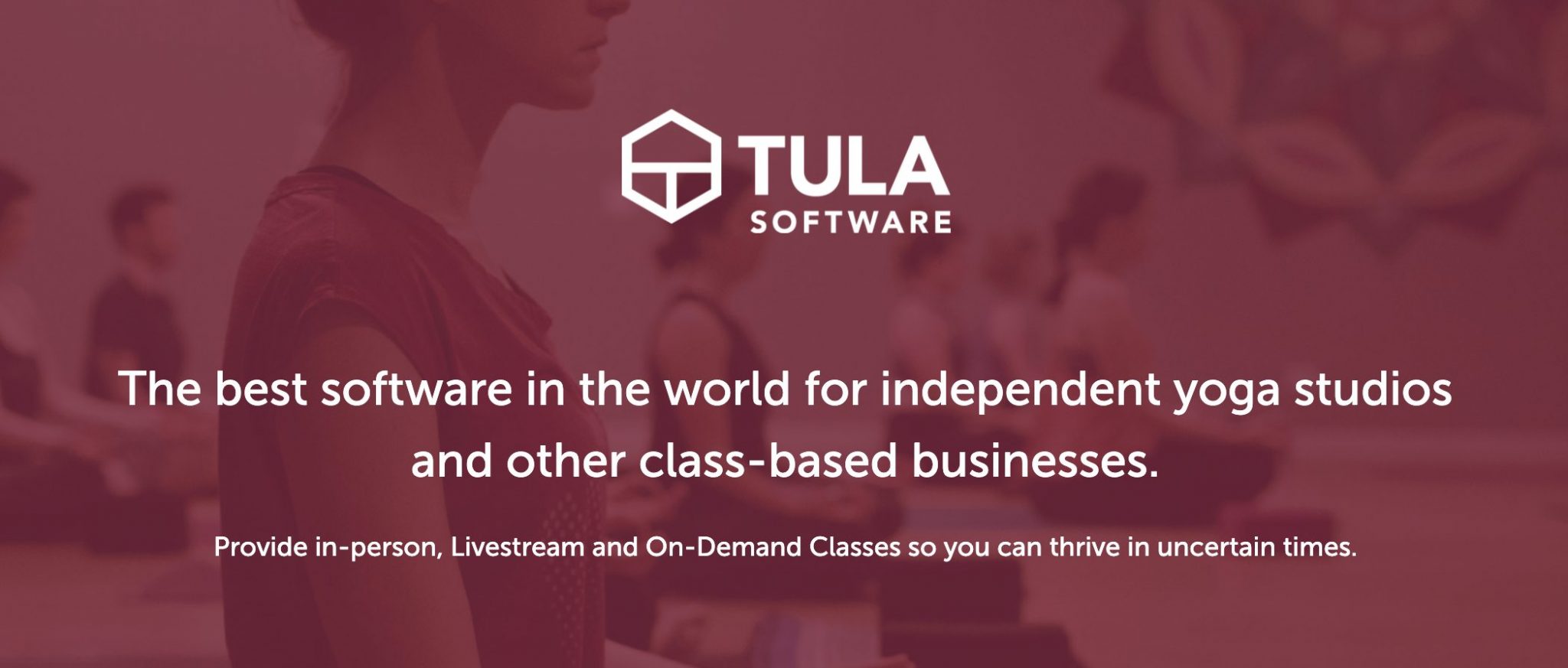 Founded in 2011, Tula has been solely designed for yoga studios. Since its humble beginnings as a product for the creators' own Chicago-based yoga studio, it has been used by more than 6 million students across the globe.
With the help of its intuitive features, you can boost your income, attract more students and automate many of your daily tasks. From online registrations to online payments, it has all the features that you need to operate everything online every step of the way. To live-stream your events, you simply use the Broadcast Link feature.
Similar to My PT Hub, Tula also likes to keep its own pricing simple. Moreover, the pricing is more affordable than many of the other tools mentioned already. You can either sign up for its Base plan ($89 per month) or Premium plan ($129 per month). Considering all its features and pricing, it makes sense why Tula is one of the highest rated yoga studio software solutions on Capterra, boasting an overall rating of 4.9.
Key features include:
On-demand recordings

Easy check-ins

The ability to capture electronic signatures

Gift certificates

Website integrations

Permission levels

A mobile student portal
---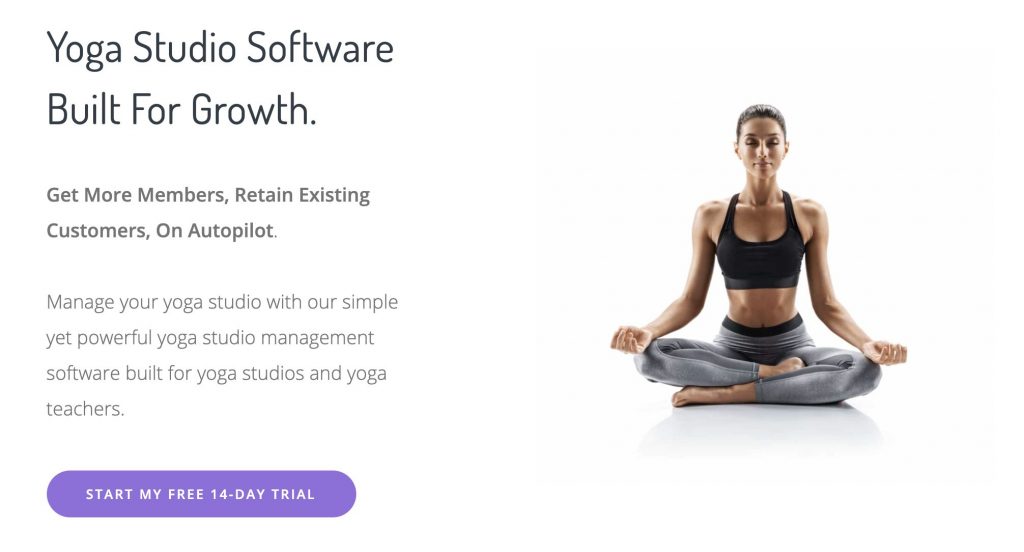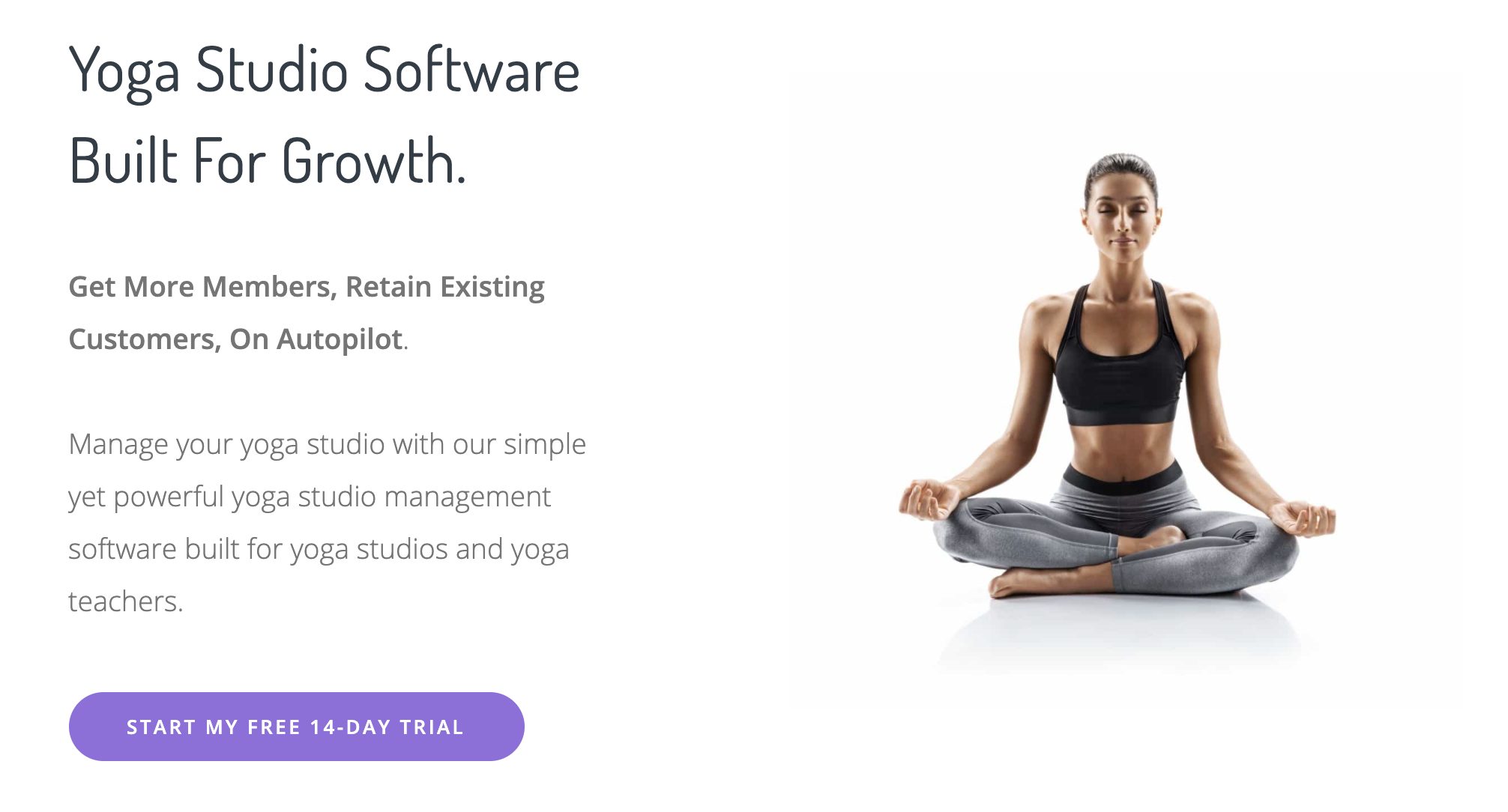 While StudioGrowth is currently in the pre-launch phase, it promises to be one of the most intuitive software solutions that you can use to create class schedules, sell memberships or passes, and get paid (at least, if they manage to live up to their own promises). Whether you want to host a series of yoga classes, a one-time class or private session, they claim that their class schedule builder will be easy to use. As you will be able to change the layout and colors, you can also use it to create a schedule that is an extension of your brand.
If you are serious about growing your yoga business, StudioGrowth claims that it will help you to attract new clients, while keeping your current ones happy. For example, it offers customer referrals and loyalty rewards which will help you grow your client base. In addition, to ensure that the financial side of your business is in good shape (and not just your clients), it will also offer actionable reports to give you more insight into which classes are performing the best helping you to make more informed decisions.
Some of its key features will include:
Upselling

A review management module to gather reviews

The ability to let your clients join a waiting list

Member login
Frequently Asked Questions
What does yoga studio software do?
Yoga studio software solutions reduce the time required to run a yoga studio by automating many of your daily tasks like billing, registration, scheduling, and credit card processing. Some tools might even help you to create your own branded app that you can use to increase brand awareness, client retention, and engagement.
How can I teach yoga online?
There are many yoga studio software solutions that you can use to start teaching yoga online. Ideally, you are searching for a tool that integrates with the main live-streaming providers so that you can easily create live sessions that your clients can join. Many of these tools also help you with tasks like check-ins, attendance tracking, online scheduling, billing and payment processing.
Is My PT Hub any good?
My PT Hub is one of the top software solutions if you want to start an online yoga studio. It's trusted by over 80,000 fitness pros and has received over 2,500 reviews on Capterra, making it one of the most reviewed yoga studio software solutions on the review platform. In addition to its wide range of features, it's also one of the more affordable tools. You can either sign up for the Standard plan ($20 per month) or the Premium plan ($49 per month).
How can I make more money by teaching yoga?
One way to increase the revenue that you make by teaching yoga is to sell merch. For example, with a tool like Zen Planner it is easy to sell related items that your clients will like such as yoga pants, branded water bottles or yoga mats.
Are there tools that focus only on yoga studios and not other fitness industries?
You can check out Tula. Founded in 2011, Tula has been solely designed for yoga studios. Since its humble beginnings as a product for the creators' own Chicago-based yoga studio, it has been used by more than 6 million students across the globe. You can use the software to boost your income, attract more students and automate many of your daily tasks like online registrations, live-streaming your events and online payments.