Twitch is one of the world's largest streaming platforms, with nearly 2.2 million unique creators who broadcast every month on the platform. To say that Twitch is saturated with content would be an understatement. For that reason, the competition between creators is quite stiff with everyone vying for the attention of viewers.
In order to stand out from the crowd, you need to personalize your channel and the experience that it provides to viewers. For this reason, "emotes" (Twitch emoticons) are very popular among streamers. Using eye-catching emotes mid-stream or in-chat is a great way to show your personality on the platform.
Twitch offers a huge library of built-in emotes that anyone can use. However, if you've read our previous article introducing Twitch, you will know that Twitch Affiliates and Partners are given access to special features such as custom emotes.
In this post, we will explain Twitch-prescribed guidelines and rules for creating and importing custom emotes.
---
Twitch Emote Sizes and Guidelines:
---
Twitch Guidelines for Custom Emotes
Twitch Affiliates and Partners are allowed to create their own custom emotes. They can either use a tool like Snappa or Photoshop to create emotes for them, or hire a graphic designer. No matter who designs your emotes, you will have to submit the ready design to Twitch for approval.
If your emote designs don't meet the platform's conditions, you won't be allowed to use the emotes. We've filtered Twitch's lengthy guidelines to compile the most relevant points below:
Files should be in PNG format.

With each emote design submission, send three size variants: 112px by 112px, 28px by 28px, and 56px by 56px.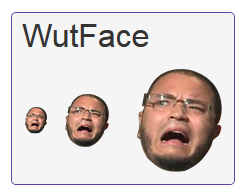 The file size should be less than 25KB. Tools like

TinyPNG.com

can help you compress your image files, without compromising on quality.

The images should have a transparent background. Most photo-editing tools like Adobe Photoshop and GIMP have options to erase busy backgrounds and make them transparent.

There should be no feathering or blurring in images when viewed at 100% resolution. Make sure that lines and text (if any) in your emote images are clear and legible.

The designs should not violate any of Twitch's terms of service (ToS) and community guidelines. According to them, emote designs that fall into the following categories will be denied by Twitch or can invite legal troubles for the creators:

Using copyrighted designs, logos, branding, and content without permission.

Content copied from other published media, like games and websites.

Images that use artwork that resembles faces of celebrities and players.
If your emotes meet all the above criteria, Twitch will most likely approve their designs and you can upload them to your dashboard. From there, you can manage them directly via "Settings." As you grow your presence on Twitch, you can unlock more emote-related tools and features.
---
Instant Emote Upload Benefit
Partners in Good Standing and some selected Affiliates are exempt from Twitch's manual review process. Their custom emotes go live immediately after upload and can be used directly by subscribers. However, Twitch can revoke this benefit if a content creator fails to fulfil any of the conditions mentioned below.
Eligibility Criteria for Partners
They should have been Twitch Partners for 60 days or more.

They should not have received any prior warnings (from 60 days) related to emote, for infraction of ToS or community guidelines.
Eligibility Criteria for Affiliates
They should have streamed for a rolling period of two years (not continuously).

New Affiliates shouldn't have received a suspension or ToS warning in the period of 60 unique streaming days before becoming an Affiliate.

They should not have had any emote designs denied by Twitch for violating any of the conditions mentioned before, in the 60 days streaming window.
---
How Can You Find Custom Emotes for Twitch?
As explained, you can create custom emotes by yourself using tools like Photoshop, or get help from a friend, viewer, or designer. We've identified a few places where you can find great custom emotes to download or commission artists to create emotes for your channel.
With an exhaustive list of free custom emotes released every day, Twitch Emotes makes emote sourcing very easy for you. All you have to do is select the emotes you want to use and obtain permission from the content creator who uploaded them on the site.
---
2. Twitch Subreddits
Reddit has communities or subreddits for almost all topics under the sun. We recommend you to take a look at these two subreddits, where designers and content creators discuss and collaborate on Twitch emotes:
Go through the megathreads on these subreddits and you'll likely find people who are sharing their work free of cost or at negotiable rates.
---
This is a free extension which you can plug into your Twitch account. It offers a huge repository of professional-looking emotes. The "Top Emotes" section of BTTV contains emotes that can be used in other applications apart from Twitch.
---
You can find freelancing emote artists on Twitch itself. In the Art community, you'll find a number of streamers who also design emotes for other streamers. You can go through their portfolios and ask them for a quote.
---
On Fiverr, you can find experienced emote designers with varied prices. While posting your requirements, be precise about your expectations, including price and deadlines.
You can go through the reviews of your shortlisted designers and find the one that suits your project budget and needs.
---
How to Create Appealing Emotes Using GIMP
There are many photo-editing applications that can be used to create great-looking custom emotes. Most websites have demos that walk you through the process of emote-making. We will be explaining step-by-step how to make emotes using one of the most popular tools, GIMP.
Step 1: Install GIMP
GIMP is a free photo editor by Adobe Photoshop. It supports transparent-background images, which makes it an ideal tool for creating emotes for Twitch. The first thing you have to do is to visit https://www.gimp.org/ and install GIMP on your computer or smartphone.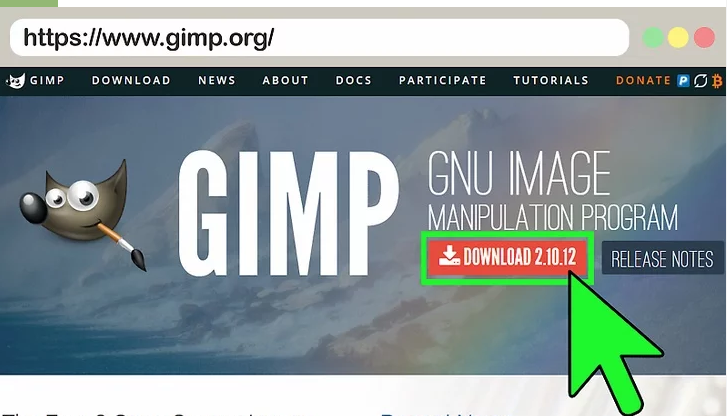 ---
Steps 2: Open GIMP
It will be located in your computer's "Start" menu or phone's "Application" folder.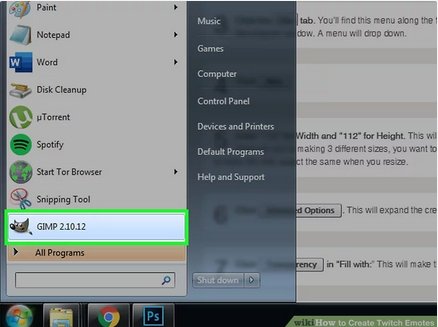 ---
Step 3: Create a New File
Click on the "File" menu in the app's top bar. A drop-down menu will appear. Select the "New" option.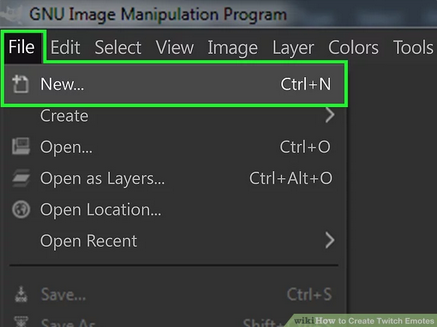 ---
Step 4: Specify Emote Dimensions
A pop-up titled "Create a New Image" will appear. Type or select "112" in both the "Width" and "Height" field. We will create the largest emote first so that the aspect ratio doesn't get affected when we scale down our emote.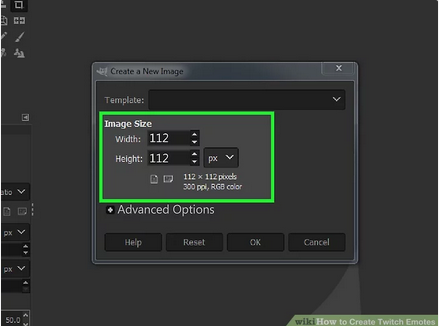 ---
Step 5: Access Advanced Settings
Click on the "Advanced Settings" button at the bottom of the pop-up.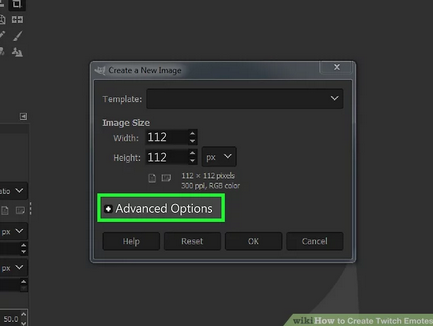 ---
Step 6: Make the Emote Background Transparent
Select "Transparency" in the "Fill with" drop-down menu.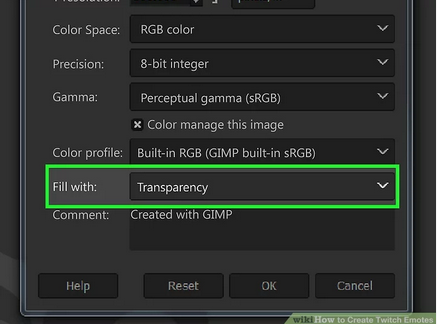 ---
Step 7: Create Your Emote
You can copy-paste images to GIMP, and then add text to create your emote designs.
---
Step 8: Save Your Emote Design
Click the "File" menu and select "Save As." In the Save As pop-up that appears, give a name to your emote file and save it as PNG.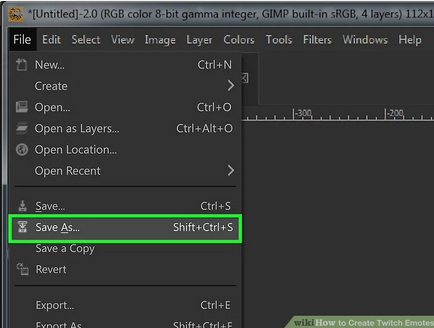 ---
Step 9: Create the Other Size Variants
To create the other two image sizes, you will have to resize your canvas twice. Click on the "Image" menu and select "Canvas Size" from the drop-down menu that appears.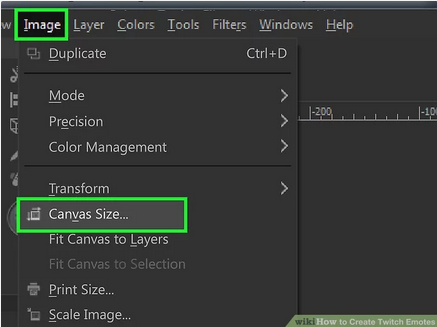 ---
Step 10: Set New Image Dimensions
In the pop-up that appears, set the "Height" and "Width" as 56px. Then, click the "Resize" button. A preview of the resized canvas appears in the bottom part of the pop-up.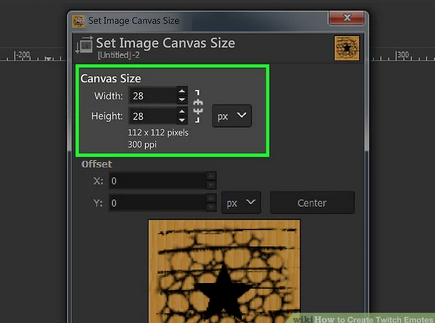 ---
Step 11: Save the New Image Files
Repeat step 8 for saving the new image files.
---
Step 12: Upload Your Emotes to Twitch
After creating all the custom emotes you need, head over to the Twitch website. After logging into Twitch, click on your avatar in the top-right corner.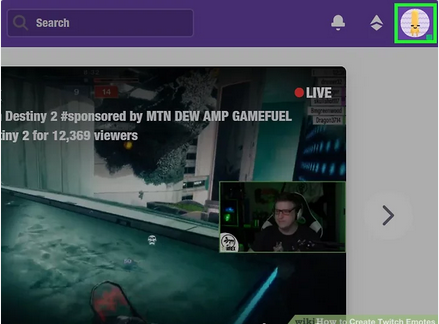 ---
Step 13: Access Your Dashboard
As you click on your avatar, a drop-down menu will appear. From there, select "Creator Dashboard."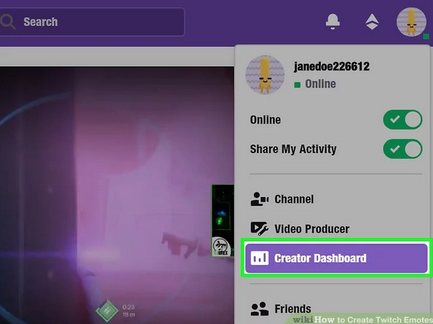 ---
Step 14: Access Settings
A new page titled "Dashboard" will appear. In the left pane of this page, select "Affiliates" or "Partners," which is available under "Settings."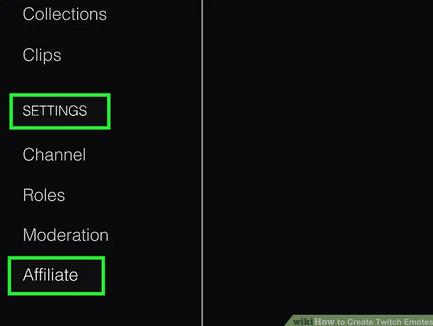 ---
Step 15: Access Emotes Page
Click on "Emotes" which displays under "Subscriptions" in the center of the interface.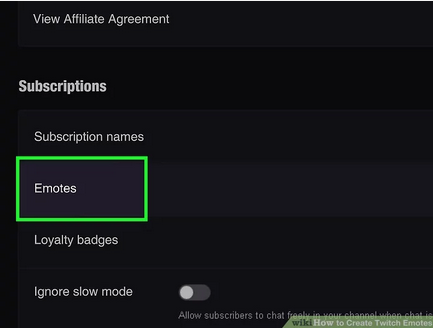 ---
Step 16: Upload Your Emotes
A "+" sign displays in the Emotes page that appears now. Click on it and select the emote images you just created. For editing the emote properties, click on the "Edit" button that displays on the right-hand side. Repeat this step to upload all the custom emote designs that you want to make available to your viewers.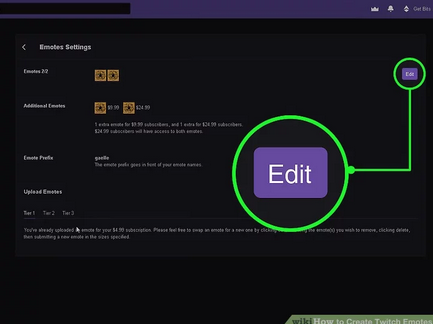 ---
Are You Ready to Emote?
Emotes are effective in personalizing and branding your Twitch channel. We recommend that you take a look at the emotes used by top-ranked Twitch streamers to get a good idea of trending emotes. After that, you can use the information in this post to create unique emotes for your channel.