Looking for all there is to know about Twitch emote sizes? In this blog post, we'll cover the specs you need to know to create perfectly optimized Twitch emotes. While we'll go through specs for each Twitch emote size, we'll also give you guidelines for creating and getting your emotes approved by Twitch, and share a tool to create high-quality emotes for your channel.
---
The Complete List of Twitch Emote Sizes (+Emote Design Tool):
---
What is a Twitch Emote?
If you're new to the world of Twitch, let's start at the very beginning and look at what a Twitch emote is. A Twitch emote is similar to an emoji you'd use in instant messaging. The difference is that they've taken on a life of their own on Twitch.
Emotes are used as a means or response in Twitch chats windows. Twitch emotes are usually created by streamers/channel owners and offered to viewers to use in chat, while watching a stream. Emotes can also only be offered by affiliates and partners. Often, many emotes are created due to a trend or meme that's caught on through other channels, social media or the web.
Like emojis, each emote carries a special meaning, with some being more popular and used than others. For example, one of the more popular emotes today is called Kappa, and there's a good chance that you've seen it floating around the Twitch and the web.
It was designed and uploaded by a former employee of Justin.TV called Josh DeSeno. The story goes that DeSeno was responsible for setting up the chat client. He could, in a sense, be known as one of the unofficial fathers of Twitch's chat client. DeSeno uploaded the image of himself along with other staff. Why is Kappa so popular? It's got to do with what the emote itself.
Kappa is an image of DeSeno's face. In the image, DeSeno appears to be giving off an almost wry smile. And that's all Twitch streamers and viewers needed to take the emote and run with it. Today, Kappa is used to respond in a sarcastic way to commentary taking place in chat. There are also various versions of Kappa. For example, KappaPride and KappaClaus have been used on Twitch, too.
KappaPride
KappaClause
But not all emotes are negative. Some are used to express surprise, like PogChamp. It's an image of pro Street Fighter gamer, Gootecks looking surprised.
PogChamp
---
Why do Twitch Emotes Matter?
Twitch emotes are a smart way to build a relationship with streamers and grow your brand. They make the otherwise challenging process of growing in popularity easier by spreading your custom emotes like wildfire. But that's not all. For viewers, they take on a deeper meaning, one that's rooted in psychology and has to do with reciprocation.
As you make custom emotes available to your viewers, the more they watch you, the more inclined they are to support your channel by reacting to what's going on during your stream with your emotes. Twitch emotes take on the form of a gift just for supporting your channel, something viewers love.
---
Twitch Emote Sizes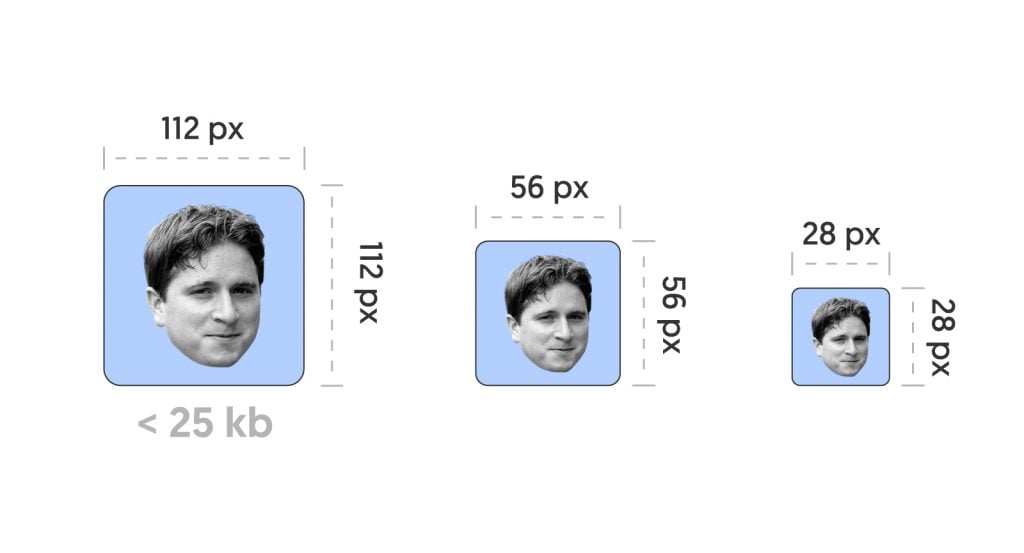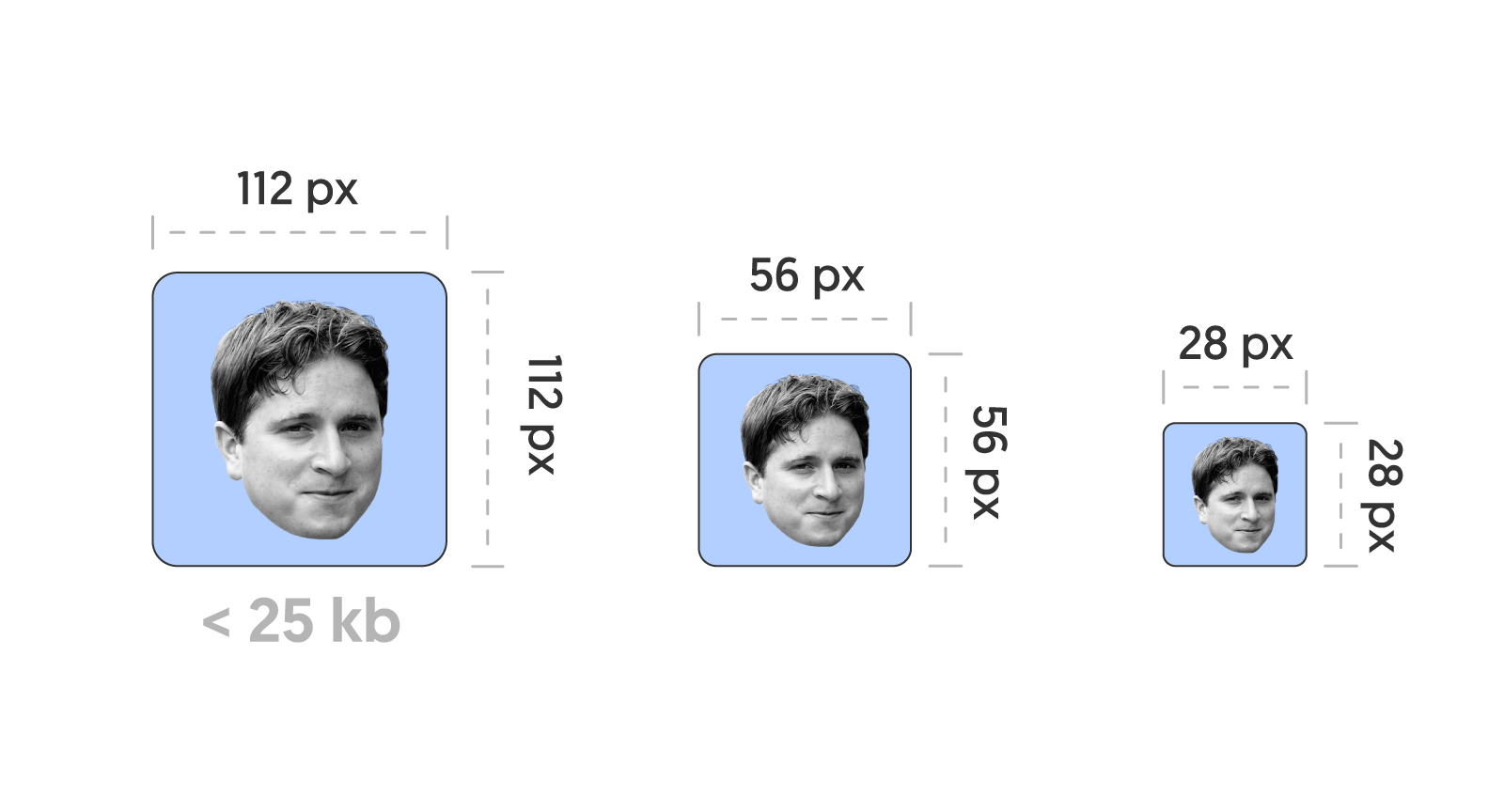 Twitch emotes come in three sizes. These are 28px x 28px, 56px x 56px, and 112px x 112px. These are easily uploaded to your Twitch account (more on this later). Creating your emotes to match these Twitch emote sizes isn't a challenge, but you will need a graphics tool capable of producing high-quality images and exporting them in PNG format with transparent backgrounds (more on this below). Emotes you create must also be limited in size to 25kb. They also need to be in perfect squares to ensure they render clearly on Twitch.
---
Twitch Emote Guidelines
Being responsible for a large and growing global community means creating a safe and inclusive place for all. And Twitch does its best to keep their ecosystem as open and free from all negative experiences. Like all online platforms, to see this vision through, Twitch has created a set of guidelines that streamers must adhere to for their emotes to feature.
While the Twitch emote sizes focus on dimensions, missing these important policies during the ideation and design process of your emote could lead to it not being approved. Here's a look at the guidelines (including important policies) you must know.
Twitch Policies for Emotes
Twitch's emote policies prohibit content that includes hateful conduct, harassment, threats of violence, obscene content, sexual content, nudity, illegal drugs, and vulgarity. Twitch has also stated that it does not allow emotes that glorify or encourage violations of Twitch community guidelines, are political in nature, are animations, use individual characters and letters, and violate Twitch brand asset guidelines or its emotes based on their global emoticons. While you can build a personal brand on Twitch, the platform will not approve emotes that include copyrighted images, names and logo.
As you can tell, Twitch is serious about creating a safe environment conducive to growing a community in the spirit of gaming. If you need to better understand these and other guidelines, please see Twitch's Terms of Service and Community Guidelines.
---
Where to Find The Best Twitch Emotes
Looking or a little inspiration, want ready-built emotes, or want someone to create something custom for your channel? Here's a collection of resources you can use.
Own3d.TV
Own3d.TV produces high-quality Twitch emotes. They also have a large collection of over 1240 emotes that you can browse through. Emotes come as packs designed according to Twitch emote size restrictions, and they all meet Twitch guidelines. While you can purchase single packs (one emote in each size), Own3d also offers 5-pack and 8-pack emote collections.
When browsing through Own3d.TV's collection, you'll also find that their emotes are true to gamer spirit. Emotes are based on favourite characters you've seen, heard of, or played in major games. You're also able to collect emotes for different moments. These include "RIP" (when a streamer loses a life), "GG" (good game), and many more.
While you can purchase a pack and get back to streaming, Own3d.TV also caters for creatives. If you'd like to build your own emotes, simply head over to the Emote Maker. It's an easy and fun tool to use, and it's packed with loads of features you can tweak to build your avatar emotes.
---
Here's how it works:
Step One: Select Your Character
First, head over to the Emote Maker. Own3d offers a selection of three characters, one female and two males.
---
Step Two: Define Your Appearance
This is where you begin to appreciate all that Own3d.TV's Emote Maker has to offer. It gives users 10 design options. You can change your skin colour, hair variation and colour, have your hair tied back or let loose (with various style options), find your eye colour, and also choose clothing for your avatar. It also allows you to add "specials", which are headgear (think caps and beanies), pick a nose, select a pair of glasses, and choose eyebrows.
Once you've made your selections, click on Generate Emote.
---
Step Three: Choose Your Emotes
Lastly, Own3d.TV will present you with 26 emote variations to choose from. While you can opt for one or three, you can also purchase all 26 in a pack and at a discounted price.
---
Twitch Emotes and BetterTTV
Need some inspiration? Try BetterTTV. BetterTTV is a browser extension that allows Twitch users access to a range of emotes not approved by Twitch. While this sounds illegal, it's above board. BetterTTV also does more than just offer extra emotes, it also helps users keep track of what's happening in chat by highlighting usernames, words and phrases, can split chat lines to make it easier to read comments, offers a chance to see deleted links and messages, and can also hide Bits. BetterTTV is available for Chrome, Edge, FireFox, Opera, Safari and other browsers.
---
Fiverr
If creating your own emotes isn't your thing, Fiverr is a good place to visit. There are tons of talented graphics designers ready to help you create custom emotes for your channel. Prices start from $5 and can range up to $20 or more, depending on the quality and number of emotes you're after.
---
Top Three Twitch Emote FAQs
Creating your perfect Twitch emote is one thing, but often, there are grey areas. Here's a collection of FAQs we've put together to help.
How Long Does Twitch Take to Approve Emotes?
While Twitch offers emote options to affiliates and partners, only partners in good standing will have their emote automatically approved. All emotes for partners and affiliates not in good standing will go through Twitch's manual review process. Twitch doesn't mention how long the review process takes.
What is 'in good standing'?
Twitch enforces its policies strictly. If a partner or affiliate has infringed upon them within the last 90 days, they are deemed to not be in good standing.
How do I add Emotes to Twitch in 2020?
Emotes are added to your channel through your dashboard. Head to Dashboard > go to the Affiliate/Partner tab > click Emotes and upload emotes > save changes.
---
Wrapping Up
Adding Twitch emotes for your channel is a smart idea. It's a quick and easy way of developing a relationship with your community, one that will also help grow your brand. There are many places to find inspiration, and, if you're so inclined, you can also create your own. But be sure to stick to Twitch's guidelines to have your emotes approved.
Frequently Asked Questions
Can anyone create a Twitch emote?
Only Twitch Affiliates and Partners can create emotes. Affiliate and Partner streamers can create Twitch emotes that their viewers can use in chat while they are watching their stream. Similar to emojis used in instant messaging, Twitch emotes carry a special meaning. Though, Twitch has a special set of guidelines that all emotes must meet and will first need to approve your emote.
What is the purpose of a Twitch emote?
A Twitch emote is a smart way that you can use to build a relationship with your streamers and ultimately grow your brand. They can make it less challenging to become more popular and they can take on the form of a gift which your viewers will love. By sharing custom emotes with your viewers, they will be more inclined to support your channel and react to what is going on during your stream.
Are there any guidelines for Twitch emotes?
Like all online platforms, Twitch has also created guidelines that streamers must follow if they want their emotes to feature. In addition to getting the size right, streamers must also ensure that their emotes are not vulgar or hateful, incite violence or have obscene or sexual content (including nudity). Emotes may also not be political in nature, use animations, individual characters or letters. Emotes that use copyrighted images, logos or names are also prohibited.
Where can I get a Twitch emote?
You can check out Own3d.TV. They produce high-quality Twitch emotes and also boast a huge collection of more than 1,240 emotes. Emotes come as packs that are designed according to the size restrictions of Twitch and their set of guidelines. You can buy single packs (one emote in each size), 5-pack and 8-pack emote collections. They also have an easy-to-use emote maker that you can use to create your own avatar emotes if you are feeling more creative.
Can my Twitch emote be any size?
No, Twitch emotes come in three sizes. There are: 28px x 28px, 56px x 56px, and 112px x 112px. You will need a graphics tool that is capable of creating high-quality images and exporting them in PNG format with transparent backgrounds. The emotes that you create must also be limited in size to 25 KB and be in perfect squares to make sure that they render clearly on Twitch.