Looking for the top Twitch sub badges? You've come to the right place. In this blog post, we'll share 21 of the best Twitch sub badges available today. But first, what is a sub badge? Twitch sub badges are small icons that appear next to your name when you're chatting in Twitch streams. By default, Twitch offers its own set of subscriber badges that are available across all channels, unless the streamer you're following has created their own custom badges.
Interesting fact, earlier on, Twitch only made the option of customizing your subscriber badges available to partners. The good news is, today, affiliates are able to create their own custom Twitch badges.
How Twitch Sub Badges Work
Depending on your status (affiliate or partner), you can offer viewers access to badges that hold a certain significance. As an affiliate, your sub badges change depending on how long a subscriber has stayed with your channel. There are six time frames which are base (new subscribers) two months, three months, six months, nine months, and one year. As a partner, sub badges range all the way up to eight years and badges automatically change depending on how long you've been following a Twitch stream.
Why The Difference Between Affiliate And Partner Sub Badges?
Twitch offers an affiliate and a partner program. These programs are built to help grow Twitch as a brand and platform, attracting gamers who build audiences. Transitioning from a newbie (streamer) on Twitch to full-time gamer earning an income isn't easy. First, you need to build your channel size. If you're a streamer, you have to have at least 50 followers, and at least 500 minutes in total broadcast time lost 30 days.
But that's not all, you also need to have had seven unique broadcast days, and an average of three more concurrent viewers. Twitch's affiliate program is a gateway to the partner program. While you can earn an income by being an affiliate, Twitch sees its partner program is a level up for affiliates who want to become full-time streamers. And therein lies the difference. To become an affiliate you have to first prove yourself (according to the criteria above).
Becoming a partner, however, isn't that clear. Not much is available online on exactly what you need to do. There is a lot said about what affiliates might need to do to earn partner status. For example, improve the quality of your stream by providing better quality sound, overlays, and ensuring you have a steady and fast Internet connection. Some sources say you should also be more social, in a sense contributing to the Twitch community. Once qualified as an affiliate, and you feel ready to take the next step, you need to submit an application to Twitch.
Becoming a partner also means more perks. You're able to offer more than just additional badges. You can give your audience custom cheermotes, unlock up to 50 sub emotes, and receive up to 60 days worth of video-on-demand storage. You also get up to 15 minutes worth of stream delay, will be paid within 45 days, receive payout fee cover from Twitch, get a verified channel badge, and access to priority partner support.
Now that you have an understanding of what Twitch sub badges are, how they work, and a little on how you can qualify for them, let's take a look at the top 21 badges we've found on Own3d.
---
Top 21 Twitch Sub Badges:
---
Finding the most popular Twitch sub badges is no simple feat. There is no way of determining which some badges are used most. So we decided to create a top 21 list based of badges that evoke a sense of nostalgia. Our list includes some of the most popular throwbacks to your favourite TV series, popular games, and all-round favourite things. Here's our list in no particular order.
Medals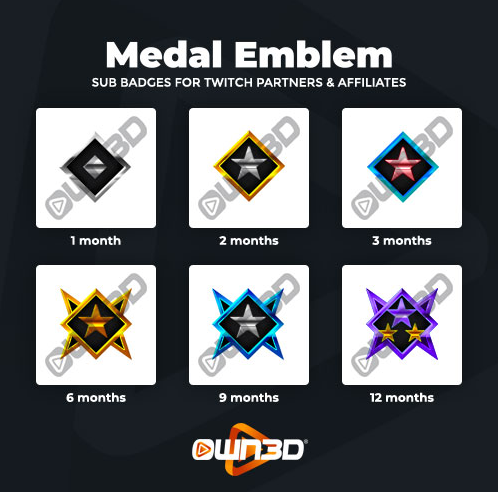 Nothing says achievement like a medal. This collection of sub badges includes six for subscribers. As you'll note with all badges we showcase, the longer a subscriber stays with your channel, the more attractive the design of the badge becomes. The Medal Emblem badge is a perfect complement for streamers stream first-person shooter or military games.
---
Shuriken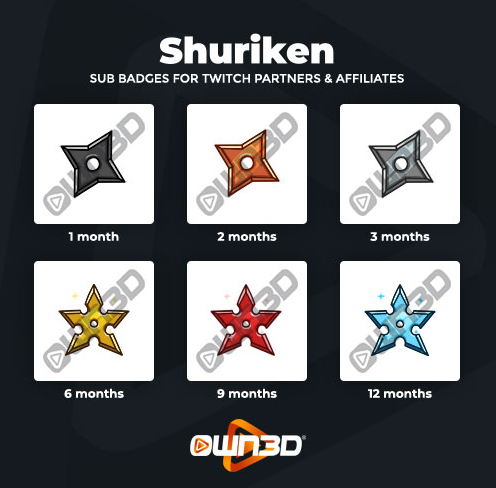 A Shuriken is a Japanese weapon often referred to as a throwing star. When wielded, it can be a deadly weapon. This combination of Shuriken badges is ideal for any channels that stream hand-to-hand combat games.
---
Fortnite Lama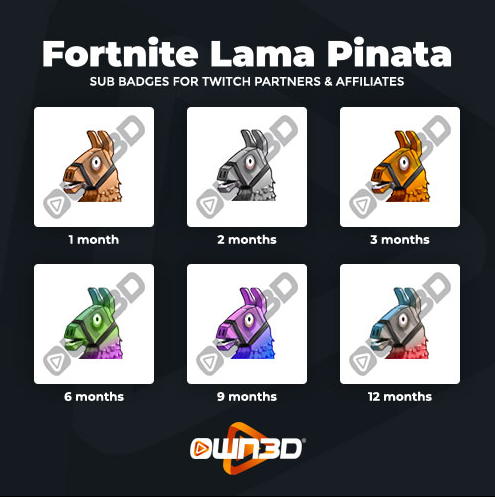 Since 2017, Fortnite has taken over the world. It's one of the most popular online games, making it one of the easiest to create a sub badge for. The Fortnite Lama Pinata is a more than appropriate nod to the game, and definitely the collection badges Fortnite fans love to get their hands on.
---
Insignia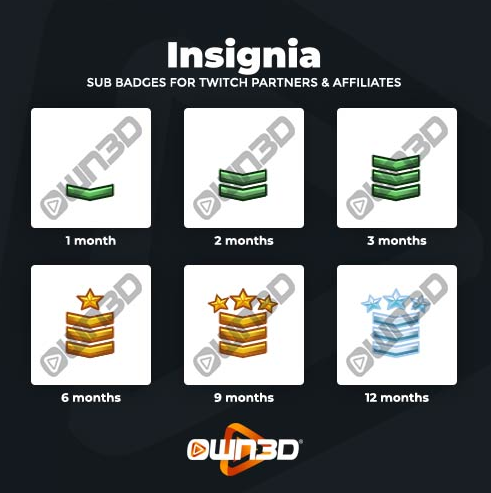 Like medals, insignia scream achievement. When seen, most people automatically associate insignia with rank, and this collection of six insignia badges does a good job of distinguishing rank. If your channel streams military combat games, your subscribers will love these.
---
Pokemon Ball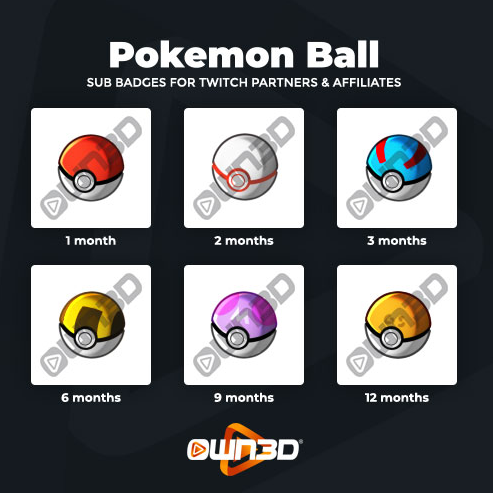 While some may find this hard to believe, Pokémon has been around for over two decades. What most also may not know, is that the game was also released in 1996 in Japan and for the Game Boy. Fast-forward to today, and Pokémon is still as memorable and powerful a brand as ever. If you want to strike a sense of nostalgia with your subscribers, the Pokémon Ball badge is sure to make them feel right at home on your channel.
---
Pikachu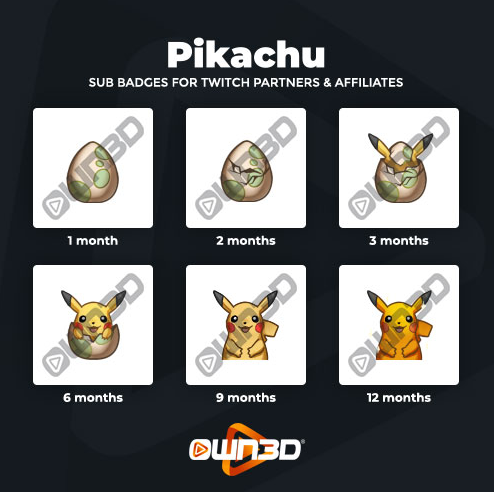 Are you a bigtime Pokémon fan? If so, you'll need very little convincing to offer this collection of Pikachu badges to your subscribers. Pikachu is the most memorable character from the franchise, stealing the hearts of millions of fans across the globe. And in true form, this collection of badges shows Pikachu's development from egg through to hatchling.
---
Beer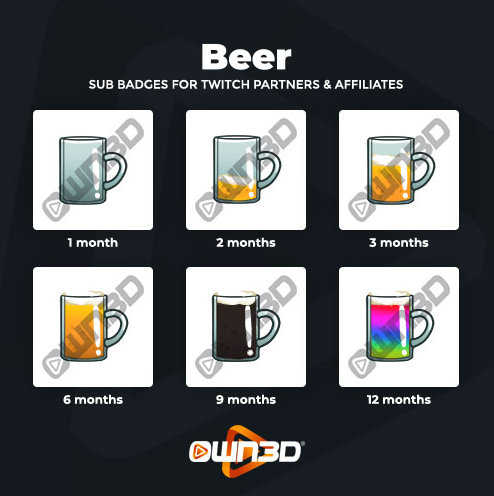 Do you have a more mature audience on Twitch? Do they like beer? While it's hard to pinpoint the exact year that beer was created, everyone knows exactly what a beer mug looks like. This collection of six beer mugs is sure to be a fan favourite. Like the Pikachu hatchling, the very first month is signified by an empty beer mug that fills up and changes colour on your subscriber's journey to their 12th month anniversary.
---
Burger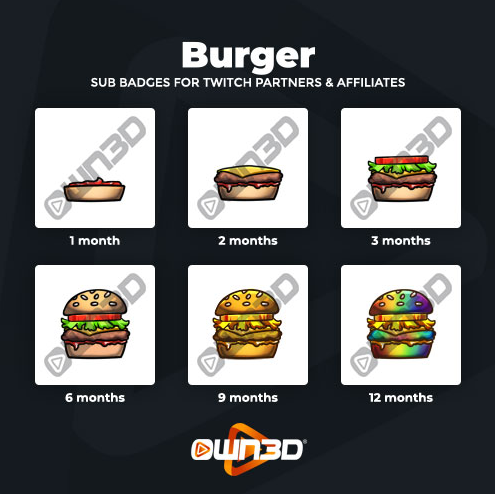 It's no surprise that a burger sub badge collection would make a list. According to Eat This, Not! it's rated as the number one fast-food item in the world. As a sure fan favourite, it would make for a fun sub badge for subscribers of all ages.
---
Mario Mushroom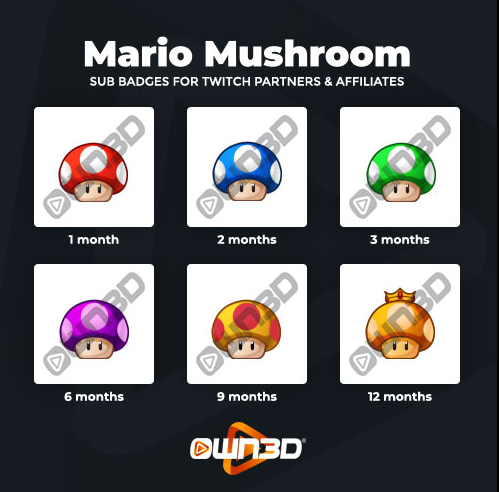 Not much needs to be said about this collection. If you have been around within the last 30-something years, you can immediately spot that these mushrooms are a very strong resemblance to those from Super Mario Bros. These are the perfect throwback to all the fun your subscribers remember having with the game.
---
Skull "CoD"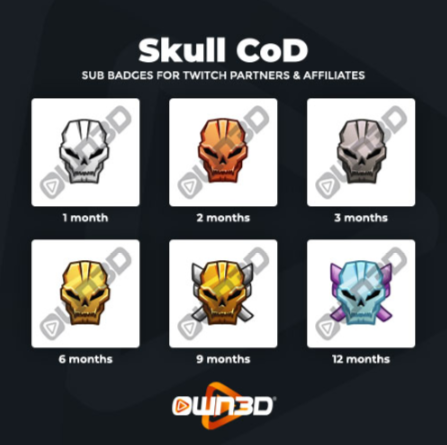 If you're on Twitch there's a good chance that you've heard of Call of Duty. Since its release in 2003, the game has transformed from World War II maps and gameplay to futuristic worlds. CoD fans will undoubtedly spot the popular skull and appreciate it.
---
Poopy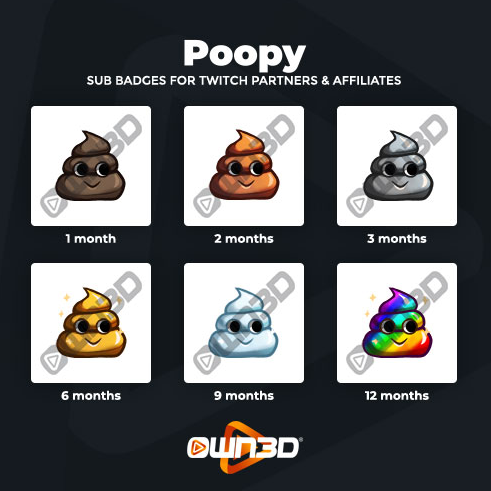 Poopy is one of the more modern and recognizable badges to make a list. With its origin as an emoji, it definitely gets a facelift as a Twitch sub badge. While it could be used for audiences of varying ages, it would be most understood by an older crowd as it's often used to convey disappointment with the hint of whimsy.
---
Unicorn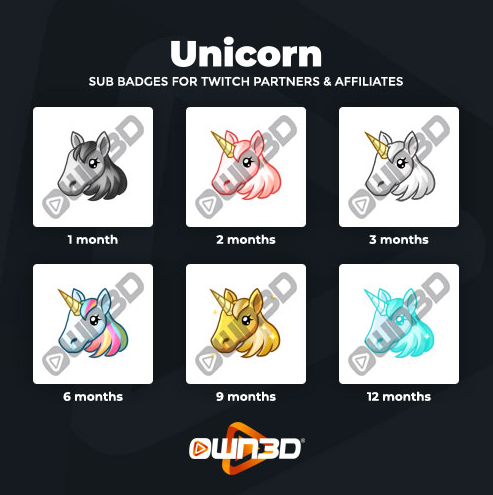 Unicorns may not be real but they're still a fan favourite. These six unicorns are ideal for affiliates and partners who stream fantasy games. What makes the unicorn badge particularly attractive is the transition subscribers make. In the first month, they receive what appears to be a horse badge. By month two, what once looked like a horse transforms into a unicorn.
---
PUBG Level3 Helmet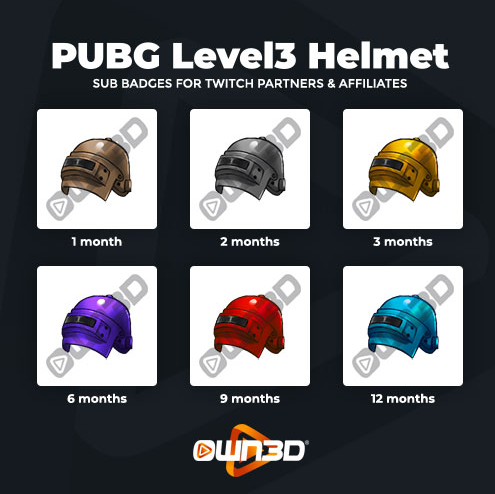 PUBG is one of the most lauded online multiplayer battle royale games today. And if you've ever heard of the title, there's a good chance you've caught a Twitch stream and easily recognize the unmistakable PUBG helmet. Want to excite your fans? This PUBG Level3 Helmet sub badge pack will do the trick.
---
Gameboy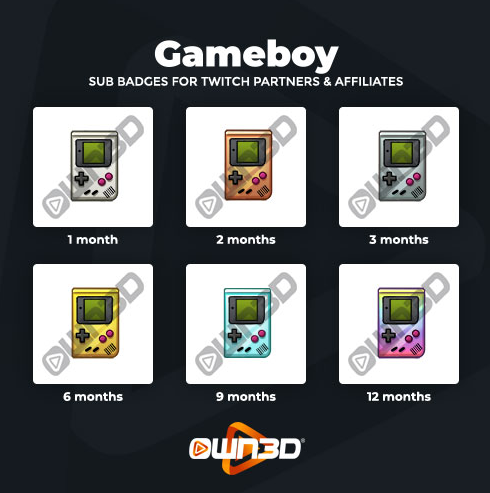 The Game Boy was first released in Japan in 1989, and in a few years, took over the world. It was one of the most exciting developments in handheld gaming and a sub badge that's sure to strike a chord of nostalgia with older audiences.
---
Overwatch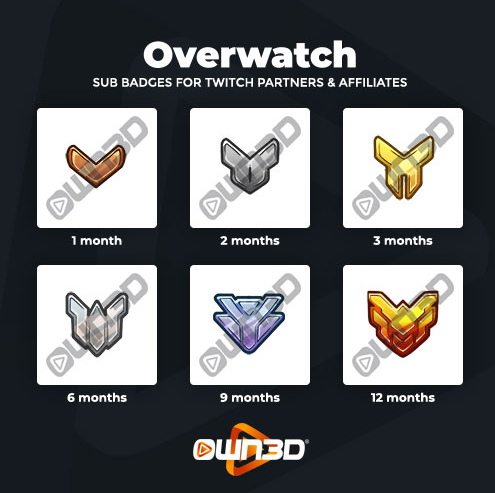 Overwatch is a team-based shooter set on a futuristic version of earth. It's a popular PlayStation 4, Xbox One, Nintendo Switch, and Windows release. These badges are a throwback to the popular multiplayer, something avid multiplayer gamers are sure to gush over.
---
Doughnut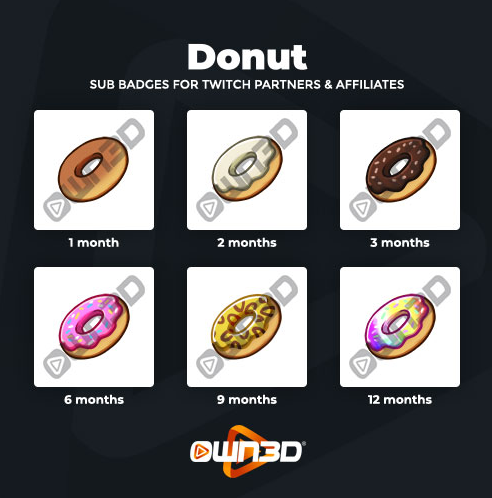 Foodie? While most Twitch channels are dedicated to gaming, other categories are beginning to fill out. Food and drink are two of them. If you are streaming your food-related creations, nothing says indulgence like a doughnut.
---
Super Mario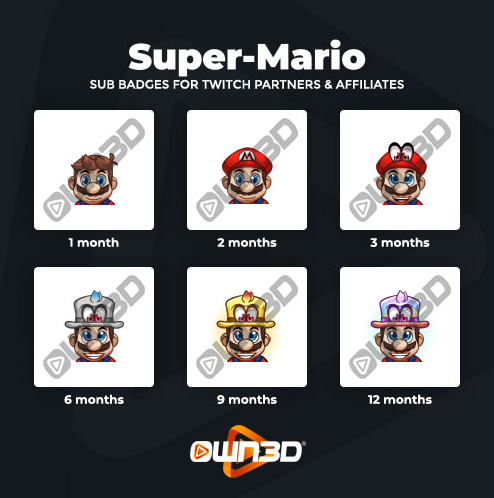 Everyone loves Super Mario. Depending on who's list you go by, Mario usually features in the top five of the most recognizable gaming characters in the world. This badge pack features six versions of Mario evolving from what looks like an almost familiar face in month one to him donning his world-renowned red hat.
---
Sushi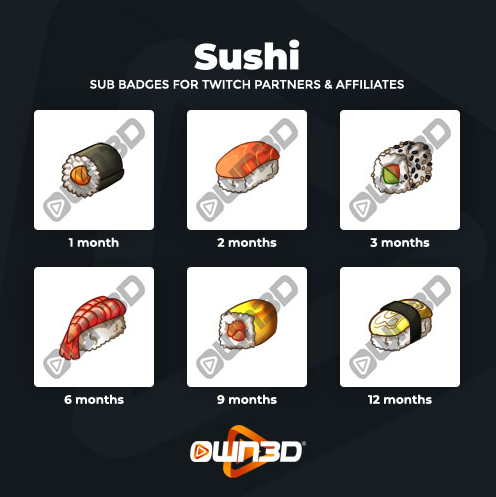 There's something special about sushi. Beyond its heritage, it holds a special place in the hearts of food lovers the world over. While you could use this set of six sushi badges on a food channel, it could also be used to identify you and your subscribers as streamers with unique taste.
---
Trophy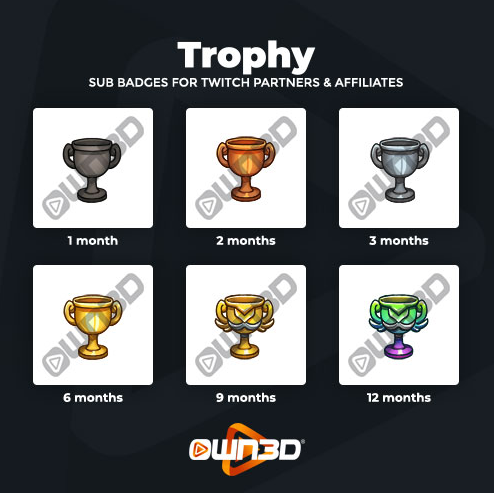 Like medals and insignia, trophies are some of the more obvious badges to offer your subscribers. And that's absolutely okay. Trophies are powerful symbols of success through adversity. While watching your stream may not equate to pain and suffering, being rewarded with a trophy for sticking it out as a subscriber is still well worth it.
---
Roman Numerals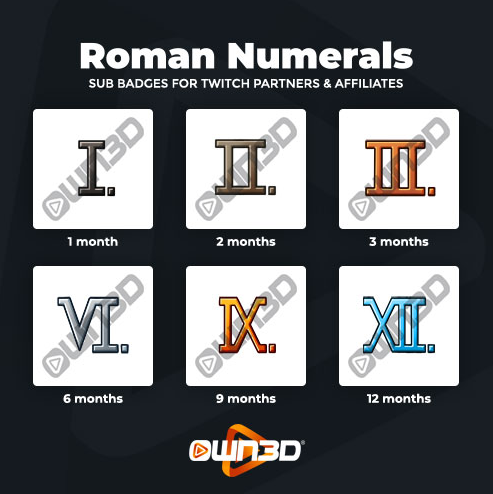 Roman numerals aren't the first thing you think of when it comes to badges, but they are effective. They are an easy way to spot the length of time a subscriber has spent following you on Twitch. While you might not think it to look at them, the visual representation through numbers does more to reinforce appreciation in the hearts and minds of your subscribers.
---
GOT Stark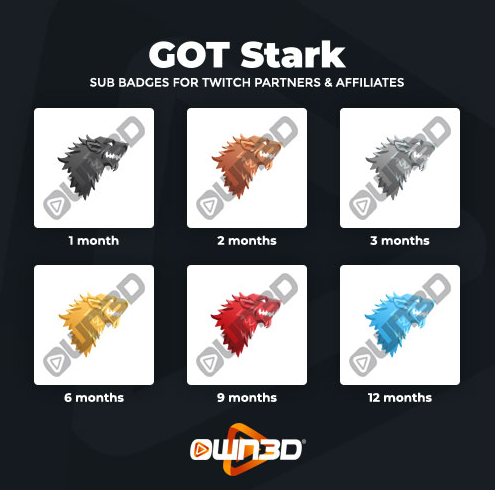 Game of Thrones made it to the top of many charts in 2019. Cinema Blend listed it as the most popular TV show, beating Stranger Things and Netflix's When They See Us. If you are a GoT fan, offering these Stark badges is a powerful throwback to the series and one your subscribers will want to collect.
---
Wrapping up
Twitch some badges are a must for affiliate and partner channels. They're a way of saying thank you to your subscribers with their patronage and motivating them to continue to join you on your journey. As you choose your sub badges, go for something that's a unique trait or identifier that your audience resonates with. After all, Twitch is all about community and fun, so have at it.
Check out our Twitch Estimated Earnings (Money) Calculator here