While most social media marketing occurs in traditional social apps, such as Facebook and Instagram, and video apps like YouTube and TikTok, increasingly, brands turn to marketing in messaging apps like Facebook Messenger and WhatsApp. And it's easy to understand why. WhatsApp, for instance, is ranked as the most used mobile messenger app in the world, with 2 billion active users worldwide. Its users average 38 minutes on the app each day and send more than 100 billion messages. With numbers like these, it should be no surprise that many businesses are waking up to the potential of WhatsApp marketing.
---
What is WhatsApp Marketing and How to Use It:
---
What is WhatsApp?
If you're not part of WhatsApp's 2 billion users, we'll briefly summarize what the app is. WhatsApp is a free-to-download communications app where its users can send messages, images, audio, or video. It is part of the Facebook family of apps, purchased by Meta (then called Facebook) in 2014. Ironically, one of its main competitors is Facebook Messenger, also owned by Meta.
It operates in a similar way to texting, but being internet-based, you don't need credit on your phone, although you will need either data or be attached to a wi-fi network. It is available for Android and iPhones, although it is not compatible with iPads. If you have WhatsApp installed on your computer, you can download a Windows version, but you need a phone number and can't just use computer-based WhatsApp.
WhatsApp also offers the WhatsApp Business app. This targets small businesses and makes it easy to personally connect with your customers, highlight your products and services, and answer their questions. You can also create a catalog to showcase your products and services and use special tools to automate, sort, and quickly respond to messages.
There is also a WhatsApp Business Platform currently in limited public preview that offers additional tools to assist businesses to use the app for marketing, selling, customer service, and communication.
---
Benefits of WhatsApp for Marketing
Messaging apps like WhatsApp help you become closer to your customers. An extremely high percentage of people in many countries use messaging apps for business inquiries. According to a Facebook survey, 89% of Brazilians, 89% of Indians, 83% of USA respondents, and 81% of Britons message businesses to ask about their products or services.
In addition, the percentage of people in the surveyed countries who messaged firms to make a purchase or reservation was also high: Brazil 85%, India 82%, US 75%, and UK 74%.
The Facebook research also showed that once people tried messaging businesses, it often became their go-to medium. Across the four markets, more than half of the people Facebook spoke to who messaged businesses said they did so across all stages of their purchasing journey – from seeking product information to sharing product feedback.
The survey respondents in Brazil, India, the US, and the UK who messaged businesses felt that compared to more traditional channels, messaging businesses provided them with faster response times (>59%), better advice and care (>50%), and more truthful responses (49%).
---
Limitations of WhatsApp for Marketing
WhatsApp is not yet as developed for marketing as most other Facebook/Meta products. The existence of the WhatsApp Business Platform suggests that this is gradually changing, however. However, until WhatsApp rolls this out worldwide, support for business activity on the app is limited.
Also, Facebook has yet to expand its advertising network and the Facebook Ads Manager to include WhatsApp. This is surprising, as you can currently run ads on Facebook, Instagram, Audience Network, and perhaps most importantly, Messenger.
However, Meta now lets you add a call-to-action button to your Facebook ads that will open a chat in WhatsApp.
Not a limitation as such, but chat messaging apps such as WhatsApp are not a great place to spam people. They won't respond well if you overdo your messaging or repeatedly send the same message.
---
What Marketing Activities Can You Use on WhatsApp?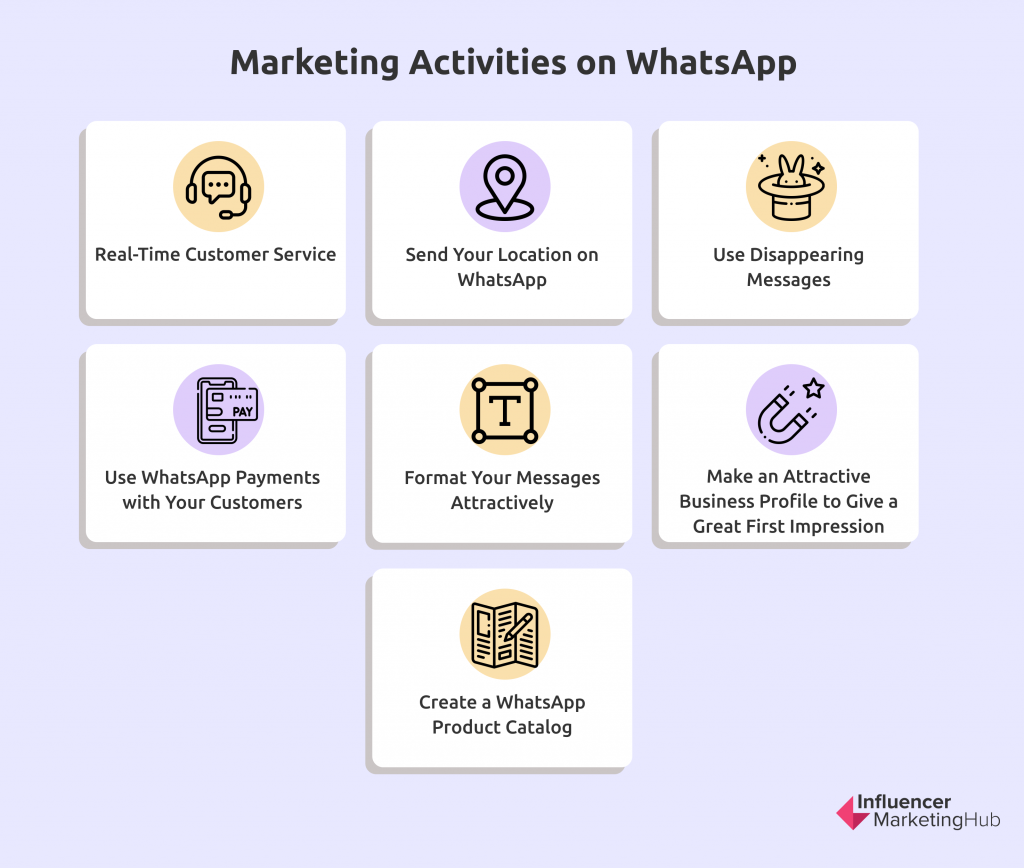 1. Real-Time Customer Service
One of the great benefits of WhatsApp is you can carry out real-time conversations with your customers. These can be text chat, voice, or video calls. This makes it an effortless way to communicate with customers needing customer service. Unlike a typical phone call, you have access to a customer's webcam. They can show you a problem with a product, and as a result, you can decide whether they need to return the product to base or whether you can solve their problem then and there.
2. Send Your Location on WhatsApp
Some firms use WhatsApp interactivity with Google Maps to message their location to potential customers. So, for example, if someone wants to know where your business is, you can directly send them an address link on WhatsApp, and they can then open it on their phones in Google Maps.
3. Use Disappearing Messages
Following Snapchat and Instagram's lead, WhatsApp lets you upload disappearing messages to people and groups. You can upload these to promote short-term sales and promotions to your customers. Depending on the settings you select, these messages will disappear after 24 hours, seven days, or 90 days, meaning you won't be promoting an old sale or promising low prices from long ago.
If a user doesn't open WhatsApp during the 24-hour, 7-day, or 90-day period, the message will disappear from the chat.
WhatsApp also has a 'view-once' mode, where users send and receive media, which people can view a single time before disappearing as it never existed. For example, this can be an excellent way to share pictures of passwords or QR codes for one-time use only.
4. Use WhatsApp Payments with Your Customers
WhatsApp has a payments feature (WhatsApp Pay) in India and Brazil where you can send and receive money. In addition, those in the United States can use Novi, a digital wallet that allows you to send and receive money without ever leaving your WhatsApp chat. In time, WhatsApp intends to widen these payments facilities to other countries. India, Brazil, and the United States currently have the most WhatsApp users.
Businesses with customers in the relevant countries could allow them to pay for goods via WhatsApp. Also, the companies can use the payments features to make refunds.
5. Format Your Messages Attractively
While many people just send simple text messages via WhatsApp, you can do basic formatting with your messages to make them look more attractive. For example, you can use markdown-formatting to add italics, bold, and cross-out text in your messages. You can even use the monospace font to look like old-style computer text. You can, of course, add images, videos, emojis, and GIFs to your messages too.
6. Make an Attractive Business Profile to Give a Great First Impression
Both the WhatsApp Business app and the WhatsApp Business Platform allow you to create an attractive, helpful business profile that looks professional. Think carefully about what you include here, as it is the WhatsApp equivalent of your business card. Use it to share important information such as your business description, hours of operation, and more. Make sure you upload a relevant, attractive image as your profile header, and select a suitable picture (often your logo) as your profile photo. If you are a sole trader, you may prefer to use a professional picture of yourself instead.
7. Create a WhatsApp Product Catalog
WhatsApp lets you create a product catalog to showcase and share your products and services with customers. This shows on your business profile. You give every product or service in the catalog a unique title and can include optional fields like price, description, website link, and product code. Current and potential customers can browse your products or services and connect with your business. They can choose a product or service they're interested in and share it with their friends or message your company to ask questions.
---
Create a WhatsApp Marketing Strategy
As with all types of marketing, you should consider your marketing strategy before devoting a portion of your marketing budget to WhatsApp marketing. SendPulse suggests a seven-step approach:
Define your goals and KPIs – what are your marketing objectives? What are you hoping to gain from the campaign, and how do you intend to measure your success? Which parts of the marketing funnel do you want to target?
Pin down your target audience – precisely, who do you want to reach with your WhatsApp marketing? Are they the types of people typically using the platform? What can you offer them? Why do people use your product? What problems/pain points does your product solve for them?
Get the business app – depending on your size, either download the WhatsApp Business app or apply for access to the WhatsApp Business Platform. Set up your profile (and for larger teams, set your development team to work utilizing the features of WhatsApp API)
Create a brand persona – if you haven't already done so, create a brand persona detailing the traits, attitudes, and values your brand shares. Make sure to educate your staff about these and consistently use them when interacting with customers and prospects on WhatsApp
Build a contact list – WhatsApp marketing is very much personalized marketing. It's not the type of channel where you spam your message en masse. Like email marketing, WhatsApp marketing requires people to sign up. Therefore, they need to offer you their WhatsApp contact details. Ideally, you should create some form of lead magnet to encourage them to allow you to add them to your contact list. Consider designing a form where people can nominate their preferred means of communication, e.g., email, phone, Facebook Messenger, or WhatsApp.
Design your communication – consider how you intend to use WhatsApp for communication. What are the main topics and messages you want to deliver? You don't want to spam people, so keep your messages short and to the point. Don't send more than

5-10 messages a week

. Format your messages attractively, and include emoji, images, GIFs, and videos where appropriate

Deliver great customer service – one of the main advantages of using WhatsApp is that it is real-time. Therefore, take advantage of this and provide fantastic customer service. There is little point in using a messaging app like WhatsApp (or indeed Facebook Messenger) if nobody's monitoring the app for incoming messages. Consider using a

chatbot

to answer common questions, and ensure that you can still provide customer service outside of business hours
---
The WhatsApp Business App
The WhatsApp Business app is free to download and targets small business owners. It includes all the capabilities of the standard WhatsApp app but adds a few features to help businesses. You can create a business profile with helpful information for your customers like your address, business description, email address, and website.
The app provides tools to automate, sort, and quickly respond to messages. These include labels to organize and easily find your chats and messages, and messaging tools, to help you respond promptly to customers. Quick replies let you save and reuse messages you frequently send so you can easily answer common questions in no time. You can set up automated messages, for example, an away message when you cannot reply, so your customers know when to expect a response. In addition, you can create a greeting message to introduce your customers to your business.
---
The WhatsApp Business Platform
The WhatsApp Business Platform allows medium and large businesses to communicate with their customers at scale. It uses the WhatsApp API to connect thousands of agents and bots to interact with customers programmatically and manually. You can also integrate the API with numerous backend systems, such as CRM and marketing platforms.
Although the WhatsApp Business API is still in limited public preview, you can apply for access. Its main features include location sharing, document sharing, contact lists, and web use, but businesses can also use it to:
Create a business profile

Send customer care messages at scale

Create templates to send notifications quickly

Measure business outcomes with insights
You can also connect your WhatsApp business account with your Facebook Page to run ads that click to WhatsApp. These Facebook and Instagram ads include a Send Message button to start a conversation on WhatsApp.