White papers are highly effective marketing tools when used right. They allow businesses to explain a specific product or service to clients or establish their company as an authority in the industry they serve.
It is typically published as an official company document and distributed to potential customers, investors, and other stakeholders. Businesses often use white papers to promote their services or products.
They usually include an in-depth analysis of a particular topic and a conclusion that offers value to target readers.
Many companies use white papers to attract leads, particularly in industries such as technology or consulting. However, creating a good one can be challenging—particularly if you're not familiar with technical writing.
Learn all about white papers in this guide. It covers 10 white paper examples and tips on how to write one yourself.
---
How to Write a White Paper:
---
What is a Whitepaper?
A white paper is an authoritative report or guide that helps readers understand a complicated issue and offers recommendations for approaching it.
Traditionally, white papers were used to educate readers about products and services, but they are now often created as marketing documents intended to persuade potential customers of their value.
---
eBook vs. White paper: What is The Difference?
White papers and eBooks are often used interchangeably or in the same context. But a few distinctions exist between the two, and it is important to know which one is appropriate for your business.
eBooks
There are many types of eBooks, but the most common ones are used to give an overview of a subject. They use a more casual tone geared toward readers who aren't experts in a field; thus, they're more conversational in style.
White Papers
White papers are best suited for readers who are already familiar with the subject discussed and want to learn more about a specific subtopic. White papers tend to be more accurate, formal, and based on solid analysis.
---
What Is the Purpose of Writing a White Paper?
In marketing, a white paper is a short document that describes a new product or idea in-depth. It typically contains detailed information about all aspects of that product, including advantages and potential disadvantages. A white paper can be used as an overall marketing product in numerous situations.
Using white papers to educate the general public about new goods, services, or procedures is an excellent way for businesses to reach out to them.
Companies in B2B marketing utilize white papers to share information about their products and services with other firms in the industry. Social media agencies can also use white paper to analyze different content strategies for various demographics.
---
Who Uses White Papers?
For many years, government agencies, social media agencies, consulting firms, and financial institutions have used white papers to share ongoing research findings.
As a result of the sporadic growth of content marketing and social media, white papers have become increasingly common. They can be shared on LinkedIn, Facebook, or even Twitter to direct followers to read more about a report.
---
Types of White Papers
There are different types of white papers, but these four are the most common.
This type of white paper compares different items to assist customers in making an informed decision. When a potential buyer is already interested in a product but doesn't know which one to choose, these white papers are often used as a guide.
This type of white paper presents an in-depth analysis of a product's characteristics and advantages. By reading this white paper, customers may learn more about a product or service.
Numbered List White Paper
There are many similarities between this form of white paper and a blog post or an article. The list structure of this white paper makes it simple for a reader to take in information, such as advice or examples.
Solution-Based White Paper
The solution-based white paper addresses an issue affecting the company's industry, along with current solutions that aren't working and a new solution or approach that outperforms the previously outlined solutions.
---
How to Write a White Paper (step by step)
We'll walk you through the steps to generate your white paper for your company in the following sections.
1. Establish objectives
It is essential to have clarity on the purpose of your white paper and ensure that your goals are aligned with the organization's needs.
2. Determine your target readers
This next step involves identifying who your white paper is written for. Knowing and understanding your target readers can help you ensure that your white paper is cohesive and impactful. If you know your audience, you'd be able to establish a focus point that would be relevant and beneficial to them.
Creating buyer personas might help you pinpoint the precise demographics of your target market. A buyer persona is a typical consumer demographic and psychographic profile that you may use to target your marketing efforts.
3. Choose your topic
Pick a subject that you are familiar with and have vast knowledge about. It's essential to have adequate information and evidence to back up your claims in white papers. In addition, you must choose a topic that would resonate with your audience.
To get the outcomes you want, you need to make sure your topic is helpful and appealing to your readers. If you're feeling stuck, there are a few things you can do:
Find out what your consumers' most prominent issues are by analyzing their feedback through surveys, reviews, testimonials, etc.
Encourage your employees to develop new ideas based on what they've learned from their interactions with clients.
Find out what people are inquiring about in your sector by conducting market and SEO research.
4. Conduct research
A white paper should focus on a particular subject to demonstrate an organization's expertise. If you can, perform outstanding research or hire someone to do the work. You can include results from your findings in the white paper.
Independent sources are mostly reliable when it comes to substantiating your claims. A common practice in white papers is using footnotes or an APA-style citation structure.
5. Mount interviews
The expertise and knowledge of key personnel within an organization and outsiders will probably be required.
Interviews should be conducted and after you have finished some of your research., you will be more aware of the specific knowledge gaps you need to bridge.
6. Create a white paper outline and format
Plan the flow of your white paper and begin crafting a streamlined table of contents. For the most critical parts of your material, use high-level headers and subheadings to break it into different sections further.
Each part should have a list of ideas and significant elements to address. You will do both internal and external research to support these ideas.
7. Make the first draft
Start with an executive summary, which should be able to immediately catch the reader's attention. It should directly address the reader's problems, fears, or disappointments. This would help establish your paper's relevance.
Don't provide the solution in your summary, since you want the reader to continue reading. Because white papers are not marketing brochures, you should concentrate on offering valuable and unbiased information.
Any reference to a company's product or service should be at the very end of your paper, in a reasonably short part. A brief remark in the executive summary is also an option. A call to action should be included at the end of your white paper as well.
8. Review and revise your draft
Even though a white paper may not necessarily require several revisions, there might be logical flaws and missing points in your initial draft.
After completing your first draft, take a break and return to it with a fresh perspective. It is even better if you can get the assistance of another talented writer on your team to help out.
9. Substantiate your content
Solidify the value of your white paper by backing up your claims with evidence and legitimate references.
Use reliable facts, figures, quotations, and other data. You may leverage data visualization techniques like graphs, widgets, maps, charts, etc.
The information you include in your white paper should be cited appropriately. Footnotes and comments, and a concluding section listing sources can all be utilized to cite your sources in the text of your white paper. References should only be cited if they've been confirmed for accuracy and are still valid.
10. Ensure that it provides real value
When writing a white paper, avoid promoting your company. Instead, focus on providing your readers with various helpful information. A superb white paper will be shared and eventually read by your target audience.
As a corporation or brand, you should use white papers to demonstrate your knowledge in a particular industry. If you want your readers to trust you as a knowledgeable authority, they need to learn something new from your piece.
12. Edit and proofread it
A simple typo or excessive words in the headline might ruin your research and writing efforts. To guarantee that their work is error-free, professionals use proofreaders.
If you can't perform the editing and proofreading alone, ask the help of co-workers or hire a professional. Investing the time and energy is worth making your work stand out.
13. Promote your white paper
It isn't enough to compose the paper; you must also make sure it reaches your target readers. Companies sometimes send press releases to announce the publication of a new white paper.
If you're already active on LinkedIn or Twitter, these are platforms on which you can discuss and distribute your white papers and reports.
---
White Paper Writing Format
Here is the standard writing style format of a white paper.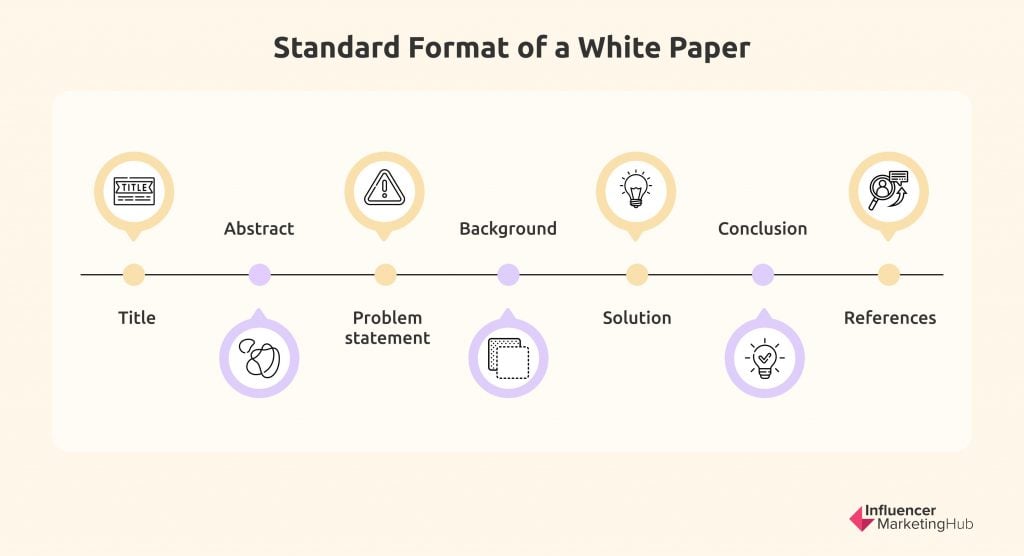 A paper's title should attract the reader's attention and show the topic's relevance. Hiring a copywriter who knows the ins and outs of compelling and persuasive headlines may be worth the cost.
A white paper's abstract gives the reader an overview of what they would get from the document. This should spark their curiosity and compel them to read more.
The white paper's problem statement identifies the subject matter. To ensure that the reader understands the problem, it must be explained in the white paper.
This section provides the background necessary for the audience to comprehend the problem and the solution properly. Information may be modified to meet the individual needs of the reader. For a white paper, it is essential to disclose the methodology utilized in the original study.
The solution of the paper will reveal the answer. This area of the white paper should be evident and apparent that the previous sections have been addressed and solved.
When writing a white paper, include a concluding section that sums up all results. In contrast to most corporate reports, white papers end with a concluding summary. In this part, be sure to provide insight-based suggestions.
A white paper's credibility and trustworthiness heavily depend on its reference section. Do not make any assertions without citing your sources that your readers can opt to verify.
---
10 Best White Paper Examples
To help you better understand how to write a white paper, we're sharing 10 examples from different organizations in various industries.
1. Temenos White Paper
Temenos is a software business that specializes in banking and financial services software. One of its white papers talks about open banking and can be classified as an overview white paper, since it comes with a comprehensive report. Detailed visuals are also used with infographics to represent data.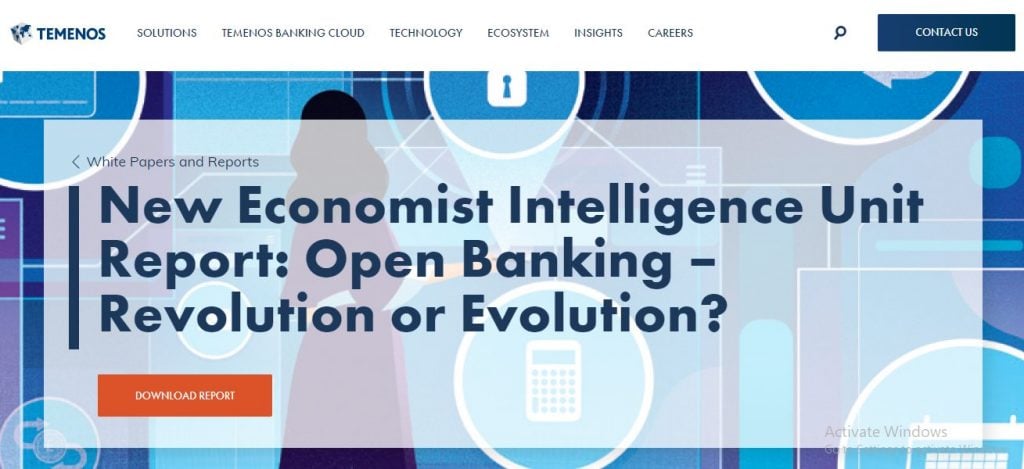 ---
2. Zendesk White Paper
Zendesk is a corporation based in the U.S.. This company offers software for customer service, sales, and customer communications. Its white paper details customer's experience in the company using engaging graphics and visuals.

---
3. Cognizant White Paper
Cognizant is a well-respected provider of technology services and consulting in the United States. This white paper explains the future of the IT industry using high quality graphics.

---
4. Nucleus White Paper
One of the most popular wrap platforms in the industry is Nucleus. Its white paper examines the present, past, and future states of financial planning.

---
5. BDO White Paper
In this white paper, BDO, the world's largest provider of professional accounting services, managed to transform a technical subject into something that's both fascinating to read and entertaining.

---
6. BBN White Paper
BBN, a leading B2B marketing firm, released a white paper that examines the effect and advantages of 5 distinct technologies on marketing outcomes.

---
7. Mdg White Paper
Mdg has a high bar to meet as a well-known marketing-driven company. With the help of this well-designed white paper, it explains how to use the power of content to build year-round interest.

---
8. Cisco White paper
When it comes to networking gear, data security services, and other high-tech services and products, Cisco is unmatched. Its white paper on networking is a comprehensive 19-page text about using your competitive edge in marketing. It comes with visuals to match the company's brand, and its tone is tailored for a specific demographic.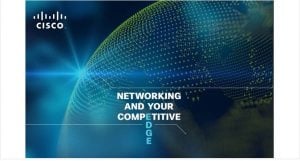 ---
9. ADP White Paper
ADP is a major player in the payroll and human resources software and services market. One of its whitepapers talks about dealing with payroll stress for small businesses. Many of its clients are small and medium-sized enterprises that do not have the resources to build up their HR teams to automate payroll. So, this white paper is highly valuable to their target audience.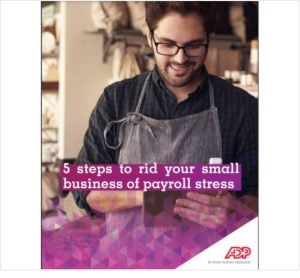 ---
10. Sungard Availability Services White Paper
In the risk assessment and management industry, Sungard AS is a well-known name to many. That similar authority may be seen in their white paper that talks about planning and developing a business continuity plan. The white paper is divided into four parts and each is discussed in detail.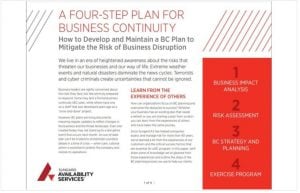 ---
Tips on How to Write a Good White Paper
You can improve your white paper by following these design guidelines and best practices, no matter what software you use.
Your white paper's title is the first thing people see. Potential readers may not bother to read further if your title does not stand out.
It is possible to spice up a title by including a bold claim, a significant number or wording, a deadline, or a rapidly approaching promise. You can generate many potential titles before testing them.
Distinguish between white papers and other forms of writing
If you're producing a white paper, you're writing about a specific topic or discovery, not merely a case study. White papers are increasingly being distributed as interactive e-books, with numerous images, hyperlinks, and even interaction tools, rather than as static PDF files.
E-books promoting products and services are often shorter, contain bullet points or short overviews of the products/services, and may not follow the white paper's usual issue-solution-outcome (ISO) structure.
Keep your objective in mind
White papers' primary purpose is to generate and nurture new leads. If it is written correctly, a white paper may build confidence and lead to high-value sales meetings. Build a strong case for your concept by interviewing relevant participants and performing thorough research.
Use a conversational style of writing
Fear of writing is a common phobia among entrepreneurs. If you want to be perceived as trustworthy by your audience, you need to sound genuine and helpful. So, just write in a friendly, conversational tone.
There's no need to use lengthy, complicated statements or industry jargon. Hire an editor if you'd want your final copy to be more polished.
It's essential to accompany a well-written white paper with an eye-catching design. Readability is enhanced by including visual aids such as charts, graphics, color, and a clean layout.
Including relevant graphics may make your white paper more readable and understandable. To increase brand awareness and trust, make sure the design aligns with your corporate identity.
Establish the credibility of your information
Using white papers, your business can highlight products and services and the advantages they offer to customers. It is not enough to say that your solutions are better than those of your competitors, mainly because everyone in your industry is making the same claim.
So white papers must be legitimate. Whether that data comes from a genuine client project or a study conducted by analysts, your product or service claims must be supported by evidence.
Avoid using marketing terminology in your content
The content of a white paper should be appealing, but it should not be hard-sell or jargon-loaded. The recommended solution should be supported by facts and logic in a white paper.
Businesses looking to hire marketing agencies look for a well-researched and balanced position supported by facts and data while reading a white paper. Present a well-supported case study to explain how your unique solution may benefit their company and ultimately increase sales.
Engage your reader's emotions
You must select a topic that connects with your target audience if you want people to be interested in your content. Bring in readers by speaking to their concerns and challenges, then focus on your solution's positive effects on the reader's professional and personal life.
You may excite and engage your audience by recounting the story of how you came up with your creative solution.
Do multiple platform promotion and testing
The more you engage your target audience, the more downloads your white paper gets. The most efficient way to get your white paper in front of your target buyer is to promote it on various platforms.
You need a well-designed landing page if you want people to download your white paper and provide their contact information.
Control the revision process
If you have circulated your white paper to many people for evaluation, you should still maintain creative control and make sure the paper's main points still stand.
The higher your capacity to exercise control over the process, the lower your stress level regarding the final output. It is possible to achieve this by placing the white paper on a collaboration site, like Google Docs, and asking for feedback from others.
Another choice is to send your white paper by email. Every piece of input should be kept in a single location, and the main document should be modified to incorporate any criticism and suggestions.
---
Final Thoughts
White papers are excellent tools for establishing a business's capabilities. With the help of white papers, your marketing efforts can be strengthened while enabling your business to stand as an authority in your industry.
Customers are more receptive to well-written papers than they are to brazen advertisements. It is not an easy task to write an excellent white paper but the time and effort required to generate a paper that shares your company's expertise and contributes to the advancement of your sector are worthwhile.
If you follow the tips outlined in this guide, especially crafting a good title and providing value, you will surely gain your readers' attention.
Frequently Asked Questions
What are examples of white paper?
Examples of Whitepapers often include charts, graphs, tables, and other ways of visualizing data that go into creating a whitepaper. The term "white papers" originated in England as government-issued documents. One of the most famous examples includes the Churchill White Paper, commissioned by Winston Churchill in 1922.
How do you write a white paper example?
Here's how to write a whitepaper with easy steps:
Pick a topic

Conduct research

Understand your target audience

Build a whitepaper outline

Write a catchy title

Write the whitepaper and include subheadings

Publish the whitepaper
What is included in a white paper?
A whitepaper is a heavily researched report on a topic of your choice. The goal of the whitepaper is to present a solution to a problem within the industry. Whitepapers are often written by companies to demonstrate their knowledge and understanding of certain topics and whitepapers will include facts and evidence.
What whitepaper means?
A whitepaper is a heavily researched information document on a certain topic. Whitepapers are usually written by companies or not-for-profit organizations to highlight a problem in the industry and propose a problem. They can also be used to present policies and legislation and gauge the public response.
How do you start a white paper?
6 Basic Tips for writing an amazing white paper:
Pick an intriguing topic

Be descriptive and include research but keep it informational

Write a great headline

Emphasize the value add

Organize your draft

Edit your draft multiple times and proofread