Advertising Disclosure
Advertising disclosure:
Our partners compensate us. This may influence which products or services we review (also where and how those products appear on the site), this in no way affects our recommendations or the advice we offer. Our reviews are based on years of experience and countless hours of research. Our partners cannot pay us to guarantee favorable reviews of their products or services.
Video content is growing like anything on the internet, thanks to social networking and video streaming websites. Internet users spent an average of 6 hours and 48 minutes per week watching online videos in 2019. An average internet user spends as much as 84 minutes per day watching videos online. Most of these views come from video streaming websites like YouTube is one of the most visited websites in the world.
Cisco predicted that by 2022, 82% of the global internet traffic will come from video streaming websites. Businesses already know and understand the importance of videos and video content. This is the reason why YouTube channels have become the norm. Pick any company and it will have its own YouTube channels with several hundred subscribers.
If you aren't using YouTube for video marketing, customer engagement, traffic generation, or generating leads, it's time to get serious about YouTube. Why? Because it has more than 2 billion active monthly users and over 30 million daily active users. YouTube users watch more than 5 billion videos per day.
You should be on YouTube, right? But simply creating and publishing a video on YouTube won't work due to fierce competition. You have to do more than simply publishing videos. You need to grow your channel, publish videos regularly, engage with your subscribers, make videos professional and interactive, and be consistent.
When it comes to creating engaging video content and improving brand trust and recall, you have to use video intro or video introduction. A YouTube video intro is defined as a short introductory video clip (less than 30 seconds) that you place at the beginning of every single video you upload to your channel. Here is an example of a video intro by TED:
Creating a YouTube video intro isn't a big task, you can use a free YouTube video intro maker to create high-quality professional intros for your videos. Here is a list of the best free YouTube video intro makers.
---
Top 12 Free YouTube Video Intro Makers:
---
Top
youtube video intro makers
2024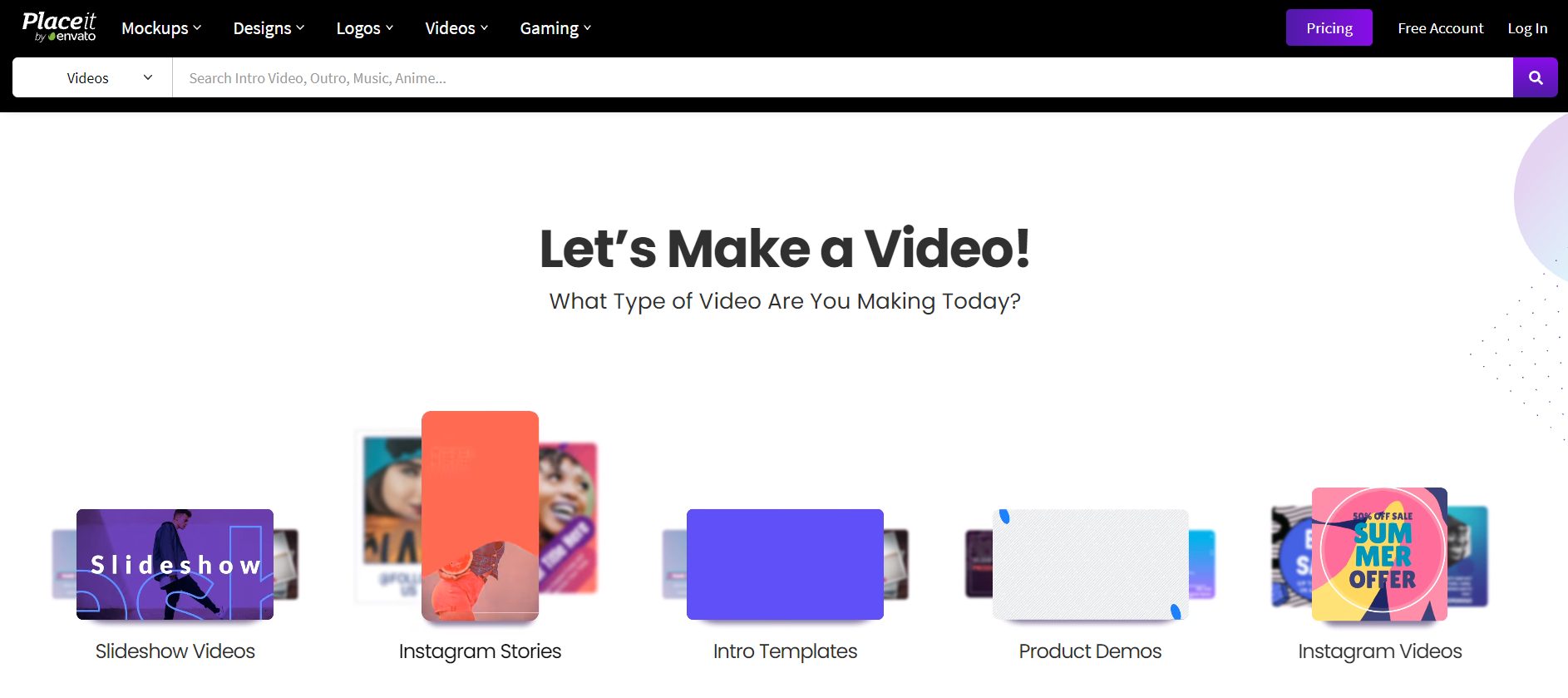 Placeit is where thousands of people and businesses turn for easy-to-use, professional video templates. Video templates are designed by Placeit's team of experts, and you'll be hard-pressed to find one you don't love. Templates include intros and outros, slideshow videos, Instagram Stories and videos, intros, product demos, product and service overviews, content teasers, step-by-step tutorials, sales and offers, and even inspirational quotes. 
Placeit pricing starts at around $14/mo. Signing up with them will give you access to hundreds of video templates and the use of an intuitive online video maker to personalize your videos. Add text, select your colors, and don't forget to add music. Placeit is guaranteed to have any sound you're looking for. With over 1300 tracks across a variety of genres, you'll be able to set the right mood for your video.
---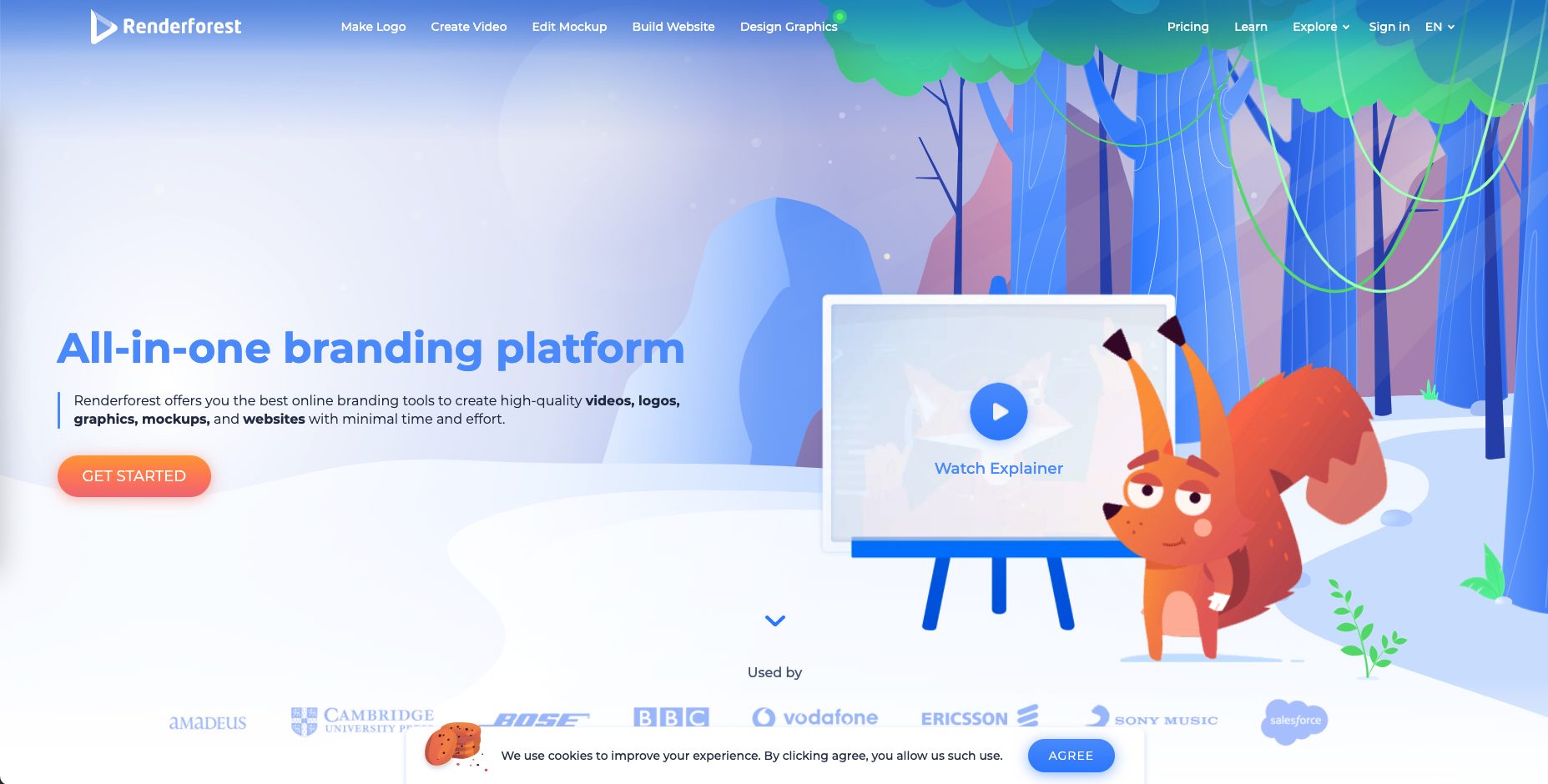 Renderforest is a multi-purpose design platform that lets you do a lot of things including online video creation, logo design, and website designing. You can create a professional intro video in a few minutes by customizing one of the intro video templates. It has more than 50K intro video templates that can be personalized with its huge library of fonts, soundtrack, photos, and graphics.
You get 500 MB storage with its free plan where you can create up to 3 minutes of unlimited 360p videos. However, all the videos will have a watermark on them which can be removed by switching to a paid plan starting at $9.99 per month. It is one of the easiest and best YouTube video intro makers out there that was named one of the top 100 software companies by G2 in 2019.
---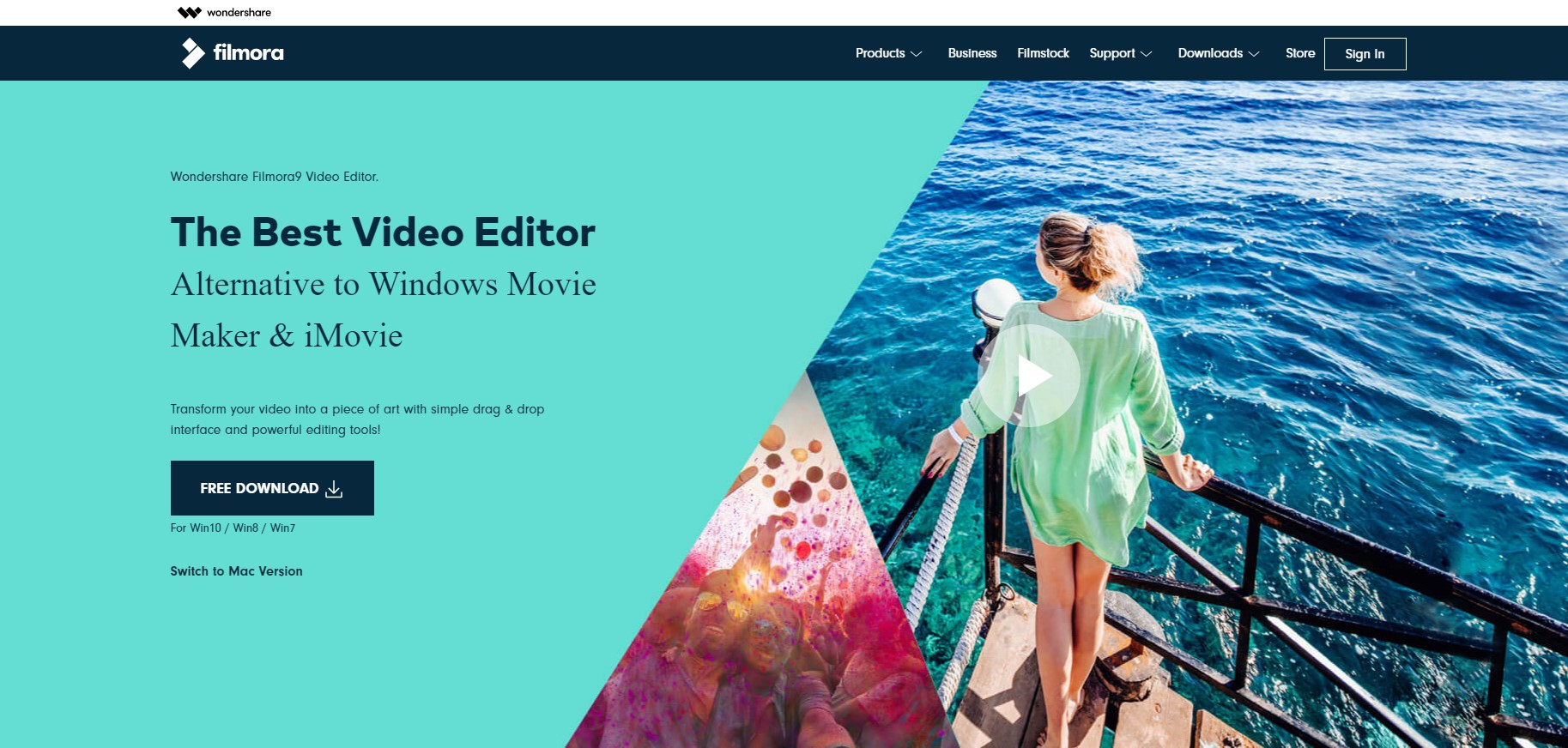 Filmora9 by Wondershare is a professional video editor that you can download on your computer. It doesn't have any online version which is a potential drawback. It has an intuitive and clean user interface that makes it ideal for professional video editing. You can create high quality YouTube video introductions in a few minutes with Fimora9.
You can download it for free and start using it right away. All the videos created with the free version have the watermark which can be removed by upgrading your plan. It isn't one of the easiest software as it's a professional-level video editor, so you will have to look at its guide to fully understand its interface. 
---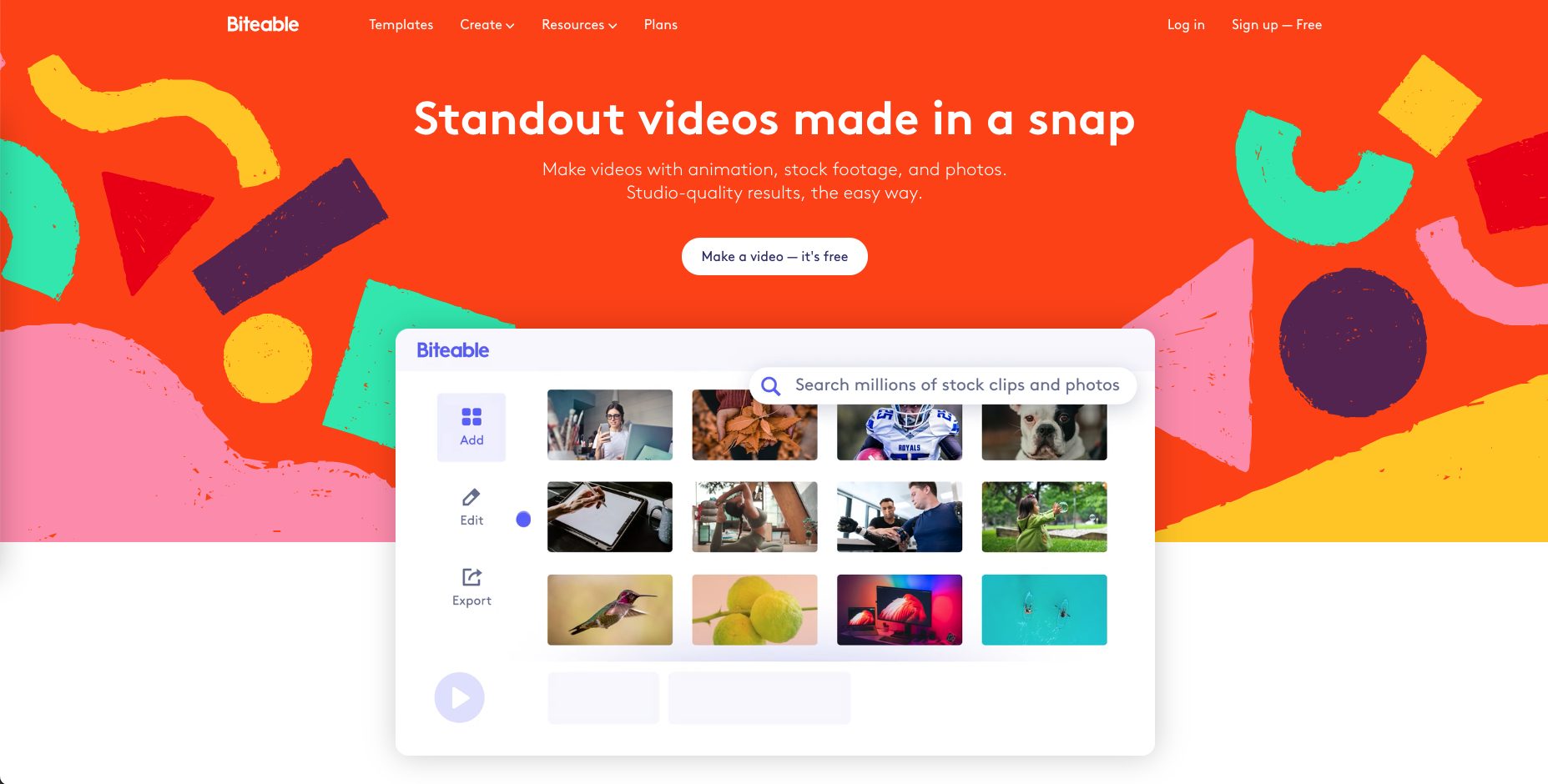 Biteable is a video maker that is capable of making studio-quality videos. It has a beginner-friendly interface that lets you create high-quality introduction videos from scratch. It has a wide range of intro and outro templates. Choose a template, edit it, save it, and you are done – that's how easy it is to create a nice-looking intro video with Biteable.
You can use the Biteable app or use it online to create and edit amazing intro videos. You can use it free of cost and create up to 10 videos with watermarks that can be removed by switching to a paid plan. You get access to over 800K premium clips with the free version. You get a lot of awesome assets to tweak and personalize your intro video.
---
5. Flixpress
Flixpress is a specialized video creation software for intro videos. It is an online tool that has multi-layout editable and fully customizable templates. It is a feature-rich intro video making tool that supports 3D objects and has a collection of 3D assets including animated videos, photos, text, and color. You'll get access to a huge library of stock videos with royalty-free footage. Not to mention its VideoFX library that is hard to find in other intro video makers.
Creating a YouTube video intro with Flixpress won't take more than a few minutes. If you have your own video, you can upload it. Else, you can choose a template and customize it. The free plan lets you create a video of up to 2 minutes which is more than enough for an intro video. The resolution of the video is 360p and it will have a Flixpress branding. You can switch to a paid plan that costs you only $3.49 per month. Or, you can choose to pay as you go starting from as low as $1.
You can afford it, right?
---

Ivipid is a simple and straightforward intro video maker that's suitable for startups, local businesses, and bloggers. The video quality won't be professional, but it is acceptable. Creating an intro video is quick with this tool. All you have to do is select a template and customize it, that's all.
Ivipid isn't free but the reason why it is included in the list is that its starting price is just $1.99 that's equivalent to free. If you can create a decent quality intro video for your YouTube channel for under $2, what's better? You can switch to a better plan ($6.99) to get a 1080p quality video. There are no recurring charges and you pay for what you use. This means you if you need a single intro video, you'll be charged for it and not for the full month.
If you are just starting out and new to video marketing, create an intro video with Ivipid without any branding or watermark.
---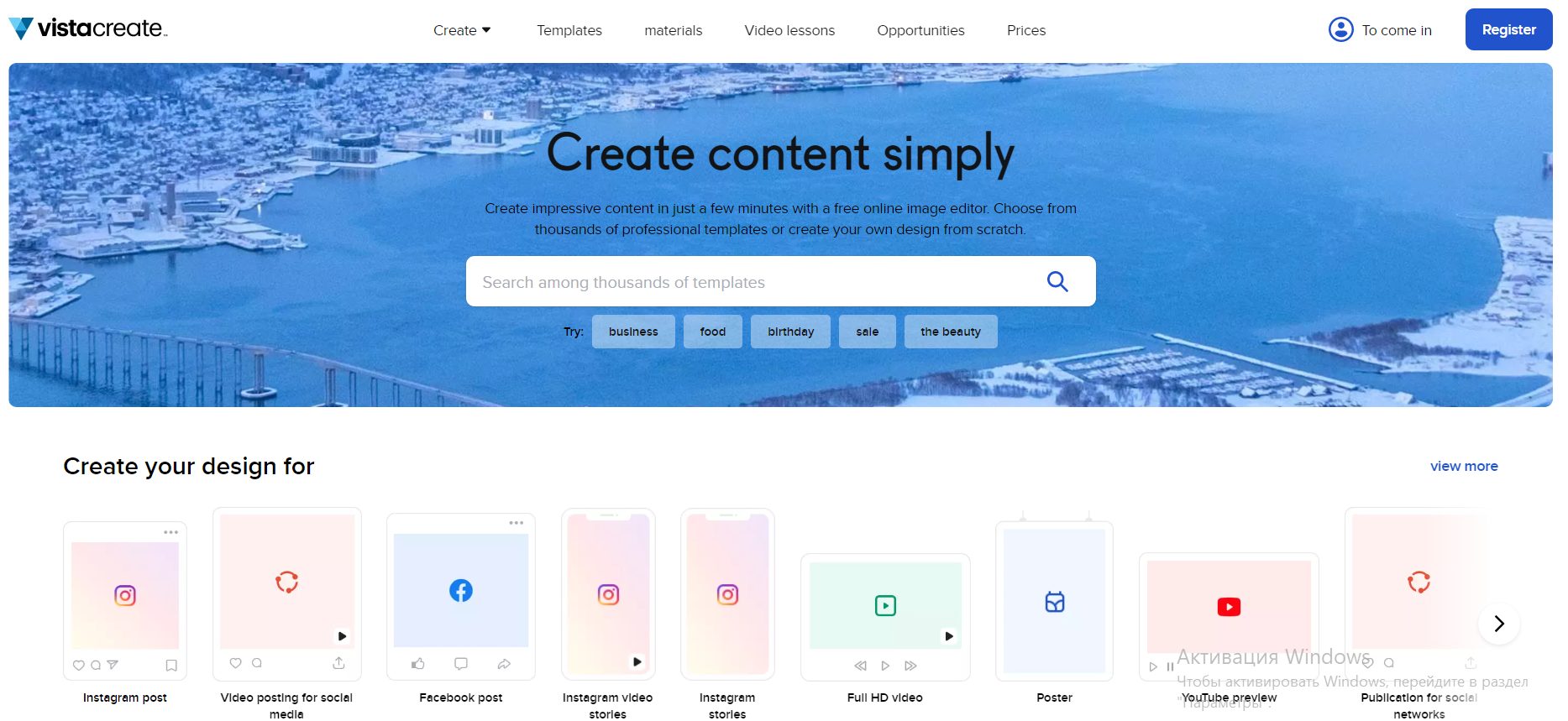 VistaCreate is a design tool that does a lot of things. You can create graphics, animated videos, logos, graphics, posters, social media content, and YouTube video intros. It has a powerful and intuitive interface that's perfect for beginners. You can get started immediately without any guidance. Choose a template from 25K+ intro and outro templates, add animations, customize it, add or tweak the background, tweak objects, and you are done.
It has more than 30K graphics and animations and over 140 million stock images to make your video intro a killer one. Plus, you can upload your own fonts and images. You can create a stunning video intro with its free plan. Should you need to switch to a paid plan, it will only cost $7.99 per month and you get access to everything that VistaCreate has to offer.
You can use VistaCreate to create graphics and personalized animations for your video introduction. This will make your video even better.
---
8. Panzoid
Panzoid has free tools for creating custom content. The platform is completely free and has a huge community of designers that post templates that can be customized by other users. You'll find tons of free editable YouTube video intro templates. Open a template in the Clipmaker to edit it. Add your own images, graphics, and music for personalization.
You'll need to upload your own objects and assets if you are starting from scratch. It is, therefore, best to choose a template and tweak it. The interface isn't beginner-friendly so if you haven't used a video maker, it will get a bit challenging for you to get started. There is, however, a lot of free tutorials and guides available on YouTube and Panzoid website that are quite helpful.
---
9. IntroCave
IntroCave is a highly specialized video intro maker that's completely free to use. You can create a professional YouTube video intro in as low as 5 minutes. It comes with several templates of all kinds and categories. Pick a template, edit it, and you can download your intro in HD quality in 2 hours.
You can create a short and quick intro video in no time with IntroCave. The level of customization that you get with IntroCave is limited. You can upload your own assets like images, logos, and audio but the layout of the video can't be changed. It is best for bloggers, YouTubers, vloggers, and local businesses.
---

VideoCreek is another free YouTube video introduction maker tool for beginners. It has a lot of video intro templates to choose from that can be edited in three simple steps: Change image, change audio, and extra customization. The video layout remains the same and can't be edited.
VideoCreek offers limited customization as it doesn't have any interface where you can edit the video. You can only tweak the image, audio, and other assets like the font. The video quality is good, but you won't get a professional and unique video intro for your YouTube channel.
---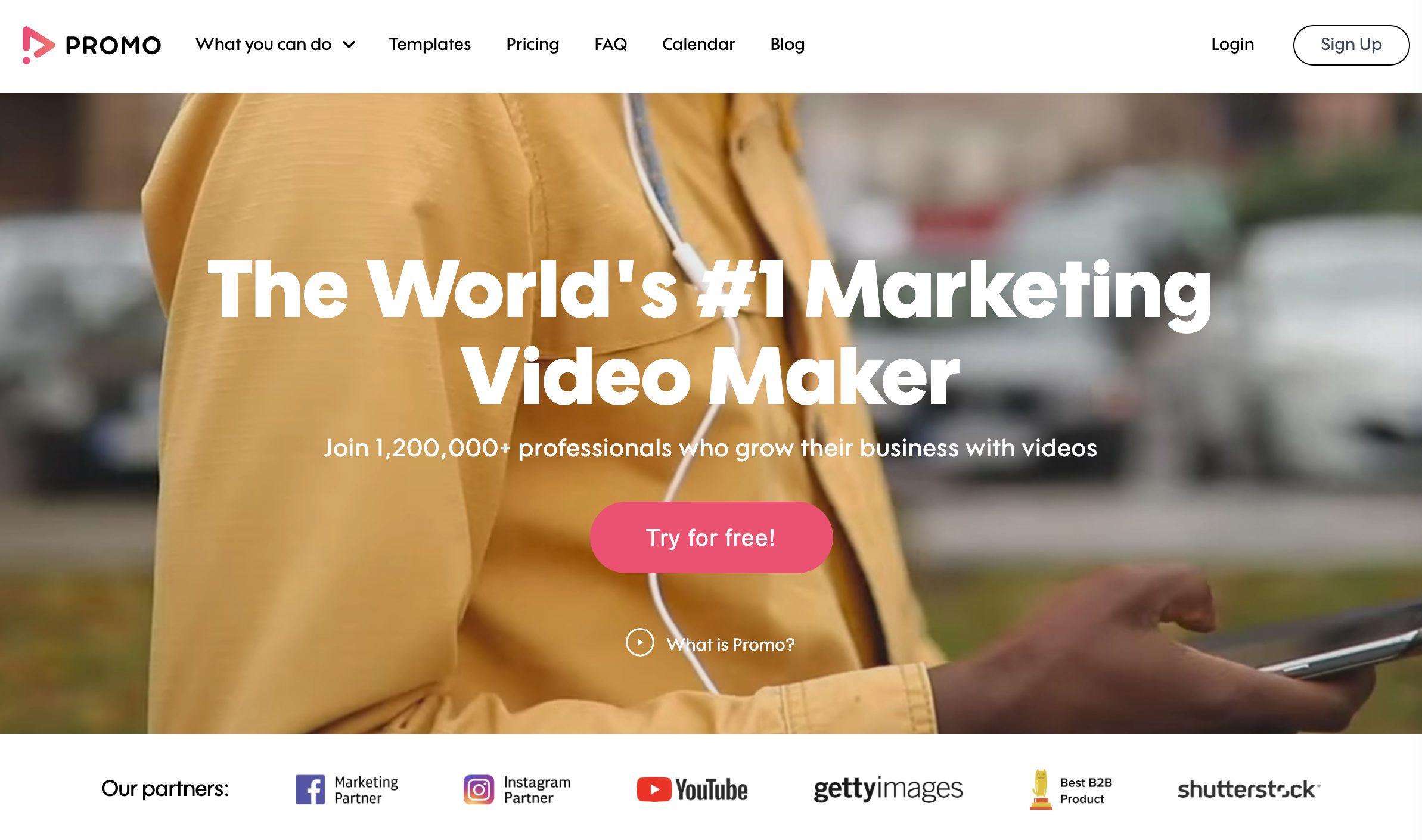 Promo.com features high-quality professional video clips, royalty-free music, customizable video templates, and more. Their focus is predominantly on creating promo videos and ads for YouTube, Facebook, Instagram, and LinkedIn. The platform isn't free, you have to buy a monthly or annual subscription, but you can try Promo for free. Also, you gain two free months when you select an annual plan.
The Promo.com YouTube Intro Maker is all you need to create customizable intros for your videos. Edit stunning professional footage or upload your own, add text and music, along with the personal touch of your company logo – all in just minutes. Promo.com includes many YouTube intro maker templates. They also believe you can give your marketing videos that extra edge with a creative YouTube video end screen template that finishes off your message beautifully. You will find a premium library of high-quality videos, music, and stock photos, including images from Getty Images, iStock, and Shutterstock.
Promo.com provides you with an organized place to host all of your videos and uploads for free. You can post your videos directly to YouTube and all social platforms straight from Promo.com.
---
Offeo is a full-fledged online video maker that has a beginner-friendly and intuitive interface. You can choose a template from Intros, outros, and logos category to get started. Tweak the template with built-in assets that include 100K+ images, 1000+ graphics, and 1000+ commercially licensed music. You'll get a high-quality and professional video intro in no time.
You can create a 30-second video with the free plan. There are no limitations for the free users in terms of asset accessibility. What makes Offeo's free plan amazing is that videos aren't watermarked. This makes it a great free YouTube video intro maker for your business. 
---
Final Words
What tool you'll use to create YouTube video intro? The free tools have limited functionality and they come with watermark or branding. Of course, this doesn't look professional. Other tools like IntroCave are free to use but video customization features are quite limited.
It is best to get watermark removed from the video intro by switching to a paid plan for your favorite tool from the list above. It will cost you less than $30 and you'll have a high-quality fully branded YouTube video intro that you can be proud of.
It is better to spend a few bucks than sticking with the free version and hurting your brand image. Free tools aren't bad but they, by no means, match the quality and output of a paid video intro maker tool.