Even after social media has taken the world by storm, email marketing is still one of the best marketing strategies at your disposal. In fact, one of our email marketing predictions for 2021 is that there will be an increased investment in email marketing as marketing teams continue to search for more cost-effective marketing options that boast a higher return on investment.
However, a well-thought-out email marketing strategy is of no use if you don't have a list of email subscribers. To help you grow your email lists, we have compiled this list of lead magnets ideas. From checklists to catalogs, there are many types of content that you can trade for an email address. Some of them, like an app or a spreadsheet, can be more time-consuming and labor-intensive to create. So, if you do not have infinite resources, instead try to see which content you can repackage as a lead magnet instead of having to start from scratch.
---
20 Lead Magnet Ideas We Love [With Examples]:
---
What Are Lead Magnets?
Lead magnets are types of incentives that marketing teams offer to prospects for free in return for their email address and/or other contact details. There are countless different types of lead magnets that can be used. Generally, they come in the form of digital content that the prospect will find valuable and can download to his/her device.
---
Tips for Creating an Effective Lead Magnet
Keep it short and specific
While you might think that a 250-page ultimate guide is an enticing offer, your prospects will likely prefer something shorter and less complex. The most effective lead magnets can help your target audience solve one specific problem quickly. Not only do they convert better, but these lead magnets are also easier to compile.
Ensure it looks professional
In order for your target audience to share their contact details, they want to know that what they will receive in return is actually valuable. One way to achieve this is to ensure that it looks professional by using only high-quality images. In short, it should look like something that you would have paid top dollar to receive.
Deliver it immediately
For a lead magnet to be effective, you need to be able to send it immediately. So, if users need a link to download the digital document, be sure to email them the link right after they have entered their email address.
---
20 Lead Magnet Ideas to Try
1. Checklist
Checklists are great for two main reasons. You don't need a lot of time to compile a checklist and people love them. For example, if you have written a blog post, you can easily repurpose it as a printable checklist that summarizes all the actionable tips. To make it more user-friendly, be sure to include bullet points, number the steps and include checkboxes where they can indicate if they have completed that specific step.
---
2. Toolkit
Similar to checklists, this type of lead magnet is extremely popular as they can save your target audience loads of time they would otherwise have spent on researching and reading reviews. From blogs to podcasts to apps, to which products or services have helped you along the way? Which tools would you recommend to your target audience? The appeal of this type of lead magnet is that it is much more straightforward than, for instance, a workbook, as you can simply sign up for the service or buy the product. To take it one step further, you can see if you can use affiliate marketing for the products that you include in your list. This way, you will be able to grow your subscriber list and generate an extra stream of income.
---
3. Template
In short, a template offers a type of outline that is easy to copy and paste. Your prospects can then add a couple of words to complete the blanks and modify it so that it works for their specific task. For example, Squibler offers their website visitors access to different types of templates depending on the type of book they want to write. Though, in order to access these resources, visitors are directed to a call-to-action button requesting them to sign up with their email address.
---
4. Cheat Sheet
If you thought that only students used cheat sheets, you'll be mistaken. Though, this type of cheat sheet is slightly different and will not land you in hot water. Cheat sheets that are used as lead magnets are a type of downloadable resource that will help your target audience to apply a complex strategy or complete a process. You can also use it to summarize the most important points or just a list of definitions. To ensure it is effective, it should be concise (ideally, just a single page).
---
5. State of the Industry
If you target B2B businesses, state of the industry reports that concentrate on the latest trends in a specific industry can be valuable resources that your competitors likely won't offer to your target audience. However, keep in mind that this type of lead magnet does require more work as you will have to update your report or release new ones regularly.
Since 2017, we have completed influencer marketing surveys. Not only do we share the results from our survey in a downloadable benchmark report, but we also include other relevant statistics that have been revealed during the research.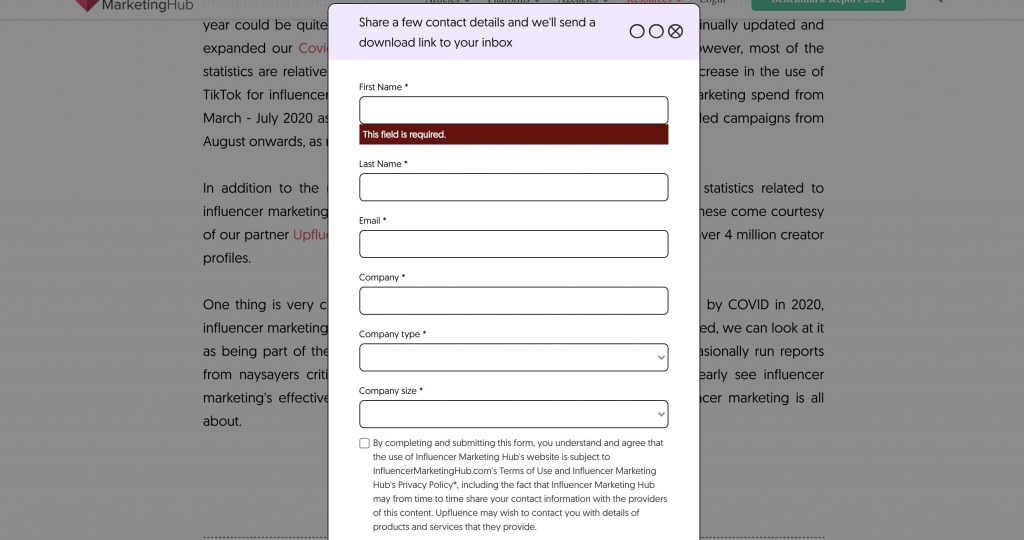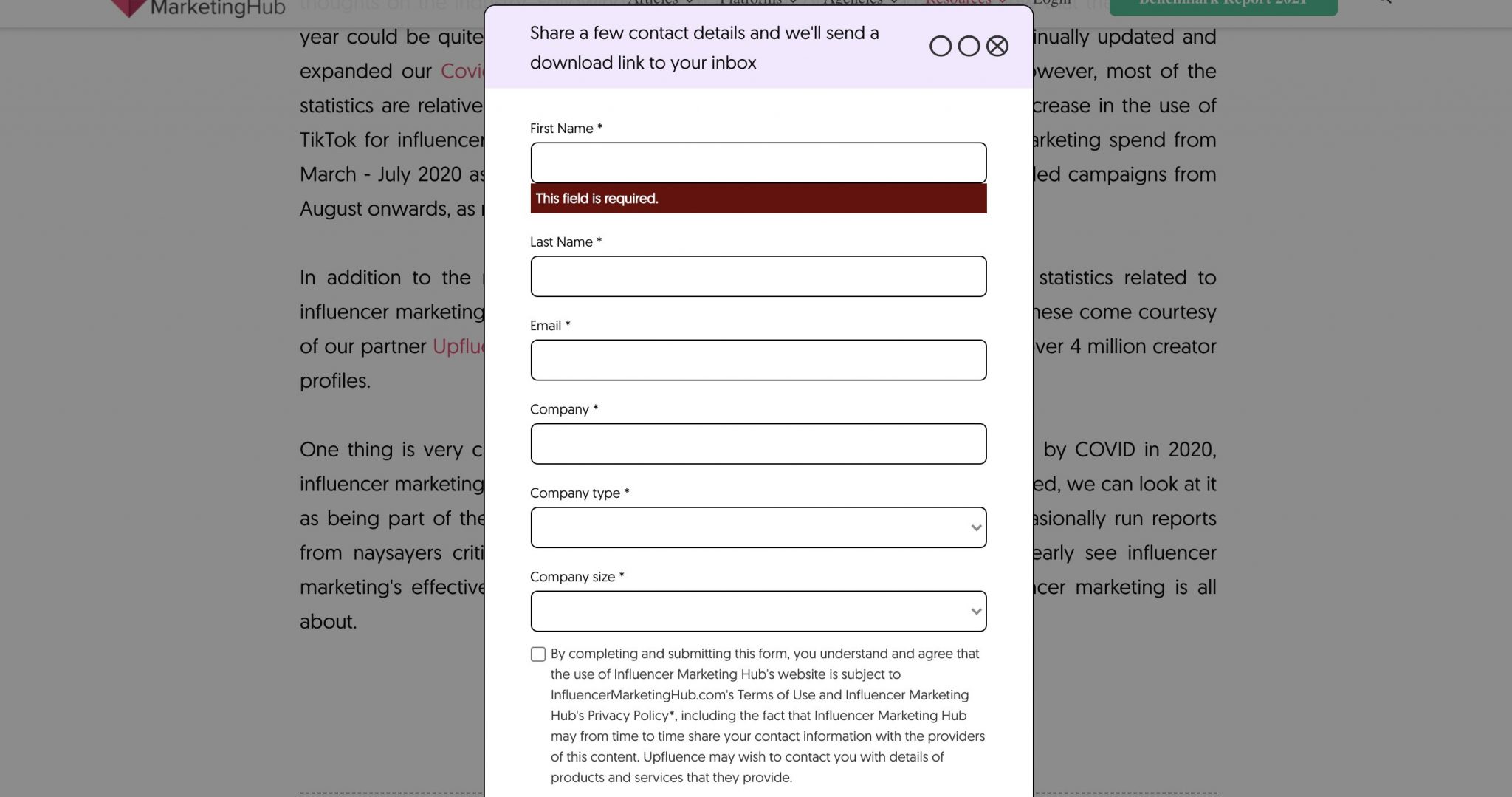 ---
6. Catalog
In some instances, your target audience will be more than happy to share their contact details just to be able to access a catalog with product descriptions and pricing. The appeal of this type of lead magnet is that it makes it much easier for your target audience to find and compare products (or even courses as shown in the example below).
---
7. Webinar
When opting for this route, you will send an invitation to your target audience to join an online presentation. In order to join, they will have to share their email address. One of the advantages of using webinars as lead magnets is that you can follow up with the attendees after the event to boost conversion. Plus, if the first attendance was not that spectacular, you can always host the same webinar again.
---
8. Case Study
Have you recently helped a client to solve an issue? In addition to featuring this as a testimonial or other form of social proof on your website, you can also reach out to the client to check if you may feature his/her business as a full written case study that you can turn into a blog post. In this post, focus on the initial requirement and add some of the results which can help to encourage them to convert.
---
9. Workbook
Creating a workbook that your target audience can download and complete digitally is another extremely popular and effective lead magnet. It is better aimed at businesses that offer a service as opposed to those that sell products. Your workbook will help your target audience to implement a formula or apply golden rules to help their own business. It can, for example, include simple-to-complete exercises about a specific subject that will help your target audience to gain a better understanding. As your workbook will portray your business as a leader in the industry, it can help you to introduce your top-end services too by means of including CTAs towards the end of the workbook.
---
10. The Ultimate Guide
In short, this type of lead magnet is an extensive collection of the top blog posts about a specific topic. Instead of just repurposing your own blog posts, you can also include direct links to other reliable online resources. This is a clever approach if there is a topic that already has detailed blog posts. So, instead of trying to offer additional value by creating another blog post about the subject, the value that you will provide is the guide where they can find everything they need to know about a specific problem in one place.
---
11. Bonus Pack
While guides and blog posts can make effective lead magnets, you can take it one step further by providing extra content as a separate lead magnet. This extra content can be in the form of additional tools or links.
---
12. eBook
Do you have a few articles about connected topics? In this case, you can consider merging them and offering it as a free eBook. The trick is to make sure that there is a logical flow so that it is more convenient than reading the blog posts one by one.
---
13. Quiz or Survey
If your brand voice is more fun than educational, you can use a survey or quiz as a lead magnet. It is much more interactive and engaging than simply working your way through an eBook. If you want to use this type of approach, you can direct your site visitors to an online quiz. In order for them to see their results, they will be requested to enter their email address. As they have already completed the quiz, they will be more inclined to share their contact details.
---
14. App
If you are not one for quizzes but searching for an interactive lead magnet, you can consider creating a free web app. In order for visitors to use this app, they will have to create a login using their email address.
---
15. Calculator
If your brand's website has a calculator, you could think about repurposing it as a lead magnet. Alternatively, if you know that your target audience often works with calculations, you can take it one step further and create one specifically for the purpose of being used as a lead magnet. For ideas, you don't have to look further than us. With our eCommerce Earnings Estimator, online eCommerce businesses can work out their earnings potential for free.
---
16. Spreadsheet
If creating a calculator sounds too daunting to you, an alternative is to create a spreadsheet that you can package as a lead magnet. Just make sure that all the formulas work correctly!
---
17. Video
Depending on your products or services, you can also consider creating short video demos by using online video makers to ensure the end result is high-quality. Not only will you be able to grow your list of subscribers, but after seeing your offering in action, your target audience will be more interested to try it out.
---
18. Free Trial or Shipping
Free trials are often used by SaaS companies as lead magnets. If you don't sell software, but would still like to offer a monetary incentive, you can offer them free shipping in exchange for their email address. Alternatively, you can offer them a discount on their next purpose (or if you are feeling especially generous you can offer free shipping and a discount).
---
19. A Calendar or Planner
Depending on your type of business, printables, like calendars or planners, can work well. For example, if you are a fitness influencer, you can share a weekly workout calendar in which you share exercises for each day of the week. Alternatively, it could also simply be a beautifully designed blank planner that your target audience can use to plan their month or simply use as a to-do list.
---
20. Infographics
While infographics are great content to share on your site, you can also consider creating one with the sole aim of sharing it as a lead magnet. There are many online infographic tools that you can use to create an infographic that makes a complex concept easier to assimilate. Considering that a well-crafted infographic has the potential to go viral, it can be a great way to put your brand on the map.