The world of affiliate marketing has been consistently growing over the past years, and with the rapid changes in digital marketing and e-commerce, there are certain trends on the horizon that marketers should be aware of entering into 2023.
Affiliate marketing has gained appeal as a low-cost business growth plan. This marketing strategy is ideal for small businesses since it increases revenue with less expense and work. From single-item shops to giant corporations, almost every major eCommerce store has an affiliate program or is part of an affiliate network.
The world of affiliate marketing can be cutthroat. To be successful in it, you must keep up with market trends. With more affiliates today, 2023 will be an exciting year for affiliate promotions.
---
Top 7 Affiliate Marketing Trends for 2023:
---
What Is Affiliate Marketing?
Affiliate marketing allows companies or brands to work with partners (also known as affiliates or publishers) to reach a wider audience and generate more revenue. You pay your affiliates whenever they've accomplished their intended work, such as driving sales, increasing leads, or gaining new clients. In affiliate marketing, you're paying for actual results.
The internet has expanded the popularity of affiliate marketing. Amazon made it a household name by creating an affiliate marketing program. The network allows websites and bloggers to share links to a specific Amazon page or product for ad revenue. Note that affiliate marketing relies on a vast network where the marketing can take place.
If you have an eCommerce shop, your marketing affiliates can help your brand reach a superior online following. The larger an affiliate's network, the more sites or email lists they hold. They will promote your product or service to their network, such as by running banner ads or sharing links on their blogs or social media accounts. They can email clients about your brand. Affiliates use articles, videos, and graphics for promotions too.
Visitors who click on the ad or link will be taken directly to your eCommerce site. If the customer buys a product through the link, you have to pay your partner the agreed-upon fee, typically 5% to 10% of the contract value. Through this system, you (as the retailer) and your affiliate (as your partner) gain from increased sales.
Affiliate marketing is for you if you run a product-focused website or blog. A DIY blog, for example, can link to arts and crafts supplies. However, keep in mind that affiliate marketing is not ideal for direct sales.
---
What Are the Advantages of an Affiliate Program?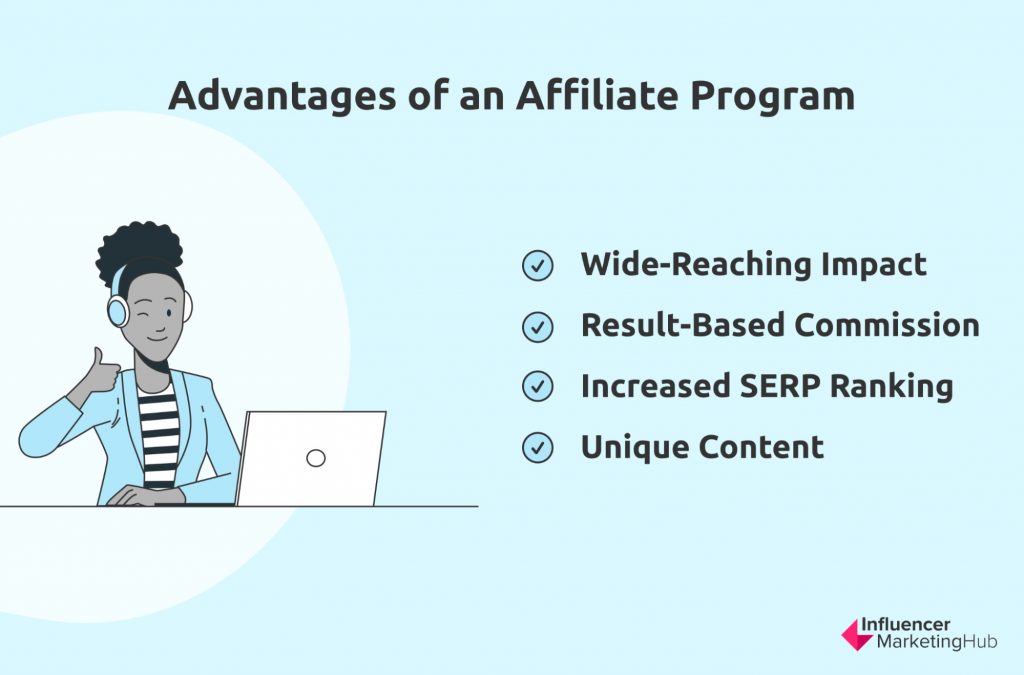 If you retail a product or service, an affiliate program can be a valuable addition to your overall marketing plan. The program can help you reach your goals whether your product is already popular or you're just getting started to build your brand.
An affiliate program for your business can provide you with the following benefits:
Wide-Reaching Impact
Affiliate marketers can potentially reach a larger audience than you could on your own. Your affiliate partners have websites, social media accounts, email lists, and a substantial number of followers. They can help promote your product through one or all of their networks. Through their reach, you're essentially multiplying your own. And because there's a reward down the line, they'll work hard to grow sales or drive traffic for your brand.
Result-Based Commission
Setting up an affiliate program is a cost-effective marketing strategy because you only pay for completed actions. You can work with as many affiliates as you want. Their commission will rise in lockstep with your sales. This result-based reward benefits both parties.
Increased SERP Ranking
The SERP rank of your website will significantly increase as the links from your affiliates are widely shared. From there, you'll get more organic traffic and save money on marketing.
Unique Content
Your affiliate marketers can produce reviews about your product, write articles about your brand, or create video ads about your business. Each affiliate offers a unique perspective. As such, there may not be a need for you to run countless ads on Google or Facebook.
---
What Are the Top Affiliate Marketing Trends for 2023?
As marketers feel more and more confident about investing in social marketing, affiliate networking will be more competitive than ever. Here are the top affiliate marketing trends to keep an eye on. These should help you see where the industry is going. Understanding them will boost affiliate traffic for your brand.
---
More Influencer Partnerships
Influencers have huge "followings" (from hundreds to millions) and high organic traffic to their websites or social media accounts. These days, influencers can monetize their followings without waiting for marketers to approach them for an affiliate program.
Influencer marketing has grown to become a 16 billion-dollar industry, and it will continue to evolve in the coming year. Why? Because influencers can add immense value to brands. They produce unique content and drive organic traffic to your website or blog. Moreover, they can also help spread awareness of your product or service across different social media networks. As such, you can expect to see more influencers in the affiliate marketing space.
To maximize your partnership with an influencer, you need to:
Define your

influencer marketing

goals.

Strengthen your ties with your affiliate.

Make sure your business, brand, and product data are correct.

Have a workable budget to see which strategies work for your business.
The upsurge of the power of influencers also provides them with the freedom to work with various affiliate angles when they share something online. For instance, if your affiliate influencer uses geo-location, the spread of information about your product will become hyper-local.
---
More Brands Will Tap Nano and Micro-Influencers
With 2023 being more about digital advertising and social marketing, companies will strategically place their trust in nano and micro-influencers. These small-scale online influencers have much more potential to reach niche users, who could eventually become loyal customers of the brand.
Nano influencers usually have 500-10,000 social media followers, while micro-influencers usually have 10,000-25,000 social media followers. These influencers can be great assets to your brand if you are looking for more creative and unique content. Since they belong to a "micro-niche" bubble, their popularity among their followers is much greater, which helps them get better brand recognition, engagement and loyalty for your product or service.
Furthermore, because nano and micro-influencers do not have an overwhelming amount of advertising offers coming their way yet, hiring them might be a more cost-effective option than contracting the services of macro-influencers (influencers with a following of 100,000 or more).
Trust remains a vital component in someone's purchasing decision. Buyers may trust micro-influencers more than macro-influencers because they're more niche-focused and have greater authority. Moreover, some macro-influencers are susceptible to accepting affiliate programs just for the commission.
Nano and micro-influencers are everywhere, but they're primarily on TikTok and Instagram Reels. With these two revolutionary platforms, it's possible for creators to reach a bigger global audience beyond their current friends and followers.
TikTok and Reels are entertaining, and creators can even integrate affiliate product placements in a natural and engaging way. TikTok and Reels influencers often share videos about their favorite brands or recent purchases. When these videos go viral, creators gain millions of views, providing them with an excellent opportunity to reach a much larger audience.
---
Living in a Post Cookiepocalypse World
More websites are seen to have embraced the demise of cookies and the emergence of alternative ad technologies, such as contextual targeting. GumGum's latest research shows 61% of advertisers in the US use contextual targeting, while 25% want to spend more on ads. What this means is that more companies will look for ways to reach a broader audience in more meaningful and relevant ways.
Contextual targeting is an advanced form of marketing, which allows advertisers to select from an array of sponsored content to be displayed on the user's screen based on the content they are viewing. By understanding user behavior, websites can deliver highly targeted ads with great accuracy. This approach helps ensure that ads are of relevance to viewers, thus increasing the likelihood of them clicking through and making a purchase. Additionally, this technology helps to protect user privacy since it does not collect any personal data.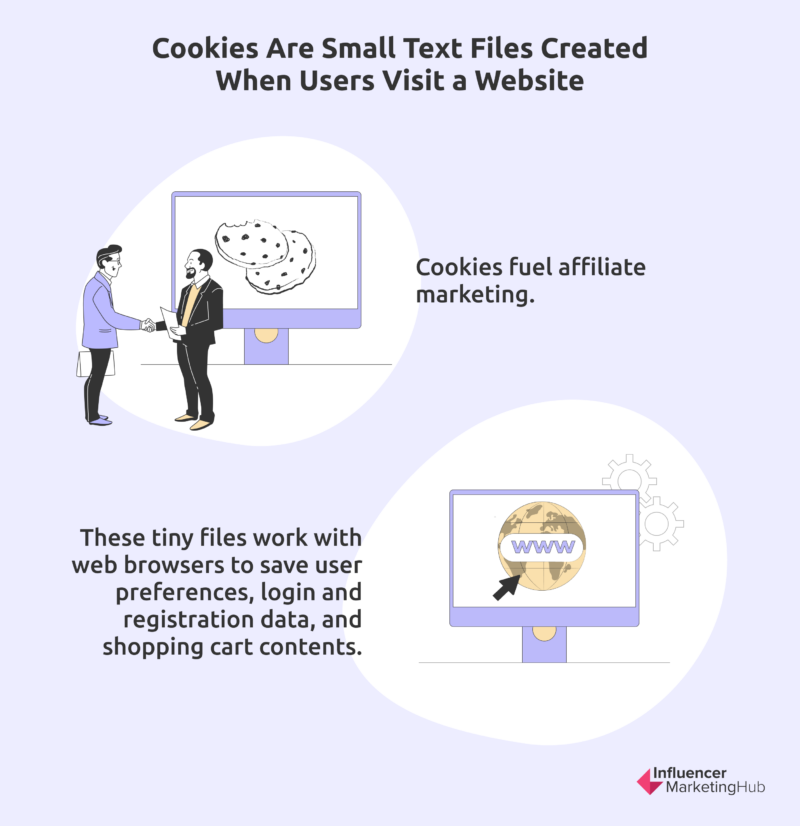 This new trend in affiliate marketing also helps marketers understand user behavior better by tracking patterns across multiple devices and platforms. To add more context, affiliate marketing tools will start to incorporate AI technology in their platforms, which can provide more accurate and timely insights about the user's interests and behavior. This will result in even better targeting, allowing marketers to reach their target customers with greater precision.
---
Cross-Device Tracking Will Be Prioritized
Affiliate marketers need to prioritize mobile clients in the coming year. Statistics show that 62% of smartphone users have made at least one purchase using their device. As more people use their phones to shop online, you'll need to think about how you can leverage cross-device tracking.
Cross-device tracking can deliver customized, relevant, targeted ads to a specific customer base. It identifies the best channels for converting potential customers to actual clients.
The most challenging part of cross-device tracking is correctly matching the same user across numerous devices. But it's feasible using two approaches: deterministic and probabilistic.
Deterministic cross-device tracking uses first-party data from the user to link devices. Companies like Google and Facebook use this method to generate cross-device connections.

Probabilistic cross-device tracking gathers anonymous data, such as phone model and geolocation, and applies statistical methods to find plausible cross-device matches.
By using cross-device tracking, affiliates may see a buyer's experience from start to finish. If you lack this insight, you'll find it hard to understand the customer's thought process and behavior.
---
In-App Monitoring for Improved Consumer Insights
From free applications with in-app purchase options to paid applications and subscriptions, consumers worldwide have increased their usage of mobile applications in the past year. In-app monitoring and attribution are important for affiliate marketers to track user behavior and identify areas for improvement in terms of customer acquisition and retention. This involves tracking the entire funnel from user clicks to conversions, so you can understand where users are dropping off your sales process.
The good thing is most prominent affiliate networks are able to integrate with Mobile Measurement Partners (MMPs). MMPs calculate, organize, and regulate app user events and data. A majority of eCommerce apps already come with an MMP, laying the groundwork for affiliate in-app marketing.
In-app monitoring has provided companies with valuable information that they would not have seen otherwise. For instance, affiliates at YouTube can use data analytics to get better click-through rates and more sales. They can utilize YouTube's very own analytics tool or get third-party analytics tools to understand the various metrics that matter on the platform. Monitoring essential data points enables affiliates to determine how to create the best titles and thumbnails to engage viewers and possibly convert them.
---
Voice Search SEO Will Continue to Rise
Users can utilize voice search to scour the web for information. Popular voice-enabled assistants include Siri, Cortana, Echo, Alexa, and Google Assistant. Other voice-related marketing trends have existed in the past, but voice search is likely to become more mainstream in the years ahead.
Why is that? It's because voice search is convenient and easy to access. For affiliate marketers, this means they will have to optimize content for voice search on search engines. This is no small task, but it pays off in the long run.
Consumers often use smartphones for voice search. The first responses to voice search queries are typically those with the best answer to the question. Furthermore, Google's algorithm supports marketers' use of keywords and phrases. By itself, using long-tail keywords can already increase your odds of ranking in the top three results.
Voice search SEO isn't standard SEO, though. Instead of just typing keywords, you must:
Refine your affiliate website for voice requests. Adding questions in your content prepares your site for voice search queries.

Optimize your content with precise keywords and search phrases. Voice searches tend to be more specific than text searches. FAQs and guides are good to have since they incorporate keywords for most inquiries.

Make sure your content stands out on mobiles. Users choose voice search because the response is quick. But your content for voice search doesn't have to be shorter. You only need to make it natural-sounding.
There's still a lot of uncertainty concerning voice search in promoting affiliate businesses. But if you take advantage of it now, you can be a step ahead once the algorithm changes.
---
Blog Link Building Approaches Will Be Diversified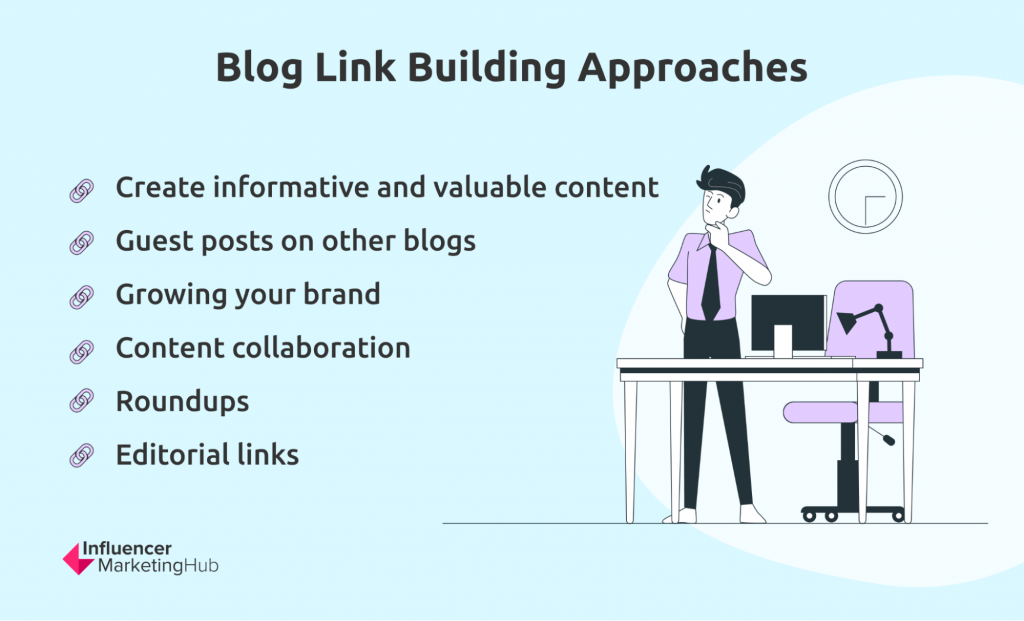 A steady stream of high-quality visitors generates sales. And one of the best ways to boost your sales is to dominate Google rankings. To do so, you need a lot of high-quality backlinks.
Link building used to be more about quantity than quality. But an effective link building is the sweet spot between the two. Conversions are mandatory to achieve your affiliate marketing goals, but traffic is also necessary to grow a customer base.
This is where blogs come in. Blogging still works, but it comes with a new set of challenges.
Having unique blog content that is actionable, relevant, and delivers value to your audience can earn you organic backlinks. Links to your blog help potential customers find your website, generate more traffic, and establish your brand. Users are more likely to trust you if other sites see you as an expert in your niche. The more credible and authoritative sites that link to your site, the better.
Your affiliate marketing blog can get links using various ways. A good starting point is to create informative and valuable content that's relevant to your selected keywords. However, you can't solely depend on organic links. Instead, you can try getting backlinks to your site through:
Guest posts on other blogs
Guest posts boost your domain rating through quality backlinks and present your brand as a niche authority. When writing guest posts for other blogs, make sure to present your expertise in your niche. Follow best practices to ensure that you can drive high traffic back to your page.
Getting your guest posts accepted by websites with a high domain rating might be difficult. Their guest post requests are most likely off the charts. The only way to increase your chances of getting accepted is to create unique, exceptional content.
In so many ways, your brand represents you. Your brand begins as a thought and then manifests externally. Other marketers will naturally link to you as your brand grows.
Having a regular blog schedule is one of the easiest ways to build your brand. Constant blogging brings more attention to your product or service.
The quid pro quo mentality is the foundation of content collaborations. Gaining mutual trust is the name of this game. You can expect a reciprocal link if you link to someone's article.
Determine possible content contributors in your niche. After coming up with a content plan, establish the roles that will be played by each individual. Ensure that you and your partners are aligned in terms of not only your niche but also your goals.
Commenting on roundups still generates backlinks. The upside is that you can get significant connections even if you don't link back to anyone's site.
People prefer to link to authoritative sites; thus, having a high domain rating is advantageous. It also helps if you have some past experience with the subjects that you're discussing.
These links are the most valuable and sought-after since they're freely given by sites without expecting anything in return. And they don't just happen. You must provide value to acquire these links. Your content needs to be engaging, relevant, and authoritative before other websites link to it.
Create content that helps users get from one point to another. Anticipate possible questions from your target customers, and answer them right away. Post various instructional images and videos, and ensure that the content is factual.
Frequently Asked Questions
What is affiliate marketing?
Affiliate marketing is a form of promotion where businesses pay affiliates, such as bloggers and social media influencers, to promote their products and services. The affiliate partners use websites, social media profiles, and blogs to advertise affiliate products. The leads that become sales earn affiliates their commissions.
What are the top affiliate marketing trends for 2023?
The top affiliate marketing trends for this year are:
More Influencer Partnerships
More Brands Will Tap Micro and Nano-Influencers
Living in a Post Cookiepocalypse World
Cross-Device Tracking Will Be Prioritized
In-App Monitoring for Improved Consumer Insights
Voice Search SEO Will Continue to Rise
Blog Link Building Approaches Will Be Diversified
What is the best practice for affiliate marketing?
To stay ahead of the competition, affiliate marketers must watch for the trends mentioned above. Because algorithms change regularly, it's vital to have a good affiliate program that efficiently reacts to these changes.