Advertising Disclosure
Advertising disclosure:
Our partners compensate us. This may influence which products or services we review (also where and how those products appear on the site), this in no way affects our recommendations or the advice we offer. Our reviews are based on years of experience and countless hours of research. Our partners cannot pay us to guarantee favorable reviews of their products or services.
The use of artificial intelligence (AI) is no longer just restricted to chatbots. You can now entrust the design of all your website elements to AI. Without knowing how to code or a dedicated in-house team of website designers, you too can craft a high-converting website with the help of an AI-powered website builder. Plus, if you need to edit your new website down the line, this process will be straightforward too.
To help you find the right AI-powered website builder for your needs the first time around, we've scoured the web and had some fun asking these tools to design websites for some fictional online stores. All these builders are affordable and some even offer a free plan. Plus, most of these are also super simple to use.
As you evaluate the tools listed, remember that the end results will be basic. If customization flexibility isn't that high up on your priority list and a basic site will do, continue reading. If not, there are many other great website builders that you can check out. However, don't be too quick to dismiss the design expertise of these AI-powered tools. We bet that you'll be as pleasantly surprised as we were.
---
8 AI-powered Website Builders to Help You Build Your Online Brand:
---
What Makes AI Website Builders Different?
Using tools like WordPress or even Wix for that matter still requires some design skills and technical knowledge. Sure, there are many WordPress themes and plugins that will do most of the heavy lifting for you, but even with the help of these features it's easy for complete newbies to become overwhelmed.
However, AI website builders offer extra features to help make the whole process even more seamless. As you'll quickly pick up when you explore the tools discussed below, the hardest (or rather most annoying) part of the process will be to answer a series of questions.
The catch — customization. While some of these tools will be able to create a template from scratch for a more unique appearance, as soon as you want to customize your website further, you'll run into issues. At this stage, it lacks in the add-ons department.
---
8 of the Best AI Website Builders
Top
ai website builders
2024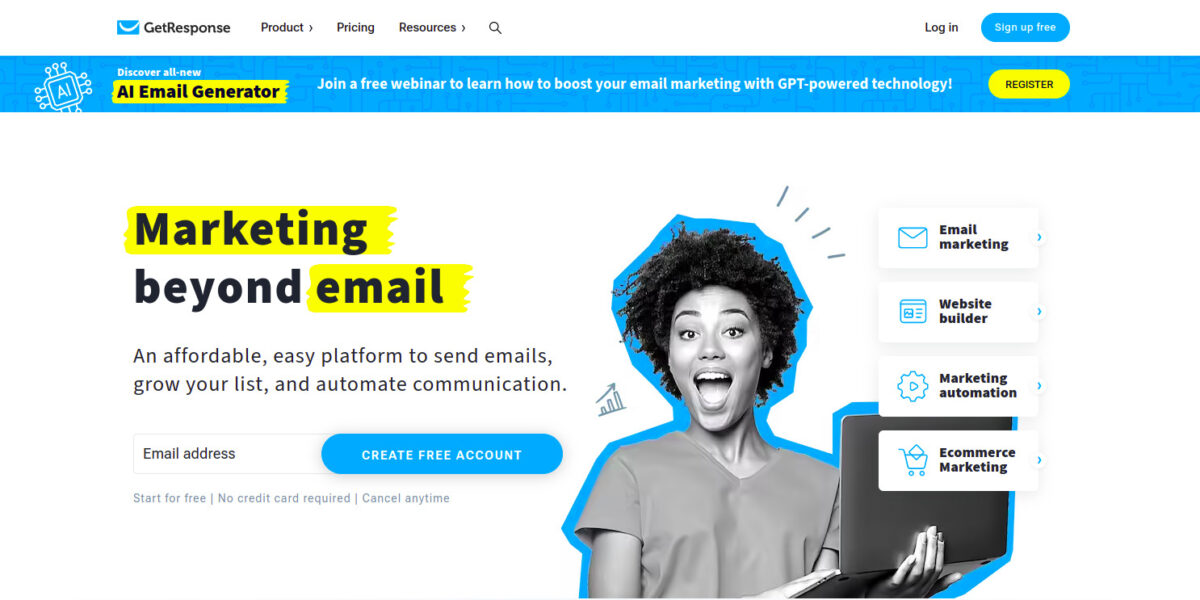 GetResponse is better known as an email marketing tool, but they also include a free, AI-driven, code-free website builder. With the help of AI, it can create a website for you in a matter of minutes. All you need to do is answer a few simple questions about the type of business you operate and the website you want to create. It doesn't have to be just a business website. From landing pages to eCommerce sites to a place where you can showcase your creative work, it can create several types of websites.
It will then list elements, like a contact form, gallery, and testimonials, that they recommend you include based on your previous answers. It will also give you color and font combos, but you're also welcome to upload your business logo or current website address and it will put together a custom color theme. That's it! It will generate a couple of previews to choose from.
As for quality, its color scheme suggestions might be a little bit off if you gave it a current website to refer to (it didn't quite get our pastel tones right). You might also find that the suggested images are a bit too generic and bland (you know, the stock photos of books on a shelf, a hand holding a smartphone, and a Mac lookalike laptop open on a desk).
Plans and pricing: It's free, but you'll need to create an account first.
---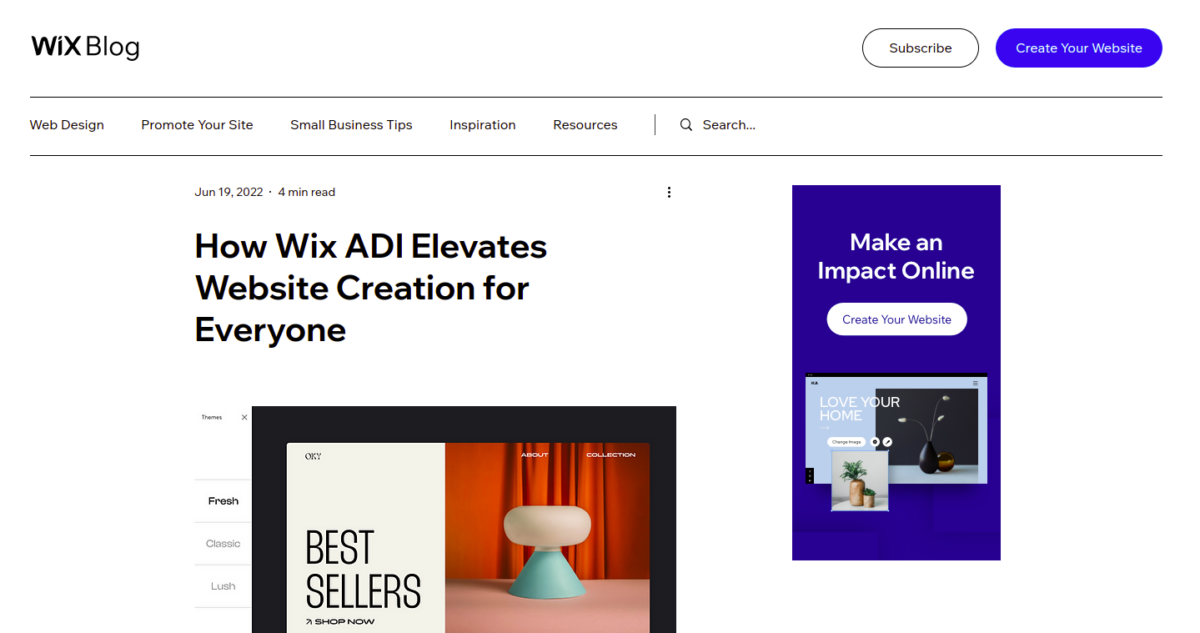 When it comes to website design, Wix needs no intro. It's one of the top eCommerce platforms for small businesses.
It recently introduced Wix Artificial Design Intelligence (ADI) to help anyone design a website. You simply feed it some details about what should be included on your site as well as a few design preferences and it will create a custom site to match your requirements in minutes. Similarly to GetResponse, Wix ADI will also ask your input regarding which tools should be included. That said, it won't first come up with its own suggestions.
If you're already familiar with Wix's interface, you'll have little issue editing the ready-made sites. You can either publish your site as is or change/add elements by means of the Wix Editor. However, if you plan on making only minor changes or are absolutely new to website design, Wix recommends that you use the customization tools offered by the ADI wizard instead.
Plans and pricing: Pricing starts at only $4.50 per month.
---
Aimed at small business owners, Bookmark started to write its story in 2016. Fast-forward three years and their Artificial Intelligence Design Assistant (AiDA) was launched. According to their website, it can create a website in under two minutes and will also remove 90% of the issues linked with web design.
After your new personal AI design assistant has created your website, you can use intuitive drag-and-drop features to customize your website further. That's not the best part, though. It will also share data-driven recommendations. You can use these recommendations to optimize your new site continuously. Then, to help you track your website's performance, it also includes website analytics in a format that's easy to digest.
Plans and pricing: After a 14-day free trial, pricing starts at $14.99 per month (or $11.99 when billed annually).
---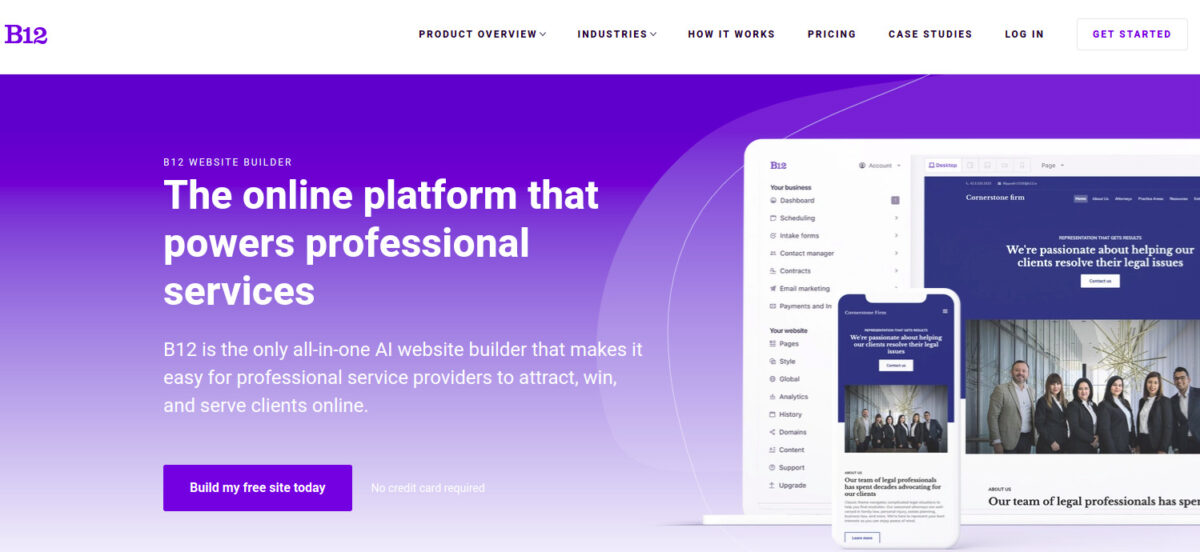 Professional service providers can check out B12. It's an all-in-one AI website builder that was launched in 2016 and has created over 150,000 websites to date. From coaches to consultants to commercial real estate agents, B12 has given various industries a lift.
Unlike some of the other tools on this list that rely purely on AI, B12 takes a different approach. Their AI will design a website for you in a minute, but from there on their team of specialists will take over. The process includes a call with a launch specialist about your website's integrations, structure, and content. The result — a search-optimized website that can process payments and schedule online appointments in only 30 days.
Even before you interact with one of their human specialists, their AI builder offers loads of suggestions. It extends its input to more than merely color combos and will also share options for possible fonts and cover images that can be used at the top of your home page. Plus, if you want to edit it, that's pretty straightforward. All in all, it's one of the most powerful tools on this list.
Plans and pricing: Pricing starts at $49 per month (or $42 when billed annually).
---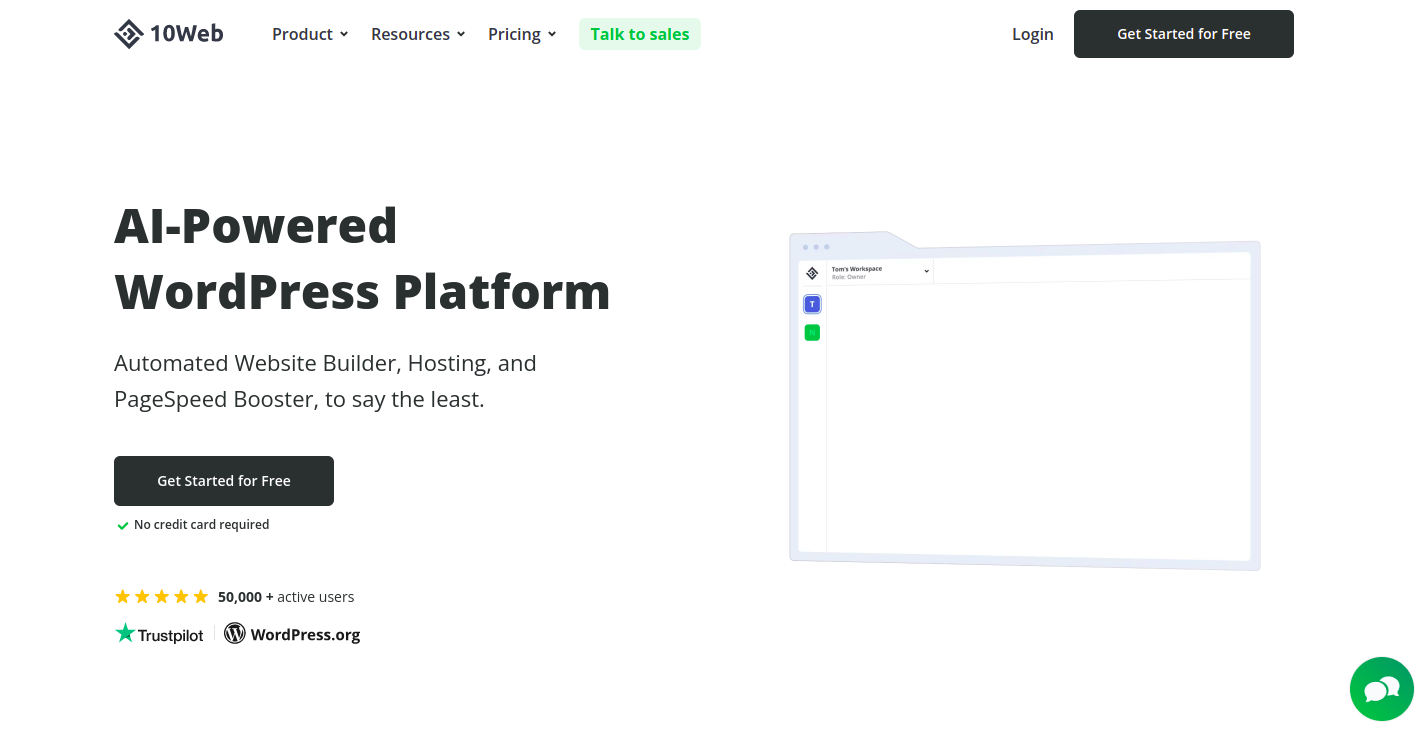 If you're set on using WordPress, be sure to check out 10Web that offers an AI assistant that can be integrated with WordPress websites. Leveraging AI and automation, 10Web simplifies website design and hosting. Their vision is for everyone to be able to publish a functional website quickly.
Included in their product list is an AI website builder. It doesn't matter if you want to recreate a website or build a new one from scratch, their AI can help. After answering a couple of questions, its AI will create content and images which you're free to customize. As its builder is based on Elementor, there are several customization options and eCommerce widgets that you can use to add custom design elements. Plus, 10Web will ensure that your website is mobile-friendly and responsive, one less thing that you need to keep in mind when customizing your site.
In addition to offering an AI website builder, it also includes an AI assistant that you can use for content-related tasks. It will help you to create high-quality, original web content that's optimized for search engines.
Plans and pricing: Pricing starts at $20 per month, but if you opt to be billed annually instead you can save a massive 50% and pay only $10 per month. Its AI Assistant is an optional add-on that costs the same price ($20 per month/$10 per month when billed annually. This means that if you opt to be billed annually you can get the AI website builder and assistant for $20 per month.
---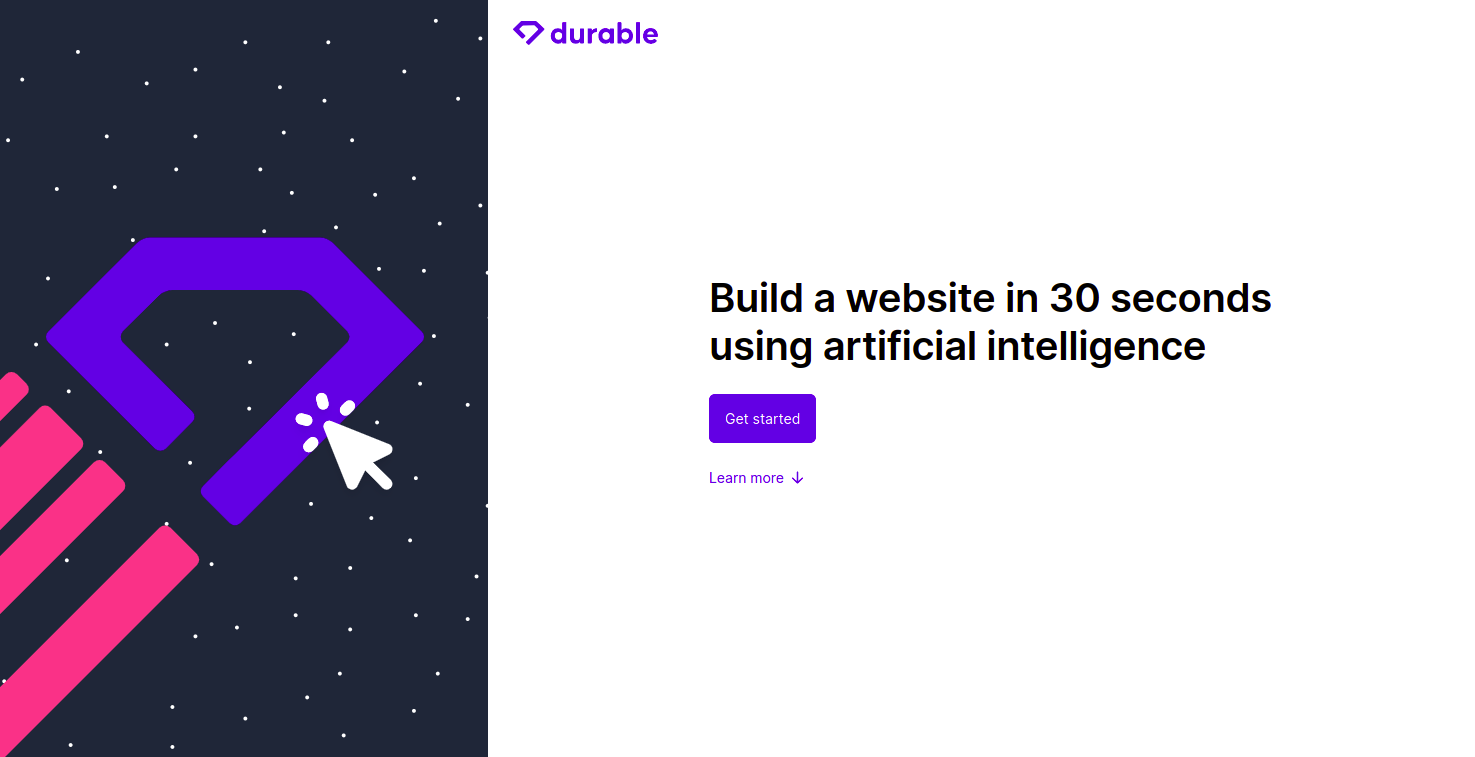 According to their website, they hold the prestigious title of being the world's fastest website builder. How fast, you ask? They claim to be able to build a website in 30 seconds. When we tested it, it wasn't 30 seconds, but it was under a minute.
The result was a one-page website with all the key sections. However, it needed a lot of customization. For a section about SEO services, they choose an image of an empty hospital bed. You can hit the regenerate button a few times and hope for the best. Much like playing slot machines. This time we got a picture of a guitar for SEO, an improvement on the depressing hospital scene, we'll admit. Durable is not the strongest contender on this list, but it's still a tool that you can check out, especially considering that it offers a generous free trial.
Plans and pricing: Pricing starts at $20 per month and includes a free custom domain. It also includes a free 30-day trial (no credit card required).
---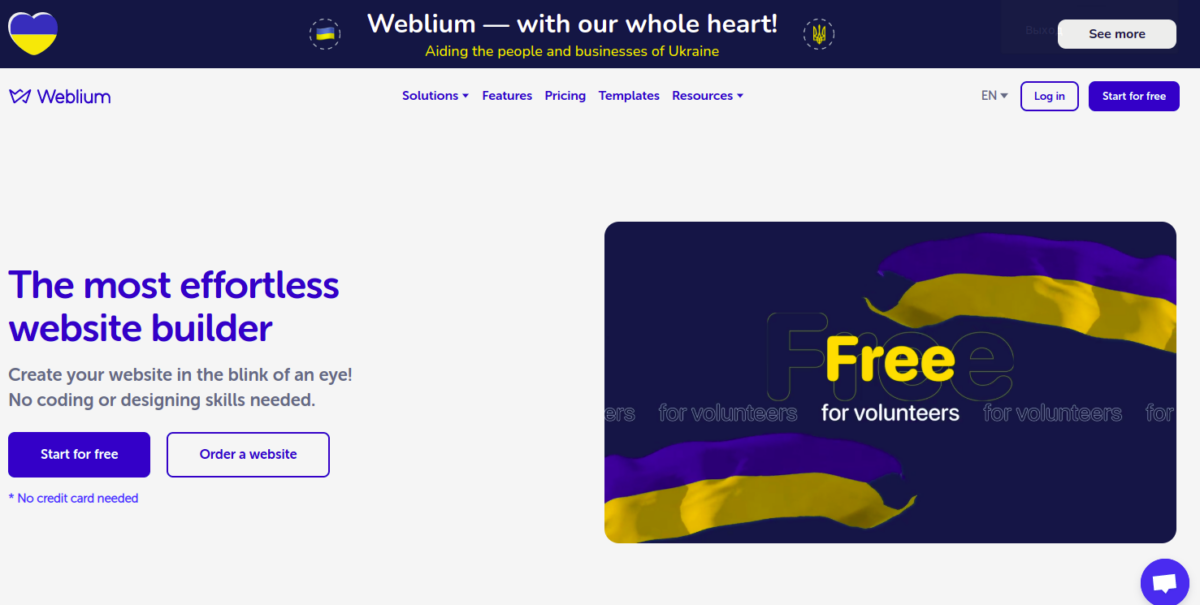 Weblium started out as what they like to call a "do-it-for-me" website builder. To stay up to speed with the changing times, they introduced an updated Weblium builder that has an integrated AI design supervisor function.
This new generation website builder, Weblium DIY, makes it easy to design a template or combine a couple of templates by using the best features of each. There are hundreds of ready-made templates to choose from and you can easily sort them according to industry. Sure, templates aren't anything revolutionary. However, a feature that will capture your attention is that its AI design assistant will correct font and color choices automatically to ensure that these crucial website elements fit your site's overarching design style.
All in all, it's one of the most cost-effective solutions. If you sign up for its paid Pro plan (which is very reasonably priced), you'll also get access to SEO and marketing tools like Google Analytics integration.
Plans and pricing: Weblium offers a free plan and two paid plans. After a free 14-day trial, pricing starts at $15 per month for a monthly plan, but you can save almost 50% by opting to be billed annually instead.
---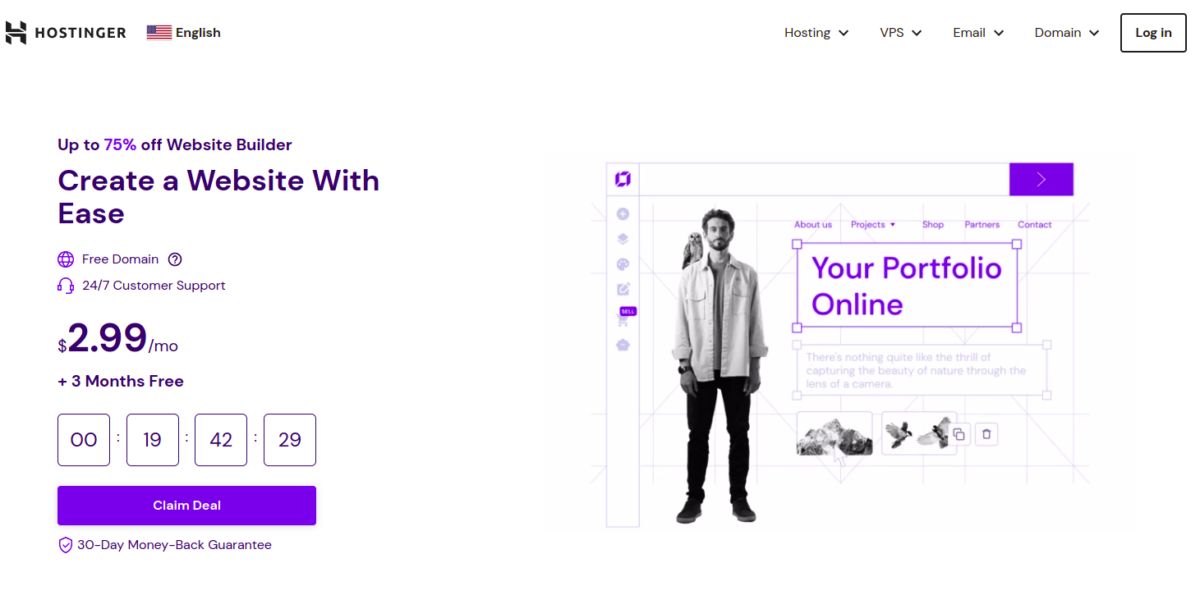 The Hostinger website builder is a user-friendly tool that offers drag-and-drop features that you can use to create an official business website, eCommerce store, or a place to show off your portfolio. You can either begin from scratch or choose one of their templates designed by their team of web designers. They have a huge library of templates and so you're bound to find one that you like. If not, changing elements like text/fonts, color, or pictures is easy.
Then, to help you make the most of your new website, you can leverage the power of AI. Hostinger offers a number of artificial intelligence design tools to improve your ranking and drive more traffic. You can, for example, use its AI writer tool and AI heatmap tool.
Plans and pricing: Pricing starts at only $2 per month. Hostinger doesn't offer a free plan or free trial, but does include a 30-day money-back guarantee.
---
Wrapping Things Up
Maybe it's better to think of these tools as a type of landing page creator. What you'll be able to get is a very basic business website. If you have more intricate needs, you'll probably find that it's better to stick to one of the other more established eCommerce website builders.
That being said, any business, irrespective of its industry, needs a solid online presence today. This doesn't need to cost you thousands of dollars. Any of these eight tools will be able to whip up a nice website for your brand. It might not be a full-featured website, but a nice website is better than nothing in this day and age and a good place to start and build upon.