Advertising Disclosure
Advertising disclosure:
Our partners compensate us. This may influence which products or services we review (also where and how those products appear on the site), this in no way affects our recommendations or the advice we offer. Our reviews are based on years of experience and countless hours of research. Our partners cannot pay us to guarantee favorable reviews of their products or services.
Most visitors to Amazon find the products they ultimately purchase by searching for them. If you want your products to appear on the front page of people's searches, you need to ensure that you are indexed for the keywords they are most likely to use. You might think that indexing on Amazon is the same as using SEO on your website to improve your Google ranking. However, while the goals are similar, Amazon indexing involves different techniques to Google SEO.
We have created this Amazon Index Checker Guide to help you understand the differences, demonstrating how you can make your products more visible on Amazon. As with most things online, you can make your life considerably easier if you invest in a tool to assist with this, so we examine five of the best tools to help with your Amazon index checking.
---
Amazon Index Checker Guide + Top 5 Tools:
---
What is Amazon Index Checking?
The key to success on Amazon is being indexed for all the relevant keywords that potential buyers of your products are likely to use in their searches. Potential shoppers search for items that interest them by using search terms. These are the words (most often phrases) that they use in their searches. Amazon sellers (and indeed Amazon itself) try to predict these search terms by using keywords, which aim to match the search terms of Amazon's users.
---
How Amazon Indexing Works
Remember that there is no formal set of rules for structuring data on the internet. So, Amazon structures its data in its own way. If you want your products to appear on Amazon, you have to adapt to their rules. This means that you need to ensure that all the data relating to your products appear in the right place when Amazon's AI assembles product lists in response to searches.
In particular, Amazon doesn't crawl the web in the same way that Google does. Its bots don't go searching for you, like traditional web crawlers. Instead, they look in particular fields in Amazon's databases for specific content and use what they find in the search results they deliver.
For your products to appear in searches, you need to ensure that you have suitable content in the "right" places and that you respect any system limits, for example, maximum field lengths.
There is another factor you need to consider when dealing with Amazon indexing. Amazon uses different algorithms for paid and organic searches. Normally, you would want to focus on perfecting your indexing for organic search first. However, if you decide to pay for ads on Amazon, you may have to tweak things to get the best out of your PPC investment.
If you have a website, you may know the SEO methods you go through to ensure your site remains visible to Google. These include schema markup and doing all you can to make life easy for Google's web crawler bot.
Amazon, however, doesn't require any of this. They just ask you to upload your data in a certain format, keeping within the required character limits. Therefore, your emphasis needs to be on ensuring that this data contains everything that Amazon needs and that you use all of the "important" words that Amazon's looking for in your title, description, and backend keywords.
Amazon states that you can optimize your Amazon listings by focusing on the following parts of your product listing: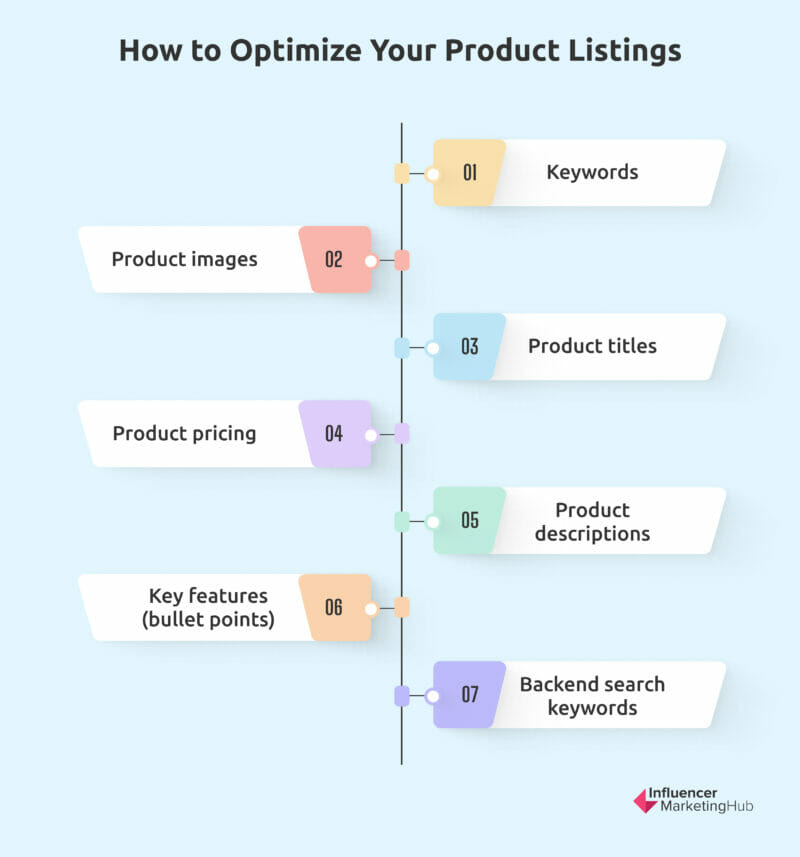 ---
Keyword Indexing vs Keyword Ranking
Some search terms on Amazon have tens of thousands of results. Obviously, you don't want your product to appear towards the end of that search (or indeed anywhere other than the first page), but your first task is to ensure that Amazon recognizes your product at all for a search. It's better to be on the second, third, or fourth page of a search than not appear at all, particularly if the search term appears to be a good description of your product.
Technically, keyword indexing is not about where your product appears in a particular Amazon search. It's about whether your product appears at all in the results. On the other hand, keyword ranking does look at where your product appears in a search. Tracking keywords can help you improve your keyword ranking for search terms relevant to your product.
---
Where to Focus Your Amazon Index Checking
A simple way to see how popular a search is on Amazon is to make a few searches yourself. Take notice of how many results appear for that term. One area similar to Google is that you will see more results for general terms, but fewer results for more specific terms.
For example, a general search on Amazon.com for "kitchen small appliances" delivers over 10,000 results.
If a searcher is more specific, looking for "air fryers" this reduces to 743 results.
This reduces further to 675 results for "air fryer toaster ovens".
And the search results narrow further to 238 results for "air fryer toaster oven with rotisserie".
You will want to concentrate on ranking for those search terms most relevant to your product. Consider the types of searches that are most likely to lead to somebody deciding to purchase your product if it holds one of the top slots.
For example, the top two slots shown for "air fryer toaster oven with rotisserie" above belong to Sponsored products (from Kalorik and NUWAVE). Although not shown in the screenshot, the third result on the page is an organic one for COSORI Air Fryer Toaster Oven. In all these cases, the sellers are probably much happier about their top positions in this search than they would be for a similar slot in the "kitchen small appliances" search. The keywords for that search are very high level, and don't necessarily indicate that the searcher has any interest in an "air fryer toaster oven with rotisserie" – they may be searching for a kitchen mixer, pot strainer, or even a thermometer. Nonetheless, the top three results are all still Sponsored, although for very different products.
---
How to Improve Your Indexing on Amazon
On Amazon people search for products by using search terms. These search terms correspond to thousands of keywords. In turn, Amazon indexes relevant products for each possible keyword. Whenever somebody enters a search term, Amazon creates a results page showing products that are indexed for that term. It intermingles sponsored products (i.e., paid ads) with organic results, although it uses different indexes for the two types of results.
Your product will appear in more searches, the more Amazon has indexed it against various keywords, i.e., the more keywords you rank for, the more searches will bring up your product as a result.
However, that doesn't mean that you should rush out to index your product for as many keywords as possible. This is a clear case of quality over quantity. You only want your product to appear in relevant searches for your product type. It's pointless for your product to come up in the "wrong" searches. This is even more important if you're advertising on Amazon, as with PPC you pay every time somebody clicks on your ad. You don't want people clicking on your ads if there is little or no chance that they will then buy your product.
You want to think about all the terms people are likely to use when searching for a product like yours. The more highly relevant terms your product indexes for, the more visible your product becomes in searches. And almost as a bonus effect, the more popular your product is, the more Amazon will take notice of it and boost your visibility even further.
So, when searching through potential keywords to target, focus on relevance ahead of search volume. There may only be 120 results for "air fryer toaster rotisserie oven combo best rated", but if you sell a product that matches that description (and your customers have left many 4 or 5-star reviews), then you have a very good chance of a searcher of that term following through and purchasing your product.
But don't just rely on getting your products indexed for a few long-tail terms. You also want to think like a potential customer. What other phrases are they likely to use in their searches? You can tell from the top organic search above (for the COSORI Air Fryer Toaster Oven) that they are targeting multiple terms. They have used a mouthful of words in their product title - COSORI Air Fryer Toaster Oven, 12-in-1 Convection Oven Countertop with Rotisserie, Stainless Steel 32QT/32L, 6-Slice Toast, 13-inch Pizza,100 Recipes, Basket, Tray (6 Accessories) Included, CO130-AO). They have done this so that they will index for a wide range of keywords and potential searches. And if you look through the relevant product page, you will find a plethora of information, to assist Amazon's AI and human readers in considering buying the product. Even then, however, Amazon pushes an upsell to a newer model:
---
Where Should You Place Your Focus When Listing on Amazon
Amazon's search engine looks at various factors including: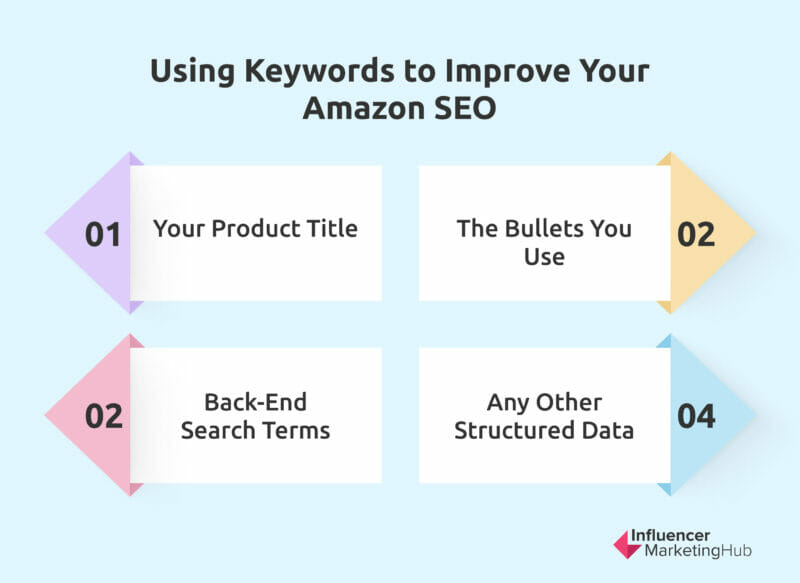 Your product title and bullets are where you want to include your most important keywords. However, remember both of these places are visible to real people – your potential customers. You need to ensure that these read well, are informative, and above all else, aren't repetitive. You gain nothing by repeating a keyword, so only do so if it will make sense to your customers. For example, a brand selling air fryers might repeat the words "air fryer" in its copy, because otherwise, it wouldn't make sense to your (human) readers. But there is no value in duplicating features or superlatives across your copy. Each repeating word takes the space of a potentially useful keyword term.
You should leave other relevant keywords for your product detail page. Depending on the nature of your product, you would place product colors, sizes, fabrics, accessories, etc. here.
The keywords in the product title should match what would be on the physical packaging of your product. Ideally, it should range from 60-80 characters in length. However, it is worth looking at the lengths of the titles of high listing competing products in that category. Don't use all caps but capitalize the first letter of each word except for prepositions. Begin with your product's name, and also ensure that your brand appears in the Brand Name field. You can also repeat your brand name in your product description (but avoid putting it in your bullet points if possible). Ideally, your title should contain the minimal information needed to identify the item and nothing more, unlike how some of the brands shown in the above screenshots have approached their listings.
Your brand description should show more details about your product and its use cases.
Keep your five bullet points under 1,000 characters – in total, not for each point. Your bullet points aren't indexed by Amazon Search but will appear in full on your product page. Highlight the five key features you want customers to consider – preferably focusing on a different keyword for each. Do not make them promotional – stick to facts, not puff.
Your backend search terms should highlight different keywords from those you've used in your title, bullets, and product description page. These should be relatively generic words, including synonyms, abbreviations, and alternative names for your product. Punctuation is irrelevant, so skip commas, hyphens, etc., and use all-lowercase characters. Only separate words with spaces. Avoid repeating words and stop words such as "a," "an," "and," "by," "for," "of," "the," "with," etc. And there is no value in using both singular and plural versions of your keywords.
---
Recognize Limitations Amazon Sets for Indexing
Your first reaction to this may be to keyword stuff with as many terms as possible. However, Amazon is smarter than this, and you have to work within their system.
Your first limitation is that Amazon has set character limits for titles, bullets, and back-end search terms. This ensures that you can only include relevant keywords in your copy. Don't be afraid to change these later should you find better focus keywords, however.
And it won't always be clear-cut precisely the keywords on which you should focus, particularly concerning Amazon's "hidden" backend keywords. These are the terms that Amazon uses to recommend additional products after somebody clicks on a sponsored product ad and makes a purchase. They also play a role in Amazon's search. These backend keywords are important search terms that help people find your product, but that you don't include in your product title or description.
We cover these in more detail in our Guide to Using Amazon Listing Optimization to Drive Reach, Conversions, and Revenue.
Realize that Amazon is most interested in conversion and sales. They have little interest in keywords that drive traffic, but not conversations. Ranking highly for keywords that don't result in sales actively harms your organic ranking on Amazon. That is a major variation from Google – increased traffic without increased conversions leads to lower Amazon rankings.
---
Checking Your Keyword Indexing
Because ranking highly for the "wrong" keywords can actively harm your position in Amazon search results, you need to constantly keep on top of your keyword indexing. Not only do you need to work on improving your listing for "good" terms, but you must worsen your listing for "bad" (i.e., non sales-inducing) terms.
If you seriously want your listing to appear in high positions in Amazon searches, particularly organic searches, you need to constantly check your keyword listing. You can't simply upload listings with optimized copy and then leave them unchanged. You need to regularly check that the copy in your listings meets your current performance goals for the platform.
Quite apart from changing your preferred keywords to meet your current goals and adjusting your emphasis to better meet your marketing needs, you should also regularly check that Amazon hasn't deindexed your preferred keywords. Amazon often changes its algorithm, and this may have a major effect on your listings.
---
Amazon Index Checker Tools You Can Use to Improve Your Position
It can be challenging to find the best keyword terms to optimize for your Amazon listings. You aren't your customers, so you can't necessarily think how they think. Luckily various businesses have created Amazon Index checker tools and platforms to assist you in optimizing and perfecting your Amazon listings.
---
---
---
---
---