With millions of businesses selling on Amazon, you'll need all the help that you can get to differentiate your product range from competitors. One way is to create an Amazon Storefront.
Basically, think of it as your very own virtual store. If your budget prevents you from investing in a separate business website too, creating an Amazon Store can be a great cost-effective alternative.
To help you sell (more) on Amazon, we cover the basics you need to know about Amazon Storefronts. We also include practical tips to help you make the most of this new asset. After all, what's the use of creating something if you don't know how to optimize it?
---
Amazon Storefronts Guide - The Ins and Outs of Setting Up Shop:
---
What's an Amazon Storefront?
Amazon Storefronts serve as platforms for brand registered businesses where they can showcase and sell their different products by creating a multipage experience. Any Amazon seller enrolled in the Amazon Brand Registry can take advantage of this feature. Not only is there no need to advertise on Amazon, but there's also no cost involved in creating a store.
All in all, it can be wonderful for exposure as there are a few ways your store can be found. For starters, it's discoverable via the platform's shopping results.
Shoppers will also be able to find your store via the brand name link (aka the brand byline). This is found above or below the names of products found on the detail page of the product.
Alternatively, you can share your unique URL via social media channels or your own business website (if you have one) which will redirect shoppers to your store directly. And, when you've grown a sizable customer base, they'll be able to do the same.
---
How Can I Create an Amazon Storefront?
If you're sold on the idea of creating an Amazon Storefront for your brand, here's how:
Log into your Amazon Vendor Central or Amazon Seller Central account.

Via the main navigation bar, select the Stores tab and click the "Manage Stores" option.

On the next page, pick "Create Store".

Via the pop-up box, select the name of your brand. If you haven't signed up for Amazon Brand Registry 2.0 yet, the name of your brand won't show up in the list.

Click on the "Create Store" option, add the name of your brand and logo and click "Next".

You'll now be asked to create a home page. You can either start from scratch or use one of the templates. All that's left to do is to build and customize your new store.
---
Customizing Your Store
Once your store is up and running, you can customize it further via Amazon's store builder. As it uses a drag-and-drop system (referred to as tiles) and predesigned templates, it's pretty straightforward. If you've used website builders before, you'll know what to do.
Start with your visual assets. You're welcome to add brand or product images as long as they're 1500 x 1500 pixels (that's the minimum requirement). If you'll be including products in your header image, limit it to three (adding more products will just make it look cluttered). Shoppable images are another way that you can engage customers and make it easier for them to convert.
You also have the option of including a text overlay. This can be useful if you'll be selling various types of products.
Just like with eCommerce website design, it's key that you create a consistent visual look. Amazon makes this easy. You can use the Creative Assets feature that lets you store branded content, making it easier to reuse images and other branded content.
In addition to images, you can also leverage the power of video. You can either create a background video tile (videos without audio that play in a loop) or a video tile (videos that start to play only when a shopper clicks on it).
The requirements for adding videos are:
1280 x 640 pixels

100 MB max

No references or links to other websites
As Amazon puts it so eloquently, using video can help you to create a "deeper consideration of your products". And, video marketing stats back this up. A recent study shared by Wyzowl found that 73% of customers prefer to learn about a product by watching a short video.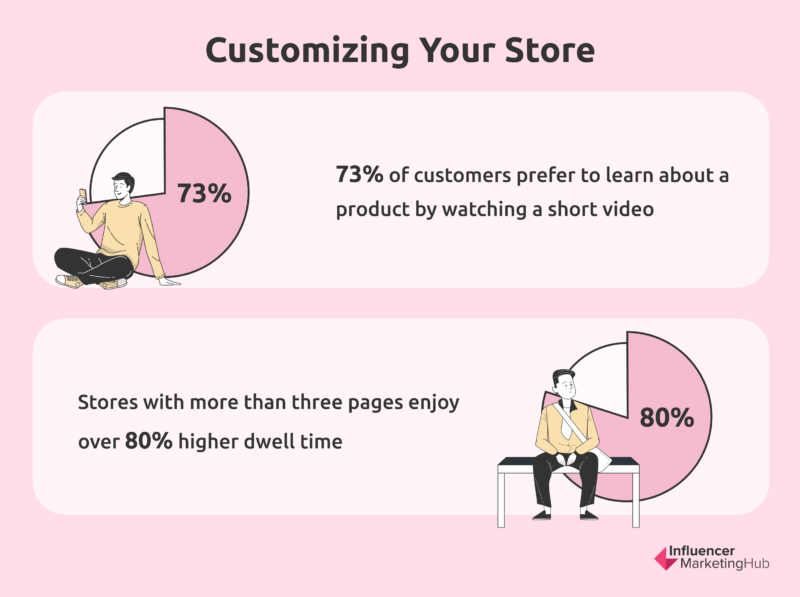 Your videos can focus either on sharing your brand story or the actual products in action. The first type of video is useful for attracting customers while they're still in the awareness stage. Using a background video tile can work well in this case. On the other hand, making your product and its features the star of your video is the answer if you want to attract customers during the other stages of the customer journey.
While images and videos are the elements that attract attention best, it can also be a good idea to add a text tile. You can, for example, use it to list product benefits or include a call to action.
Adding text overlay to an image is a good idea for short text, like product categories. However, if you need to include something longer, like features, rather stick to a text tile. If you'll be using text in your header, try to limit it to 30 characters using a font size of at least 90pt so that mobile users will find it easy to read.
After your visual assets are sorted out, it's time to move your attention to the real reason for creating your Amazon Storefront in the first place — your products. You can use ASINs or keywords to add products from your inventory to your store.
All in all, try to create at least three pages. According to Amazon, stores with more than three pages enjoy over 80% higher dwell time. As there are templates that you can use, it shouldn't take too much time.
Also, another tip to keep in mind as you go about adding the different elements is that the section above the fold is prime real estate. It refers to all the content that shoppers will be available to see immediately before they scroll down. It's here where web users spend most of their time.
---
Optimizing Your Store
Customizing your Amazon Storefront is the bare minimum. It will get the job done, but to boost your conversion rate you'll also need to implement best practices. If you've ever tried selling via an eCommerce website, you'll know that there are many ways in which you can optimize the user experience.
Will it be easy for customers to find their way around your store? It might not be a brick-and-mortar location, but presentation still matters. In short, it should engage and compel.
Another major consideration is mobile. While the widgets and templates have been designed with mobile devices in mind, there are a few extra things that you can do to optimize it further for mobile users. Considering that nearly 70% of store visits are made via mobile devices (that's according to Amazon's own internal data), you'll want to listen up.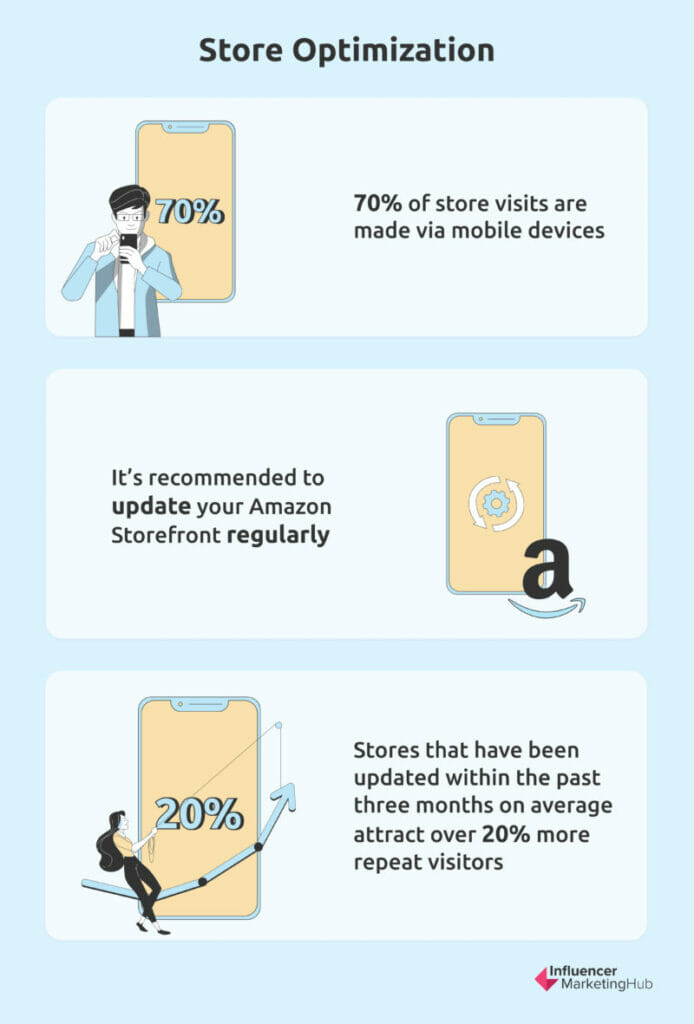 Amazon lets you switch between desktop view and mobile view while you're building your store. Use this feature to see the changes that you've made in real time. This way, you'll see when a specific tile doesn't play well with mobile (even though the Store Builder will adjust images automatically depending on the screen size, some parts of the text might still be difficult to read). If this happens, you can add a separate image that's been optimized specifically for mobile users.
The previous step - customizing your store - you can do on your own (even without any tech skills or prior experience). Though, for this next phase of the journey, you'll need an extra set of eyes. Once again no hard skills are needed — just an honest opinion.
Ideally, you should get people who form part of your target audience. If you can't find anyone who matches that criteria, turn to family and friends. Basically, any third party that can tell you straight up which first impressions your Amazon Storefront creates.
Ask them to visit your store (via desktop and mobile device) and then afterwards ask questions like:
Was it easy to find the information or product that you needed?

Has everything been arranged logically?

Is all the text legible?

Do all the images load correctly?

Is the product range sufficient?

Were the products presented in an engaging way that made you want to buy?

Are there any elements that you will change?

Do you have any other feedback?
Based on these answers, you'll know what you need to change and where. It's important that you and others browse it via a mobile device specifically (the more devices, the better). Sure, Amazon's mobile view is useful, but it's no replacement for seeing and experiencing it firsthand using a smartphone or tablet.
In addition to gathering these insights from target audience members, family, friends, or others on your team, you can also turn to the insights dashboard. After all, your "focus group" participants might be unbiased, but there's only so much that you can do with this type of non-numerical data.
The Stores insights dashboard will also help you to evaluate your performance by summarizing key metrics like sales generated, sources of traffic, number of visitors per day, and page views. You can also include a tag to the URL of external marketing activities for a more comprehensive picture.
In fact, it's recommended that you update your Amazon Storefront regularly. According to their internal data, stores that have been updated within the past three months on average attract over 20% more repeat visitors. Plus, the sales per visitor are also about a third higher. Whether it's based on feedback from actual people or Amazon's numbers, use these insights and update your store regularly.
---
Reducing Purchase Friction
You've created your store. You've made sure to optimize it. Yet, customers are still abandoning their carts in droves.
If you can relate, the issue might be what's referred to as purchase friction. This can happen when it's difficult for customers to jump between pages and proceed to checkout. It's a common issue, irrespective of if the store is powered by an eCommerce website builder or Amazon.
If you have a basic understanding of website design, you'll already know the common culprits: poor navigation, cluttered layout, etc. Simplify your navigation and you can already expect more conversions.
Then, to improve your conversions further, there are a couple of other best practices specific to Amazon that you can put to the test. For example, Amazon suggests that you add a Feature Deals widget. Not only is this a great way to showcase specific products and draw attention to deals but it can also help to make your navigation more intuitive.
You can also add a product grid to your home page. This is another way that you can highlight your best-selling items and reduce friction by letting store visitors shop straight from your home page. If you want to go this route, limit it to eight products. This is to avoid shoppers from having to scroll down and down and down.
Basically, you want to make it as easy and quick as possible for store visitors to complete their purchase.
---
Wrapping Things Up
According to Amazon's own stats, Storefronts in the United States featured more than 2.5 million products in 2022. Clearly, it's a popular feature. With over 300,000 sellers currently using Stores, what are you waiting for?
Getting a website design company to create a standalone business website is a great investment, but one that you'll need to pay for. On the other hand, Amazon's option is free. It's also straightforward to get started and optimize its performance.
It might take some time, but it will help you to boost sales and increase the average cart value. Another benefit is increased customer loyalty which once again translates to more sales for you.
To sum up, without having to spend any money, you can make more money. What's not to like?