Advertising Disclosure
Advertising disclosure:
Our partners compensate us. This may influence which products or services we review (also where and how those products appear on the site), this in no way affects our recommendations or the advice we offer. Our reviews are based on years of experience and countless hours of research. Our partners cannot pay us to guarantee favorable reviews of their products or services.
Branded content has changed the way we approach advertising. Unlike conventional advertising methods, which mainly focus on showcasing a product and can be seen as invasive, branded content is "non-salesy" and communicates your brand's values and vision. It's immersive and leverages the power of storytelling. It's different from traditional product placement, which highlights a product by featuring it prominently in a TV show or movie. It also differs from content marketing, which mainly focuses on targeting an audience, promoting calls to action, and generating positive ROI.
What can branded content do for your brand? How do you craft powerful and effective branded content? What are the best platforms you can use for branded content? Here's an in-depth look at branded content platforms and why it's worth adding branded content to your marketing strategy in 2023.
---
8 Best Branded Content Platforms & Best Practices:
---
What Is Branded Content?
Branded content is a marketing technique that refers to creating content that showcases your brand's message, values, and story. It's more accessible and designed for a wide range of audience segments. The goal of branded content is to grow your business through awareness and providing crucial information about your brand.
With branded content, you're essentially creating memorable marketing experiences for your audience. It takes audiences through an immersive experience and allows you to build a connection with them while equipping your brand to garner more positive brand perceptions.
Furthermore, branded content is used to start a conversation around your brand and create an impact on your audience. Given that it uses storytelling, branded content can be used to tap into your audience's emotions while offering them something of value at the same time in the form of entertainment. It's also not invasive, which means it allows you to attract customers more naturally.
Over the years, branded content has grown into a considerable advertising force. During the latter part of 2020, spending on branded content grew by 32%, with 31% of advertisers using it to increase product consideration. The same report highlights more uses of branded content, which include driving sales (29%), reaching new target customers (29%), and building long-term brand equity (25%), along with conveying the brand's values or purpose (24%).
---
Why Should You Use Branded Content?
Branded content can help fuel your growth. It's a versatile technique that can be used across different channels and presented in different formats like video games and podcasts. It also allows brands to collaborate with other creators, such as influencers, to generate content. For example, brands can turn to user-generated content and allow actual users or content creators to create videos or posts to share their story.
Compared to traditional advertising methods, such as display ads, branded content is 22x more engaging. Moreover, given that today's consumers want brands to pitch in when it comes to tackling social and political issues, branded content has proven to be a valuable tool in any advertiser's arsenal. When using branded content to address such issues, it's important to remember that your message should be authentic and in line with your brand's values. Otherwise, you may run the risk of launching a campaign that comes off as fake.
Furthermore, branded content can drive up to 59% more brand recognition compared to other digital advertising formats. This benefits businesses because this means customers are more likely to remember your brand. It also generates an average of 86% for brand recall and gives brands a higher lift when it comes to brand perceptions.
When done well, branded content has the power to expand your reach, nurture customer trust and loyalty, generate high-quality conversions, and build brand awareness. It can help put your brand on top of customers' minds when they're looking for a solution for a particular pain point.
---
Top 8 Branded Content Platforms
Top
branded content platforms
2024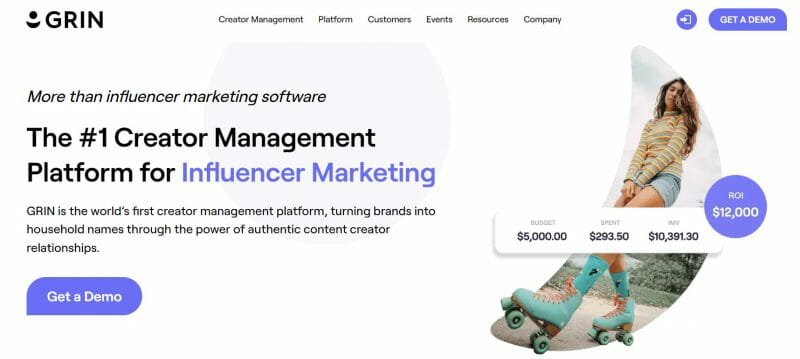 Grin is an all-in-one branded content platform that lets you take your branded content strategy to the next level. With Grin, you can create and simplify content rights agreements for new partnerships or campaigns, repurpose content, promote and distribute branded content across social media channels like TikTok and YouTube, and manage all your brand collaborations.
Furthermore, the platform delivers comprehensive reporting and analytics with custom tag tracking. This allows you to monitor and set up multiple campaigns without overlooking all the little details. It lets you efficiently manage creator partnerships, so you can transform your brand into a more valuable one. Use Grin to discover the right creators and get them onboard for your future campaigns. Access all your content (influencer marketing content + user-generated content) in one platform and generate metrics for all your campaigns. Grin also helps you manage creator payments, from payment tracking to payments, as well as commissions and tax compliance.
The platform integrates with social platforms, eCommerce software, and other marketing solutions, including Klaviyo, Slack, Magento, Instagram, WooCommerce, Shopify, and Gmail.

Key Features: Content Amplification, Search/Discovery, Influencer Lifecycle Management, Influencer Relationship Management, Content Review, Content Library, Campaign Management, Campaign Reporting, Influencer Analysis, Audience Analysis, E-commerce Tools, Product/Gifting Tools, Forms and Compliance,
Channels: Facebook, Instagram, TikTok, Twitter, Twitch, YouTube
---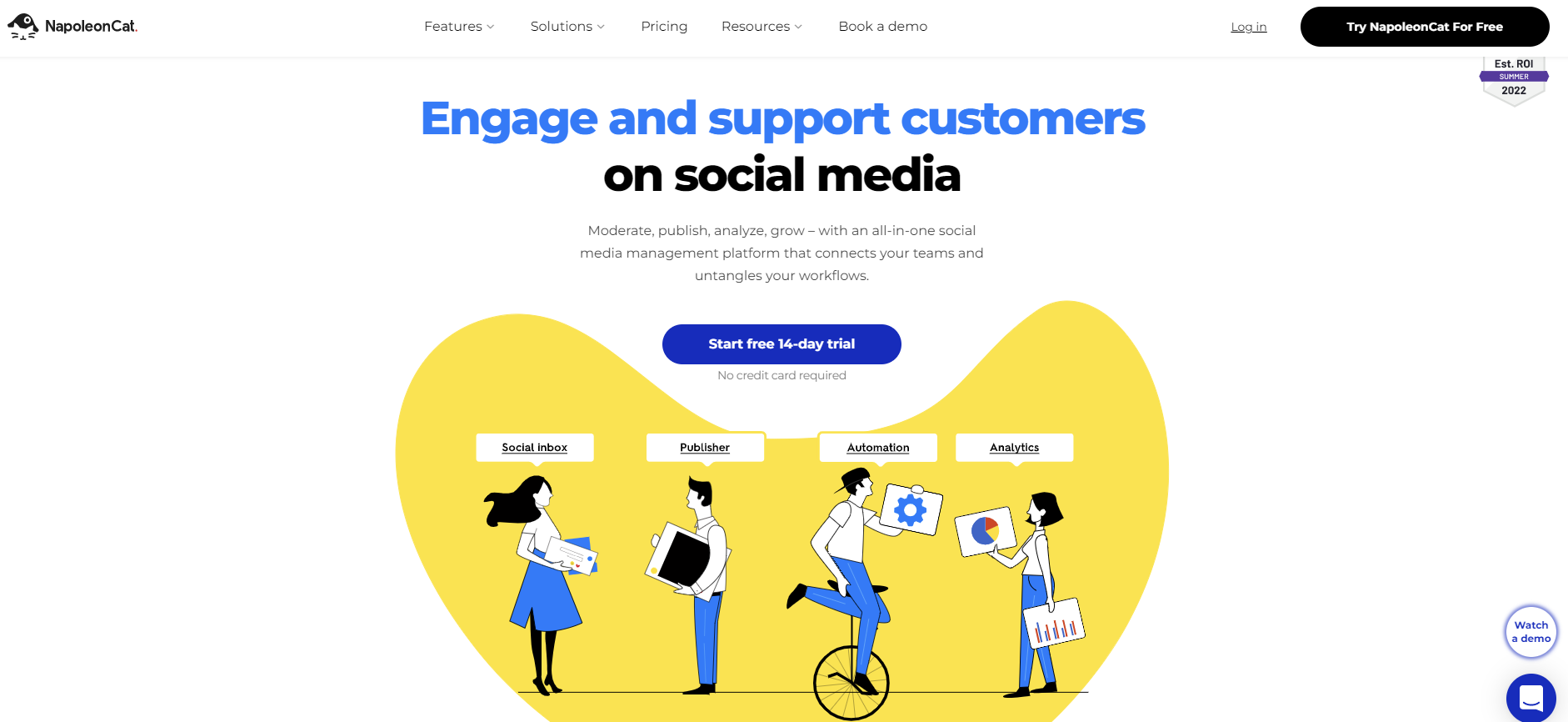 NapoleonCat is a social media marketing software that goes beyond social media management. It can also be used to publish content and analyze your and your competitor's performance. It supports an array of platforms, including Facebook Pages, Instagram business accounts, Instagram Ads, and YouTube channels.
It offers the following solutions:
Social inbox, which lets you monitor and reply to engagements (comments, reviews, and messages) in one dashboard
Automation for critical processes, such as social customer service, social sales, scheduling and publishing, and ads moderation
Publishing solutions, which include approval automation and cross-platform scheduling and publishing
Analytics that let you track your cross-channel performance, key metrics, and your competitor's social media performance
Reporting, which lets you schedule automated reports and transfer data into Excel or PDF formats
It also lets you issue and manage customer service tickets, monitor and respond to Google reviews, and enhance collaboration through features, such as a shared content calendar, competitive benchmarks, and customer service workflows.
NapoleonCat integrates with several major social media channels, including Facebook, Instagram, Twitter, and YouTube.
---
Influence.co is a branded content platform designed to help businesses, creators, and influencers grow. With Influence.co, creators can grow their professional network and monetize their influence. For businesses, you can use Influence.co to connect with the right influencers and creators for your brand. Use the platform to reach new audiences, drive brand awareness, generate interest, engage people, and encourage them to take action.
Influence.co lets you discover new influencers with its advanced search tool. You can also use the platform to let influencers find your brand by creating campaign briefs. Use Influence.co to manage your partnerships, monitor your campaigns, and create long-term relationships with your partners.

Key Features: Search/Discovery, Automated Recruiting, Influencer Relationship Management, Influencer Marketplace, Content Library, Campaign Management, Campaign Reporting, Influencer Analysis, Audience Analysis,
Channels: Instagram, YouTube, Facebook, Pinterest, Twitter, Patreon, Snapchat, Tiktok, Amazon
---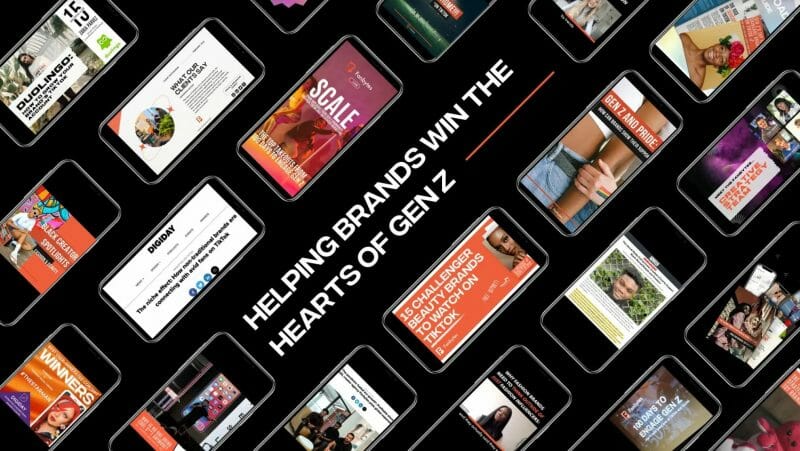 Fanbytes helps brands leverage branded content through influencer marketing, content creation, and organic and paid social campaigns. It connects brands with leading Gen Z creators through its extensive award-winning influencer network and makes it more convenient for brands to approve influencers and their content.
Fanbytes gives you access to a creative strategy team that can help you formulate innovative campaign strategies for influencer-led branded content. Furthermore, the platform can bolster your branded content strategy, grow your reach, and generate authentic engagement through influencer-led campaigns.
It has worked with some of the world's leading brands, including Ubisoft, Universal Music Group, Sony Music, Benefit Cosmetics, and Burger King.

Key Features: Influencer Marketplace, Campaign Management,
Channels: Snapchat, Instagram Stories, TikTok
---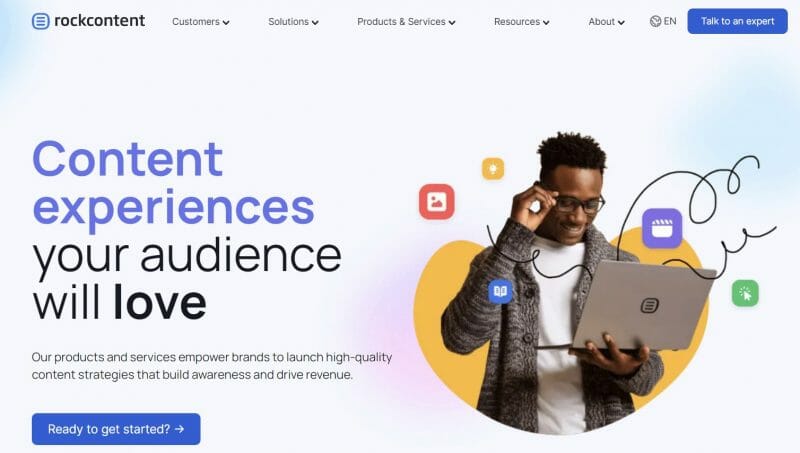 Looking to create powerful and effective branded content? Rock Content can help you build content experiences that will win over your audience, build brand awareness, and generate revenue. To date, it has worked with more than 2,000 brands, marketers, and agencies to create and deliver out-of-the-box and compelling content experiences.
Ion, its interactive content platform, makes it easier for brands to craft more memorable interactive experiences while allowing them to collect relevant data at the same time. Wondering how you can keep your audience engaged? Rock Content has a solution for that, too, with its Stage, a service that can be used to integrate the experiences you've built into your website.
Some of the companies that have used Rock Content to build premium content experiences include IBM, Microsoft, Yahoo, Cisco, Marvel, and Oracle.
---

If you're in need of one platform for SEO, content marketing, social media marketing, and more, then you may want to consider SEMrush. Through its Content Marketing Platform, you can create effective branded content that resonates with your audience. Use data to uncover vital insights about your audience and their needs, find topics you can use to create branded content, optimize your content to appeal to new customers, and start automating routine tasks. The tool also helps you create comprehensive content plans, leverage SEO, monitor brand mentions, monitor performance, and run content audits.
---
Pressboard, which was acquired by impact.com, gives you access to award-winning tools for branded content and more. It's an all-in-one platform that lets you manage, measure, and monitor campaigns for sponsored content, native advertising, eCommerce, and social media. With it, you can utilize comprehensive data to create better campaigns and improve performance, generate actionable and shareable reports, and manage multiple campaigns all at once thanks to features like intuitive workflows and multi-user access.
Enjoy access to in-depth benchmarks that you can use to track your performance and see how the competition is doing. Best of all, Pressboard helps future-proof your branded content through innovative cookie-less technology that's compliant with GDPR, CCPA, and IAB TCF guidelines. Pressboard has worked with top publishers, such as The New York Times, Bustle, and USA Today and collaborates with industry experts to address issues in granular performance tracking for branded content.
---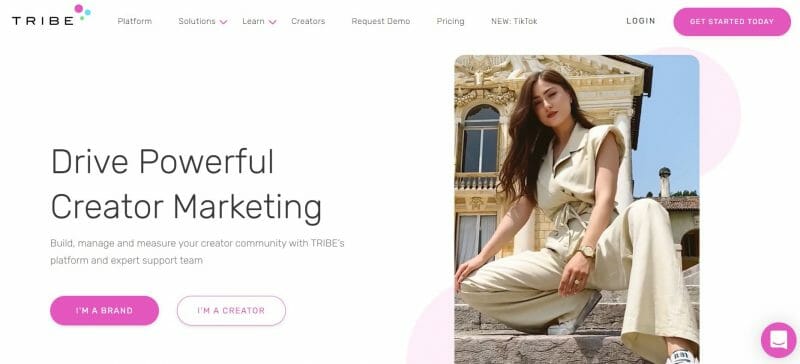 Tribe is an influencer marketing platform that helps businesses develop better branded content using technology and expert teams. It's an end-to-end platform for building, managing, and measuring your own creator community. Use the platform to discover new creators from its pool of over 70,000 content creators and influencers. If you're already working with content creators, Tribe lets you import them into custom groups, so you can quickly start running branded content campaigns.
Tribe lets you manage your campaigns more conveniently. Simply launch a campaign and watch tailored pitches roll in from the right creators. Plus, the platform lets you automate tasks, such as content approvals and payments. It lets you utilize data, so you can make better decisions. Get to know your audience and collaborators better through audience demographics and estimated performance data for channels like Instagram and TikTok.
Best of all, Tribe has a Brand Safety feature in place. Its proprietary AVS system ensures that brands work only with authentic creators who have a real following. Lastly, the platform allows brands to license quality branded content.
---
Branded Content Best Practices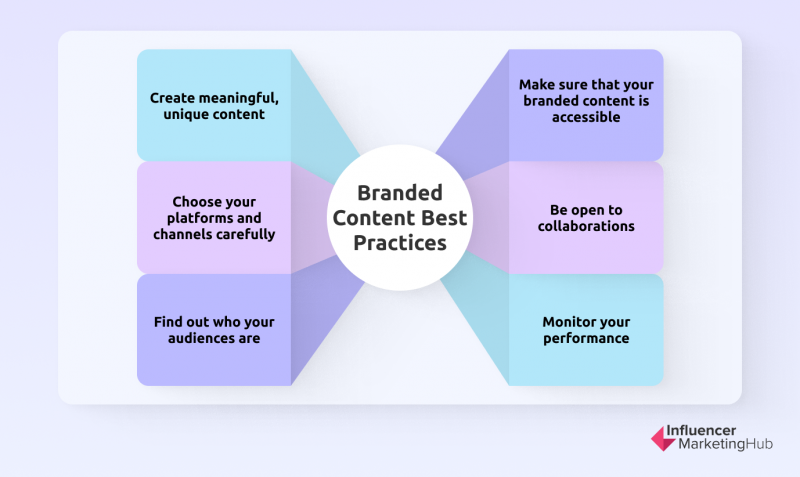 1. Create meaningful, unique content
Branded content shouldn't just be meaningful. It should also be unique so that it stands out from the content generated by your competitors. Highlight your brand, its identity, story, and values. When creating branded content, keep your audience in mind and make sure that you come up with something that they can connect with on an emotional level. And don't skip on research; try to find out what your competitors are doing. What strategies are they employing? What channels or formats are they using?
2. Choose your platforms and channels carefully
Be strategic in choosing the channels where you publish your branded content. Furthermore, consider the types of platforms you're going to use. This will also influence the type of format that you'll be using. For example, if you're planning to use YouTube, you can create longer videos. But if you're thinking of using the same content for platforms like TikTok or Instagram, then you may want to edit the clip and make it shorter to fit such platforms. One way to find out which channels and platforms work best is to determine what type of content your audience typically consumes and where they spend most of their time.
3. Find out who your audiences are
By knowing who your audiences are, you can create more effective campaigns. Use data to your advantage and find out what resonates with them or what their interests are. This can help you create branded content that resonates with their values or appeals to their emotions.
While you're at it, don't forget to personalize your branded content. Find out what your audience's pain points are and use that to create campaigns that address their specific needs.
4. Make sure that your branded content is accessible
Work toward making your branded content relatable and easily accessible. This means crafting branded content that uses a voice and tone that match your brand values. Make sure that you are consistent when it comes to the tone and voice and that you're publishing content on channels that your audience frequents.
5. Be open to collaborations
We've already established that branded content is versatile and opens up opportunities for collaborations. To expand your reach and grow your audience, you may want to work with content creators, influencers, or creatives who can promote your content on their channels and, consequently, to their followers.
6. Monitor your performance
Regularly monitor and assess your campaign performance to see if you're meeting your goals. Find out how your audience is reacting to your content or what they have to say about your brand. This helps you see whether or not your branded campaign is succeeding or if it needs a bit more work.
Frequently Asked Questions
How can branded content help businesses?
Branded content that's done well has the power to transform your brand into a more valuable one. It can help improve brand recall and brand perceptions, as well as generate conversations around your brand. It drums up interest and generates brand awareness, all while allowing you to expand your reach and become more accessible to a wider audience segment.
Branded content lets your audience know where you stand on important social and political issues, as well as gives them a more in-depth look into your brand, including your story and values.
What are some examples of branded content?
Some of the best examples include:
Toyota's

Back to the Future

campaign

The Lego Movie

Dove's

Real Beauty

campaign

The GQ and Goldman Sachs' YouTube series,

My First Million

Apple TV+'s

The Morning Show
What are the best branded content platforms?
Below are just a few of the best branded content platforms you can use:
Grin

NapoleonCat

Influence.co

Fanbytes by Brainlabs
How do I create powerful branded content?
Have a branded content strategy and prioritize knowing who your customers are and what their interests are

Create compelling stories that are engaging, inspiring, memorable, and capable of reflecting your brand values

Create branded content that provides value to your audience

Team up with content creators, brands, and other professionals to create high-quality content

Don't be afraid to explore different formats and look into publishing your branded content on different platforms (cross-channel distribution)