Advertising Disclosure
Advertising disclosure:
Our partners compensate us. This may influence which products or services we review (also where and how those products appear on the site), this in no way affects our recommendations or the advice we offer. Our reviews are based on years of experience and countless hours of research. Our partners cannot pay us to guarantee favorable reviews of their products or services.
From the subject line to the final call to action, there's a lot of thought and time that goes into crafting an email. The last thing you want is for your emails not to reach their intended destination. While email marketers don't need to design for the algorithms, they have the spam traps to keep in mind.
Very few users check their spam folder. Instead, they just let whatever ends up in the spam folder get deleted after 30 days automatically. This means that if your emails get flagged as spam your emails will most likely go unseen and unread forever.
One of the solutions is to select a reliable email service provider (ESP). Instead of buying an email list (which you should never do), here are 11 top email deliverability tools that you can invest in.
---
What's Meant by Email Relay and Deliverability?
In a nutshell, email relay refers to the transmission of emails between servers. However, not all emails will make it to the primary inbox of your contact list.
If you plan on sending mass emails, though, there's a real risk that your email messages will get flagged as spam. There's also the issue of sending limits. That's why you need a reliable SMTP provider and powerful features to help boost your email deliverability rate.
---
Best Email Relay and Deliverability Tools
Top
email relay deliverability providers
2024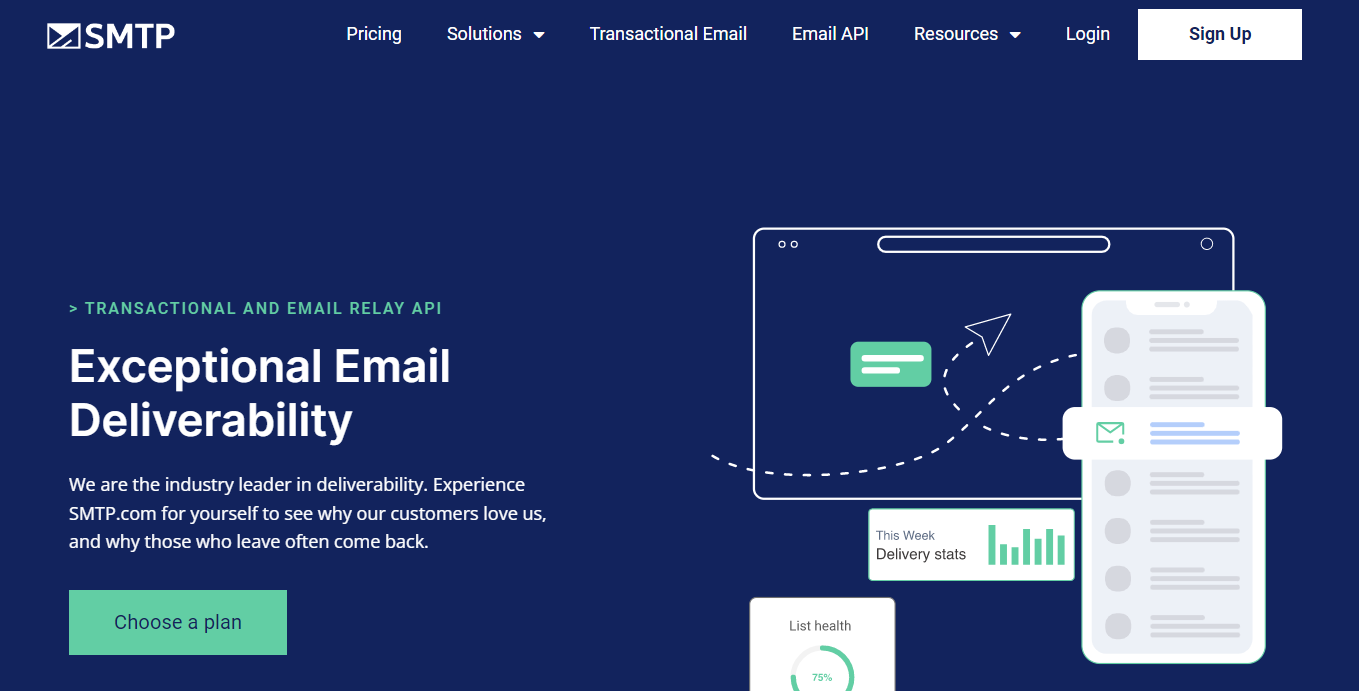 SMTP is one of the top email marketing services for small businesses, helping them to send high-volume emails at an affordable price. Each month, SMTP sends billions of emails by means of its secure and reliable email delivery platform, minimizing the chances that your messages will be mislabeled as spam. As a matter of fact, according to their website, SMTP users generally enjoy an increase of as much as 60% in delivery rates and a return on investment of three times higher compared to other deliverability providers.
All in all, it's very easy to use. It offers good value for money and is a great choice if analytics and reporting are at the top of your must-have features list.
💡 Other key features include:
Detailed reporting
An in-house support team
Custom API integrations
Email list validation
Plans and pricing: After a generous 30-day free trial, pricing starts at $25 per month for up to 50,000 monthly emails.
---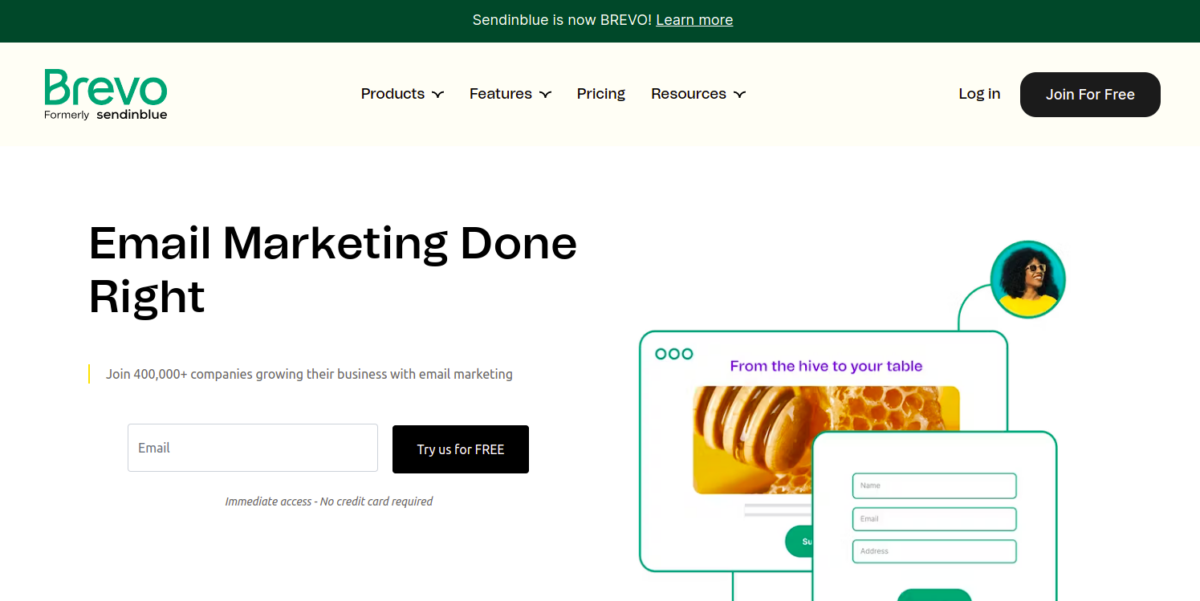 Brevo is one of the best free email marketing services for brands on a budget. Not only does it offer a long list of features to help with email marketing, but it also brings a decade of deliverability expertise. In fact, according to their website, they guarantee a deliverability rate of 97%.
It's one of the most popular choices among growing businesses, clearly supported by the thousands of online reviews it has received on sites like G2 and Capterra. One of the reasons behind its popularity is that it also offers multiple setup options. You can choose between SMTP relay, email API, webhook, or plugin. What's more, it also integrates with all the major eCommerce platforms and CMS tools, making it a great option for eCommerce brands.
💡 Other key features include:
A sales CRM
SMS marketing
Segmentation
Signup forms
Plans and pricing: In addition to a free plan, Brevo offers three subscription options, including enterprise pricing. Pricing starts at $25 per month and is based on monthly email volume.
---

Along with Sendinblue, SendGrid (by Twilio) is rated as one of the top AI email marketing platforms that's trusted by global companies like Uber, Spotify, and Yelp. With the help of a proprietary mail transfer agent (MTA), SendGrid sends more than 90 billion emails per month at an average delivery speed of below two seconds. Combine these impressive numbers with the hundreds of online reviews it has already received and it deserves its mention as an established player in the transactional email software niche on Capterra's shortlist.
In addition to the MTA, their team of over 100 full-time email deliverability experts has also created streamlined, deliverability management tools to help you enjoy optimal inbox placement. Some of its time-saving features include an easy-to-use user interface for data analysis and fast troubleshooting.
If you need some human help to complement its powerful platform, you can also ask one of their experts to assess your email program and share suggestions for areas where you can grow. Then, if you need more than their expert advice to fix any potential problems and improve your email performance, SendGrid also includes a PremierPlus Onboarding and Strategy package as another add-on. In addition to a detailed analysis of your current email architecture and strategy, you'll also be assigned a dedicated expert for 90 days.
💡 Other key features include:
A Deliverability Insights dashboard
Dedicated IP addresses
Automated queue handling
Throttle threat detection
Permissions and segmentation
Send-time optimization
Plans and pricing: SendGrid offers a free plan and a number of subscription options. Pricing starts at $20 per month. Custom pricing is also available.
---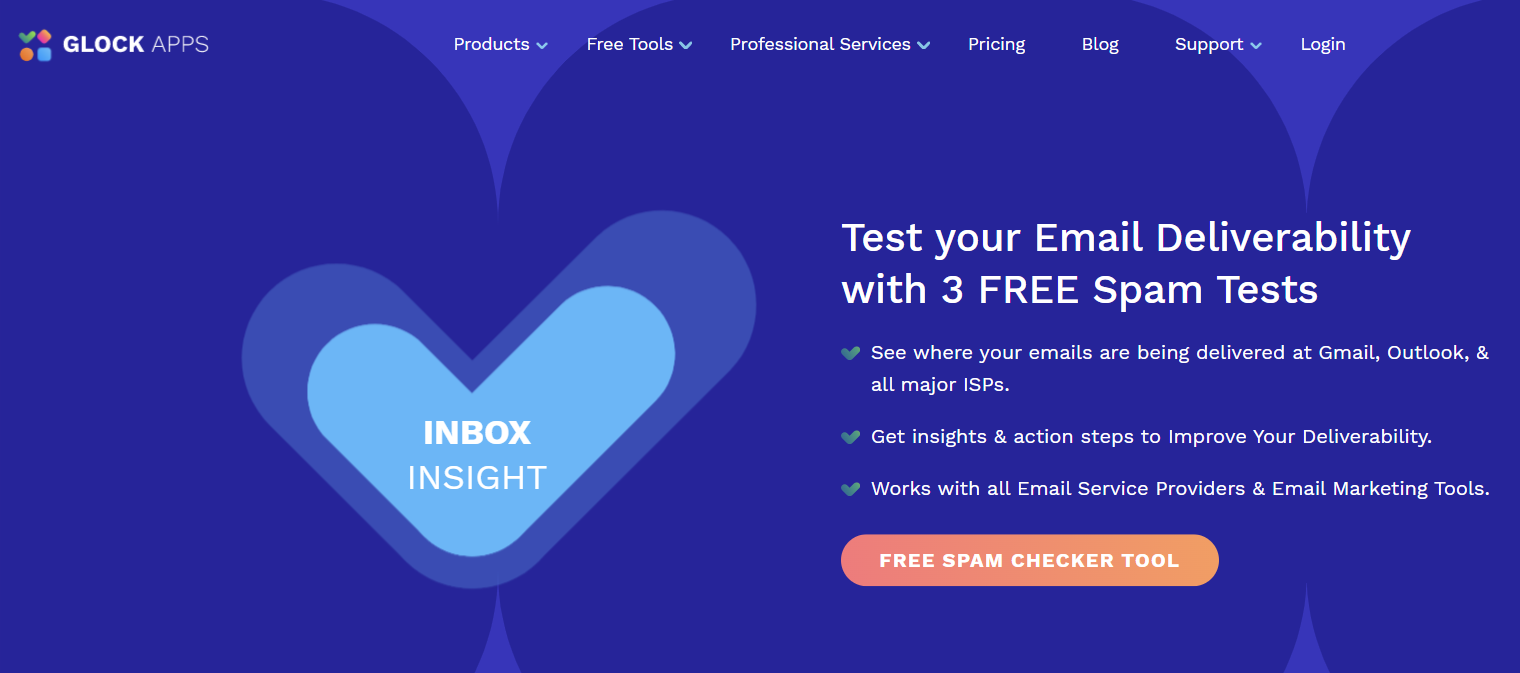 Glock Software's email marketing solutions were created to help identify issues with email deliverability. Aimed at marketers, their tools simplify testing and monitoring of email placement.
It offers a number of tools that include an Inbox Email Tester, DMARC Analytics, IP Reputation Monitor, and Bounce Tracker. For example, with its Inbox Email Tester, you simply send your email to the address provided and you'll get more insight into where your email ends up.
They also have a team of experts that will help you to boost your deliverability and see to it that your email messages reach the inboxes of your recipients. In addition to professional deliverability services, they also offer email consulting services.
💡 Other key features include:
IP reputation monitors
Email spam tests
Sender authentication check
Plans and pricing: GlockApps offers a free plan and includes a number of subscription plans. Pricing starts at $79 per month, but you can save $240 when you pay annually.
---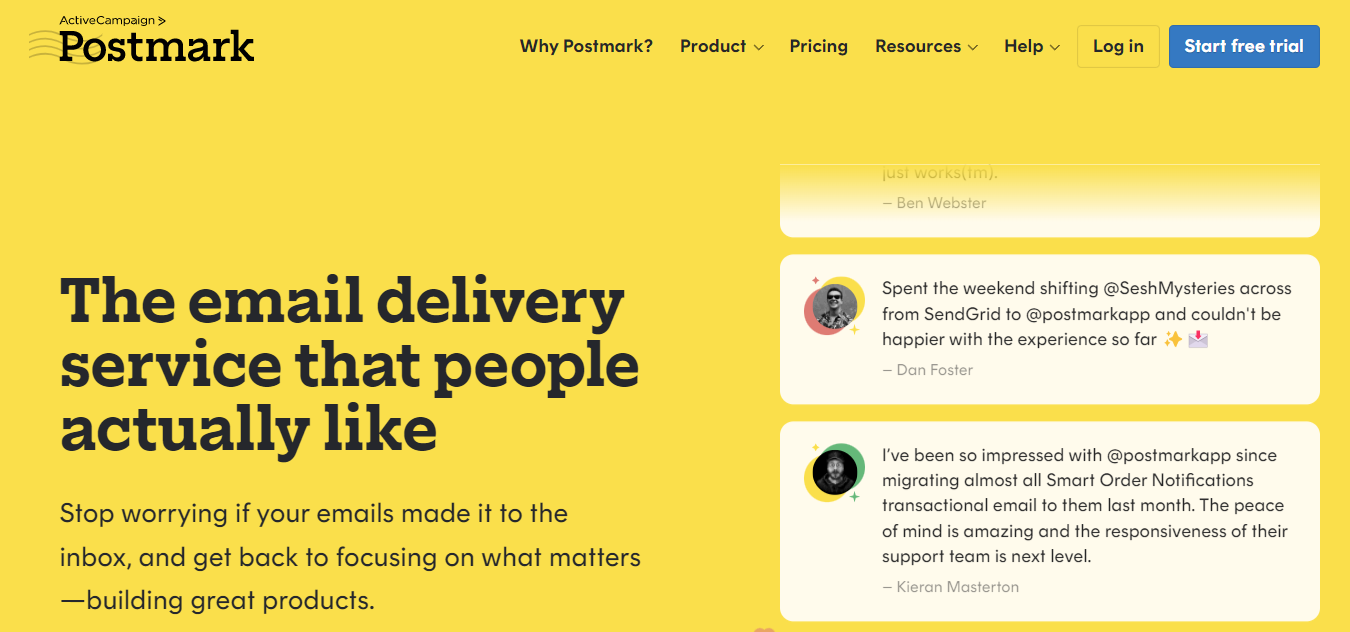 ActiveCampaign, one of the leading email marketing software platforms, is the brains behind Postmark, an email delivery service. Trusted by names such as Minecraft and Webflow, Postmark will slide seamlessly into your MarTech stack.
One way that it provides deliverability that you can build your brand upon is by carefully screening all new senders. This way, they ensure that their product doesn't get used by spammers. They'll also help you to implement email best practices and keep marketing and transactional emails separate to protect your deliverability further with the help of message streams.
💡 Other key features include:
Full content and message event history for all emails for 45 days
Two-factor authentication and user permissions
Responsive email templates
Sender authentication check
Plans and pricing: Postmark offers a very basic free developer plan for users planning to send only 100 emails. After that, they apply a sliding scale with pricing based on the number of emails that you send and receive per month. For sending up to 10,000 emails per month, you're looking at about $15 per month. Optional add-ons such as dedicated IPs and DMARC monitoring are also available.
---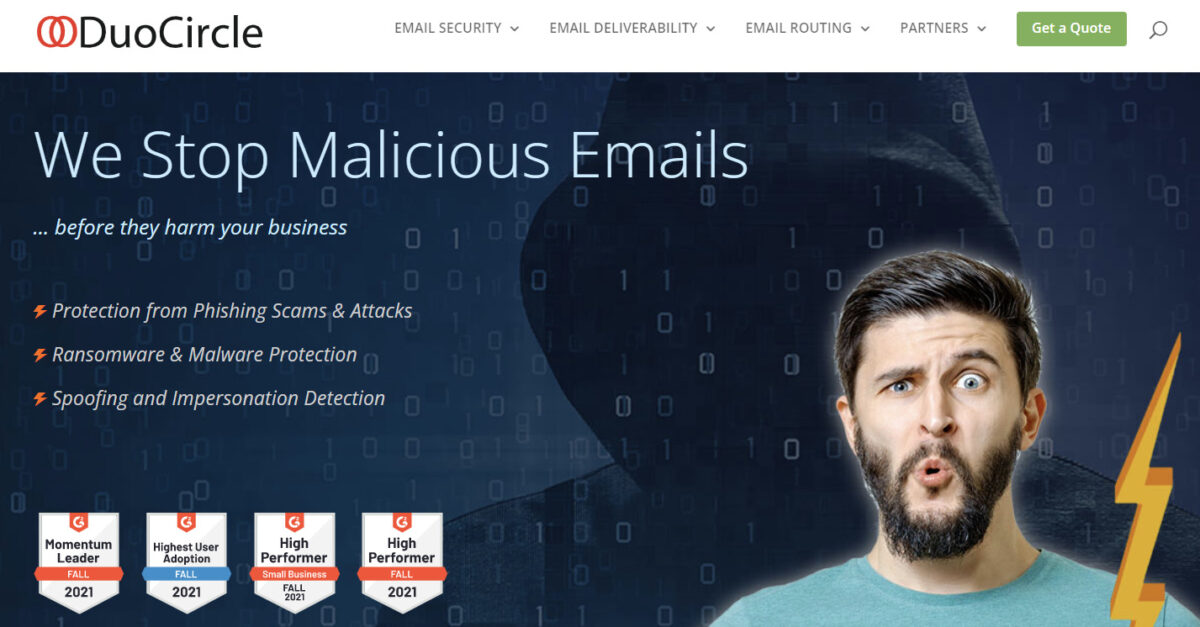 DuoCircle provides email hosting services to SMBs and enterprise clients, helping them to keep their emails safe from spam filters, spoofing, malware, and hackers. Per month, they process more than 100 million email messages for thousands of clients across the world that include household names like Airbnb and Toys R Us.
Included in their comprehensive list of email deliverability services are email authentication, sender reputation management, email monitoring, and deliverability analysis. What's more, they also include security services like phishing protection.
For help specifically with email deliverability, you can expect first-class IP reputation handling. And, if your computer should get compromised, DuoCircle's Outbreak Protection will help you to protect your IP reputation.
💡 Other key features include:
Real-time reports and analytics
Multiple delivery ports
Round-the-clock support
Sender authentication check
Plans and pricing: Pricing starts at $4 per month for up to 2,500 emails. While DuoCircle doesn't offer a free plan, they do include a 30-day money-back guarantee.
---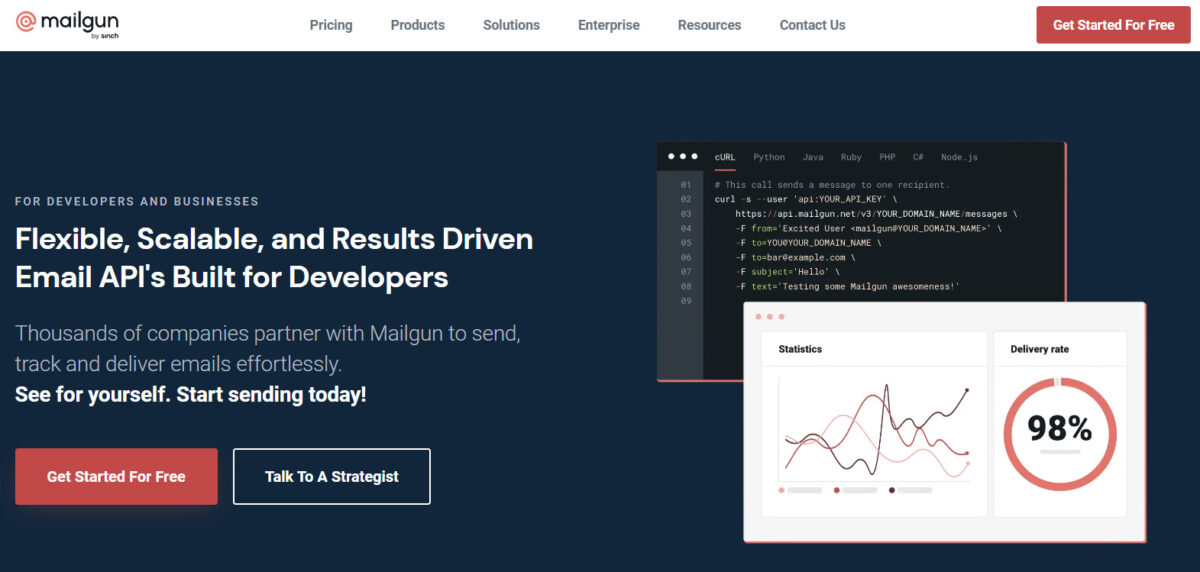 Mailgun is an all-in-one email delivery platform that's found the trust of over 150,000 businesses and developers. Along with SendGrid, it's rated as an established name in the transactional email software niche. What makes them such a popular choice is their intuitiveness, APIs, and level of support.
If you specifically need help with email sending, their software can handle the delivery process automatically. Similarly to some of the other tools in this niche, Mailgun will also separate your promotional messages from your transactional messages.
One standout feature that deserves special mention is their focus on personalization. Included in its platform is Recipient Variables that lets you add and personalize common fields like first name.
💡 Other key features include:
Dedicated IP addresses
Detailed logs and analytics
A/B testing
Send-time optimization
Plans and pricing: Mailgun offers a free trial of a month during which you can send 5,000 emails. After that, pricing starts at $35 per month. Custom pricing is also available upon request.
---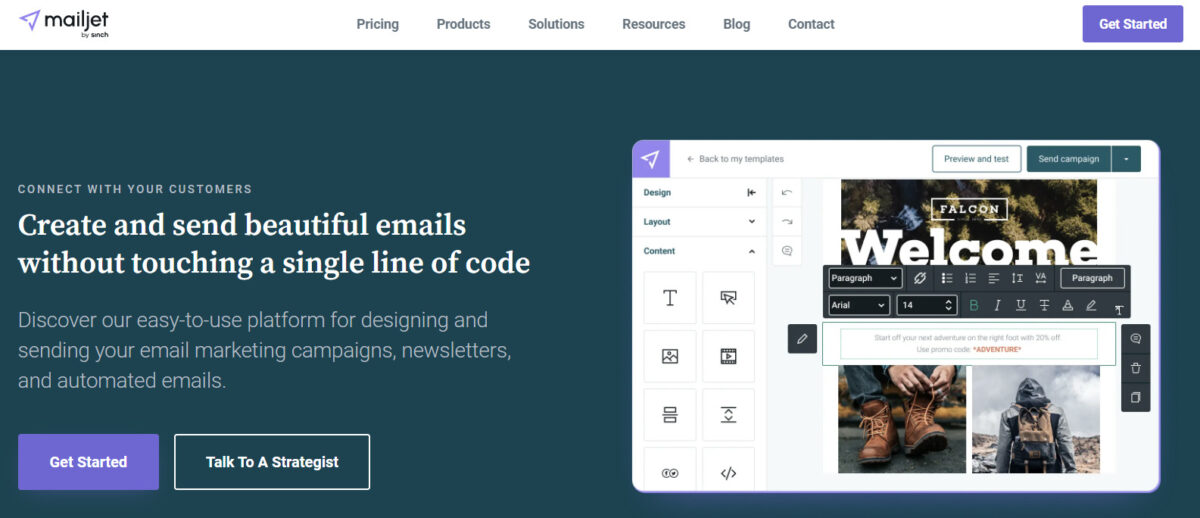 Trusted by over 100,000 companies, Mailjet is one of the leading email service providers across the globe. Each month, their robust delivery infrastructure routes billions of emails.
It focuses on three main areas: email marketing, email API, and deliverability. If you specifically want to focus on deliverability, their dedicated team of highly trained deliverability experts will get to the root of your deliverability issues quickly and share ways to help improve your email routing while at the same time fitting in with your business.
In addition to helping you ensure that you reach your recipients inboxes in the first place, they'll also give your inbox placement a boost. Then, to help you keep track of how your email marketing campaigns perform, you can monitor key performance indicators, such as opens and bounces, via its real-time dashboard.
💡 Other key features include:
A free SMTP server
Detailed personalization
Plans and pricing: Mailjet offers a free plan that lets you send 200 emails per day (6,000 emails per month). After that, pricing starts at $15 per month when billed monthly. Custom pricing is also available upon request.
---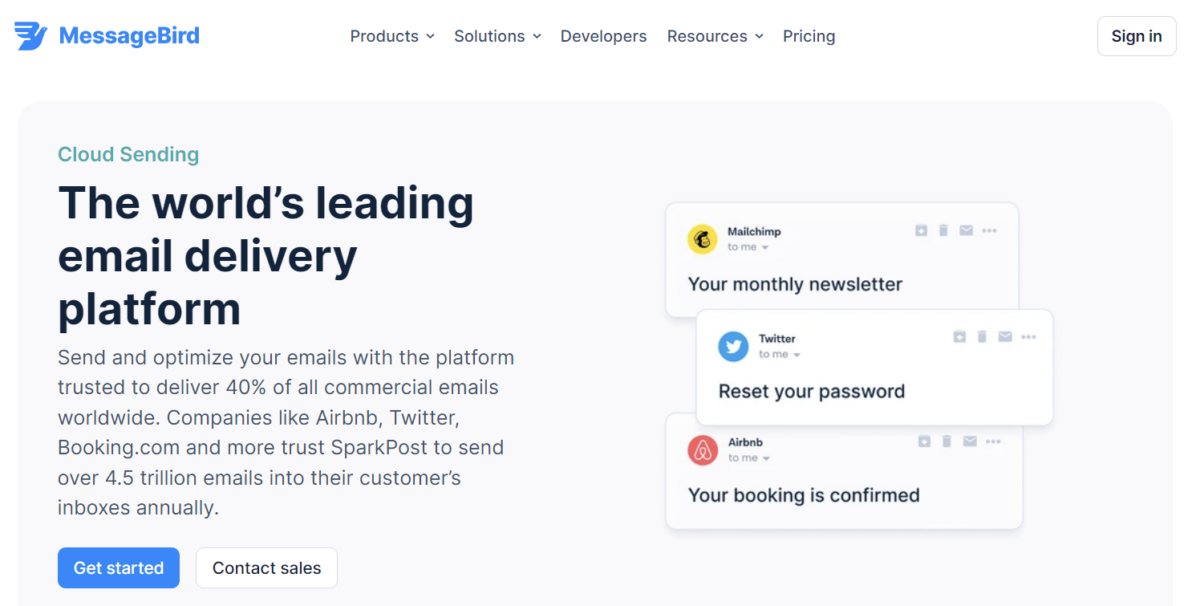 MessageBird (formerly called SparkPost) is the platform responsible for delivering nearly half of all commercial emails across the world. Trusted by major brands like Booking.com and Twitter, each year, it sends trillions of emails. However, if you merely want to send a hundred messages, you'll enjoy the same low latency.
Some of its notable features include automated delivery optimization by default and a range of tools to help you track reputation. Its toolset is supplemented with their dedicated deliverability specialists who continuously work with inbox and ISP providers to fix problems. What's more, it also comes pre-configured for top inbox placement.
Then, to help you stay up to speed with how effectively you're implementing email, it gives you real-time visibility into deliverability and any potential problems. Not only do you get access to the numbers, but also suggestions for how you can optimize performance and engage more subscribers better. Plus, if there should be a sudden drop in engagement or a raise in bounces, your team will be alerted.
💡 Other key features include:
Email health score alerting
Searchable email event data
Automated IP warmup
Scheduled reports
Plans and pricing: MessageBird gives new senders the option to take it for a test-drive first before signing up. If you like what you see, pricing starts at about $20 per month for up to 50,000 monthly emails. Custom pricing is also available for enterprise clients.
---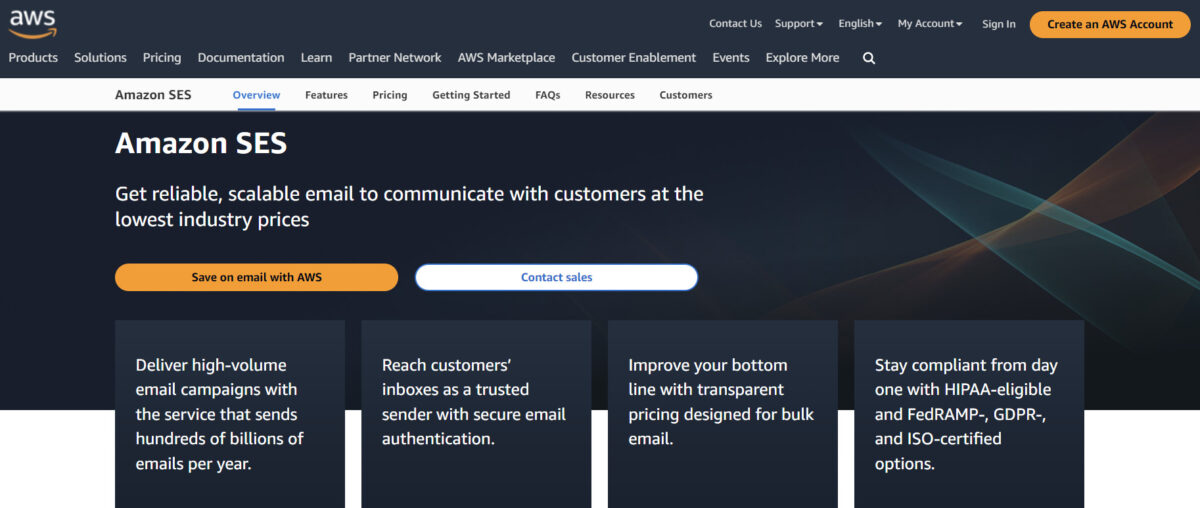 If you thought that Amazon was only for selling and buying products, you would be very much mistaken. It also includes a cloud email service provider — Amazon Simple Email Service — that can be used for sending bulk emails. And, yes, Amazon has complete faith in its own product that it uses it to send hundreds of billions of emails each year.
Plus, Amazon isn't the only big name that uses Amazon SES for boosting sender scores and email deliverability. Netflix also relies on it for email delivery. Before migrating to Amazon SES, they used an in-house solution. What attracted them to Amazon was its global reach, flexibility, and cost-effectiveness.
As a matter of fact, it's its flexible pricing structure that is one of its unique selling propositions. Unlike most other tools that charge a fixed monthly contract, Amazon SES charges you only for what you use. In other words, there are no subscriptions or contracts.
💡 Other key features include:
Several sender configuration options
A virtual deliverability manager
Performance insights, recommendations, and automatic implementation of email deliverability improvements
A deliverability insights dashboard
Reporting on delivery and sending data
Plans and pricing: Amazon SES uses a pay-as-you-go service based on the number of sent and received emails. Pricing starts at $0.10 per 1,000 emails. IP addresses aren't included in this price and will cost you about $25 per month extra. For more help with deliverability, they also offer a virtual deliverability manager at about $0.07 per 1,000 emails.
---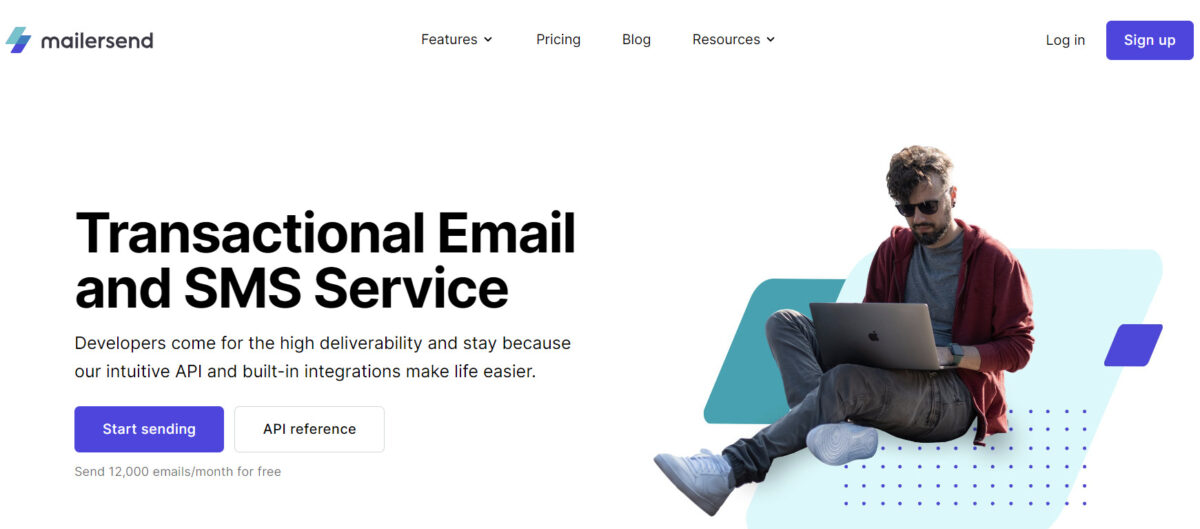 MailerSend by MailerLite is a cloud-based transactional email system that was built for developers to help them enjoy high deliverability, yet it's intuitive enough so that teams without a tech background can also use it. Not only does it offer great intuitiveness, but also flexibility allowing you to send only a few emails or quickly grow your campaigns to over a million.
Its SMTP relay service is fast and secure. It's also optimized for maximum deliverability, eliminating the need to manage your own SMTP server. Then, to help you protect your reputation, it also offers a team of deliverability specialists that can take care of those more technical details.
If you're looking to support an emerging player instead of an established favorite, be sure to check out MailerSend. It was included in the 2022 Capterra Transactional Email Software Shortlist as one of the emerging tools. Sure, they might not be as well-known (yet), but in terms of satisfaction, they deliver.
💡 Other key features include:
A user-friendly dashboard that lets you manage multiple domains
Reporting
Advanced email tracking
Plans and pricing: MailerSend offers a free plan for up to 12,000 monthly emails. After that, pricing starts at $25 per month. Custom pricing is also available for enterprise clients.
---