As a retailer on Etsy, ranking high on search results might be tough, especially if you're new on the platform. Due to this, building an online business from the ground up can be challenging. However, there are some proven methods for increasing your shop's exposure and making it easier for potential buyers to find you on Etsy.
This article will explain how the Etsy search feature works and the elements that influence search ranking. We'll also go through the best practices for growing your Etsy business and increasing your overall sales and profit.
---
10 Useful Tips for Etsy SEO:
---
What Is Etsy SEO?
Etsy is an eCommerce platform mostly known for the sale of craft supplies, vintage items, handcrafted goods, and other unique items. Etsy's business strategy relies heavily on custom-made and personalized products that meet the needs of its customers.
Improving visibility on search engines of platforms like Etsy's is done through a process known as search engine optimization or simply SEO. SEO may be tricky, especially since search engines continually adjust their criteria for ranking.
As a result, Etsy merchants need to have a good understanding of SEO best practices. Your Etsy store or website might appear on the first page of search results if you use keywords and apply other best practices.
You can also attract new customers by optimizing your website or blog to contain keywords that are related to the products you sell. This aids in boosting your ranking and exposing your products to a larger pool of prospective customers.
---
How Does Etsy SEO Work?
Etsy's search algorithm aims to provide the most relevant results for every user's query. To serve its customers better, it constantly tweaks its algorithm's parameters. But sellers still have significant influence over the most crucial components of SEO on the site. For Etsy SEO, the search process has two phases.
---
Query Matching
When a customer searches for a product, Etsy's search engine uses the titles, tags, categories, and descriptions you have included in your listings to locate relevant keywords. To increase the probability that your listings will match a search query, you should use all 13 tags.
Use various tags, include all relevant attributes, and categorize your products as accurately as possible.
---
Ranking
Etsy considers the following elements to determine its ranking: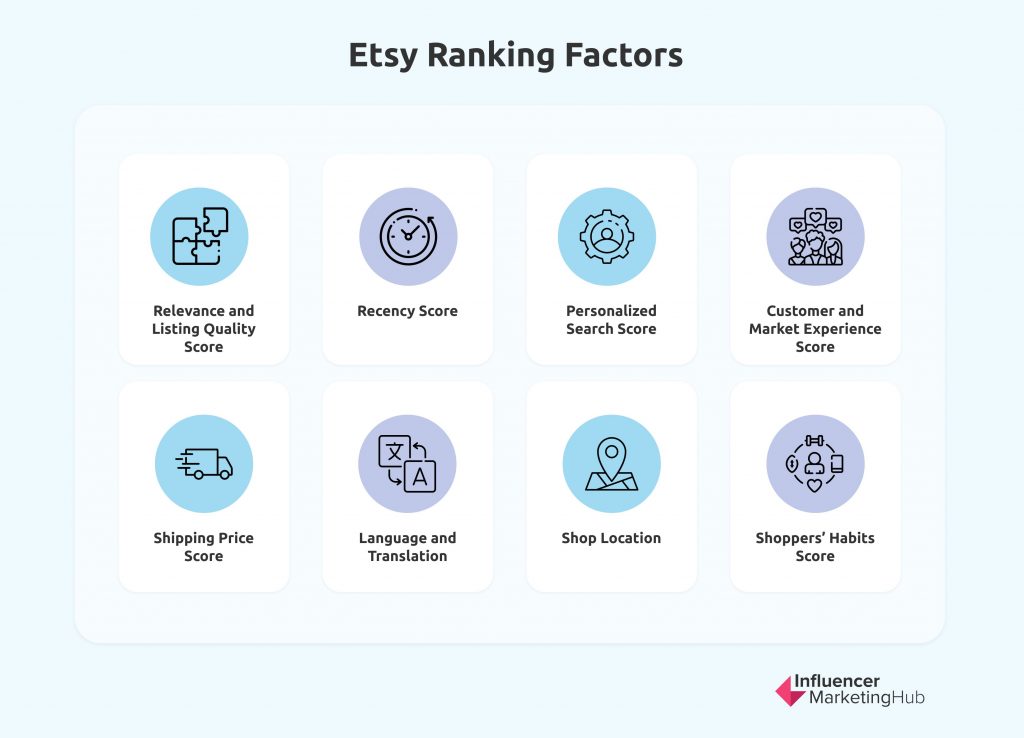 Relevance and Listing Quality Score
Etsy gives a lot of consideration to how relevant customers find your listings and engage with them. Your listing quality score rises if a customer is interested in your product and stays in your store for a long time.
If Etsy users swiftly exit your listing, it indicates that they are either uninterested in what you're selling or your items do not fit their search queries.
Etsy's search engine gives new listings a boost in search rankings to understand how buyers interact with these listings. This would help the algorithm determine their quality score. Renewed listings receive a minor but considerable boost.
A rise in search volume might be seen anywhere from a few hours to many days, depending on how often customers search for a particular product.
Personalized Search Score
Etsy uses machine learning to adapt its search results to the interests of its customers. Because of Etsy's subjective ranking system, your products may appear higher in some customers' search results more than others.
When it comes to Etsy SEO, you'll see a rise and improvement in your rankings as you experiment with different SEO practices.
Customer and Market Experience Score
Your business score can be determined by factors like customers' reviews, your shop's "About" section's completeness, and negative comments.
It is common for Etsy shops to charge hefty shipping fees. Shipping price scores are higher for stores that offer free or discounted shipping than those that charge more.
Your product descriptions should be written in a language that your customers can understand. For merchants who want to promote their products in a wide range of languages, you can use personal translation instead of Etsy's automatic translation.
Customers worldwide will appreciate your multilingual listing options, which will in turn help you rank higher in Google's search results.
Local items score better in search results in only the EU, Australia, and Canada. Location is not taken into account when searching from other countries.
Each shopper receives results that are tailored to their preferences. So Etsy shows buyers the items they are most likely to purchase.
---
10 Useful Tips for Etsy SEO in 2022
After understanding how Etsy ranks and displays search results, here are 10 best Etsy SEO tips to help you improve your store's ranking.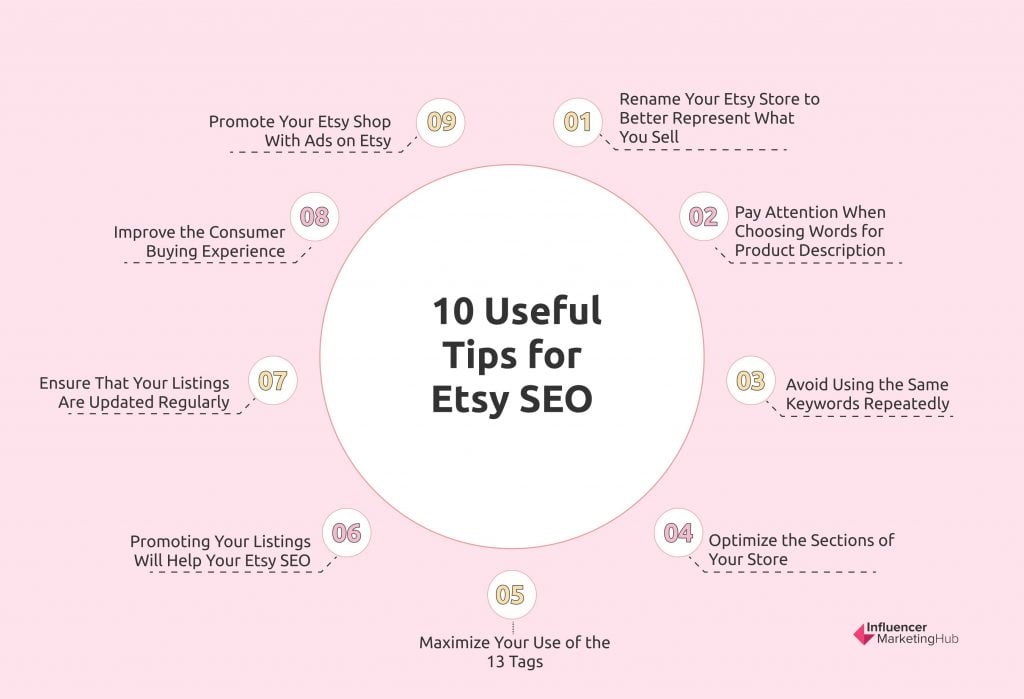 💡 Rename Your Etsy Store to Better Represent What You Sell
An online store's title tells potential customers exactly what it sells. So don't miss out on the chance to give your store a fitting name.
Your store page's title will be based on this name, and it will be the first thing a user sees when they arrive at your shop.
Below is an example. Diamondful sells diamond jewelry on Etsy. One look at its store and you can tell it sells diamond-related items. From its name to its logo, all the elements have a uniform tone.
Giving what you sell a memorable and relevant name would make it easier for your products to be found in search results.
Note that when you create or amend a new store title or change an existing one, you'll be able to preview how it will appear in Google search results. This way, you can make any necessary readjustments before you save your settings.
---
💡 Use Short yet Detailed Product Names
An item's title is a very important piece of information for a listing. Your listing's title determines where it ranks on Etsy, so it is vital to choose and place relevant words in the appropriate arrangement.
The first words in your title tags should be the words that your visitors are most likely to type into a search box. When describing your product to a prospective buyer, start with the essential details and stick to one language.
---
💡 Pay Attention When Choosing Words for Product Description
Etsy SEO relies heavily on keywords. Etsy wants to boost sellers who add keywords that directly match their customers' search phrases. Think like a customer while researching the ideal keywords for your store. What would your prospective consumer type into a search engine to find your product or service? What search phrases are they most likely to use?
Once you have identified your target audience's keywords, check out keywords your immediate competitors use as well. Various SEO tools on the market provide a wealth of information on keywords, backlinks, content ideas, etc. Examples are SEMrush, Ahrefs, and Ubersuggest.
Etsy SEO takes the following factors into account when determining search results:
Exact phrase—the power of a precise phrase match is greater than the strength of matching individual search words.
A listing that includes a search keyword in both the title and tags is considered more relevant by Etsy than one that merely includes the term in just the title.
More weight is given to the first few words of a title than the last words.
An effective Etsy SEO strategy consists of keywords in tags, titles, categories, and features for increased visibility and to better match your listings with consumer inquiries.
Avoid stuffing keywords and jam-packing titles with keywords. Etsy is continually focusing on limiting the visibility of titles stuffed with keywords.
---
💡 Avoid Using the Same Keywords Repeatedly
As a new seller on Etsy, you most likely have a general store with a diverse selection of items, such as vintage apparel, jewelry, accessories, etc., which means you are targeting a broad customer base. Most times, sellers make the mistake of using the same set of keywords to rank many products in the same category.
You might assume that once you have identified some relevant keywords for your products, all you have to do is keep using those keywords to rank higher. But this is not always the case.
As it turns out, Etsy's algorithm shows just one or two items from the same seller when they are ranked using the same set of keywords. So, to increase your product's exposure, employ a variety of search terms.
---
💡 Optimize the Sections of Your Store
The section names of your store can also help your Etsy store SEO. Landing pages for each segment are named after the section's name.
Each of your shop's landing pages on Etsy will have a title generated from your selection of section names on the landing pages. In a search engine's results page, the page title is the text that guides users to your website.
While search engines allow page titles to be up to 66 characters long, Etsy only allows section names to be 24 characters long. By default, the page title includes your company name.
Your customers will be able to locate you in search engines if you use "category style" titles for your sections and include your keywords.
---
💡 Maximize Your Use of the 13 Tags
Item descriptions can have a maximum of 13 tags. Make the most of all of them. Focus on long-tail keywords and be technical when creating tags because each tag has a 20-character limit.
You may use regional terms, synonyms, and multi-word phrases when creating tags on Etsy. Repetition, deliberate misspellings, various languages, and keyword pluralization are all discouraged on the site.
---
💡 Promoting Your Listings Will Help Your Etsy SEO
As an Etsy seller, when you use social media for marketing your products, you'll attract more traffic to your listings and improve your Etsy search engine optimization.
This is because you create backlinks, which Etsy considers to be valuable. So Etsy rewards you with a higher overall ranking in search results when you mention your Etsy store and products outside the platform.
Apart from social media, you can use other platforms as well. Blogging about your Etsy products helps SEO. There is also an added benefit of having Google display it in the SERPs, exposing your Etsy store to an even larger audience. Sites like WordPress, Blogger, and even Tumblr allow you to create and host a blog at an affordable rate.
---
💡 Ensure That Your Listings Are Updated Regularly
Depending on how frequently customers look for certain items, listings that have been recently updated might see a spike in search.
It may be beneficial to renew or re-list your products occasionally, although Etsy advises against this as a long-term SEO strategy. Etsy consumers are more likely to buy if you renew a listing.
---
💡 Improve the Consumer Buying Experience
Etsy takes customer satisfaction into account when determining a shop's rating on the marketplace. If your store is verified, it is more likely to appear higher in search engine results.
If you want to sell more on Etsy, you'll need to ensure your profile is as complete as possible. Include information about the company's shipping, payment options, and information regarding refund and exchange policies here.
Your Etsy SEO may be negatively impacted by the level of customer care you provide. Positive reviews and better search results may be obtained by responding to inquiries, returns, swaps, and addressing negative comments. Your search engine results can be affected by disputes over intellectual property or complaints from customers.
---
💡 Promote Your Etsy Shop With Ads on Etsy
If you want people to find your store quickly, one of the simplest methods is to use Etsy Ads. Although Etsy's algorithm ensures that prospective customers see your advertised items, you still need to consider smart bidding to prevent wasting money.
The higher your bid price, the better your chances are of being placed in a prominent location in Etsy's ad promotion system, which works like an auction.
If your ad budget is too high, your profit margin may be affected. To avoid this, set a reasonable budget and establish your maximum bid in advance before you start bidding.
---
Etsy SEO Mistakes You Don't Want to Make
A few factors have been known to influence Etsy SEO negatively, but Google isn't always clear about what these are and how it affects your search results. To avoid being penalized by Google, the best approach is to present helpful information straightforwardly.
If Google senses that you are manipulating its bots, it will reduce your site's search engine rankings. Make an effort to create a user-friendly store that contains helpful content, and steer clear of the following practices.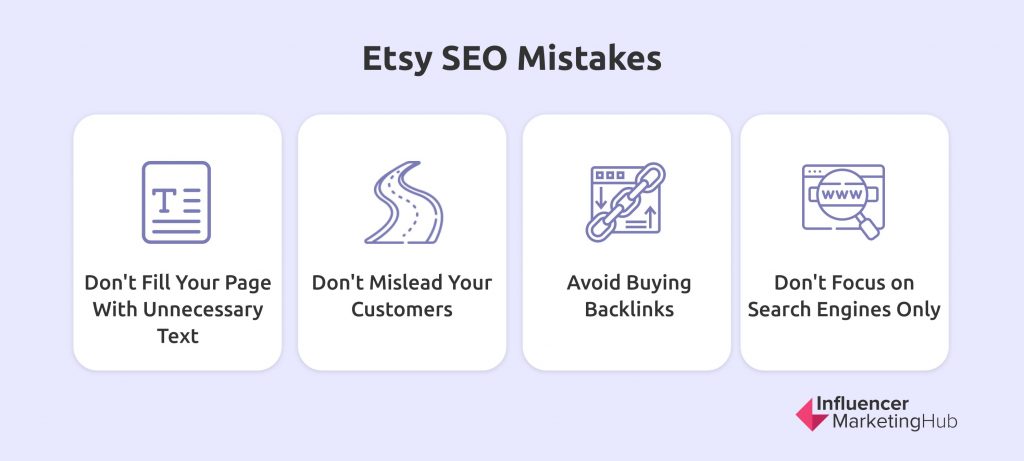 Don't Fill Your Page With Unnecessary Text
Your page should not be crammed with unnecessary words and lengthy blocks of text. You need to think about what information your target audience would find interesting and valuable.
Try to make this information concise as much as possible. Do not repeat information that has already been shared on other listings.
Don't Mislead Your Customers
Search engines are designed to aid people in finding what they're looking for online. Having broken links or error pages on your website will be penalized by search engines.
As soon as you notice a problem with one of your website's broken links, try to restore them or redirect them to new ones.
Some websites enable you to buy backlinks to your site in the hopes of raising its rating, but Google is well aware of this practice. If you try to boost your ranking through purchased backlinks, it might affect your SEO efforts.
Don't Focus on Search Engines Only
Consider your brand identity and value. To make it easy for potential consumers to find you, use the same brand colors across all platforms. Include a link to your online store or website in your social media profile to make it easier for users to get to your store.
---
✔️ Pros of Selling on Etsy
For most vendors, there is a wide range of options when it comes to eCommerce platforms. Many people choose Etsy as their primary selling platform for the following benefits:
😊 Setting Up and Maintaining an Etsy Shop Is Simple
Setting up an Etsy shop is simple and takes only a few minutes. Etsy also offers a free basic storefront. Premium features are available for purchase.
All of your questions regarding selling on Etsy can be answered in the "Seller Handbook," which includes information about legal, shipping, and taxation. Once you have set up a shop on Etsy, you'll have the option to have your listing automatically renewed when a sale is made.
There is no need to rewrite the listing description when you pick this option. This is helpful for items that can be mass-produced. However, make sure you create different descriptions for new listings.
😊 Built-In Traffic
Etsy provides an excellent opportunity for your products to gain exposure. You may use Etsy's built-in traffic to gain new customers for your store. Building your reputation as an eCommerce business owner takes a long time. As a newbie, you can start your business on Etsy and then spread it across different platforms.
Many Etsy sellers are making a stable income every month from their sales. Their stories are frequently circulated online, so you may benefit from what they have learned to build your business on the platform.
😊 New Seller-Friendly
Etsy is a great place to start if you're interested in selling simple items you can find around your house. You can even start with homemade goods. To rent a physical store, a seller may be required to get a business license.
Etsy is newbie-friendly and flexible as well. Sellers may work whenever they want and establish their own pricing.
😊 Etsy Has a Collaborative Community for Sellers
Since its inception, Etsy has been enthusiastic about the success of its sellers. As a result, sellers have communities where they can congregate and share ideas. They can also learn from one another's mistakes and success stories.
---
❌ Cons of Selling on Etsy
😩 Selling on Etsy Requires Both Listing and Transaction Fees
Like the majority of other eCommerce sites, Etsy charges its vendors a fee for each sale they make. Etsy charges a listing fee of $0.20 and a transaction fee of 5%. The cost of gift-wrapping and shipping is also included in this fee.
If you accept credit card payments through Etsy, you will be charged a 3% fee. An additional $0.25 will be deducted automatically. If your consumers select PayPal as their payment option, Etsy handles their payment rather than PayPal. As a result, Etsy's transaction charge will still apply.
Keeping these expenses in mind while calculating your selling price vs. cost price is crucial. Selling on Etsy may not be worth your time if you sell items that leave little or no room for high profit. Making more sales on a different platform may be a better option.
😩 You Can Mostly Only Sell Handcrafted or Vintage Items
Most of the products available on Etsy's market are craft-related materials. Your products should fall into this category for you to gain more traffic. Because of this, distributors and resellers cannot offer their items for sale on the site.
The resale policy on Etsy limits your resale options to only craft materials and vintage items. Etsy does not allow the selling of repackaged commercial goods.
😩 Competition in Pricing
There are so many sellers on Etsy that you'll have to compete with, especially if you sell a popular item. Etsy's platform is now available to large and small craft companies and individual sellers, which further heightens the competition.
Prices are affected as a result of this. You might be pushed to lower your costs if your competitors do the same. Profitability is harmed as a result. There's always the possibility that someone else is willing to take a lesser profit margin.
😩 Etsy Has Total Control Over Your Shop
Etsy is a host site and has control over what you do in your store, how your website looks, and how it works. This can be limiting if you intend to create a long-term brand with a unique style.
Etsy allows you to add a banner and a few images for listings. But using the platform means that most of your designs would be consistent.
In the case of any rule infringement, Etsy has the power to remove your business from the site immediately and without warning.
---
Conclusion
Mastering SEO on any platform takes time and Etsy is no exception. Your strategies will improve as you acquire more expertise on the site. Begin implementing the strategies discussed in this guide as you set up your Etsy business plan.
Constant application of these tips and tactics will help you build a solid foundation for your store and set you on a path to success.