Advertising Disclosure
Advertising disclosure:
Our partners compensate us. This may influence which products or services we review (also where and how those products appear on the site), this in no way affects our recommendations or the advice we offer. Our reviews are based on years of experience and countless hours of research. Our partners cannot pay us to guarantee favorable reviews of their products or services.
In the digital-first era, an organization's online presence is not merely a privilege but a necessity. This becomes even more crucial in the financial sector, where trust, professionalism, and attention to detail are paramount. For business owners in the finance industry, engaging with a top-notch Financial Services Web Design Agency can be the deciding factor in establishing that critical online reputation.
Financial Services Web Design Agencies are specialized entities that blend creativity with the intricacies of the finance industry to design intuitive, secure, and user-friendly websites. These agencies understand the specific needs of financial services firms, from the rigors of regulatory compliance to the necessity for transparent and accurate information presentation. They employ a blend of visual design, user experience (UX) design, and coding expertise to create a digital platform that reflects a financial firm's brand and core values while facilitating efficient customer engagement.
---
12 Best Financial Services Web Design Agencies in 2023:
---
Top Financial Services Web Design Agencies Setting the Pace in 2023
In the following article, we will spotlight some of the top Financial Services Web Design Agencies that stand out in these areas. These agencies exemplify best practices in the industry, offering comprehensive services that go beyond mere aesthetics, incorporating regulatory compliance, user experience, security, and forward-thinking design. The focus is on agencies that provide business owners with robust and effective web solutions, ensuring that their online presence supports their business goals and promotes trust in their services.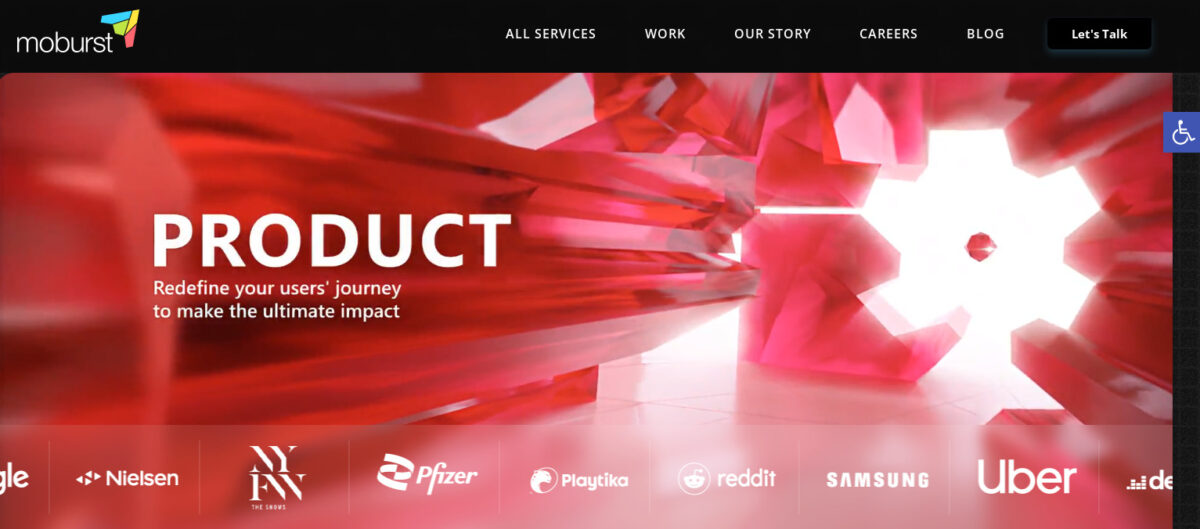 Average Hourly Rate: $150-$199
Average Project Cost: $25,000+
With its base in New York, Moburst shines as a global mobile success company helping businesses expand their reach. Known for their excellent customer service, they provide 360° optimized solutions for all digital marketing needs. This includes mobile and app marketing, web design and development, social media marketing, and advertising.
Moburst's expertly crafted websites not only leave a lasting impression but also foster strong audience connections. The diverse range of services offered by Moburst includes optimizing social channels, SEO, media, and campaigns. This approach has made Moburst a reliable partner in achieving a substantial increase in web traffic and an enhanced user interface (UI) and user experience (UX). The agency's dedication to timely delivery and high-quality output makes it a preferred choice for many.
---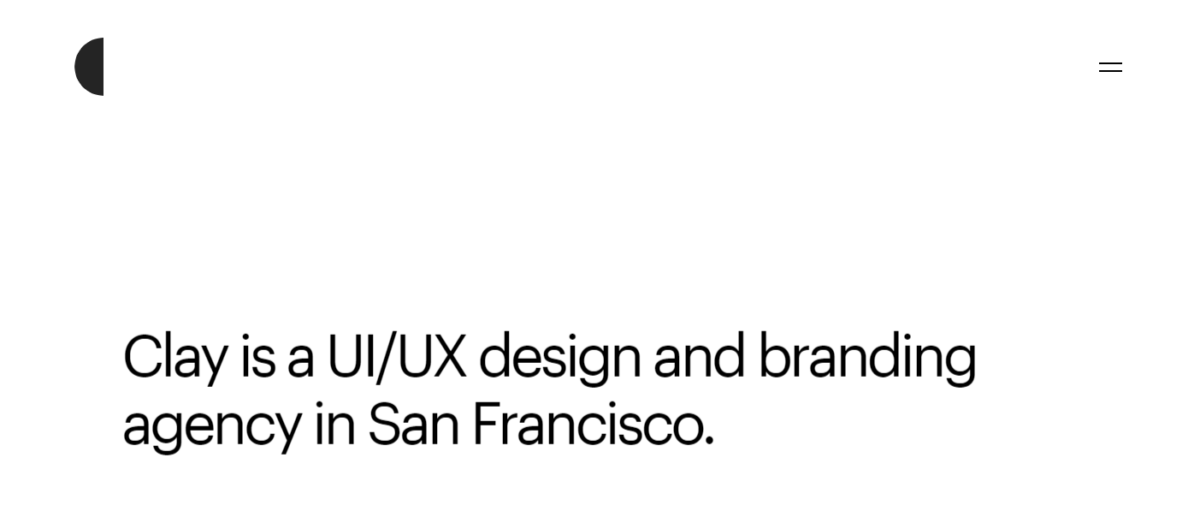 Average Hourly Rate: $150-$199
Average Project Cost: $50,000+
Located in San Francisco, Clay is a renowned UX/UI design and branding agency that specializes in creating transformative digital experiences. Known for their high-profile clientele such as Facebook, Slack, Google, and Amazon, they offer services that cater to a wide spectrum of needs.
Clay's expertise spans from UX/UI design to web design and branding. They emphasize the fusion of user experience with storytelling to deliver unique brand communications. Their approach has helped them create functionally superior and aesthetically pleasing websites for both leading brands and startup companies. Besides this, they have been recognized for their work in developing a unique identity for Wealth, a personal finance and estate planning startup. In essence, Clay's services encompass the creation of digital products, enterprise software, modern websites, and brand stories, delivering a full-stack solution to their clients.
---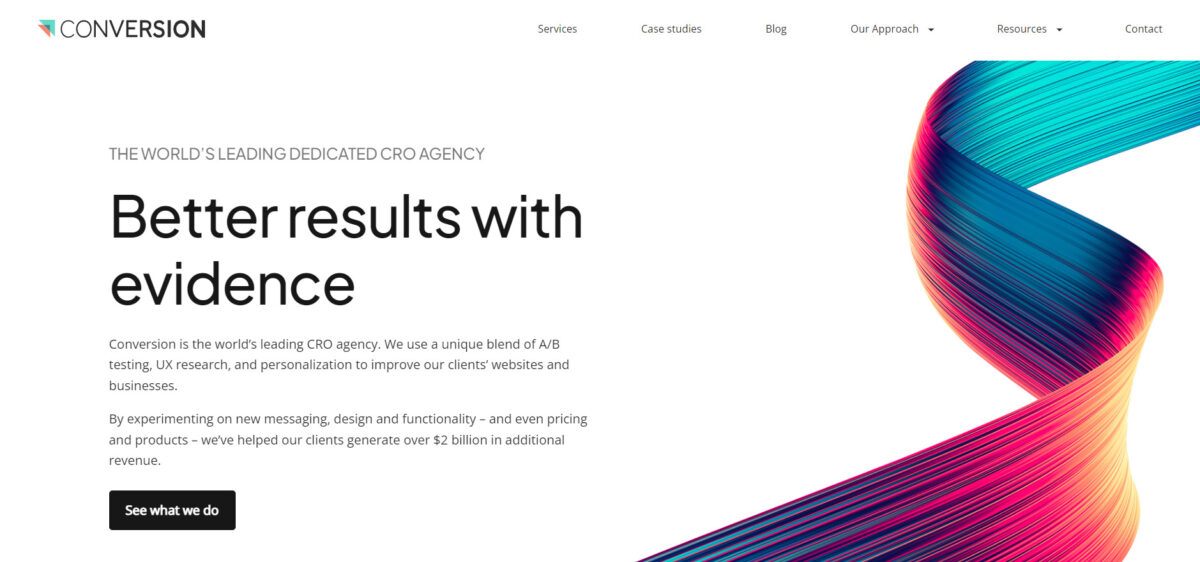 Average Hourly Rate: Undisclosed
Average Project Cost: $10,000+
Conversion is a Vancouver-based CRO agency with a proven track record in optimizing the conversion rate for its clients. Since 2008, they have been working with exciting brands like Meta, Microsoft, Google, and Dominos, generating over $2 billion in added revenue for them.
The agency's success lies in its strategic approach towards decision-making which comprises three stages – Strategize, Measure, and Decide. This approach, combined with their expertise in Conversion Rate Optimization (CRO), UX Research, and Personalization, has helped them design high-converting experiences. The proficient team at Conversion includes consultants, designers, and developers who focus on performance before aesthetics and refuse to restrict ideas with technical limitations. This makes Conversion a truly experimental agency that creates better results through innovative ideas and strategies.
---
Average Hourly Rate: $50 – $99
Average Project Cost: $25,000+
Humbleteam, based in New York, United States, specializes in Branding and UX/UI Design, offering stellar product design services and mentorship for startups. With a team of over 30 dedicated employees, Humbleteam has successfully delivered UX/UI design and web design solutions, enhancing their clients' digital products and facilitating a user-friendly experience.
Their notable project "Hi," a neobank, showcases their exceptional skills in creating an intuitive and transparent app and an informative website. With a keen focus on client needs, they have managed to increase customer satisfaction by 35%. Their collaboration extends to both early-stage startups and Fortune 500 companies, evidencing their flexibility and understanding of diverse industry needs.
---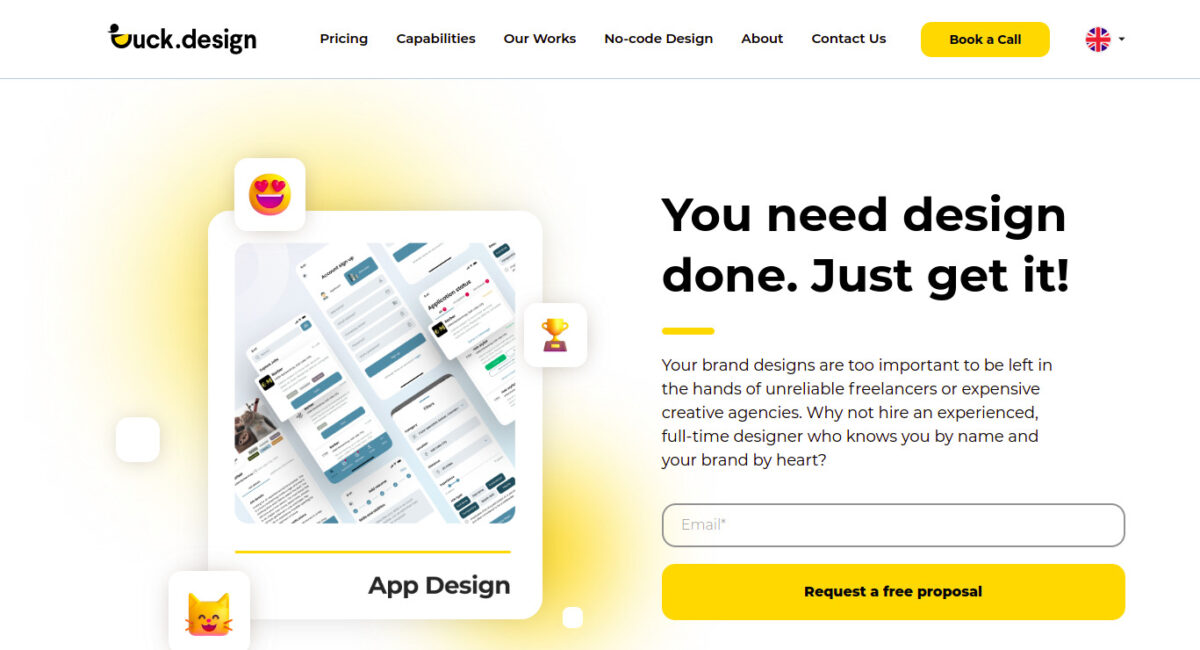 Hourly Rate: $50 – $99
Average Project Cost: $1,000+
Based in London, United Kingdom, Duck.Design brings a diversified design focus to their clients, including Graphic Design, Product Design, UX/UI Design, Web Design, Branding, Packaging Design, and Print Design. Their services span from creating professional catalogs and classifications to developing impactful corporate websites and user-friendly online stores.
They excel in designing promotional pages and landing pages, effectively highlighting a business's unique selling points. Duck.Design's dedicated team comprises top designers from around the world, providing scalable and reliable design solutions to busy and growing teams. With their commitment to making the design process easy, fast, and perfectly adjusted, Duck.Design is an ideal choice for businesses of all sizes.
---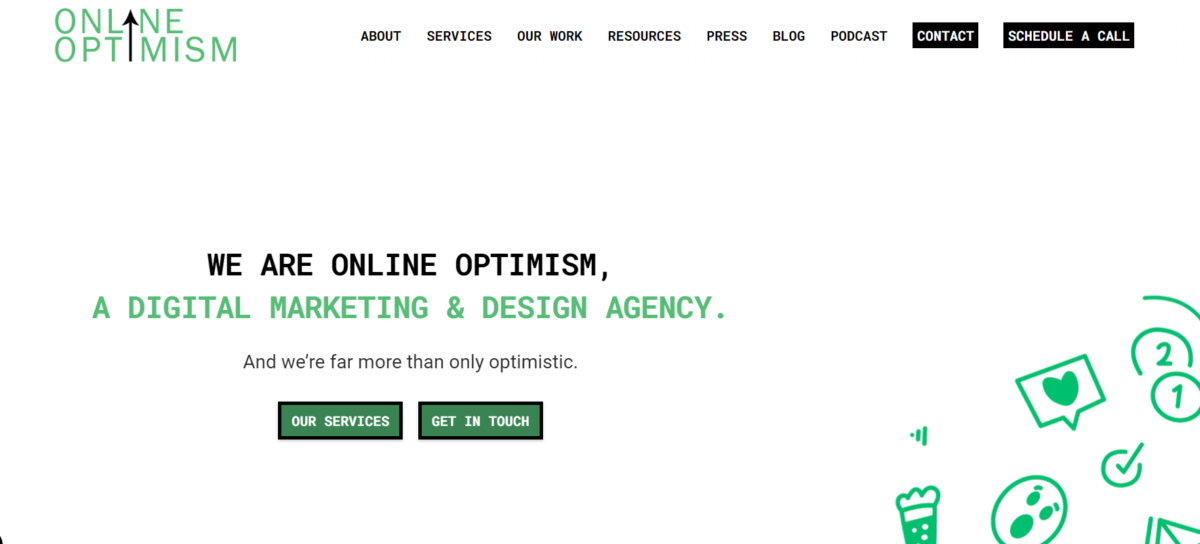 Average Hourly Rate: $50 – $99
Average Project Cost: $1,000+
Located in New Orleans, Louisiana, Online Optimism is a one-stop solution for all web design services, along with Advertising, SEO, Social Media Marketing, Content Marketing, and Pay Per Click services. Their extensive offerings include ground-up website design and building, user experience optimization, and comprehensive website maintenance and monitoring.
Online Optimism aims to provide the best online experience for their clients and their customers. Online Optimism's proficient team prioritizes form and function in their web design while ensuring seamless integration with other digital marketing initiatives. They specialize in Responsive Mobile Design, Backend Development, Web Maintenance, User Experience Design, and Brand Messaging, helping businesses boost engagement, increase conversion rates, and achieve lasting results.
---

Average Hourly Rate: $100 – $149
Average Project Cost: $25,000+
Hailing from San Francisco, California, Neuron is a forward-thinking UX/UI design firm that is dedicated to crafting user-centric web designs. Through a combination of in-depth user research and innovative design methodologies, Neuron is passionate about creating products that not only look good but also work seamlessly.
Neuron's web design process is an iterative one that begins with low-fidelity designs and ends with pixel-perfect mockups. The team believes that users are a critical asset to the design process, hence, they engage real users in user testing to gain invaluable insights. Interaction design is another key focus at Neuron, where they consider all possible ways elements can interact with each other. They also consider the ways in which motion and animation design can enhance the user experience. The emphasis Neuron places on user journey and interaction design make it a top choice for financial services web design.
---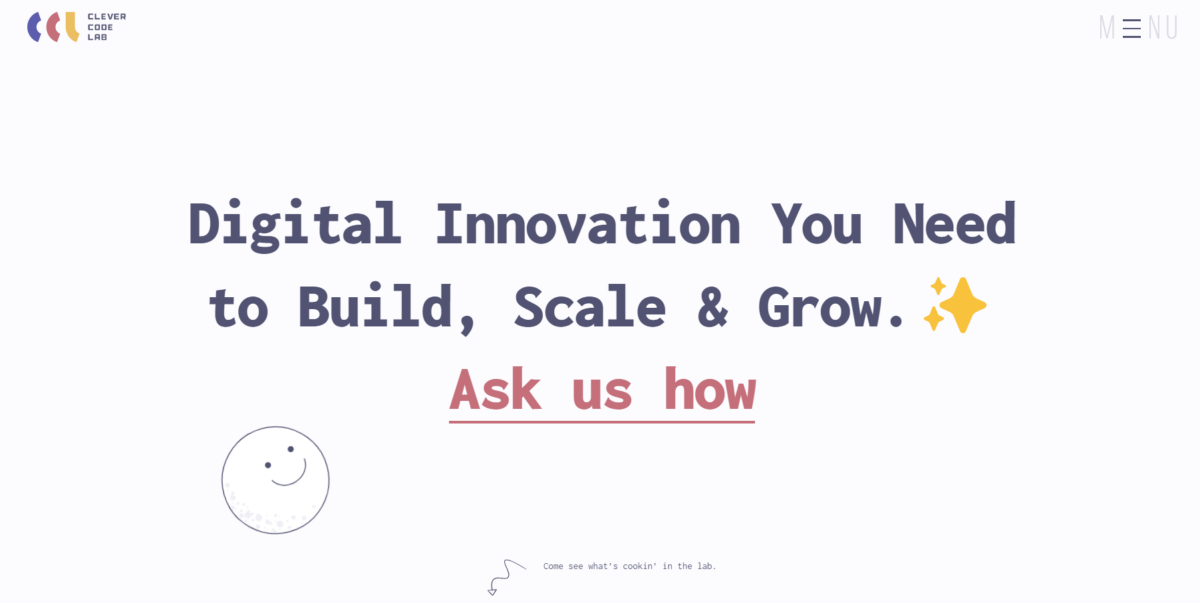 Average Hourly Rate: $25 – $49
Average Project Cost: $5,000+
Based in Poltava, Ukraine, Clever Code is a powerhouse web development and design firm known for delivering high-quality, innovative digital solutions. Over the past five years, Clever Code has successfully completed 40 projects, reimagining what it means to be a digital innovator with their boundary-pushing solutions.
Clever Code's web design service is characterized by a commitment to user-friendliness and aesthetic beauty. They breathe life into designs through high-quality coding and are dedicated to providing ongoing support even after project completion. The team's creativity extends into the realm of illustrations and motion design, where they can bring imaginative concepts to life. Clever Code also excels in developing engaging B2B and B2C websites, with an emphasis on creating user-focused digital experiences that are far from boring. The design agency's commitment to quality and innovative approach make them a top pick for financial services web design.
---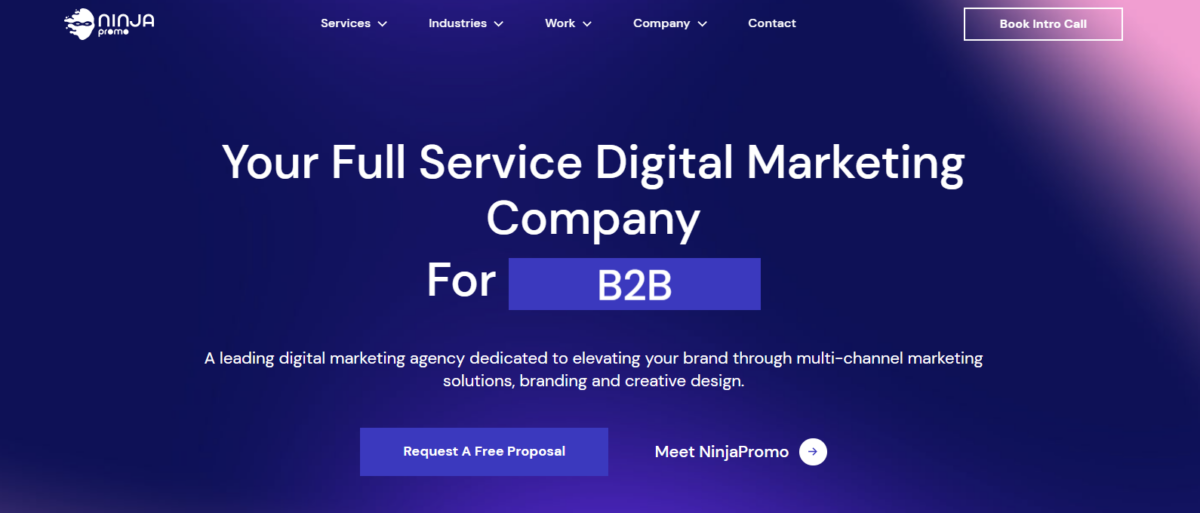 Average Hourly Rate: $50 – $99
Average Project Cost: $1,000+
London-based NinjaPromo is a creative agency specializing in web design and a host of digital marketing services. They strive to provide high-quality, cost-effective design solutions, offering a flat monthly subscription fee instead of expensive per-project fees.
NinjaPromo champions a limit-free design approach, allowing clients unlimited revisions until the design is perfect. They focus on speed, efficiency, and the delivery of visually stunning designs. A key feature of their service is their commitment to keeping client websites fresh and updated. With their unlimited web design services, clients can request as many designs as needed for a new logo, layout, or set of visuals. Additional offerings include unlimited graphic design and a flat rate graphic design service, eliminating the concern of high freelancer fees or hourly contracts. NinjaPromo's commitment to affordability, flexibility, and unlimited design revisions make them an excellent choice for financial services web design.
---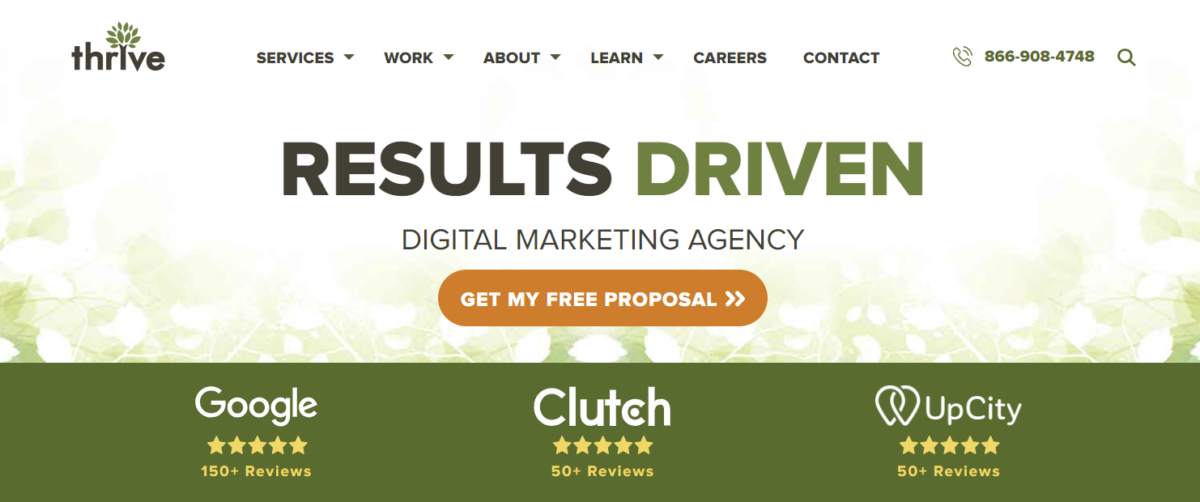 Average Hourly Rate: $100 – $149
Average Project Cost: $1,000+
Located in Dallas, Texas, Thrive is a premier digital marketing agency that uniquely combines SEO, PPC, Social Media Marketing, and Web Design to create a comprehensive digital marketing strategy for your financial services firm. Thrive starts by auditing your site and removing clutter to streamline your design for both mobile and desktop users.
This agency prides itself on creating responsive designs and WordPress websites, which are mobile-friendly and designed to increase customer retention. They use scalable vector graphics (SVGs) to ensure your website adapts to all screen sizes and devices. Their content editing and search engine optimization services are aimed at driving more business to your website. By partnering with Thrive, you're investing in results-driven websites, affordable custom web design costs, and integrated digital marketing solutions created by experienced web design and development experts.
---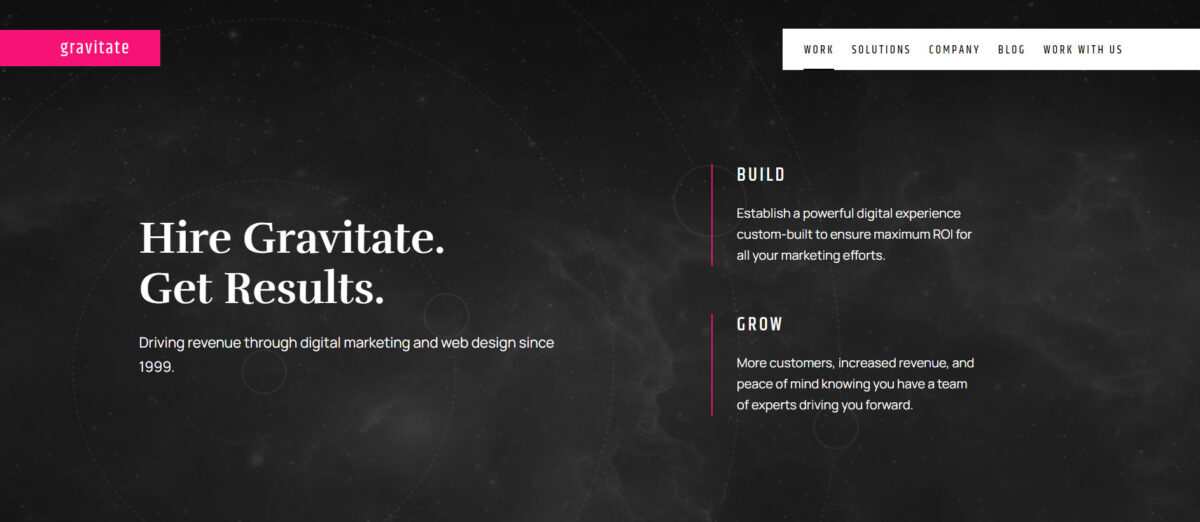 Average Hourly Rate: $100 – $149
Average Project Cost: $10,000+
Based in Vancouver, Washington, Gravitate has been transforming digital experiences for financial services and insurance companies since 1999. With a service focus on web design, pay-per-click, search engine optimization, web development, conversion optimization, and other digital marketing tactics, Gravitate builds industry-leading websites and propels growth in the digital realm.
Gravitate doesn't just provide a template for your brand; they work hand in hand with your team to craft a beautiful digital experience. Their solutions include web design to elevate brands, digital strategies to drive traffic, and continual enhancement of your digital presence to improve conversions. Specializing in the financial sector, they have expertise in everything from capital management to accounting and are committed to meeting compliance standards and setting up the site for long-term digital success.
---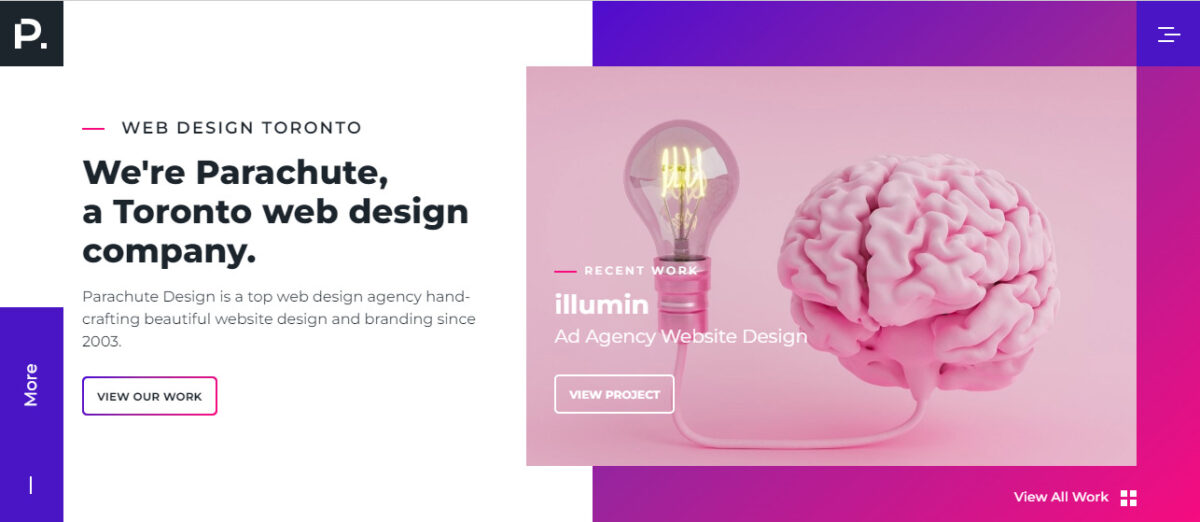 Average Hourly Rate: $150 – $199
Average Project Cost: $50,000+
Situated in Toronto, Canada, Parachute Design Group has been a trusted partner for financial service providers since 2003. Their team offers a suite of services including web design, web development, branding, search engine optimization, and UX/UI design.
Parachute Design Group creates fully custom web designs and responsive websites for fintech startups to enterprise-level financial corporations. They excel in building custom WordPress sites that are flexible, optimized for search, and easy to manage. Their agency also assists in creating a unique brand identity, optimizing user experience, and developing a search engine-optimized site to attract top decision-makers. With decades of experience, Parachute Design Group understands the unique identity and personality of financial brands and offers a set of crucial guidelines when designing a new website for a financial services company.
---
---
The Importance of Selecting a Specialized Agency for Financial Services
Choosing a specialized web design agency for financial services carries significant importance. Website design greatly influences user impressions and engagement. A staggering 94% of first impressions of a website connect directly to its design. Well-structured, visually appealing websites can make lasting positive impressions on potential customers. On the contrary, 90% of users tend to abandon a website with poor design.
Financial services operate in a highly competitive industry. Businesses cannot compromise their online user experience. Almost half of all complaints about financial firms stem from poor online user experiences. A meticulously designed, user-friendly website isn't a luxury but a necessity.
Selecting the right Financial Services Web Design Agency requires careful consideration of various factors. Not all agencies are created equal, and a deep understanding of the financial industry, coupled with a proven track record in delivering high-quality, secure websites, is vital. Business owners should also consider the agency's ability to design responsive websites that offer a seamless user experience across various devices.
The agency's approach to customer service is equally important. They should be able to provide continuous support and update services to ensure that the website remains current in the rapidly evolving digital landscape. It is also essential that the agency is aware of the latest trends in the industry and is capable of innovating and integrating these trends into their web design.
Additionally, the agency's understanding of Search Engine Optimization (SEO) is a crucial consideration. SEO is a key tool in driving traffic to the site, and an effective SEO strategy can significantly boost a financial firm's visibility online.
When it comes to security, the stakes are even higher for financial firms, given the sensitive nature of the data they handle. Hence, an agency's expertise in designing websites that meet stringent security standards is paramount.
Frequently Asked Questions
How much should I expect to spend on web design for my financial services website?
Web design costs vary significantly based on the size and complexity of your project. The agencies listed in this article charge anywhere from $1,000 to $50,000+ for their services. Remember, investing in a high-quality, professional website can yield significant returns in the long run.
What factors should I consider when choosing a web design agency for my financial services firm?
Consider the agency's experience in the financial sector, their service offerings (e.g., SEO, social media marketing, PPC), their design portfolio, and client testimonials. Also, ensure they understand the compliance and security requirements unique to the financial industry.
How important is a mobile-friendly design for my financial services website?
Extremely important. More people are using mobile devices to access the internet than ever before. A mobile-friendly design ensures your website looks good and functions well on all devices, which is crucial for customer retention and conversion rates.
How long will it take to design my financial services website?
The timeline varies depending on the complexity of your project and the agency's workload. On average, a complete website design project can take anywhere from a few weeks to several months. Be sure to discuss timelines with your chosen agency upfront to set clear expectations.