Starting an online business is no big feat. From deciding on a platform to setting up your website to planning your logistics–there are many things that need to be taken into consideration. One of the most important details that should be nailed down at the very beginning is the manufacturer or supplier for your product.
You may already have a brilliant idea and concept for the product, but you need a manufacturer to bring that idea to life. More importantly, that manufacturer needs to be able to meet the exact quality that you want to deliver. This can make the process extremely challenging, especially if you're new to the ecommerce landscape.
In this guide, we help you navigate the process of finding a manufacturer or supplier for your product in 2023. We help you weigh the pros and cons of a domestic supplier vs. an overseas one. We also walk you through the various steps required in finding a supplier. Let's get right into it.
---
Find a Manufacturer or Supplier for Your Product in 2023:
---
What Is a Manufacturer?
As the name suggests, a manufacturer is a company that manufactures products. They turn raw materials into finished goods, which are then sold to wholesalers, distributors, retailers, or even directly to consumers. In some cases, their products may also be used by other manufacturers to build more complex products.
Manufacturers often specialize in one specific type of product or industry. For example, you may work with one manufacturer that only produces shoes and bags. Additionally, you may also work with another manufacturer that specializes in clothing items to create an inventory of items to list in your store.
---
What Is a Supplier?
Simply put, a supplier is a business or entity that supplies products or services to another business. In other words, they help make sure that an ecommerce business has products in their inventory to sell to consumers.
Most times, the manufacturer is also the supplier, which is why the two terms are often used interchangeably. However, in some cases, suppliers may also buy products in bulk from the manufacturer and then sell them to other businesses such as retailers thus, also serving as a wholesaler or distributor. Dropshipping suppliers typically take this approach.
---
Domestic vs. Overseas Suppliers: The Pros and Cons
Now when you're deciding on the right supplier for your product, one of the key considerations is whether you'd work with a supplier from overseas or with a domestic supplier. Each option has its pros and cons, so it's important to weigh your options carefully to decide which one would be more suitable to your needs. Keep in mind that the best option will depend on the unique needs and goals of your business as well as your available resources.
---
Domestic Suppliers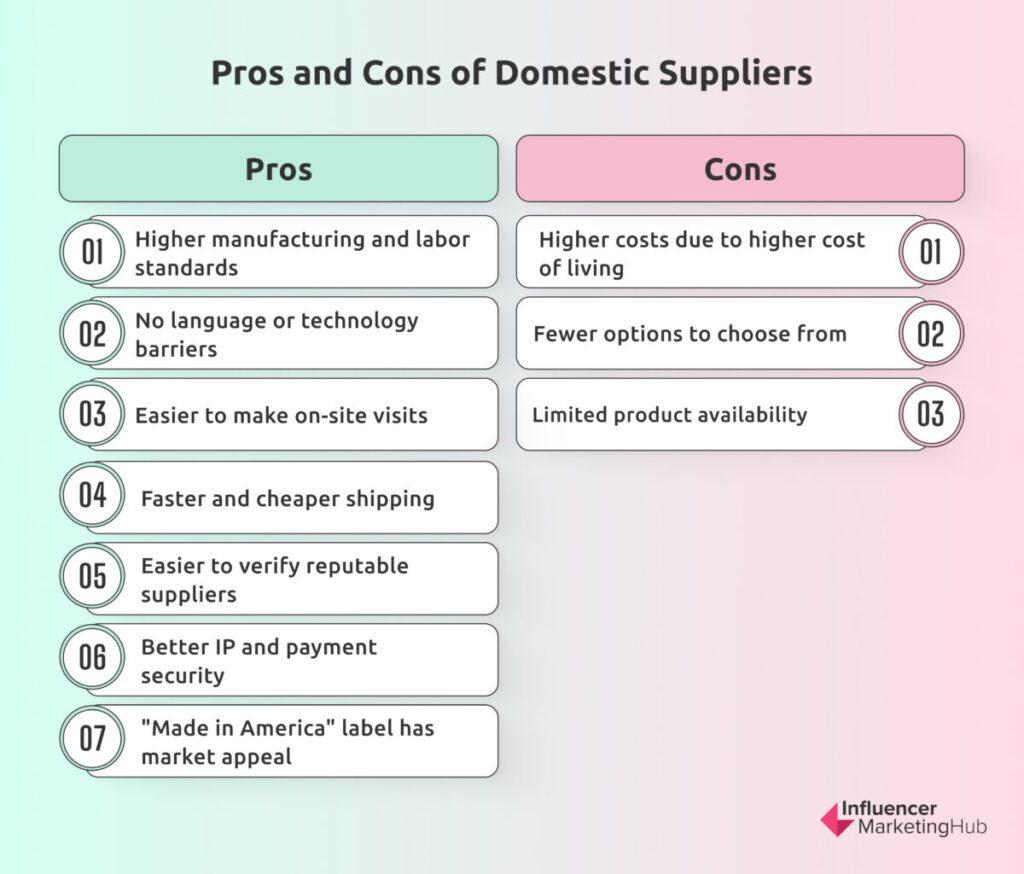 Pros
Domestic manufacturers have higher manufacturing and labor standards to keep up with. As such, you can depend on them to deliver high-quality products that meet your expectations while complying with relevant ethicality guidelines.

There are no language or technology barriers with domestic manufacturers. This makes it easier to communicate with them with minimal risk of miscommunication. In addition, there's a better chance that you can establish a good working relationship with them.

When you work with a domestic manufacturer, you can make frequent on-site visits since it's easier and cheaper to travel domestically. That way, you can stay on top of your manufacturing vendors and ensure that your quality standards are being met.

There's also the fact that inventory will take less time to get transported to your warehouses. Domestic shipping is not only faster, but it's also cheaper, allowing you to save time and money transporting inventory.
It's easier to verify reputable domestic suppliers. This is mainly because a majority of their clients are also located domestically. Moreover, it's easier to access reviews and online resources speaking for the credibility of domestic suppliers.

Domestic suppliers operate according to state and federal laws that ensure better protection for your intellectual property rights. Moreover, they're also obligated to maintain better payment security.

Finally, the "Made in America" label has a lot of market appeal. Many consumers would choose to buy something that's made locally even if it costs a bit more.
---
Cons
With the higher cost of living, operational and raw material costs also tend to be higher. As a result, you may have to pay a premium price to work with domestic manufacturers. This isn't always a viable option for businesses that are just starting out and have limited funds to work with.

Many manufacturing operations have shifted overseas, which is why businesses also have fewer options in manufacturers to choose from. In some cases, businesses may settle for whichever domestic manufacturer is cheap and available, which doesn't always guarantee a good business-supplier relationship.

On top of this, some products just aren't manufactured in North America. As a result, businesses also have a limited number of product options to work with.
---
Overseas Suppliers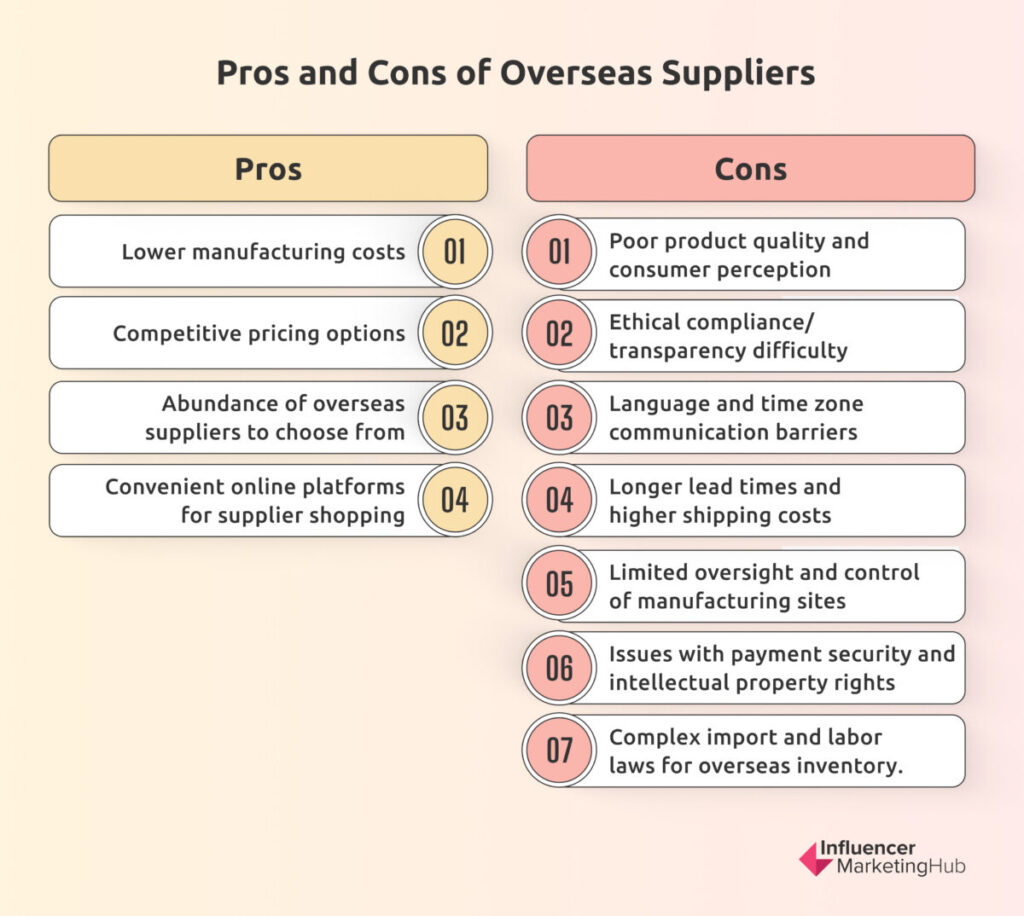 Pros
A key factor that draws businesses to overseas suppliers is the ability to enjoy lower manufacturing costs. In most countries where manufacturing operations are carried out, cost of living is much lower than in North America. They can access manufacturing resources, labor, and raw materials at a much cheaper rate, allowing businesses to significantly cut down the cost of inventory.

With lower cost of inventory, businesses also have the freedom to set competitive prices without sacrificing their profit margins. This allows them to stand apart from the competition and improve their chances of converting customers.

When it comes to overseas manufacturers, businesses have an abundance of options to choose from. Lower barriers to entry and cheaper operational costs have led to the surge of manufacturing businesses in many countries. As such, businesses can shop all they want before they decide on which overseas supplier to work with.

Platforms like

Alibaba

have made it easier for businesses to shop around for suppliers across multiple countries. They can easily compare prices and find one that fits their needs.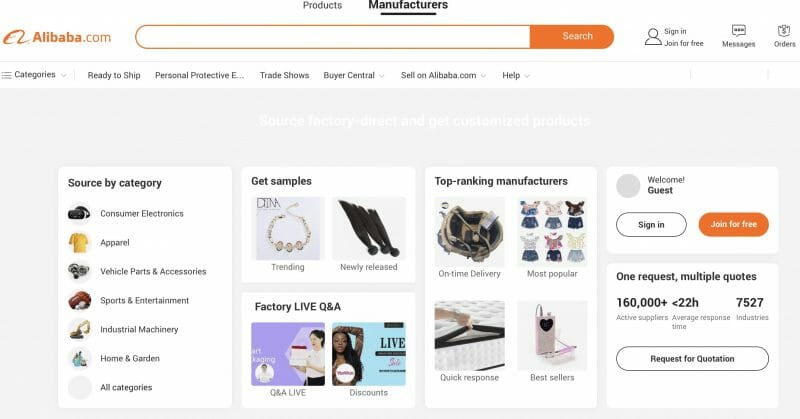 ---
Cons
Products made by an overseas manufacturer may be of subpar quality and you may have a hard time verifying their quality. Even if not, there's a lower perceived quality by consumers as a whole, owing to the lower prices and the perception of poor working standards in other countries.

The labor, manufacturing, and ethicality standards are lower in many countries where manufacturing operations are carried out. As a result, you can't confidently speak for your brand's compliance with the ethicality expectations of consumers. This also makes it difficult to maintain transparency, which is what

many consumers today look for in a brand

.

When working with overseas suppliers, you often have to communicate with them in spite of language and time-zone barriers. This can make coordination more challenging while increasing the risk of miscommunication.

Inventory from an overseas supplier will take a longer time to get to your warehouses. Not to mention the high cost of international shipments and the complications of handling the associated paperwork and permissions.

It can be costly and time-consuming to make on-site visits to overseas factories. As such, you have little oversight and control over what's happening in your manufacturing sites.

With security regulations being lax in some countries, you may experience issues with payment security and intellectual property rights. In addition, there's less legal recourse when you do experience such issues.

You also have to consider the various import and labor laws associated with transporting your inventory from an overseas manufacturer to your domestic warehouses. This can be complicated and tricky as well as expensive to handle.
---
Steps to Find the Best Manufacturer or Supplier for Your Product
Once you have an inkling of whether a domestic or overseas supplier would be the better option for you, it's time to get started with the process. Here are the different steps to finding the best manufacturer or supplier for your product.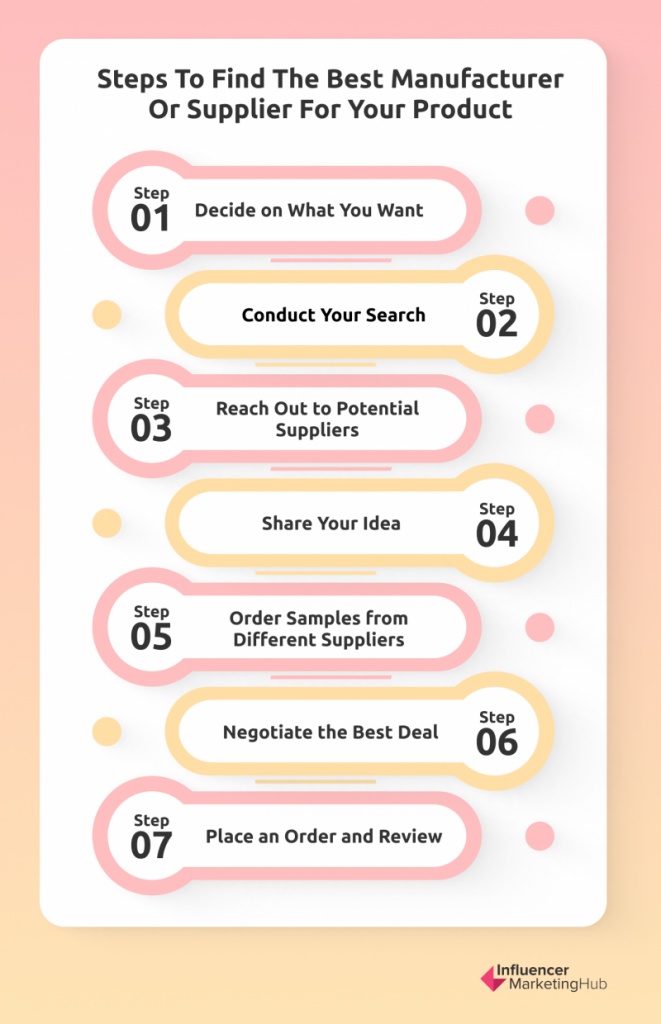 Step 1: Decide on What You Want
Consider the needs and current standing of your business to decide what type of supplier you need. Then list all the qualities of an ideal supplier to help guide your search. This list may include details such as where they're located, how much they charge, how soon they can deliver your inventory, and so on.
You may also want to specify details such as whether the supplier uses software that can integrate with yours. This is very important for seamless collaboration. With the right inventory management software, you can easily automate the process of planning and making inventory replenishment orders, paying out invoices, and tracking your shipments.
---
Step 2: Conduct Your Search
Now it's time for the most exciting (yet time-consuming) part–the actual search. There's an abundance of resources online that can make your search easier. Alibaba is a leading platform where there are hundreds and thousands of suppliers and manufacturers from all over the world. In addition to Alibaba, you can look to online directories to find the best options.
For domestic suppliers, you can browse directories such as Maker's Row, Thomasnet, and MFG among many others. If you're selling on Amazon, you can also use an Amazon supplier database like JungleScout. For overseas suppliers, directories such as Indiamart and AliExpress are also a good option.
Beyond these directories, another reliable way to find potential suppliers is by asking around. Get other businesses to refer you to a credible supplier in your industry. This simultaneously helps you to vet potential suppliers as you get a list of viable options that other businesses are vouching for. Online forums and Google searches are additional ways you can conduct your search.
Then look through their listings and see which manufacturers can make the products you want. Check out their locations and pricing to see if they're the right fit for you. More importantly, go through online reviews and testimonials to check for their reputation. Then add those manufacturers who would possibly be able to supply your products.
---
Step 3: Reach Out to Potential Suppliers
Once you've made a list of potential suppliers you want to work with, you'd need to narrow down your list to find the most ideal options. To do this, use the list you created earlier to prepare a set of questions to ask each potential supplier.
First, you'd need to make sure they can manufacture or supply the exact product you want. If your product is going to need to be built from scratch, make sure the manufacturer is capable of taking custom orders. You'd also want to ensure they have the manufacturing capacity and the technological capability to meet your needs.
Then ask questions related to rates, shipping methods, transit times, lead times, software integrations, and so on. Additionally, you'd want to ask about their minimum order quantities, defect policies, ethicality practices, and exclusivity rights (if applicable).
If you intend to grow your business further down the line, you'd also want to ensure that the manufacturer can scale with you. Changing suppliers can be complex and time-consuming, so it's important to find someone who can scale their production as demand increases for your business.
---
Step 4: Share Your Idea
Based on the initial outreach, you'd end up with a shortlist of key suppliers you could potentially work with. Let's say you have three potential suppliers on your list. While the goal is to find a single best supplier, having some backup options will streamline the process for you. That way you don't have to start from scratch if your first choice doesn't pan out.
Now to further narrow things down, it's time to share your product idea with the manufacturers you've shortlisted. This step is necessary to confirm whether the manufacturer is actually capable of delivering on your needs. You can share your idea through sketches and blueprints. If you have a prototype, this is one of the most effective ways to communicate your idea.
---
Step 5: Order Samples from Different Suppliers
Once you've confirmed that the manufacturer can build your product, start with a few sample orders. This will help you see just how well they can bring your vision to life. It'll help you examine the finished product to assess it for quality while also assessing the manufacturer's performance in terms of lead times and shipping times.
Ideally, you should order samples from all your shortlisted suppliers. This will help you narrow down the single best option for you based on the quality of their work, their level of service, and your experience working with them.
---
Step 6: Negotiate the Best Deal
After you've ordered samples and decided on the perfect supplier for your business, it's time to negotiate. You'd ideally be discussing details such as payment terms and minimum order quantities. Keep in mind that this deal should be mutually beneficial so you can establish a long-standing relationship with the supplier. So the goal isn't necessarily to get the lowest price possible.
---
Step 7: Place an Order and Review
Finally, once the deal has been finalized, you can start placing your first batch of orders. This is one of the most crucial steps because it's when you do a quality control check. You'd need to review all the products they've sent to ensure that they meet your quality standards. Look for issues with manufacturing defects and damages in transit so you can work with the manufacturer on fixing them before they go out to your customers.
You can use ecommerce growth software such as Pacvue for this. This gives you access to inventory forecasts and purchase order history. It also instantly detects issues with products and analyzes them to simplify your supplier review process.
Keep in mind that even if a manufacturer was able to exceed expectations for the first few orders, there's a chance they'd fail to maintain the same quality throughout. So be vigilant and ready to constantly monitor your inventory orders.
---
Establishing a Lucrative Partnership with Suppliers
The job doesn't end after you've finalized a deal with the right supplier. It's up to you to ensure that your partnership with the supplier remains profitable for both parties for years to come. So make sure you're maintaining good communication and collaboration with every supplier you work with. A long-standing supplier partnership is key when you want to scale your business in the future.