Advertising Disclosure
Advertising disclosure:
Our partners compensate us. This may influence which products or services we review (also where and how those products appear on the site), this in no way affects our recommendations or the advice we offer. Our reviews are based on years of experience and countless hours of research. Our partners cannot pay us to guarantee favorable reviews of their products or services.
LinkedIn is a multi-purpose platform focusing on interactions between employers and potential employees. On the one hand, it is a business-oriented social network where professional people can share thoughtful posts and comments. On the other hand, it's a giant recruiting site where millions of businesses and workers update their employment histories and showcase their work-based successes. And then, many people and businesses see LinkedIn as a massive sales opportunity, finding leads and pushing them through the purchasing funnel. All these different tasks can benefit from LinkedIn automation tools.
While LinkedIn has a disparate pattern of uses, its business focus gives it a common direction. As a result, LinkedIn is the social media platform of choice for professionals and the firms that employ them.
Although LinkedIn's use is much smaller than Facebook, YouTube, Instagram, or TikTok, it has more members than Twitter. It is beloved by B2B audiences, and approximately 93% of marketing professionals use LinkedIn for organic social marketing.
With LinkedIn having many facets, it is harder to create a list of automation tools than many other platforms. However, there are so many tasks on LinkedIn that you can benefit from automating, from workflow to outreach and engaging with prospects at scale. In this post, we focus on LinkedIn automation tools that help ease your social posting, but we have added a few that automate finding sales leads that may be of value to you, including one from LinkedIn itself.
---
Best LinkedIn Automation Tools for 2023:
---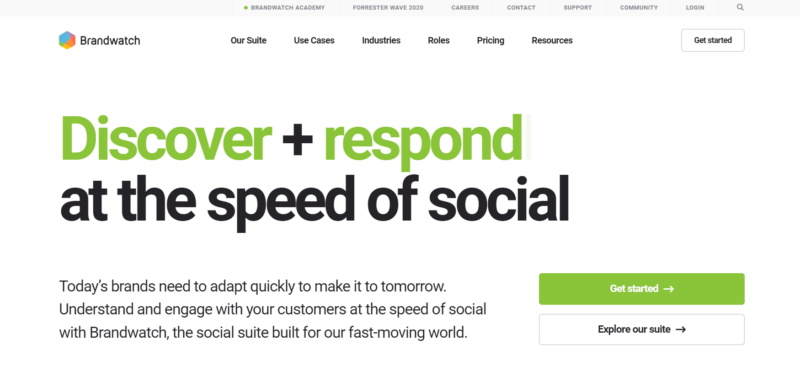 Brandwatch has an extensive remit as a social media listening, publishing, advertising, measurement, and customer data management platform. So, although it counts as a LinkedIn automation tool, it is so much more. It has a particular strength in providing in-depth data and analytics for its clients. You can sum up Brandwatch services across multiple social channels, including LinkedIn as:
Publish – manage all your content from one calendar

Engage – funnel all social interactions into one Inbox

Advertise – create automated ad campaigns at scale (not LinkedIn – Facebook, Instagram, and WhatsApp only)

Audience – see all your audience data in one place (not LinkedIn)

Listen – monitor the social web for insights (not LinkedIn)

Measure – track your performance across channels

Benchmark – compare and contrast with benchmarking (not LinkedIn)
Brandwatch recognizes the needs of smaller businesses with their cut-down Essentials plan. Here, you can connect up to five social media channels and receive access to a social media calendar, a social inbox, message templates, performance dashboards, and receive chat/email support. This may also be suitable for firms primarily looking for a LinkedIn automation tool to assist their social publishing, with most of the "missing" components not currently available for LinkedIn.
---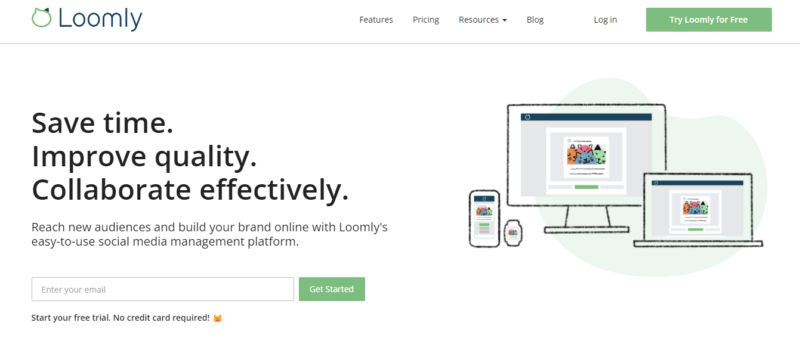 LinkedIn is one of many integrations that work well with Loomly; every social channel from Pinterest to Snapchat to Google My Business. They claim to offer all you need to collaborate efficiently on building a successful brand. You can manage all your social media content — organic posts and ads — from one platform. You can even set things so Loomly will notify you every time someone in your team updates or comments on a piece of content, with email, push, Slack, and Microsoft Teams notifications.
Loomly helps you store, organize and use your assets in a central, intuitive Library. This includes your photos, videos, notes, links, and post templates. In addition, you can create video slideshows from multiple images.
The platform guides you step by step to create fantastic posts and ads. It even includes Unsplash & Giphy integrations to help you find visuals for your posts. In addition, you can plan content ahead of time: just set it and forget it. For many channels, including LinkedIn, Loomly enables automated publishing.
Loomly's Interactions enables you to respond to your followers' messages, comments, and reactions on Facebook, Twitter, Instagram, and LinkedIn.
---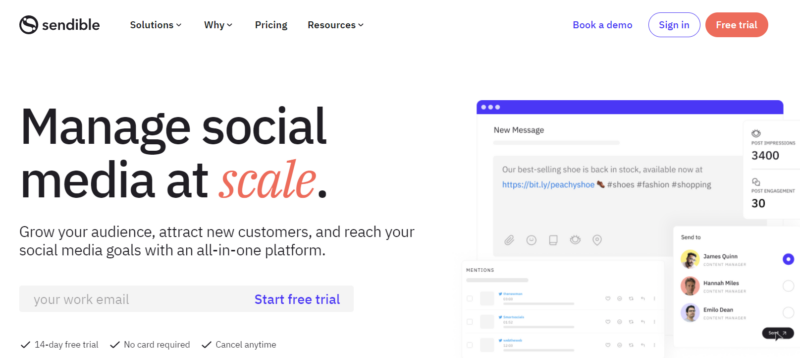 From its launch back in 2008, Sendible has aimed to make it easy for marketers to manage all of their social media platforms and more from a central console. Its capabilities differ by platform, presumably because of the varying quality of the platforms' APIs, but for LinkedIn, you can:
Schedule posts to LinkedIn profiles and Company Pages

Respond to comments and analyze your content performance
With Sendible integrating multiple social channels, you can create content suitable for your LinkedIn followers and cross-post and publicize this content on your other social platforms. Indeed, Sendible is particularly useful if you make content for a WordPress website or blog, as you can draft posts and publish them to your WordPress account (both self-hosted and WordPress.com) and then promote them on your social channels. Usefully, their integration with the graphics app, Canva, means you can create social media graphics with Canva and schedule them to your profiles and pages without leaving Sendible.
If you're an agency, you can tailor your clients' posts to each network, meaning you can switch up the hashtags and emojis and even change the attachments. You can group social media posts into campaigns and schedule them on specific days and optimal times. In addition, you can schedule with queues, making promoting evergreen content easy and allowing for consistency in keeping your clients' social media profiles active.
---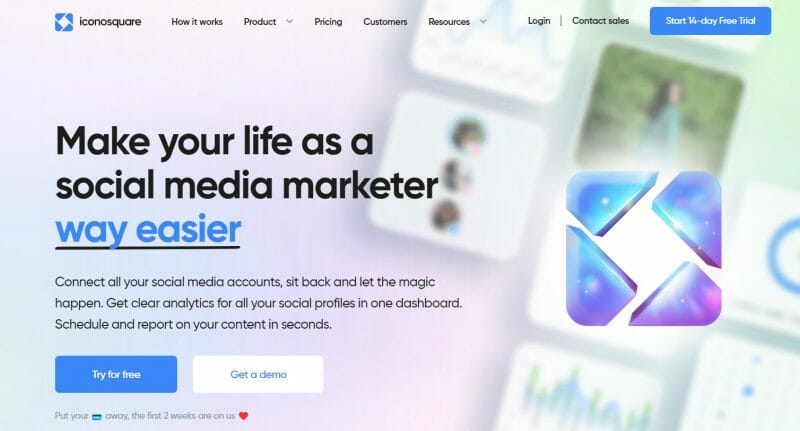 You can use Iconosquare to make data-driven decisions for Instagram, TikTok, LinkedIn, Facebook, and Twitter. Although you can't yet use its social scheduling tools with LinkedIn, you can still subscribe to its advanced analytics that helps you maximize your social media performance. Your customized dashboard quickly visualizes the metrics most important to you, and scheduled reports help you stay on top of your game.
Iconosquare provides you with a range of easy-to-read graphs that display brand performance. For example, track follower evolution, average engagement rate per post, reach, and impressions history. The available statistics vary by social platform, but they are comprehensive and give complete insight into whether your social posts perform successfully and how they gel with your social audience.
---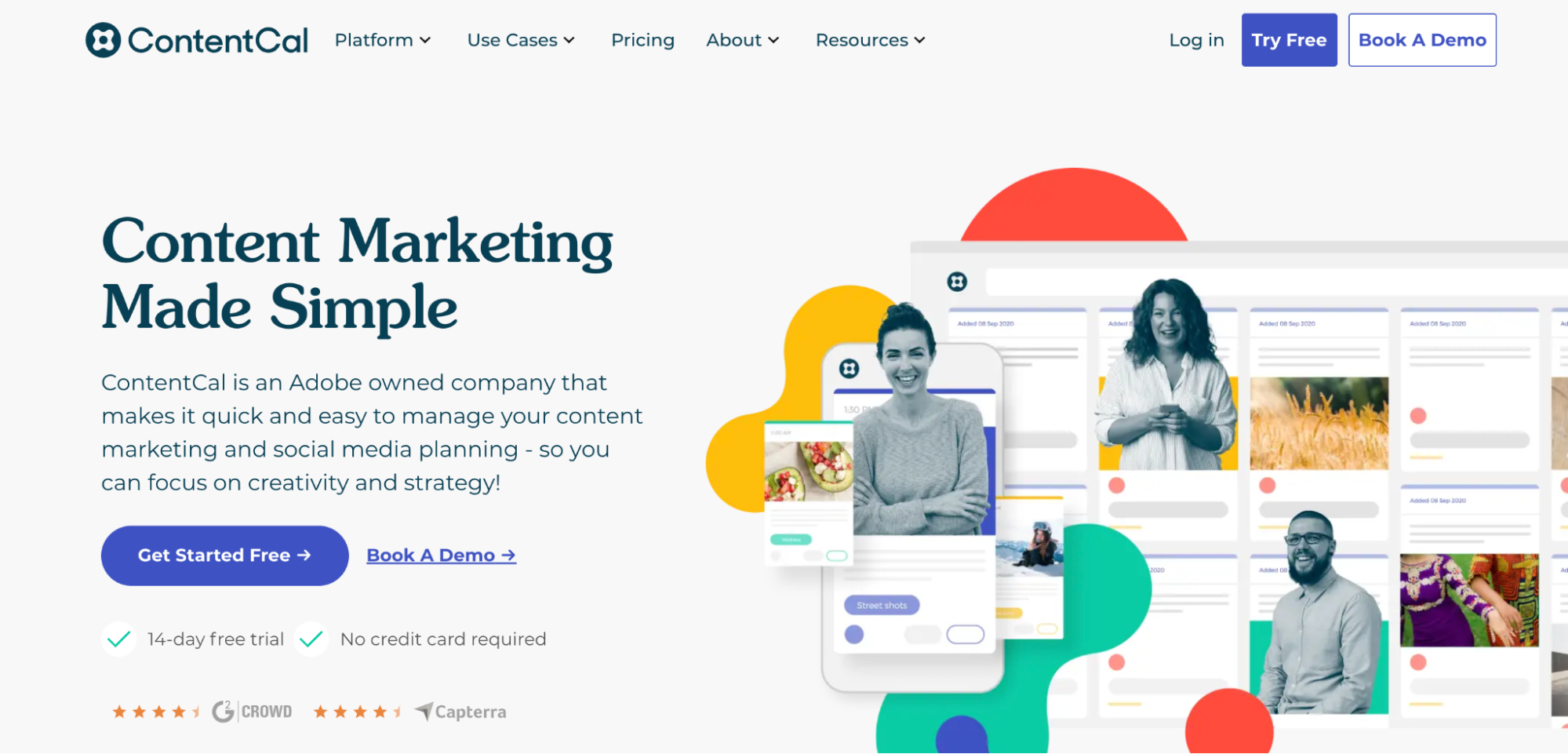 ContentCal is an easy-to-use, visual, social media content planning tool that integrates with Facebook, Twitter, Instagram, Pinterest, Google My Business, and Medium, as well as LinkedIn. All plans collect your organic LinkedIn data, so you can reflect on your LinkedIn performance using metrics such as engagement, follower growth, and individual post analytics.
You can use ContentCal to plan your campaigns, share ideas, and sequence activity across multiple channels, including LinkedIn. ContentCal revolves around a visual calendar to schedule all your upcoming social posts. The software color-codes the entries in your calendar to give you an at-a-glance understanding of where you're at with your social posting for LinkedIn and all your other social platforms.
One of ContentCal's automations that is a real timesaver is Snippets. Here, you pre-define as many different strings of repetitive text as you need, and at post creation time, you simply select appropriate Snippets from a drop-down menu to insert into your post.
ContentCal includes a Content Hub, where you can create template posts, save ideas, and store images, media, and links in one central location.
As you would expect from a social media planning and automation tool, you can set schedules and automatically publish your content at your chosen time and date. This isn't restricted to LinkedIn (which is one of the more accessible platforms to auto-publish to), but all your other social channels too.
---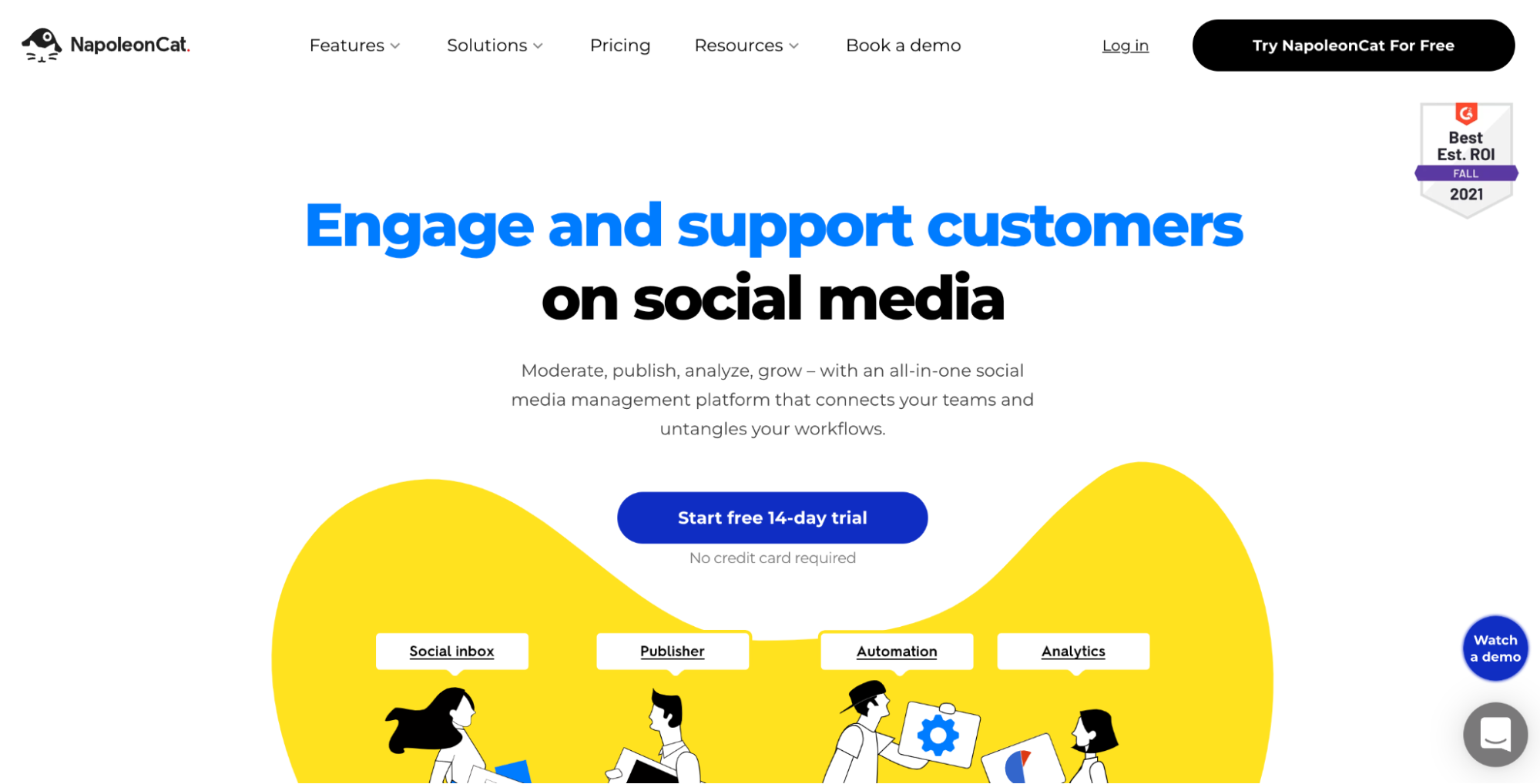 NapoleonCat is an all-in-one social media management platform that connects your teams and untangles your workflows. It makes a point of emphasizing its social media automation capabilities. It believes its automation tools can help you streamline your processes, save time, and improve the quality of your customer service. You can use Napoleon Cat to automate your:
Social customer service

Social sales

Teamwork

Moderating ads

Scheduling and publishing

Analytics and reporting
The platform integrates well with Facebook, Instagram, Twitter, Google My Business, YouTube, Facebook Messenger, and LinkedIn.
You can use Napoleon Cat to schedule and publish updates on multiple LinkedIn Company Pages. Then you can make your life easier by replying to comments from one place (for LinkedIn and all your other social networks) and analyzing and improving your content's performance.
The combined social Inbox can be particularly useful. You can even turn comments into customer service tickets and like and reply to them straight from the Inbox. In addition, you can set Napoleon Cat to automatically translate your conversations if you have an international audience.
As you would expect, Napoleon Cat helps you publish or schedule posts in advance for multiple LinkedIn Pages at once. You can plan all your social content, including your LinkedIn posts, in a handy calendar. You can even add images, videos, links, and UTM tags just like you would on LinkedIn, without having to go to your page every time.
---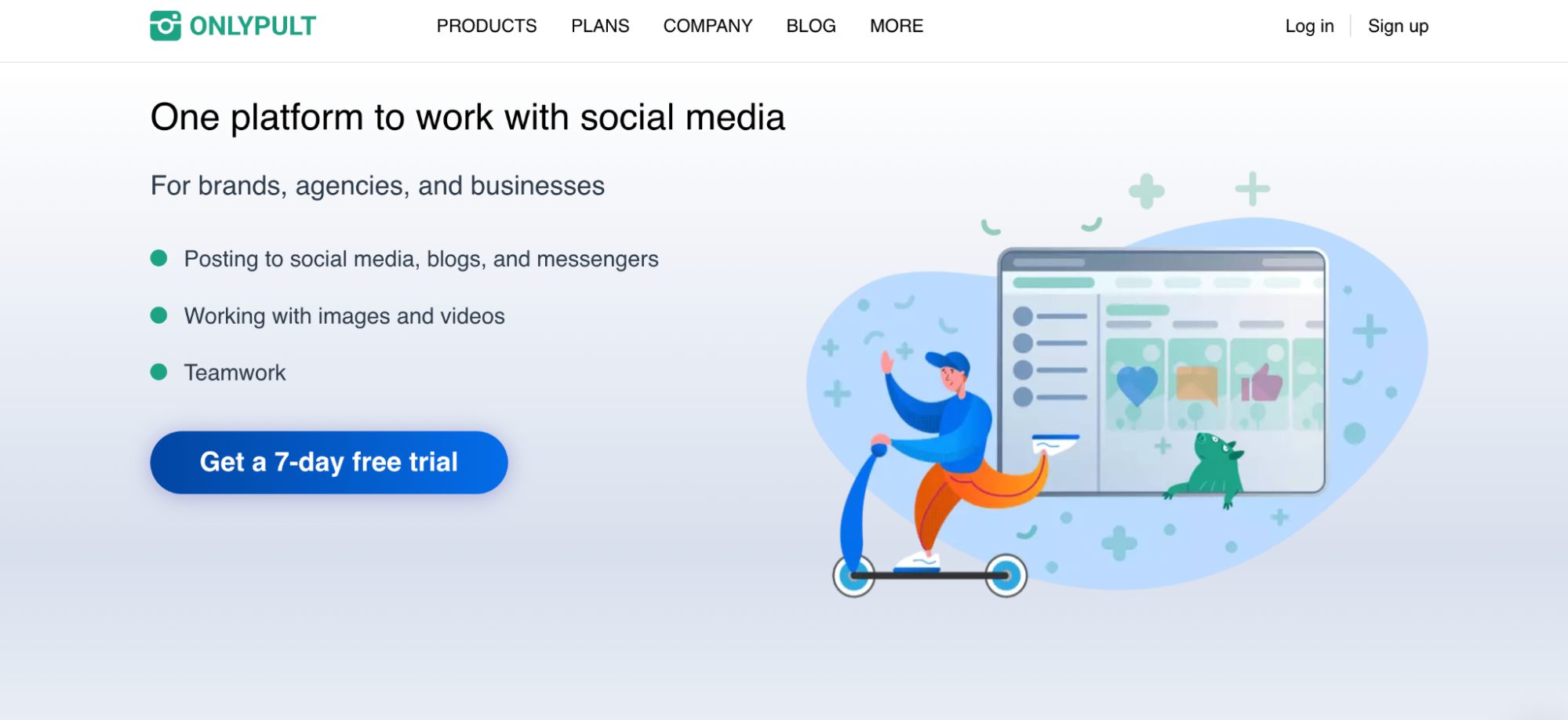 Onlypult saves you time by providing you with one control panel for (big breath here): Facebook, Instagram, Twitter, LinkedIn, Google My Business, YouTube, TikTok, Tumblr, WordPress, Telegram, Vkontakte, Odnoklassniki, Pinterest, and Medium. It truly is a one-stop-shop for social media marketing. You can manage all of your accounts from one window without switching users.
Onlypult is packed with a collection of well-integrated features, from posting to image and video editing.
You can use Onlypult to auto-schedule posts, i.e., you set your preferred posting times across your channels, and after that, when you create a new post, Onlypult adds it to the auto-schedule queue in one of your preferred slots. You don't need to manually schedule your posts, although you can if you wish. You can also create auto-deleting posts that expire at a specific date and time – great for short-term promotions and coupons.
---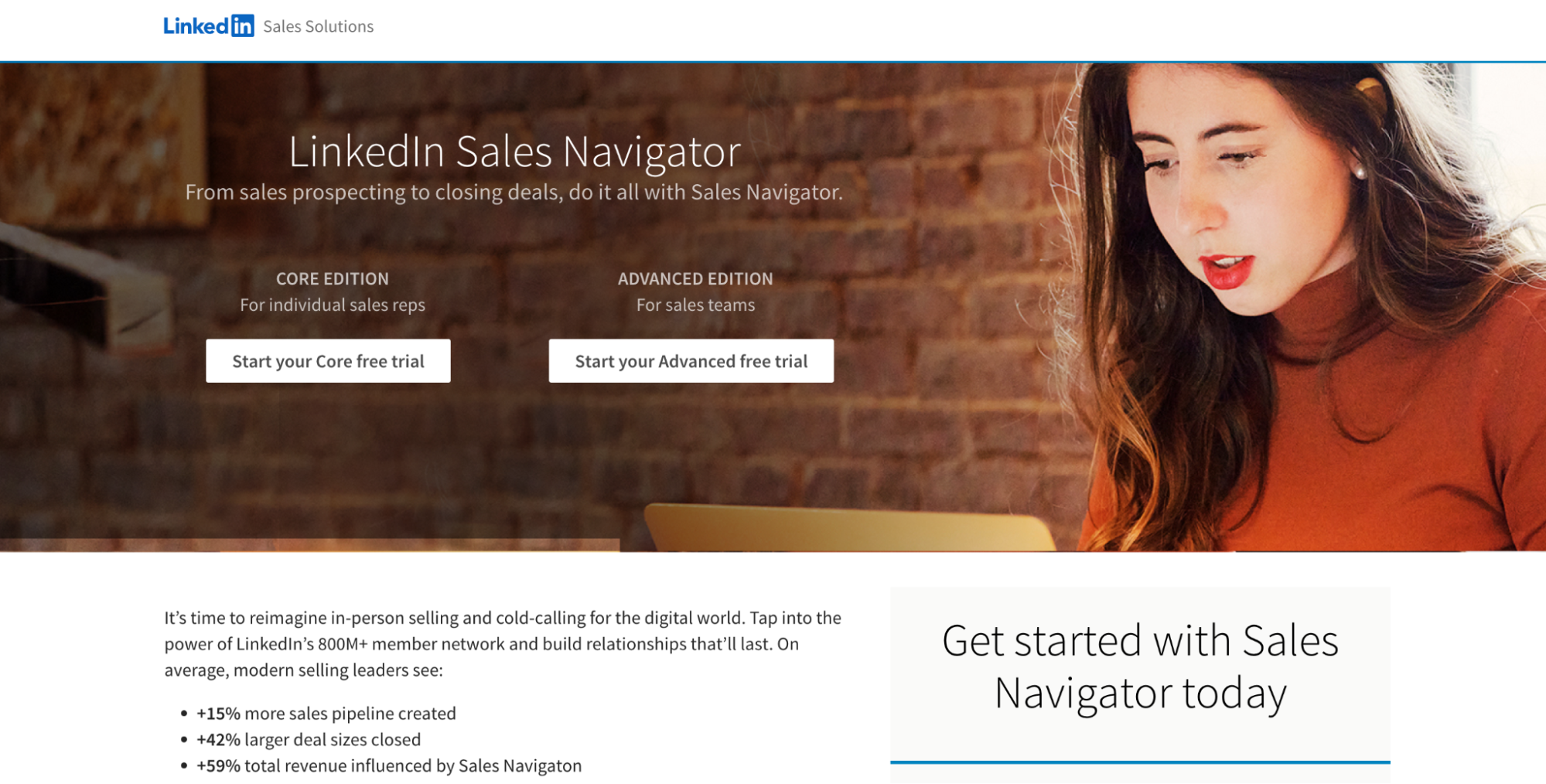 LinkedIn Sales Navigator is an official LinkedIn automation tool emphasizing LinkedIn's potential to assist your sales activity. You can use it to find the right people and companies faster and keep track of key leads and company changes. You don't even have to exit the program to reach and engage with prospecting leads.
LinkedIn Sales Navigator includes advanced search features using personalized algorithms to help discover the best leads. It includes multiple filters to narrow your search, and once you have found the most desirable people, you can save their details into your CRM.
---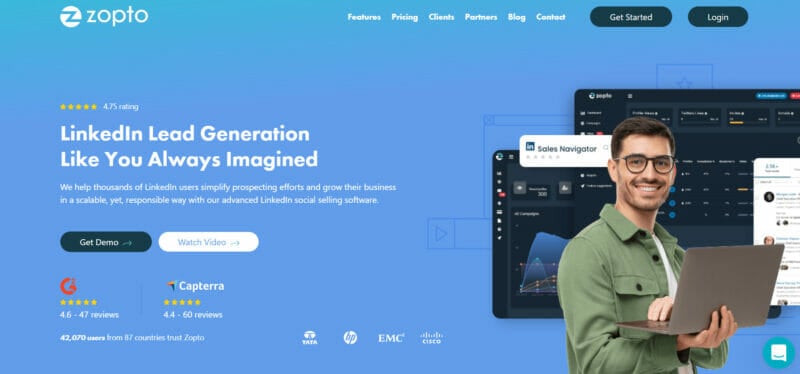 Zopto is a LinkedIn automation tool that you can use to generate new business leads. In addition, you can use it to manage multiple profiles. It works with Recruiter and Sales Navigator accounts, offering flexibility based on your type of business. In addition, you can respond to conversations in your Inbox right in the app. Zopto stresses that their algorithm mimics human behavior, so you never get a LinkedIn ban.
Zopto works with marketing automation and CRM tools and thousands of integrations through Zapier and webhooks. For example, you can use it to build an advanced list of prospects and filter based on hundreds of criteria.
Zopto helps you find, identify and expand your network. By connecting with your ideal audience, you can drive sales and share content. You can use advanced filtering based on hundreds of criteria.
Because Zopto believes in the power of AB testing, they allow you to run an unlimited number of campaigns.
---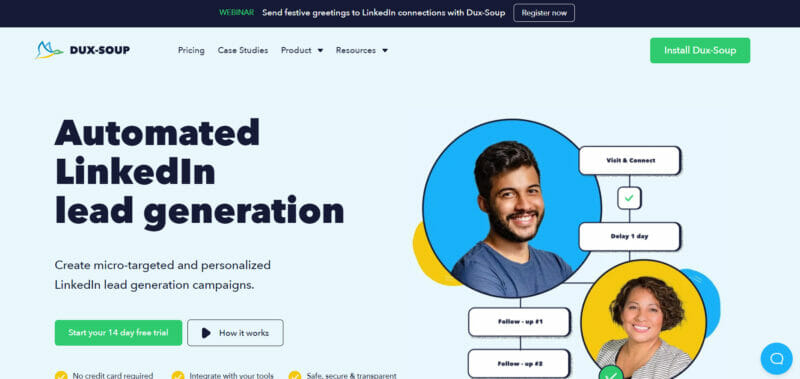 Dux-Soup provides LinkedIn automation to accelerate your lead generation by targeting your prospects with personalized LinkedIn outreach. It automatically engages with the prospects you select on LinkedIn, endorsing their skills, sending them customized connection requests and multiple, delayed, personalized direct messages. It does this on your behalf, from your browser, providing you with complete control and visibility of the activity in your LinkedIn account.
Even the free Starter Dux plan allows you to find LinkedIn prospects, visit their profiles, filter, and take notes. The paid plans add more in-depth features, such as cost-effective lead generation, uploading prospect lists, and network building. The highest plan, Turbo Dux, adds in campaigns and lead management.
---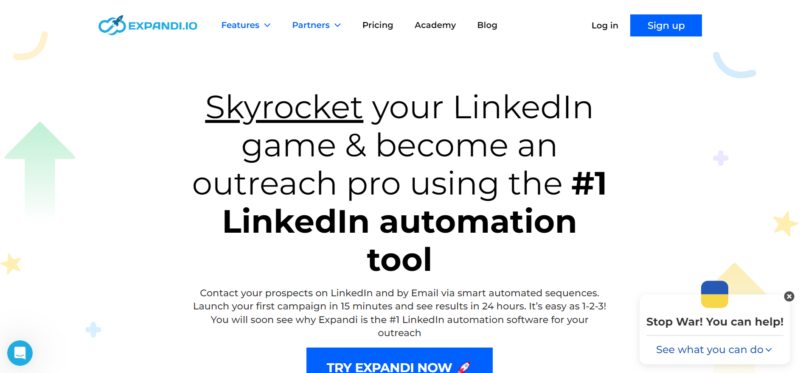 Expandi helps you find and connect with the most relevant leads, and it ensures that you don't suffer from spam penalties from LinkedIn. It uses a dedicated country-based IP address, smart limits, a delay between actions, blacklisted contacts, and an auto-warm-up feature to ensure that you avoid getting banned in LinkedIn when trying to link up with leads. As a result, you can use it to reach your target audience and never have to waste time looking for prospects.
You can create follow-up campaigns with sequences for your 1st, 2nd, or 3rd-degree connections. You can add as many extra touch points as you wish and set up time delays between them.
It includes a Smart Inbox that integrates with your LinkedIn and email and will let you do all of your prospects' communication in one place.
If you're an agency, you can manage all your clients' LinkedIn accounts in one (white-labeled) dashboard.
---

Unlike some of the other automation tools that integrate with all the main social media channels, Cleverly focuses solely on LinkedIn. It's more accurately described as a lead generation agency than an automation tool, in fact, and can basically put the whole process of acquiring new leads via LinkedIn on autopilot.
With the help of Cleverly, your LinkedIn profile will automatically send out messages to your ideal prospects each day. Using data that they've gathered by implementing thousands of campaigns, their team knows which prospects to target. Plus, all the messages are personalized which means that you'll actually get responses. Then, when a lead responds, you'll get a notification helping you to improve your response times too.
In addition to lead generation, Cleverly can also help you make the most of your content, whether that's what you choose to share on your profile or in your posts. Their team will see to it that your profile is optimized and will create posts on your behalf that reflect your voice and showcase your skills.
---
Frequently Asked Questions
What are the best LinkedIn automation tools?
These are the best, most powerful LinkedIn automation tools in 2023:
Brandwatch (Formerly Falcon.io)

Loomly

Sendible

Iconosquare

ContentCal

NapoleonCat

Onlypult

LinkedIn Sales Navigator

Zopto

Dux-Soup
Is there a way to automate LinkedIn messages?
To create an automated message on LinkedIn, you need to get a list of contacts to message. Then, create a template based on the type of message you want to send. Set up the sequence with automated LinkedIn messages.
Which automation tool is best in market?
These are the 6 best automation testing tools on the market:
Selenium

Appium

Katalon Studio

Tosca

TestComplete

Cypress