Advertising Disclosure
Advertising disclosure:
Our partners compensate us. This may influence which products or services we review (also where and how those products appear on the site), this in no way affects our recommendations or the advice we offer. Our reviews are based on years of experience and countless hours of research. Our partners cannot pay us to guarantee favorable reviews of their products or services.
Magento (now called Adobe Commerce) is the go-to platform for businesses of all sizes and across various industries. It's one of the leading tools in digital commerce, which is no mean feat considering how competitive the market is.
It's a scalable, open-source platform that's feature-rich and offers countless customization options. Thanks to these features, many businesses turn to it as they know that they won't soon outgrow the platform.
Considering that your website will become your digital storefront, you'll want to entrust its maintenance to experienced professionals. You'll also want to get it right from the start, making it a good idea to partner with a web development company right from the start.
If you're sold on Magento for selling online, there are dozens of Magento development companies out there. Here are 10 of the top Magento developers, along with a couple of case studies so that you can compare different options and get an even better idea for yourself what each one has achieved.
---
Top Magento (Adobe Commerce) Development Companies [+ Case Studies Included]:
---
Leading Magento Development Companies for 2023: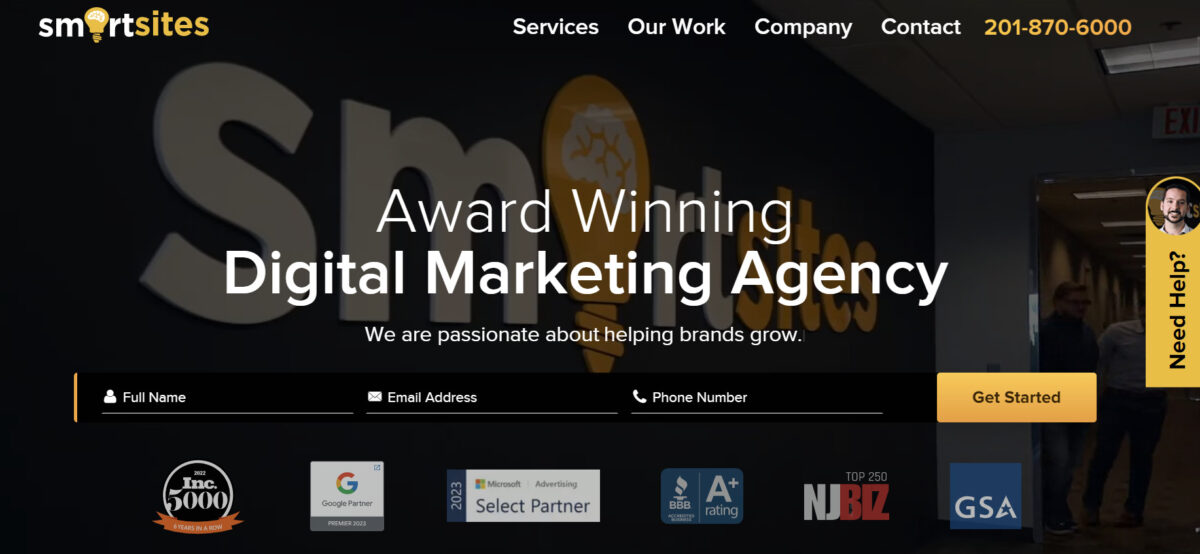 SmartSites have been featured in a number of our listicles for the amazing work that they do. When it comes to Magento development, you can also count on them.
They offer certified Magento developer services that have been ranked very highly by UpCity and Top Developers. To help you boost website traffic, their team of certified pros will complete a comprehensive technical SEO audit. Based on their findings, they'll then introduce website enhancements to create a seamless user experience (UX) all across your website. Not only will your website run faster, but it will also display better on all devices.
For example, when Meta Digital Athletics, a gaming company, needed a user-friendly website, SmartSites got to work to create a custom-built website. Not only can they now display their products and services, but they can also easily upload and manage content.
Key Magento services include:
Store edits and updates
Search engine optimization (SEO)
Custom development
Conversion optimization
Website design
---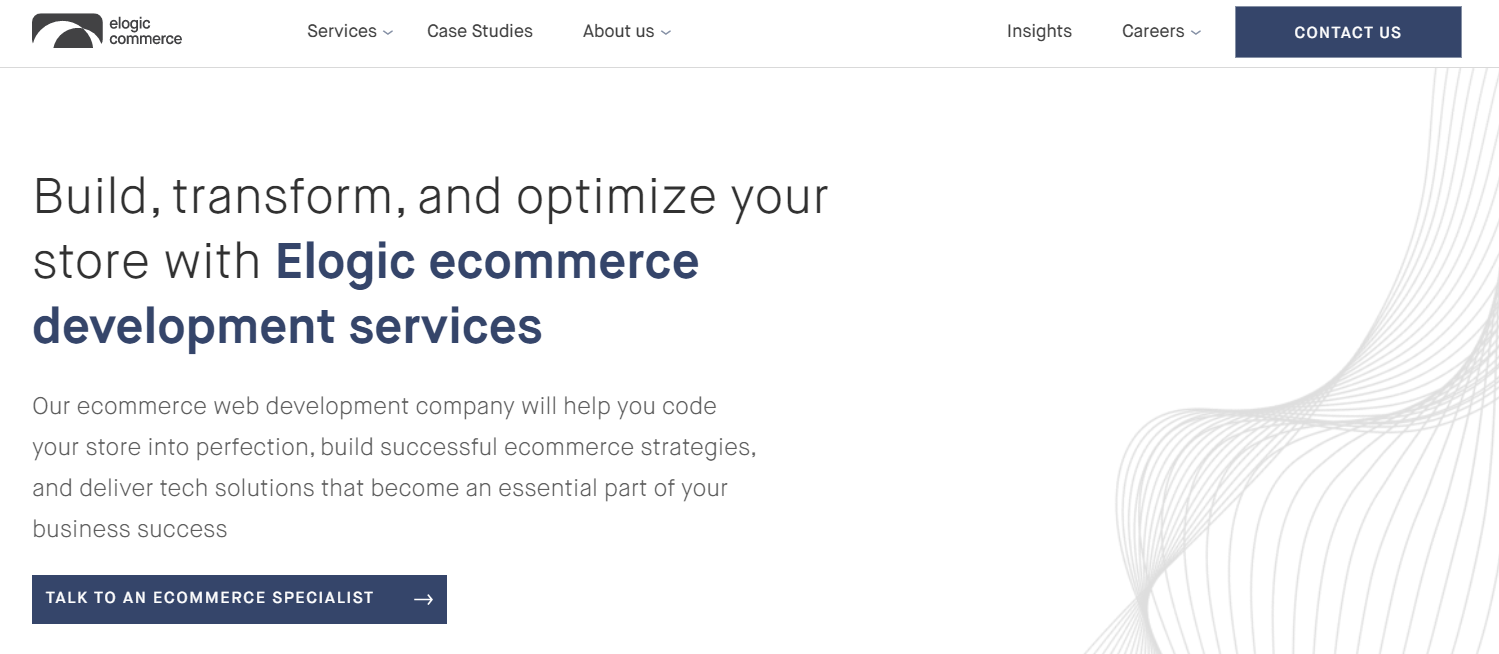 Elogic is a certified Magento development company that boasts a team of 200 eCommerce specialists that can create and optimize websites using Magento and a number of other leading platforms. They've successfully launched hundreds of projects and HP, Accenture, and BVLGARI are just some of their clients powered by Magento.
While they've worked with a number of global brands, their development services aren't limited to industry or size and they're happy to work with basically all businesses. Also, as projects are completed in sprints, should your business requirements change, changes can be introduced along the way. Not only that, but they're also flexible in their pricing. Developers can be hired on a part-time or full-time basis and you have the option of paying a fixed rate per project or according to time and material.
Key Magento services include:
Support and development
Magento integration
Magento 2 migration
Cloud development
Headless development
Speed optimization
---

Rated as one of the top web development agencies, Brainvire boasts over two decades of experience and a global footprint. Included in their expertise is Magento development.
From migrations to integrations, they can create a scalable eCommerce solution that offers first-class user experience and better sales conversions. To do this, their design strategy merges a customer-centric approach with data-driven analysis.
Their experts can also offer maintenance support after the initial development project has been completed. Plus, if you need help marketing your newly designed site, they also offer a range of digital marketing services.
For example, when a leading food retailer needed a "digital rejuvenation", they created an eCommerce website as well as mobile apps for better order management. One of the major reasons for this redesign was to address delayed delivery. To help ensure a smooth order delivery, Brainvire's team accommodated dual options allowing customers to pick up orders from a nearby store or get it delivered to their doorstep.
Key Magento services include:
Design strategy
Testing
Market research
Architecture planning
Technical consulting
---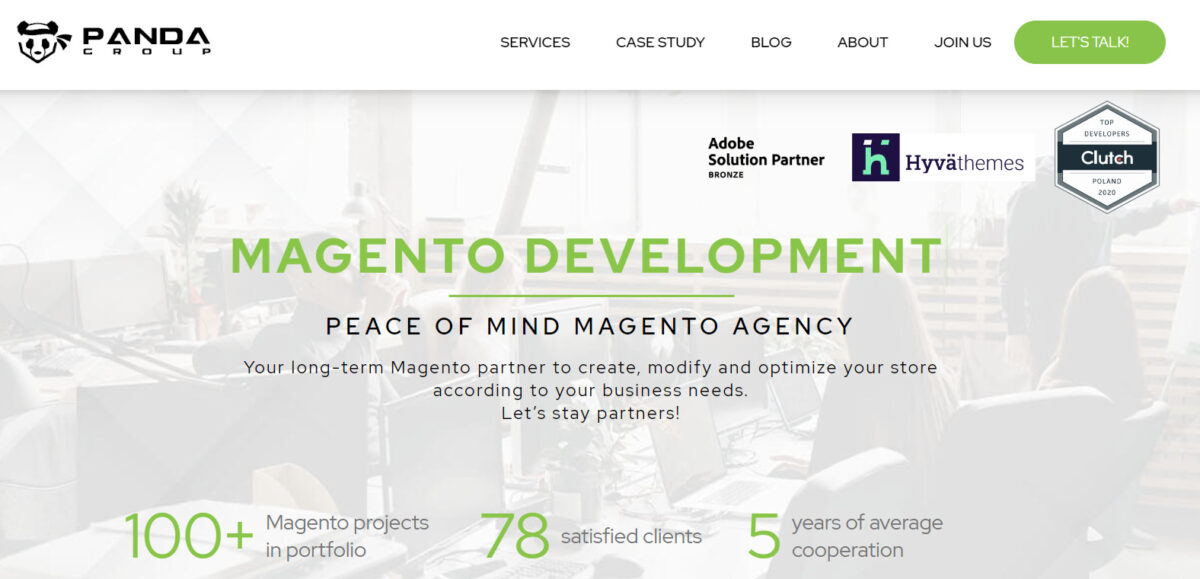 Founded in 2013, Panda Group is an eCommerce development agency in Poland that solely concentrates on Magento services. Not only have they bagged a number of awards, but they also have several certificates.
Their team of Adobe certified experts can help you design a new website for your online store or change a current one to match changing concepts. If you're still using Magento 1, they also recommend migrating to Magento 2 with which they can also help.
Not only can you look forward to a tailor-made website design that looks great and matches your branding, but they'll also ensure that it functions properly to boost conversion rate. And, to improve its functionality, it can install ready-made extensions or create extensions from scratch to help with payment processing, search, fulfillment, etc.
For example, when one of Europe's fastest growing brands for children's furniture needed to expand to other countries, they turned to Panda Group to help with shipping. The challenge was to integrate physical warehouses and a point-of-sale (POS) system as well as to allow customers to select delivery dates. Not only did they manage to integrate two local shops and warehouses, but they also increased the load time by 36%.
Key Magento services include:
eCommerce development
Progressive web apps (PWA) development
AWS hosting
Extension development
Automation testing
Website design
---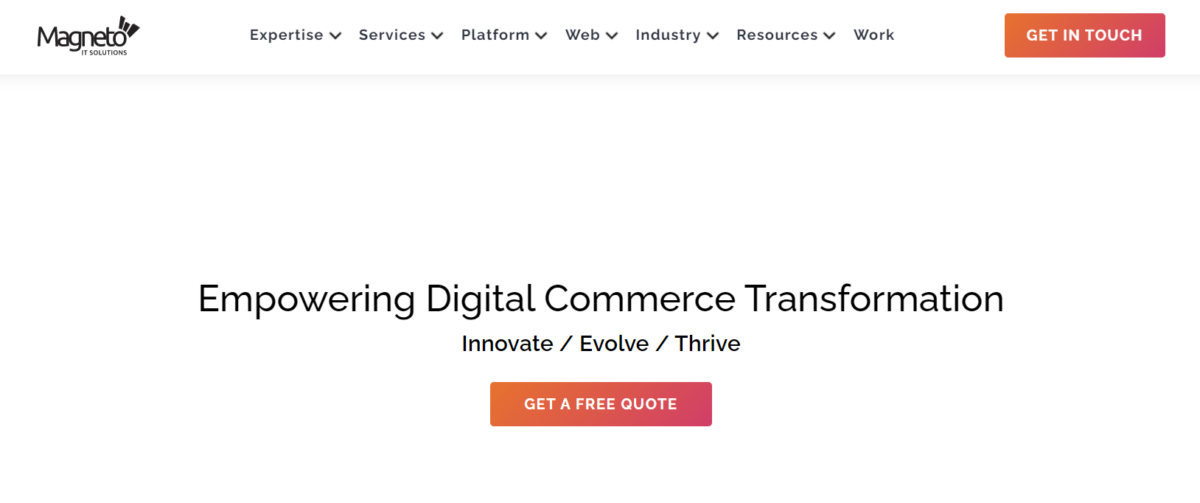 Launched in 2009, Magneto IT Solutions is an award-winning B2C and B2B eCommerce agency that develops end-to-end eCommerce solutions. Their global team of certified developers has launched hundreds of stores successfully and worked with several leading names such as ESPN, KTM, and HP.
They follow a six-step process that starts with research and analysis and ends with training. Plus, if you need ongoing support, you can add that to your project.
If you haven't embraced headless architecture yet, their team can help you to separate your website's frontend and backend platforms to deliver better customer experiences. They've done this for Petzone, a premier pet retail and distribution company in Kuwait and developed Android and iOS mobile apps too so that their customers could shop even more comfortably. This has helped Petzone to grow their revenue exponentially and build a customer database.
In addition to eCommerce development, they can also help with digital marketing.
Key Magento services include:
Mobile app development
Migration services
Headless PWA development
Marketplace development
API development
B2B development
Extension development
---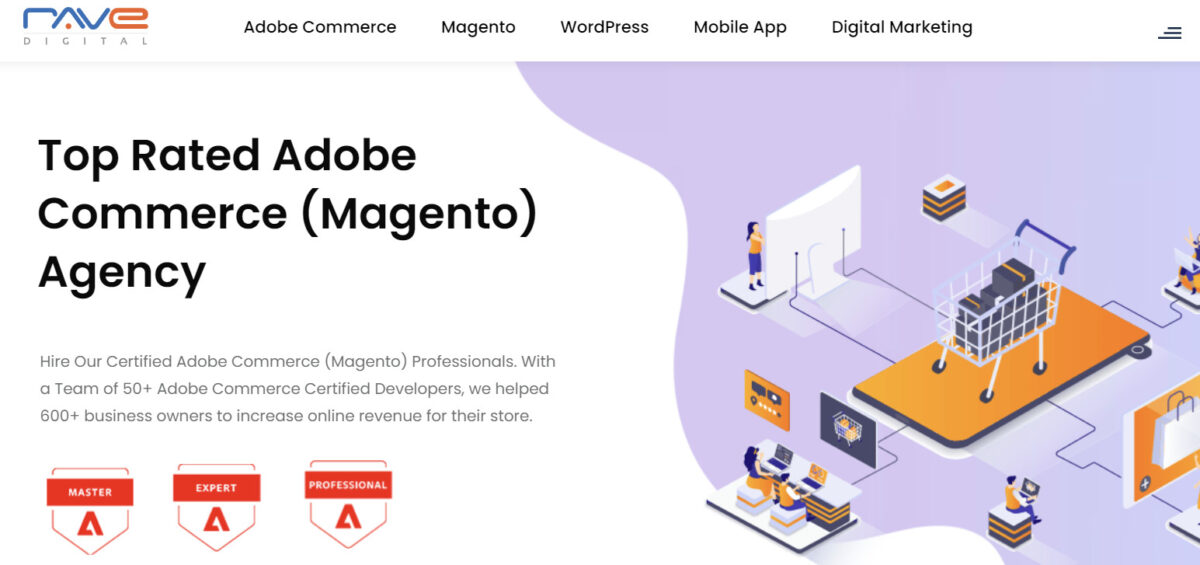 Rave Digital is one of the highest rated Magento development agencies on Clutch and you only have to look at their list of certifications and awards to understand why their clients rave about their expert team. For four consecutive years, they've been named as a Magento Marketplace Innovator.
The agency was founded in 2008 and is headquartered in the United States, but they also have three extra locations in the UK, Belarus, and India. Their team of over 50 certified Magento specialists offers end-to-end sophisticated eCommerce solutions to both B2B and B2C industries. When it comes to eCommerce development, they take a holistic approach. The custom solutions and strategies that they suggest will be tailored to your unique needs, while still ensuring compliance and profitability.
This approach is serving them well and they've developed and improved over 200 Magento stores. For example, when The Spice & Tea Exchange had to improve the structure of their online store, they made Rave Digital their development partner. Their developers identified necessary extensions and integrated inventory management software. The result — overall website traffic increased by 130%, while both the cart abandonment rate and CPA were reduced.
Key Magento services include:
Magento 2 development
Maintenance
Rapid deployment packages
Migration from Magento 1 and other eCommerce platforms to Magento 2
B2B development
Enterprise development
Extension development
---

Absolute Web is regarded as one of the best eCommerce marketing agencies, along with SmartSites. On top of their marketing capabilities, their development expertise has also landed them loads of recognition. Their team of architects can help with frontend and backend solutions for Magento as well as several of the other leading eCommerce platforms like BigCommerce, Shopify Plus, and WooCommerce.
With regards to their Magento development services specifically, they can help with everything from design to development to integration to PWA implementation. Not only do they offer a wide range of services, but they also work with businesses of all sizes across various industries including beauty, tech, and food.
For example, when an online D2C meat seller approached them to rebrand and rebuild their website, they prioritized the user journey and checkout process to improve their customer service. This has helped them increase their conversion rate by 1.5 times.
Key Magento services include:
UI/UX design
API integration
PWA implementation
Development
Maintenance
Security and compliance
---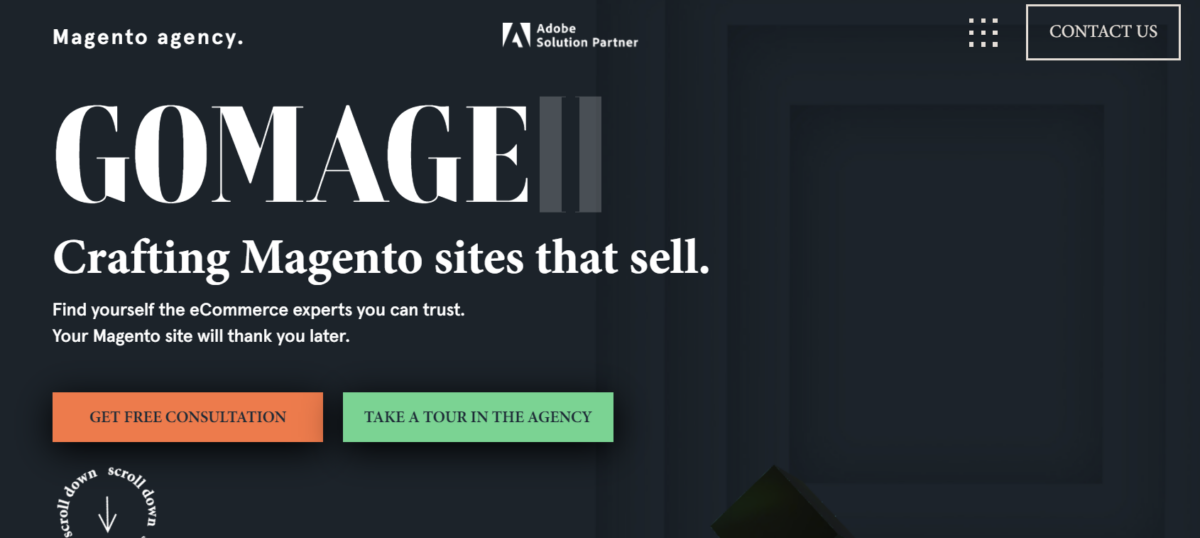 GoMage views their agency as more than simply an eCommerce development agency. They rather like to think of themselves as the people who'll take over your Magento code and the last agency that you'll ever need. They adopt a 100% remote culture which means that their engineers can work with clients in different timezones, making it easier for them to become an extension of your team.
From migration to integration, and everything in between, their team of Adobe certified engineers and self-professed eCommerce geeks offer all the services you need to craft a website that drives sales. Not only do they offer various services, but they've also worked with several industries.
That said, before they suggest a service, they devote a lot of time first to researching the industry. To date, they've completed over a 1,000 projects and thousands of Magento-powered websites use their extensions. These aren't their only impressive numbers and they've helped some of their clients to double their sales.
Key Magento services include:
Web design and development
Speed optimization
PWA development
Integrations
Migrations
Support
Consulting
---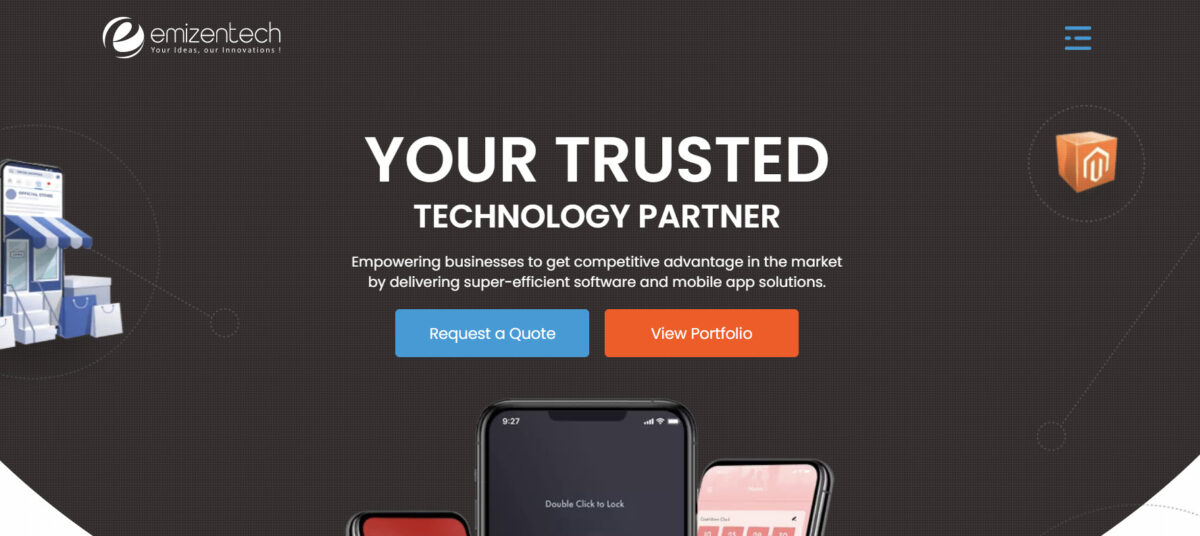 Along with Brainvire and Rave Digital, Emizen Tech is one the highest rated Magento design and development firms on Clutch. Their story started in 2013 in India, but they've since expanded their presence to the US and UK where they now also have offices.
In addition to Magento, they can also help you set up online stores on Shopify or WooCommerce. Alternatively, if you're currently using one of these eCommerce platforms, they can also help you to migrate to Magento.
With regards to their Magento services specifically, their Magento certified developers take a personalized approach using the Agile methodology. Their custom web development services can be used to enhance user interaction and experience as well as optimize the performance of your site. From mobile apps to modules, their team can develop various key elements.
Key Magento services include:
Marketplace development
Custom development
Mobile app development
Extension development
Module development
Theme development
Migration
Maintenance and support
Headless PWA
API integration
Commerce cloud services
Performance optimization
---

IT Delight's core focus areas are Magento development and eCommerce solutions. During the 10+ years that they've been in business they've grown their team to over 80 specialists and expanded their presence to four countries.
As a certified Magento partner, they've access to valuable resources like product updates and tech support, making them a top pick. Plus, they also ensure that their certified developers stay up to speed with the latest best practices and platform developments by prioritizing ongoing training.
From fashion to furniture to food, they've worked with a wide range of industries. For example, when a German-based furniture company approached IT Delight to create an online store, the challenge was to manage a huge number of product configurations. One of their solutions was to display a list of subcategories in the main categories using an alphabetical index. Then, to improve the functionality and user experience, they also included automation to calculate shipping costs on the product page and added custom shipping methods, among other things.
Key Magento services include:
Store development and support
Theme, extension, plugin and app development
Migration
Website optimization
---
Magento, Shopify, or WordPress?
When it comes to web development, there are several platforms to choose from for your eCommerce store. In addition to Magento, WordPress and Shopify are also popular choices.
Each has its own unique strengths. While all three platforms excel in their respective areas, they are designed for different audiences and purposes.
Magento is a robust eCommerce platform with powerful features that allow you to build a fully functional online store. It's known for its customizability and flexibility, making it a great option for larger businesses with complex needs.
WordPress, on the other hand, is more user-friendly and offers a wide range of plugins, making it a popular choice for smaller businesses. It also has a versatile content management system (CMS) that can be used for a wide range of websites, from blogs to business sites.
Lastly, Shopify offers an all-in-one solution with great design templates and a user-friendly interface, making it an excellent choice for those without web development experience. With the help of its features, creating an online store becomes a quick and easy process.
Ultimately, your specific needs and experience level will determine which one will be the best option for you.
---
Wrapping Things Up
Whether you're operating in the B2B or B2C industry, Magento (aka Adobe Commerce) can help you to create an engaging experience for all your website visitors. With powerful features, extraordinary flexibility, and incredible scalability, Magento is renowned among businesses of all sizes for its ability to help site owners create a sleek and professional eCommerce website with minimum effort.
Implementing a successful eCommerce website takes time, though. Add to that the burden of maintaining it and the need to expand it at some point and few online businesses have the in-house resources for that.
As such, it's best practice to work with an eCommerce development company from the start (and if you know that you'll be using Magento, one that focuses on this platform and has the necessary certifications and experience). Any one of these 10 Magento development companies discussed in this article will give you exactly what you need and complement your team.
Frequently Asked Questions
What is web development?
Web development is a term used to describe everything that has to do with building a website. It includes processes such as markup, coding, scripting, network configuration, CMS development, eCommerce development, and all the other tasks relating to developing a website. It can further be divided into two broad categories, namely frontend development (everything that users see on the browser) and backend development (everything that happens in the background to ensure the website can run smoothly).
What are some of the latest web development trends?
The following are some of the most popular web development trends that are currently shaping the industry:
The demand for dark mode will increase as many users find it easier on the eyes and it prolongs battery life.
Vertical orientation will become more important as web developers need to design with mobile devices in mind.
Compressing images, condensing code, and using a content distribution network are key to help with page speed.
Optimizing websites for voice search is becoming more common practice.
Which are the best agencies to help with eCommerce web development?
There are dozens of great eCommerce web development companies. You can, for example, reach out to:
SmartSites
Brainvire
Absolute Web
Thrive Internet Marketing Agency
Moburst
Sunrise Integration
Not all of these companies specialize in Magento, though.
What does the website development process look like?
The following are typically the key steps and stages involved in developing a website:
Planning
Creating the wireframe
Writing the code
Building the frontend
Building the backend
Acquiring a domain
Getting it ready for launch
How do you select the right eCommerce platform for your online store?
There are several great eCommerce platforms, each offering its own unique set of pros. This can make finding the right one for your needs hard. To help you find the right one for your business, look out for the following features:
Site customization
Payment gateways
Social integration
Flexible pricing
An intuitive user interface
Security
Store management
Integrations and tools
Support