Advertising Disclosure
Advertising disclosure:
Our partners compensate us. This may influence which products or services we review (also where and how those products appear on the site), this in no way affects our recommendations or the advice we offer. Our reviews are based on years of experience and countless hours of research. Our partners cannot pay us to guarantee favorable reviews of their products or services.
Conducting marketing analysis by yourself is anything but a straightforward endeavor. That means choosing the right agency is key to getting ahead of the industry and harnessing the efficiency of data. This article unveils the top 12 agencies renowned for turning data into actionable insights and driving enhanced marketing performance. Each has carved its niche, ensuring businesses not only stay abreast of trends but are also empowered to carve pathways leading to unprecedented growth.
---
Top Marketing Analytics Agency Services
Top
marketing analytics agencies
2024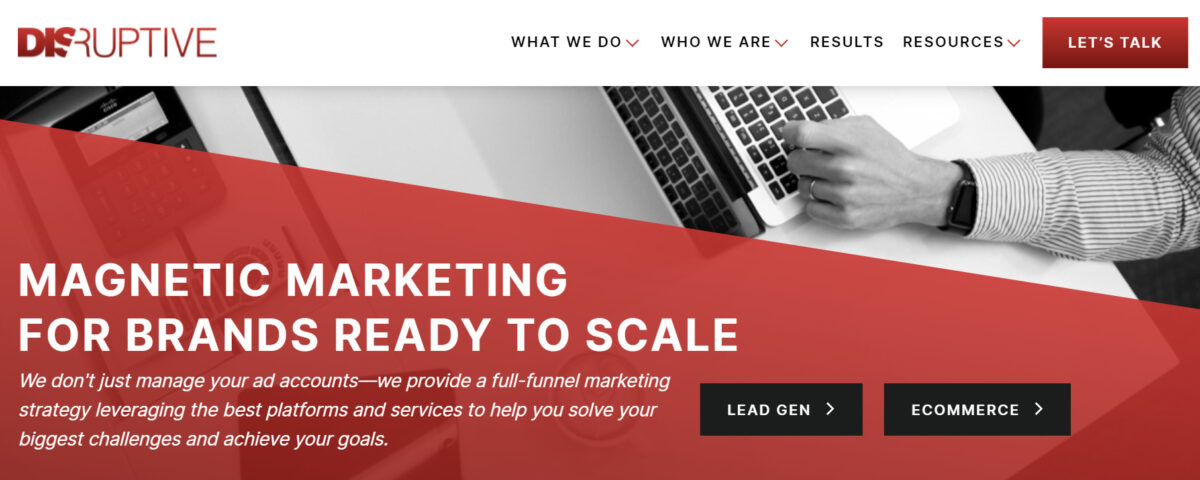 Disruptive stands out in the crowded marketplace of marketing analytics agencies with a specialized focus on Amazon marketing. Revenue growth and profitability are at the core of their strategies, backed by meticulous analysis and optimization of Amazon PPC and SEO. The agency's comprehensive approach encompasses both the advertising and organic aspects of Amazon, ensuring brands Achieve visibility and experience significant revenue uplift. They discard in-platform vanity metrics, focusing instead on substantial, actionable data directly impacting the bottom line, setting them apart as results-oriented entities.
The uniqueness of Disruptive lies in its adeptness at balancing various strategies. These strategies are carved from a blend of innovative techniques and data-driven insights tailored to elevate brand rankings and platform visibility. Unlike generic agencies, Disruptive adopts a customized approach, meticulously crafting campaigns as distinct as the brands they represent. They are not just about driving clicks but are committed to transforming those clicks into tangible sales, ensuring an enhanced ROI for their clients.
One of their notable success stories is with EMP Shield. Within just two months of engagement, Disruptive catapulted the brand's revenue by 300%, a testament to the agency's adeptness at harmonizing Amazon PPC and SEO. Their exceptional methodology, integrating precise analytics and strategic optimizations, ensures brands don't just appear on Amazon but dominate with increased profits and amplified online presence.
---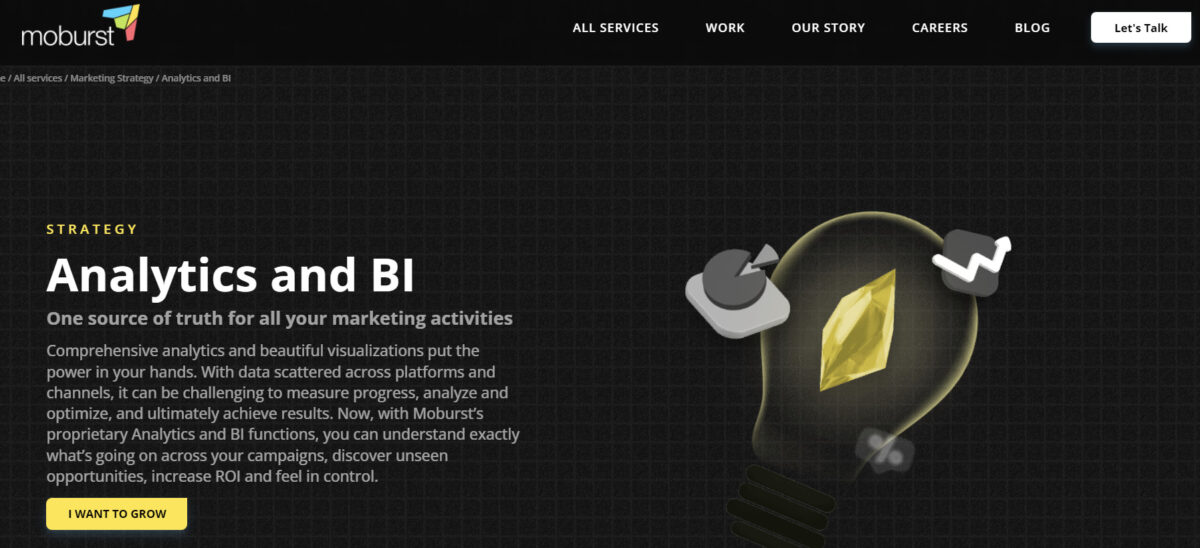 Moburst exemplifies innovation and efficiency in the realm of marketing analytics, particularly excelling in the mobile space. They have pioneered a proprietary Analytics and Business Intelligence suite that streamlines the intricate task of consolidating and interpreting data from multiple platforms and channels. This provides clients with an all-encompassing view of their campaigns, enriched by actionable insights and visual data representations.
Tailor-made dashboards prioritize specific KPIs, offering brands a nuanced and data-driven foundation for optimizing marketing strategies. Furthermore, the agency's expertise in navigating post-IDFA solutions amplifies its value, guaranteeing comprehensive data insights even within the restrictive environment of iOS 14.5 and above.
A testament to Moburst's prowess is showcased in a case study with Abide, where the agency manifested its adeptness in reducing cost per subscription by over 75% and driving a marked increase in ROI. Through a blend of analytics expertise and strategic marketing innovation, Moburst exceeds client expectations in optimizing campaign performance.
---

Thrive, a standout in the realm of marketing analytics and research agencies, offers a comprehensive suite of services focused on enhancing online performance through precise tracking and data-driven insights. At the heart of their offerings lies their expertise in Google Analytics, with over 72% of top websites choosing this platform. Thrive's marketing team comprises Google Analytics-certified professionals, reinforcing their commitment to excellence.
Thrive's array of Google Analytics services encompasses everything from audit services to ensure data integrity, tracking code accuracy, and configuration correctness to seamless account setup and robust consulting. Their experts collaborate with clients to harness the platform's full potential, helping them interpret data, set conversion funnels, create customizable reports, and craft data-driven strategies. This commitment to providing actionable insights empowers businesses to make informed, impactful decisions.
One of Thrive's key strengths lies in their ability to monitor and evaluate digital marketing campaigns. They establish campaign metrics, harness data, and conduct regular evaluations to gauge the effectiveness of strategies. Armed with these insights, they adapt and optimize marketing tactics, ensuring clients' approaches remain agile and attuned to audience targeting.
---

In the domain of marketing analytics, AMP Agency shines as a beacon of insight and innovation. Unlike agencies that merely report what happened, AMP Agency's distinctive approach revolves around answering the "whys" behind the numbers. They blend cutting-edge marketing and data sciences with traditional analytics, giving birth to actionable insights that empower brands to stay ahead of the curve.
AMP Agency's expertise spans various facets, from Performance Analytics and Data Governance to Integrated Analytics & Measurement Strategy and advanced areas like Media Mix Modeling and Attribution Modeling. Their holistic approach is marked by deep dives into Customer Segmentation, Behavioral Modeling, A/B Test Design, and more. This multifaceted expertise underpins their capacity to transform data into actionable strategies.
A testament to AMP Agency's prowess is exemplified in their collaboration with Hasbro, one of the world's largest toy manufacturers. Facing the challenge of understanding a toy shopper's journey and the impact of digital channels, AMP Agency employed Path-to-Purchase Analysis, High-Value Behavior Analysis, and Channel Attribution Analysis. These methodologies yielded valuable insights that informed Hasbro's marketing strategies and led to better-informed decisions.
---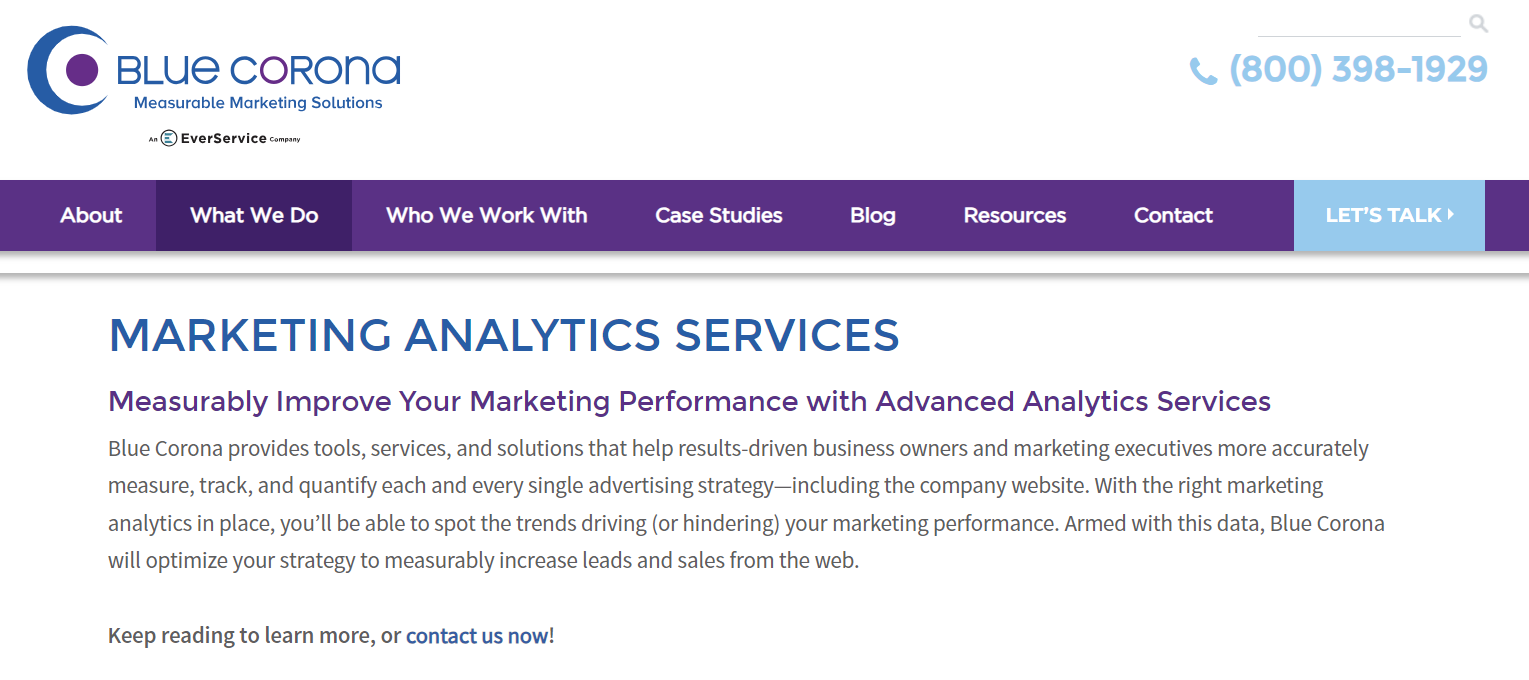 Blue Corona, a distinguished marketing analytics agency, stands at the forefront of helping results-driven business owners and marketing executives optimize their advertising strategies. With a focus on accurate measurement, tracking, and quantification, Blue Corona empowers its clients to make informed decisions about their marketing efforts. One of their core offerings lies in ad tracking and measurement, enabling clients to discern the effectiveness of their strategies and make necessary adjustments for optimal performance.
Furthermore, Blue Corona excels in conversion rate optimization, turning website visitors into valuable leads and sales without increasing advertising spend. Their custom research and analysis services provide valuable insights into competitors and industry-leading marketing practices. Google Analytics consulting is another forte, with their experts helping clients set up and leverage this powerful tool.
Blue Corona goes a step further by offering phone call tracking, allowing clients to cost-effectively measure online and offline advertising performance. Their website analytics and tracking services are equally robust, providing clients with an accurate assessment of their website's conversion rate and actionable strategies to boost lead generation.
---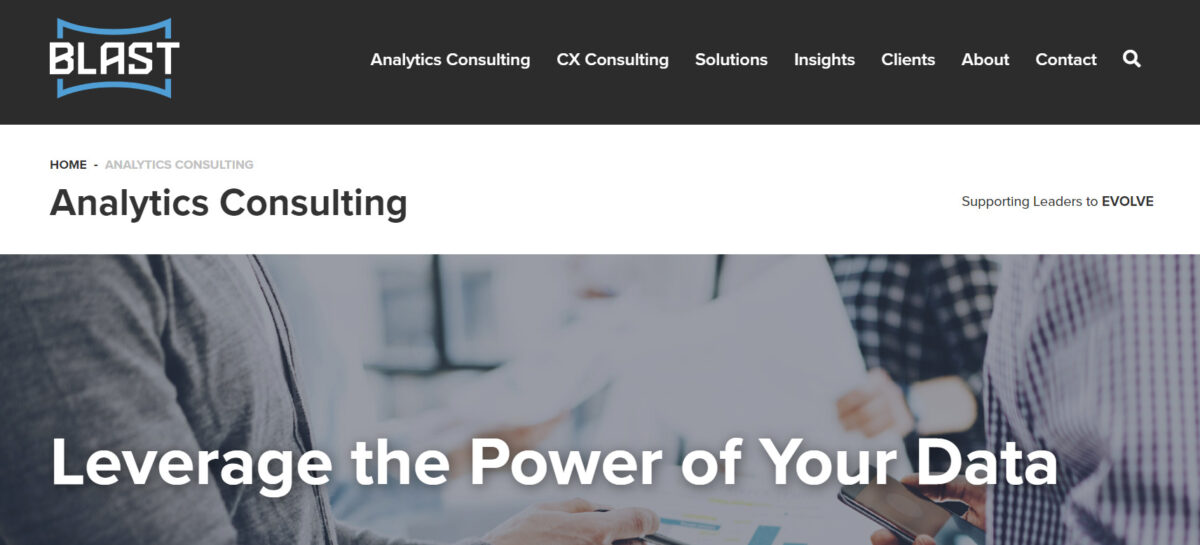 Blast Analytics stands out as a leading marketing analytics agency, offering comprehensive solutions designed to support leaders in making informed decisions, forecasting customer behavior, and evolving their organizations. Their marketing analytics consulting services are instrumental in helping clients optimize their marketing campaigns, improve ROI, and stay ahead of the competition.
At the core of Blast's offerings is their commitment to improving decision-making. In an era where marketing effectiveness is paramount, Blast Analytics empowers clients to identify valuable customer segments, pinpoint top-performing channels, and optimize their campaigns. With a holistic approach, Blast provides data and guides clients on taking meaningful action and enhancing the customer journey. Their focus on demonstrating sustainable value and helping organizations evolve sets them apart in the world of marketing analytics.
The agency's fffective marketing data analytics hinges on key elements, including defining goals, systematically collecting data, and creating insightful visualizations. They excel in these areas, ensuring clients harness the power of their marketing data to enhance business results. With a unique combination of analytics consulting and digital marketing expertise, Blast delivers customized marketing analytics solutions tailored to each client's unique needs. From customer insights and segmentation to marketing automation and attribution modeling, Blast Analytics equips businesses with the tools and knowledge needed to thrive in the data-driven landscape.
---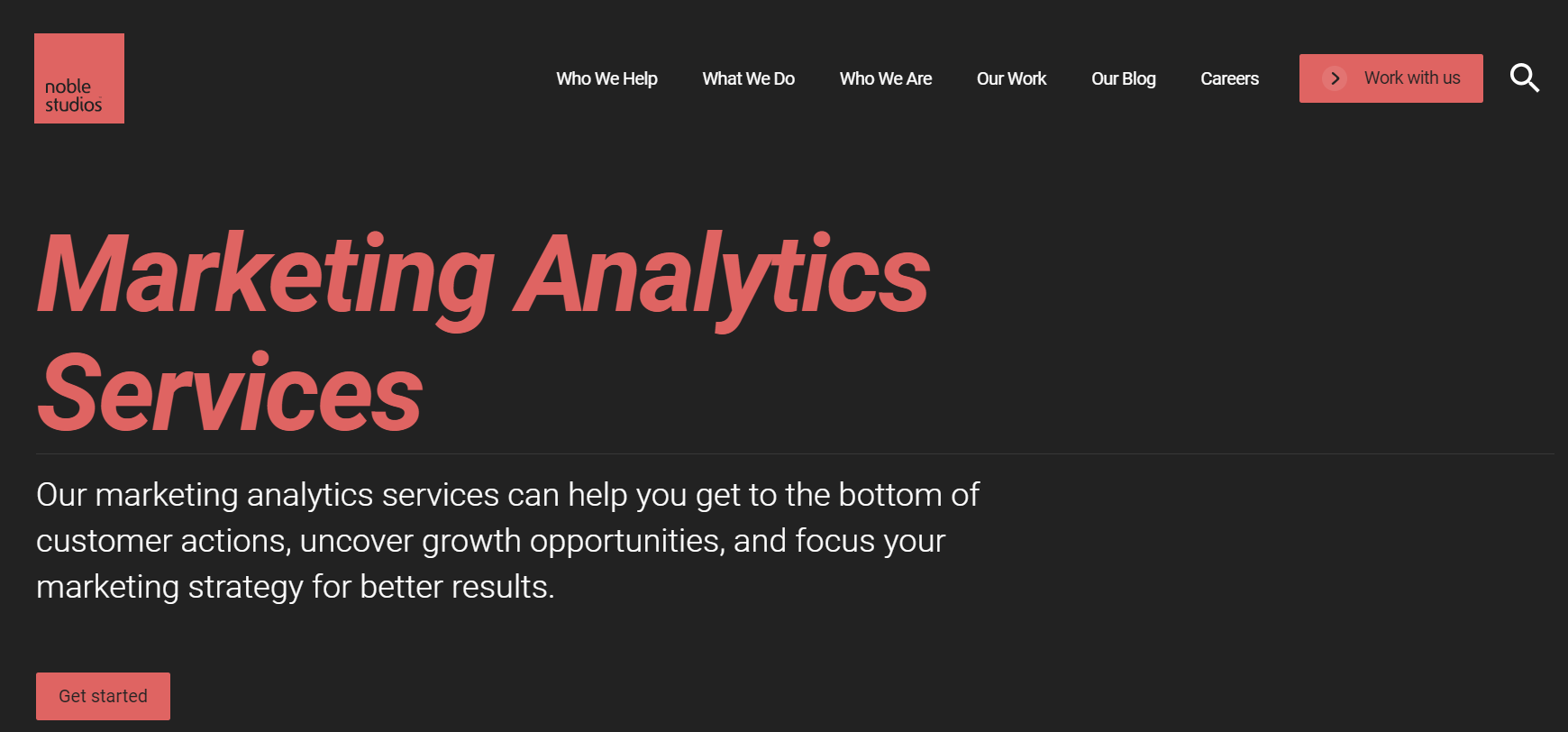 Central to Noble Studio's offerings is its ability to illuminate the dark corners of marketing data, allowing clients to optimize their strategies for peak results. Noble Studios excels in centralizing and automating data visibility, thus simplifying the process of tracking visitor actions and attributes. By offering self-serve dashboards that combine real-time data with regular reporting, Noble Studios helps clients uncover deeper insights, ensuring they never miss a critical detail. This service is particularly instrumental in addressing common challenges such as inefficient data gathering from outdated sources and inconsistent data visualizations.
One standout aspect of Noble Studios' approach is their dedication to data accuracy and compliance. They offer services such as Google Analytics (GA4) Audit and GDPR & CCPA Compliance Assessment, ensuring clients' data setups adhere to various EU and US privacy regulations. With the rising importance of data quality in decision-making, Noble Studios fills a crucial niche by fixing weak spots in data setups and enabling better decision-making.
Noble Studios has a track record of delivering tangible results for clients, as exemplified in their case study with Envestnet. Through unified analytics, Noble Studios significantly boosted Envestnet's web visibility. By leveraging data-driven strs, they enabled Envestnet to enhance its online presence and drive better results.
---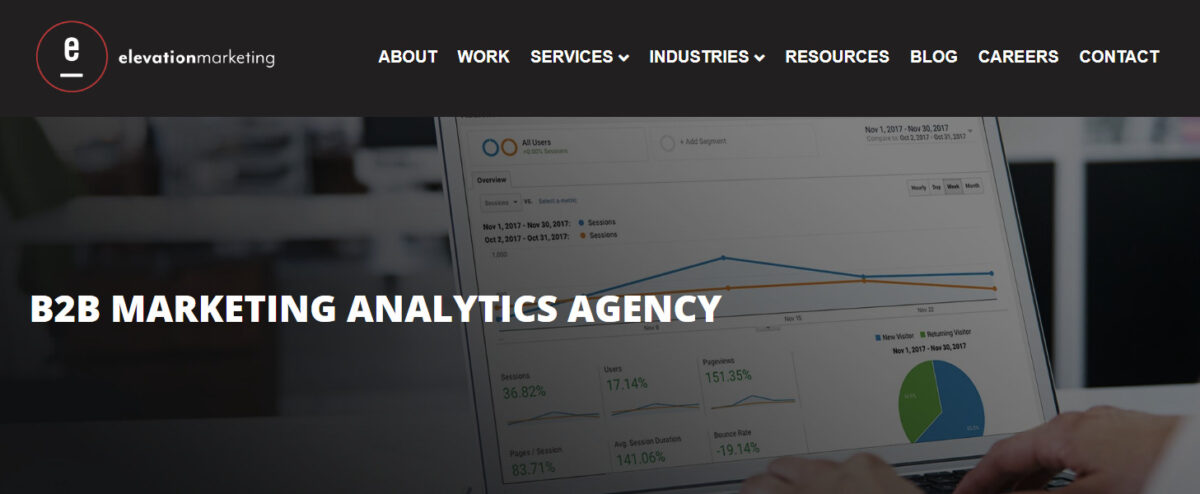 Elevation B2B specializes in crafting data-driven B2B marketing strategies that redefine success. In today's multifaceted marketing landscape, where data sprawls across various channels and campaigns, Elevation B2B stands out by providing clarity and actionable insights. They understand that optimizing marketing investments starts with a profound comprehension of campaign performance, a task that often necessitates navigating through a maze of tools and systems.
Elevation B2B's seasoned digital experts leverage cutting-edge software and intelligent technology to track, measure, and interpret an array of data, encompassing behavior, performance metrics, demographics, and more. By delving into B2B marketing analytics, they glean invaluable insights that fuel the development of customized marketing strategies to enhance the customer experience, elevate conversion rates, and maximize return on ad spend.
But what sets Elevation B2B apart is their commitment to tailoring their services to suit the unique needs of each B2B company, ensuring every client receives a bespoke marketing solution. Elevation B2B's analytics prowess extends across a comprehensive spectrum, covering everything from organic SEO strategies and lead generation to PPC, conversion tracking, and customer behavior analysis.
---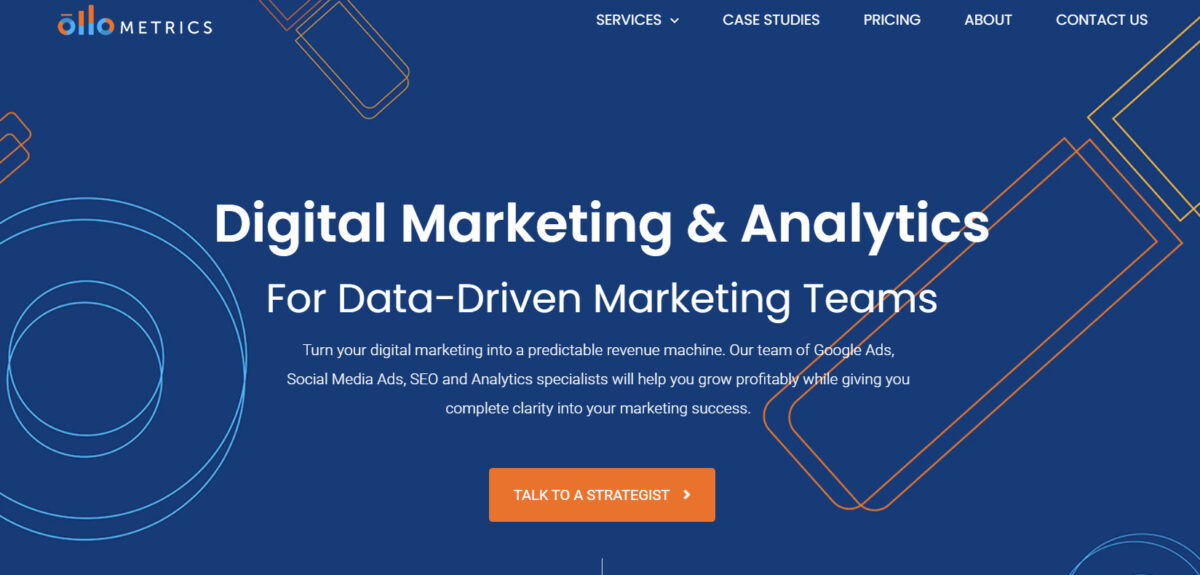 Ollo Metrics, a Vancouver-based marketing analytics agency, leads the charge in delivering data-driven excellence. They understand that the foundation of effective marketing strategy is impeccable data accuracy, and they excel in providing actionable insights that redefine how businesses make decisions. Ollo Metrics aims to eliminate marketing guesswork, empowering businesses to scale profitably by comprehending and trusting their analytics.
Their expertise shines in optimizing SEO, Google Ads, and Social Media Ad Campaigns. Ollo Metrics boasts a team of trusted Google Analytics experts, well-versed in Google Analytics 4, serving diverse industries such as B2B, B2C, eCommerce, Home Services, and more. Their analytics solutions focus on precision and clarity, equipping businesses with the business intelligence needed to thrive in the digital landscape. From understanding website performance to online advertising metrics, marketing dashboards, and cost-per-lead tracking, Ollo Metrics provides comprehensive services tailored to their clients' unique needs.
What sets Ollo Metrics apart is their dedication to simplicity, accuracy, and industry standards. By connecting all marketing platforms, providing timely custom reports, and offering expert reviews and optimization, Ollo Metrics ensures that all your marketing data is seamlessly integrated and consistently analyzed. Their growing list of client case studies attests to their ability to deliver remarkable results, such as a 119% increase in primary website conversions and a 334% return on ad spend. Ollo Metrics truly stands as a beacon of data-driven excellence in the world of marketing analytics.
---

Forthea, a leading marketing analytics agency, stands as a beacon of excellence in decoding the intricacies of digital marketing. At its core, Forthea believes that simplifying the complexities of measurement is the key to unlocking the true potential of modern digital marketing. Their mission is clear: decode customer acquisition, enhance business performance, and maximize marketing ROI from first touch to the final click.
Forthea specializes in merging business intelligence and marketing performance insights, wielding data science to deliver exceptional results. With a team of dedicated data scientists, they seamlessly merge performance analytics with marketing data to enable brands to thrive in competitive markets. Their approach involves a deep dive into search behavior, digital campaign performance, and website data to craft compelling narratives. These insights are then aligned with business strategies and sales goals, culminating in bespoke dashboards that offer clear and actionable insights.
One of Forthea's differentiating factors is its commitment to data integration. In addition to data scientists, they employ skilled analysts on every team, ensuring every piece of data is meticulously examined for the desired insights. From account leads to analytics specialists, their team applies creativity to uncover trends and opportunities, transforming marketing campaigns and driving businesses forward.
---

Apollo Consulting Group is a prominent player in the domain of marketing analytics services tailored for advertising agencies. The agency's mission revolves around enhancing clients' understanding of their customers and the effectiveness of marketing strategies. Apollo offers a range of services to support their clients, catering to various needs, from on-demand expertise to building advanced marketing analytics capabilities.
Additionally, Apollo collaborates with advertising agencies to bolster their marketing analytics capabilities. Recognizing the growing demand for advanced analytics, the agency assists in designing and implementing the technical infrastructure necessary for handling extensive data. This includes support for multi-touch attribution analysis, marketing mix modeling, and other advanced techniques. Apollo's guidance and support empower agencies to offer more sophisticated services, thereby increasing their revenue potential and client satisfaction.
For smaller advertising agencies that lack an in-house department, Apollo offers a unique opportunity. They provide a fully outsourced capability that smaller agencies can then offer to their clients as an additional service, drastically expanding their footprint. Apollo's commitment to enhancing clients' understanding of their customers and the effectiveness of their marketing initiatives makes them an invaluable partner in the consulting advertising industry.
---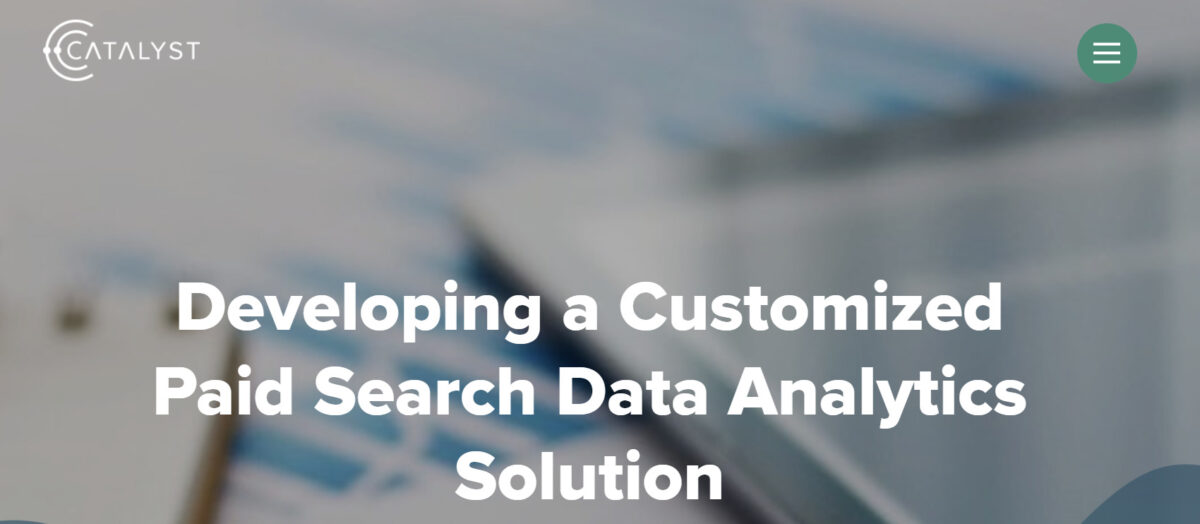 Catalyst Digital propels businesses towards enhanced performance, innovation, and growth. Their expertise spans all digital channels, providing invaluable insights and actionable data-driven solutions. Catalyst Fusion, a central component of their arsenal, serves as a hub for performance marketing reporting, marketplace data, and trend analysis, ensuring standardization, consistency, and clarity in campaign evaluation. Their prowess in data engineering, machine learning modeling, and prescriptive optimizations has consistently driven exceptional results for their clients.
Catalyst Digital transcends mere digital marketing analytics; they offer integrated, omnichannel marketing strategies that drive exceptional growth. As part of the GroupM and WPP agency portfolio, Catalyst combines industry expertise with a deep commitment to long-term growth, consumer relationships, and enterprise-level objectives.
A shining example of Catalyst's capabilities is showcased in a featured case study, where they orchestrated a custom analytics solution that resulted in a remarkable 66% increase in revenue for a client's U.S. paid search campaigns. Catalyst's holistic approach encompasses continuous testing, experimentation, and iteration, optimizing results at every opportunity. Their commitment to innovation is underscored by the Fortune 100 CPG Brand's commendation of Catalyst's proactive mindset and the ability to drive success through novel ideas and approaches.
---
What is the Average Cost of Hiring a Marketing Analytics Agency?
The cost of hiring a marketing analytics agency can vary widely, depending on an array of factors, including the scope of work, the size of your business, and the agency's reputation. Generally, these agencies offer a mix of service packages, each tailored to cater to the diverse needs of small startups to established enterprises. With that said, we can decode the average cost by detailing some of the aforementioned factors.
The package, or scope of work, is the first. A bespoke package might include services like data collection, analysis, strategy development, and implementation. Small to medium-sized businesses could expect to pay anywhere from $10,000 to $100,000 per year for a comprehensive analytics service. In contrast, larger corporations with more complex needs might find costs extending well beyond this number, given the intricacy and scale of the analytics required.
Many agencies operate on an hourly consulting rate, which can range from $100 to $300 per hour. It's also worth mentioning that not every analytics agency charges equally, with many experienced consultants demanding higher rates. Others might offer project-based pricing, wherein the total cost is estimated based on the project's complexity, duration, and specific requirements.
Based on all that, it's crucial for businesses to conduct a thorough cost-benefit analysis before opting for a particular agency. Consideration should be given not just to the immediate cost outlay but also to the long-term value proposition offered by the agency. After all, effective marketing analytics can significantly enhance decision-making, optimize marketing strategies, and bolster ROI, proving to be a worthy investment.
---
How to Evaluate the Effectiveness of a Marketing Analytics Agency?
Evaluating the effectiveness of a marketing analytics agency involves a multi-faceted approach. It's essential to assess both qualitative and quantitative aspects to ensure that the agency is not only delivering actionable insights but also contributing to the tangible growth of your business.
Therefore, Key Performance Indicators (KPIs) are pivotal in every agency evaluation. Metrics like increased conversion rates, reduced customer acquisition costs, and enhanced customer lifetime value are direct indicators of an agency's impact. It's crucial that the agency is adept at both identifying pertinent KPIs and optimizing strategies to achieve desired benchmarks.
Customer testimonials and case studies can also offer invaluable insights into an agency's efficacy. Prospective clients should delve into the experiences of past and current clients, analyzing how the agency's insights have transformed their marketing strategies and driven growth. An agency that has consistently propelled businesses to new echelons of success is likely to be effective.
Furthermore, the agency's adaptability and innovation are essential. The marketing landscape is ever-evolving, marked by emerging trends and technologies. An effective agency is characterized by its ability to stay ahead of the curve, integrating cutting-edge analytics tools and methodologies to offer unparalleled insights.
Lastly, the level of customization and personalization offered is a telling sign of an agency's effectiveness. Every business is special, marked by unique needs and challenges. An agency that offers tailor-made solutions aligned with the specific objectives and constraints of the business stands as a testament to its capability to drive personalized, impactful marketing strategies.
In essence, a combination of tangible results, client feedback, innovation, and customization forms the cornerstone for evaluating the effectiveness of a marketing analytics agency, ensuring that they are equipped to navigate the intricate landscape of data-driven marketing with finesse and expertise.
---
Conclusion
The top 12 agencies showcased here offer a diverse range of specialized services for businesses of all sizes. They excel in areas like Amazon marketing, mobile analytics, Google Analytics, and more, each with a unique approach to solving complex challenges.
Selecting the right agency is about aligning their strengths with your specific needs. By assessing several crucial factors, you can find an agency that will illuminate your path to data-driven success. These agencies aren't just partners; they are essential assets in today's data-driven landscape, ensuring every marketing decision is based on actionable insights. So, whether you're a startup or an industry giant, these agencies can unlock your marketing potential and boost your ROI. 
Frequently Asked Questions
Can Small Businesses Also Benefit from Hiring a Marketing Analytics Agency?
Absolutely! Marketing analytics agencies offer scalable solutions tailored to fit the budget and needs of small businesses. They provide valuable insights to optimize marketing strategies, improving ROI and enhancing competitive advantage even with limited resources.
What Technologies Are Commonly Used by Marketing Analytics Agencies?
Agencies leverage a suite of advanced tools like Google Analytics, Tableau, and SAS for data gathering, analysis, and visualization. Machine learning algorithms and AI are also employed to predict trends, offering clients data-driven insights to refine marketing strategies.
How Do Marketing Analytics Agencies Ensure Data Security and Privacy?
Agencies prioritize data security through encrypted transmissions, secure storage infrastructures, and stringent access controls. Compliance with regulations like GDPR and CCPA is ensured, safeguarding client data from unauthorized access and breaches.
Is it Possible to Hire a Marketing Analytics Agency for a Short-Term Project?
Yes, many agencies offer flexible engagement models, including project-based contracts. This option is ideal for businesses with specific, short-term needs, ensuring they benefit from expert analytics insights without a long-term commitment.
What Types of Businesses Commonly Hire Marketing Analytics Agencies?
A variety of sectors, from retail to healthcare and finance, hire these agencies. They seek expert analytics insights to tailor marketing efforts, understand customer behavior, and predict trends, driving optimized strategies and enhanced business performance.