Advertising Disclosure
Advertising disclosure:
Our partners compensate us. This may influence which products or services we review (also where and how those products appear on the site), this in no way affects our recommendations or the advice we offer. Our reviews are based on years of experience and countless hours of research. Our partners cannot pay us to guarantee favorable reviews of their products or services.
Leveraging marketing analytics is the next step for businesses to achieve stable growth. In this fast-paced digital era, staying ahead means adopting these innovative solutions. However, for those unfamiliar with the process, utilizing specialized agencies can help you stay ahead of the competition.
So, in this article, we will unveil the top 11 marketing analytics services, diving deep into their unique offerings, advanced tools, and the unparalleled value they bring to elevate your marketing game. Get ready to transform data into actionable insights!
---
Top Marketing Analytics Services
Top
marketing analytics services
2024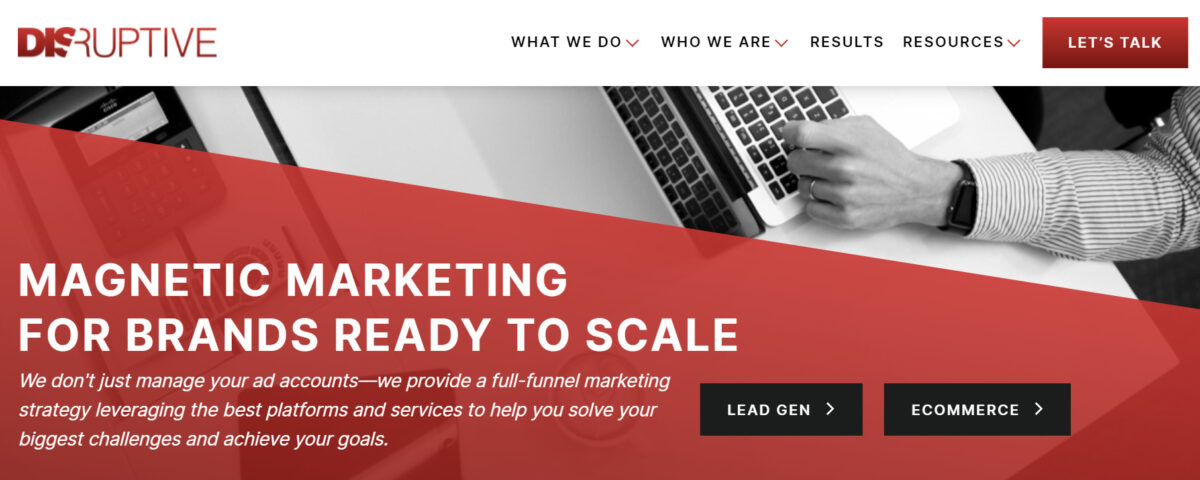 Disruptive, with a specialized focus on Amazon, boasts an exceptional track record of driving revenue growth through meticulously crafted strategies. The agency's approach, grounded in data-driven insights, centers on striking a balance between Amazon PPC and SEO. By honing in on this dual focus, Disruptive has successfully propelled brands to the pinnacle of visibility on the world's largest eCommerce platform. Revenue growth is the cornerstone of their strategy, ensuring that campaigns not only optimize ACoS and ROAS but, most critically, bolster the bottom line for clients.
With an audience-centric approach, Disruptive has demystified the Amazon marketplace for hundreds of brands, fostering an environment where business growth is not just possible but inevitable. Their tailored strategies are underscored by the impressive statistic that 89% of buyers opt for Amazon over other eCommerce sites – a testament to the platform's ubiquity and the immense potential for revenue generation. The agency places a profound emphasis on real, tangible results, steering clear of vanity metrics and instead focusing on substantive data that correlates directly with enhanced sales and profitability.
Nowadays, when SEO and PPC are paramount, Disruptive exemplifies adaptability, precision, and innovation. Their methodology is not static; it is characterized by continuous testing and optimization. Each strategy is bespoke, reflecting the agency's commitment to addressing the unique challenges and opportunities inherent to each client's specific market niche.
---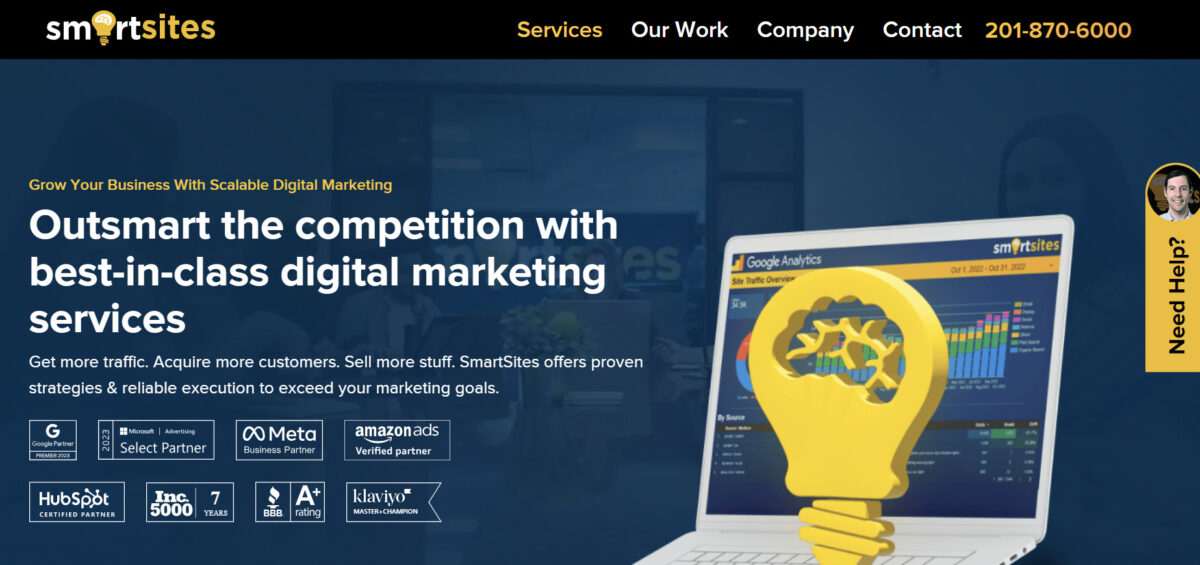 SmartSites is one of the most notable digital marketing agencies, offering a suite of services that are tailored, performance-driven, and results-oriented. This agency has been recognized for its bespoke website design, combining aesthetics with functionality, ensuring an optimal user experience across all devices. Each website is crafted with precision, focusing on detailed search keywords and competitor research to drive user action and brand growth. Their design expertise ensures businesses not only attract audiences but effectively communicate their brand essence, fostering trust and credibility. The agency's comprehensive approach, incorporating responsive design, security, and speed optimization, distinguishes them from the competition.
In the domain of Pay-Per-Click (PPC) advertising, SmartSites stands as a leader, blending technology and data analytics to optimize ad performance. The agency's recognition as a Google Premier Partner underscores its expertise and excellence in this field. Clients benefit from detailed, transparent reporting and actionable insights that support data-driven decision-making. The PPC strategies are focused on attracting traffic and meticulously crafted to scale leads and reduce acquisition costs, ensuring a significant return on investment. This multi-faceted approach extends to various platforms, including Google, Facebook, and Amazon, showcasing the agency's adaptability and reach.
SEO services at SmartSites are built for long-term success, aiming to outsmart the competition with strategies that deliver more rankings and customers. The agency's methodology is transparent and comprehensive, maximizing visibility and delivering lasting benefits in the competitive digital landscape. Recognized by Forbes and G2, SmartSites' SEO services extend beyond traditional practices, offering a full-service digital marketing solution that includes content management and outreach.
---

Forthea illuminates the intricate dance of customer acquisition with unparalleled clarity. The agency employs a methodological finesse in amalgamating performance analytics with marketing data, an intricate process geared towards capturing the elusive yet coveted true marketing ROI. Deep dives into search behavior, digital campaign performance, and website data culminate in the creation of narratives and insights that are meticulously measured against business strategies and sales objectives. Spearheaded by a team of seasoned analysts, Forothea's integration of analytics dashboards is crafted to translate complex information into actionable, understandable insights.
The agency's analytics toolbox is a testament to its commitment to precision and effectiveness. Forthea adeptly harnesses the power of Google Analytics / GA4, Google Tag Manager, Looker Studio (Google Data Studio), and Conversion Tracking to facilitate a nuanced understanding of website data and user interactions. From tracking and attribution to centralized pixel management, each tool is skillfully employed to optimize digital campaign objectives and enhance decision-making processes. The agency's profound expertise is not confined to merely collecting data but extends to crafting a funnel-focused analytical perspective that illuminates the prospect's journey.
Forthea stands as a paragon of integration, where information isn't just a tool but an integral component of the strategic fabric. With an illustrious track record of driving profitability and competitiveness in challenging markets, the agency transcends the generic "data-driven" label, embodying a philosophy of being "data-integrated."
---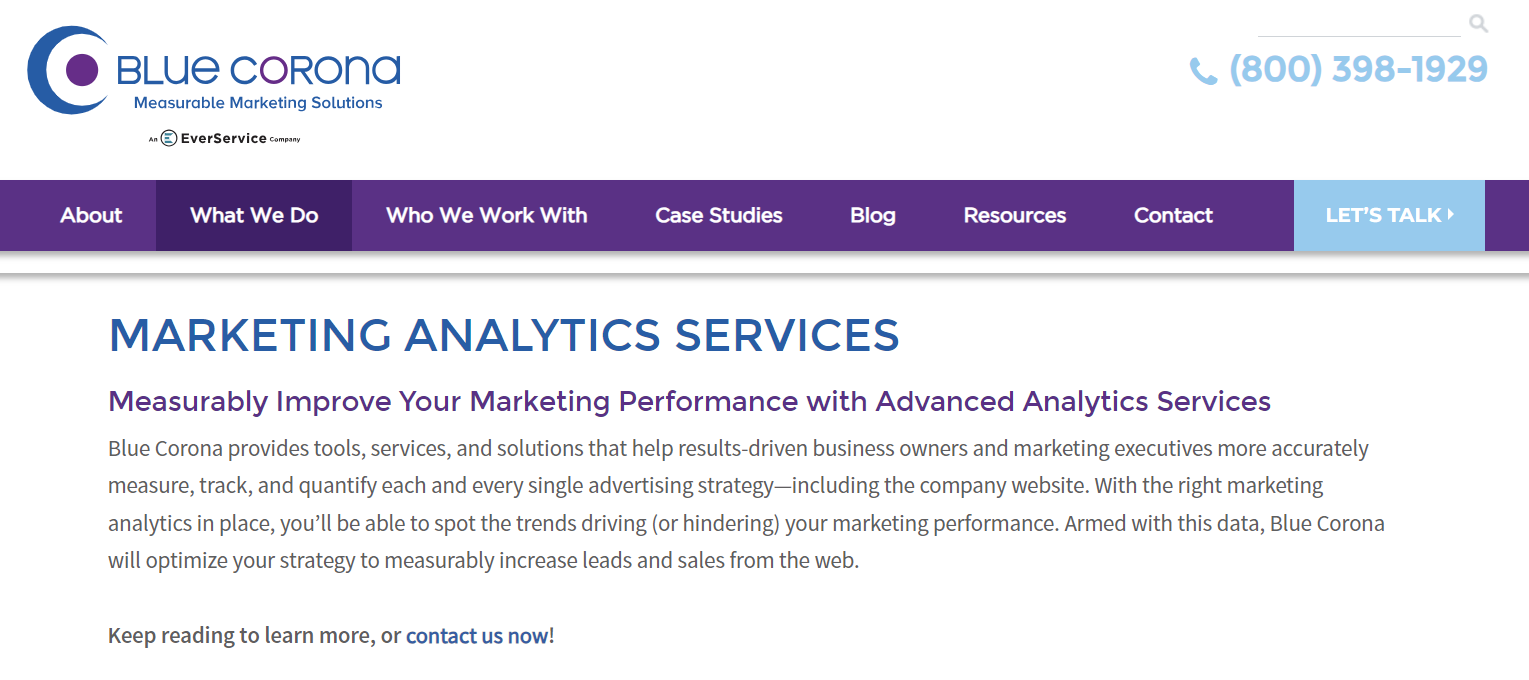 Blue Corona takes a tailored approach to marketing analytics, offering specialized tools and strategies to enhance the effectiveness of marketing campaigns for business owners and marketing executives. Their core services revolve around comprehensive analytics, where the amalgamation of conversion rate optimization and custom research & analysis is at the forefront. Ad tracking and measurement ensure that every advertising strategy is under scrutiny.
Blue Corona's expertise in Google Analytics is a notable area, offering businesses a launchpad to glean actionable data and insights. Their meticulous approach is demonstrated in ensuring their clients are not just collecting data but are empowered to harness this data for optimized business performance. Phone call and website tracking exemplify the agency's commitment to granular analytics, offering real-time insights to evaluate both online and offline advertising performance.
The agency's philosophy of quantifying marketing investments underpins its comprehensive suite of services. A beacon for business owners seeking precision, the agency prides itself in transcending traditional analytics, offering recommendations crafted from a meticulous analysis of complex data landscapes.
---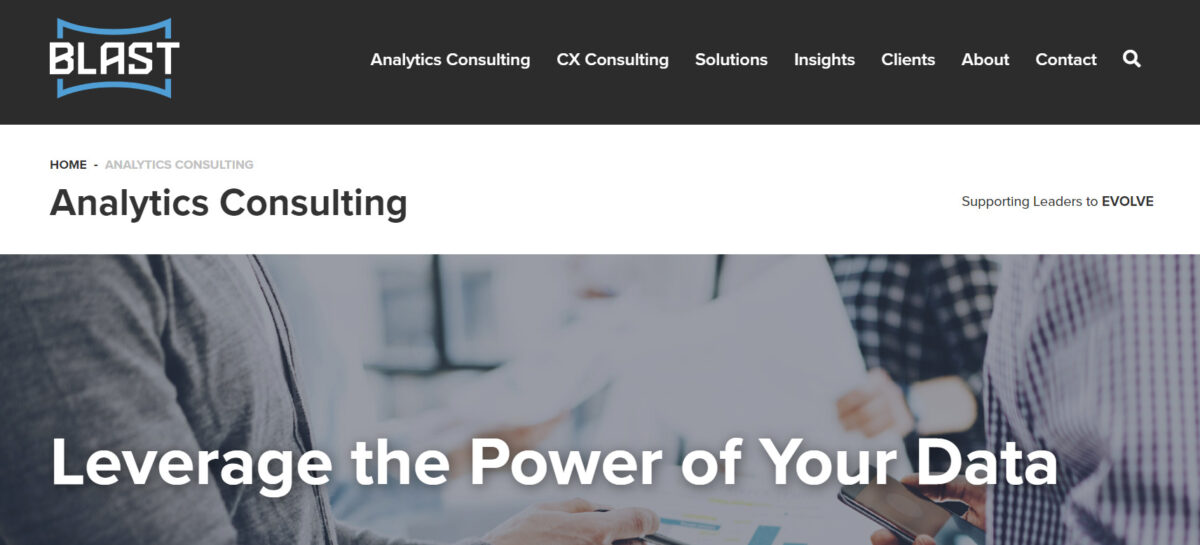 Blast Analytics excels in crafting and implementing sophisticated marketing analytics strategies, positioning organizations to fully leverage data-driven insights for optimal performance. Their tailored solutions aid in refining decision-making processes, forecasting customer behavior, and enhancing overall organizational evolution. By focusing on a holistic approach, Blast navigates through the intricacies of marketing measurement, assisting executives in answering pivotal business questions related to customer value, channel effectiveness, and competitive positioning.
Equipped with a methodical approach to data management, analysis, and reporting, Blast integrates information from diverse systems, presenting it through intuitive visualizations and dashboards. They emphasize strategic insights, ensuring businesses aren't just inundated with data but are empowered with actionable intelligence to drive informed decisions. Blast's expertise in creating a synergistic environment where data management and analytics converge ensures that organizations are equipped with the tools and insights needed to consistently elevate their marketing initiatives.
Blast offers a convergence of analytics consulting and digital marketing, providing customized solutions that are meticulously tailored to each organization's unique needs and objectives. Services such as marketing mix modeling, attribution modeling, and customer journey analysis underscore the agency's commitment to delivering comprehensive insights. Their ability to harmonize data collection, transformation, and analytics insights underscores a commitment to offering data and ensuring it is a catalyst for actionable, sustainable, and impactful organizational advancements.
---

AMP Agency thrives at the intersection of data science and traditional analytics and offers actionable insights and strategic narratives that empower brands to optimize their marketing efforts. The agency, characterized by a team of storytellers, detectives, and activists, stands out in its ability to decipher complex data and extract stories that propel brands to competitive prominence. Performance analytics, information governance, integrated analytics, and advanced marketing sciences, including media mix and attribution modeling, are central to their offerings. These services underscore AMP's commitment to not only answering the "what" but, more crucially, uncovering the "whys" behind marketing trends and patterns.
AMP's approach to analytics is meticulously structured, employing a four-stage process that ensures a holistic view of marketing performance across all channels. This comprehensive method facilitates the seamless integration of actionable insights and data visualizations. By prioritizing accurate channel attribution, AMP ensures strategic and efficient investment of marketing budgets. The agency's modus operandi starts with a thorough assessment of the challenge at hand, alignment of objectives, technical infrastructure audit, and data availability assessment, culminating in the development of customized solutions.
In practical terms, AMP's effectiveness is showcased in its collaborative efforts with notable brands like Hasbro, where a comprehensive analysis of the toy shopper's journey from initial research to conversion was meticulously executed. By employing path-to-purchase analysis, high-value behavior analysis, and channel attribution analysis, AMP provided insights that offered a nuanced understanding of digital channel impacts on conversion events.
---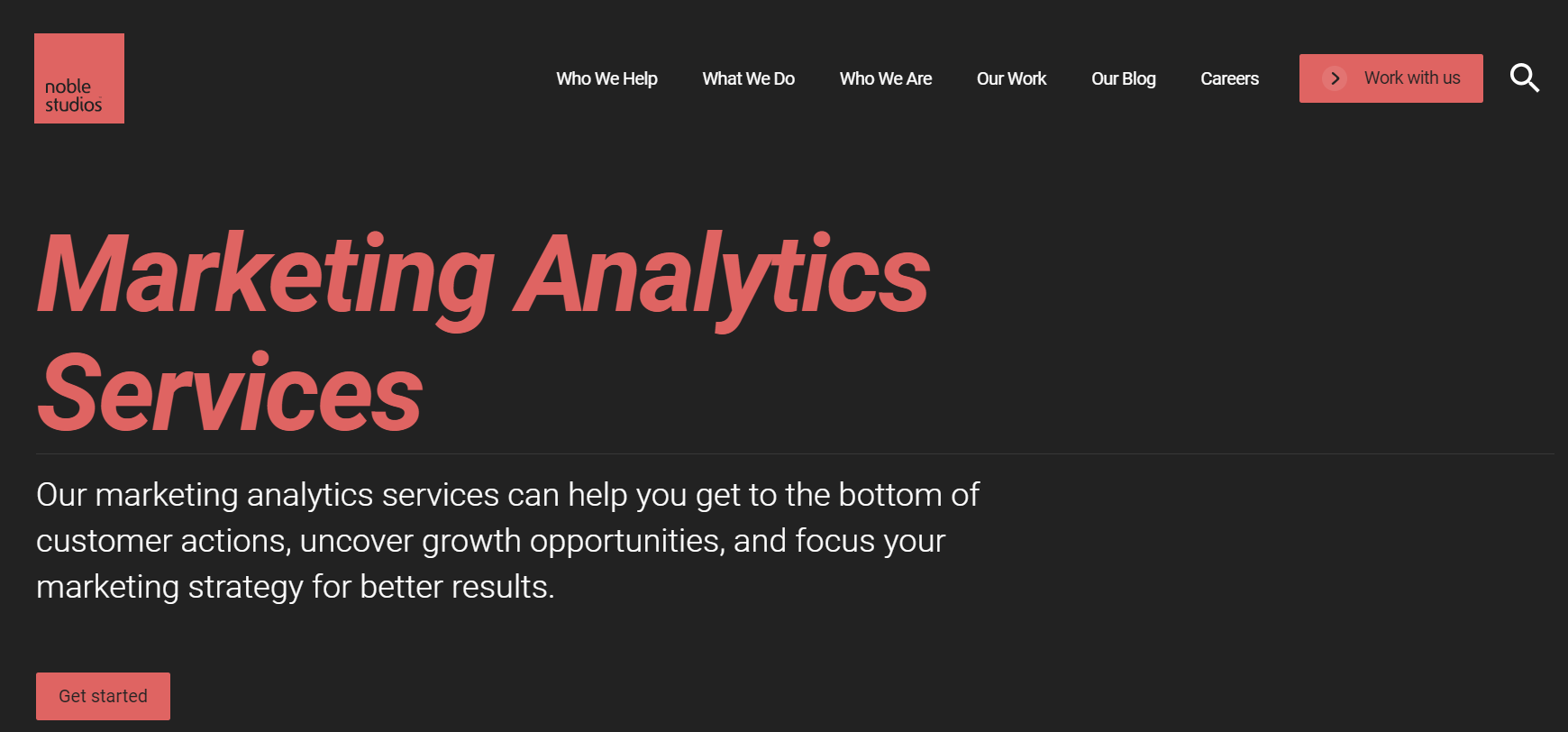 Noble Studios transforms complex customer data into actionable insights geared toward enhancing marketing strategies and results. The agency specializes in centralizing and automating data visibility, ensuring accuracy, and compliance with privacy standards, a suite of capabilities quintessential for organizations aiming to optimize their marketing ROI. Offering services like SEO, web, and custom analytics reporting, Noble Studios stands out for its holistic approach to providing insights that are not only comprehensive but also tailored to individual client needs.
With a robust expertise backed by accolades, including a 4.8 rating on Clutch.co and Google Analytics 4 certification, Noble Studios demonstrates a stellar reputation in delivering game-changing insights. Their approach is grounded in connecting scattered marketing data to unveil a broader, more informative perspective of marketing performance. From basic marketing analytics setup to advanced analytics tracking solutions, the agency ensures client strategies are meticulously sculpted and informed by comprehensive, data-driven insights, enhancing the effectiveness of marketing efforts and campaigns.
Noble Studios underscores the significance of accuracy for informed decision-making. Services like Google Tag Manager audits and GDPR & CCPA compliance assessments underscore the agency's commitment to fixing weak spots. The translation of complex data into actionable insights is a hallmark of Noble Studios' service delivery, demonstrated through offerings like customer journey analysis, goal mapping, and advanced custom insights.
---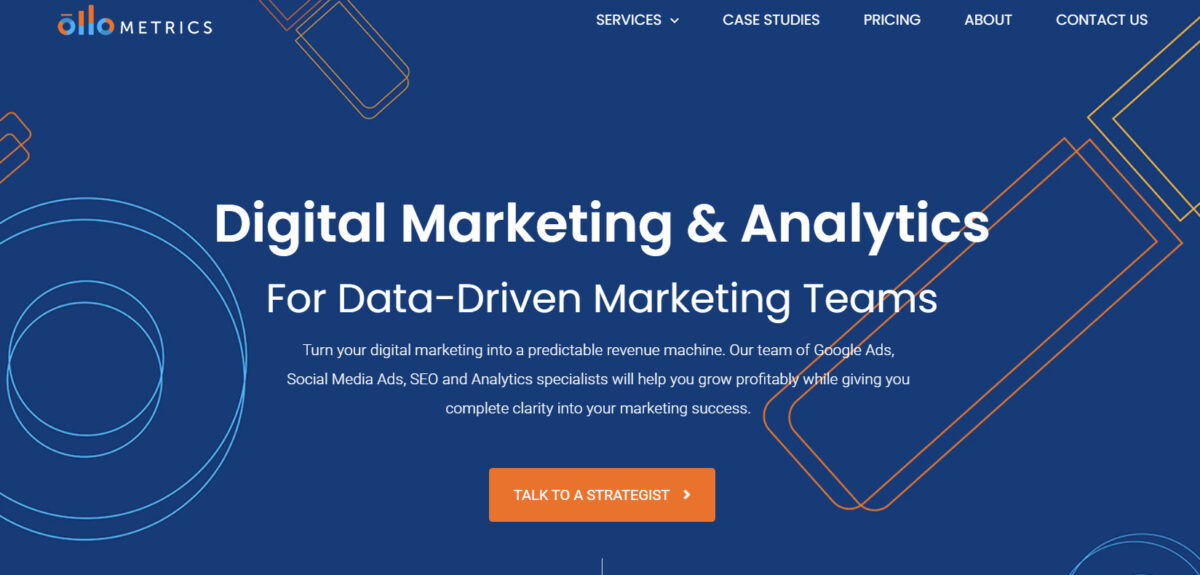 Ollo Metrics distinguishes itself within the competitive space of marketing analytics agencies with a precise focus on delivering actionable insights derived from accurate data. The agency excels in clarifying analytics to enhance the efficacy of SEO, Google Ads, and Social Media Ad Campaigns. Their services span across Google Analytics 4, offering insights into website performance and online advertising, ensuring full-funnel metrics across various platforms. The deployment of custom multi-level dashboards epitomizes their capacity to deliver tailored solutions to every organizational stakeholder, a move integral to fostering informed decision-making.
The agency's expertise is further illuminated by their adeptness in integrating and analyzing data from a plethora of platforms including Google, Facebook, Instagram, Linkedin, and more. Clients benefit from timely custom reports, curated to offer a comprehensive view of campaign performance. This focus on customization is indicative of Ollo Metrics' commitment to delivering insights that are as diverse as the businesses they serve.
Ollo Metrics has garnered commendation for their profound understanding of intricate company dynamics and the competitive landscape. Their analytics solutions are notably characterized by simplicity, accuracy, and adherence to industry standards, elements that are quintessential for businesses scaling in dynamic markets. Metrics such as a 334% return on ad spend and a 1080% increase in net sales underscore the tangible impact of their expertise.
---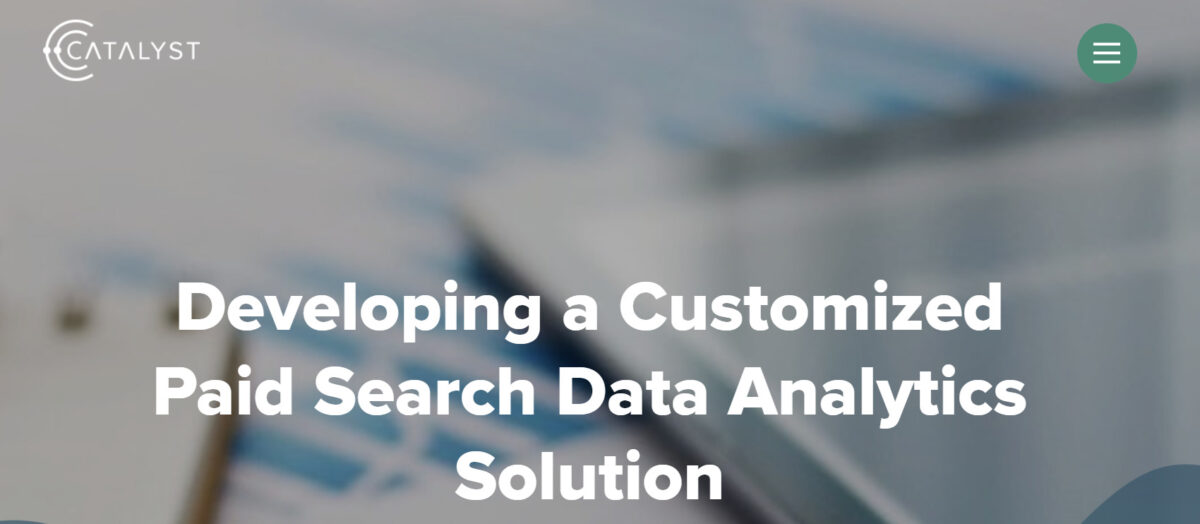 Catalyst Digital exemplifies the intersection of innovation, integration, and incisive analytics in the digital marketing landscape. The agency's analytics solutions transcend conventional boundaries, offering cross-channel insights pivotal in driving business growth and enhancing decision-making processes. Catalyst's FUSION technology emerges as a linchpin in this narrative, offering an integrated platform for performance marketing reporting and data accessibility. With an emphasis on standardization and clarity, FUSION underscores Catalyst's commitment to delivering nuanced insights into campaign performance and audience behavior, seamlessly bridging the informational gap between data modeling and activation.
The incorporation of advanced engineering and machine learning models distinguishes Catalyst Digital in a crowded marketplace. Their expertise lies in transforming raw data into actionable insights, supported by a robust infrastructure of cloud engineering. The machine learning models are not just descriptive but are notably prescriptive, offering pathways to optimization. This data-driven approach is complemented by a vigorous testing and iteration protocol, ensuring the insights and strategies are innovative and empirically validated, optimizing results at every juncture of the marketing journey.
Catalyst's proficiency is underscored by a case study that spotlighted a 66% increase in revenue, attesting to the agency's capability to navigate complex challenges and optimize toward true revenue. Catalyst Digital accentuates its global reach and expertise as part of the GroupM and WPP agency portfolio, amplifying its ability to drive growth.
---

Apollo Consulting Group provides tailored marketing analytics services specifically designed to cater to the nuanced needs of advertising agencies of varying sizes. Their expertise is particularly beneficial for mid-sized agencies, addressing periods of excessive workload and enhancing the depth of analytics acumen. Apollo's modus operandi is characterized by the augmentation of an agency's in-house capabilities, facilitating the undertaking of larger projects and intricate assignments.
For small advertising agencies, Apollo stands as a beacon of comprehensive support, offering completely outsourced marketing analytics departments. This strategic partnership enables agencies to broaden their service offerings, leading to significant expansions in revenue, profit, and client engagement. The agency's distinct approach to merging traditional and digital media analytics amplifies the return on marketing investments. Apollo's consultants are adept at delivering impactful insights and recommendations, attributed to their extensive experience in advertising research and media mix modeling across diverse industries and platforms.
Apollo demonstrates its ingenuity by employing sophisticated techniques and technologies. Their expertise in creating a holistic view of the customer and developing intricate reporting environments is complemented by their ability to apply advanced analytics to data.
---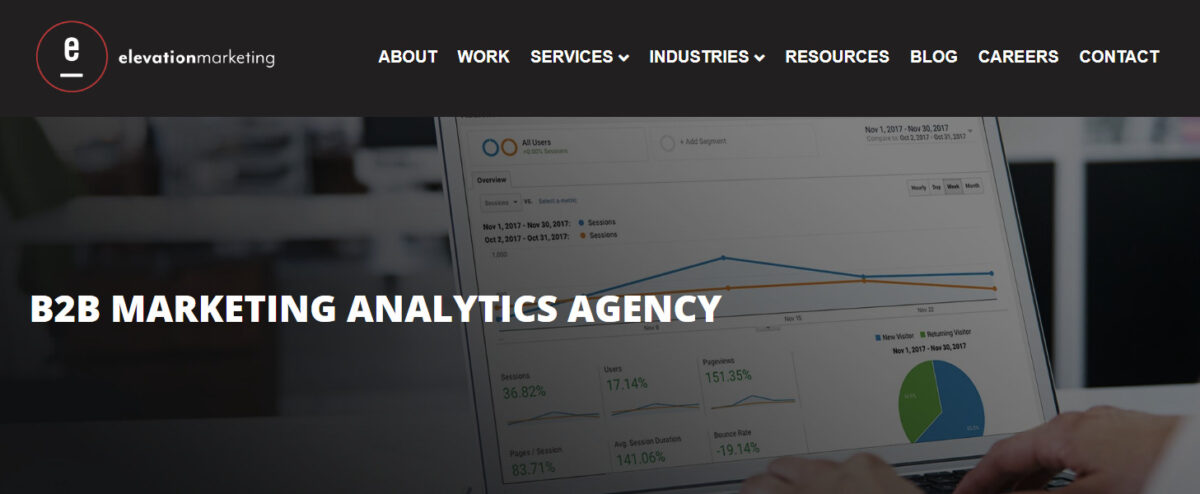 Delivering bespoke, data-driven solutions engineered to optimize marketing investments and strategies, Elevation B2B stands out as a linchpin in the realm of B2B marketing analytics. The agency's prowess lies in its adept ability to amalgamate and synthesize diverse datasets drawn from a plethora of channels and campaigns to furnish comprehensive insights. They employ advanced software and intelligent technology to analyze an extensive range of metrics, including behavioral and performance metrics, ensuring a meticulous dissection of information that unveils pivotal insights to refine marketing approaches.
Elevation B2B delves deeper into the labyrinth of information, offering an extensive range of specialized analytics services. Their expertise encompasses customer, predictive, Google, SEO, content, product, and lead generation analytics, demonstrating their multifaceted approach. This exhaustive and diverse data tracking capability underscores Elevation B2B's commitment to delivering comprehensive insights that power bespoke B2B digital marketing tactics.
The agency's bespoke approach ensures every strategy is uniquely tailored to each B2B entity. By treating every company as a distinct entity with its specific needs and challenges, Elevation B2B ensures the delivery of customized analytics services that echo the uniqueness of each business.
---
How do Marketing Analytics Services Ensure Data Privacy and Security?
Marketing analytics services are at the forefront of ensuring data privacy and security, implementing rigorous protocols to protect data integrity and confidentiality. With the burgeoning volume of data generated daily, these services are equipped with sophisticated mechanisms to avert unauthorized access or data breaches.
Advanced encryption technologies play a pivotal role in securing data both at rest and in transit. Data is encrypted using complex algorithms that ensure only authorized personnel can access it. This encryption is not just limited to numerical data but extends to all types of data, including text, images, and videos.
In addition to encryption, these services employ multi-factor authentication (MFA) and strong access controls. MFA ensures that users must verify their identities through multiple methods before accessing the data.
Moreover, marketing analytics services are steadfast in compliance with global data protection regulations like GDPR, HIPAA, and CCPA. These regulations mandate strict adherence to data protection principles, ensuring that data is handled, stored, and processed with the utmost confidentiality and integrity. The services conduct regular audits and assessments to validate and enhance their security measures.
Furthermore, data anonymization and pseudonymization techniques are commonly used to protect the identity of individuals. These methods ensure that sensitive personal information is substituted with non-sensitive equivalents, safeguarding individual identities while allowing for the analytical use of the data.
---
Conclusion
Each agency underscores the pivotal role of customized solutions, addressing each client's distinct needs and objectives. Their expertise in amalgamating, analyzing, and interpreting diverse data sets ensures that insights are not only comprehensive but tailored, fostering enhanced decision-making and strategic refinement. In a world where data is abundant yet often overwhelming, these services stand as beacons of clarity, converting intricate data into strategic assets.
As businesses traverse the intricate terrains of the digital age, the role of these marketing analytics services is undeniable. They serve as indispensable allies, illuminating pathways to optimized performance, competitive advantage, and sustained growth.
Frequently Asked Questions
What is the cost of implementing marketing analytics services?
The cost can vary greatly depending on the complexity of services and the specific needs of your business.
How do marketing analytics services integrate with existing business technologies?
These services typically offer seamless integration with popular CRM, ERP, and other business management tools to ensure efficiency.
Are marketing analytics services suitable for small businesses?
Absolutely! There are scalable options tailored to fit the needs and budgets of small businesses to enhance their marketing strategies.
What types of data can be analyzed with marketing analytics?
Marketing analytics covers a wide range of data including customer behavior, sales trends, marketing channel performance, and competitive analysis.